Are you thinking of going on a quick weekend trip so you can explore other cities or take the time to visit friends and family you haven't seen in a while?
You and I know that the costs of flying are skyrocketing + luggage gets lost sometimes and airlines are charging a pretty penny for carry-on bags and checked luggage.
I like to think that one way to keep travel costs as low as possible is by utilizing the personal-item bag.
In this article, I will show you the best personal item backpack for airlines any class of airline at all since it's the only bag you can carry that's free of extra costs you know.
The most beautiful part is that this personal item backpack also makes long-haul flights easier with very convenient access to all your necessities right in front of you! Let's dive right in!
Table of Contents
WHAT IS A PERSONAL ITEM TRAVEL BAG
A personal item travel bag is hand luggage or cabin baggage which refers to the type of luggage that a passenger is allowed to carry along in the passenger compartment of an airline or vehicle instead of a separate cargo compartment.
One beautiful thing about personal item bags is that you can pretty much carry a lot like putting your shoes in your personal bag neatly without squishing your shoes until you arrive at your destination.
AIRLINE APPROVED PERSONAL ITEM BAG
Airline-approved personal item bags are approved bags that you can carry inside an Airline without paying additional fees, these airline-approved item bags have compact design and size that meets the standard and policy of the airline.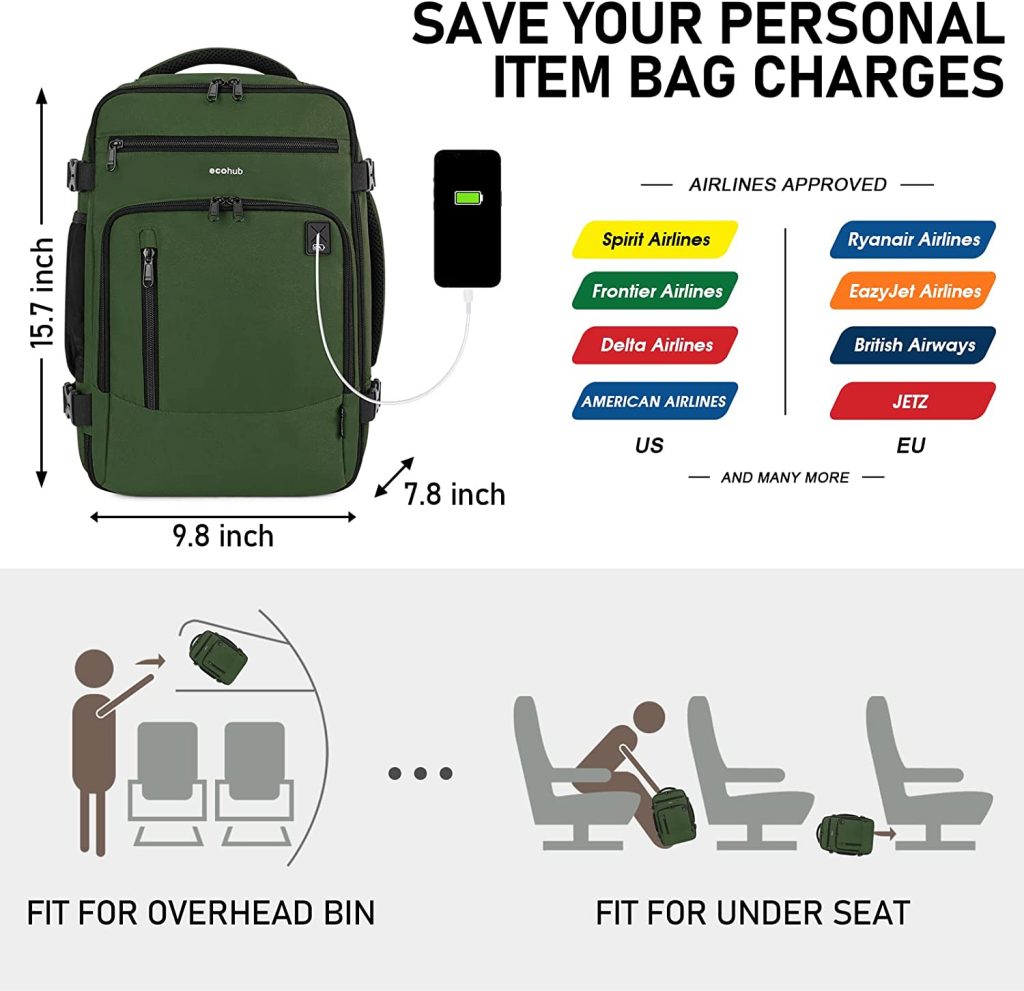 Secondly, airline-approved personal bags can easily fit under the seat in front of you.
Finally, because of their size, airline-approved personal item bags are designed to carry our most valuable and personal belonging such as passports, wallets, electronic devices, and small personal items.
They often have multiple compartments and pockets for efficient organization and your belongings are easy to access during the flight.
PERSONAL ITEM BAG FOR FLYING SIZE
For major airlines, the standard size for a personal item bag used for flying is around 18 x 14 x 8 inches (45 x 35 x 20 cm).
However, it it's important to note that airline policies can vary, and it's always a good idea to check with your specific airline to confirm their current requirements, as they may have made changes since then.
Additionally, different airlines may have different weight restrictions for personal items as well.
BACKPACK FOR FLYING
Backpacks for flying are specially designed bags intended for air travel. They are crafted with features that make them convenient and compliant with airline regulations.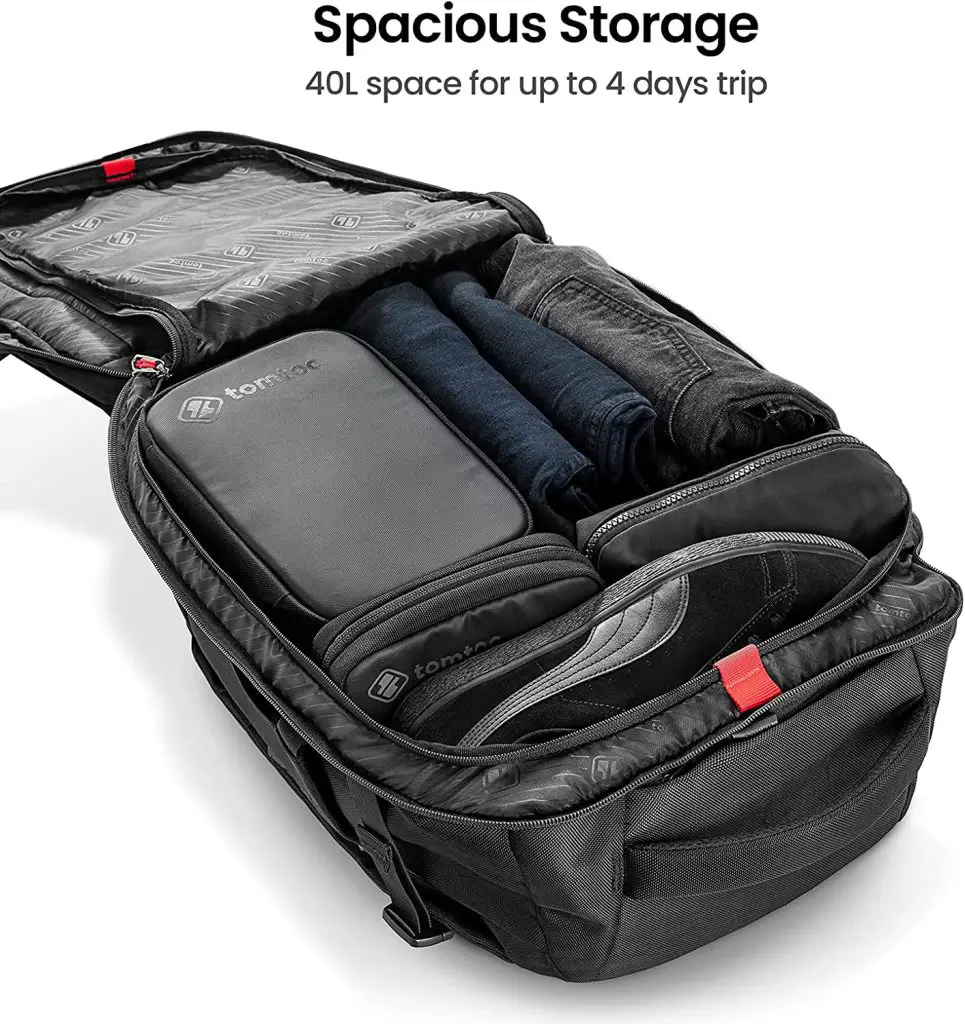 These backpacks often adhere to size restrictions imposed by airlines as carry-on luggage, ensuring they fit comfortably in overhead compartments or under seats.
They typically incorporate durable materials, ergonomic designs, and padded straps for added comfort during long journeys.
Additionally, they may include dedicated compartments for laptops, tablets, and other electronic devices, as well as pockets for easy organization of travel essentials.
Overall, backpacks for flying offer practicality, functionality, and ease of use for travelers on airplanes.
BEST PERSONAL ITEM BACKPACK FOR AIRLINES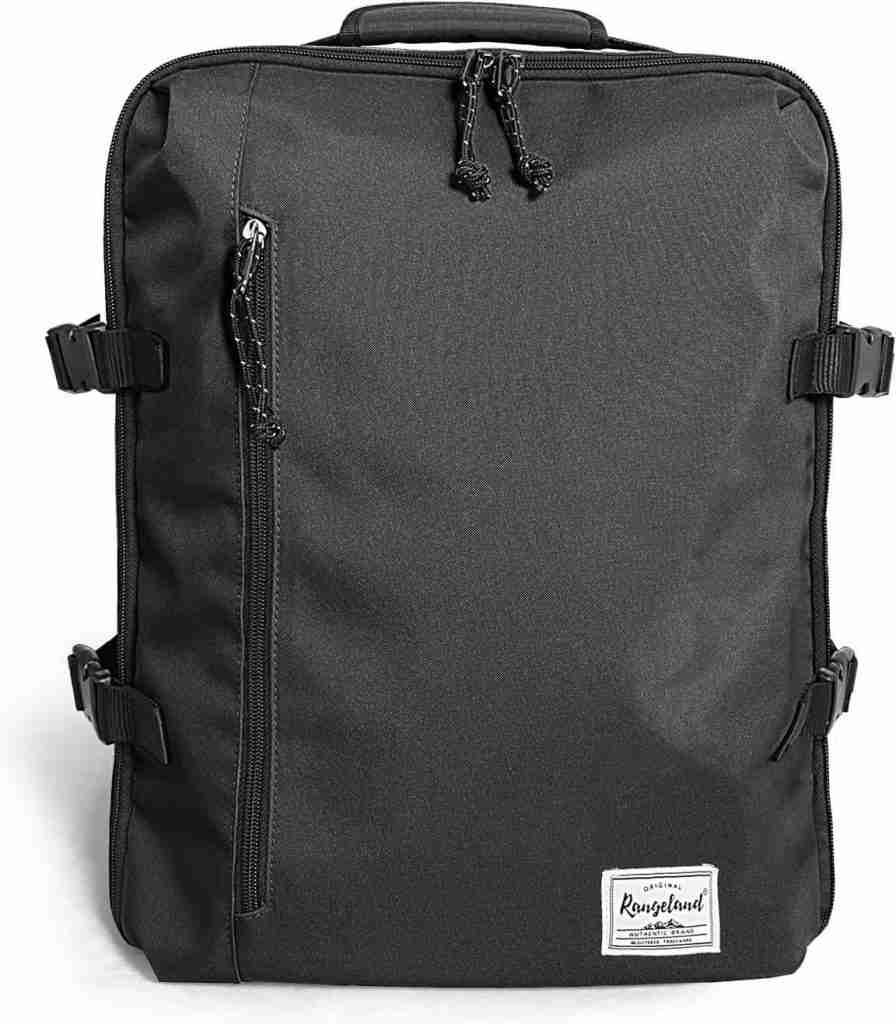 Not every personal item backpack is appropriate for airline travel.
A good personal item backpack must have multiple compartments, be durable, lightweight but compact enough to carry your shoes while traveling, and neatly contain your clothes.
It is also critical to consider the bag size and airline recommendations regarding the weight of the personal item backpack, such as Spirit Airlines.
If you're having trouble deciding between the various brands of personal item backpacks you'll need for travel, I've listed the four (4) best personal item backpacks for airlines below:
Bange Personal Weekender Carry-on Backpack for Travel Backpacks for Airplanes.
Water-resistant Personal Item Backpack for Travel.
Matein Personal Item Travel Backpack Airline Approved for men and women.
Cor Surf Personal item Travel Backpack Flight Approved.
BANGE PERSONAL WEEKENDER CARRY-ON BACKPACK FOR TRAVEL BACKPACKS FOR AIRPLANES.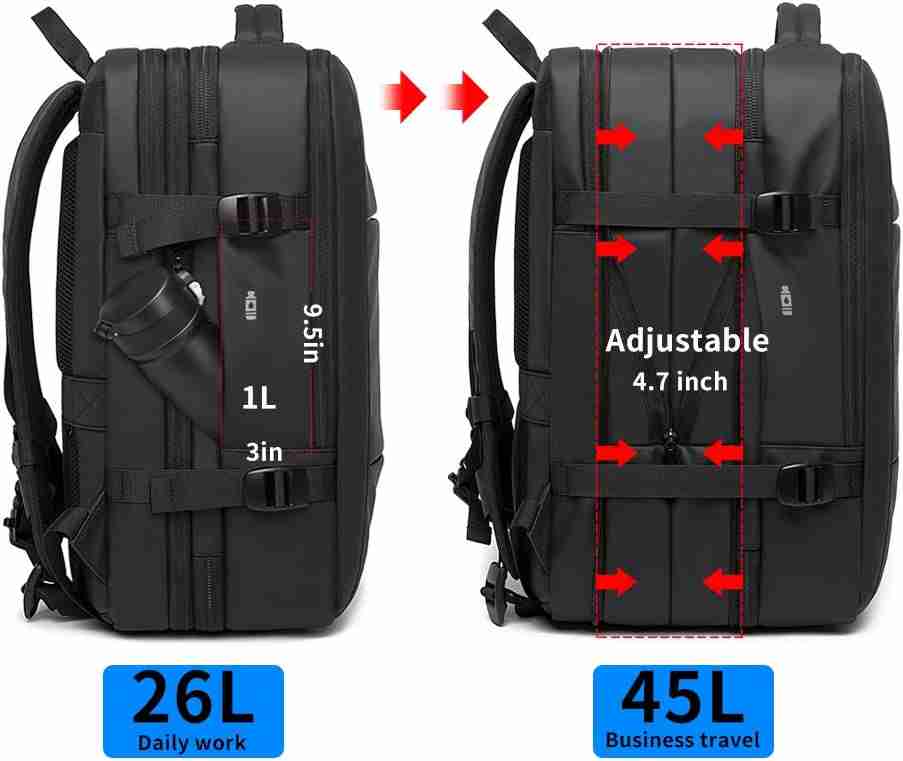 The Bange personal item backpack is our recommended overall best personal item backpack for airlines and other types of travel because:
You save money because this personal item backpack can be converted into a briefcase and suitcase, eliminating the need for multiple travel bags.
It has two waterproof segments, internal and external persevering your valuable item from water damage.
It has an anti-theft design and reduces shoulder and neck pressure due to the ergonomic air flow soft multi-panel back design with insulated padding that provides extra support and comfort.
In addition, this personal item backpack for airlines can be expanded from 26L to 45L according to your needs.
This personal item backpack comes with many compartments to hold various travel items and enable you to store your items easily and neatly. Your laptop is protected with padded batter.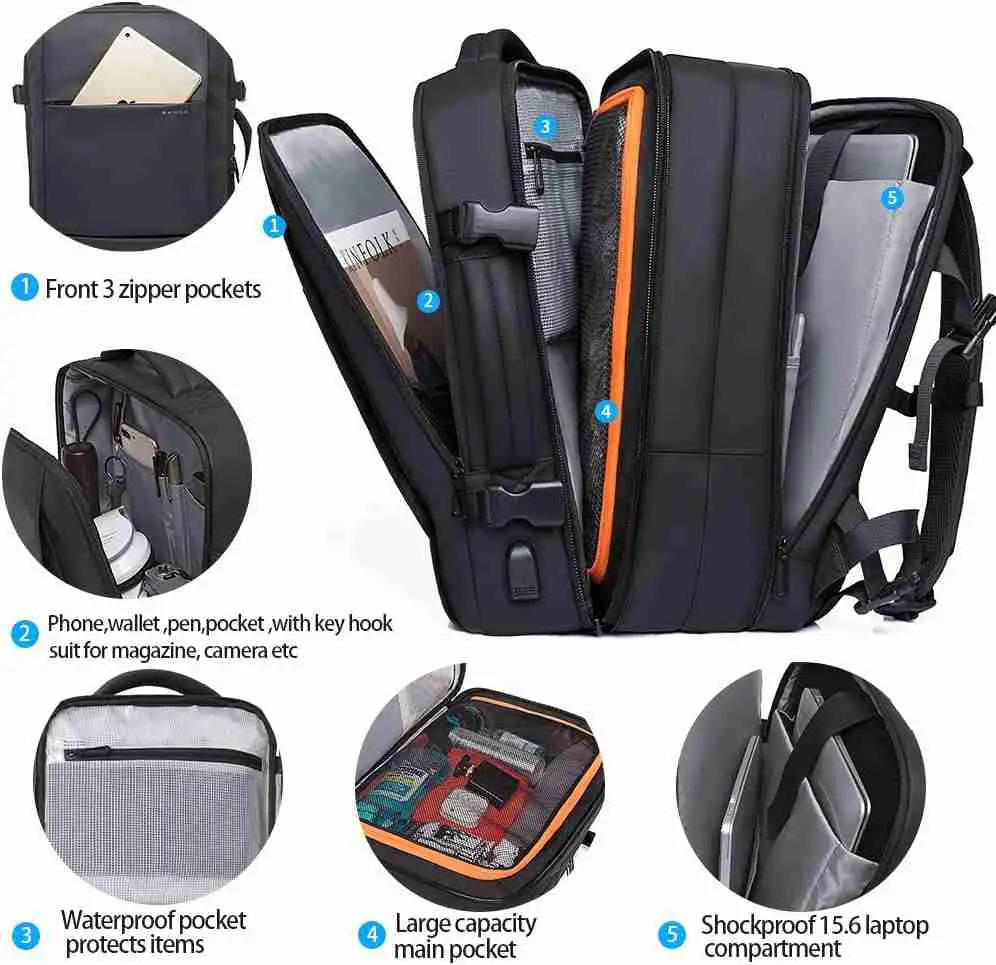 Aside from airline use, this premium personal backpack is a great backpack for hiking, commuting, business trip, school, camping, and other activities.
Finally, this personal item backpack is very durable as all the zippers are sturdy and explosion-proof.
WATER-RESISTANT PERSONAL ITEM BACKPACK FOR TRAVEL.
Second to the Bange Personal item backpack for airline travel is the best affordable personal item backpack which is Wenig water-resistant travel laptop backpack that is TSA Approved.
This personal item backpack can confidently hold various laptop sizes from 14 inches, 15, 15.6, 17, and even 17 inches.
The many compartments and anti-theft pockets can hold numerous belongings like carrying your shoes as you travel, water bottles, and your keys.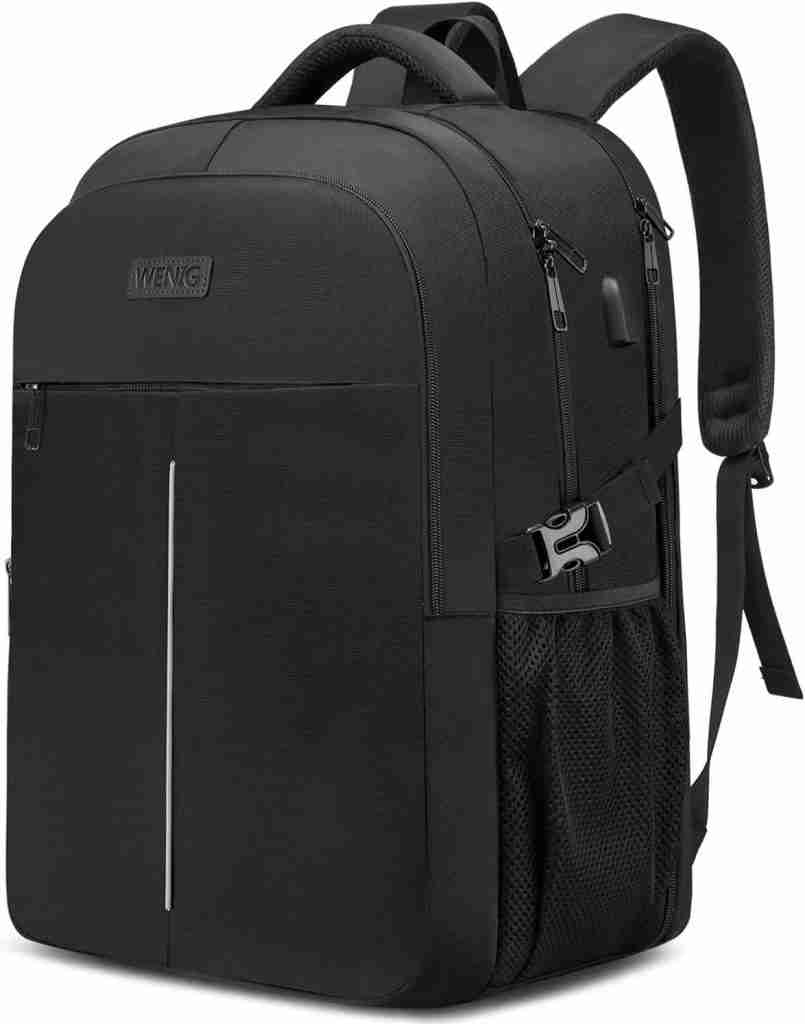 In addition, this TSA Approved personal backpack is specially designed for comfortable Airplane travel.
Furthermore, this backpack is made of water-resistant polyester material, which shields your belongings from rainy days, making it durable, sturdy, and tear-resistant.
One excellent feature of this airline backpack is that you can easily open up the large backpack for a security check while your belonging remains tidy.
Who says you can't charge your phone while on the road? This personal backpack provides this flexibility, making it an excellent choice for both men and women for international travel, hiking, and overnight trips.
The padded relieve foamy straps will relieve stress from your shoulders. Because of the backpack luggage strip design, it fits perfectly on a luggage/suitcase slide-over luggage upright handle.
Perfect for laptop computer bags, professional travel carry-on backpacks, nurse work bags for women, large school backpacks for teen boys and girls, and large laptop book bags.
MATEIN PERSONAL ITEM TRAVEL BACKPACK AIRLINE APPROVED FOR MEN AND WOMEN.
The Matein personal-approved airline backpack for both men and women is another affordable personal item backpack.
This personal backpack can easily hold a laptop, tablet, cords, toiletries, two days' worth of clothes, and an extra pair of shoes.
This carry-on personal backpack is ideal for travel because it is high quality, well-designed has even weight distribution, and is water resistant.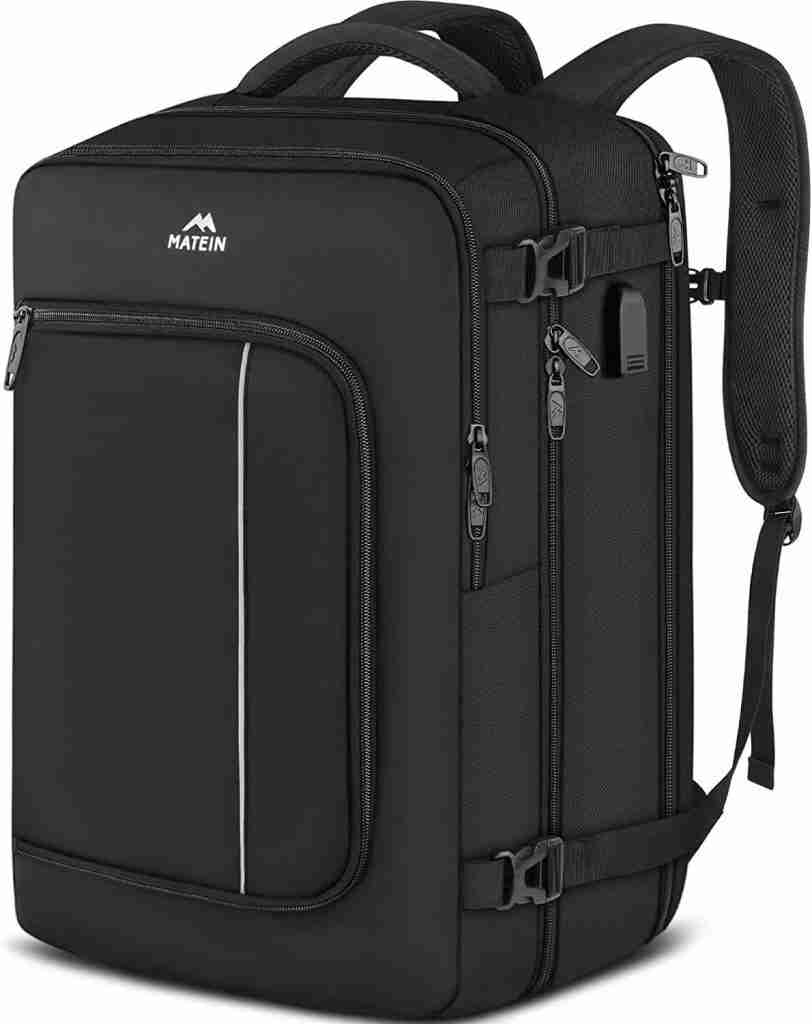 The zippers are strong. The extra zippers for expanding the pack are a very welcome addition. You're going to love it! I highly recommend it!
This large-capacity personal backpack can easily hold 3 – 7 days' worth of travel necessities.
This backpack can also hold up to 12 yards of shoes, wet clothes, or toiletries.
The spacious main compartment of the large backpack allows you to quickly and easily organize your personal items, and internal compression elastic straps can secure items.
Because of the strap design, you can also attach this backpack to your luggage or suitcase. Charge your phone while you're on the go!
An excellent choice for Father's Day, Christmas, and other holiday gifts for men and women who enjoy traveling.
COR SURF PERSONAL ITEM TRAVEL BACKPACK FLIGHT APPROVED.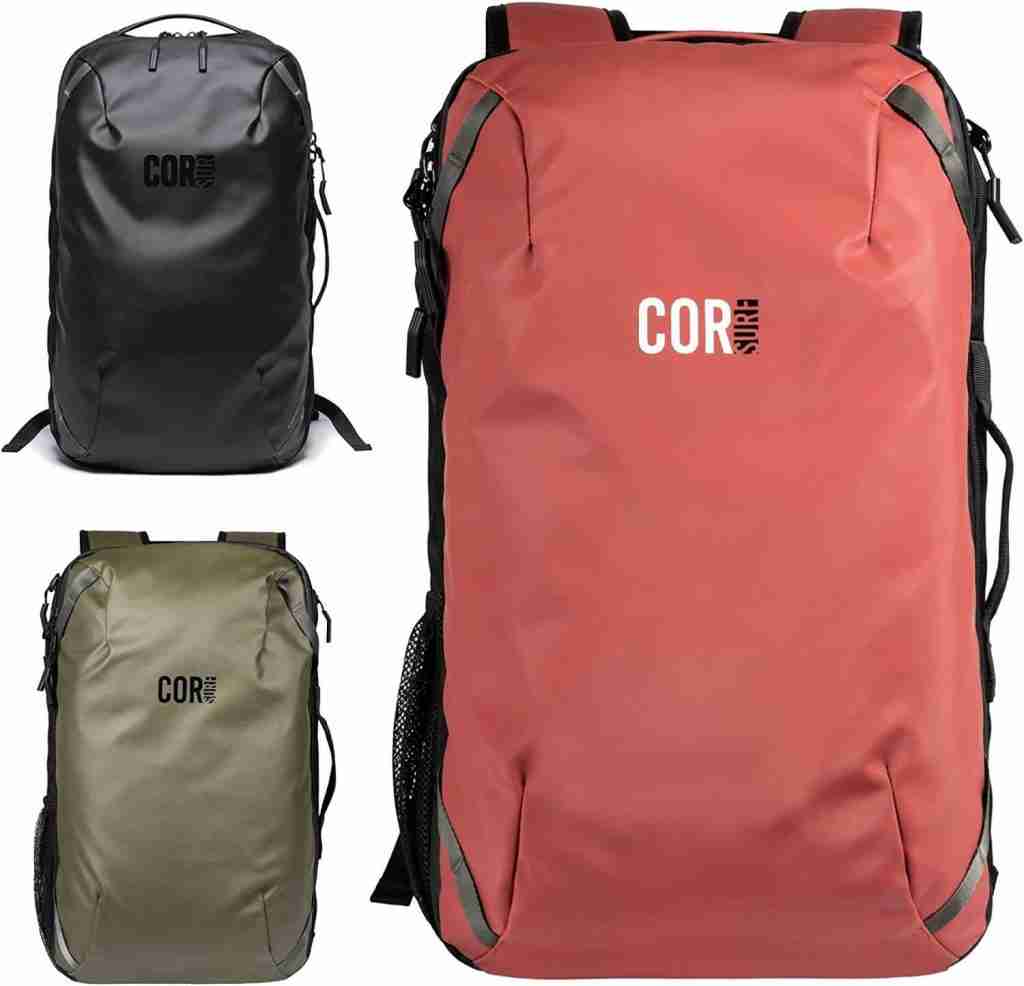 Do you want a backpack that could stow under the airline seat? Then this is the best personal item backpack that will be suitable for you.
The Cor surf personal backpack isn't too big or too small but will surely adequately contain all your belongings.
With this personal backpack, there is no need to spend extra money on carry-on luggage. The various separate compartments help in the orderly arrangement of your clothes and shoes.
This premium personal item backpack has Splash resistant zippers and an eco-friendly type weather-resistant exterior.
You will certainly love the two hidden pockets on the back panel for travel documents, money, credit cards, or whatever you don't want the pick-pockets to find. One zipper is hidden under the carry-on luggage handle wrap and not visible to the eye.
Finally, this backpack is built tough with double stitching and a lifetime guarantee.
IS A BACKPACK A PERSONAL ITEM SPIRIT?
According to Spirit Airline Policy, any backpack that exceeds the dimension of 18 inches by 14 inches by 8 inches (45 cm x 35 cm x 20 cm) including handles and wheels is no longer considered a personal item or a carry-on, the said backpack will attract the duly checked bag fee.
BEST PERSONAL ITEM BAG FOR SPIRIT
A personal item bag for Spirit Airlines is a small carry-on item that passengers can bring on board free of charge.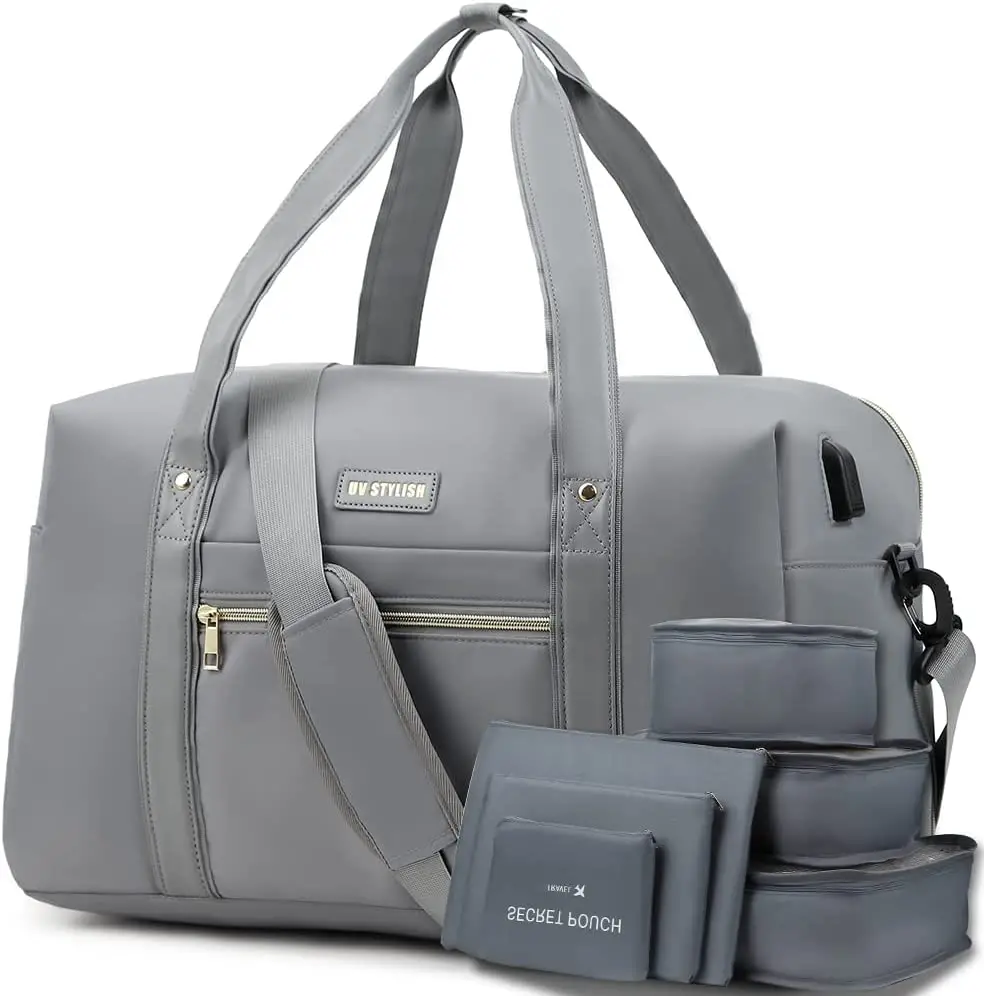 It must fit under the seat in front of you and should not exceed the dimensions of 18 x 14 x 8 inches.
This bag can include items like a purse, laptop bag, small backpack, or briefcase. It should be able to store essential personal belongings such as electronics, reading material, medication, or a change of clothes.
Remember to check the specific guidelines and restrictions on Spirit Airlines' website to ensure compliance with their policies."
Below are recommended personal items bag for Spirit airline;
FOLDABLE SPIRIT AIRLINE TRAVEL DUFFEL BAG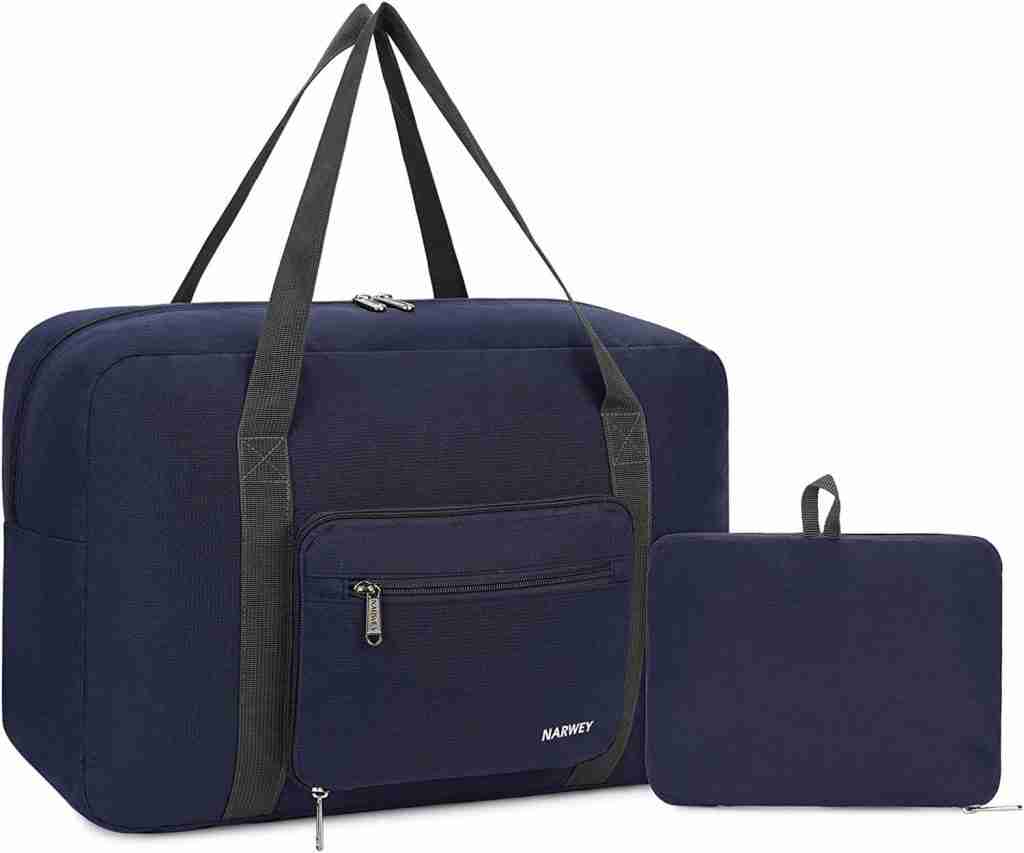 The material is superb. It reduces your carry-on fees.
The bag size 17.7 x 12.2 x 6.7 inches perfectly fits the Spirit airline carry-on item size which is less than 18 x 14 x 8 inches, which can be placed under a seat and does not require paying carry-on fees.
When not in use, it can be folded up, taking up little room in your luggage.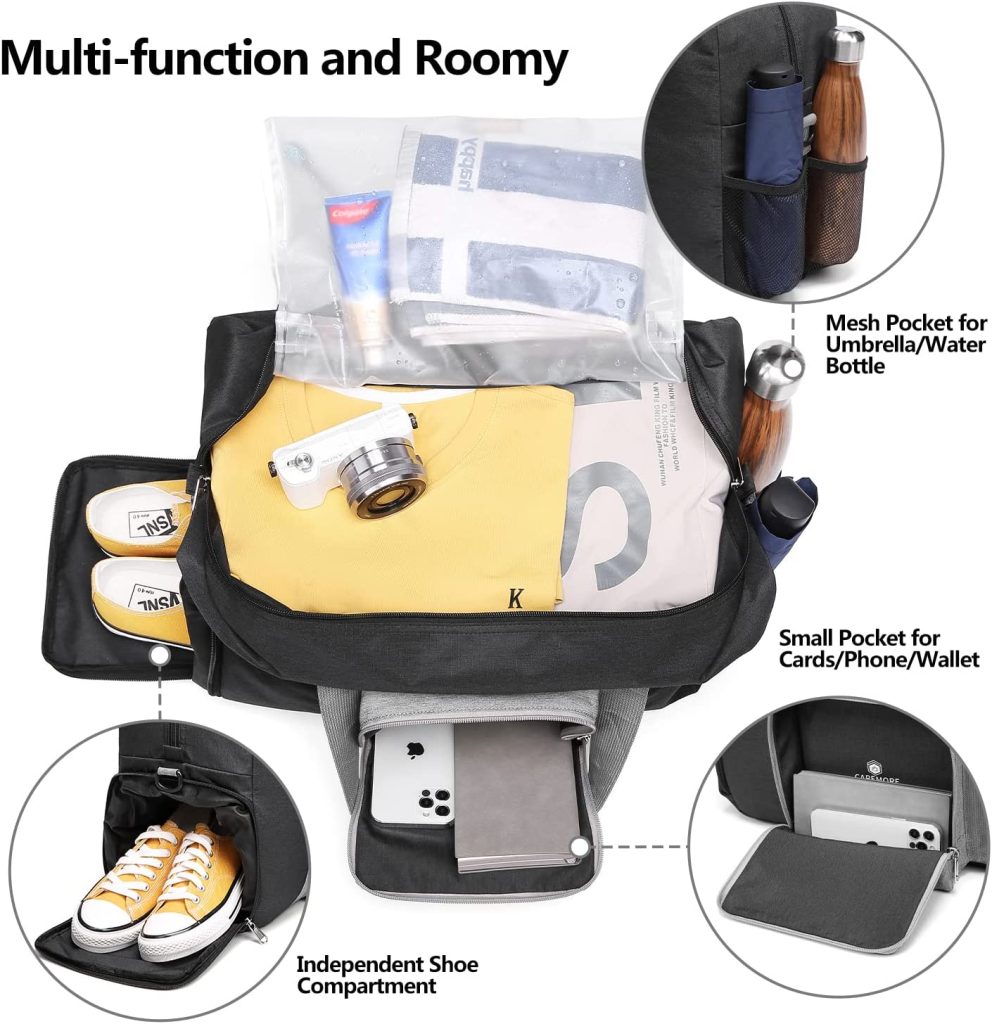 Used as a carry-on with a decent size to fit under an airline seat or in the overhead bin in case you are too heavy for a checked bag, or unfolded as an additional bag for souvenirs or clothes when traveling and leaves room for valuables in your suitcase.
BEST BACKPACK FOR TRAVEL AND WORK
The best and ideal backpack for travel and work is a versatile and durable option with ample storage and organizational compartments.
The backpack that meets all the criteria above and below is the;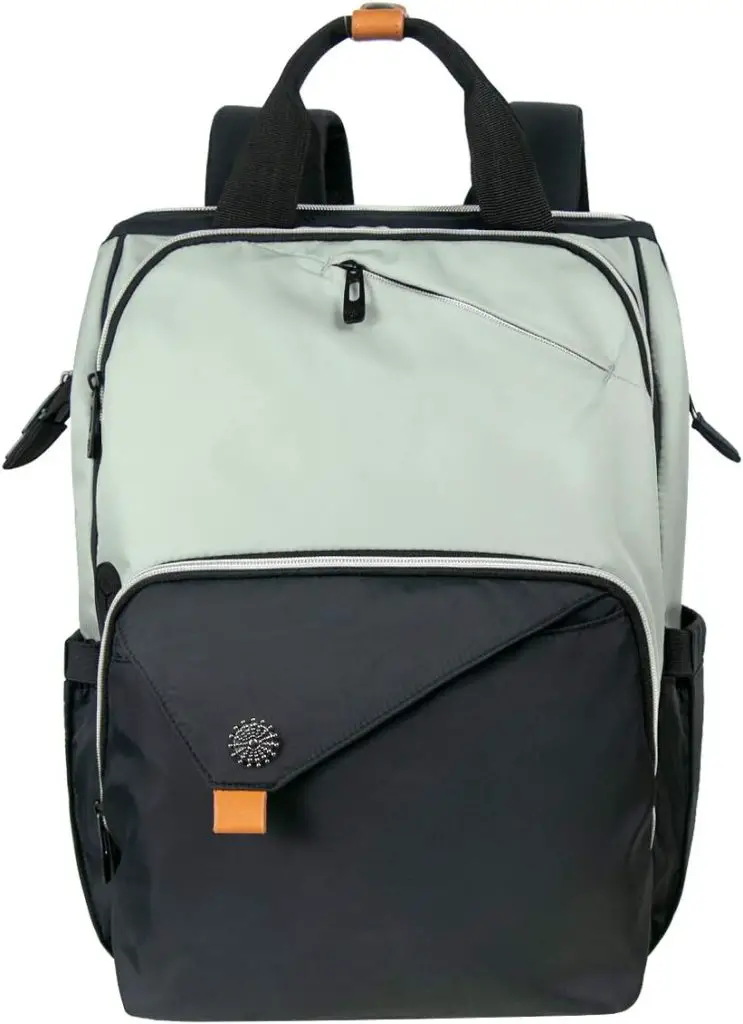 Hap Tim Laptop Backpack for Travel and work, suitable for Teachers, Carry-on, and Nurses
This best backpack above for travel and work offers a designated laptop sleeve or compartment to securely store your electronics.
The Adjustable shoulder straps and a padded back panel ensure comfort during extended wear. Water-resistant or waterproof materials help protect your belongings from the elements.
This travel and work backpack has multiple pockets and compartments to keep your items organized and easily accessible.
Finally, this versatile best travel and work backpack is designed with a sleek, professional design that seamlessly transitions between travel and work settings.
BEST PERSONAL ITEM BACKPACK AND BAG OR FLYING OR PLANE TRAVEL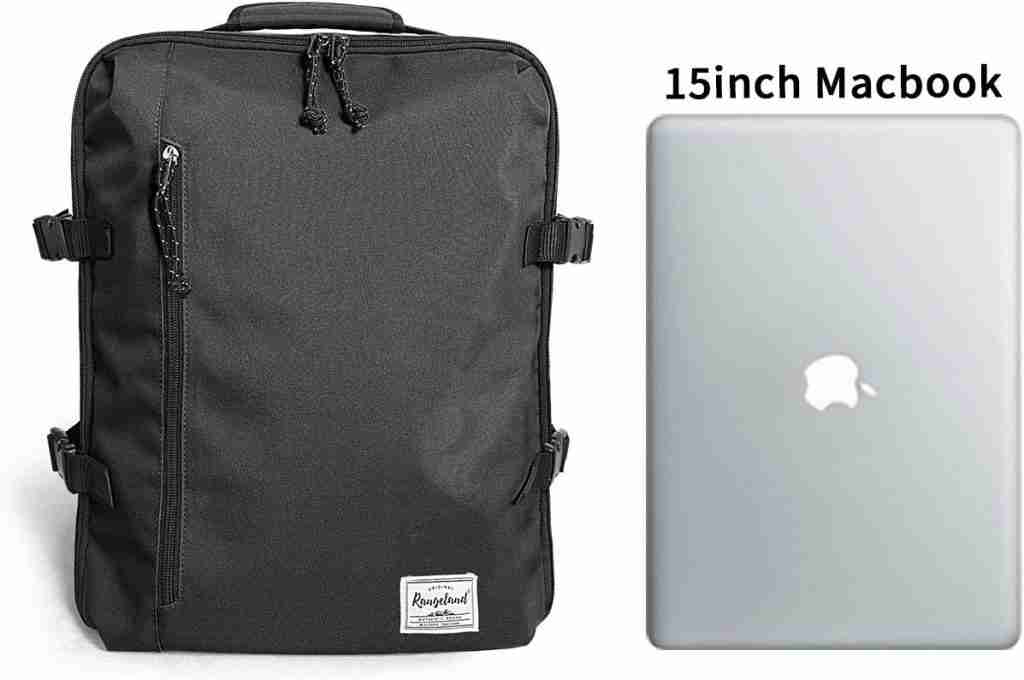 The best personal item bag or backpack for flying or use in plane travel is the RANGELAND NEW BUSINESS TRIP BACKPACK 21L FLIGHT APPROVED.
This personal item backpack for plane travel is a compact and versatile bag designed to accompany you on all flights.
It can serve as an additional carry-on item, alongside the main suitcase or luggage. Typically smaller in size than a traditional backpack.
Another feature of this best personal item bag is that it is designed to fit under the seat in front of you.
This backpack is intended to hold essential items needed during the flight, such as travel documents, electronics, personal care items, snacks, and entertainment options.
With its convenient size and accessibility, the personal item flight travel backpack ensures that important belongings are easily accessible throughout the journey, providing convenience and peace of mind to travelers.
BEST PERSONAL ITEM BAG FOR INTERNATIONAL TRAVEL
Selecting the best personal item bag for international travel is not an easy task, below are specific features to look out for;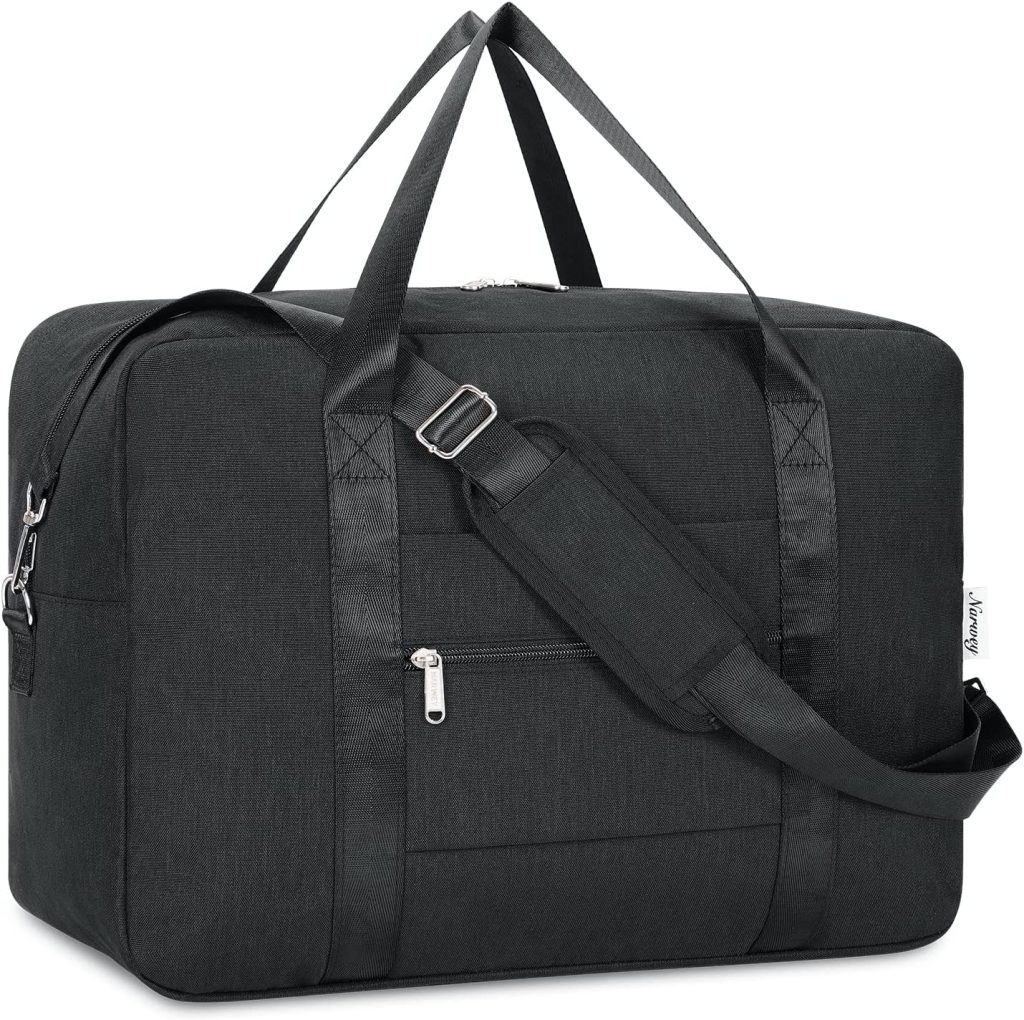 A spacious personal item bag or a spacious carry-on backpack is ideal for international travel, examples of bags or backpacks that meet this criterion are the Spirit Airlines Personal Item Bag weekender bag for men and women and the Lovevook carry-on backpack international airline approved.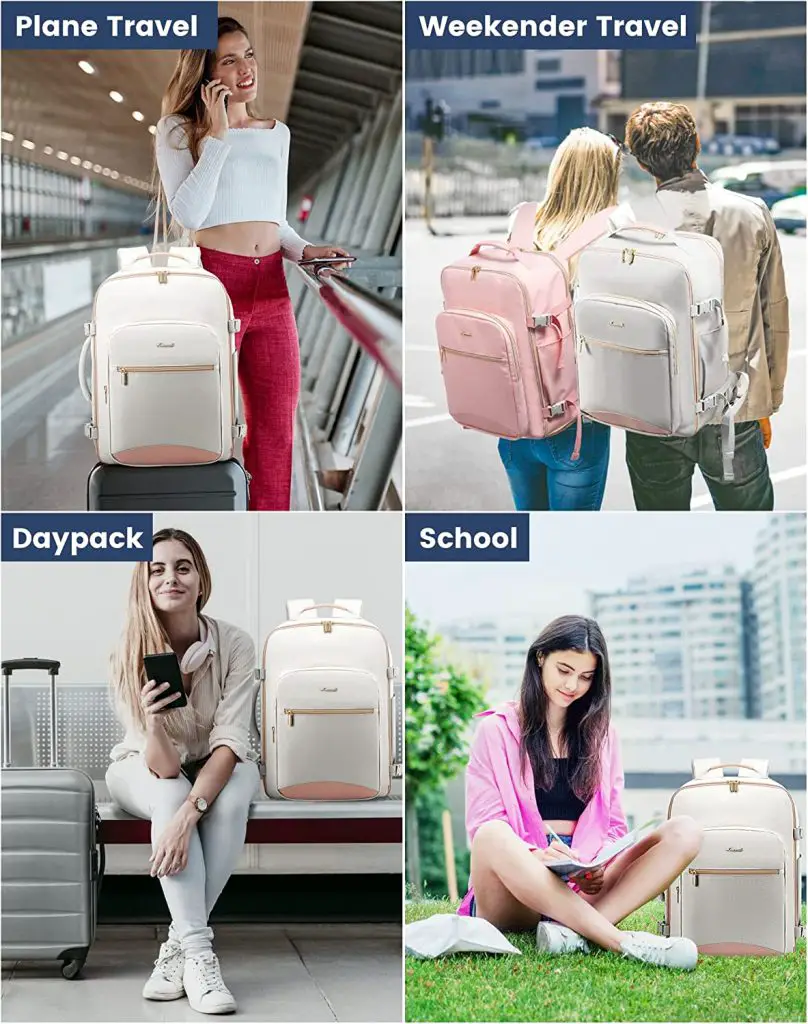 The above personal item bags or backpack for international travel have multiple compartments to organize essentials, including a padded laptop sleeve, secure pockets for documents, a water bottle holder, and comfortable straps.
Ensure it meets airline size restrictions for hassle-free boarding.
Additionally, choose a bag with a built-in USB charging port for convenient device charging on the go, and consider a water-resistant material to protect your belongings from unexpected weather conditions."
Finally, both international travel bag and backpack is suitable for both men and women and can be used as a laptop bag, 17-inch portable bag, travel bag for airplanes, weekend carry-on bag, overnight bag, business bag, and personal item bag.
BEST LIGHTWEIGHT BACKPACK FOR TRAVEL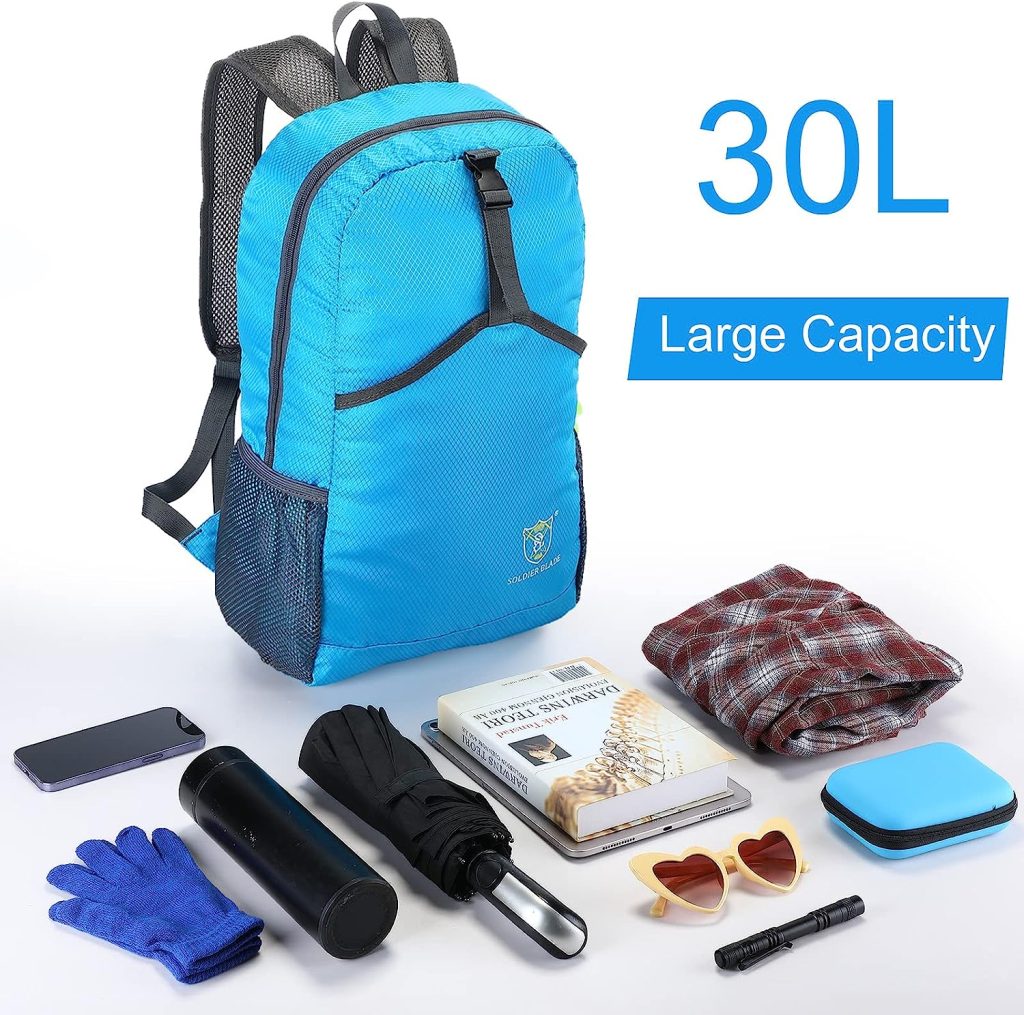 To begin, the best 4 lightweight backpacks for travel are;
NUBILY Waterproof Extra Large TSA Travel Backpack for College and Business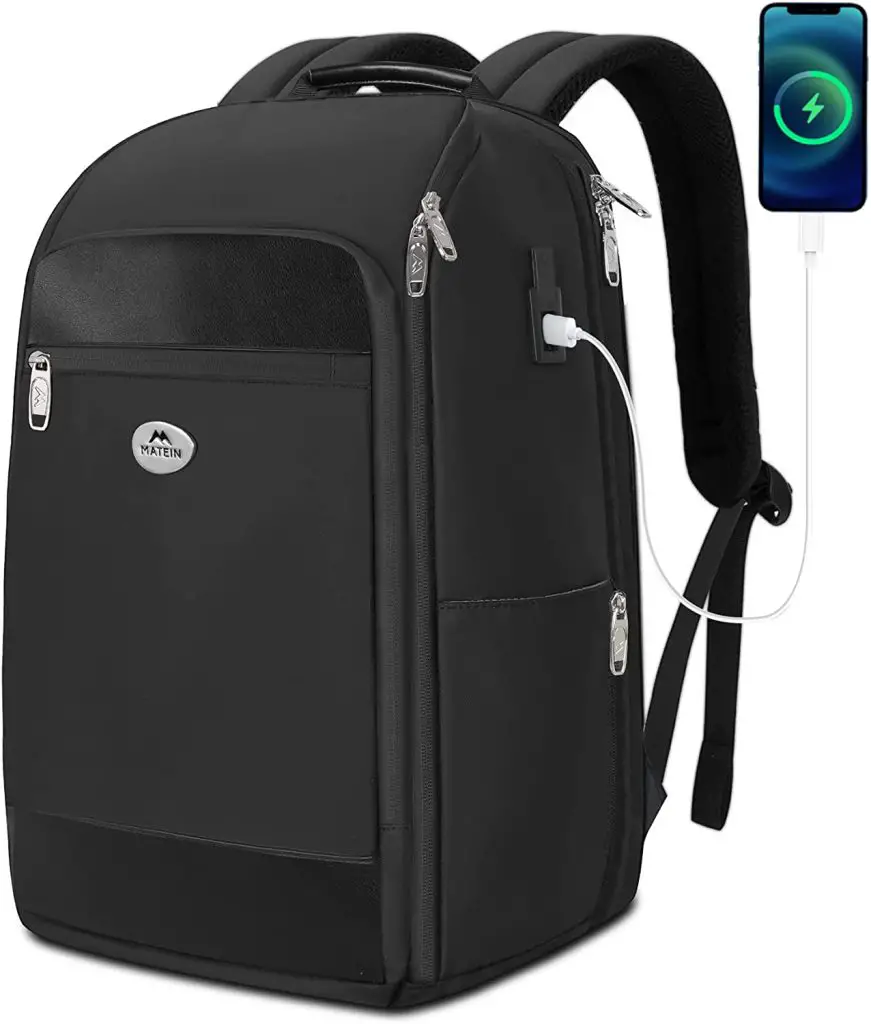 MATEIN Affordable Anti-Theft Water Resistant Travel Laptop Backpack with USB CHARGING PORT for Men and Women.
Tudomro 30L Waterproof Lightweight Backpack for Travel, hiking, camping, Trekking, and vacation
Skog Å Kust BackSåk Waterproof Floating Travel Backpack with Exterior Zippered Pocket
The best 4 lightweight backpacks for travel highlighted above possess several key features below;
Firstly, these backpacks for travel are constructed from durable yet lightweight materials, ensuring they can withstand the rigors of travel without adding unnecessary weight.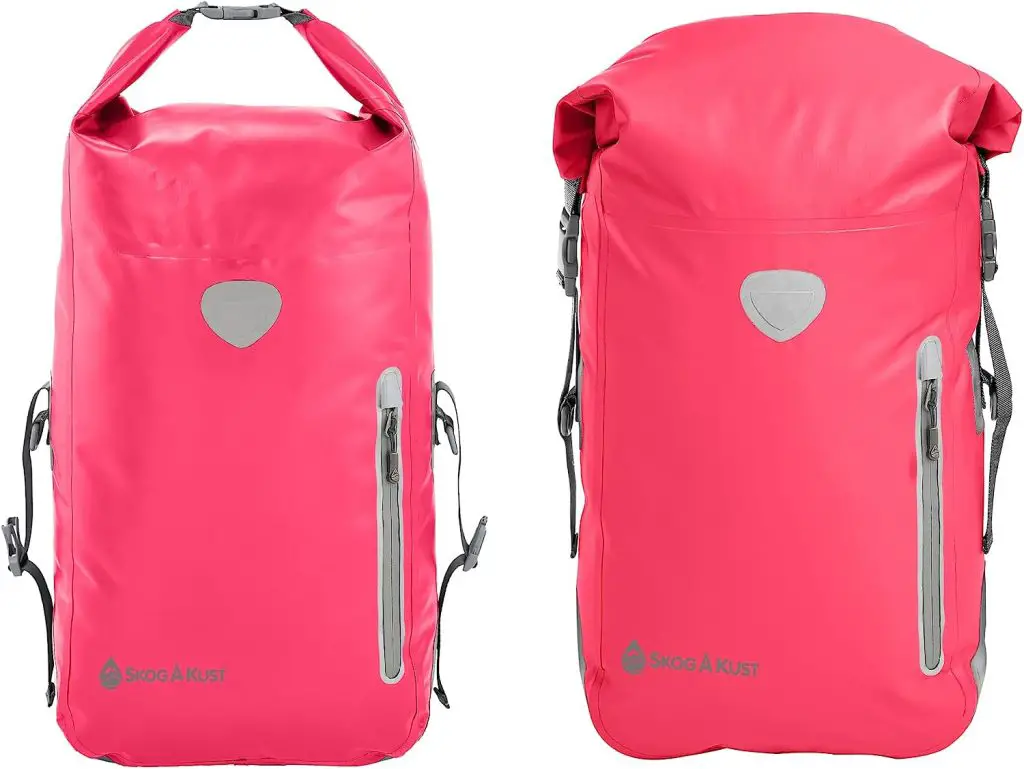 Best lightweight backpacks for travel should have a spacious main compartment with efficient organization pockets, allowing for easy access to essentials.
The Adjustable and padded shoulder straps and a breathable back panel enhance comfort during extended use.
The lightweight backpack for travel should also incorporate multiple carrying options, such as top handles and side straps, for versatility.
Additionally, a built-in security system with lockable zippers and hidden pockets ensures the safety of belongings. Finally, a water-resistant or waterproof exterior protects valuables from unexpected weather conditions.
BEST CARRY-ON AND PERSONAL ITEM COMBO
A carry-on and personal item combo bag is a versatile travel bag designed to meet airline regulations for both a carry-on and an additional personal item.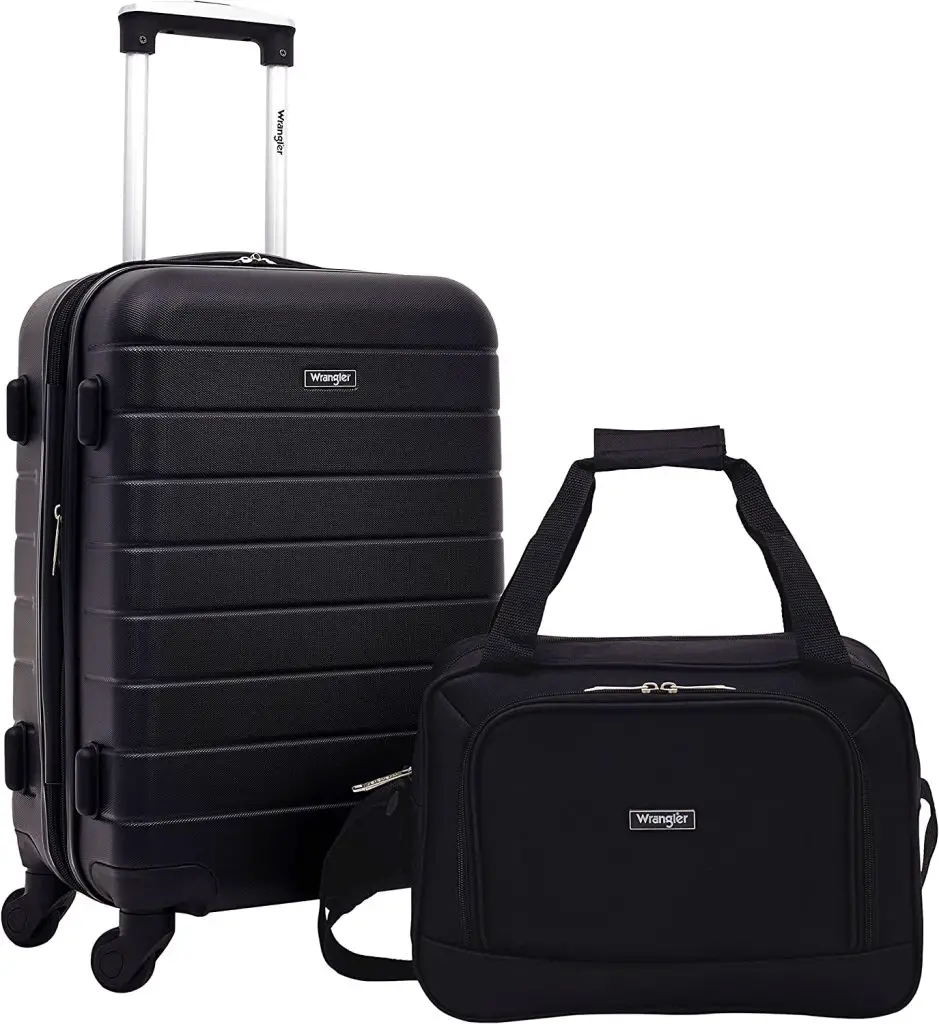 The best carry-on and personal item combo travel bag is the Wrangler smart Luggage and Personal Item bag because it allows you to maximize your packing capacity and convenience while traveling.
The Wrangler smart Luggage carry-on and Personal item combo travel bag's size and dimensions comply with airline restrictions, it is made with durable and lightweight materials and has multiple compartments for efficient organization.
The Sturdy wheels and retractable handles offer easy mobility, adjustable straps for comfortable carrying, a TSA-approved lock for security, a padded laptop compartment for electronics, and external pockets for quick access to essential items.
Additionally, the sleek and stylish design is a bonus. Overall, these features of the best carry-on and personal item combo Wrangler travel bag ensure functionality, practicality, and hassle-free travel.
BACKPACKS THAT FIT UNDER AIRLINE SEAT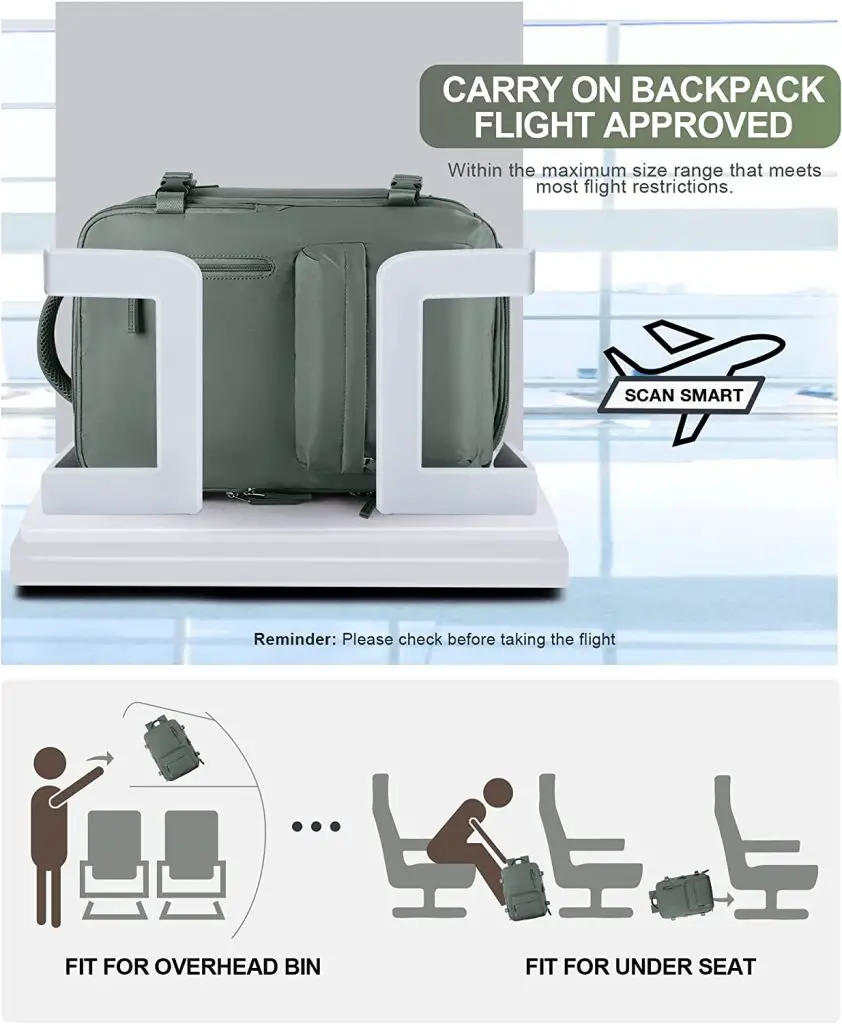 Backpacks that fit under airline seats are also called Airline seat-fit backpacks and they are specially designed bags that conform to the size restrictions of most airline seats.
The top 3 backpacks we recommend that fit under airline seats are;
VGCUB waterproof seat under Carry-on Travel Backpack for Women and Men Airline Approved
Deegotech Lightweight Travel Backpack
LOVEVOOK Slim under seat Laptop Backpack for Work and Travel
These seats fit under backpack features a compact and slim profile, ensuring they fit comfortably under the seat in front of you without impeding legroom or causing discomfort.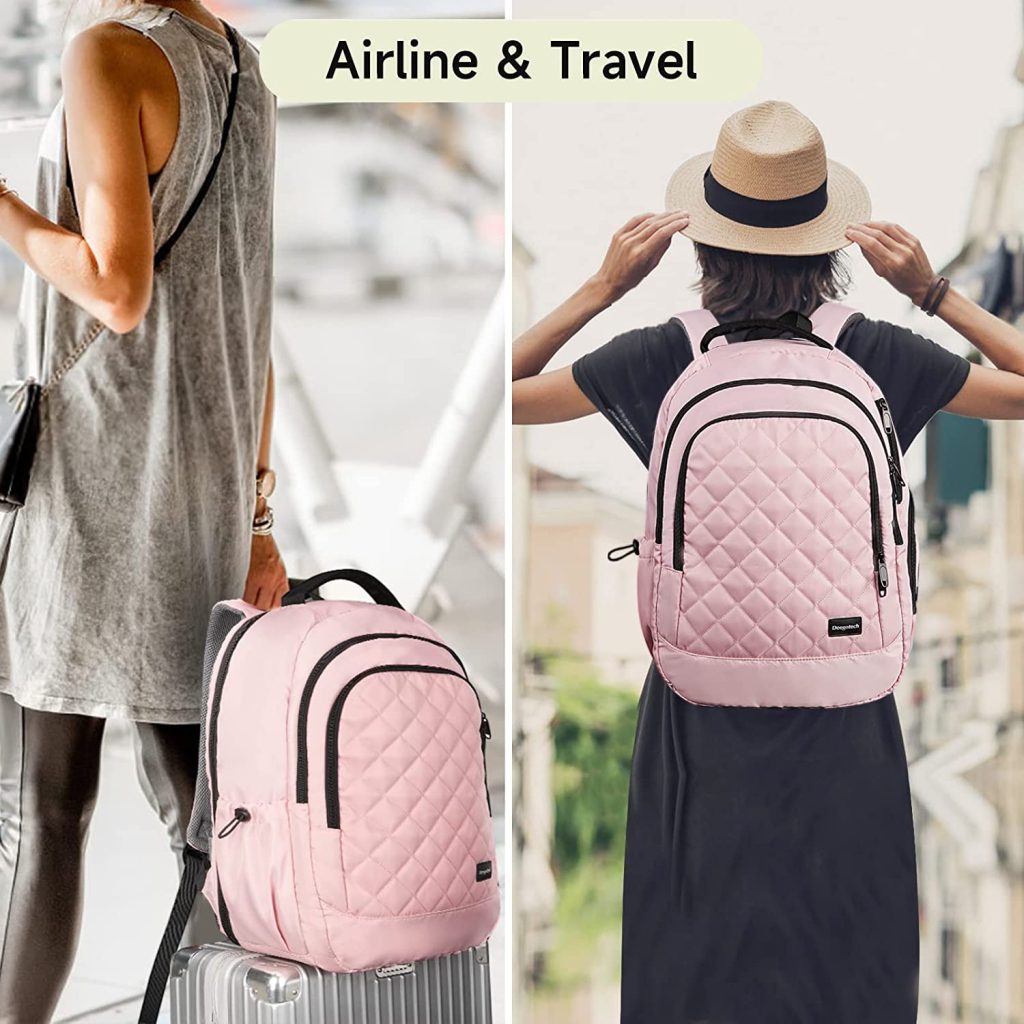 They typically have a streamlined shape, with organized compartments and pockets to optimize storage space.
These bags often incorporate flexible materials, adjustable straps, and compressible features to accommodate varying seat dimensions.
The aim of these backpacks that fit under airline seats is to provide travelers with a convenient and efficient carry-on option that maximizes in-flight comfort while adhering to airline regulations, making them ideal for frequent flyers and travelers on short trips.
DO AIRLINES CARE ABOUT PERSONAL ITEM BAG SIZE?
Generally speaking yes. Although some don't. If it's above 45 inches in length, width, and height combined, it will have to be checked in.
WHAT SIZE BACKPACK CAN I TAKE ON A PLANE AS A PERSONAL ITEM?
The size backpack that you can take on a plane as a personal item should be less than 45 inches in length, width, and height combined.
The individual items must be less than 22 by 14 by 9 inches.
For some Airlines, the Personal Item Size in inches is: 18.5 x 15 x 11 in      
Then in cm: 47 x 38 x 28 cm
The Mode can be:       17 x 13 x 8 inches &    43 x 33 x 20 cm
CAN A BACKPACK BE A PERSONAL ITEM?
Yes and No, a backpack can be considered a personal item depending on the specific airline or transportation service provider's policies and regulations.
We always recommend you review the specific dimensions and weight restrictions provided by the airline or transportation service provider you plan to use. These limitations can vary between companies and may be subject to change.
IS A PERSONAL ITEM A BACKPACK?
No, a personal item is not necessarily limited to a backpack. In travel and airline terminology, a personal item refers to a smaller bag or item that passengers are allowed to bring onboard in addition to their carry-on baggage.
The specific dimensions and regulations regarding personal items can vary depending on the airline or transportation guidelines.
Finally, one key feature of the personal item is that they are small in size and typically fits under the seat in front of you.
CONCLUSION
It's been a simple article about the best personal item backpack for airlines and I believe you got the desired answers to your search.
Thank you for reading. Kindly share with others.