What can I use instead of a mesh laundry bag? I bet the original question was what can I use to protect my clothes from getting damaged in the washing machine?
Or, how can I prevent my stockings from getting lost each time I put them in the washing machine?
I can boldly say that before the advent of wash bags, there were several improvisations we made to secure our clothing when using the washing machine, and even now that wash bags are so popular, many of us who are well acquainted with the old ways are still maintaining the status quo.
Table of Contents
DO YOU NEED MESH LAUNDRY BAGS?
We definitely need mesh laundry bags because of the following reasons:
The washing machine is not always clean
The washing machine can be harsh at times
Not all materials will remain intact inside the washing machine.
Sorting and grouping of clothes in terms of color is best achieved with mesh bags. This is so that similar colors can be washed together to avoid color mixing which can lead to unwanted stains.
Smaller fabrics are better secured inside wash bags.
It's better to protect the baby wears from unnecessary germs using wash bags.
WHAT CAN I USE INSTEAD OF A MESH LAUNDRY BAG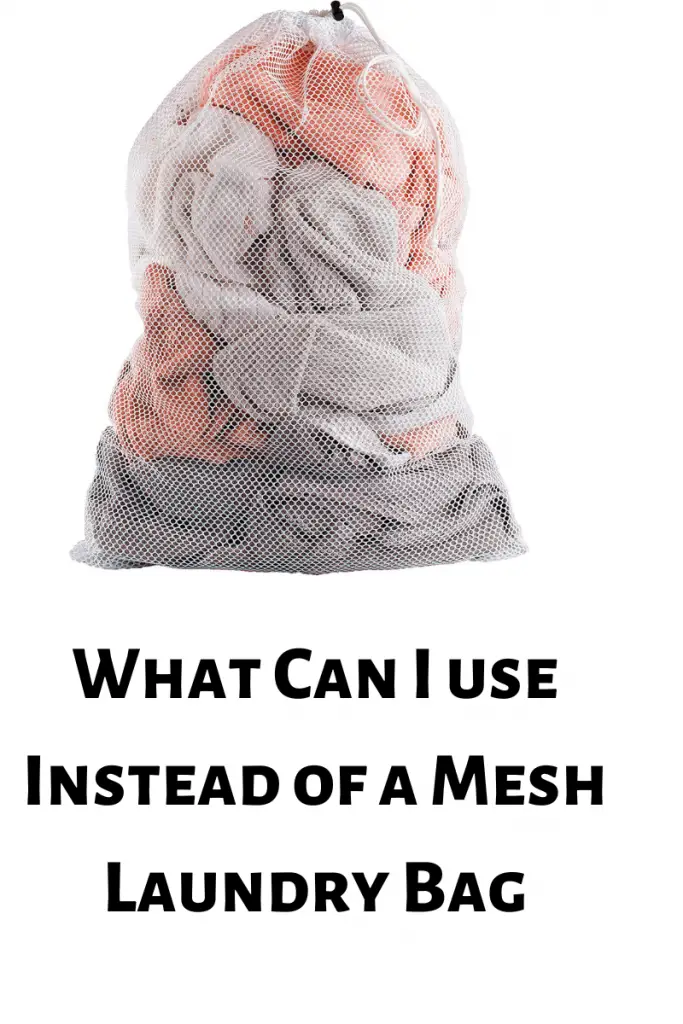 The best material or item to use instead of a mesh laundry bag is any soft fabric be it cotton or any other lightweight material that can easily be converted to a wash bag provided the material itself does not pose any sort of threat to the items being washed like a pillowcase as it is a perfect item to use instead of a mesh laundry bag because of the following reasons;
The shape of the pillowcase is usually cylindrical and clothes can easily move around it provided the top of the pillowcase is well sealed to avoid the clothes from falling out.
The material used in making pillowcases are soft and can absorb moisture. This means that water and soap can seep in freely
Pillowcases are light and will not pose any potential threat to the cleanliness of the clothes in them.
Cotton which is the fabric generally used to design pillowcases usually does not emit color which is good news.
WHAT IS THE BEST MATERIAL FOR A LAUNDRY BAG
Let's understand the difference between a laundry bag and a wash bag because there are various types of laundry bags.
A laundry bag can be made of canvas, cotton, mesh, or any other material the manufacturer decides to use.
This bag as the name implies is a bag used to store clothes that are due for laundry. They are ideal during travels and are used as separators of clean and dirty clothes. 
A wash bag, on the other hand, is a mesh, nylon, or polyester bag with zippers or drawstrings usually used to protect clothes when being washed in a washing machine.
HOW DO I PROTECT MY CLOTHES IN THE WASHING MACHINE
Wash bags are a sure way to protect your clothes in the washing machine. There are a lot of things you can protect your clothes from with the use of wash bags. Some of them are as follows:
Unwanted stains from the washing machine
Unwanted stains from clothes that tend to emit colors
Unwanted loss of small clothing
Unwanted tangling of clothes due to fabrics like shoe laces and other string-like materials mixing up with other clothes in the wash.
Unwanted softening or breakage of naturally sturdy and stiff fabrics.
WHAT DOES WASHING IN A MESH BAG DO?
Washing in a mesh bag does a lot of things for your clothing but the one we are most familiar with is the fact that mesh bags serve as some sort of protection. Oh yes! Mesh bags do work!!
You may be shocked to realize that about 40% of people who wash with wash bags do not understand the need to do this.
They all know that wash bags are some sort of protection but what these wash bags are protecting their clothes from is very much unknown to them.
So, let's see 5 things a mesh bag can do for you;
1.  A mesh bag protects your clothes from snags and tangles
2. A mash bag prevents tears and stretching especially during washing and drying.
3. A mesh bag will retain the shape of your delicate fabrics even after they've been washed.
4. A mesh bag will reduce the risk of stains from the washing machine.
5. Sorting your fabrics by their color to avoid unwanted color stains is achievable with mesh bags.
MESH BAG
A mesh bag as the name implies is a lightweight bag usually made of mesh, which is used to protect delicate fabrics from getting damaged during laundry.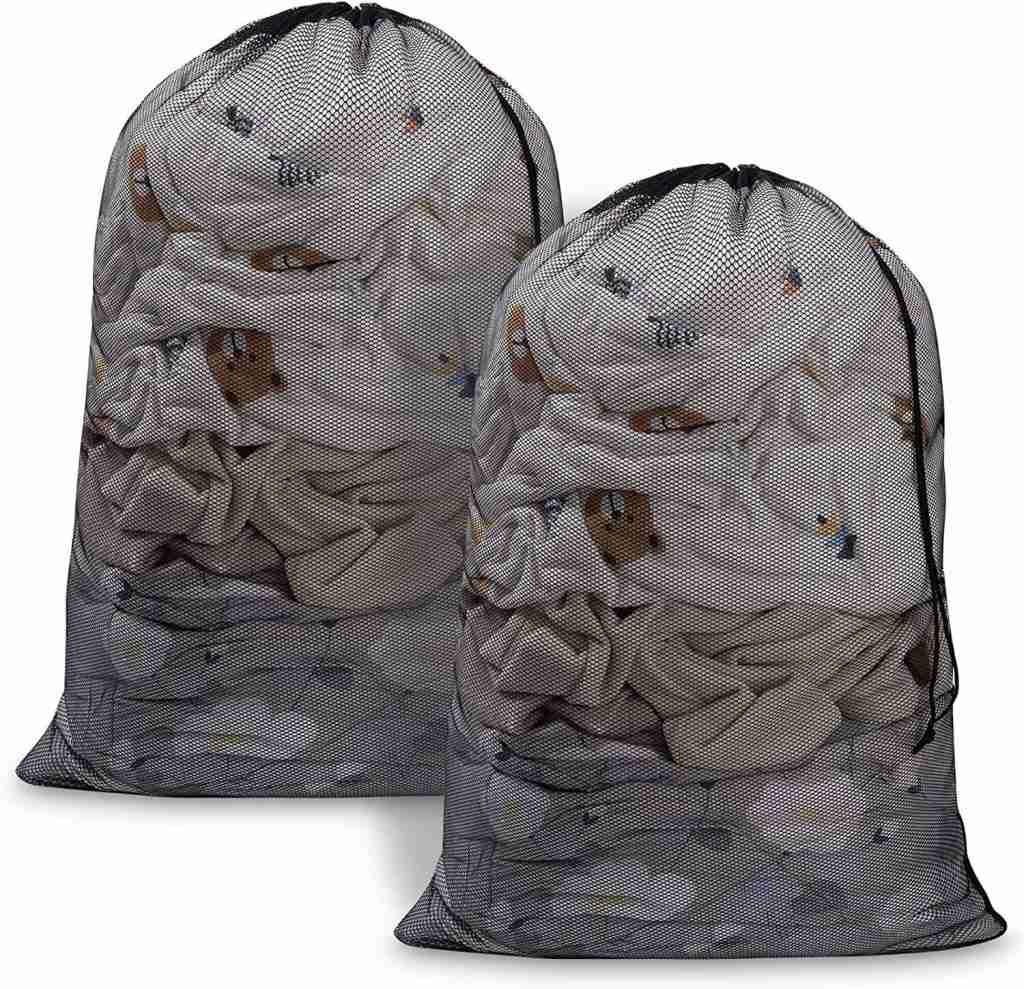 Mesh bags are multipurpose and can be used for a variety of purposes. However, the general function we all know mesh bags to serve is strictly related to laundry.
Any other function can be said to be at the discretion of the user and may or may not be part of the original reasons behind the creation of mesh bags.
DELICATES WASH BAG
The difference between a mesh wash bag and any other delicate wash bag can be seen in their designs. While mesh bags are made out of mesh, there are some delicate wash bags that are made out of other thicker materials.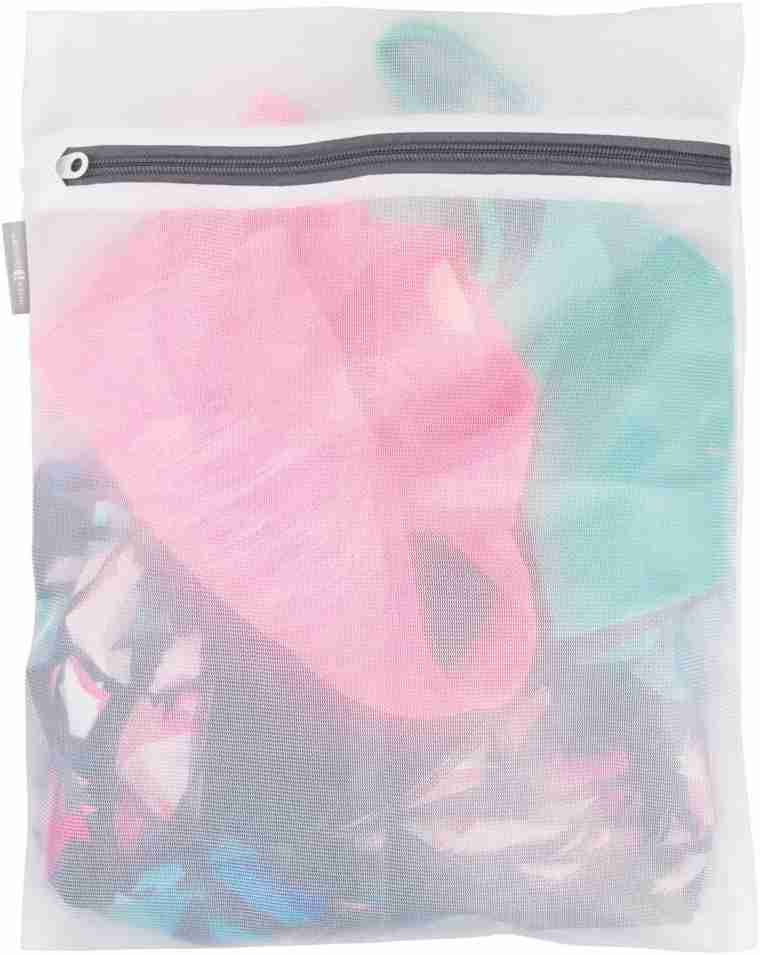 The Wash guard is a type of delicate wash bag made out of thick fabrics and designed with a zipper at the upper layer of the bag.
The zipper was placed at the upper layer and not at the topmost part of the bag to allow the clothes within circulate freely without obstructions while the washing is ongoing.
LAUNDRY BAGS
A laundry bag is not a wash bag. A laundry bag is usually a cylindrical sack-like bag with drawstrings or zippers and is usually used to store dirty clothes.
Have you been to a store and you saw similar large commercial laundry bags with the inscription 'wash me'?
Well, those large bags are what we call laundry bags. They are simply bags where we put our clothes that are due for laundry.
Occasional trips to the laundry man or dry cleaner are best done with fancy-looking laundry bags.
Some might say, "But the clothes therein are dirty", well, my answer to that will be a question, "Should you wrap your dirty clothes in ugly-looking blankets simply because they are dirty?"
Laundry bags are best profitable during travels as they serve as separators of your clean and dirty clothes. They can very well be used at home in place of the regular laundry baskets or can as well be thrown inside the laundry baskets.
MESH LAUNDRY BAG
Mesh laundry bags are usually identifiable by their net-like fabrics and their drawstring handles or sometimes zippers.
Mesh laundry bags are usually lightweight and are mostly designed to allow water and soap to seep in during laundry. Here are some of their unique features;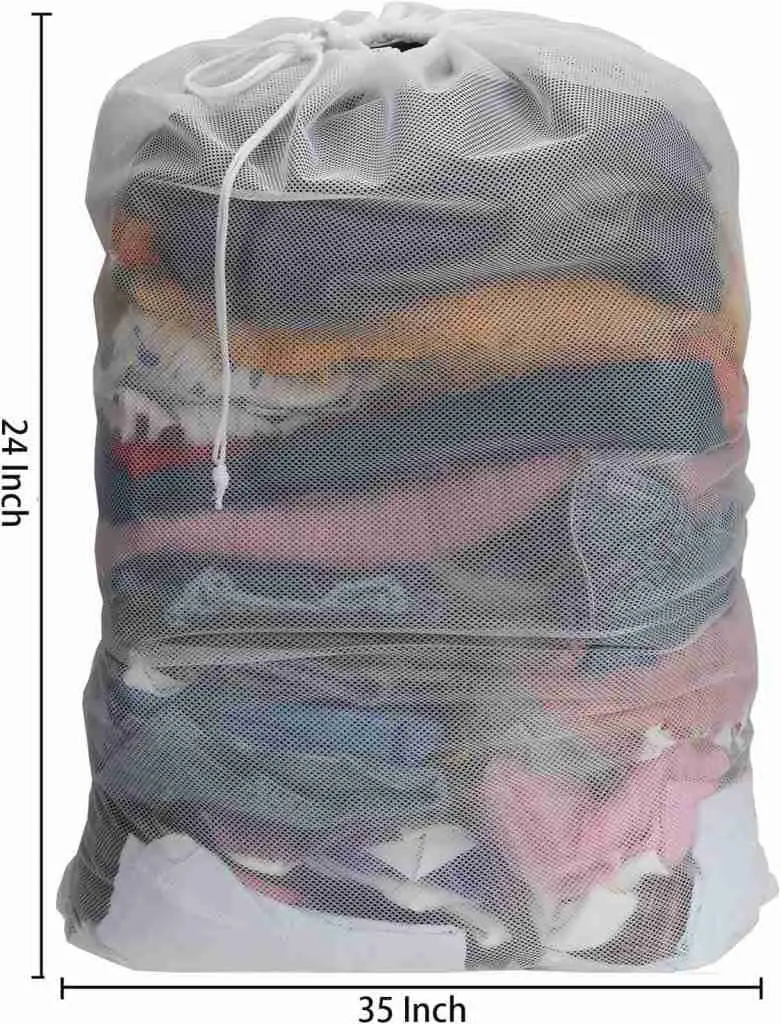 They have a singular color pattern, they are usually designed in neutral colors like white to allow you to see clearly what's in them and to avoid incidences where there is a color stain transferred from the bag which was to serve as protection to the clothes in it which were being protected from such occurrences.
They usually have drawstrings that can be opened and closed at will.
Their materials are usually lightweight and made to look like nets for easy water passage.
They usually come with no extra pockets or compartments.
LAUNDRY ONCE A MONTH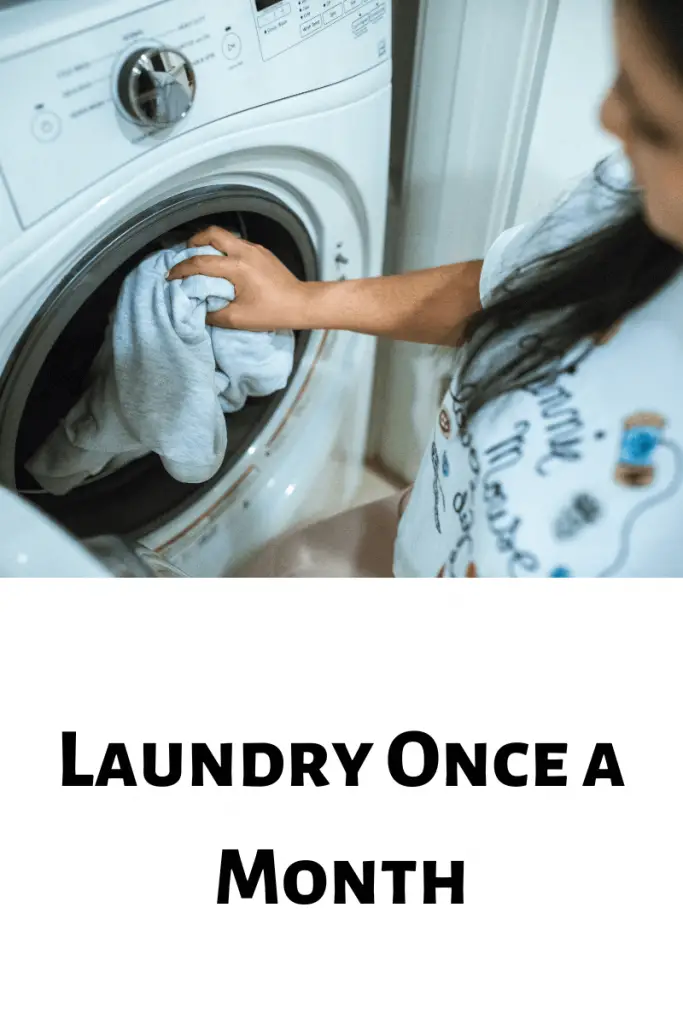 Not all fabrics require frequent washing and not all clothes get dirty when they are worn once.
Hence, deciding to do your laundry once a month is highly dependent on the type of fabric you wear very often and how dirty it tends to get.
Things like sleeping bags and blankets for instance do not require frequent washing.
Whereas thin cotton fabrics that you wear during summer might require you to wash them more often than thick winter jackets.
HOW OFTEN TO DO LAUNDRY FOR ONE PERSON
How often you decide to do laundry for yourself alone depends to a great extent on your personality and what you regard as personal hygiene.
If you are someone who believes in wearing the same clothes at least thrice before washing, probably because of the weather or simply because you are someone who sweats very little, then your laundry will not be as frequent as that of a serious sweater who believes in wear and wash immediately regardless of how cold or warm the weather is.
HOW OFTEN SHOULD YOU DO LAUNDRY A WEEK?
There is no basic rule on how often you should do your laundry in a week.
For me, doing your laundry is dependent on a whole lot of factors including the type of family involved.
For instance, if you have a baby who is still using baby diapers and who is still puking and spitting due to teething, then you most definitely have to do your laundry at least thrice a week if not daily.
How about you have a bunch of grown kids who can take care of themselves and who you most definitely do not need to worry about, then doing the laundry twice or even once a week won't be a bad idea.
This, however, depends on the number. A very full family will require you to do more laundry than usual regardless of the dressing habit of the people involved.