Why shoulder bags are provided with broad straps is simple. The broader the strap the more comfortable the wearer. Padded straps can only be achieved if the straps are bold.
The majority of our shoulder messenger bags come with leather and padded straps. The pads can either be made of foam or soft rubber which reduces the friction between the wearer's shoulders and the bag itself.
This friction can occur when the wearer is in motion, a constant adjustment of the shoulder straps to prevent the bag from slipping off the shoulders and onto the floor can cause unhealthy friction especially if the straps are thin and unpadded. 
Thick blushes on the skin, slight sores, and deep imprints like patterns on the skin, are all resultant factors of thin and unpadded straps.
Table of Contents
PURSE
A purse is a small-sized receptacle used to carry small objects like money, cards, keys, etc. Purses are predominantly carried by women and can either be put into larger bags or worn as fashion statements.
I have grouped them into three categories, strapless purses, purses with short handles, and purses with straps.
Strapless purses are the old-fashioned purses that normally come without handles. They can be held like clutches and can serve as wallets when not used for fashion purposes.
The strapless purses are designed to come with single zips or steel closures that can hook and unhook when either being closed or opened. These classes of purses can come in varying sizes and shapes.
The best outfit that can be worn with a strapless purse is a gown. Gowns of all types can go comfortably well with strapless purses. Straight gowns, flay and floral gowns, prom dresses, and dinner gowns alike.
Purses with handles or straps are purses that can be worn as shoulder bags or crossbody bags. They are mostly designed to come with thin straps due to the sizes of the purses.
It's impossible to put very heavy items inside a purse. Hence, straps even when thin and unpadded have a reduced rate of putting the wearer at any type of risk.
The purses with straps have handles that can either be adjusted to be short enough to be worn like fanny packs or handles with buckles that can be removed entirely and worn as strapless purses.
Purses with straps are very fashionable and can be worn as phone pouches. Outfits that can be worn with purses with straps are, casuals, corporate attires, cocktail wears, and dinner gowns.
RELATED: HOW TO MAKE A CROSSBODY STRAP
WHY SHOULDER BAGS ARE PROVIDED WITH BROAD STRAPS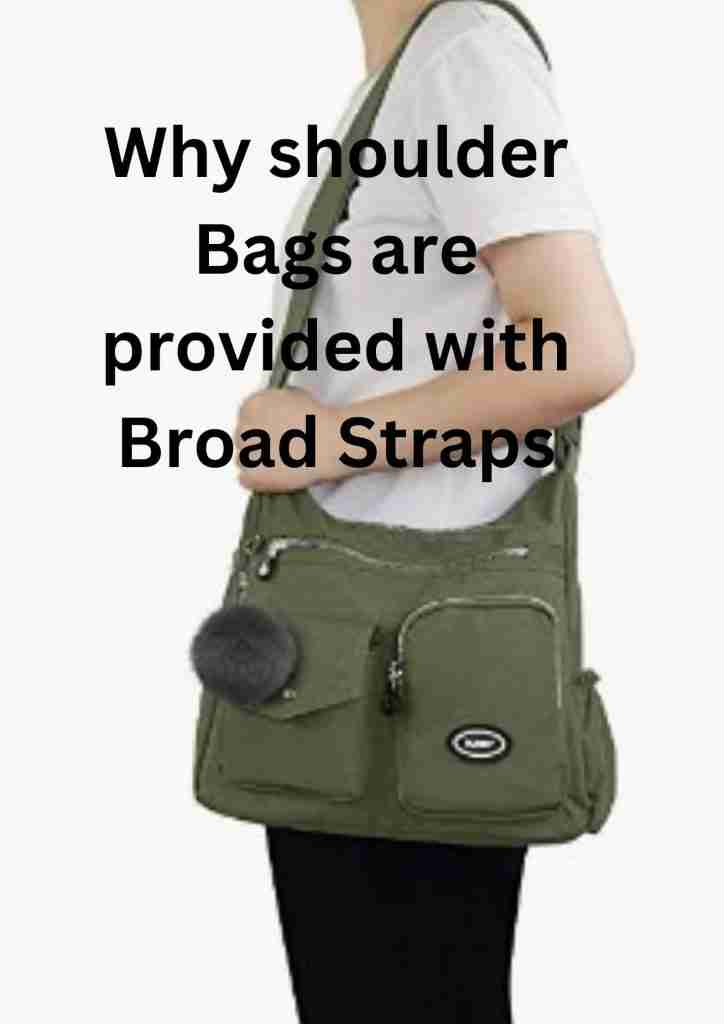 Here is why you need broad straps for your shoulder bags. Broad straps are more comfortable than thin straps. Broad straps add balance to bags and reduce the chances of shoulder strains caused by overweight bags with thin straps which might lead to injuries if consistent.
BAGS WITH BROAD STRAPS
Find below examples of the best bags with broad straps:
BROMEN WOMEN VEGAN HANDBAGS SHOULDER BUCKET CROSS-BODY PURSE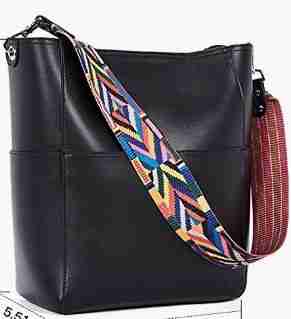 This is a beautiful bag with a wide strap that simultaneously makes the purse fashionable and fun.
The bag purse stands up, which is one of its distinguishing features and makes it simple to find things inside.
Two different straps—one for cross-body wear and the other for shoulder wear—are included inside the bag.
With this bag, you can't go wrong thanks to its size and numerous outside pockets.
The two detachable handles are one more feature I liked.
I could carry it like a typical shoulder bag or wear it across my body.
Its interior space is very generous, making it great for travel.
VIVA TERRY VEGAN LEATHER CROSSBODY BAG PURSE WITH ADJUSTABLE STRAP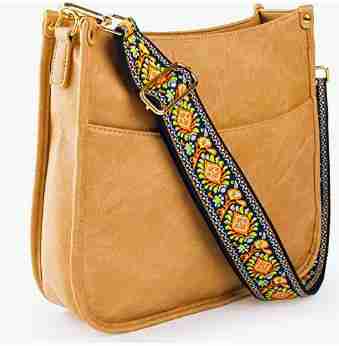 This broad-strap bag is a necessity if you want to turn heads.
With a new strap, you can alter the appearance to be more casual or formal.
The size of the purse is ideal. Everything will fit, making it easy on the elbows and shoulders.
The functionality of the cross-body bag was considered during the design.
One primary pocket with a zipper.
One interior zippered pocket.
Two slip pockets.
One back outside zipper pocket.
One large front pocket.
The handbag has a large main compartment that can accommodate your wallet, phone, notebook, and other items. It is simple to hold for everyday use.
WHY SHOULDER BAGS ARE PROVIDED WITH WIDE STRAPS TO CARRY THEM
Here are 4 major reasons why Shoulder bags are provided with wide straps to carry them.
Pressure: The pressure on the shoulders is reduced with the provision of broad or wide straps.
This is common with bags that have heavyweight items in them.
Easy lift: The bags become easier to carry and more comfortable with broader straps, there is an even distribution of the weight of the bag because of the broad straps.
This gives the carrier more balance and that usual pull to the angle where the weight is coming from is minimized.
Comfort: Broad straps are more comfortable to carry, especially with shoulder bags.
The lesser pressure on the shoulders, the more comfortable the carrier feels.
Cases where the carrier, constantly exchanges the position of the bag, from the left shoulder to the right shoulder and vice versa are normally born out of pure discomfort.
Lastly, that gnawing pain that normally occurs as a result of the thin straps biting into the flesh of your shoulder and leaving a dent thereafter and sometimes an injury for chain handles and other strong materials are reduced with broad straps.
BAGS FOR LADIES
Bags for ladies are of varying types. Most of them fall into the class of satchels, messenger bags, tote bags, and purses.
The shoulder bag is the most popular bag used by women. At least 7 women out of every gathering of 10 women can be said to have a Shoulder bag somewhere at home.
Shoulder bags are the safest place for women. Intimate items and other basic contents can be kept safe in a shoulder bag.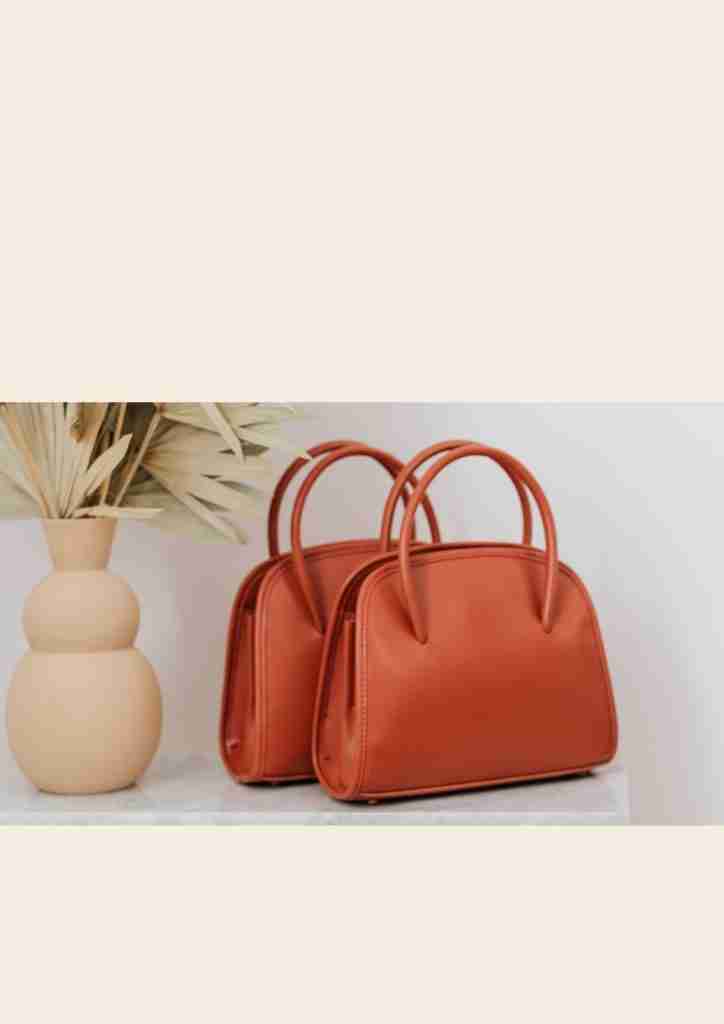 In as much as shoulder bags have their unique function as the best receptacle for women, shoulder bags can be worn for mere fashion.
There are women who would naturally feel incomplete without a shoulder bag, even if there's literally nothing inside the bag.
Tote bags for ladies are highly fashionable and can be worn on all occasions.
Fast receding to the background is the era when specific bags were strictly for specific purposes and occasions.
The old norm of carrying purses to the church and heavy messenger bags to work has been replaced with a nonchalant approach towards what one wears to where.
However, attention is still needed on the choice of bag to wear for some occasions.
A duffel bag for instance is a travel bag and should not be worn as a fashion bag to a wedding.
Tote bags which are originally bags that can be used for shopping purposes have been converted into very fashionable bag styles for women.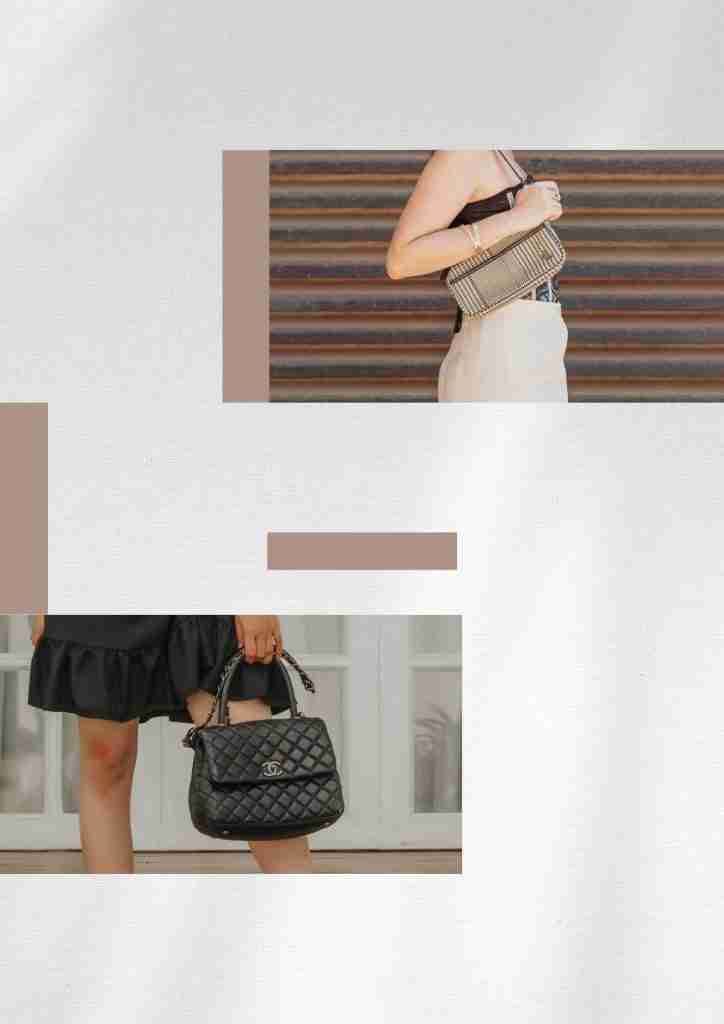 A tote bag when worn with shorts and a tank top can be carried to the beach and to other casual places.
Satchel bags for women on the other hand can be used for everyday use.
These bags used for the carrying of books and other gadgets are good convertibles to bags that can be worn on a daily basis.
Mostly handheld and made of leather materials, these bags can comfortably be worn to school or to the workplace.
WHY SHOULDER BAGS ARE PROVIDED WITH BROAD STRAPS CLASS 8
Broad straps can reduce the strain caused by overweight bags and can increase the level of comfort felt by a carrier.
Even though the bag is overweight and carried for a long period of time.
Shoulder bags are bags worn on the shoulder.
These bags can be strenuous to carry especially when overweight materials are kept inside the bag.
This strain can cause sharp pains and sometimes blisters if carried for a long time.
WHY DO SCHOOL BAGS HAVE WIDE STRAPS CLASS 9
School bags have wide straps class 9 because of Support. Broad straps for school bags give support to the carrier.
School bags are normally double-strapped and designed to look like backpacks.
Hence, their broad straps help in supporting the bag on the carrier's back.
Broad straps also give an even distribution of pressure and enhanced comfort.
That piercing feeling or sting that comes with overweight bags with tiny straps is due to an uneven distribution of pressure.
WHY SHOULDER BAGS ARE PROVIDED WITH BROAD STRAPS AND NOT THIN STRIPS
Why Shoulder bags are provided with broad straps and not thin straps is hinged on the following, proportion, balance, and comfort.
Proportion: Broad straps for shoulder bags reduce the pressure that comes with being overweight. They cause an even circulation of pressure within an area.
Balance: To achieve balance, it's always important to ensure that the weight of the bag and the straps that carry the bag are equally proportionate to one another.
Comfort: Broad straps are in most cases padded. This gives the carrier maximum comfort while reducing the strain that comes with overweight bags.
WHY IS IT PREFERABLE TO CARRY SHOULDER BAGS THAT HAVE BROAD STRAPS?
The pillow feels broad straps give a major reason for its preference.
People would generally go for what gives them more comfort than things that would make them feel uncomfortable.
Broader straps have blunt edges which reduce the stings that are predominant with heavy bags.
Thin straps when used for heavy bags can be quite painful, especially when worn as backpacks or shoulder bags.
WHAT MATERIALS ARE BACKPACK STRAPS MADE OF?
Polyester, Nylon webbing, soft foam, and Dyneema webbing, are common materials used in the production of backpack straps.
These materials are known for their durability and cut resistance.
It's always important to look out for materials used in the production of a particular bag strap before going ahead to buy.
This reduces the chance of cuts while en route, tears when stretched, and other common hazards that come with backpacks.
WHAT STRAPS SUIT BROAD SHOULDERS
Use thin straps for broad shoulders. If you must use broad straps, they should be medium-sized and not too broad.
Broad straps on broad shoulders can give an "in your face" feel which can be uncomfortable for the wearer.
They heighten the size of the shoulders and can give an unappealing appearance, especially when worn by the masculine gender.
WHY DO SCHOOL BAGS HAVE BROAD SHOULDER STRAPS?
Pressure and area have an inverse relationship. A small area increases pressure whereas a large area reduces pressure.
This said broad straps reduce pressure on the shoulder.
School bags are naturally designed to carry heavyweight items and their straps if thin can increase the pressure on the shoulder.
This can heighten the weight of the bag and cause optimal discomfort.
Also, chances of wear and tear tend to increase with increased pressure on the shoulder.
Cases, where the straps of a school bag were cut while the carrier was still en route, become more common. 
Apart from having to face the challenge of looking for improvisation on how to carry the contents in a school bag that the straps cut, the experience in its totality, can be very embarrassing, especially for a teenager.
To avoid all these, it's better to use broad straps for school bags for more balance and comfort.
WHY ARE HEAVY BAGS PROVIDED WITH BROAD STRAPS
Heavy bags are provided with broad straps for an even distribution of pressure.
The principle of equal proportion entails that two different elements if they are to be combined, should have an equal mass or ratio with each other.
If thin straps are used for heavy bags, the weight of the bags will be too much for the straps to handle.
This will result in a strenuous pull and an eventual tearing of the straps.
CONCLUSION
Broad straps and thin straps serve different purposes. While broad straps can perfectly be used for heavy bags, thin straps are better used for fashionable and lightweight bags.