What is a Dopp kit called a Dopp kit? I bet you are probably used to seeing small leather bags in the bathroom or beside the dressing mirror.
What items are usually seen in these bags? There are those who will presume that these leather bags are for mere fashion reasons or a special way to express poise.
But what if I tell you that these bags do much more than we think they do? How about taking a peek inside these bags to see what they really contain? Let's do this together.
Table of Contents
WHAT'S ANOTHER NAME FOR DOPP KIT?
Another name for a Dopp kit is usually called a toiletry bag. There are some who prefer to call it, a sponge bag, bathroom bag, or even a washkit.
Whichever name you choose to call a Dopp kit, rest assured that it's acceptable provided the functions are closely related to what it's being called.
Dopp kits are usually made of leather but can also be pouches made of waterproof materials like nylon, canvas, or even polyester.
WHAT IS A DOPP KIT CALLED A DOPP KIT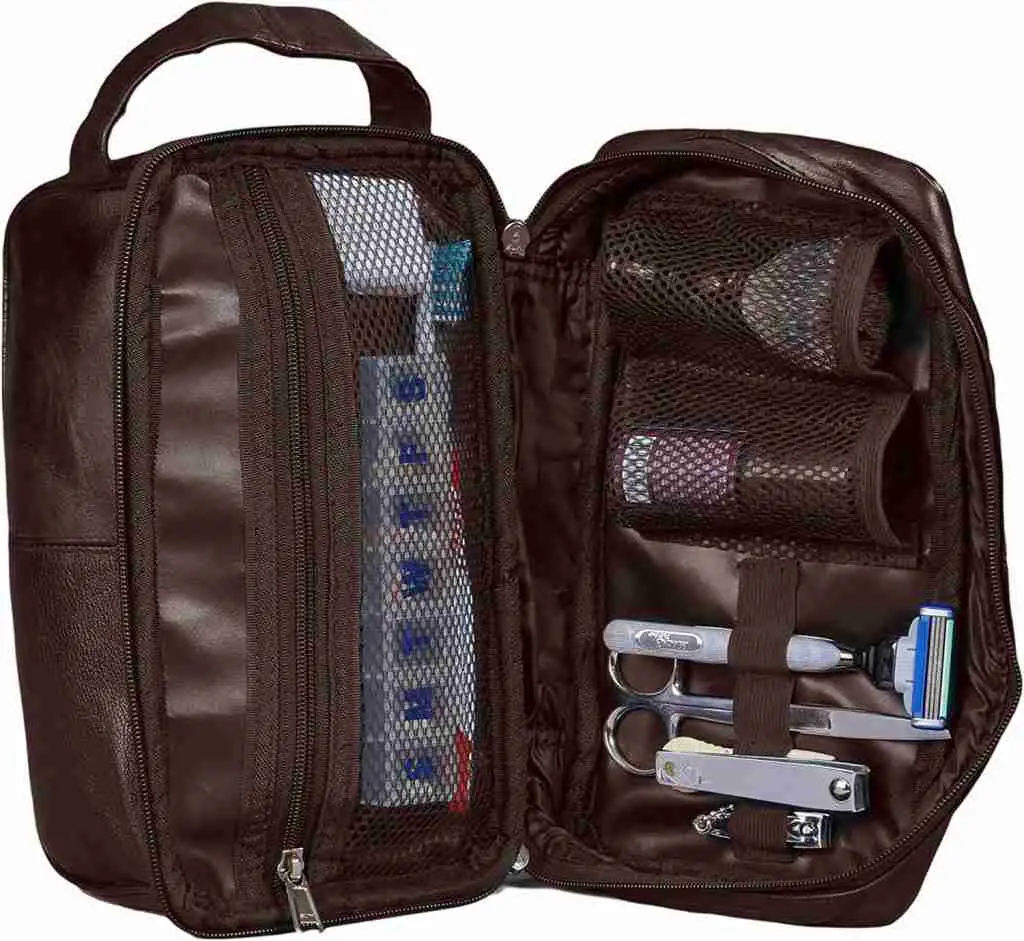 A Dopp kit is usually a small bag, made of leather, canvas, or any other material, used to store toiletries. Men usually use the Dopp kit to store items like shaving cream, clippers, brushes, razor blades, and other personal maintenance items.
Women on the other hand can call the Dopp kit, a toiletries bag for storing toiletries, ranging from makeup items to sanitary items.
A Dopp kit is called a Dopp kit because of the founder of Dopp leather bags whose name is Charles Doppelt. He was a craftsman from the early 20s and was greatly known for his artistry and expertise in leather.
WHAT IS IN A DOPP KIT?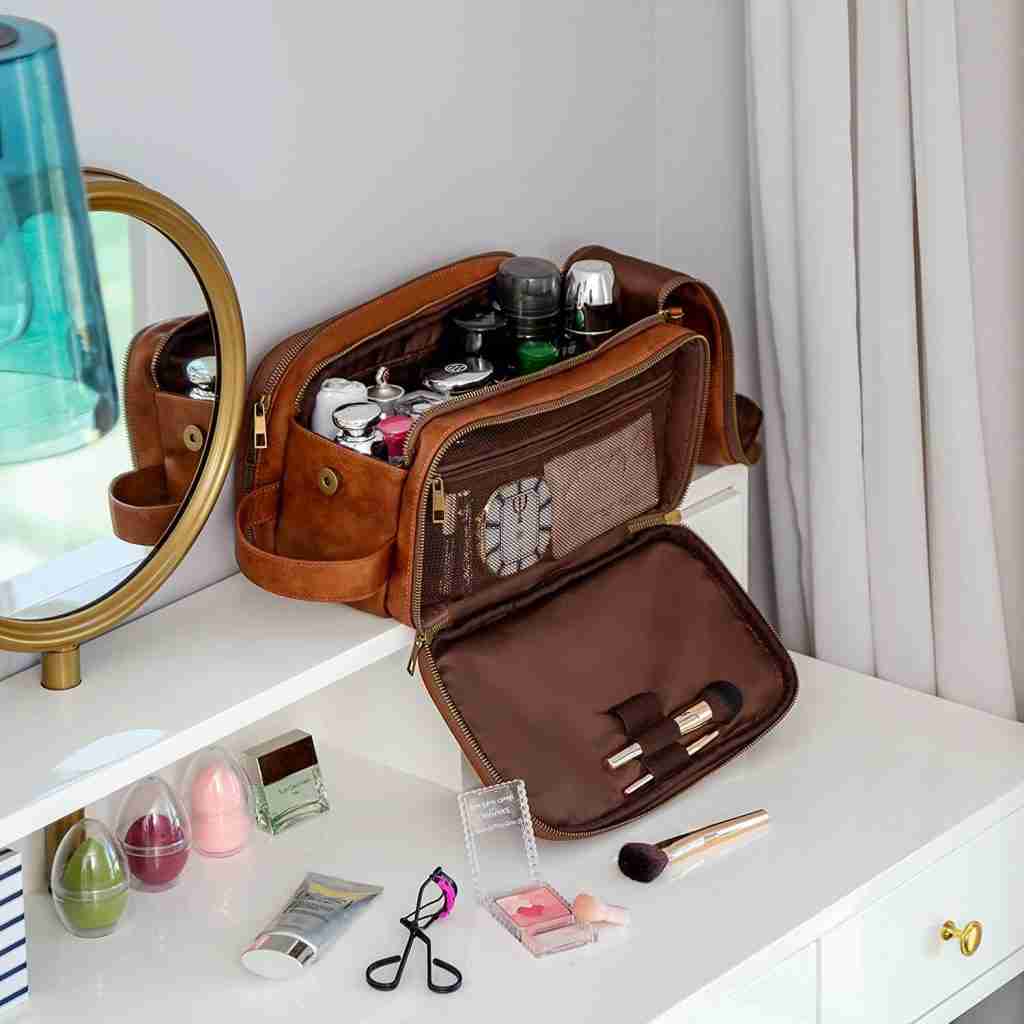 Basic items that can be found in a Dopp kit include;
Nail clippers
Hair clippers
Shaving lotion
Razor blades
Scissors
Panty liners
Sanitary pads
Toothbrush
Toothpaste
Cotton wool
Facial cleansers
Hairbrush
Shaving sticks
Sewing kit
Safety pins
Floss
Lip gloss or lip balm
Aspirin
The items that can be kept in a Dopp kit are relative to the user's personal hygiene pattern and has a lot to do with the gender of the bearer. If a man, for instance, owns a Dopp kit, there is a 99.9% guarantee that there will be no sanitary pad in his Dopp kit, except there is a very crucial reason why he should have one.
WHERE DOES THE WORD DOPP COME FROM?
The word, Dopp is an acronym that originated from who we can call the father of leather, Charles Doppelt. He was a German craftsman who dealt with leather bags in his early 20s.
The word Dopp is more common to those who reside in America as other people might refer to the same type of bag with other names, depending on what is more predominant in their locality.
HOW DO YOU PRONOUNCE DOPP KIT?
Dopp kit is pronounced as /ˈdɒp ˌkɪt/  in Europe but pronounced as /ˈdɑːp ˌkɪt/ in the US. Both pronunciations are quite similar and an easier way to get the actual pronunciation is by spelling it wrongly.
Here, Dopp will be spelled as /dAAp/ with an emphasis on the vowels in the middle.
The kit is most likely kit, everywhere and is easier to pronounce because of the simplicity of the word. Unlike similarly spelled words with few alterations like an additional alphabet at the end, like 'Kite' with an 'e' at the end which altered the pronunciation to sound more like /kait/, kit is straightforward and is pronounced exactly as seen.
WHAT DOES DOPP STAND FOR IN DOPP KIT?
The word Dopp stands for and is more associated with the bag material than what the bag is used for.
Doppelt being the name of one of the best leather craftsmen of his time, it was easier to associate his products (leather bags) with his name.
Hence, the Dopp kit can still mean the 'kits produced by Doppelt'.
Let's remember that referring to people by what they were known for was also very predominant in ancient times. Names like Goldsmith, Blacksmith, Carpenter, Wood, and Woodwork, were usually given to people who gained mastery in such crafts.
DOPP KIT HISTORY
The father of Dopp kits is Charles Doppelt, a leather smith who came from Germany. He was known for the production of small leather bags which were predominantly used as bags for storing toiletries.
However, the name Dopp kit became more predominant during the second world war and especially when it was introduced into the military.
It is presumed that referring to these bags as toilet bags was vulgar and somewhat obscene, hence a more subtle name was chosen and this originated from the fact that the introducer of these kits was Doppelt by name.
DOPP MEANING
The word, Dopp is an acronym that originated from who we can call the father of leather, Charles Doppelt. He was a German craftsman who dealt with leather bags in his early 20s.
The word Dopp is more common to those who reside in America as other people might refer to the same type of bag with other names, depending on what is more predominant in their locality.
DOPP KIT MEANING
A Dopp kit is a toilet case used to store toiletries and other personal hygiene items. Most Dopp kits are small-sized and are designed to look like pouches.
These bags are usually kept in strategic places in the home and cannot be mistaken when seen. They are those small kits we usually see on the mirror cabinets in the bathroom or in the room beside the dressing table.
It's important to have Dopp kits handy because it makes dressing up much easier as all the necessary items you will be needing before and after the shower can be kept in one bag.
Traveling reduces the chance of you losing your precious items like your favorite hair clip since it's easier to throw the Dopp kit as it is, inside your suitcase and bring it out as it is, once you are back home.
BEST DOPP KIT
The Best Dopp Kit is the Zeemo toiletry bag for men because it can meet all your storage needs of your toiletries supplies, has lots of storage pockets and it is 50% larger than the common Dopp kit Bag.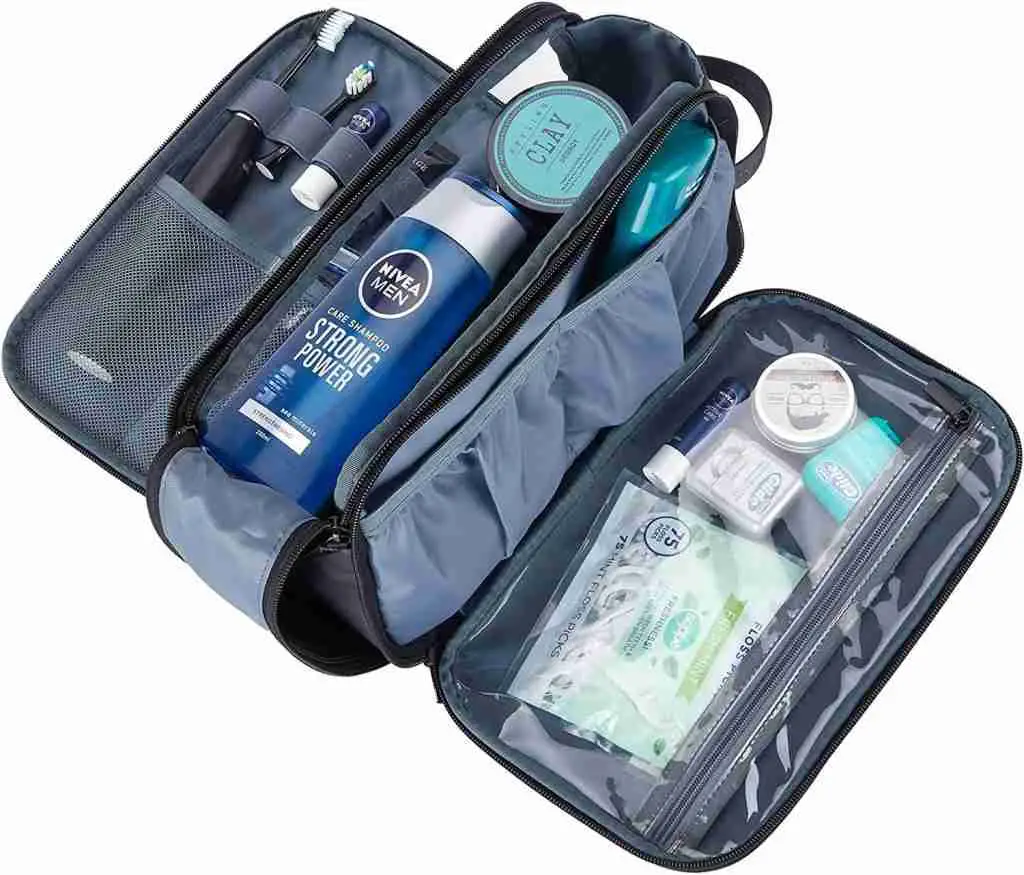 Even though the Zeemo Dopp Toiletry bag is commonly used by men, it can also be used by women. The exterior is very soft and durable, made with vinyl like feels like a leather Dopp kit.
It is difficult to find a Dopp kit that has quality zippers but the Zeemo Dopp kit is one as the zipper works smoothly and easily.
The numerous storage pockets are made up of mesh like the mesh laundry bag and vinyl material.
This Best Dopp kit can hold all your personal toiletry and care items at home and while traveling.
Yes, the Zeemo Dopp kit toiletry bag is also made up of waterproof cloth.
A soft wet cloth can be used to clean it, it is not recommended to put this Zeemo Dopp kit Toiletry bag in the washing machine as this action will damage the shape.
This Best Dopp kit bag is highly recommended for daily usage and as a gift for a loved one.
CHARLES DOPPEIT DOPP KIT
Charles Doppelt was known for his brief-sized bags which at that time were called toilet bags. These were designed to look like leather cases and were used mostly by men to store their toiletries.
Campers can find this bag very handy because, small, delicate but very important items which may not be ideal when placed side by side with other less delicate items can fit perfectly inside the Dopp kit.
Also, the chances of our special blades being swallowed up by other larger clothing, are reduced with the Dopp kit. 
LEATHER DOPP KIT
The leather Dopp kit is usually designed in two ways. There is the leather Dopp kit with a removable top flap which is held to the bag by a zipper.
The top flap can be opened and closed at will, it's usually easier to remove the flap so you can see the contents of your bag properly before going on to re-attach and close.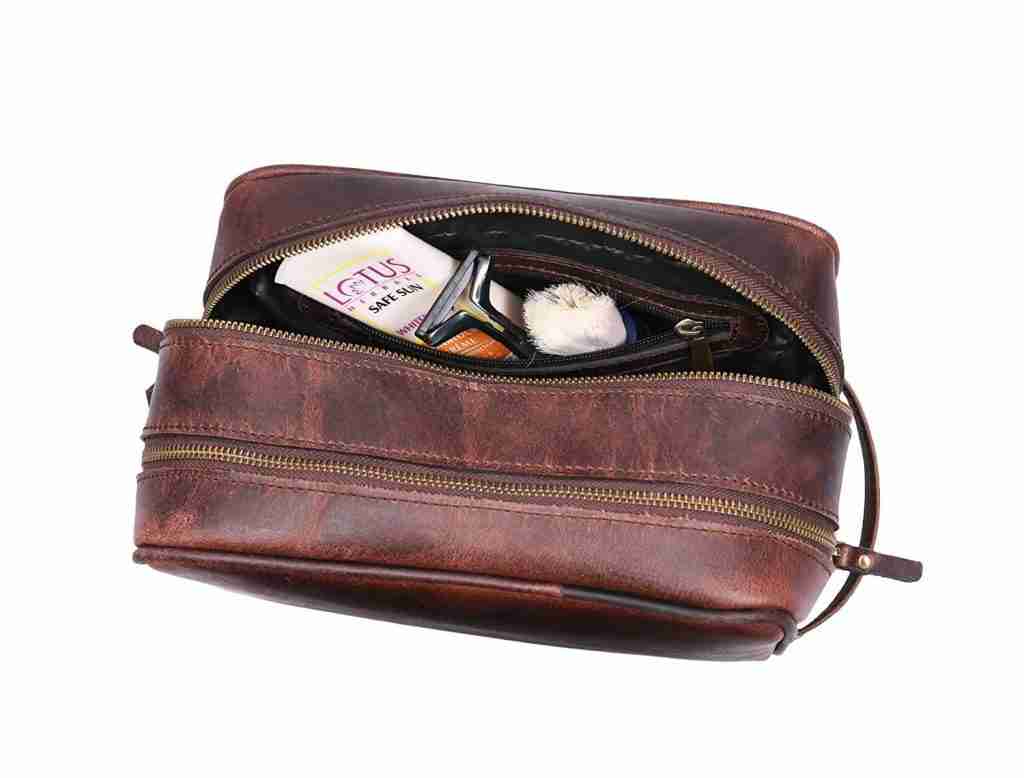 There is still a Dopp kit designed to look like a case with two equal parts separated by a zipper. Opening the zipper reveals two equal parts with multiple compartments that can come together to form a whole when closed properly.
The leather Dopp kit is usually designed in black or brown and is known for durability and the ability to withstand harsh weather.
Most people prefer the leather Dopp kits to their canvas counterparts, probably because the original concept of the Dopp kit was leather.
PERSONALIZED LEATHER DOPP KIT TOILETRY BAG
This lovely personalized leather Dopp Kit bag by RC Rockcow is constructed of brown full-grain leather and is water resistant due to its water-resistant nylon lining, making it durable.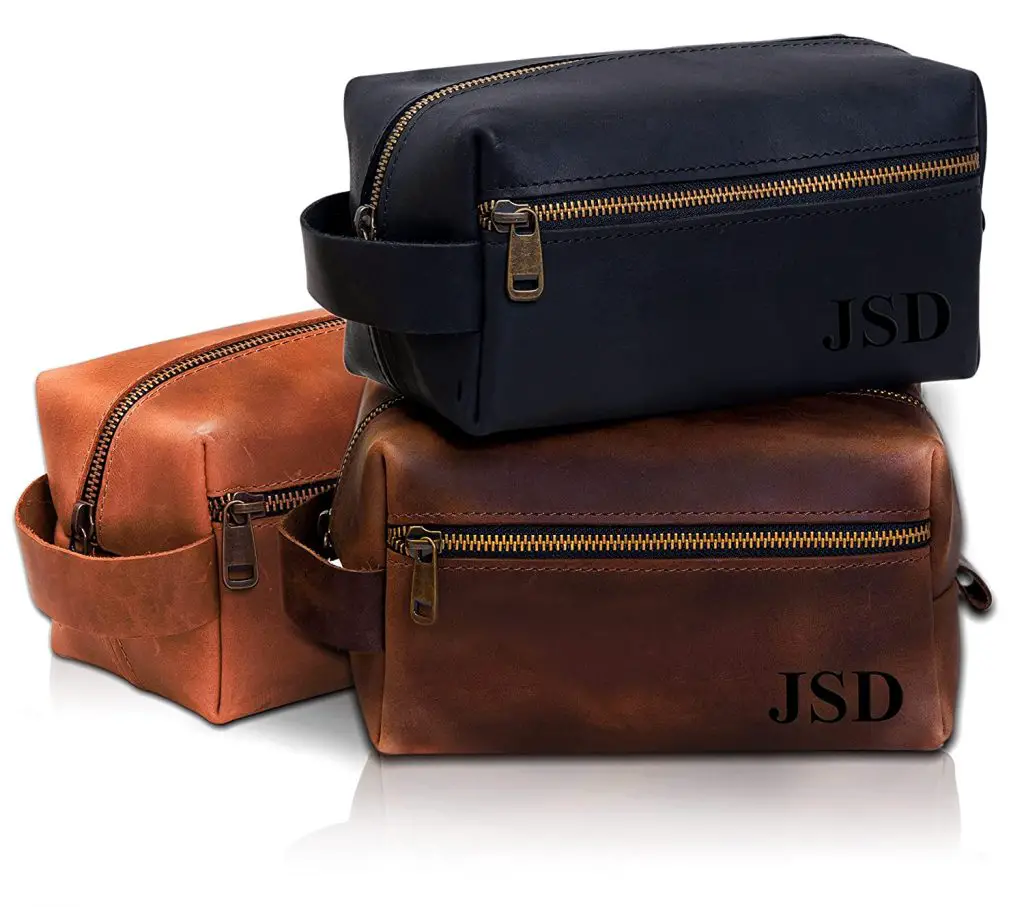 The various pockets on the inside can organize most of your toiletry accessories, such as toothpaste, travel shampoo, conditioner, body wash, mouthwash, women's make-up, and skin care products.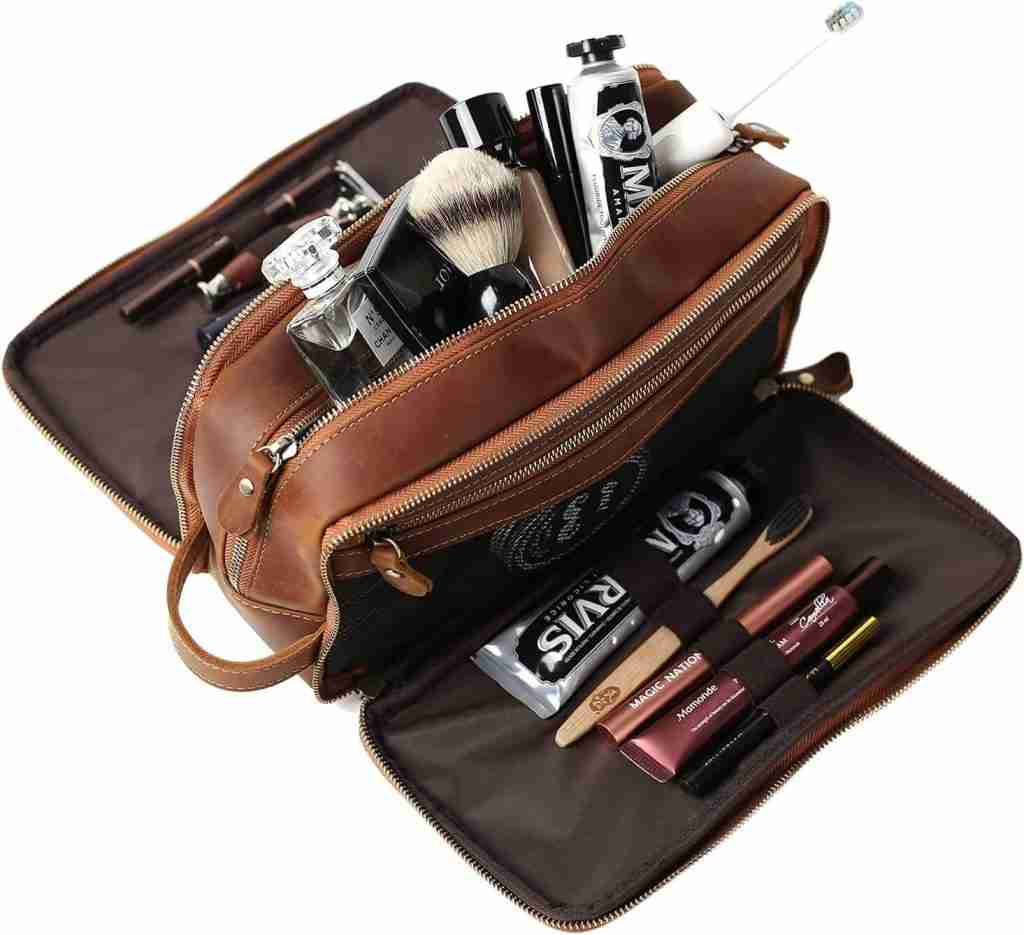 Because of its three zippers, this leather Dopp kit is also known as a Travel Dopp kit. A convenient and easy-to-carry Leather Dopp Kit would make an excellent gift for both men and women.
A fantastic choice for business travels, vacations, the gym, camping, at home, and more.
Please keep in mind that water should not be used on Genuine Leather; instead, gently rub it with hand cream to restore its luster.
VELLAIRE GENUINE LEATHER DOPP KIT TOILETRY BAG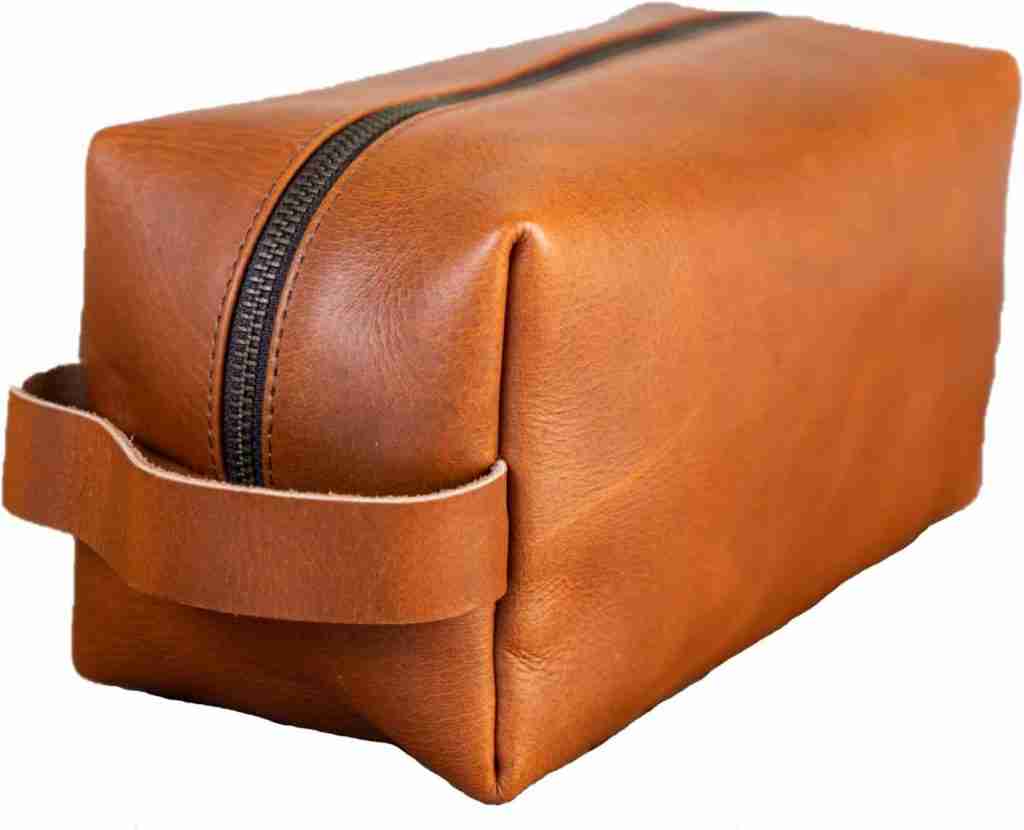 The Vellaire genuine leather is very affordable and proudly made in the United States. It is a great choice Dopp kit toiletry bag for men and women that can contain your cosmetics and other household items.
This genuine leather is 100% handmade, which makes it durable, a multi-use Dopp Leather Kit bag for the gym, personal organizer, makeup organizer, bathroom organizer, travel storage organizer, and shaving kit bags.
This is an ideal gift for Christmas, Valentine's Day, Father's Day, and birthdays. Ideal for your spouse, father, grandfather, young man, or son-in-law.
 DOPP KIT FOR MEN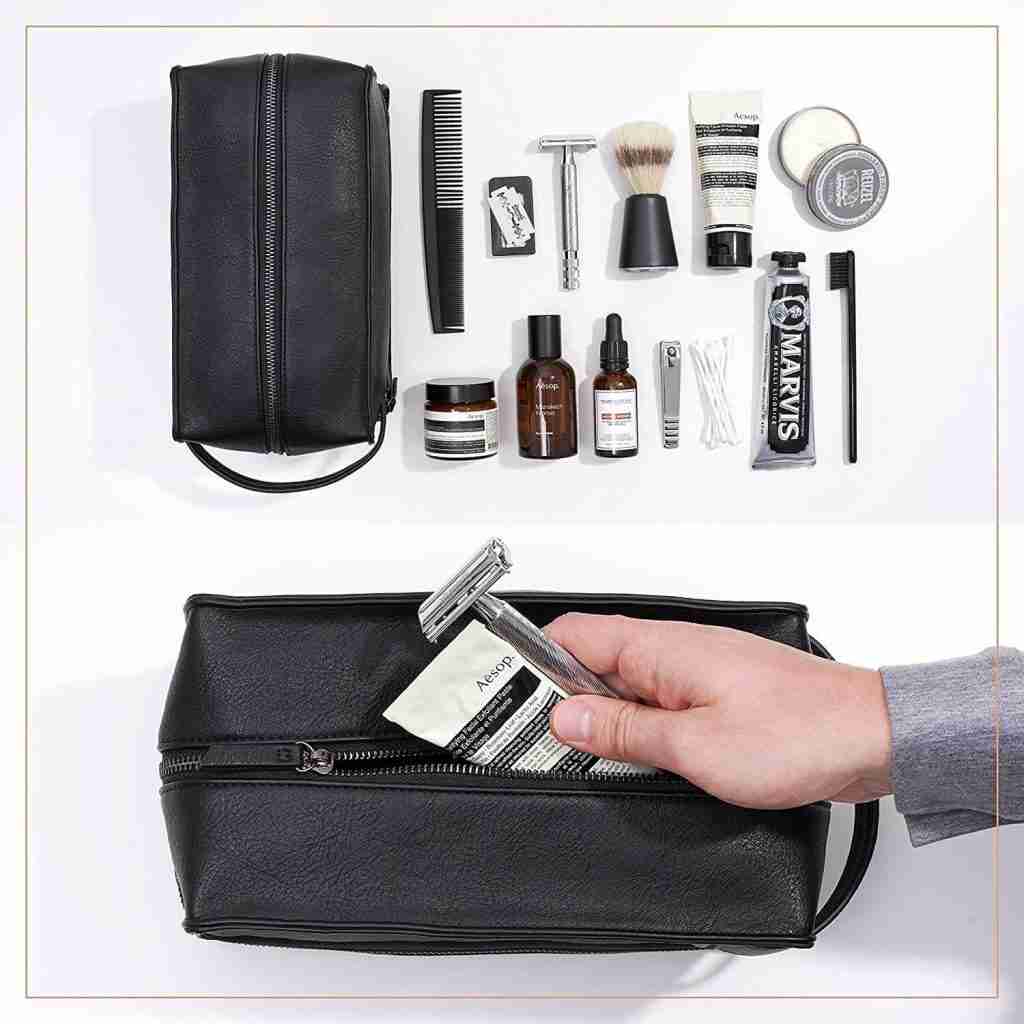 Dopp kits for men are usually pouches with short handles and multiple compartments and zippers. These compartments are usually designed in different sizes for the storing of different items. The items that are commonly found in men's Dopp kits include, but are not limited to the following;
Hair clippers
Hairbrush
Shampoo
Shaving lotion
Few cash
First aid kits (Not compulsory)
Body lotion
Soap
Bandaids, amongst others.
BROWN DOPP KIT FOR MEN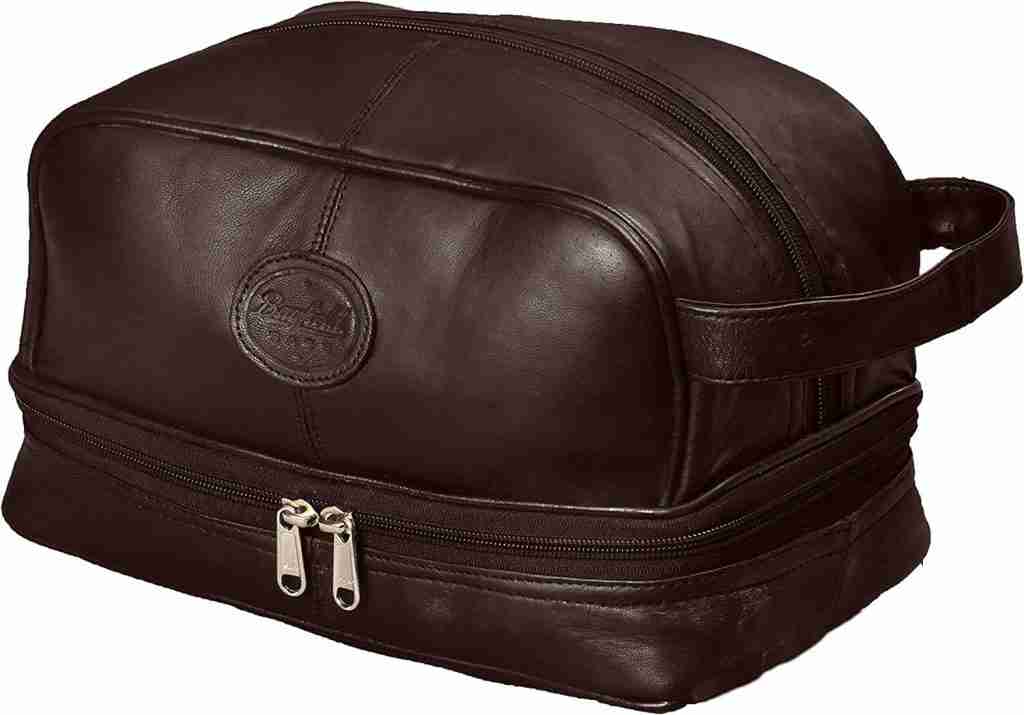 The Bayfield Leather Dopp kit toiletry bag is a great example of a men's Dopp kit since it can hold and organize your bathroom amenities like shave soap, clippers, an elastic band for your razor, and a shave brush.
This Dopp kit for guys features a spacious interior measuring 11 X 6 X 5 inches and sturdy-grade zippers that will not split.
This Dopp kit for guys can also be used as a travel medicine bag organizer. Get this leather Dopp kit bag for parents, teen boys, and guys as a gift.
DOPP KIT PATTERN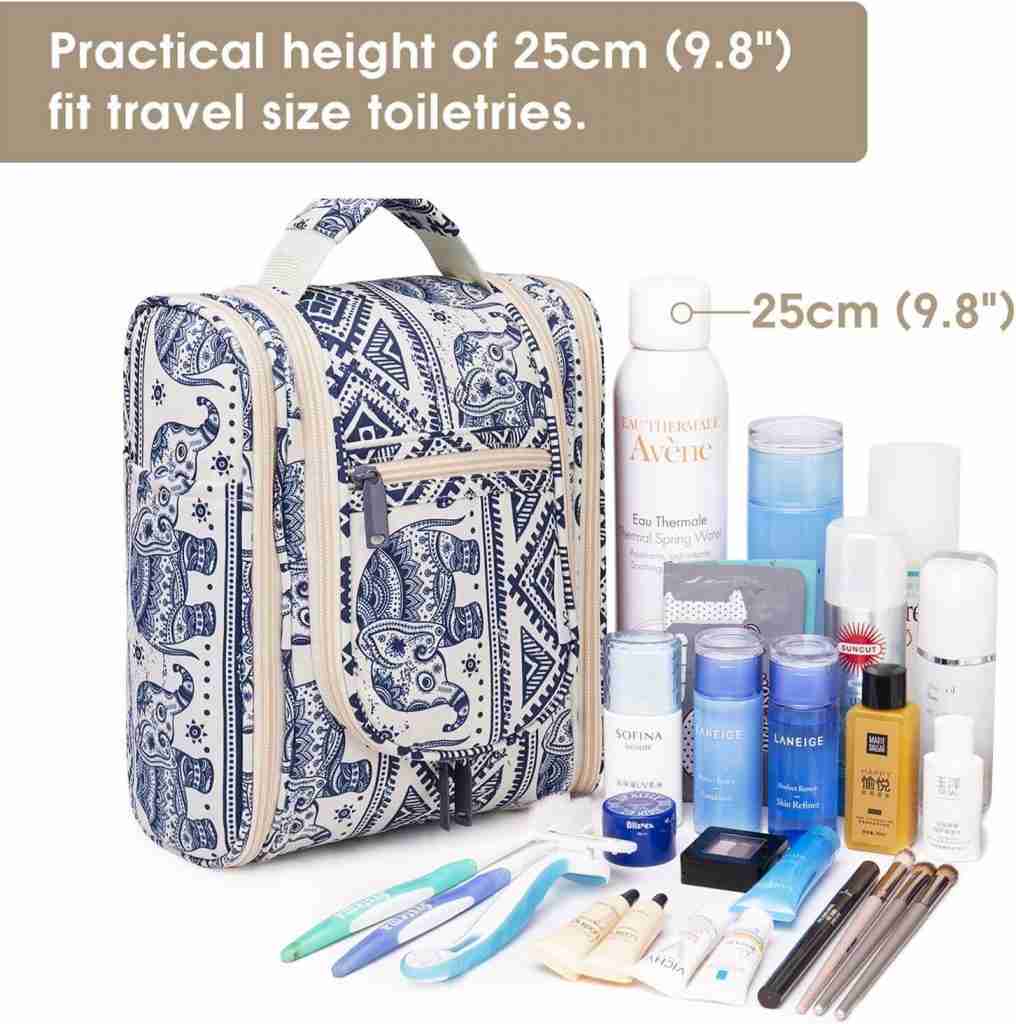 Dopp kits are usually cases. They could be designed in other materials like canvas, however, most people prefer the original concept of Dopp kits which were leather pouches with multiple compartments for items of various shapes and sizes.
CUTE DOPP KIT PATTERN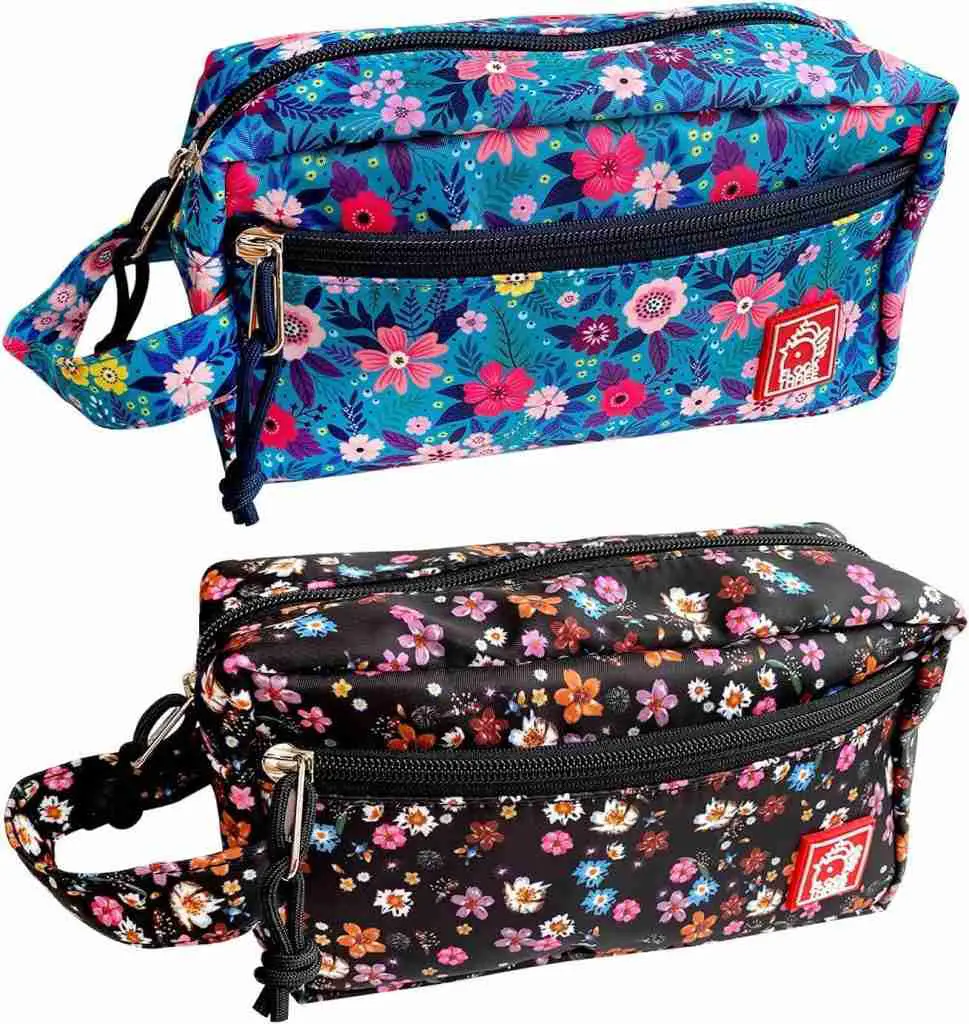 This cute Dopp kit pattern is feminine in nature and can comfortably carry girls' makeup, cosmetics, and bathroom accessories.
Are you hungry for more capacity? Then this cute Dopp kit pattern toiletry bag can store even stationeries such as pens, erasers, rulers, and scissors.
A perfect Dopp kit bag for storing travel necessities.
This cute Dopp kit pattern bag is made out of waterproof polyester fabric and Japanese industrial zippers with high-quality finishing
You can either carry this Dopp kit Pattern bag because of the handle pouch, you will definitely love this Dopp toiletry pattern bag.
ORIGINAL DOPP KIT
Originally, Dopp kits were leather bags designed to be used by men to store their toiletries and other basic items. Recently, women have taken to the use of Dopp kits and there are several fancy Dopp kits designed peculiarly to be used by women.
There are still unisex Dopp kits that can be used by both men and women.
MEDICAL DOPP KIT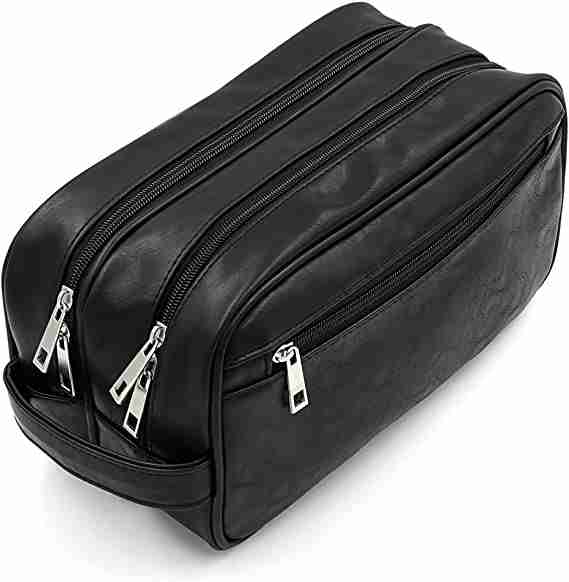 The medical Dopp kit as the name implies is used to store medical items which are mostly first aid items. They can be used instead of the usual first aid kits, which are more box-like and a bit heavier.
Medical Dopp kits can be used in the home or can be carried around by a medical practitioner in case of any unforeseen emergencies.
The items that can be seen inside a medical Dopp kit are no different from the items kept in a first aid box. Such items include bandages, spirits, cotton wool, Antacids, sterile gauze pads, and needles, amongst other first aid items.