In my last article on messenger bags, I took the time to write about the suggested messenger bag size you require as well as messenger bag vs briefcase. If you missed it, please read it.
Today, I will show you the distinction between a messenger bag vs crossbody bag.
I understand how people use the Messenger bag and Crossbody bag interchangeably but they aren't the same.
It is even more confusing when you want to buy one because they are both professional and easy to carry.
Follow me as we learn about messenger and crossbody bags so you can clearly make a sound decision to determine the one that meets your unique need.
Table of Contents
WHAT IS THE POINT OF A MESSENGER BAG?
A messenger bag is a great gift, a good work bag, and a weekend staple.
Let's look at a detailed answer to the question of what is the point of a messenger bag:
Comfort:
The shoulder strap is an important part of the messenger bag and it should be comfortable to wear, it should also be wide enough to carry a laptop and it should be ergonomically designed to sit well on your shoulder or be across your back.
Organization:
Messenger bags are usually spacious, and they are well-made.
A messenger bag should always feature a variety of compartments and even pockets, this helps to keep you well organized at all times.
You can also use these pockets to store away pens, your phone, tablet, keys, and more.
For your office, it's normal to take your laptop with you but endeavor to choose a larger size messenger bag with a quality lining. This protects your bag content.
Materials:
The materials involved in making a messenger bag are always strong and durable, this means that no matter the demands of contemporary living, messenger bags can cope.
Versatility:
A messenger bag has a hybrid appeal in the sense that you can wear it for work because it appears professional and can also be worn over the weekend.
It is the ideal in-between bag that gives you lots of flexibility.
Remember that a messenger bag is generally smarter than a backpack and it is also less formal than a briefcase.
Elegance:
We have style-conscious men who will appreciate the elegance of a messenger bag.
Clever design:
If you need the contents of making, the compartments of the bag it easy to access it.
MESSENGER BAG VS CROSSBODY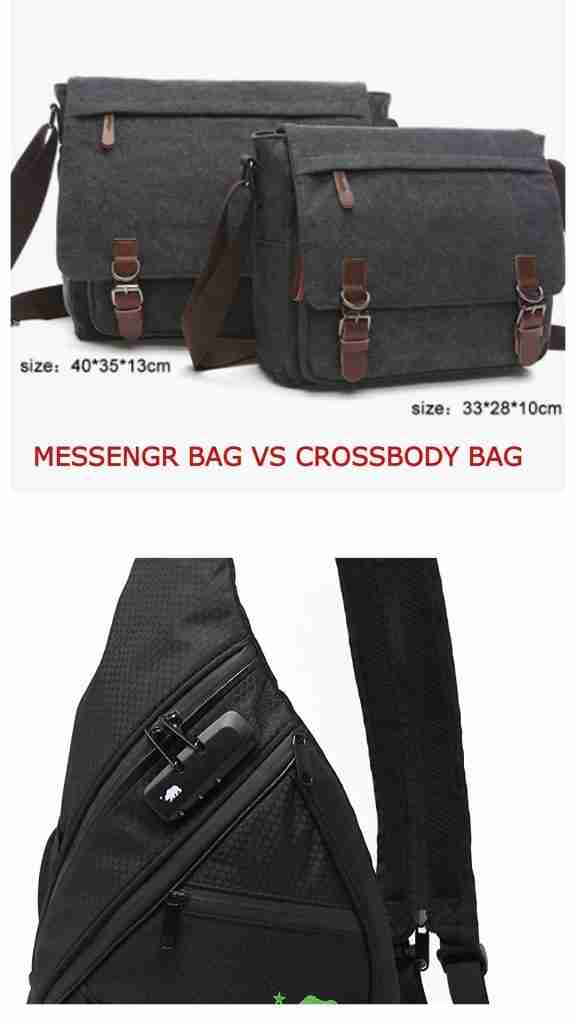 Below are the 5 major differences between the messenger bag and the crossbody bag:
| | |
| --- | --- |
| Messenger Bag | Crossbody Bag |
| Durable & Waterproof (E.g. Polyester). | Fashionable |
| 100% unisex | Not 100% unisex (Mostly women use it). |
| Used for professional settings | It's best suited for personal needs. |
| Dulled colors(gray & blue) | It comes in multiple colors & fashionable styles + multiple sizes. |
| Used for carrying heavy/bulky items | For carrying personal or light items |
MESSENGER BAGS FOR SCHOOL
I remember when I was in high school, the first gift I got was a messenger bag from my Grandfather though he's late now.
It was a beautiful bag that contained all my school items without struggle and I even had extra space.
One more thing I loved about this messenger bag was that it was easy to carry, easy to clean, and even resistant to water.
Apart from using messenger bags for school, it is also used for a number of activities. To learn more about messenger bags kindly check the articles below:
What are messenger bags used for?
Carry all your school items like pens, pencils, erasers, notebooks, textbooks, and laptops without stress because of the plenty of compartments in a messenger bag. 
Let's see a few durable and affordable messenger bags that will stand the test of time with anything related to school.
LIGHTWEIGHT SCHOOL MESSENGER BAG FOR MEN AND WOMEN
This affordable crossbody satchel messenger bag for school is perfect for day-to-day school activities.
It has organized compartments to store your phone, pens, and iPad. It also comes with a shockproof laptop compartment with extra space for your documents.
This messenger bag has an adjustable strap and an anti-theft invisible zipper to secure your items while on campus.
It is resistant to water and scratches due to its high-quality material. It has a large capacity to contain your books, documents, and other items.
CASUAL CANVAS MESSENGER BAG FOR SCHOOL – MEN'S SATCHEL CASUAL BRIEFCASE FOR LAPTOP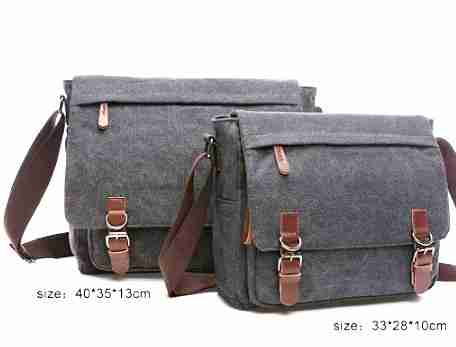 Another decent messenger bag for school is the Messenger Bag for Men Retro.
This bag has multiple compartments to store your phone, purse, glasses, books, laptops, and clothes. It is extremely versatile and durable.
It is the ideal bag for both men and women. Its high-quality canvas material is sturdy and fashionable to suit your style. It is comfortable and easy to hold and move around in as well.
BEST MESSENGER BAGS FOR MEN
Carefully looking at the messenger bag, one would think that it is only made for men. However, women also use messenger bags. Although, it started with men using messenger bags as delivery bags for the king in the 18th century.
Nowadays, it's a trendy fashion that can match various colors and outfits. Messenger bags worn by men make them look smart, cute, and intelligent.
Look stunning with the recommended messenger bags suitable for men below:
WATERPROOF LARGE SATCHEL MESSENGER BAG FOR MEN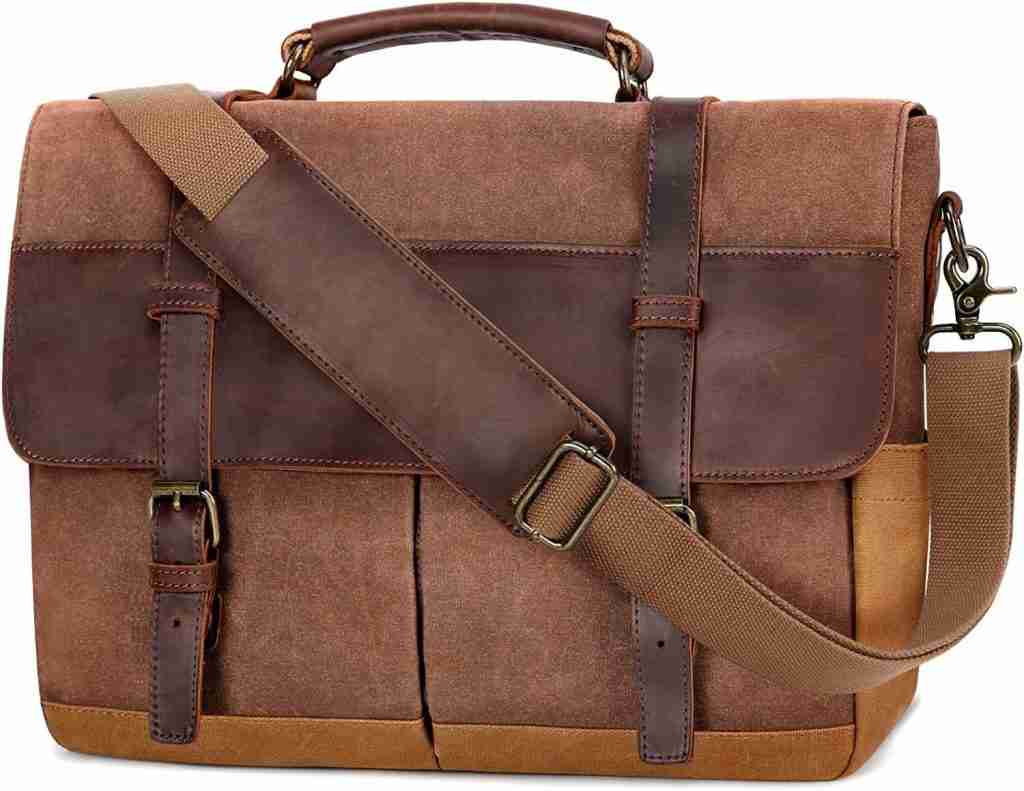 This brown rugged leather Computer Shoulder Work messenger bag for men is made of waxed canvas and crazy horse leather, which is thick and flexible.
Superior water resistance and durability compared to other fabrics, protect your belongings on a rainy day. The unique fabric has a retro feel to it, and the color is subtle but not overpowering.
The water resistance comes and has a natural texture with a classic look.
The shoulder Strap is Detachable; Metal clasps on a metal buckle connect the shoulder strap to the men's satchel bag.
When using this laptop bag, the leather padded handle and shoulder strap pad relieve your fatigue.
The padded shoulder strap has rubber on it to prevent it from slipping off your shoulder while wearing the messenger bag.
The metal-on-canvas design allows for easy adjustment.
VASCHY FASHION MESSENGER BAG FOR MEN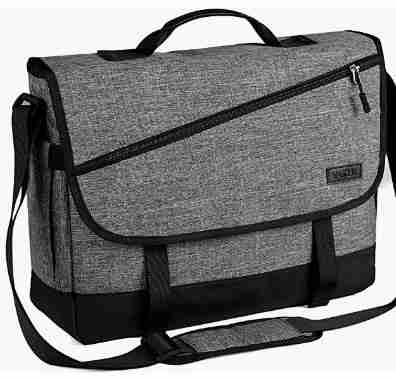 The zippers are strong and move freely without getting caught.
My 15.6″ laptop also fits in the divided and padded section of the main pocket, which is long enough to hold two composition journals side by side.
The cross-body satchel bag has numerous pockets and convenient storage areas.
The pocket is great for organizing items like wallets, pens, water bottles, and even Ipads in addition to computer accessories like mice and chargers.
The key clip is a useful addition as well, especially for people who frequently lose things.
The cross-body messenger bag is intended for both men and women who must regularly carry a laptop to work or school.
It makes a nice gift for special occasions like Father's Day, Christmas, back-to-school, and birthdays. Students, businesspeople, and travelers who want to make a fashion statement will love it.
WATERPROOF MESSENGER BAGS
Waterproof messenger bags are one of the best ideas ever because they keep your belongings dry. This bag is suitable for both work and weekend getaways, keeping your belongings safe from outside influences.
It is a simple bag to carry around, but it has proven to be useful in terms of convenience.
IBAGBAR SATCHEL SHOULDER WATER RESISTANT MESSENGER BAG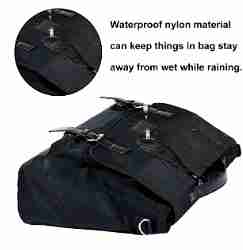 This messenger bag resists water. The pockets are useful for holding travel documents, and the bag is lightweight, roomy, and has a separate compartment to keep laptops away from pens.
Strong metal buckles, Velcro, and a zip closure are used in the design of the secure and comfortable cross-body working bag to keep your valuables secure.
It is made of sturdy, water-resistant oxford fabric, has nice stitching, is well-made, timeless, and fashionable, and can shield your belongings from light rain or small splashes of water. It is an extremely robust waterproof messenger bag for bikes.
You can adjust the shoulder strap buckle freely to your preferred level of comfort and height.
The bag is roomy and numerous pockets help your belongings to lay out in an orderly fashion. Your laptops will be well-protected by the main compartment's padded laptop sleeves.
Ideal for men, women, teens, high school students, and college students, it is a comfortable and padded shoulder bag for working, traveling, attending school, and daily use.
CROSSBODY MESSENGER BAG
Crossbody messenger bags come in various designs, shapes, and capacities. Crossbody messenger bags must be light and suitable for both men and women.
They are made up of various materials like leather, canvas, nylon, and fabric.
Crossbody messenger bags must be worn across the shoulder allowing it to sit at the hip, preventing pressure on your shoulder as the bag rests on your chest region. Let's see some examples of crossbody messenger bags:
RUSTIC TOWN 15-INCH VINTAGE CROSSBODY MESSENGER BAG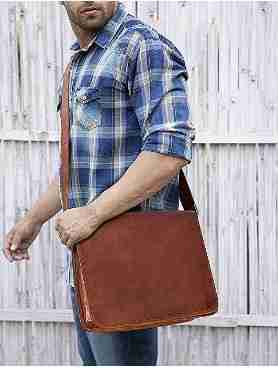 These are a few of the features that this crossbody messenger bag has.
Finding what you're looking for is simple.
More covert than a rucksack.
Ideal for casual or business gatherings.
A robust lining, and sturdy YKK zippers.
Shoulder strap that is fully adjustable
To ensure absolute perfection, Rustic Town bags are made by skilled artisans using traditional methods.
CONFIGURE FOR BUSINESS OR CASUAL:
It features heavy-duty lining and stitching, brass buckles and fittings, and that difficult-to-achieve leather cross body messenger looks while still being urban and trendy.
SWEETBRIAR CLASSIC VINTAGE MESSENGER BAG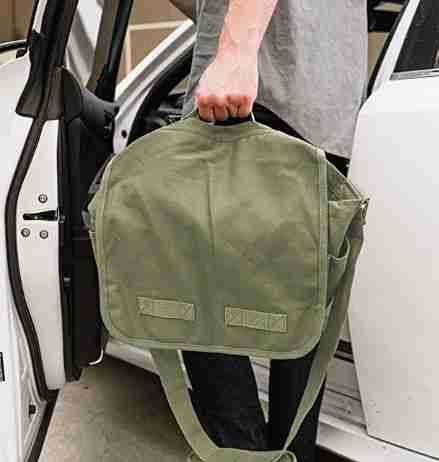 This bag is excellent! Extremely strong and cozy to wear as a crossbody bag.
CLASSIC STYLE – Ruggedly designed retro military shoulder bag made of light green cotton canvas. Excellent for basic needs, school, college, and travel accessories.
Metal accents on a sturdy, 100% cotton canvas construction.
The front flap is Velcro-closed. Neither padding nor additional structural support is present.
For simple carrying, a handy handle is located at the top rear. A small item carrying zippered pouch is inside.
Features a comfortable, length-adjustable shoulder strap that is padded.
GOOTIUM CANVAS CROSSBODY MESSENGER BAG FOR MEN AND WOMEN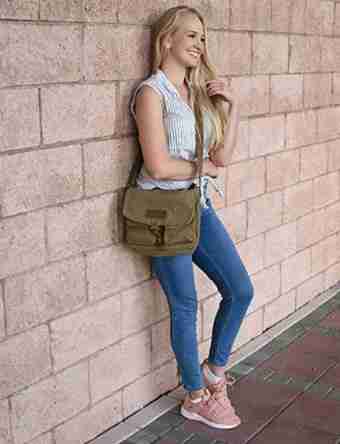 This messenger bag's high-density canvas construction gives it rugged good looks and long-lasting performance.
Its distinctive vintage style and minimalist design make it ideal for use as a casual sling bag, daily commuter bag, cross-body shoulder satchel, etc. It quickly transitions between work mode and play mode.
It is simple to organize items by group thanks to the two smaller pockets (i.e., "camera batteries, sd cards" & "hearing aid batteries, glasses cleaning cloth").
The larger pocket easily accommodates charging cords, headphones, a cell phone, and an iPad mini. It also stores conveniently under the airplane seat.
LAPTOP CROSSBODY BAG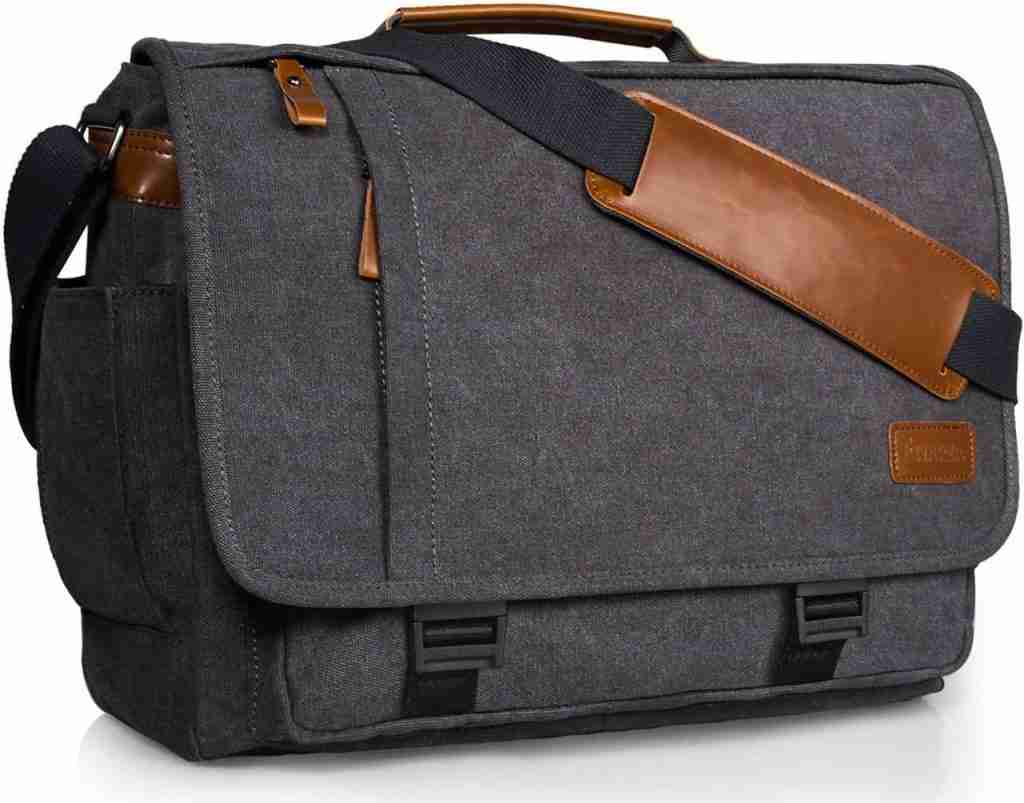 The Estarer computer crossbody messenger bag, for example, provides enough space for everything you'll need for work.
A practical bag for frequent usage; spacious enough to hold laptops, books, drink bottles, and other odd stuff without feeling cramped.
Exquisite zipper with a completely leather strap.
Zips up easily and rarely gets stuck. Check the security of your phone, wallet, laptop, and other valuables.
Canvas is a sturdy and water-resistant material. Protect your laptop and books completely.
Solid metal rectangle buckle with a heavy-duty design.
Rust-resistant and not readily deformed.
ARE MESSENGER BAGS IN STYLE?
Yes, messenger bags are still popular and still in style because they are fashionable, an ideal accessory for college students, and a perfect option for transporting books, notepads, or anything else that could go misplaced.
CONCLUSION
Wow! It's been a detailed clarity session I must say about a messenger bag vs crossbody bags! I believe you got value for your time.
Now that you know the difference between a messenger bag and a crossbody bag, you can boldly make a good decision and don't be afraid to use the desired to meet your need.
Thank you for reading!