Dopp kit vs toiletry bag? Is there any need for comparison? What if both of them are the same thing?
What if they are different? Well, let's get things started as I'll take you by the hand and walk you through all you might need to know about Dopp kits and toiletry bags!
Table of Contents
DOPP KIT BAG
A Dopp kit is usually a leather bag that contains items that you use for your personal body care routines. To know more about Dopp bags see what Dopp bags stand for.
The Dopp kit bag contains different things and its content varies from person to person and from gender to gender.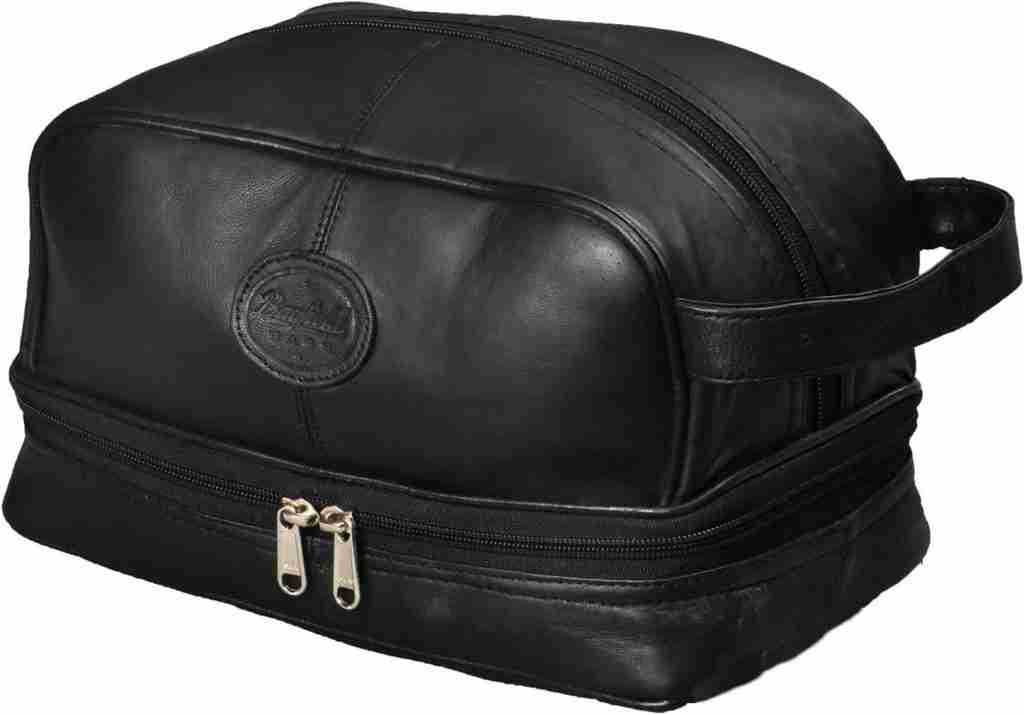 There are Dopp kits that are not in any way leather but are plastic transparent bags popularly called sponge bags but which serve the same purposes.
There are various Dopp kit brands made by different manufacturers and countries, for example, we have USA-made Dopp kits, London-made, Indian, China, and even Canada-handmade Dopp kits.
These bags are designed to be kept in the bathroom, hence their texture as they can withstand all forms of moisture without tearing or peeling.
These plastic bags are not as durable as their counterparts designed with tougher materials.
WHAT IS ANOTHER WORD FOR TOILETRIES BAG?
Apart from the Dopp kit, there are a few other names we can call the toiletries bag. There are some who refer to them as shaving kits, ditty bags, washkit, bathroom kits, toilet kits, and wet packs amongst others.
Whichever name we choose to address them with, they all serve similar functions. I've seen some families who use peculiar names like 'Hello Kitty', 'Wetty Pouch', and 'Hygiene kit' to address these bags.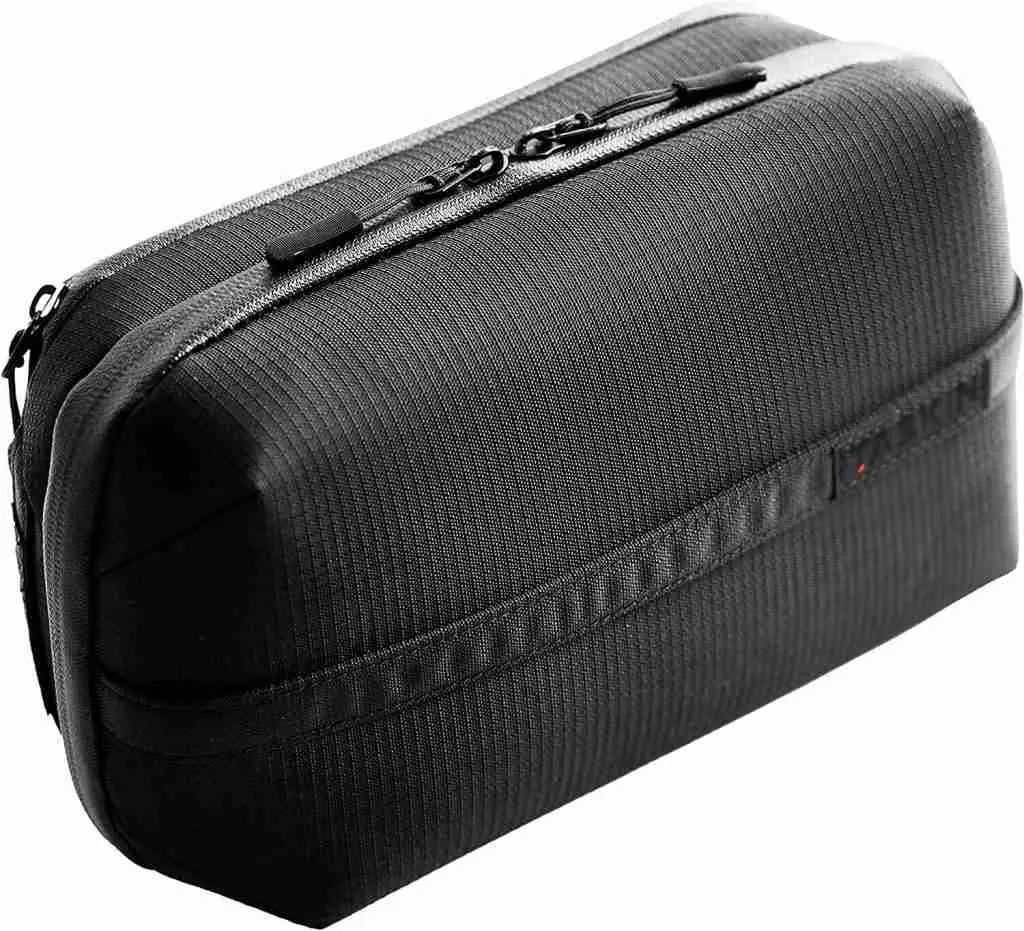 It's also important to explain that these bags are called different names in different countries.
There are some countries who would prefer to refer to them as Dopp kits while there are other countries who will prefer to use the word toiletry bag instead.
It all depends on what is generally acceptable to the people dwelling in each geographic entity.
DOPP KIT VS TOILETRY BAG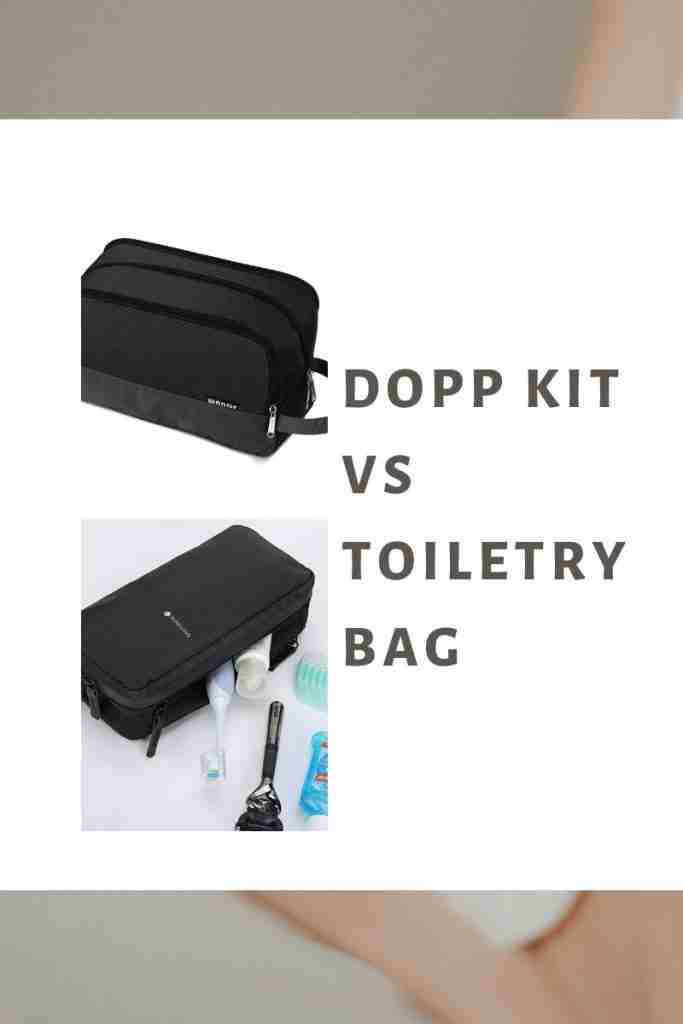 There is no difference between a Dopp kit and a Toiletry bag, Dopp kits are toiletry bags or Dopp kits can also be called Toiletry bags, these names can be traced back to the early 20s when the bags produced by Doppelt himself were named after him.
WHAT IS A TOILETRY BAG CALLED IN ENGLAND?
In England, a toiletry bag is called a washkit and even in some major countries in Europe.
You could also hear names like ditty bag, travel kit, and bathroom kit. These names are not strange names in places like England or even UK.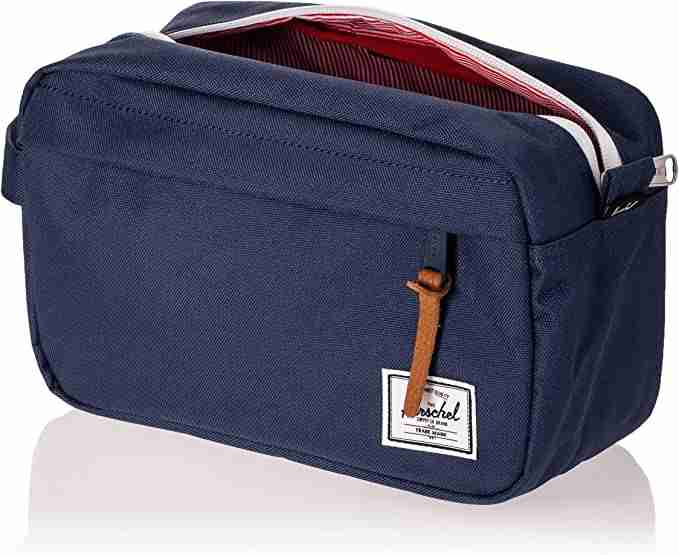 However, let's not forget that the world has become a global village. In other words, there is an easy permeation of ideologies and concepts across regions and continents.
This actually means that there are no peculiarities when it comes to countries and what they prefer to call these bags. Saying Dopp kit in UK or England will not stop people from understanding what you mean.
It might even shock you to know that there are citizens in England who will prefer to call them by their African names.
IS A HANGING TOILETRY BAG WORTH IT?
Yes, hanging a toiletry bag is worth it because it is one of the easiest ways to get used to the routine.
If you are someone who usually forgets to go with soap to the bathroom, hanging the toiletry bag with soap in it, on your bathroom cabinet will be a constant reminder to use the soap while bathing.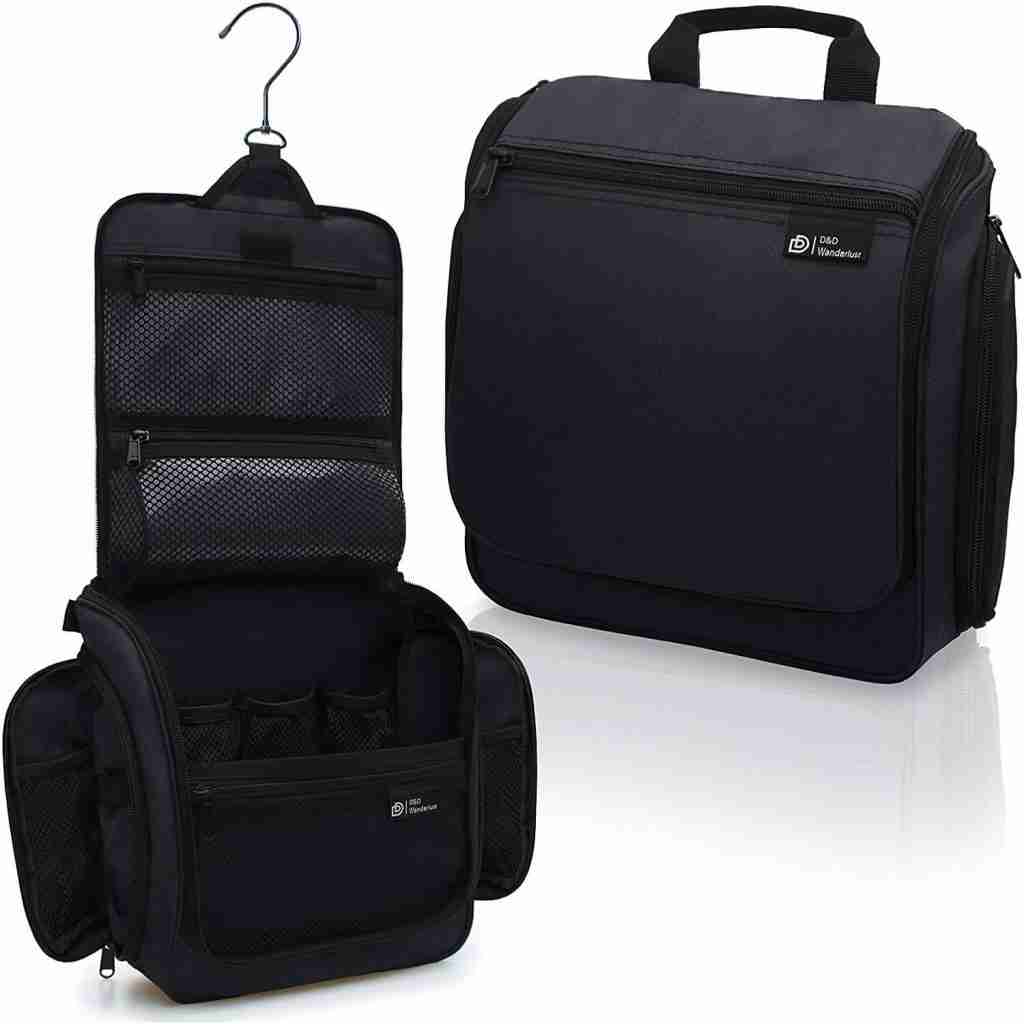 Reach is easier when the toiletry bag is hanging somewhere above your head. You can from time to time stretch your hand to get things like shaving lotion, clippers, etc., while you are in the washroom.
'Keep out of reach' is easily achieved when your Dopp kit is hanging far above the reach of your kids. It's better to hang these kits where the kids can't access them.
Cases, where your 5-year-old Bryan decided to shave his imaginary mustache and ended up slicing his jaw and cheeks in the process, will be minimized when it's hanging where their hands can't reach.
TOILETRY BAG FOR WOMEN
Women's toiletry bags are more makeup kittish than shaving kittish. Permit me to use the aforementioned choice of words.
Women's toiletry bags are designed to look like makeup kits because of how women are wired, especially when it comes to skincare routines and facials.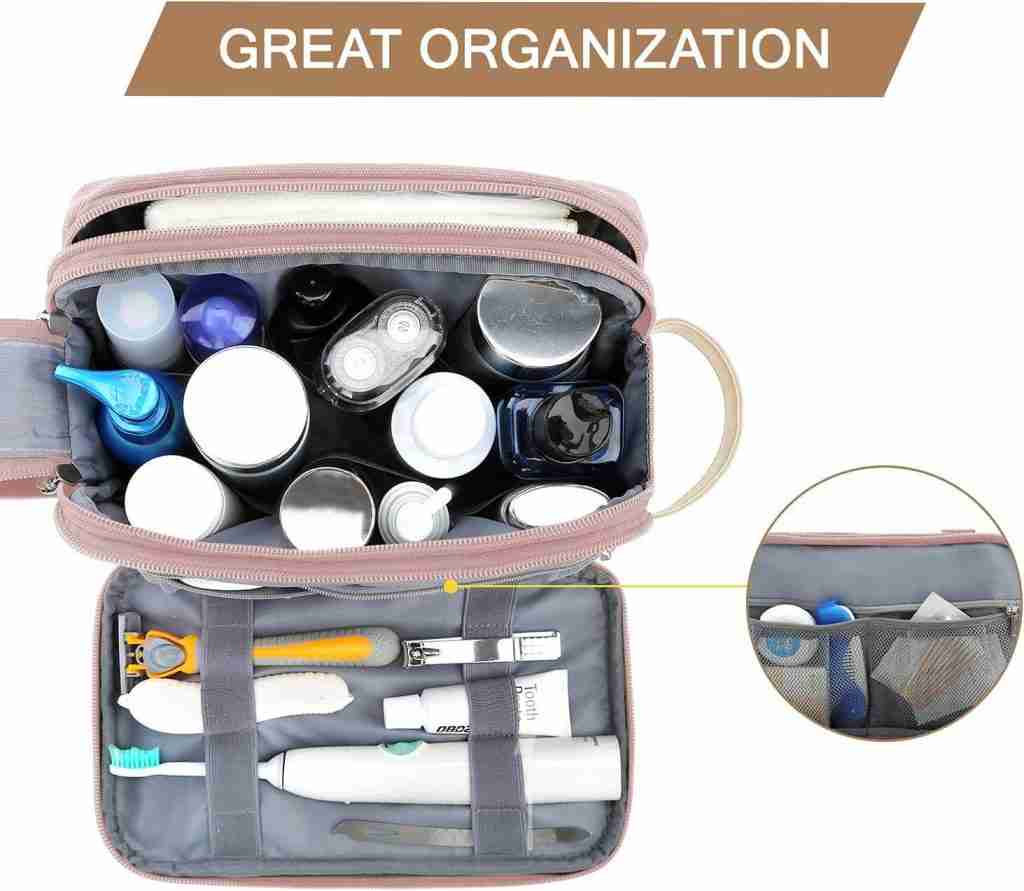 A woman's toiletry bag will most likely contain, a handheld mirror, facial serums, glossy lips, a few extra bikinis put in there for some unknown reasons, sun tan lotions, eyeliners, mascaras, all manner of brushes in different shapes and sizes, serving different purposes, Kylie Jenner's lipstick, amongst many other things.
MEN'S TOILETRY BAG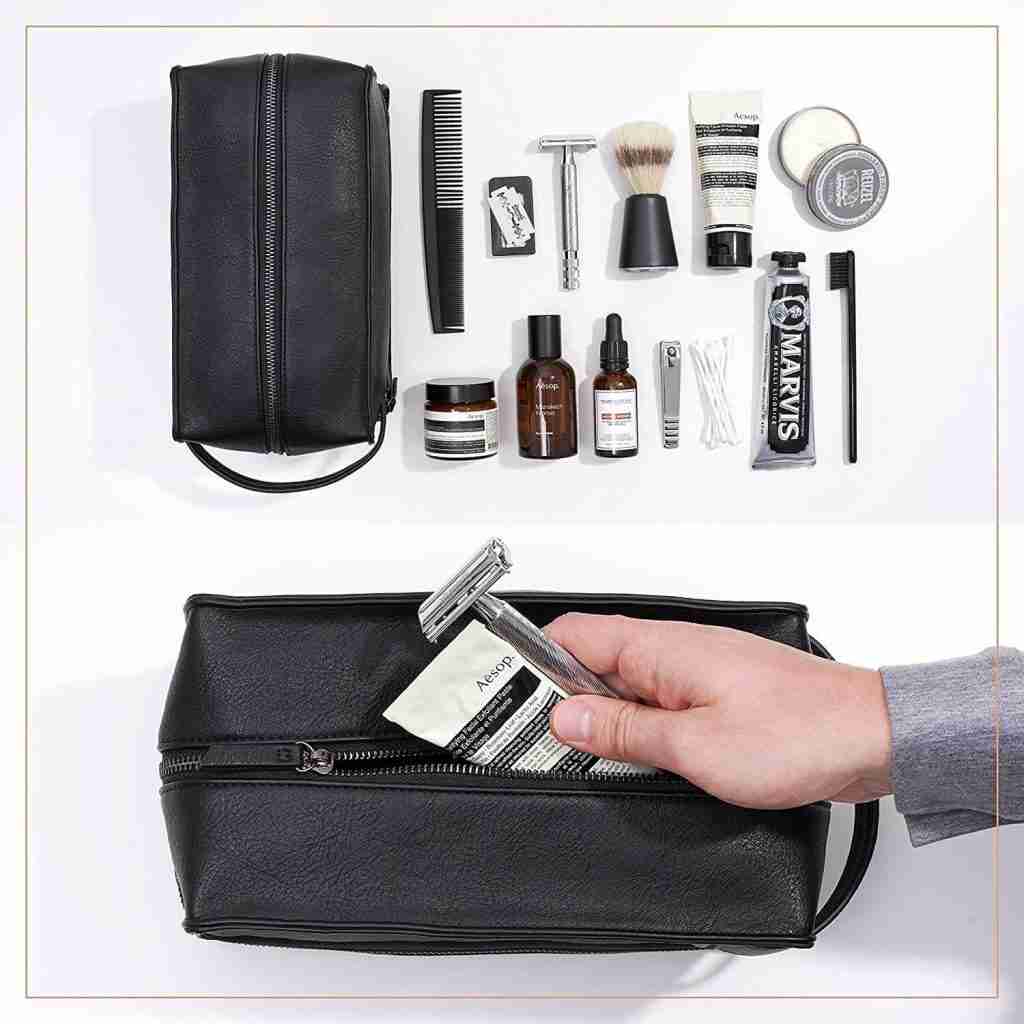 A man's toiletry bag is more like a shaving kit. Except for occasions where the owner is for some reason interested in facials and other skincare routines, the content of every man's shaving kit is purely masculine.