This article will change all you have ever known about tactical backpacks especially tactical backpacks made in USA.
What is Life, if there are no adventures? One activity that keeps a family or friendship together is having outdoor celebrations or adventures, it is one of the best ways to build and solidify a friendship.
So, as you are getting ready, you will need a backpack that will meet the rugged environment giving you the durability and function you need for a memorable experience.
In doing this, American tactical backpacks are designed with this capability as they are made with the highest material quality, top craftsmanship, and standard construction technique.
Whether you're hiking, camping, or just need a reliable USA everyday carry, a tactical backpack is a perfect choice for those who demand the best.
Read on to discover more about American tactical backpacks and why they're the ultimate choice for you.
Table of Contents
WHAT ARE TACTICAL BACKPACKS CALLED?
Another name for Backpacks is Assault packs, Rucksacks, or Military Backpacks.
All tactical backpacks are made with durable materials because of the kind of environment it features in, they are not designed like traveling bags used in airplanes or school backpacks.
WHAT MATERIAL IS BEST FOR TACTICAL BACKPACK?
The best material for a tactical backpack will depend on your specific needs and intended use.
To choose the best tactical backpack, you have to consider factors like weight, durability, water resistance, and abrasion resistance when selecting the material for your backpack."
Here are some common materials used in tactical backpacks:

Nylon: Nylon is a popular choice for tactical backpacks because it is lightweight, durable, and water-resistant. It also has a high tensile strength, which means it can withstand a lot of weight without tearing.

Cordura: Cordura is a type of nylon that is known for its durability and abrasion resistance. It is commonly used in military and outdoor gear because it can withstand harsh conditions and heavy use.

Polyester: Polyester is another lightweight and durable material commonly used in tactical backpacks. It is resistant to water and mildew, making it a good choice for wet environments.

Ripstop: Ripstop fabrics are designed to prevent tears and rips from spreading. This type of material is often made from nylon or polyester and is a good choice for backpacks that will be used in rough terrain.
TACTICAL BACKPACKS MADE IN USA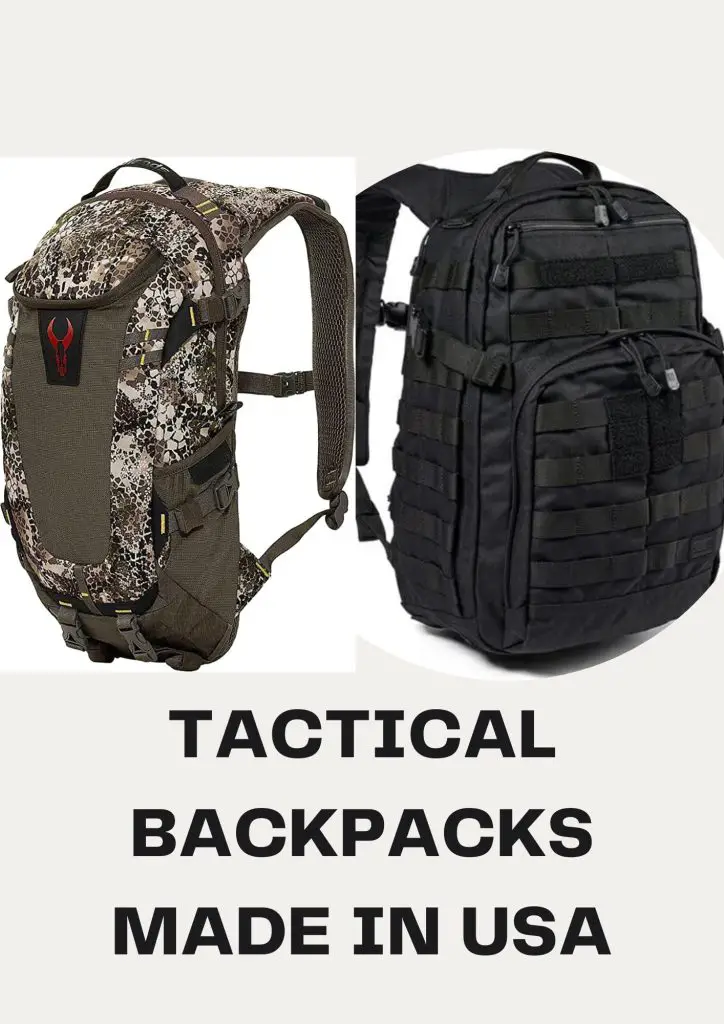 Here are the top 15 Tactical Backpacks that are made in the USA;
Mystery ranch 2 day tactical daypack backpack
Eberlestock Halftrack Pack
GoRuck GR1
CamelBak Motherlode
FirstSpear Siege Ruck
Direct Action Dragon Egg Tactical Backpack
Tactical Tailor operator extended range pack
Hill People Gear Umlindi 
Kelty Raven 2500 Tactical Backpack
Arc'teryx LEAF Assault Pack 45
Kifaru Tactical Zippy
TAD Gear Fast Pack Litespeed
5.11 TACTICAL BACKPACK
The 5.11 tactical backpack brand has its headquarters in Irvine, California, they have about 82 retail stores across 27 states in the United States.
Outside the US, the 5.11 Tactical backpack has other retail stores in Germany, Australia, Mexico, Philippines, Japan, Ireland, Mainland China, Bahrain, and Indonesia.
As it would seem, some of their products or models are manufactured in Vietnam but the quality and standard doesn't drop.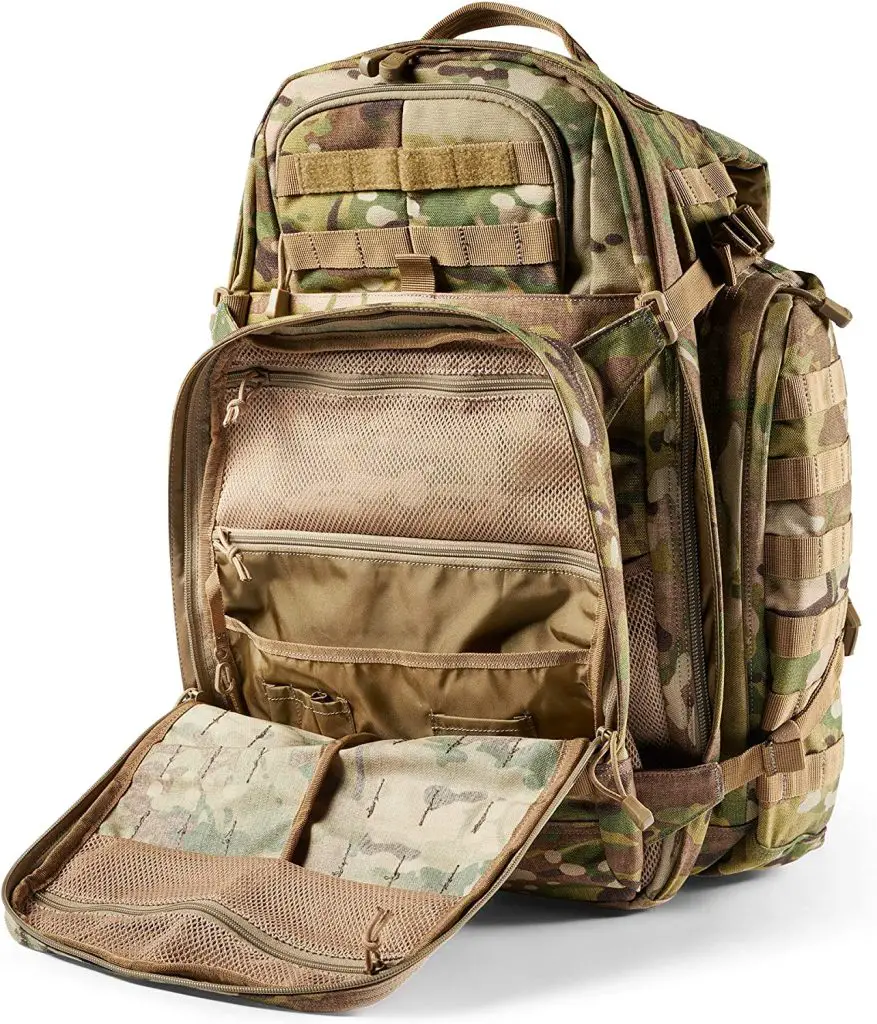 Aside from tactical backpacks, they also manufacture footwear, accessories, bags, packs, and men's and women's Tees.
The 5.11 tactical backpack will remain a go-to backpack for outdoor enthusiasts and military operatives.
Some of the popular 5.11 tactical backpacks are below;
5.11 Tactical Backpack – Rush 72 2.0 – Military Molle Pack, CCW, and Laptop Compartment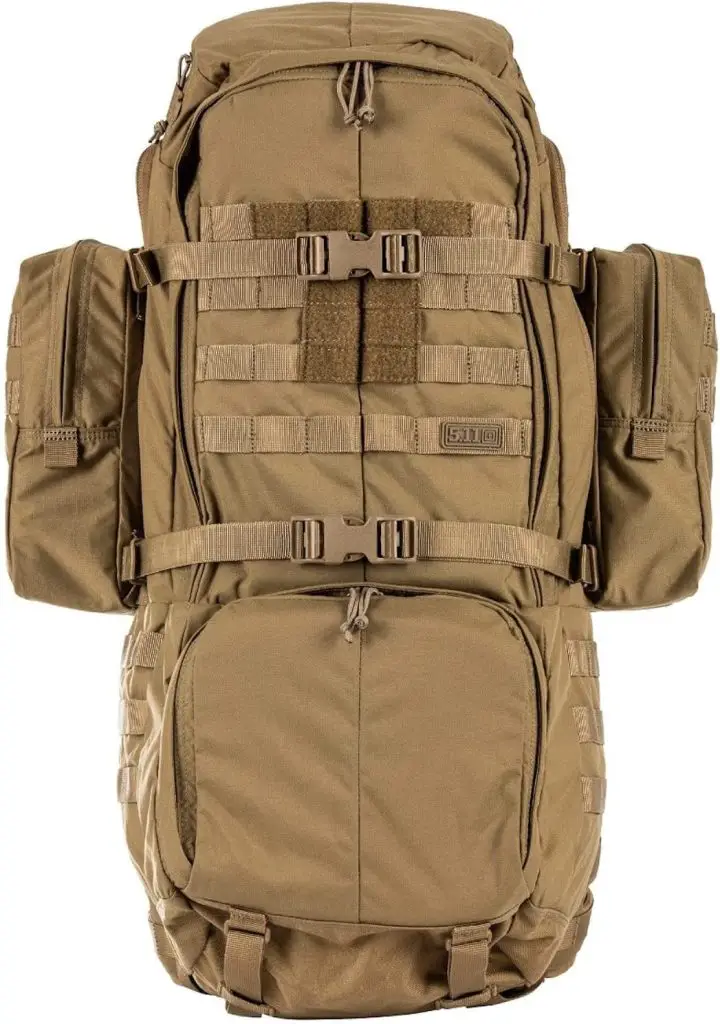 5.11 Tactical Rush 100 60L Backpack Coyote
5.11 Tactical Military Backpack – RUSH12 – Molle Bag Rucksack Pack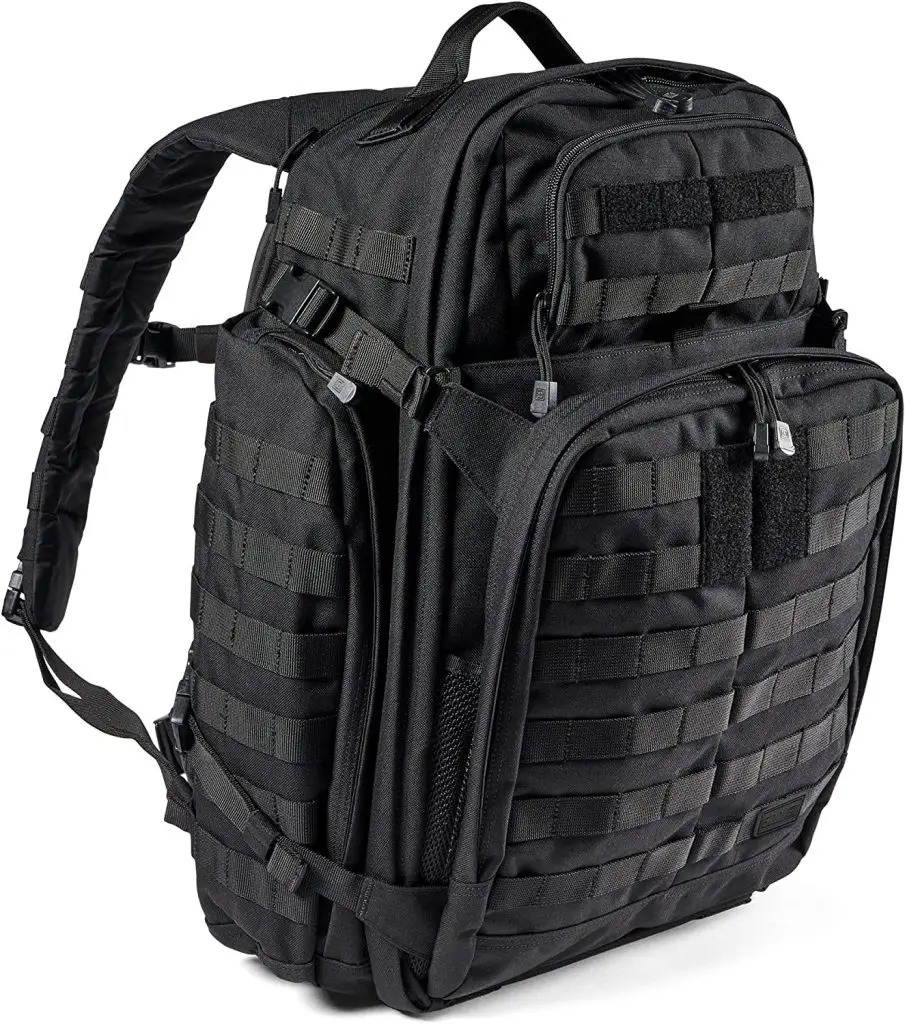 5.11 Tactical Backpack – Rush 72 2.0 – Military Molle Pack, CCW, and Laptop Compartment, 55 Litres
5.11 Tactical Backpack – Rush 12 2.0 – Military Molle Pack, CCW, and Laptop Compartment, 24 Liter
5.11 RUSH MOAB 10 Tactical Sling Bag Shoulder Pack Military Backpack
In all of these 5.11 tactical backpacks, some features are common like; inner and outer compartments, roomy storage area, hydration pockets, padded laptop compartments, and a CCW Conceal carry weapon comportment.
It is not all the 5.11 tactical backpack models that have water-resistant features, kindly check the manufactures specification, they also have self-repairing YKK zippers, 2 external compression straps, and a contour yoke shoulder strap system.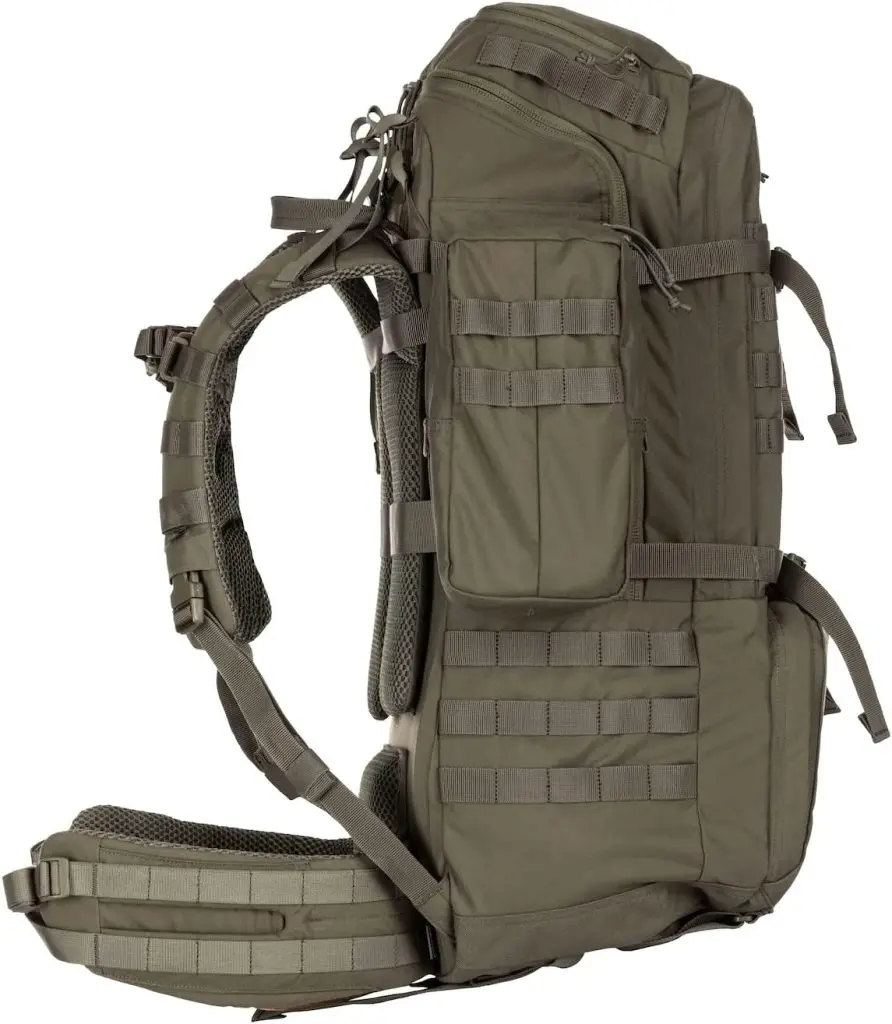 The 5.11 tactical backpack brand is durable because of the 1050D nylon material, the MOLLE feature makes them unique and outstanding for use as a military army pack, range bag, hunting backpack, hiking, survival backpack, and everyday outdoor backpack.
Finally, this assault tactical pack is ready for any rescue or adventure for all of your gear and equipment.
DIRECT ACTION DRAGON EGG TACTICAL BACKPACK
The Direct Action Dragon Tactical backpack brand is made in Malta, NY, USA.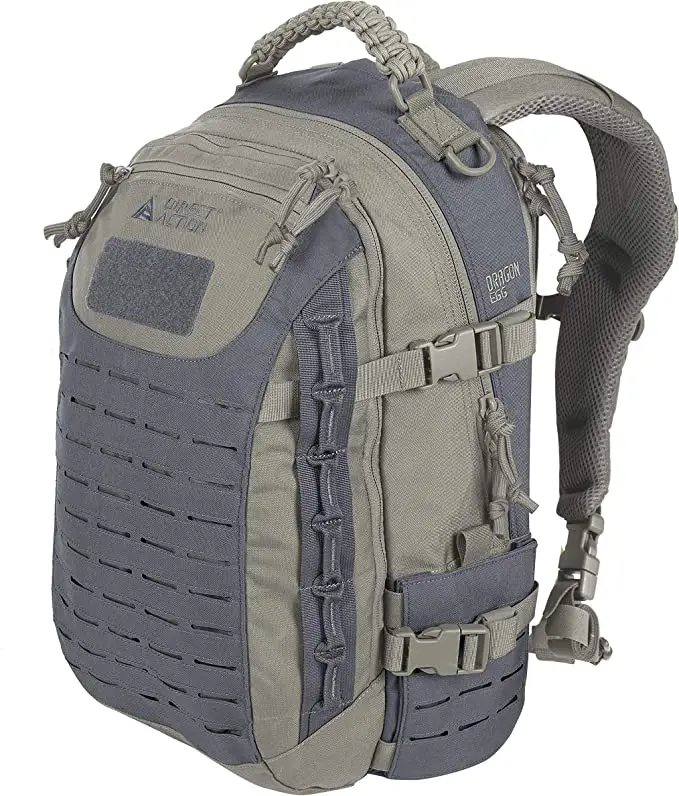 The Dragon Egg is a quality tactical backpack that has lots of innovative features. The material is sturdy and the look is less aggressive compared to some other brands. I would recommend this without hesitation.
The Direct Action Dragon Tactical backpack sits comfortably on the back and has enough storage compartments with a capacity of 25L.  
It is designed with water-resistant coated 100% Cordura 500D material and cotton lining, and the side pockets are equipped with elastic for expansion.
They make perfect use as a 2-day backpack, for hiking, traveling, advanced Military enforcement operations, and EDC (everyday carry pack).
Of course, all tactical backpacks must have a MOLLE system, same applies to the Direct Action Dragon Tactical backpack
The material used makes this tactical backpack lightweight, snag-free, and non-water absorbing.
You will definitely enjoy this rugged durable water resistant versatile tactical backpack for all your outdoor adventures.
TACTICAL TAILOR OPERATOR EXTENDED RANGE PACK
The Tactical Tailor Extended range pack has a rich American history, they are manufactured in Lakewood, WA, USA.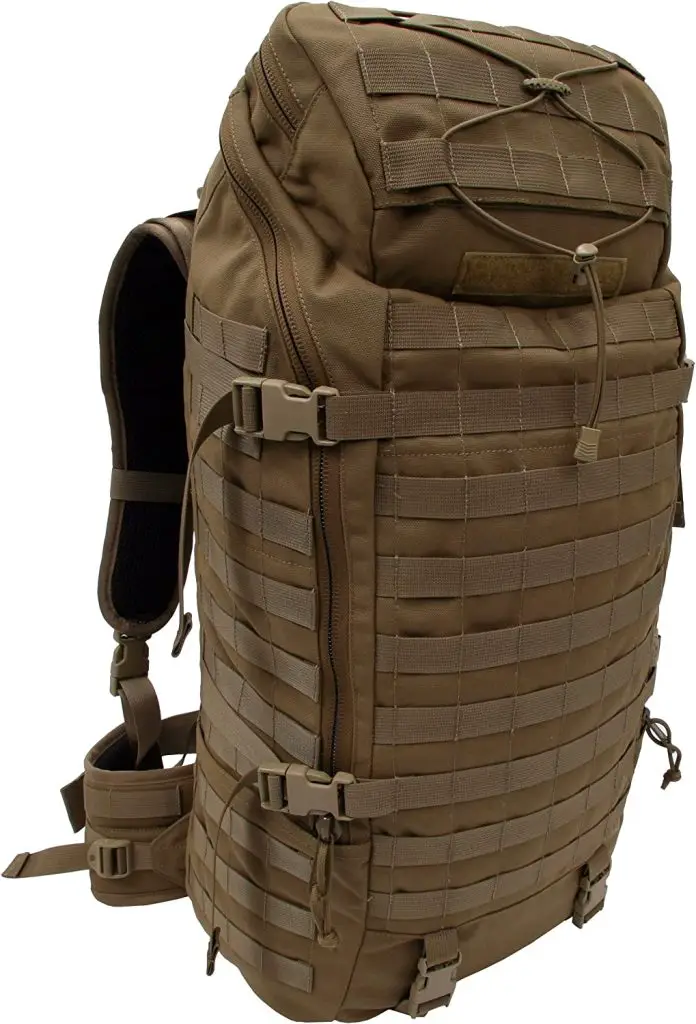 It is suitable for use as a 5-day backpack, it also comes with a separate hydration compartment and internal frame.
This tactical backpack is carefully crafted to suit your needs with the abundance of exterior webbing.
Carry your gear items, clothing, Laptop, and other items for the trip, this wonderful backpack is strong enough for the adventure.
High-quality material is used in manufacturing this American tactical backpack where the eater hydration fits great, multiple MOLLE comes in handy for extra ammo.
Any time and any day, the Tactical Tailor Extended backpack is a great companion for hiking and shooting packs.
The only con of this tactical backpack is that it is very expensive.
CAMELBAK MOTHERLODE HYDRATION TACTICAL PACK
The CamelBak MotherLode Tactical Pack is made in the USA, this pack is designed for hydration on the go and has plenty of room for additional gear.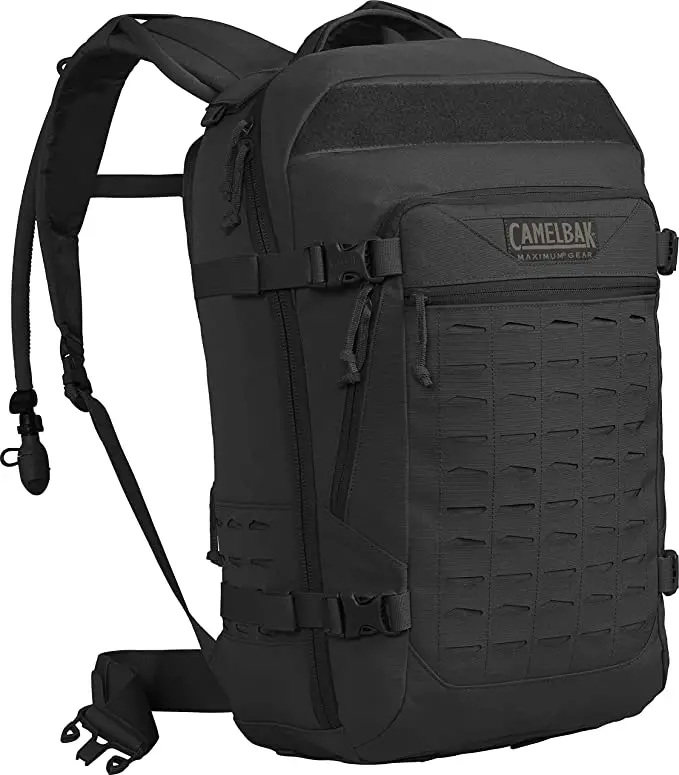 The CamelBak MotherLode tactical backpack is a redefined classic that will add flavor to your adventures perfect for multi-day missions, biking, hunting, and hiking.
The new laser cut Mountain MOLLE makes it fast and easy to attach additional accessories, with 4 zippers, and a 50mm webbing waist belt with lumbar adjustment shows when not in use.
CamelBak's Motherlode Tactical pack is the second largest military pack to get. Distributes weight very well, and can also be used for school.
Known for its sturdy construction, you can carry all EDC essentials, MacBook Pro, a rain jacket, snacks, and 3 ring binder, your Laptop is safe in the padded foam compartment.
Great tactical pack you wouldn't want to miss!
MYSTERY RANCH 2 DAY TACTICAL DAYPACK BACKPACK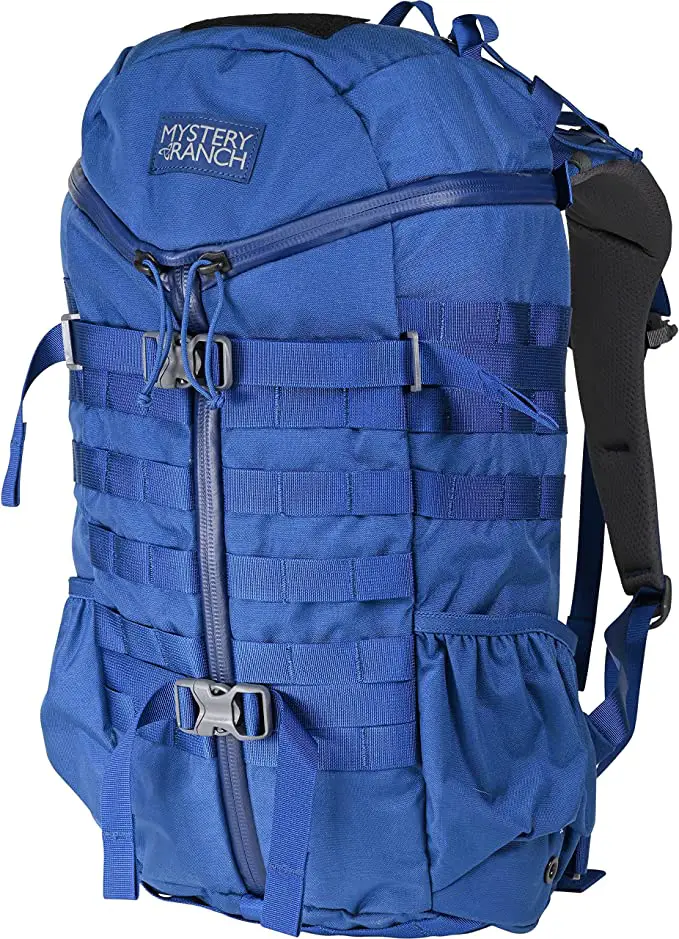 The Mystery Ranch remains one of the best tactical backpacks to have, they are headquartered in the USA but some of their models are made in Vietnam with US standards.
They are carefully built for urban missions, military, hiking, hunting, and other outdoor activities.
This particular model of Mystery Ranch tactical backpack is 27 Liters and can handle the rigor of everyday travel use because of the following features;
Comes equipped with dual water bottle pockets
front compression straps
MOLLE webbing & an adjustable harness
Easy access to the main compartment
Built with a padded computer sleeve
Secured and detailed zippered pockets.
EBERLESTOCK HALFTRACK PACK
The Eberlestock Halftrack pack is the first recommended brand for hunting as a USA-made backpack, it can also be used by Law enforcement personnel and as an EDC bag.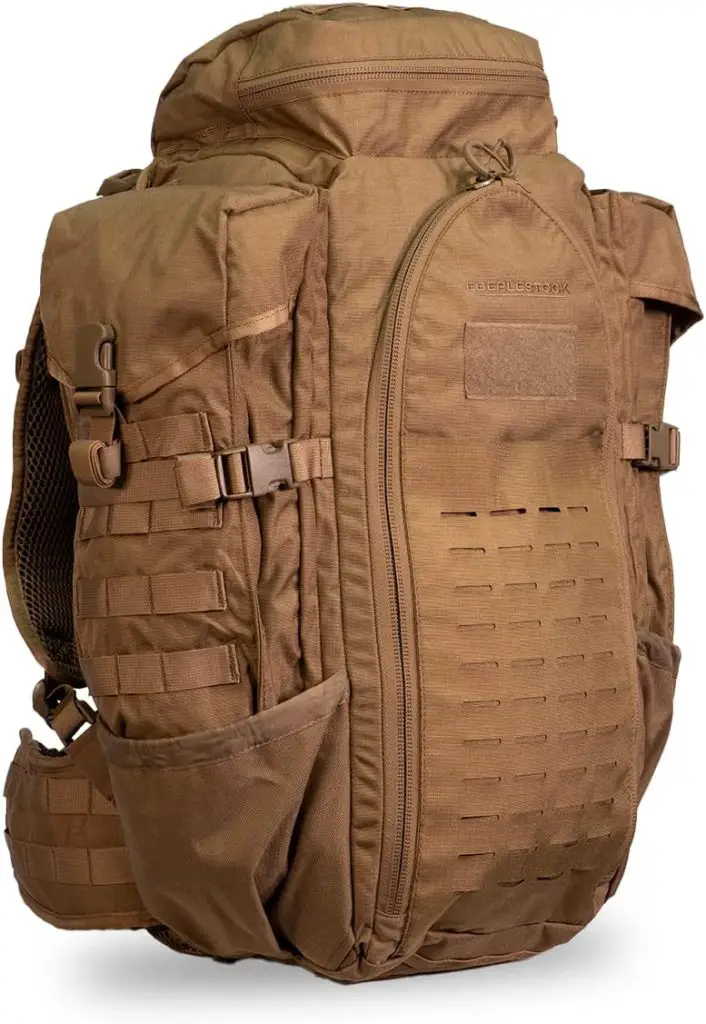 The Eberlestock Halftrack Pack is made in Idaho, USA, it is a versatile and popular 3-day pack with MOLLE padlock webbing racks inside and out.
The Eberlestock Backpack makes a perfect tactical pack for its numerous features, it has a removable rain cover for harsh weather.
Finally, the Eberlestock Halftrack backpack can carry two 3-liter hydration kits, mounted in side pockets, or two 2-liter bladders in side sleeves if you want to keep the main side pockets free for other gear.
TACTICAL SLING PACK MADE IN USA
There are various brands of tactical sling packs/bags that are made in the USA, some of them are below;
Mystery Ranch Sling Thing – The Mystery Ranch Sling Thing is a versatile and durable tactical sling pack made in Bozeman, Montana. It features a quick-access main compartment and a variety of organizational pockets.

Eberlestock X1A1 Pack – The Eberlestock X1A1 Pack is a lightweight and compact tactical sling pack made in Boise, Idaho. It has a unique zippered back panel that provides quick access to the main compartment.

Hill People Gear Tarahumara Pack – The Hill People Gear Tarahumara Pack is a minimalist tactical sling pack made in Colorado. It is designed to be worn close to the body for maximum comfort and stability.

GORUCK Bullet Ruck – The GORUCK Bullet Ruck is a rugged and versatile tactical sling pack made in the USA. It has a spacious main compartment and a variety of organizational pockets.

Vertx EDC Sling Pack – The Vertx EDC Sling Pack is a sleek and functional tactical sling pack made in the USA. It has a variety of pockets and compartments for organization and a concealed carry compartment for added security.
TACTICAL BACKPACK BRANDS
There are many tactical backpack brands available, each with its own unique features and designs.
Below are the best and most popular tactical backpack brands;

5.11 Tactical

Maxpedition
Camelbak

Blackhawk

Condor
Mystery Ranch

Hazard 4

Eberlestock
Vertx
Arc'teryx
TAD (Triple Aught Design)
Direct ActionTactical Tailor

BEST SMALL TACTICAL BACKPACK
Below are the various best small Tactical Backpacks;

5.11 Tactical Rush 12 Backpack: This is a versatile, compact backpack with a 24-liter capacity that is perfect for short trips and daily use. It features multiple compartments, MOLLE webbing, and a hydration pocket.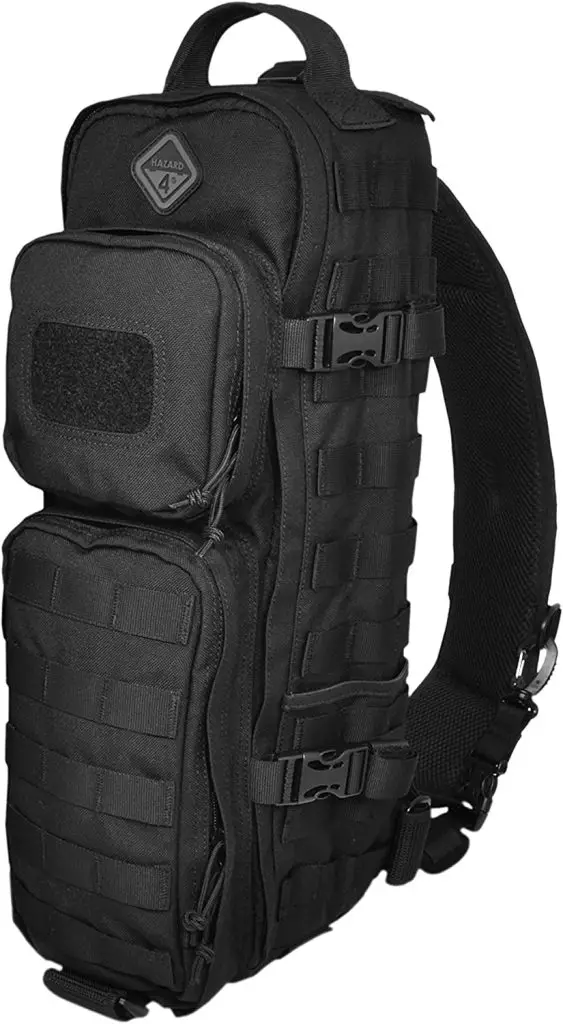 Hazard 4 Plan-B Sling Pack: This is a sling-style backpack that is perfect for quick access to gear. It has a 16-liter capacity and features a number of compartments and pockets for organizing your gear.

Camelbak H.A.W.G. Tactical Backpack: This is a 20-liter capacity backpack that is perfect for outdoor activities. It has a hydration system, multiple compartments, and MOLLE webbing for attaching gear.
REEBOW TACTICAL BACKPACK
The Reebow tactical backpack is also called the most affordable tactical backpack brand to have without breaking the bank, this is what distinguishes them from all the Tactical backpacks made in the USA reviewed above.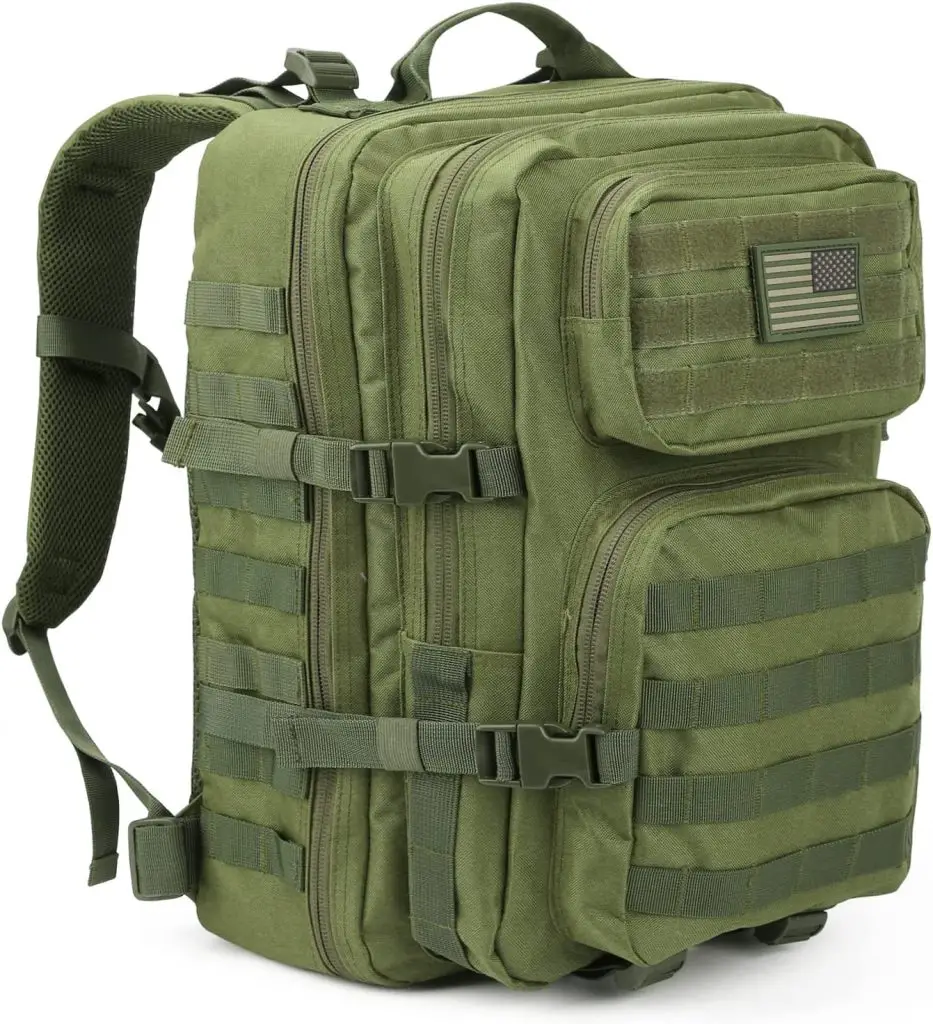 This Military Tactical Backpack is made up of durable high-density water-resistant material, other features include;
Molle webbing system for attaching pouches or gear
Double-stitched backpack for increased rigidity
Heavy-duty zippers for security
Side and front load compression system
Ventilated mesh padded back and shoulder strap
Comfortable designed back that reduces strain and stress
Reebow tactical backpack is hydration compatible for outdoor camping and hiking
Perfect use as a 3-day assault pack, range bag, hunting backpack, survival backpack, army backpack, trekking backpack, or day pack for daily use.
HEAVY-DUTY MILITARY BACKPACKS
As the name implies, heavy-duty military backpacks are backpacks that are specifically built for military personnel.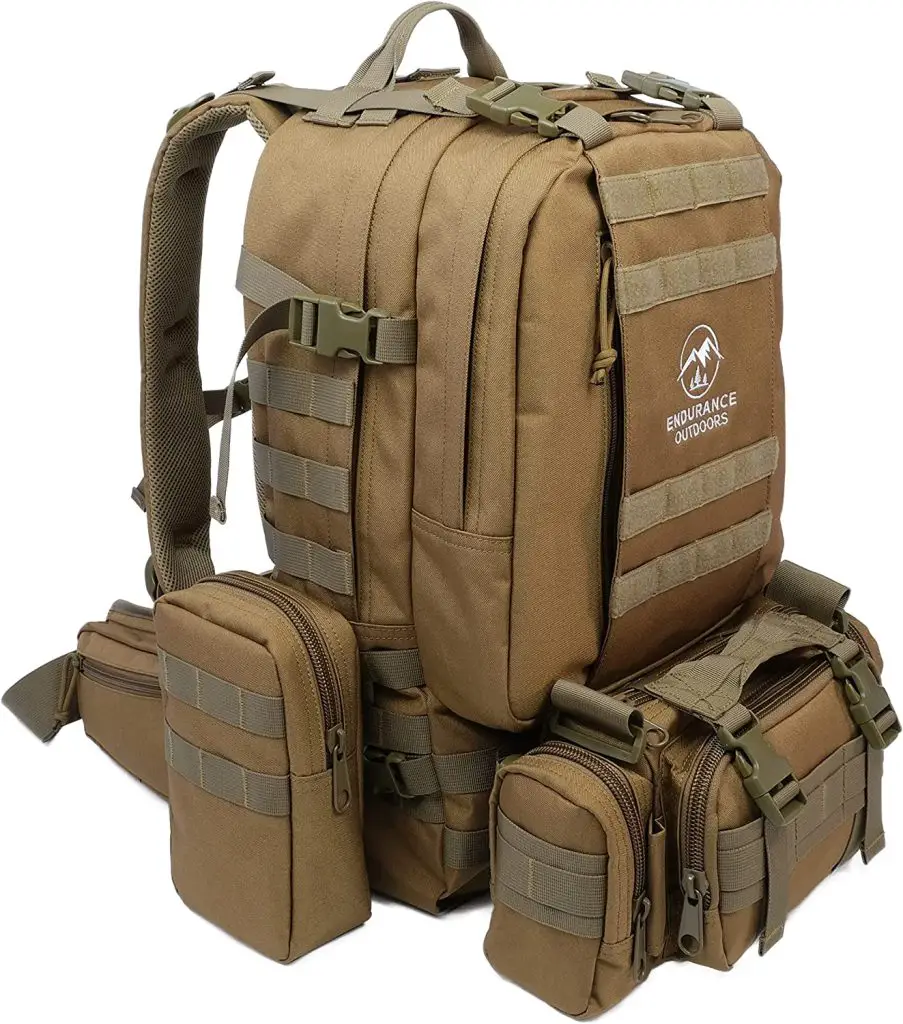 They are made with the best quality material available because these backpacks are used in combat, extreme and hard environments, they are not made like school bags.
In addition, an example of the tough material used for manufacturing these heavy-duty backpacks could be Cordura or nylon because these materials have the tendency of wear-resistant, tear, and abrasion resistant.
Secondly, heavy-duty military backpacks must have multiple compartments, pockets, and pouches for easy storage of ammunition, communication devices, personal items, and medical supplies.
Other features include the MOLLE system that allows military personnel to attach accessories.
Padded shoulder straps and back panels provide comfort and reduce fatigue during extended periods of wear.
Hydration System Compatibility: Many backpacks are designed to be compatible with hydration systems, allowing military personnel to stay hydrated during long missions.
BACKPACKS IN USA
Backpacks that are made in the USA are backpacks that are manufactured and assembled within the United States.
These backpacks may be made with materials sourced domestically or internationally.
However, the key aspect is that the final product is produced entirely within the US.

Backpacks made in the USA may offer certain advantages over imported backpacks.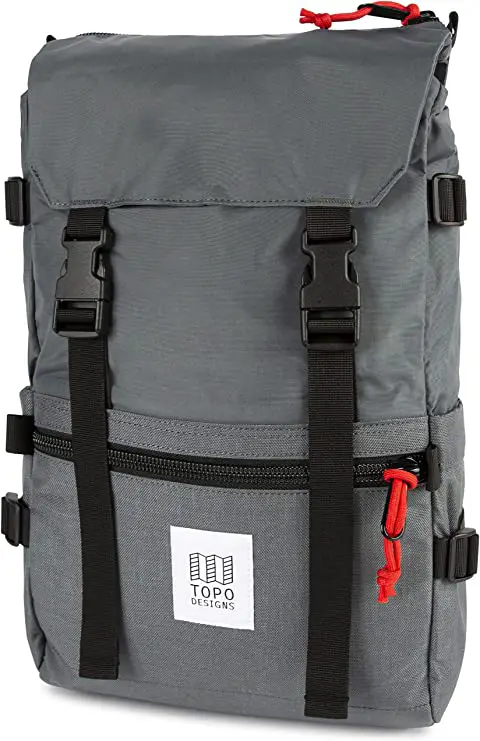 For example, they may be subject to higher quality control standards and may be made with more durable materials.
Some popular brands of backpacks made in the USA include;
Osprey, Mystery Ranch, Topo Designs, and Goruck.
These brands offer a range of backpacks designed for various activities such as hiking, traveling, and everyday use.
They also offer different sizes, styles, and features to suit different preferences and needs.

While backpacks made in the USA may be more expensive than imported backpacks, they can offer consumers the satisfaction of supporting local businesses and American-made products.

Furthermore, here are the 10 best backpack brands made in the USA:

Tom Bihn
Goruck
Mystery Ranch
Topo Designs
Duluth Pack
Frost River
Red Oxx
Kletterwerks
CiloGear
Eberlestock
WHAT BRAND OF BACKPACK DOES THE US MILITARY USE?
The US Military primarily uses backpacks from the brand "Mystery Ranch" for their Special Forces units.
Mystery Ranch has been supplying backpacks to the military for over a decade and has a reputation for producing durable, high-quality packs that can withstand harsh conditions.
However, it's worth noting that the US Military may also use other brands of backpacks for different purposes or units.
Aside from Mystery Ranch, the US Military also uses backpacks from other brands such as Blackhawk, Camelbak, Maxpedition, and Eagle Industries.
These brands are known for producing high-quality tactical gear and have a reputation for durability and functionality, making them suitable for military use.
It's worth noting that the specific brand of backpack used by the military may vary depending on the unit, mission, and personal preference of the soldier.
WHAT IS A MILITARY TACTICAL BACKPACK?
A military tactical backpack is a type of backpack designed for use by military personnel, law enforcement officers, and outdoor enthusiasts.

It is typically made of durable materials such as nylon or canvas and is designed to be highly functional, allowing the user to carry a variety of equipment and supplies in a comfortable and organized manner.
Tactical backpacks often feature multiple compartments and pockets, MOLLE (Modular Lightweight Load-carrying Equipment) webbing for attaching additional pouches or gear, and padded straps and back panels for added comfort during extended wear.
They may also have features such as hydration bladder compatibility, compression straps, and quick-release buckles for easy access to gear.
These backpacks are often used for outdoor activities such as camping, hiking, and hunting, as well as for military and law enforcement operations.
They are designed to be rugged and durable, able to withstand harsh environments and heavy use.
TACTICAL TAILOR BAGS AND MILITARY BACKPACKS