The previous article was on the various manufacturers of fabric handbags that are made in the USA, today, we will be discussing USA made tote bags.
Tote bags have become a global 5 must-have bags accessory in our daily lives, with many of us carrying them everywhere we go – to the grocery store, to work, to the gym, or even to the beach.
But have you ever stopped to consider where your tote bag was made?
With the rise of sustainable and ethical fashion, more and more consumers are seeking out products that are not only stylish and practical but also ethically and locally made.
Follow me closely to learn more about the benefits of having American tote handbags and why they are a fantastic choice for conscious consumers looking to make a positive impact on the environment and local economy.
Table of Contents
WHAT IS A GOOD QUALITY TOTE BAG MATERIAL?
The best or a good quality tote bag material is largely dependent on your needs, preference, what you'll be using the tote bag for, how often you will be using the tote bag, and your budget.
Tote bags are designed with different types of materials and they have advantages and disadvantages, read about tote bags disadvantages to know more.
Let's see the common tote bag materials below;
Canvas; The canvas tote material is simply made from cotton or synthetic fibers, they are often coated with water-resistant material making them resistant to moisture and stains.
Furthermore, canvas tote bag material is sturdy and durable. Read to know more about the benefits of canvas tote bag material.
Nylon;  As the name implies, this tote material is lightweight, the synthetic material makes it resistant to water and abrasion
Nylon totes are often used for outdoor activities like swimming, they are often referred to as beach bags.
Leather: Leather is a high-quality material that is both durable and stylish. It can be more expensive than other materials, but it is also more luxurious and long-lasting.
Jute: Jute is a natural fiber that is eco-friendly and biodegradable. It is often used for tote handbags that are meant to be used for grocery shopping or other everyday activities.
Polyester: Polyester is a synthetic material that is lightweight, durable, and easy to clean. It is often used for tote goods that are meant to be used for travel or as gym bags.
WHY DO PEOPLE BUY TOTE BAGS?
Above, we have learned about the various tote materials, before we go ahead to name the various USA made tote bags, let us answer a vital question why do people buy tote bags?
People buy tote bags because they are;
Spacious and can carry a lot of items.
Totes are convenient when compared to other handbags, a perfect choice for carrying books, groceries, gym clothes, beach essentials, and more.
People buy tote goods because they make a good fashion accessory and can easily complete an outfit as they also come in various designs, colors, and patterns.
Another reason why people buy tote purses is that they are a good eco-friendly alternative to plastic bags, they are reusable and can reduce the amount of water generated from single-use bags.
Tote handbags are an effective promotional item for events and businesses, they can be easily customized with messages or Logos.
Finally, totes are versatile, and practical, and often serve multiple purposes, which makes them a popular choice among consumers.
USA MADE TOTE BAGS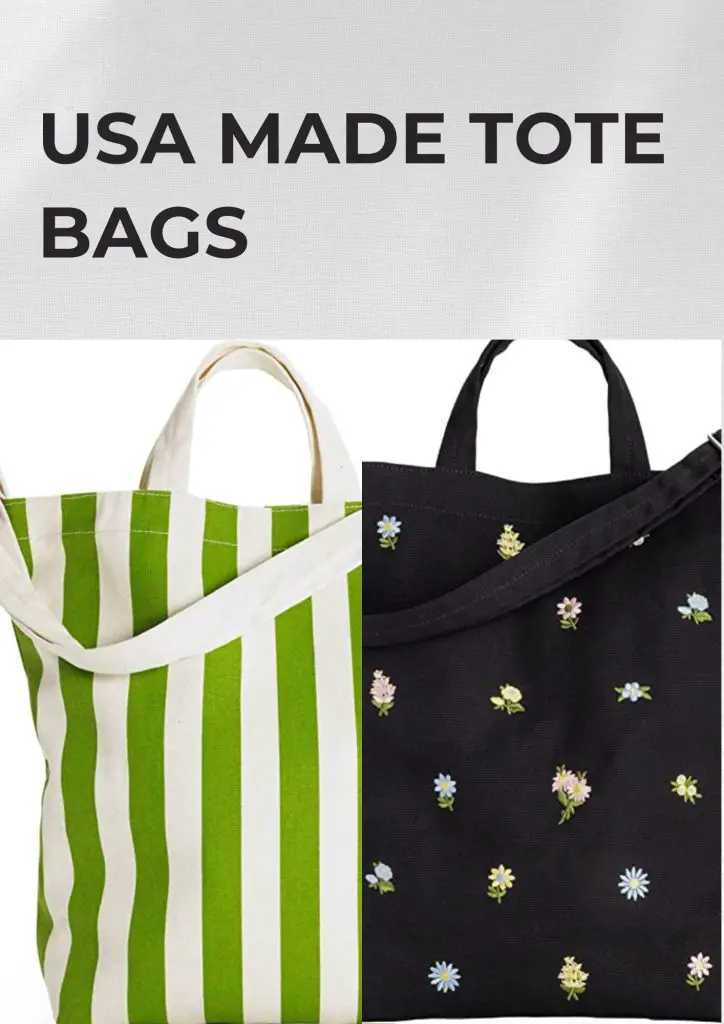 Below are the recommended American-made tote handbags;
USA-Made Planet E Reusable Cotton Canvas Shoulder Tote Grocery handbag
Earthwise Shopping Multi-purpose Tote Grocery bag
USA Made TBF Reusable Large Tote Grocery bag
Turtlecreek Cotton canvas Tote handbag
Baggu Everyday Tote handbags
Clark & Taft Personalized Shoulder Tote handbag Made in the USA
Lands' End Canvas Tote Handbag.
USA MADE PLANET E REUSABLE COTTON CANVAS SHOULDER TOTE GROCERY HANDBAG
This USA made cotton canvas grocery tote handbag is very beautiful, though they appear heavy they are lightweight and perfect for everyday use.
They don't have closure but are open for quick access to your essential items, the canvas cotton material used in the design is water-resistant.
Easily wear this tote over your shoulder. Yes, can be washed with the machine.
Finally, this is one of the cheapest most durable American-made tote grocery bags.
EARTHWISE SHOPPING MULTI-PURPOSE TOTE GROCERY BAG
Earthwise is yet another simple, durable, and affordable grocery tote bag that is made in Los Angeles, USA.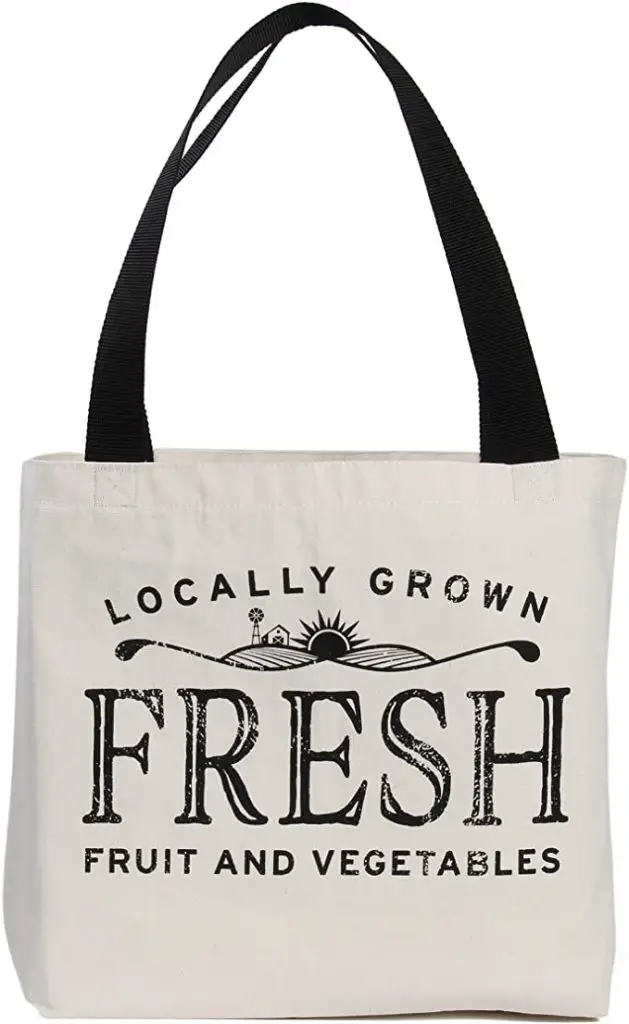 They might not be a popular brand but they are large tote handbags that can contain a lot of items without hassle.
They are designed with high-quality thick cotton web handles with double Xbox stitches that make them carry large items.
They are handmade goods made in the USA, built to last, and perfect for the beach, pool, grocery shopping, or short-distance travel and moving stuff around daily.
USA MADE TBF REUSABLE LARGE TOTE GROCERY BAG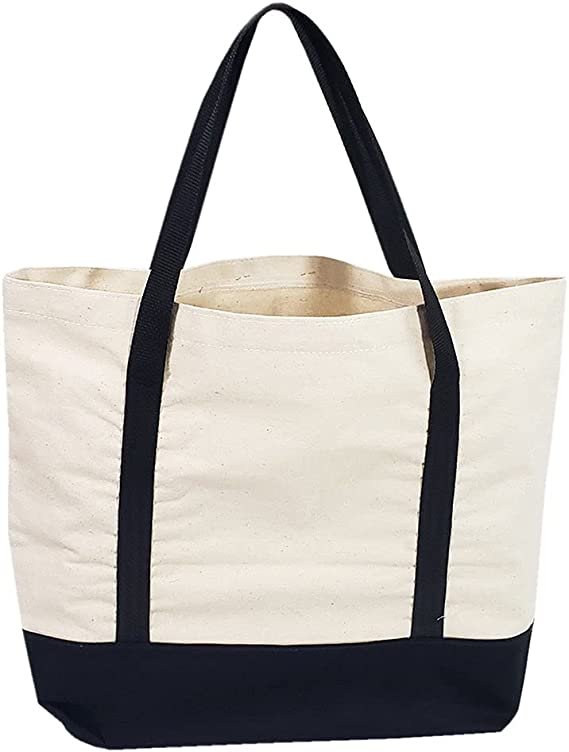 The TBF is another USA made tote handbag you wouldn't want to miss. It is a Uni-sex adult bag made up of cotton and canvas material.
See the following features below;
Suitable for machine wash
Has a large capacity to contain personal belongings and groceries
Perfect for errands, beach, travel, and Pool
They are made from 100% cotton canvas eco-friendly material, they help protect the planet
Perfect to be used as promotional bags, gift bags, bride bags, wholesale bags, trade show bags, conference bags, nurse bags, thanksgiving, holiday bags, welcome bags, Halloween bags, advertising bags, candy bags, and much more!
TURTLECREEK COTTON CANVAS TOTE HANDBAG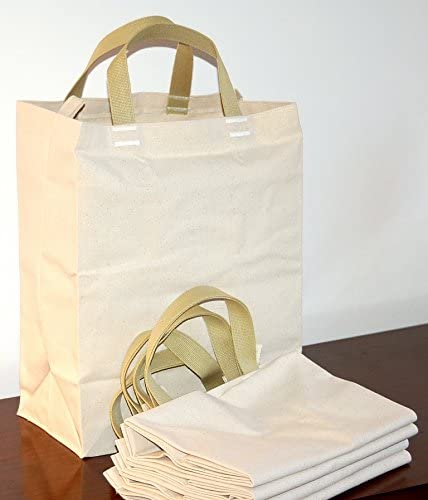 Turtlecreek is another Made in USA Cotton Canvas Reusable Grocery Tote Bag that is designed with short handles.
They are made up of 100% cotton with a natural heavy color that wouldn't wash off easily
They are durable, reusable, washable, and eco-friendly!
The handles are heavy-duty and securely sewn on.
Use USA-made quality bags. They will last many years. Help the environment, and support USA-made products.
BAGGU EVERYDAY TOTE HANDBAGS
It's difficult not to mention Baggu tote handbags while writing about the different types of USA made tote bags.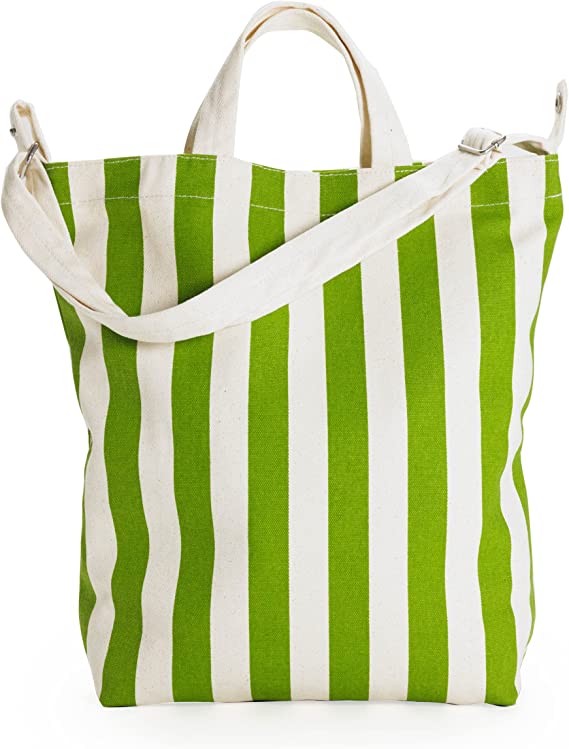 The Baggu tote brand has its studio in San Francisco but its products are ethically manufactured in China under strict manufacturing standards and by certified manufacturers.
Baggu tote handbags come in various designs, colors, and materials like cotton, nylon, and biodegradable, they are made to be environmentally friendly.
They also manufacture crossbody bags, hats, reusable bags, shoulder bags, fanny packs, and pouch sets.
Finally, Baggu American totes are versatile, machine washable, perfect bag for your laptop, yoga clothes, art supplies, and other essential items
You wouldn't regret having this fashionable and stylish American tote handbag.
CLARK & TAFT PERSONALIZED SHOULDER TOTE HANDBAG MADE IN THE USA
The Clark & Taft handmade personalized waxed canvas tote handbag is made in Texas, USA.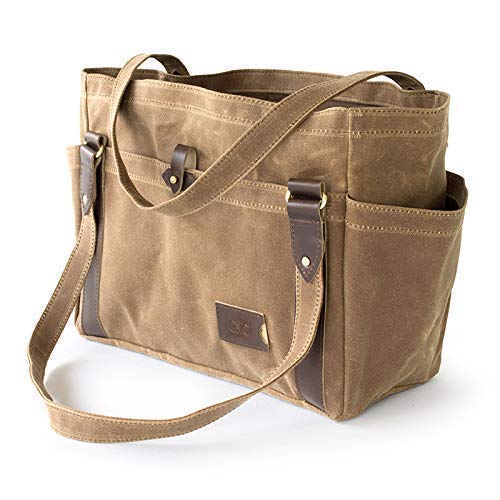 While this handmade bag is tagged everyday handbag for travel, the disadvantage is the price which is like that of a designer luxury handbag.
Perfect for the local farmer's market, gym, beach, and other outdoor adventures. The spacious main compartment can hold everything needed for your daily errands
This tote handbag is also designed with waterproof waxed cotton canvas leather that increases its lifespan and quality, making the bag expensive.
Comes with inner and external pockets and a fully lined interior with water and tear-resistant nylon pack cloth.
Feel the Quality of American craftsmanship when you order this new tote handbag!
LANDS' END CANVAS TOTE HANDBAG
The Lands' End canvas bag is well constructed to be spacious and stands upright when filled up with essential items, strong and sturdy bag to hold up to about 500 pounds.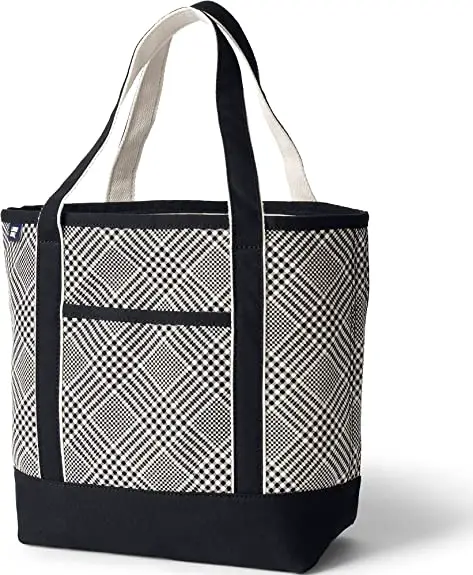 Protect your items from water splashes with the specially-made water-repellent base
Designed with several pockets for storing items, stay organized with internal and external pockets, and easily carry this tote handbag as a purse or even a backpack.
Carry by the hand or over the shoulders, this durable and stylish American-made tote makes a great gift for that special friend, mother, nurse, or even teacher.
CANVAS TOTE HANDBAGS
Canvas totes are useful for several purposes and offer long usability, made from a fine strong fabric called canvas.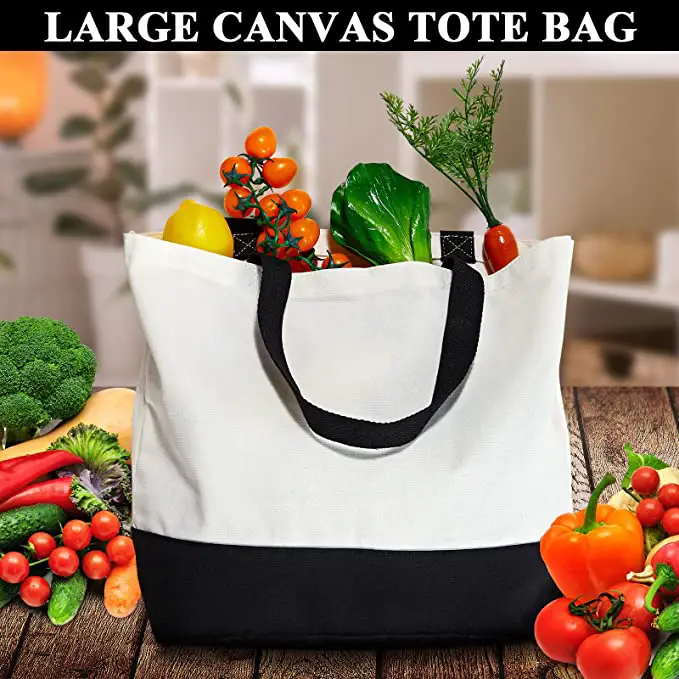 The name "Canvas" is a material that is a heavy-duty woven fabric, typically made from cotton that is strong and durable, making it ideal for use in bags that need to withstand heavy loads and regular use.
Tote handbags/purses are characterized by their large, open-top design, making them great for carrying a variety of items, from groceries to books to beach gear.
They often feature long, solid handles that can be worn over the shoulder or carried by hand.
Canvas totes handbags/purses come in a variety of sizes, colors, and designs, making them a popular choice for everyday use and other fashion purposes.
They are also often used as promotional items or customized with personal designs or logos.
CANVAS TOTE HANDBAGS/PURSES MADE IN THE USA
Canvas totes made in the USA are handbags/purses/messenger/satchel bags that are made from a long-lasting, heavy-duty woven fabric known as canvas, and are manufactured in United States.
Canvas is a popular material for tote handmade bags because it is sturdy, lightweight, and environmentally friendly.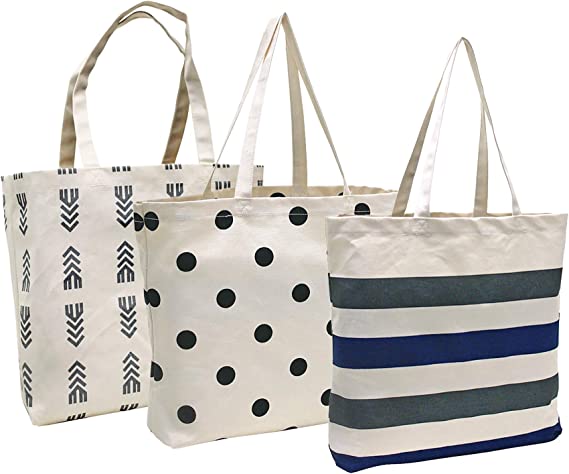 Totes made in the USA follow strict rules for using materials and labor within the country, this supports the local economy, ensuring fair labor practices, and maintaining high-quality standards.
Canvas totes made in the USA are used for general purposes like carrying groceries, books, and other items.
They are easily washable, reusable, affordable, and come in various shapes, sizes, and colors.
These qualities make them a sustainable choice of bag, with proper care, they last for many years.
MEDIUM CANVAS TOTE HANDBAGS
A medium canvas tote handbag is a type of bag that is designed to be carried by hand or over the shoulder.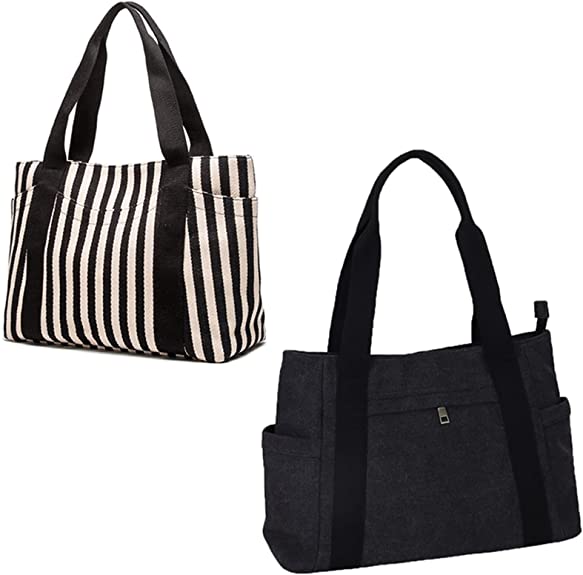 Medium canvas totes are made of the same qualities and features as the standard canvas handbag material such as durability.
The only difference here is that the size is medium having a different dimension from the regular-size canvas tote handbag.
More importantly, if we have medium-sized canvas tote handbag, that means there is Large and small canvas tote handbags/purses.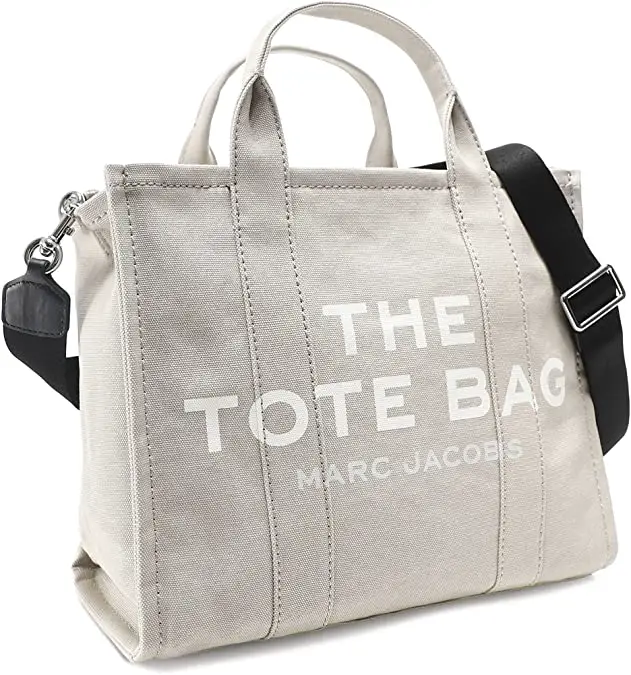 Why is having a medium canvas tote handbag important? It is important and useful to those who are in need of a decent amount of space for their belongings but still want a bag that is easy to carry and transport.
Finally, medium canvas tote handbags are available in different designs and colors, so you can choose one that fits your style and needs.
NATURAL TOTE HANDBAGS
Natural tote handbags are simply biodegradable (eco-friendly) bags that are made from fibers such as jute, cotton, canvas, or linen material.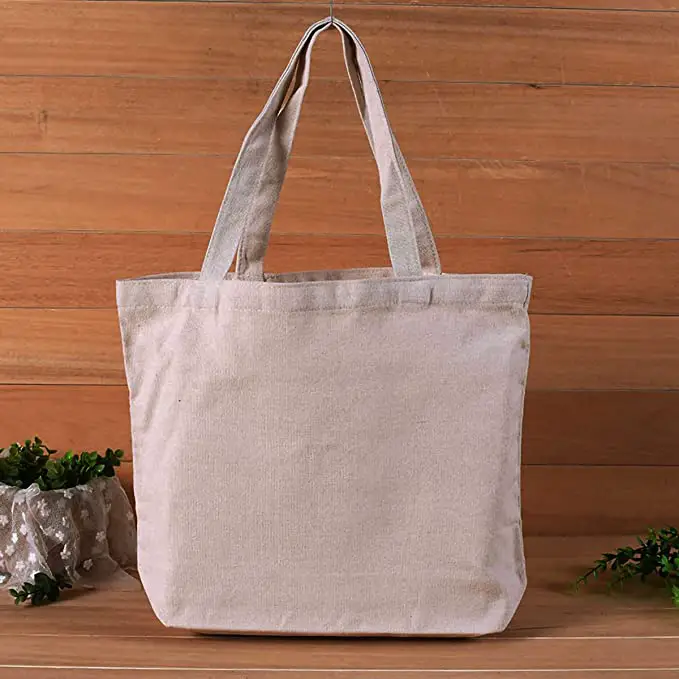 These biodegradable(eco-friendly) bags are long-lasting, and make a perfect option for plastic bags, as we all know that plastic bags hardly decompose and are a threat to the environment.
This is one of the reasons people opt for either organic cotton tote bags or natural tote handbags, they are cute, come in various colors, and designs, are not heavy, easy to carry either by hand or over the shoulders.
Just like the standard tote handbags/purses, natural tote handbags can hold heavy loads and are often used for shopping, carrying books, or as general-purpose bags.
Finally, natural tote handbags can also be customized with logos or slogans, making them popular as promotional items for businesses or organizations.
LEATHER TOTE HANDBAGS MADE IN THE USA
Leather tote handbags made in the USA are bags that are constructed from high-quality leather materials and are produced entirely in the United States.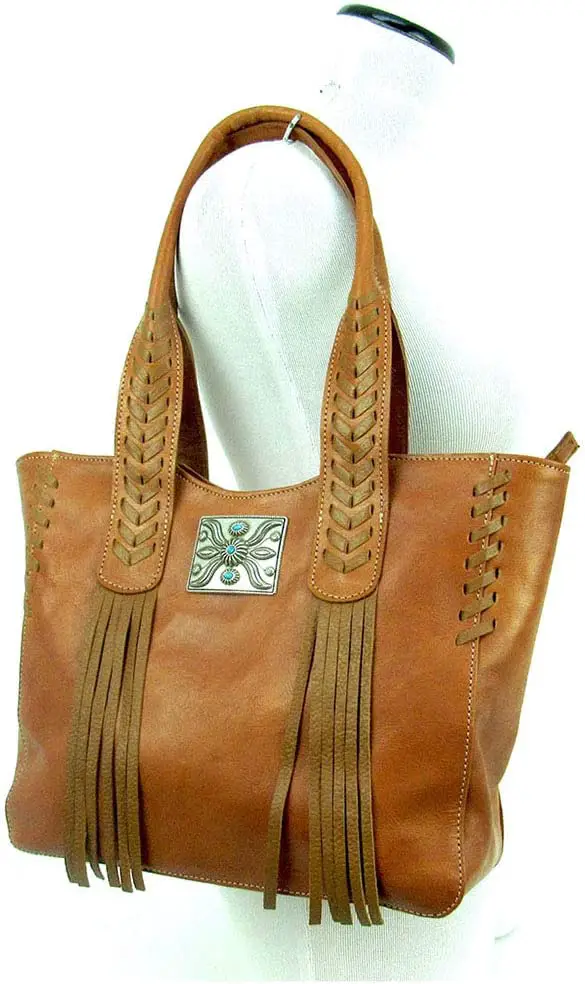 These bags are often designed with ample storage space, making them ideal for everyday use or travel.
They can be found in a variety of styles, sizes, and colors, catering to different tastes and preferences.
Leather tote handbags/purses/messenger/satchels made in the USA are highly desirable due to the superior quality of the materials and craftsmanship involved in their production.
In addition to being made from premium leather, these bags are typically crafted using traditional techniques and state-of-the-art manufacturing processes to ensure their durability and longevity.
CUSTOM TOTE HANDBAG MANUFACTURER
A custom tote handbag manufacturer is a company that specializes in designing, producing, and selling tote bags that can be personalized according to a customer's preferences.
These manufacturers typically offer a wide range of customization options, such as bag size, shape, color, material, handles, and printing or embroidery of logos, slogans, or graphics.
Custom tote handbags are popular promotional products for businesses, organizations, and events, as they are versatile, practical, and eco-friendly.
They can be used to carry groceries, books, clothes, or any other items, while also serving as walking billboards that increase brand awareness and loyalty.
To order custom tote bags from a manufacturer, customers usually need to provide their design specifications and quantity requirements.
The manufacturer then creates a sample or digital mockup of the bag, which the customer approves or suggests revisions.
Once the design is finalized, the manufacturer produces the bags and ships them to the customer's location.
Some custom tote bag manufacturers also offer additional services such as packaging, labeling, and distribution, as well as advice on eco-friendly materials and sustainable production practices.
Overall, working with a custom tote bag manufacturer can be a cost-effective and creative way to promote a brand, celebrate an occasion, or support a cause.
MADE IN USA TOTE HANDBAGS WHOLESALE
Wholesale tote handbags made in the USA are handbags produced in large quantities in the United States, all the materials, designs, craftsmanship, and suppliers come from within the country.
Almost all companies that manufacture tote handmade goods like handbags, purses, shoulder bags, and messenger bags are sold in bulk quantities to retailers which in turn stick up in shops before getting to the customer.
The good thing about buying in bulk from the manufacturer is that you can access discounted prices instead of buying individually making them a cost-effective choice for businesses or individuals who need a large number of tote bags for their needs.
Wholesale tote handbags made in the USA come in a variety of sizes, designs, and materials such as canvas, cotton, nylon, or polyester.
They can be customized with logos or other branding materials, making them an excellent choice for promotional or marketing purposes.
We recommend you patronize wholesale tote handbags that are made in America because by so doing you give support to the domestic economy.
Keep using tote handbags as this ensures a healthy environment!
TOTE HANDBAGS SMALL BUSINESS
Do you want to start a small business selling tote handbags? Or do you want to use them as promotional items? No matter what you need, I got you covered.
First, to start selling tote handbags, you need capital to buy in bulk from a trusted manufacturer that offers quality tote handbags.
Secondly, you need to complete your market research to target the right customers and make sure you sell either online or in a shop probably in densely populated urban areas.
In recent years, tote handbags have become a popular item for small businesses to sell as merchandise or promotional items.
Small businesses can have their logos or branding printed on the tote handbags, creating a walking advertisement for their business.
This can be an effective way to build brand awareness and promote the business, especially if the tote bags are given away at events or sold to customers.
Tote handbags can also be an affordable option for small businesses that want to sell products without the overhead costs of traditional retail space.
For example, an online boutique can offer tote handbags as an add-on item during the checkout process or include a free tote handbag with a purchase over a certain amount.
Overall, tote handbags are a practical and popular item that can benefit small businesses by providing a reusable and eco-friendly promotional tool or merchandise option.
WHO MADE THE ORIGINAL TOTE BAG?
The original tote bag was created in the 1940s by the L.L. Bean Company in Maine, USA. L.L. Bean's founder, Leon Leonwood Bean, wanted to create a practical, durable bag for his customers to use when shopping or carrying their outdoor gear.
The first tote handbags were made of heavy-duty canvas and featured sturdy handles for easy carrying.
Today, tote handbags are popular all over the world and come in a wide range of materials, styles, and sizes.