Satchel vs Tote vs Hobo, all have one thing in common. They are bags used for carrying items from one place to another.
But do they have some differences? If yes what are their differences? Are you on the other hand saying that there are no differences between the three? Do you have any proof to back up your point?
Well, let's not get ahead of ourselves in trying to argue if the three bags are similar or different. Rather let's just glory in the fact that they are different bag brands produced by different manufacturers to add some spice to the world of fashion.
But we'll still express some of their differences and similarities. So let's begin!
Table of Contents
WHAT IS A SATCHEL?
A satchel is a receptacle often designed in materials like leather or cotton with a zipper and a strap. This in order words means that a satchel is a bag used to carry things from one place to another.
What's the first thing that comes to your mind when you hear the word satchel? I bet it's a bag right? Well, you're totally correct. A satchel is just another name used to describe a bag.
TOTE BAG
A tote bag is a receptacle made of different fabrics ranging from pure nylon, leather, and polyester down to the canvas with two handles often positioned to be parallel from each other and are usually fastened to the pouches.
These bags are often used as reusable shopping bags. They come in various sizes and in varying colorful designs.
The tote bags are in two major categories. These categories are the Shopping Totes and the Fancy Totes.
Have you ever heard of souvenirs? Thank you packages gifted to guests after successful events or celebrations?
Those items normally come in small packages usually put in small fancy customized bags. 99 percent of these bags are Tote bags and they can say "Thank you for coming",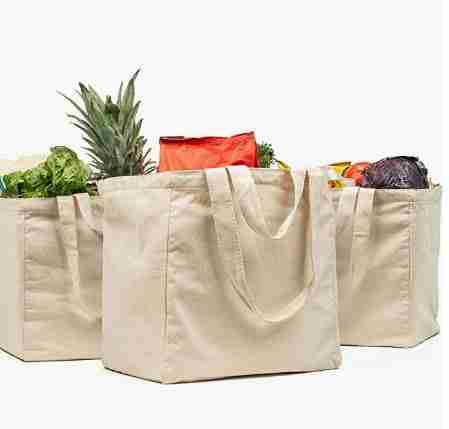 "It was nice having you around",  "With love from Jay and See" or any other thing the host feels like saying.
How about your reusable shopping bags?
These bags are also tote bags provided they have short handles facing each other.
They are mostly square or rectangular shaped and most families usually have a large collection of such bags.
There are some made of paper that can tear when soaked in water while there are others made of cotton, nylon, or any other material. Hardly will one find a shopping tote bag made of leather.
Fancy Totes:
Now, most of us are very familiar with the Gucci totes, Michael Kors totes, Fossil totes, Balenciaga totes and so many other beautiful tote top designer bags every woman should have.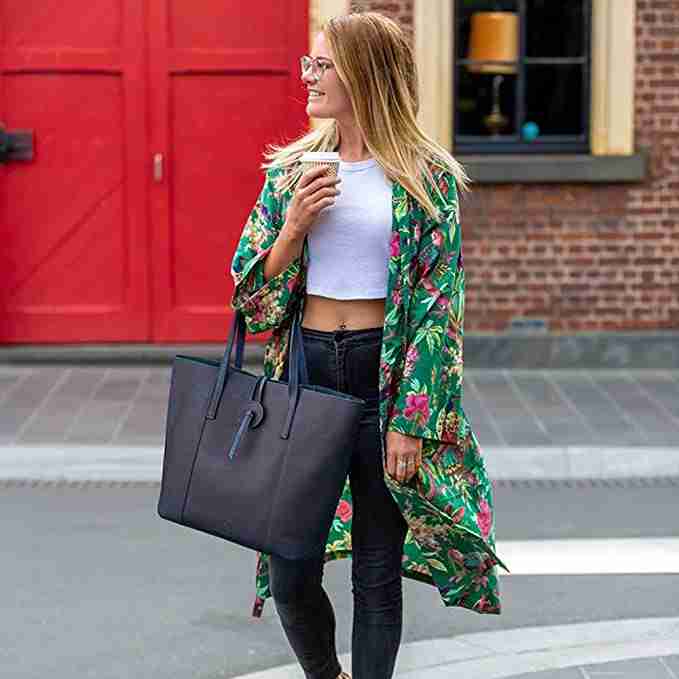 Just like reusable tote bags, these bags are usually square-shaped with short handles sewn directly to the pouches and are usually parallel to each other. They are mostly designed with leather materials.
There are still tote bags with longer straps that can be carried as handbags or you may choose to shorten your tote bag straps for better fit and comfort.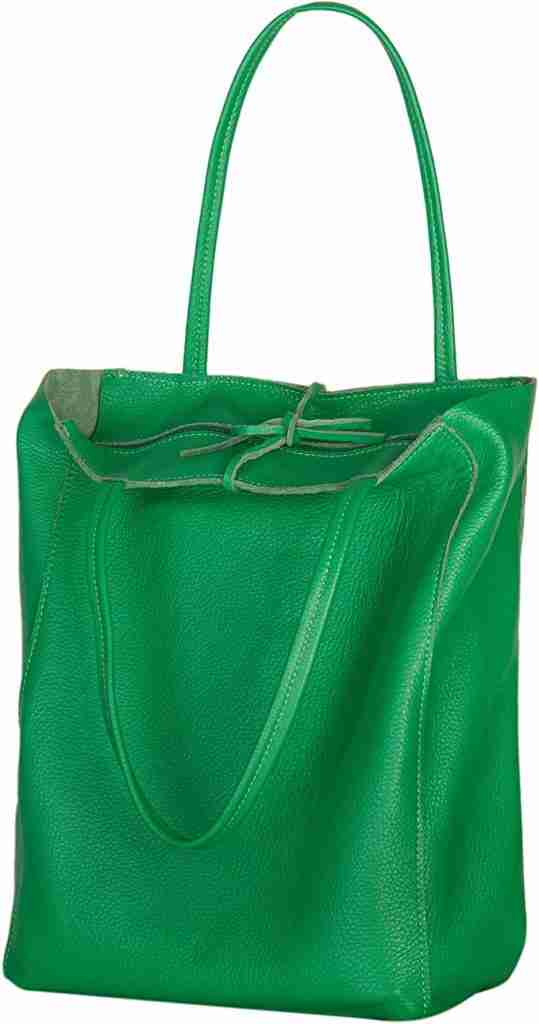 We still have picnic tote bags, beach tote bags, office tote bags and so many other types of tote bags.
One thing however is common among these other types of tote bags, they are all fancy and cannot be considered reusable shopping bags.
RELATED: BENEFITS OF CANVAS TOTE BAGS
SATCHEL VS TOTE VS HOBO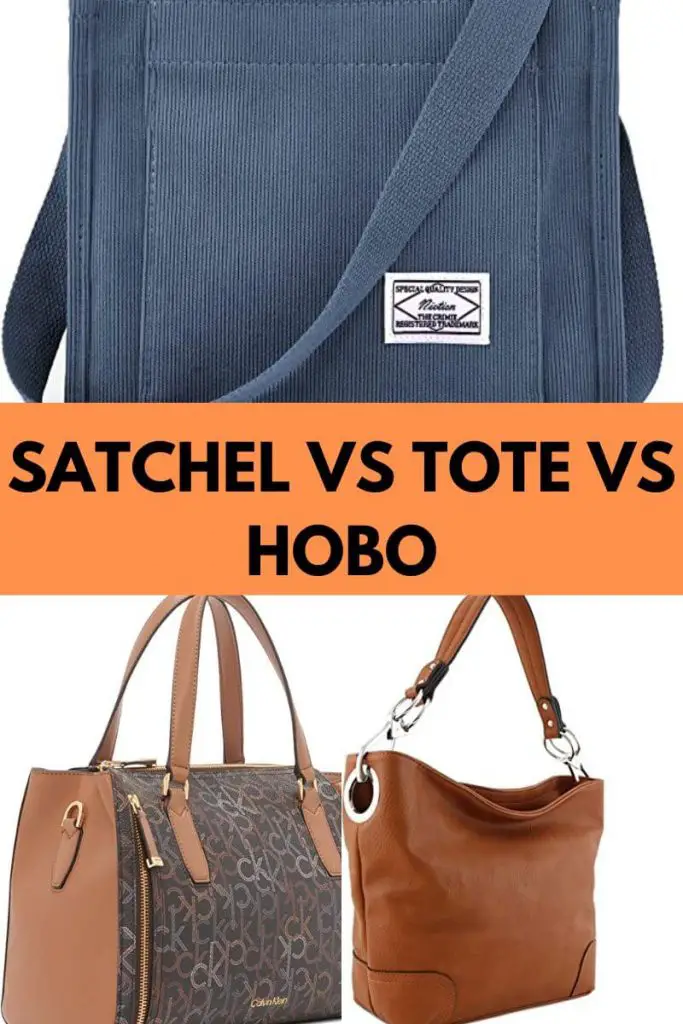 Find below the difference between a satchel bag, tote, and hobo bag;
| | | |
| --- | --- | --- |
| SATCHEL | TOTE | HOBO |
| Flat shaped | Rectangular shaped | Crescent or round shaped |
| For school | For all purposes | For fashion |
| Dates back to the ancient times | More modern than ancient | Predominantly originated from the ancient bindle sacks |
| Straps are long and can be used as crossbody bags | Predominantly designed to come with handles and not straps | The handles are mostly an extension of the bag |
| Comes with a zipper and sometimes a flap | Comes with an open mouth and sometimes a button | Comes with a zipper and on a few occasions might have a flap or a button |
| Used by both gender | Used more by women | Used more by women |
| Outlook is leather at first glance | Outlook can be anything at first glance | Outlook is a soft material at first glance |
SATCHEL BAG
A satchel bag as the name implies is a bag with a long strap often worn as crossbody bags used by students and pupils in the carrying of school materials like books.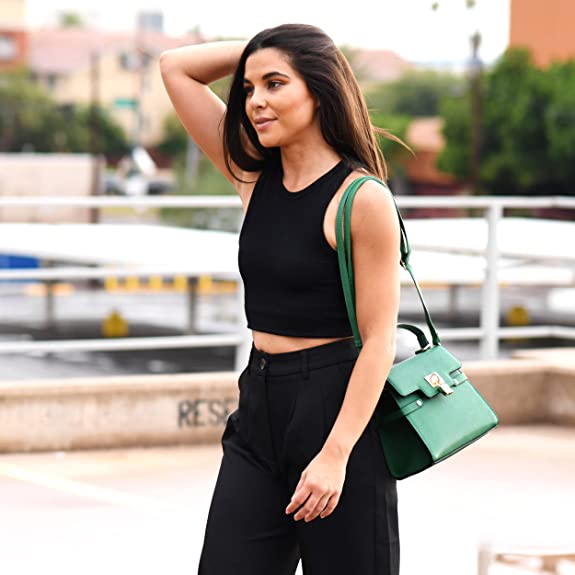 I have explained the best way to wear a satchel bag, kindly check it out.
The satchel bag is mostly used by students but can also be used by the workforce and other people for a lot of other purposes ranging from official use to fashion purposes.
Satchel bags are designed to have long straps and can come in various sizes. These types of bags fall into the category of shoulder bags and are greatly used by both men and women.
Some examples of  popular satchel bag brands include;
Fossil leather satchel bags for both men and women
DIFFERENCE BETWEEN A TOTE AND A SATCHEL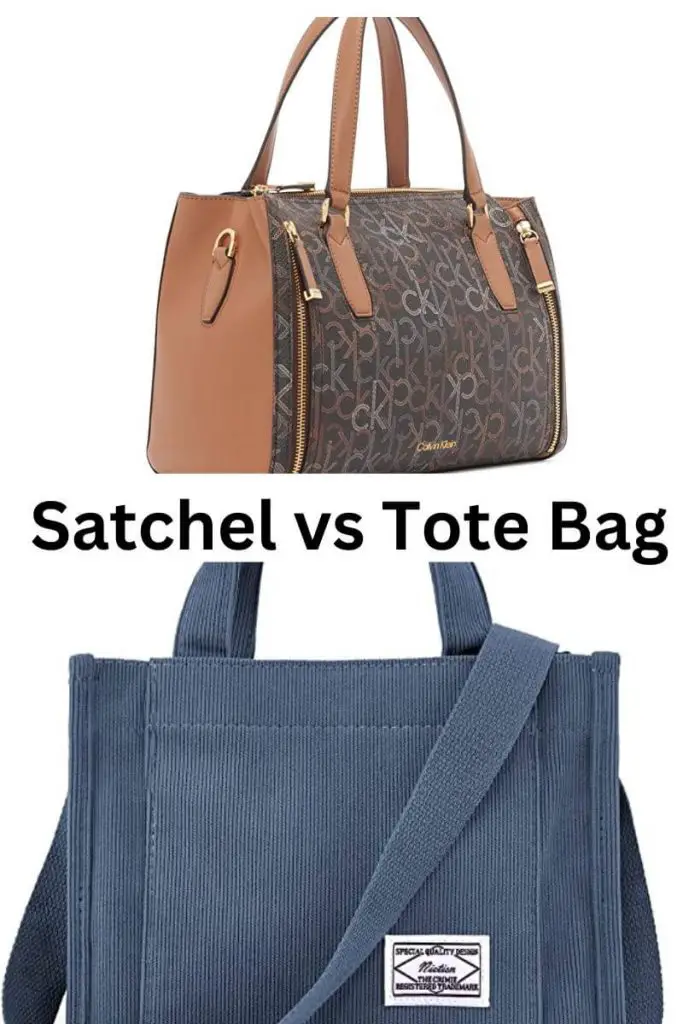 | | |
| --- | --- |
| TOTE BAG | SATCHEL BAG |
| Usually rectangular or square-shaped. | Usually flat-like. |
| The top is usually open with a button that serves as a closure. | The top is usually designed to have a zipper or a flap that closes and opens at will. |
| Spacious inner. Usually roomy with no extra attachments that can serve as restrictions to its spaciousness. | Usually comes with extra Pockets and compartments that by design serve as additional places where other items can be put. |
| Mostly used by women because of how it's been designed to look. | Can be used by both men and women. |
SATCHEL VS HANDBAG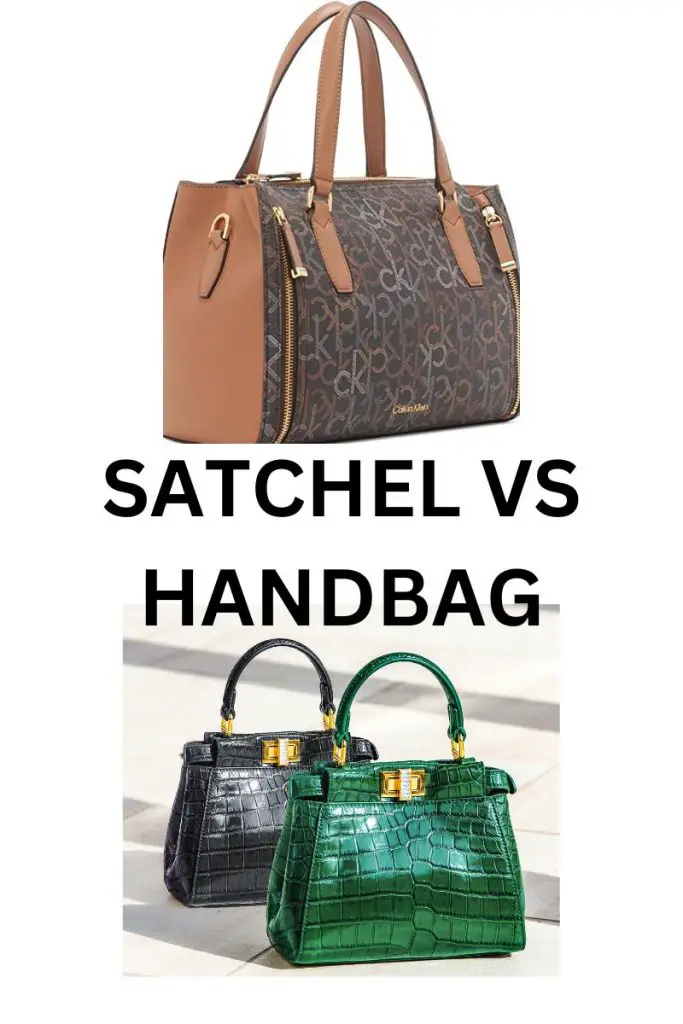 Satchel bags and handbags are not the same. The difference lies in the length of their straps.
While satchel bags are designed to have long and crossbody-like straps, handbags are predominantly designed for the womenfolk and are characterized by short parallel handles that can be handheld or worn as wristlets or longer straps that can be hung on the shoulder as shoulder bags.
WHAT IS A SHOULDER BAG
Shoulder bags in simple terms are bags that we can easily sling on our shoulders with little or no stress. There's one thing that all shoulder bags are known for.
This one thing is the straps. Shoulder bag straps have one thing in common, they usually have single straps that can be adjusted to either be long or short depending on how the wearer wants to wear their shoulder bags.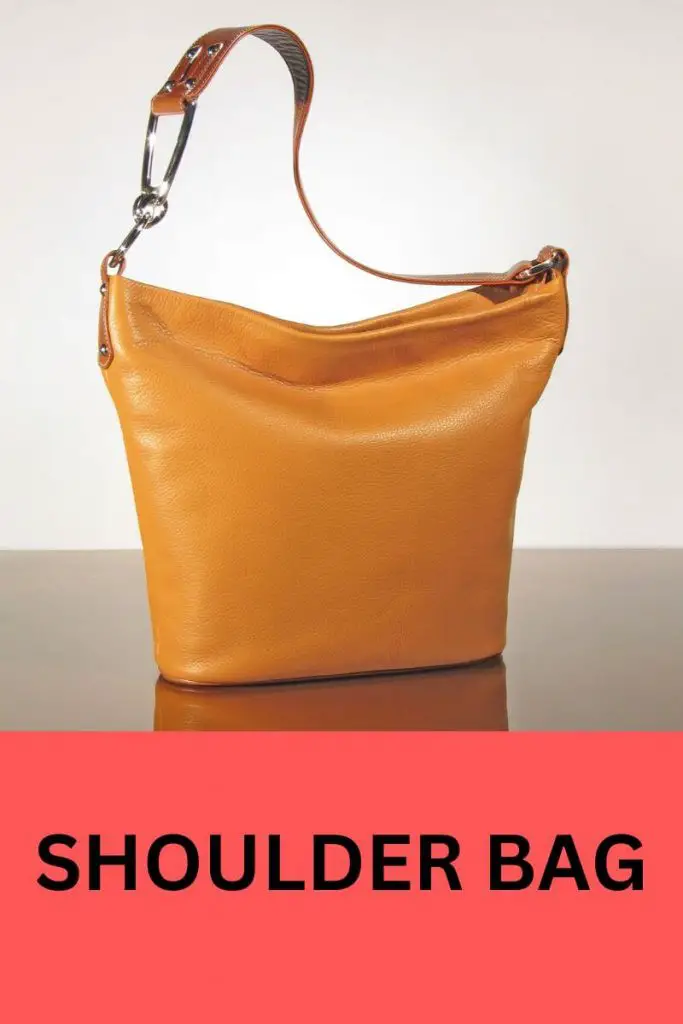 There are still chain straps that are hardly adjustable and are customized to either be long or short.
One funny thing about shoulder bags is the fact that most people naturally feel that shoulder bags belong to just the womenfolk and are all in the same class as handbags.
But let's debunk this assumption by explaining that even satchel bags so long as they can be carried on the shoulders are shoulder bags.
A close friend to the shoulder bags is the sling bag because both of them have very similar features and it's difficult to tell one apart from the other.
SHOULDER BAG VS SATCHEL
Both bags fall in the same category. Satchel bags are shoulder bags because they can be hung on the shoulders.
They are naturally designed to have straps that can rest on the shoulder without slipping off.
However, not all shoulder bags are satchel bags. There are regular sling bags and handbags that can go on the shoulder but are not considered satchel bags because of the way they've been designed.
TOTE BAG VS HANDBAG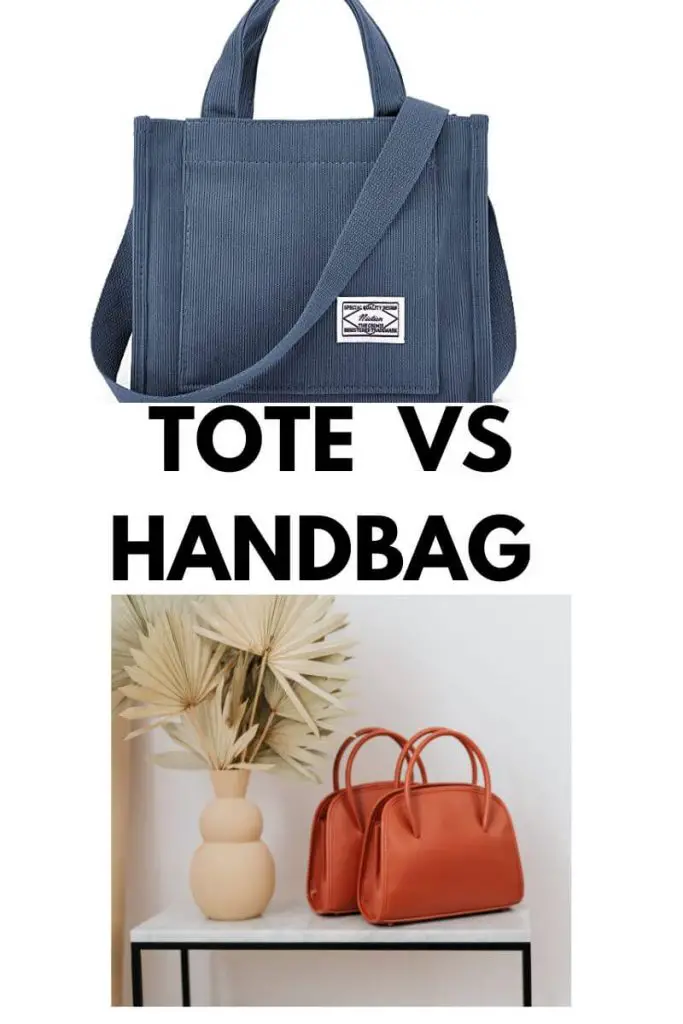 Find below the difference between a tote bag and a handbag;
| | |
| --- | --- |
| TOTE BAG | HANDBAG |
| Handles are mostly short although there are some long enough to be worn as handbags. | Handles are generally medium-sized or short enough to be handheld. |
| They have a unique shape. | They come in diverse shapes. |
| Can be used as reusable shopping bags. | Are hardly used as reusable shopping bags. |
| The shopping tote bags are streamlined to be used strictly for shopping purposes. | Handbags are not streamlined into different categories and are used for a variety of purposes. |
| The tote bags are both service and  fashion-oriented | Handbags are more fashion-oriented than service oriented. |
WHAT IS THE DIFFERENCE BETWEEN A HOBO AND A SATCHEL BAG?
The difference between a hobo bag and a satchel bag can be seen in their different designs.
While satchel bags are designed to have long adjustable straps with zippers and can be worn as crossbody bags.
Hobo bags on the other hand are slouchy shaped handbag bags with handles that are like an extension of the bag itself or separate straps attached at the pouches that can hardly be worn as crossbody bags because of the length of their handles.
WHAT IS A HOBO BAG CALLED?
A hobo bag can be called a bindle. This is because the name hobo originated from the ancient concept of traveling sack bags usually tied around bindles.
These bags were generally cloth-like and were used to transport items from place to place.
The clothes when tied around these bindles had a crescent shape or slouchy look which gave rise to the unique design of our modern-day hobo bags.
The original concept of hobo bags is that the handles are designed to look like an extension of the bags, giving them that slouchy rounded look.
However, modern-day designers have tweaked the hobo bags to have an adjustable strap even though they have retained the slouchy appearance of the bags.
IS A SATCHEL BIGGER THAN A TOTE?
Satchel bags are not bigger than tote bags.
This is because while satchel bags are characterized by inner pockets and zippers that serve as extra spots for the putting of your stuff, the tote bags by design have a larger room to hold everything you need on your day out.
WHAT MAKES A BAG A SATCHEL?
The straps are a major pointer to satchel bags.
All satchel bags come with long adjustable straps that can be hung on the shoulders as shoulder bags but are generally worn across the body like crossbody bags.
Also, any bag with long straps that can be used to carry books, can be regarded as a satchel bag.
CONCLUSION
There's no overemphasizing the fact that there are different little peculiarities that make each bag type what they are.
But how about we put all that aside and bask in the fact that beautiful bags are adornments specially designed to bring out the best in our appearances?