Made in England bags UK has a certain charm that is hard to resist. They embody the country's rich history, exquisite craftsmanship, and timeless style.
One can't help but feel a sense of pride when carrying a bag that was made in England. But what makes these bags so special?
Let me tell you a little story. Imagine walking down a cobbled street in London, feeling the cool breeze on your face and the sounds of the bustling city around you.
As you turn a corner, you see a quaint little shop with a sign that reads "Handcrafted Bags Made in the UK." Intrigued, you step inside and are greeted by the sight of beautiful leather bags, each with its unique character and story to tell.
The smell of leather fills the air, and you can't help but reach out and touch the bags' soft, supple texture. That's the magic of British bag brands – they're not just bags; they're a work of art that tells a story.
Table of Contents
MADE IN ENGLAND BAGS UK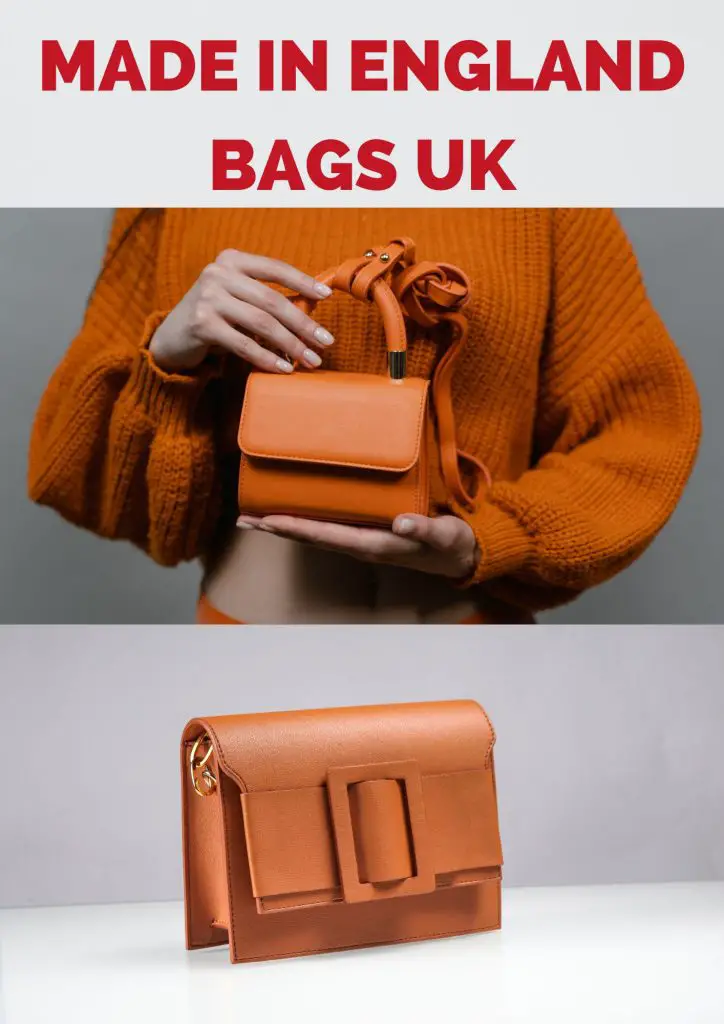 There are numerous beautiful bags that are made in England, the UK, below are the 7 designer British bags brands made in the UK;
Vivienne Westwood Bag
Knomo London Beauchamp
Radley London
Anya Hindmarch
Burberry London England Bag
Emmy London
L.K.Benneth London Bag
VIVIENNE WESTWOOD BAG
To begin, Vivienne Westwood was born in Tintwistle, Cheshire, England. The Brand Vivienne Westwood is headquartered in England, UK.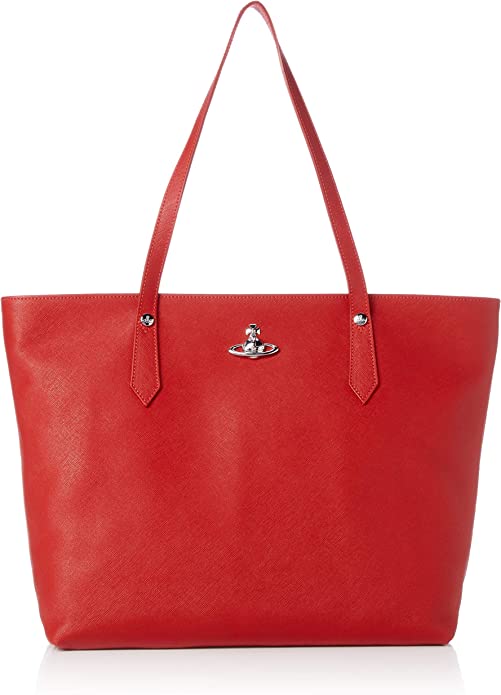 Aside from the Vivienne Westwood Shoulder handbag, we also have the;
Vivienne Westwood Women's Key Case
Vivienne Westwood Women's Wallet
She is one of the British fashion designers known for her inspirational/challenging clothing, as an English fashion designer, she is also known for bringing modern new waves and punk fashion into the mainstream.
This British bag designer company won the "British fashion designer of the Year"; in 1990, 1991, and 2006.
In addition, the Vivienne Westwood designer England UK Brand uses semi-synthetic regenerated fibers such as lyocell, modal, viscose, cupro, and acetate made from renewable materials.
Vivienne Westwood produces some collections in the United Kingdom, Italy, China, and Africa (Kenya).
Vivienne Westwood's bags are known for their intricate details, innovative use of fabrics, and eye-catching embellishments.
They may feature bold prints, vibrant colors, metallic accents, or signature logos such as the iconic orb symbol.
Some of her bags may also incorporate unconventional shapes or asymmetrical designs, showcasing her avant-garde approach to fashion.
In summary, Vivienne Westwood's designer bags made in the UK exhibit a rebellious, avant-garde style that incorporates unique details, bold prints, and unconventional materials.
They often carry a deeper meaning, reflecting the designer's commitment to sustainability and social activism.
KNOMO LONDON BEAUCHAMP BACKPACK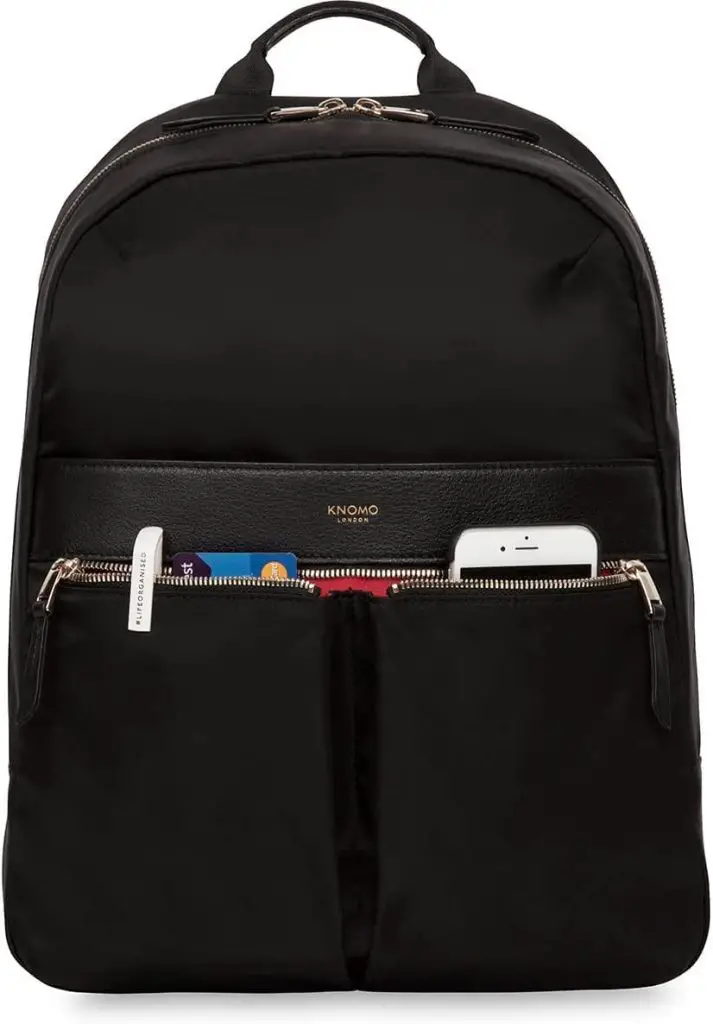 The Knomo London British brand is owned by Howard Harrison, who was a frequent traveler, he founded this Independent bag brand in London in 2004.
This UK independent bag brand simply combines style, functionality, and technology in its bag designs, they are also known as an affordable UK waxed canvas backpack brand that focuses on bags designed to make life easier and more convenient as you travel the world and commute to work
The Knomo London British bag brand also believes that bags should be an extension of your personality and style.
The Knomo London UK designer bag also employs sustainability, ethical production practices, and the highest quality materials in manufacturing their bags.
Finally, their range of products includes, laptop bags, backpacks for school (kindly compare UK backpacks with made in USA backpacks for school), totes, and briefcases, stay organized and fulfill your needs as an urban dweller with the innovative Knomo London affordable bag brand in the UK!
RADLEY LONDON
The Radley London British bag brand is one of the foremost most affordable bag brands that is made in the UK, it all started in London's famous Camden Lock Market in 1998.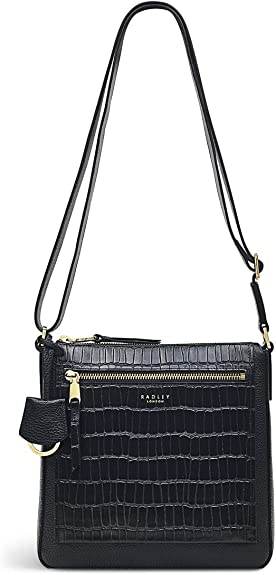 Examples of the affordable Radley London UK Bag brand model are;
RADLEY London Gordon Road – Mini Ziptop Crossbody
RADLEY London Pear Gardens – Faux Croc – Small Ziptop Crossbody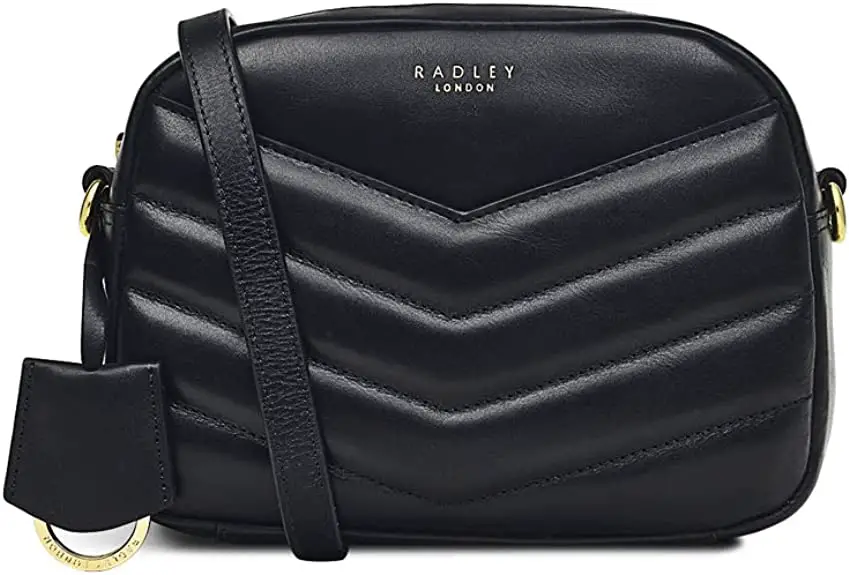 The Radley London collection includes crossbody bags, totes, and handbags manufactured in Somerset, South West, England, although there have been arguments that not all of their bag models are made in the UK, some are made outside.
One feature I personally look out for is the quality of designer bags regardless of the country it is manufactured.
One beautiful feature about the Radley London Luxury leather bag is that they pay attention to detail both inside and out and their various handbag designs work with the needs of modern Life.
ANYA HINDMARCH BRITISH BAG BRAND
Anya Hindmarch brand was founded in London in 1987 and has since grown into a global Luxury England bag brand.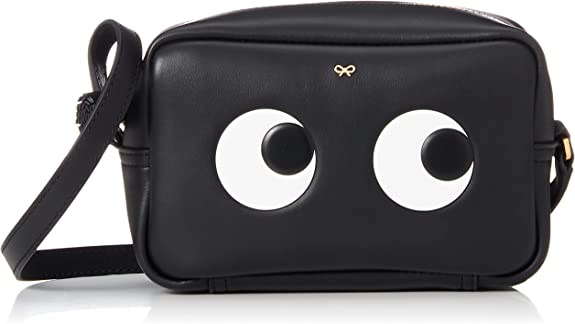 They pay attention to creativity, personalization, and modern craftsmanship in all their model of UK designer bags.
One outstanding g feature every customer love about the Anya Hindmarch British bag company is that you have access to a Bespoke personalized bag of your choice.
In addition, the Anya Hindmarch UK designer handbag brand is committed to constantly striving to innovate and reduce the impact on the earth during manufacturing.
For example, we have a plastic bag that was crafted with recycled plastic bottles and a rainbow-woven tote bag.
Finally, Anya Hindmarch British Bag Company takes pride in the following designs of bags; for women – Tote bags, Shoulder bags, Crossbody bags, Hobo bags, Evening bags, Backpacks, and clutch bags
While for men, we have Gift items, men's accessories, and Briefcases.
BURBERRY LONDON ENGLAND BAG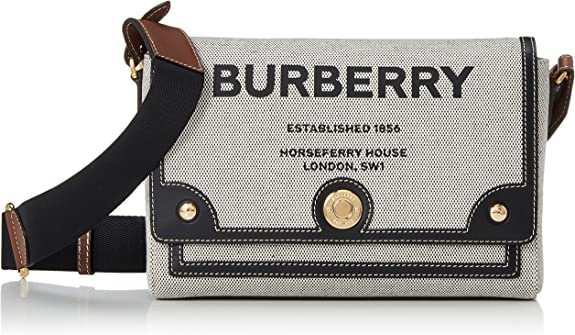 The Burberry London Brand was founded by Thomas Burberry, all he wanted to achieve was to design clothing that would protect people from the British weather.
The Burberry London England Bag has its manufacturing facility in the UK.
Little by Little the Burberry London England Brand metamorphosed from clothes into coats, jackets, and then Bags (Tote handbags, mini bags, crossbody bags, clutch and Shoulder bags, Shoes, Jewelry, Shoes (sneakers, sandal, pumps, flats, and bots), scarves makeups and even fragrance.
The Burberry London England bag brand is a Luxury brand you wouldn't want to miss out on in order to make a fashion statement!
L.K.BENNETH LONDON BAG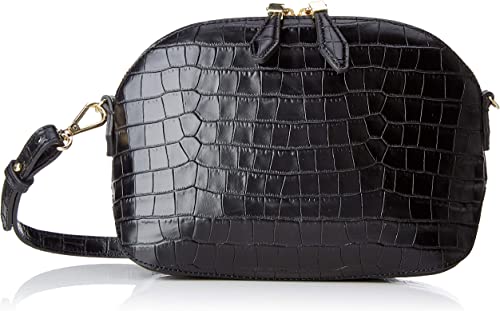 The L.K.BENNETH LONDON BAG Brand design all models in London by the in-house design team, they draw inspiration from vintage and archive designs all tell of a story.
The L.K Benneth UK designer handbag has received the "Butterfly Mark Accreditation" as a certification of meeting the highest sustainability standards.
The L.K. Benneth British brand uses sustainable fabrics methods in designing their Luxury designer bags.
Aside from manufacturing designer UK made crossbody bags, clutch bags, tote bags, Shoulder bags, Envelope clutch bags, and leather bags, they also manufacture clothing, shoes, and handbag accessories.
EMMY LONDON
We can't talk about the best made in England bags UK without mentioning the Emmy London British bag brand, this British handbag and shoe brand is based in London.
Emmy London has always been obsessed with shoes but over the past decade Emmy London UK designer handbag and Shoe Accessories brand has evolved into a recognized British Luxury Lifestyle brand.
Emmy London British Bag and Shoe Company are known for paying attention to detail and making women feel confident and comfortable.
With this UK made designer handbag and its accessories, you feel amazing and can easily capture the hearts of others.
This Independent UK Bag brand – Emmy London is handcrafted one by one by hand, has a modern style, and timeless intricate details, and is designed with an emphasis on beauty and comfort!
LUXURY LEATHER BAGS UK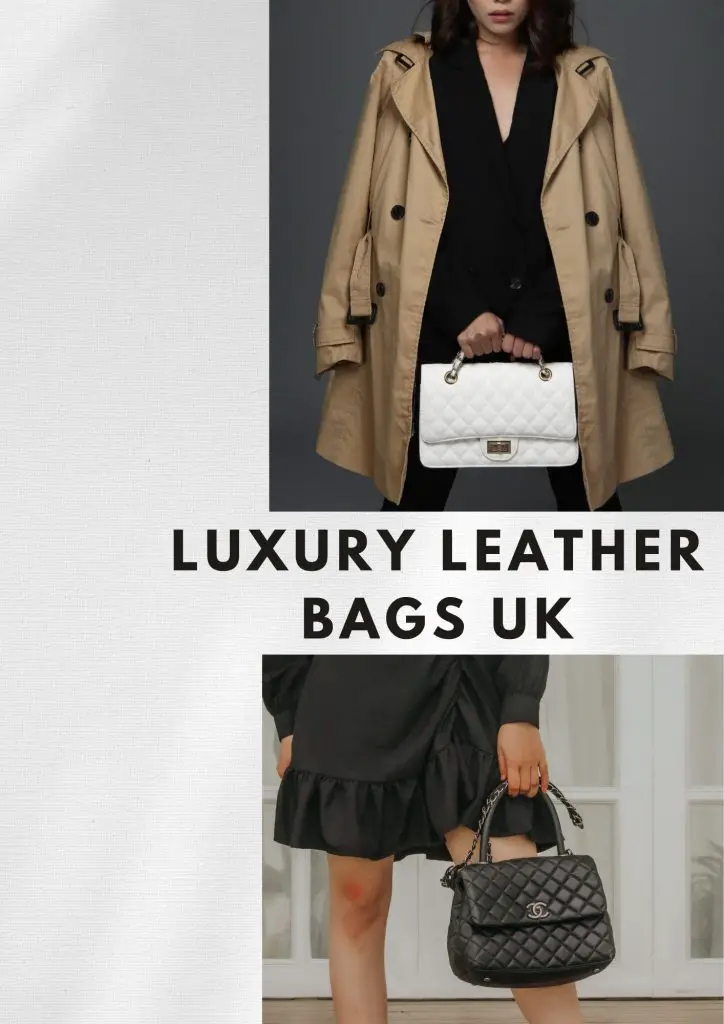 Luxury leather bags UK are exquisite and expensive items crafted from high-quality materials, renowned for their durability, beauty, and status symbol.
Examples of Luxury leather bags UK are;
L.K. Benneth Nicole Suede Leather Shoulder Handbag Satchel Pink
Harrods Leather Luxury Designer Bag
Glencroft British Leather handbag
Gweniss Handmade Luxury Leather Designer Bags
Tusting Luxury Leather handbags made in England
Smythson Luxury leather bags
Aspinal of London Leather Designer Bag
Anya Hindmarch Leather Luxury bag
Radley London Luxury leather bag
Cambridge Satchel Company – Handcrafted Leather in Britain
Cherchbi Luxury bag – Handcrafted in Melton Mowbray, England
British Belt Luxury Company – Handcrafted in Uppingham, Rutland, England
Brit-Stitch Britain Handmade Luxury Leather Bags
Other Luxury Britain England bags you will find interesting include;
Lulu Guinness Luxury shoulder bag
Ally Capellino cotton Tote bag
Benneth Winch Luxury Bag – Handmade in England
Hyde & Hare Bags Luxury England Bags
Victoria Beckham Luxury British Brand
Luxury leather bags UK are meticulously designed by skilled artisans, these bags are characterized by attention to detail, fine craftsmanship, and luxurious materials.
As the name implies, Luxury exudes elegance and sophistication, with its sleek lines, refined finishes, and premium hardware.
Luxury leather bags often feature spacious interiors with multiple compartments, providing functionality alongside style.
They are a symbol of timeless elegance and a testament to the owner's discerning taste and appreciation for luxury.
Whether it's a classic tote, a chic clutch, or a stylish satchel, luxury leather bags UK epitomize refined fashion and impeccable quality."
INDEPENDENT BAG BRANDS UK
Independent bag brands refer to a company or label that specializes in designing, manufacturing, and marketing bags that are unique to their brand.
These brands operate independently, meaning they are not affiliated with any larger corporate entity or conglomerate.
They have the freedom to create their own distinct style, identity, and product offerings, often focusing on innovative designs, quality materials, and craftsmanship. Independent bag brands often prioritize creativity, individuality, and attention to detail, catering to a specific target audience or niche market.
Examples of independent Bag Brands in the UK are;
Sarah Haran Independent Luxury Handbag
Paul Smith – Britain's leading independent design company. Paul Smith champions positivity, curiosity, and creativity.
Jam Love London independent Bag Brand.
Lost Property of London – (LPOL) Independent London Brand Bag Designer.
BEST BRITISH HANDBAG BRANDS
When it comes to selecting a premium British handbag brand, it's not an easy job as all of them are made with precision to meet your fashion needs and budget.
Here are some best British handbag designer brands we recommend;
Russell Russell Handcrafted Luxury Leather Goods Bags, Made in England – They create timeless leather bags and accessories for people of all ages.
M. Hulot Made in England Luxury Bag Company – Manufactures handcrafted bags and clothing accessories, Manufactures contemporary Playful bags from Veg tan Leather.
Kate Sheridan British Bag Company – Designed and rooted in East London, creates contemporary leather goods and clothing which balances classic craft with a functional modern aesthetic.
Jam Love London Bags – Handcrafted in England
In addition, here are some of the criteria we recommend for anyone that wants to purchase British designer handbag brands;
Consider reputable designer brands known for their quality craftsmanship, attention to detail, and durability.

Materials and craftsmanship: Examine the materials used in the construction of the handbag. Look for genuine leather or other high-quality fabrics.
Choose a handbag that aligns with your personal style and preferences. Consider factors such as size, shape, color, and overall design.

Functionality and usability: Assess the handbag's functionality based on your needs. Consider the number of compartments, pockets, and closures it has.
Size and capacity: Determine the size of the handbag based on your intended use. Consider whether you need a small bag for evenings or a larger one for everyday use.
Evaluate the comfort and practicality of the handbag.
Set a budget and consider the price range of designer handbags. Remember that designer handbags are often a significant investment
Authenticity: Be cautious of counterfeit products and ensure the handbag you purchase is authentic. Buy from reputable retailers or directly from the brand's official stores or websites.
BRITISH BAG BRANDS LIST
Aside from all the above-mentioned British designer and Luxury Bag brands, below are other British bag brands you will also find interesting to know and have;
Barbour Wax Leather London British Bag Brand
Umpire Bags – Made in North Yorkshire, Britain, UK
Owen Barry's leather and cowhide handbags – Handmade in our Somerset workshops, Britain, London using the finest quality, hand-selected skins.
Hettie Lily & Bean London Bags, Luggage & Leather Goods
Jane Hopkinson luxury British handmade leather handbags – These luxury handmade leather handbags are designed and handcrafted by them in their workshop in Ditchling, East Sussex, nestled in the picturesque South Downs National Park.
John Chapman – Timeless luxury leather and canvas bags and accessories handcrafted in Britain.
Alfie Douglas minimal Leather Bags – Handmade in England
Ottely Bespoke Leather Work – Handcrafted in England
CARV Handmade Leather Bags & Accessories – Made in the UK, Uses Natural vegetable-tanned Leather for manufacturing.
Tea Green – A collection of contemporary unique handbags and accessories designed and digitally embroidered by Frances Bayliss – made in Great Britain.
PadField England Bags – British Made Luxury Bags and Accessories.
Zoe Darling British Bag Company – British Handbag and Accessories brand based in the Royal Borough of Windsor, near London.
Glencroft Country wear – Quality British clothing, responsibly sourced. Shop sheepskin, wool, and tweed hats for the best country clothing in the UK.
Gweniss Handmade Luxury Leather Designer Bags – Handmade products by a small group of independent manufacturers across England and collectively marketed and traded under the Gweniss brand. 
Sophie Fleming London Bags – Leather backpacks and bags handmade in England from Italian vegetable-tanned leather.
J W Anderson – Men, Women and Bag Accessories, J W Anderson offers a unique design aesthetic and modern interpretation of masculinity and femininity by creating thought-provoking silhouettes through a conscious cross-pollination between menswear and womenswear elements.
Kate Negus Saddlery (Handmade using quality Leather) – Established in 1989 and has gained an excellent reputation as a provider of quality bridle work and accessories. Originally based at Hickstead in Sussex, the company is now near Badminton.
Danse Lente – The emerging British brand of sculptural bags that combines pop colors and art inspirations.
Losana B – Based in Nottingham, UK – They create beautiful unique bags and accessories by up-cycling rescued and reclaimed textiles.