In our last article, we discussed extensively the Bags that are made in England, UK, today, we will be looking at the top waxed canvas backpack made in UK.
Nothing can be compared to having a durable and timeless exquisite waxed canvas backpack that elevates your everyday adventures while fitting your budget and functionality.
Nowadays, adventurers and commuters don't just settle for any kind of waxed canvas backpack, they rather go for specifics like made in the USA waxed canvas backpacks.
One of the reasons they do this is because of the high level of craftsmanship, level of detailing, and premium materials being used saving you cost and time.
So, from the bustling streets to rugged outdoor escapades, British brands of waxed canvas backpacks will accompany you on every journey offering ample storage space, comfortable straps, and intelligent organizational features.
Experience the quintessential British craftsmanship and elevate your style with our exceptional waxed canvas backpacks, meticulously crafted to withstand the test of time.
Table of Contents
ARE WAXED CANVAS BAGS GOOD?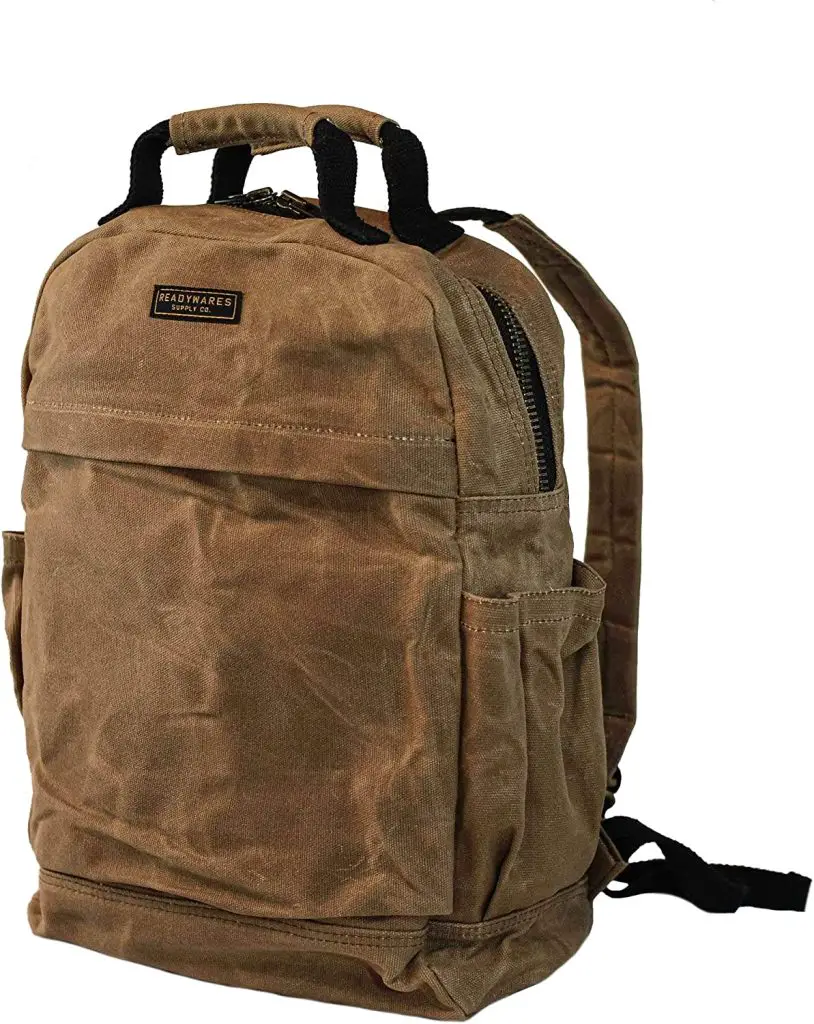 Yes, waxed canvas bags are good because they are durable, made with water-resistant material that can be used for work wear and outdoor applications, have a timeless, distinct, and classic vintage appeal, are versatile, require minimal maintenance, and are environmentally friendly made with natural and sustainable material, typically made from cotton.
In terms of versatility, waxed canvas bags are designed in various styles including backpacks, totes, duffels, and messenger bags.
IS WAXED CANVAS BACKPACK WATERPROOF?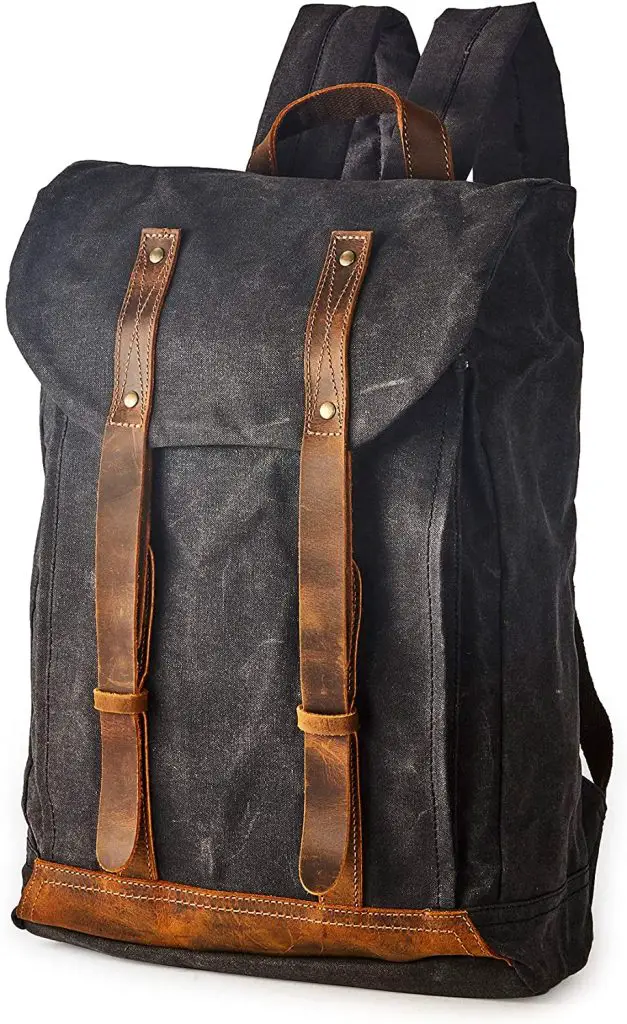 Waxed canvas Backpacks aren't entirely waterproof instead we say they are water-resistant because they can't handle heavy rainfalls or water immersion like backpacks made with nylon or vinyl-coated fabrics.
In addition, it is important to note here that waxed canvas backpacks can only handle light rainfall or moisture hence most manufacturers utilize waterproof liners and zippers solely to improve the water-resistance of the backpack.
WAXED CANVAS BACKPACK MADE IN UK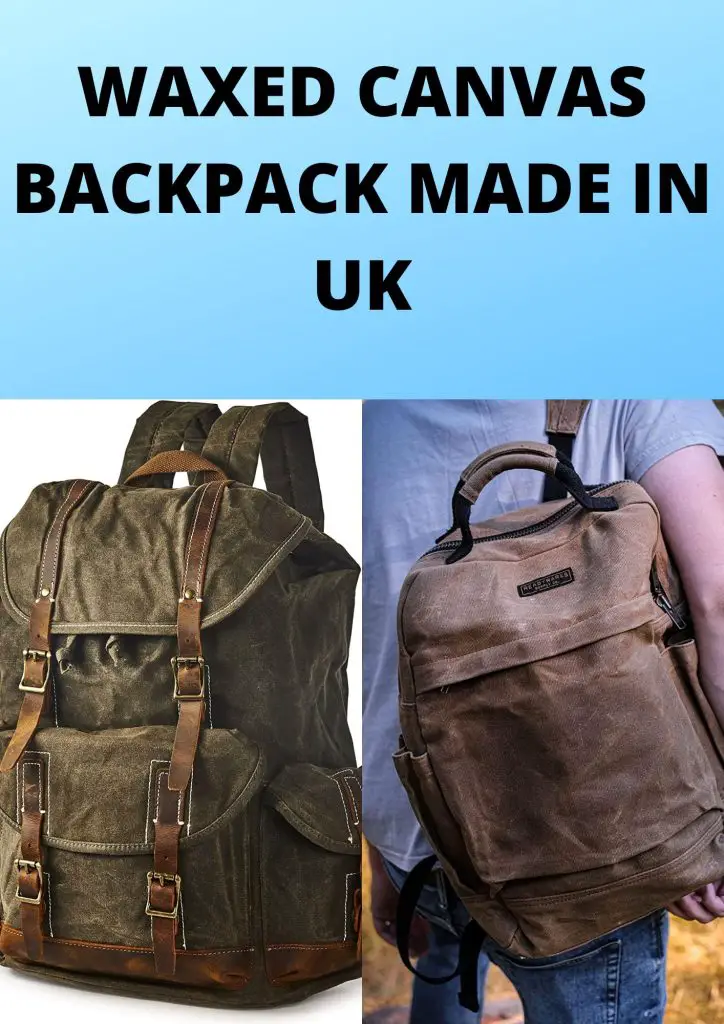 Here are the best 6 waxed canvas Backpacks that are made in the UK;
Millican waxed canvas Backpack
Northcore waxed canvas Backpack
Barbour UK Canvas Backpack
Knomo Backpack
Troubadour Waterproof Backpack
Trakke waxed canvas Handmade Backpack
MILLICAN WAXED CANVAS BACKPACK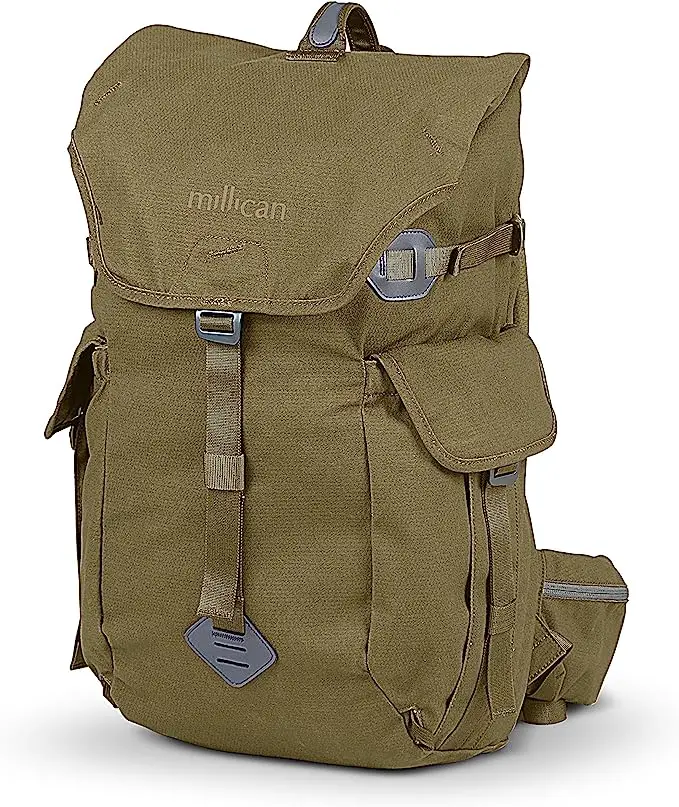 The Millican brand Backpack is made in English Lake District, North West England.
They take pride in manufacturing durable and sustainable waxed canvas backpacks, daypacks, hiking backpacks, shoulder bags, and Roll packs.
One of the popular UK Millican backpacks is the Millican Fraser Rucksack 32L.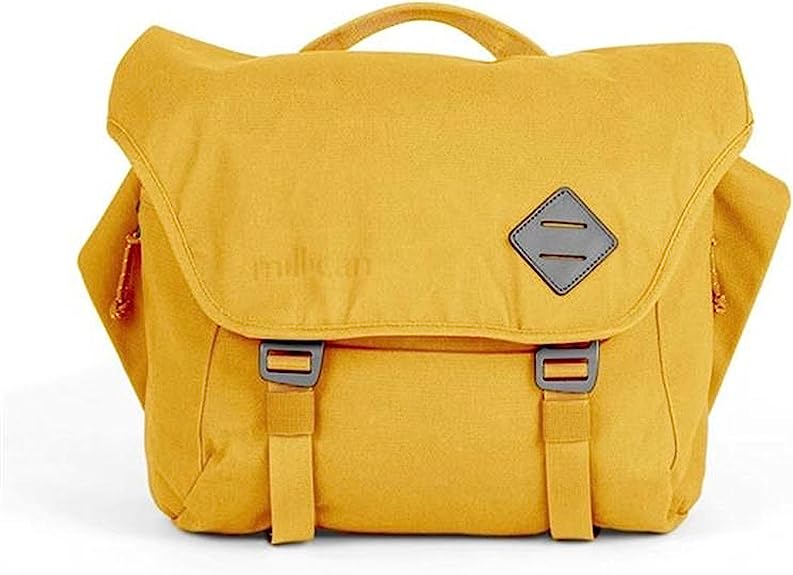 The Millican Fraser Rucksack is a lightweight water-resistant/waterproof backpack made with highly resistant Bionic canvas from 57% recycled material which makes this UK British Backpack brand 30% stronger than the conventional cotton canvas material.
In addition, they are made with 100% paraffin wax, 100% recycling polyester lining, 38% cotton, and 5% polyester.
Confidently carry your 17-inch Laptop/notebook, iPad and organize your camera, phones, and other valuables with this UK canvas backpack.
NORTHCORE WAXED CANVAS BACKPACK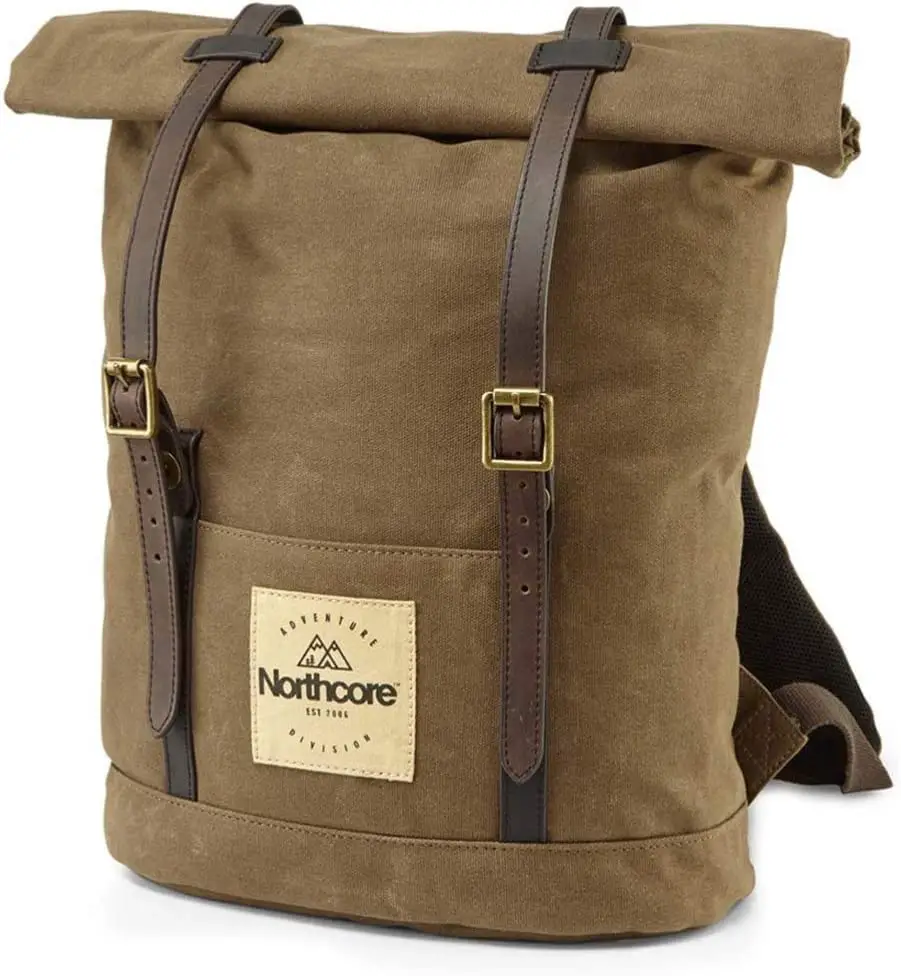 The Northcore waxed canvas Backpack is one of Britain's finest designer brands made with heavy-duty lightly waxed cotton canvas material that offers comfort, functionality, and practicality.
One outstanding feature about this Northcore waxed canvas backpack made in UK is that it is a unisex backpack and comes in a Roll Top design that is suitable for outdoor adventures like hiking and travels.
Rugged waxed canvas backpack that can withstand the urban environment, the brown nubuck leather straps offer security and a lifetime worth of wear.
BARBOUR UK CANVAS BACKPACK
The Barbour Wax Backpack is a family-owned business in the North East, headquartered in Simonside, South Shields, UK.
Barbour British bag brand has grown into a global brand and has retail stores in over 55 countries worldwide including the United Kingdom, United States, Germany, Holland, Austria, France, Italy, Spain, Argentina, New Zealand, and Japan.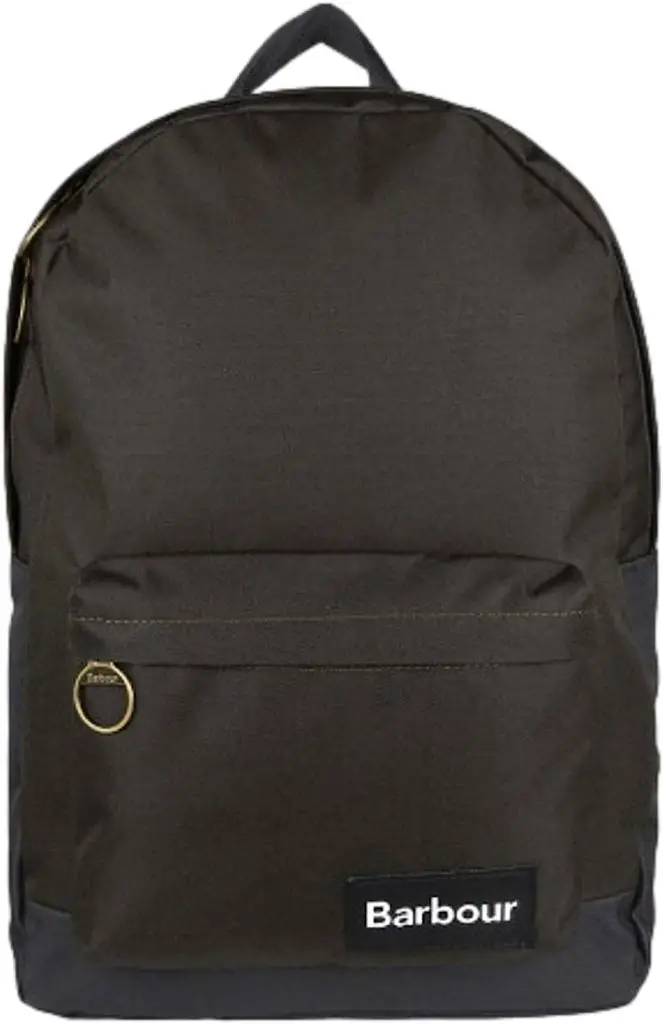 Two popular waxed canvas Backpack by Barbour is the Barbour Essential wax backpack and the Barbour Men's Barbour High field Canvas Backpack.
The Barbour Men's High Field canvas Backpack is made with canvas material, has an external zip closure, adjustable shoulder straps, a roomy interior, and internal and external pockets, perfect for everyday use and school backpack
You can compare durability and price with the USA made school backpacks.
The Barbour Essential wax backpack is made of 10oz waxed canvas material and has a drawcord opening, adjustable webbing straps, and outer two side pockets for extra storage and organization.
Finally, the Barbour wax essential backpack is perfect for everyday use, commuting, and work!
Finally, aside from waxed canvas Backpacks, Barbour British brand also manufactures jackets, men's/women's shoes/boots, shirts, dresses, knitwear, and other accessories.
KNOMO BACKPACK
The Knomo London British brand is owned by Howard Harrison, who was a frequent traveler, he founded this Independent bag brand in London in 2004.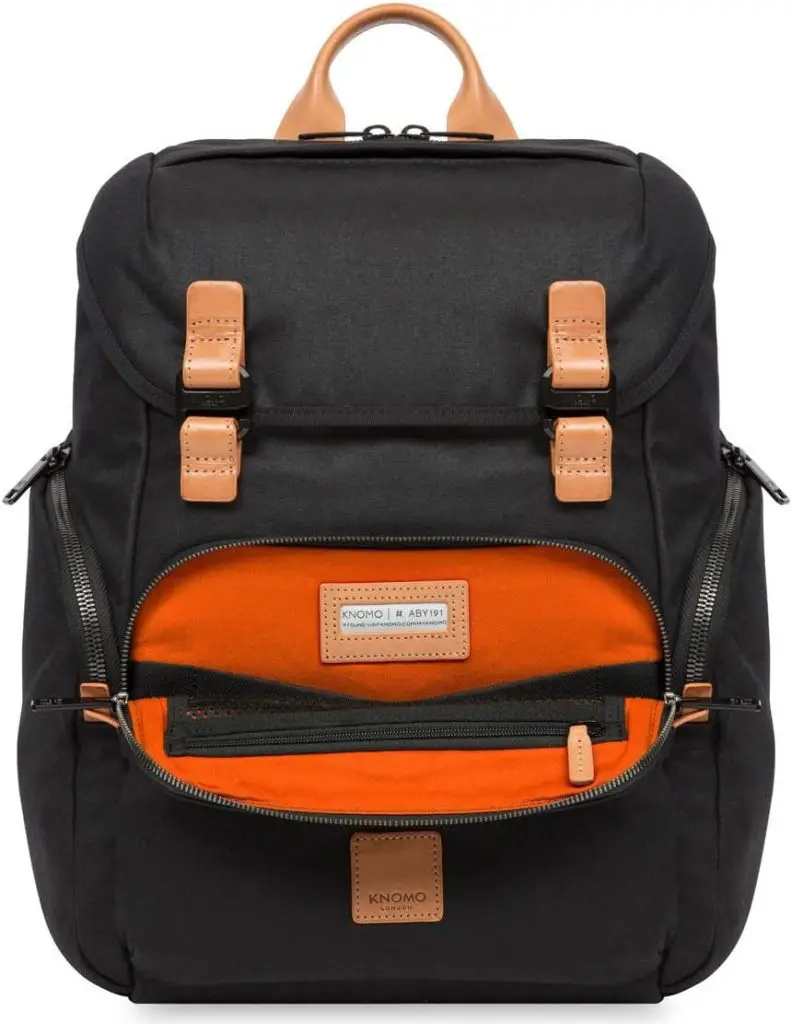 The Knomo backpack is designed using highly durable British Millerain Waxed Canvas water-repellent fabrics, you are confident that your special belonging will stay dry.
This is the ultimate companion for work, travel, and Leisure, a rugged durable bag wherever you go!
Carefully organize your smartphones, tablets, battery, cable and more, one outstanding feature of this UK waxed canvas backpack is that it is designed with a Chipolo Bluetooth tracker.
With this British waxed canvas backpack, you can quickly access your Laptop/tablet especially when you are on the move!
Other features include;
External zipped device pocket lined with premium spacer mesh for ultimate protection
Integrated Water Bottle Stowage
Bespoke G-Hooks that keep the main flap closed tight and protected
The Ergonomic Spacer Mesh back panel system provides optimum wearability and comfort
Shoulder Strap QR Buckles.
Main compartment for document storage Spacious enough for a change of clothes.
TROUBADOUR WATERPROOF BACKPACK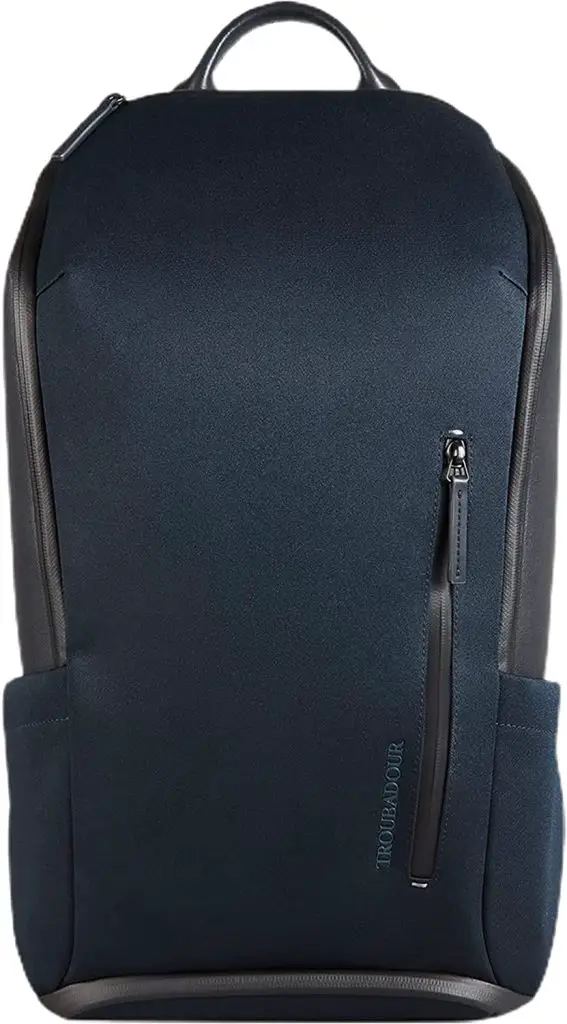 The Troubadour Luggage and Travel Brand were Founded by Samuel Bail and Abel Samet based in London but all the materials used in manufacturing from acquiring top independent artisans, leather tanner, fabric weavers, and zip makers before they settled in Italy.
The Vision of the Troubadour Bag brand is to design a backpack that you could take anywhere, from business to the outdoors, and be used for the weekends.
One of Troubadour Pioneer's timeless and Premium Backpack is the Lightweight Waterproof Troubadour Backpack perfect for travel, work, school, gym, sports, and everyday use (on the go).
It is made with 100% vegan, repurposed poly fabrics and eco-conscious material and not with a waxed canvas that improves the durability and lifecycle of the backpack.
A versatile and easy-access design backpack, this spacious bag will handle everything you need for indoor and outdoor activities!
TRAKKE WAXED CANVAS BACKPACK
The Trakke waxed canvas Backpack is handmade in Scotland, they specialize in manufacturing waxed canvas bags and accessories for travel and adventures.
Aside from waxed canvas backpacks, they also manufacture crossbody bags, sling bags, messenger bags, and packaging organizers with accessories.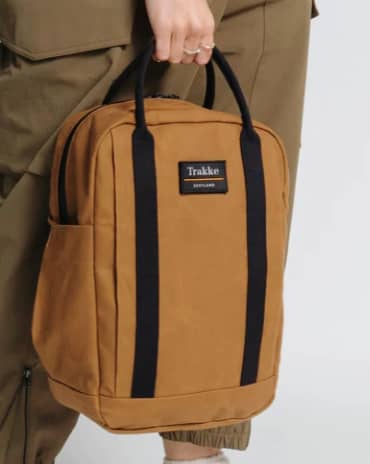 The two popular Trakke waxed canvas Backpack is the Trakke Canna Backpack and the Trakke Fingal Backpack.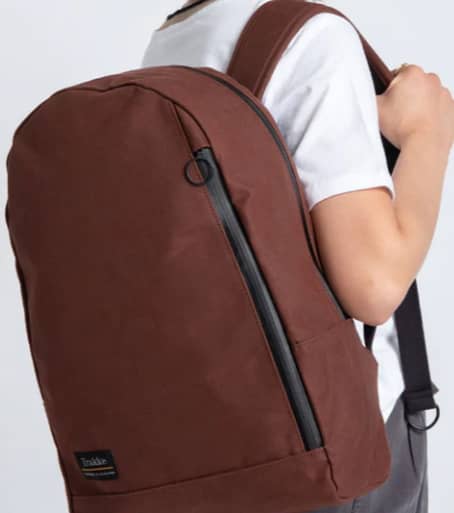 Both of these Trakke waxed canvas Backpacks are perfect for work, school, short treks, and traveling, they are made with Scottish handmade fabric (waxed canvas) which is tough, durable, and weather resistant.
In addition, the interior is spacious to fit a 13-inch Laptop, 2 water bottle holders on the side, and front storage pockets.
You wouldn't want to miss this stylish, sleek, minimalist aesthetic that looks great both for outdoor and city use!
WAXED CANVAS ROLLTOP BACKPACK
A waxed canvas rolltop backpack is designed with a roll on top of the backpack making it a versatile and durable bag designed for various uses.
Two recommended waxed canvas rolltop backpacks that are made in the UK are;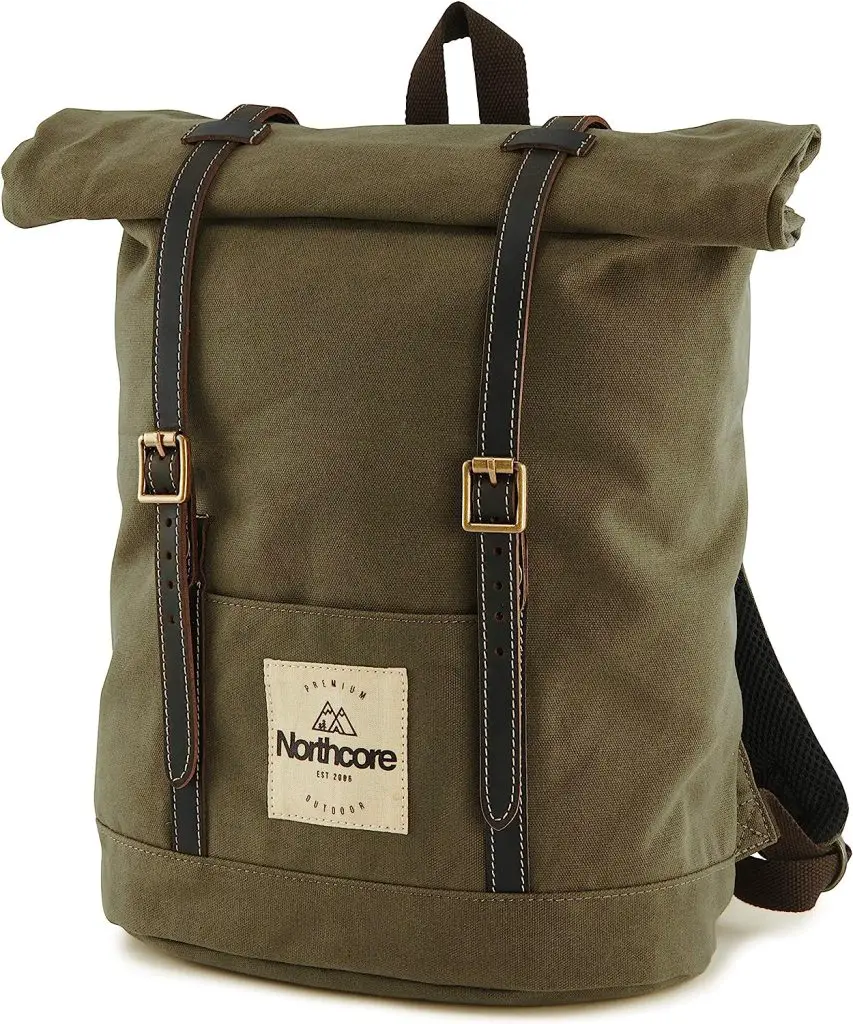 Northcore waxed canvas Rolltop backpack.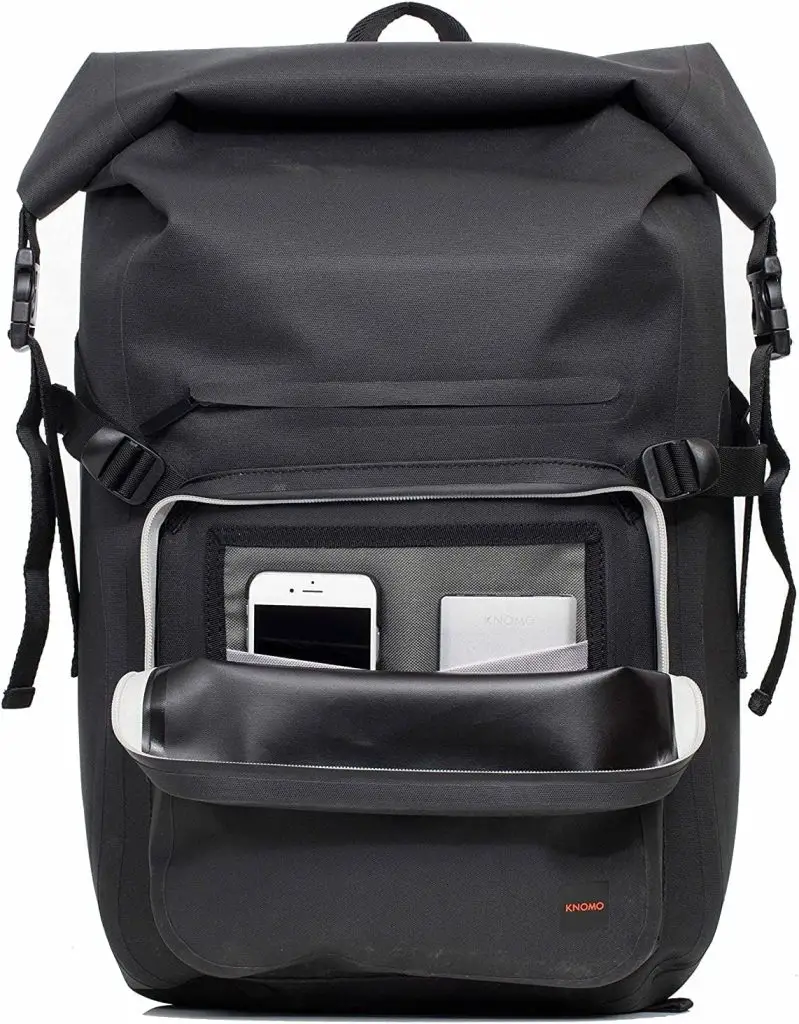 KNOMO Hamilton 15-inch Waterproof Laptop Roll Top Backpack Men Travel Rucksack Casual Hiking Daypack.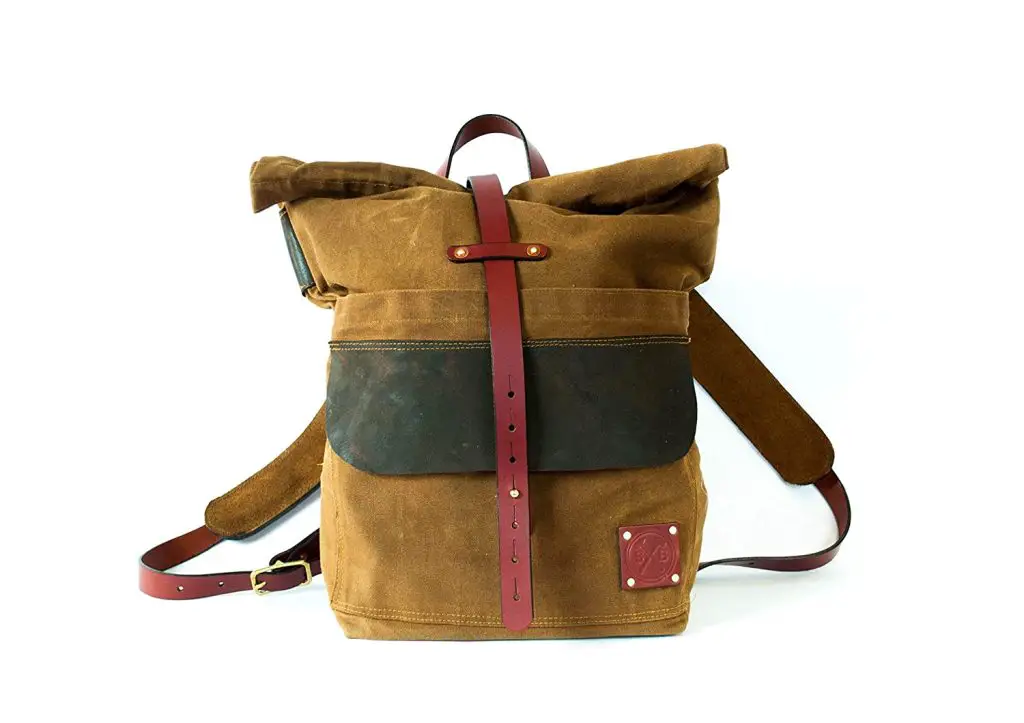 Waxed Canvas and Leather Rolltop Backpack – Camping, Traveling, Overnight Bag for Men and Women – (Made in the USA).
Rolltop waxed canvas backpacks are constructed using rugged canvas fabric treated with wax, giving it exceptional water resistance and robustness.
The reason why this backpack is designed with a roll top is that it enables easy access and secure closure, protecting the contents from the elements.
Like a standard backpack, a rolltop waxed canvas backpack has adjustable straps that offer a customizable fit and comfortable wear.
In addition, The Rolltop backpack has spacious interior and multiple pockets that provide ample storage for belongings, making it ideal for everyday use or outdoor adventures.
The waxed canvas material adds a timeless and rugged aesthetic, ensuring the backpack remains stylish while enduring the rigors of daily life.
WATERPROOF CANVAS BACKPACK UK
As an addition to what we have been discussing, a very good example of a waterproof canvas backpack that is made in the UK are the Northcore and Trakke waterproof/water-resistant waxed canvas backpack.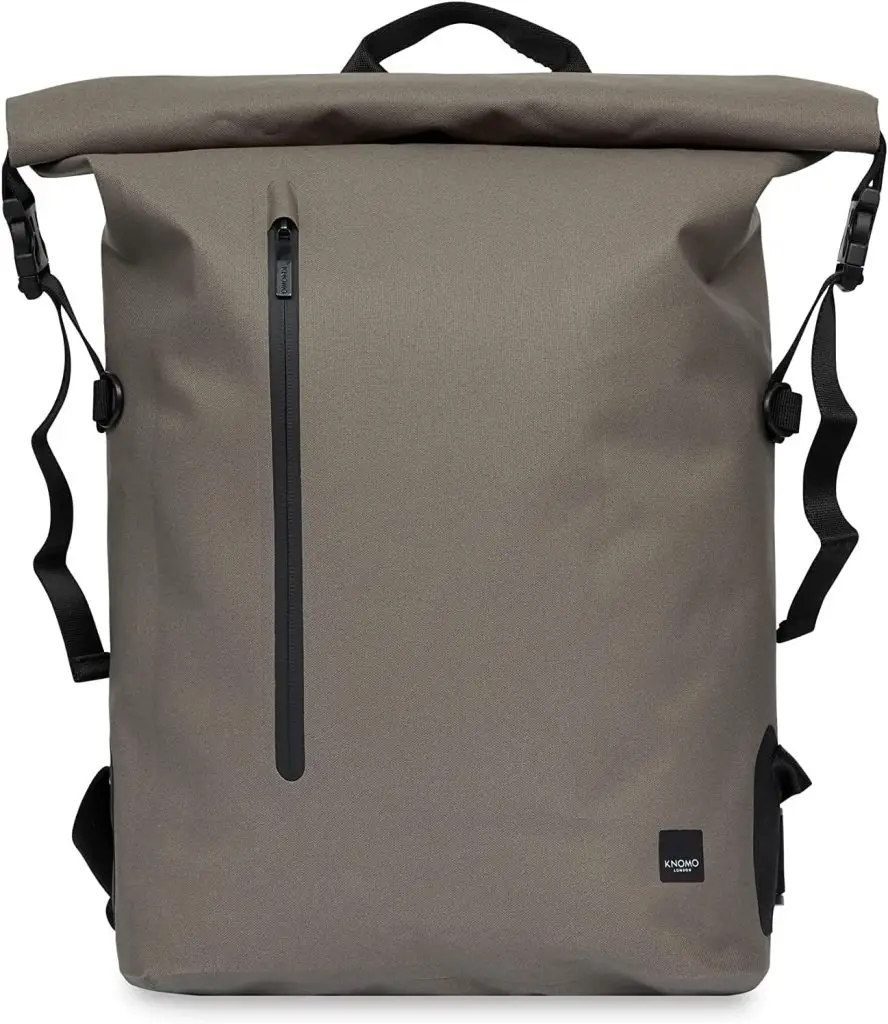 However, we would recommend you get a backpack that is made up of durable nylon with ultra-water-resistant polyurethane that is perfectly waterproof, you can be rest assured that all your belongings stay safe.
Even the zippers are designed with waterproof and water-resistant materials, perfect for everyday use, weekend, boardroom, hiking, bike riding, shopping and other outdoor activities.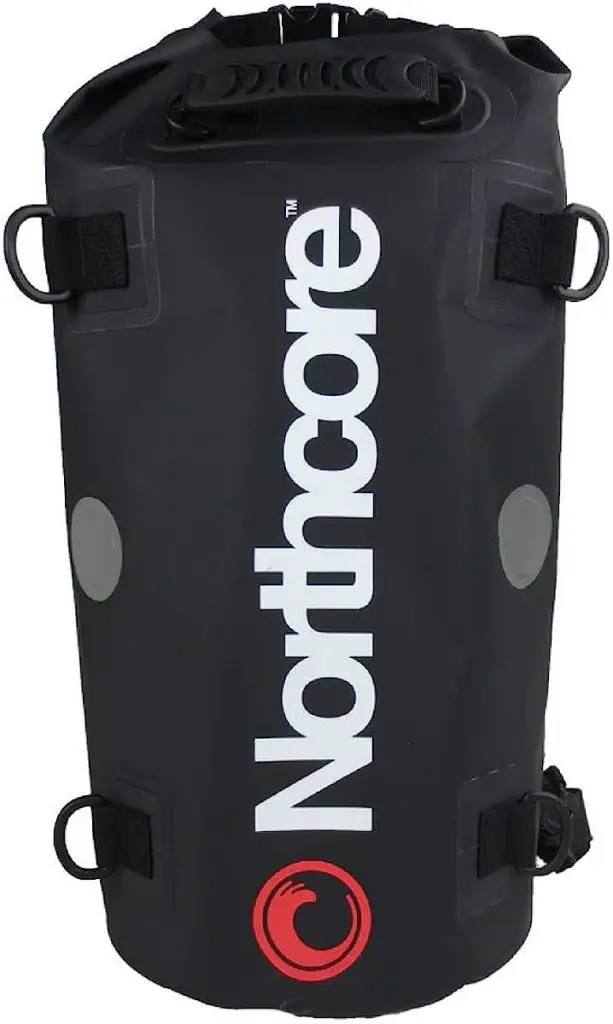 In line with this, we also have the Northcore dry bag which is made with heavy duty PVC making it the toughest waterproof high performance durable dry bag that can secure all your valuable items under heavy rain or moistures.
The UK Northcore Waterproof dry bag also has an internal heat sealed seams for a 100% waterproof seal, you have no reason to fear with this heavy duty waterproof backpack, large enough to store your gear and perfect gift for friends and family!
FJALLRAVEN WAXED CANVAS BACKPACK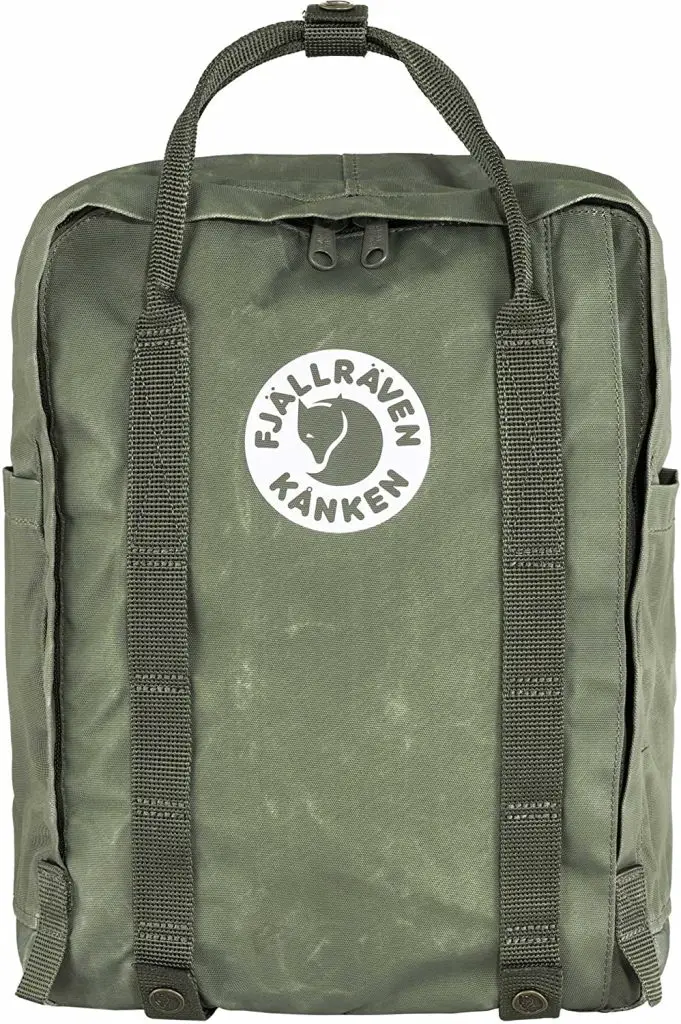 The Fjallraven outdoor bags and gear brand is made in Sweden but we recommend them as one of the best alternative to the waxed canvas backpack made in UK.
Fjallraven makes us of materials that can stand up to the rigors of the environment, some of the core materials that the Fjallraven brand use are; organic cotton, hemp, waxed canvas, Bergshell,  waterproof hydratic, tough and durable vinylon F and synthetic supreme microloft.
The Fjallraven waxed canvas backpack has a 2 way zip closure, its practical, convenient to use, lightweight, sturdy and with roomy compartments and various pockets.
Finally, the Fjallraven waxed canvas backpack can be used as a school bag, travel and light outdoor activities.
WAXED CANVAS HIKING BACKPACK
A waxed canvas hiking backpack is a durable and water-resistant backpack specifically designed for outdoor adventures.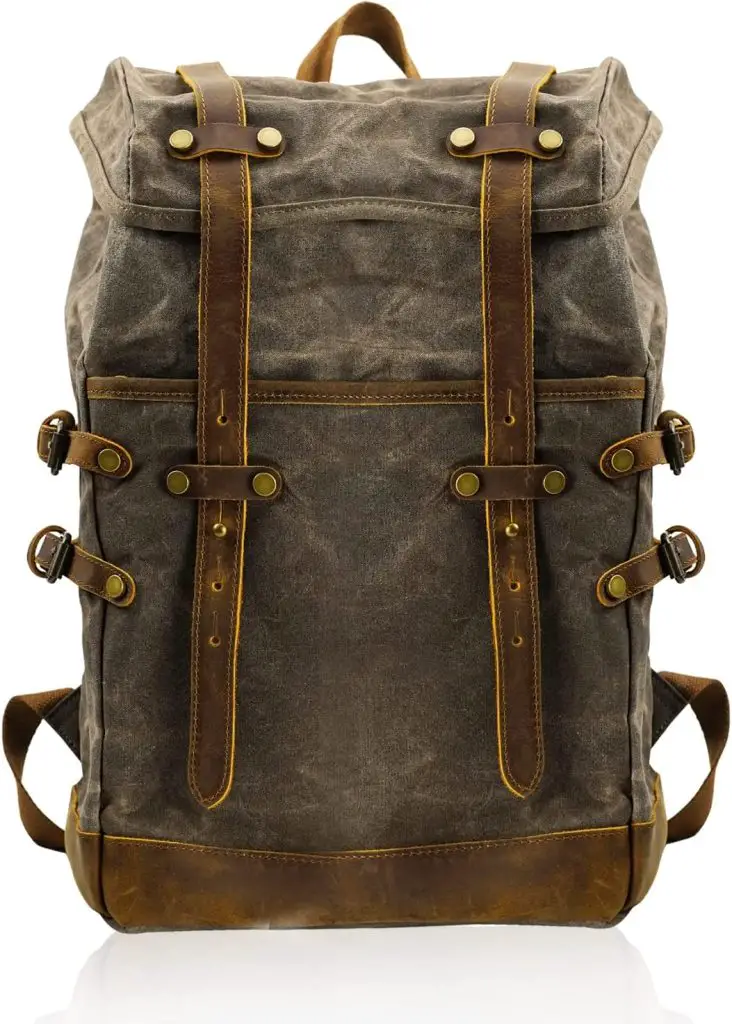 An outstanding waxed canvas backpack for hiking is the CRUITBILI Waxed Canvas Leather Hiking and Travel Waterproof Backpack which is also perfect for School and weekend trips.
It is made from sturdy canvas fabric that has been treated with wax, enhancing its resistance to moisture and adding a layer of protection against wear and tear.
The backpack typically features multiple compartments and pockets, allowing for efficient organization of gear and supplies.
The waxed canvas material gives it a rugged and vintage look, while also ensuring longevity and reliability in various weather conditions.
With its combination of functionality, style, and durability, the waxed canvas hiking backpack is an excellent choice for outdoor enthusiasts.
BARBOUR WAX DUFFEL BACKPACK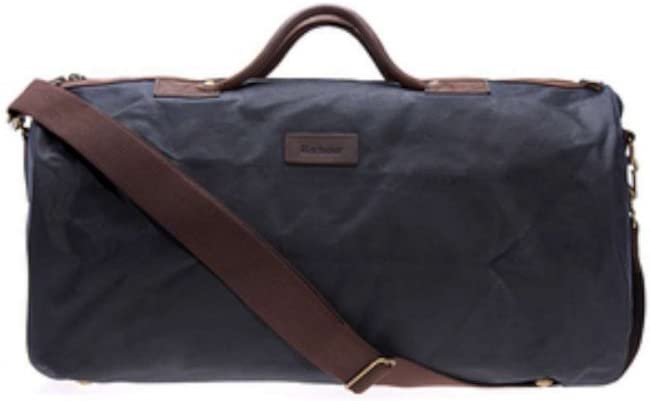 The Barbour Essential wax holdall Duffel bag has a simple design that comes with two solidly stitched handles on top and a durable strap that enables you to carry the bag with ease.
The Barbour wax Duffel bag is made up of 100% cotton wax, which is 80% polyester and 20% cotton.
Roomy interior for short and long-distance travel and an inner security pocket for safe storage of your most valuable items.
DOES WAXED CANVAS SCRATCH?
Yes, waxed canvas does scratch and can develop scratches over time depending on usage.
The wax coating material used is susceptible to wear and tear thereby leading to scratches but it is also less noticeable when compared to other materials as the wax coating can help to minimize their appearance.