In a world where mass production dominates the marketplace, there's a refreshing allure to products that embody true craftsmanship.
That's where USA Made Sling Bag comes in as a perfect blend of craftsmanship and versatility.
This remarkable accessory seamlessly combines functionality, durability, and style, making it a favorite among adventurers, urban dwellers, and fashion enthusiasts alike.
You might wonder what sets American-made sling bags apart from their mass-produced counterparts.
The answer lies in the meticulous attention to detail and the use of premium materials.
From the moment you lay your eyes on one, you can't help but admire the fine craftsmanship that goes into every stitch and seam.
So, you are at the right place if you are looking for top high-quality sling bags that are durable and can meet the demands of everyday life like bustling city streets, rugged landscapes, or outdoor adventures.
Without much ado, let's dive in!
Table of Contents
WHAT ARE SLING BAGS CALLED?
Sling bags are commonly known as sling bags while some persons prefer to call sling bags, crossbody bags.
In case you are wondering if there is any difference between the two, I have written a detailed article on sling bags vs crossbody bags.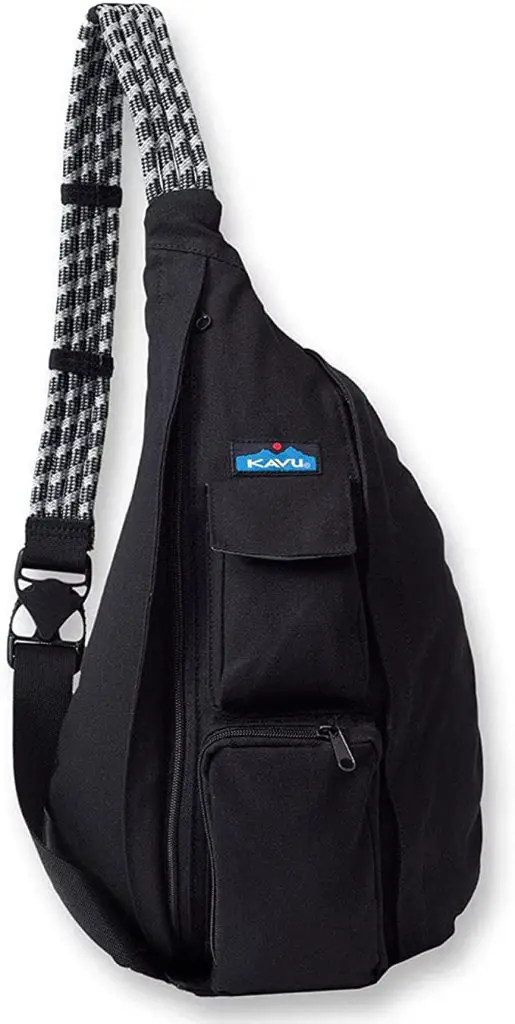 Slings bags are designed with a single strap and Sling bags are very easy to wear, you have to simply wear them across your body, and the bag is usually hands on one side.
Finally, sling bags are designed to be lightweight and convenient, providing easy access to your belongings while keeping your hands free.
WHY ARE SLING BAGS POPULAR?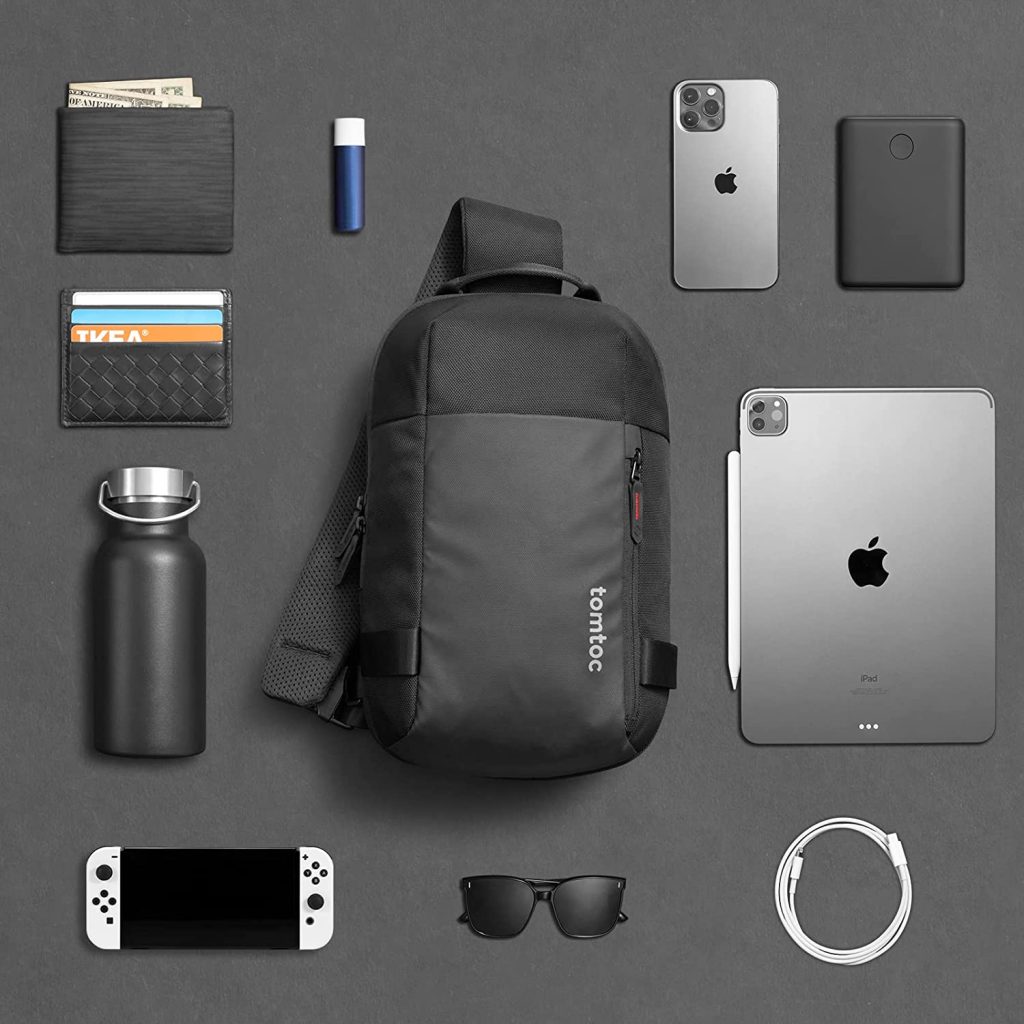 Sling bags are popular for a variety of reasons. Here are some of the most prevalent reasons why people prefer sling bags over other types of bags:
Sling bags are convenient and easy to be worn.
Sling bags can be used for activities like commuting, traveling, or running errands.
Sling bags offer a comfortable alternative to traditional backpacks or shoulder bags, especially when carrying lighter loads.
They come in various styles, colors, and materials making them suitable for various fashion preferences e.g. appealing to both men and women.
Sling bags are also popular because they are compact in size and perfect for organizing and carrying small essential items like wallets, phones, keys, and other small accessories.
Another reason sling bags are popular is because of security as they are worn close to your body making it difficult for thieves to snatch or access your items unnoticed.
USA MADE SLING BAG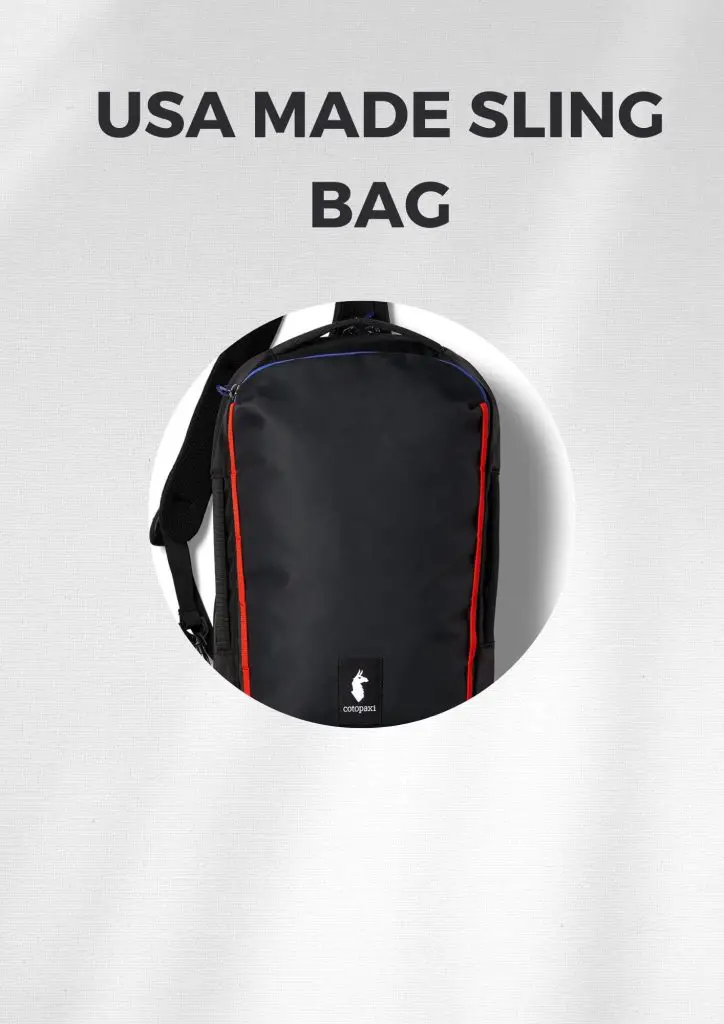 There are various brands of Sling bags that are made in the USA, below are the 8 best sling bags that are manufactured in the USA;
Tough Traveler sling bag
Frost River Sling bag
DEFY canvas Insidious Sling bag
Waterfield USA made sling bag
Cotopaxi Chasqui Sling Pack
Duluth pack camping sling bag
Topo Designs Mountain Sling Bag
TOUGH TRAVELER SLING BAG
Tough Traveler brand is made in Schenectady, NY, USA, they use exceptionally high-quality material in all their bags and they are designed to hold up to heavy use.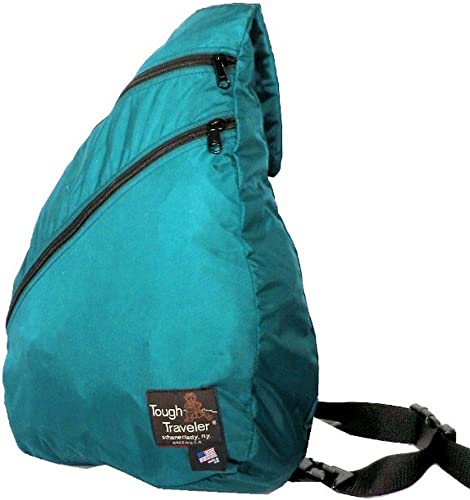 The Tough Traveler One-S sling Bag is proudly made in the USA, It is a trendy looking one shoulder sling shoulder bag.
It is designed with a sturdy 400D nylon material and comes in a catchy color.
The YKK Zippers give this USA sling bag superior durability and you have access to the main and small compartments for holding various items.
It is also water resistant and can be used as a school backpack, for hiking, and for travel.
FROST RIVER SLING BAG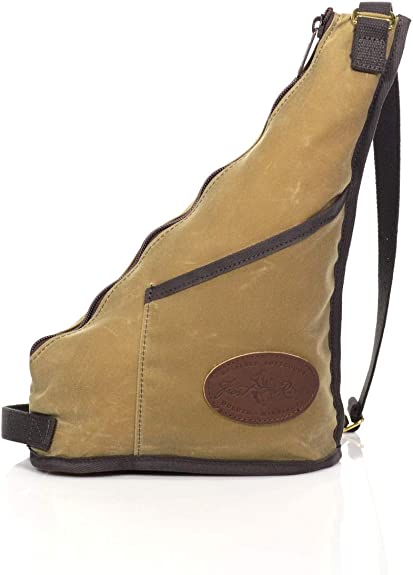 Frost River bags are carefully handmade USA goods, they are manufactured in Duluth, MN, USA.
Aside from sling bags, the Frost River brand also manufactures made in USA messenger bags using only premium and waxed canvas leather messenger bag material.
In this regard, we have the Reliable Soft Goods Frost River Duluth sling messenger bag that is made with cotton and leather and has an adjustable slide, inner compartment, and exterior slip pocket.
You can always trust Frost River made in USA bags anytime and anywhere!
DEFY CANVAS INSIDIOUS SLING BAG
You can't but help love the Made in USA Defy canvas bag, it is handcrafted in Chicago, Illinois.
All materials used in the manufacturing of this USA sling bag are carefully sourced and chosen from premium quality and durability.
If you are looking for a water-repellent canvas sling bag, then the Defy Insidious made in USA sling bag is for you!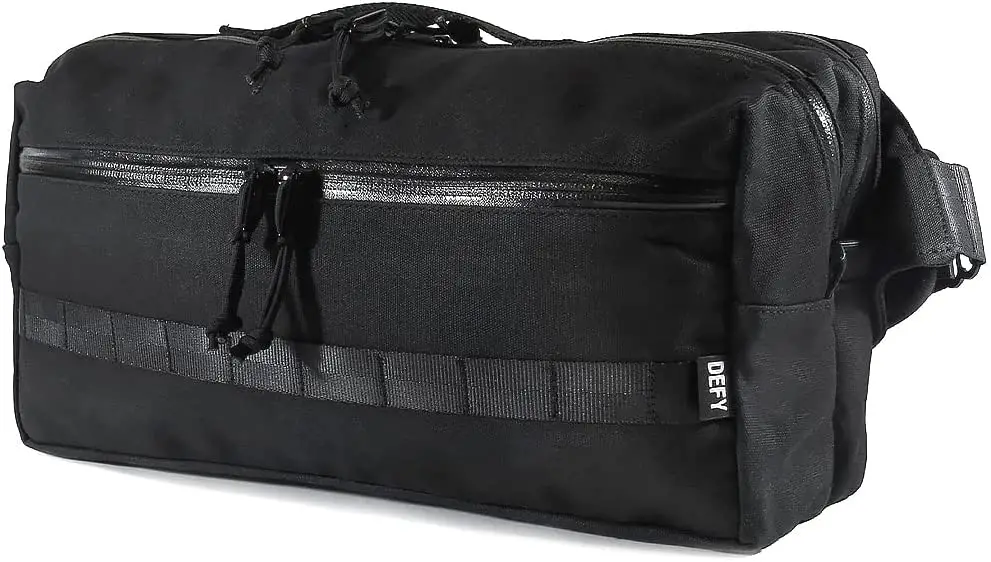 Designed to be lightweight with the Texwax and industrial grade 500 Denier CORDURA material and can also withstand harsh conditions of daily wear and tear.
Can contain a lot of items because of its small and large storage, the look is minimal black which is beautiful and sturdy looking.
Don't be afraid to purchase this American sling bag because the compartments are carefully padded especially to safeguard your tech items.
Compatible with up to 13" MacBook Air and most others like tablets, electronics, tech accessories, and more.
The Insidious Made in USA Sling bag is the perfect companion for your daily commute and outings.
The Insidious Sling Bag has all the features to be your sidekick for running quick errands, going to festivals, or simply cycling, or riding bikes.
COTOPAXI CHASQUI SLING PACK
The Cotopaxi outdoor gear brand is made in Salt Lake City, UT, USA. Cotopaxi takes pride in manufacturing durable, versatile travel packs built for any adventure (men's and women's bags & packs).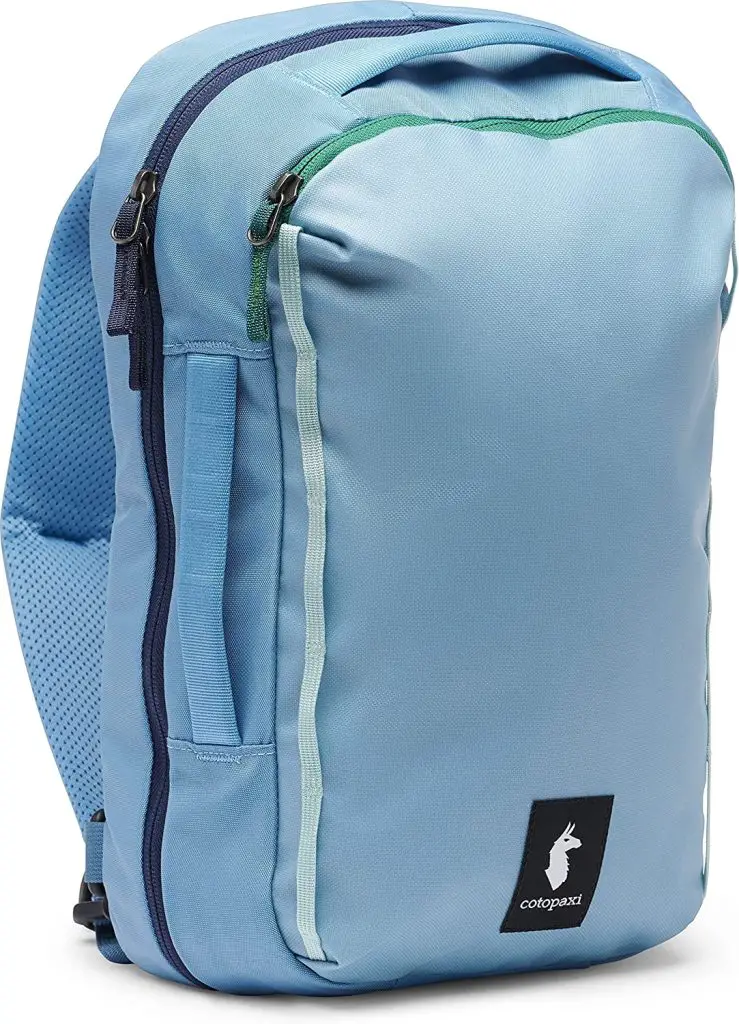 Cotopaxi bags are built to last, ethically made, sustainably sourced, and durable by design.
Although many argue that most of their bags are not made in Asia, we aren't arguing that today, if all we want is quality, then you should pay attention to this.
The Made in USA Cotopaxi chasqui sling bag looks like a modern messenger bag that can comfortably house your belongings because of the large storage.
Simple, beautiful, comfortable, and intuitive design perfectly fit for casual, everyday use.
This is the perfect sling backpack for city living, this USA made sling bag can hold your folders, laptop, and notebook without adding strain or stress to your back.
This fits everything you need perfectly with room to spare. Great pockets. Great layout. Absolutely perfect for all your needs.
DULUTH PACK DULUTH MINN UNISEX SLING CROSSBODY BAG
The Duluth Pack brand remains a well-respected made in USA bags brand with a rich American history.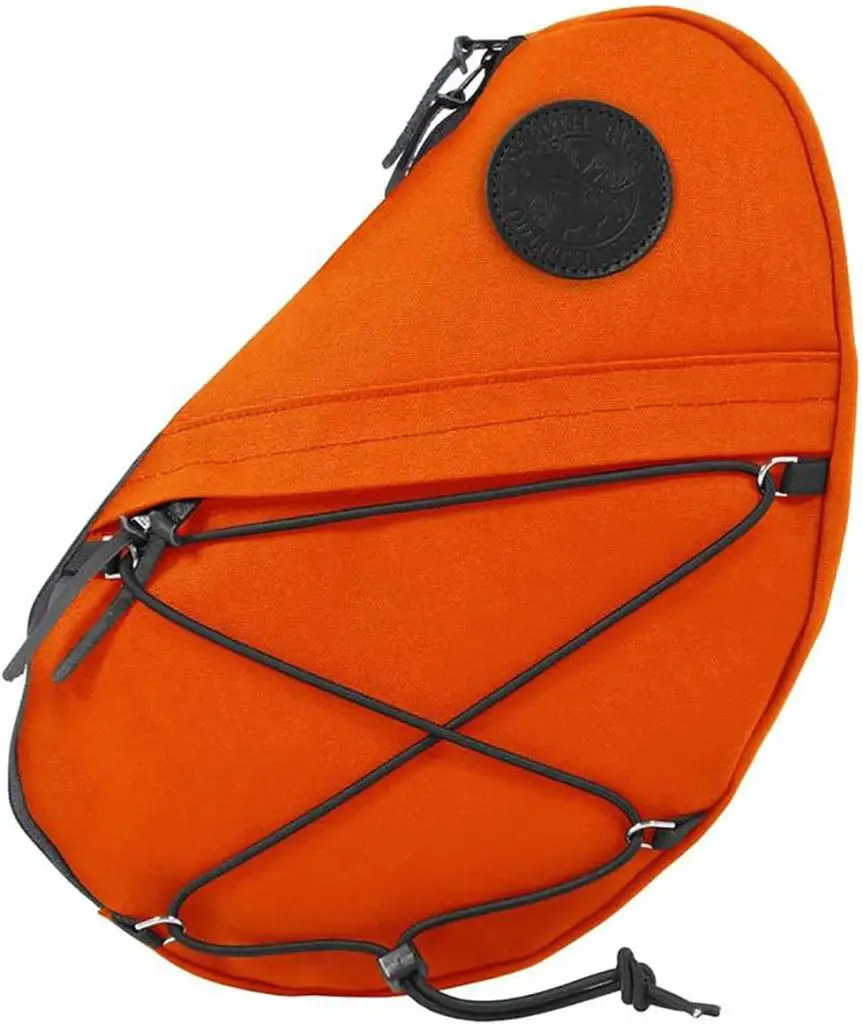 The Duluth pack unisex Minn sling crossbody bag is made in Minnesota, USA. They are the oldest canvas and leather bag and pack manufacturer in America.
The Duluth pack Unisex Minn sling crossbody bag is designed with beautiful colors, made with quality material, and a handcrafted design.
This American sling bag is very easy to keep clean with Duluth Pack's specialized cleaning formula and a soft bristle brush.
In addition, this sturdy sling crossbody bag that fits the gym, enough space for your Kindle
Perfect sling bag for hiking and camping.
Aside from sling bags, the Duluth Made in USA brand also manufactures premium leather canvas outdoor gear, hunting backpacks, and equipment.
CROSSBODY BAGS MADE IN THE USA
Crossbody bags made in the USA are known for their high-quality craftsmanship and durability. They are typically designed to be practical and functional while offering a stylish and convenient way to carry essentials.
These bags are often made with premium materials, such as genuine leather or sturdy canvas, ensuring longevity and a timeless appeal.

Here are three popular crossbody bags made in America:
Tough Traveler Crossbody Bag
Filson Original Briefcase crossbody bag
ONA Prince Crossbody street bag
Tough Traveler Cross-Body Bag Jiff Bag Made in USA – This USA Crossbody bag is designed with a single main compartment and 4 small organizer pockets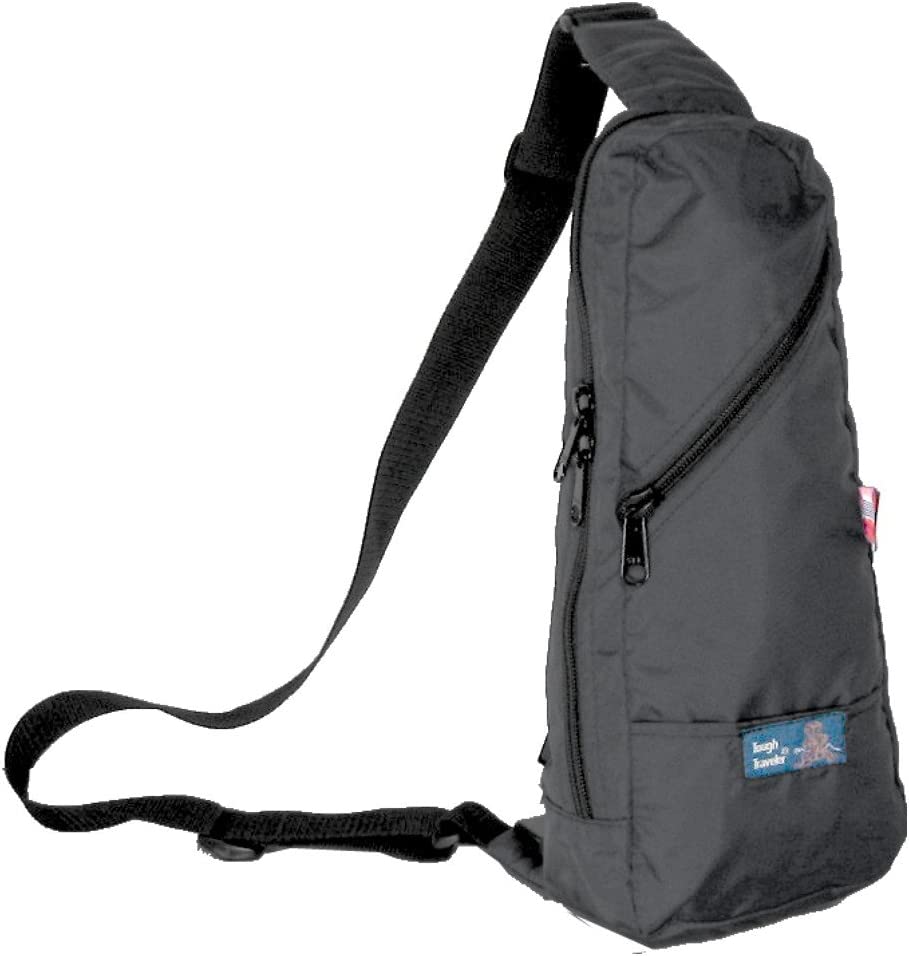 In addition, you also have an adjustable shoulder strap enabling you to carry it either as a backpack or across the front of your body
Filson Original Crossbody Briefcase: Filson is a renowned American brand known for its rugged outdoor gear.
Their Original Briefcase is a versatile crossbody bag made from water-repellent fabric and bridle leather accents. It features multiple pockets, a padded laptop compartment, and an adjustable shoulder strap, making it perfect for everyday use.

ONA Prince Crossbody Street Bag: ONA specializes in creating high-quality camera bags and accessories, but their Prince Street crossbody bag doubles as a stylish and functional everyday bag.
Made from premium waxed canvas or leather in New York, it offers a padded interior to protect a camera or tablet, along with additional compartments for personal items.

WATERFIELD SLING BAGS
Waterfield sling bags are a type of compact and versatile bag designed for easy access to your essentials while on the go.
They are typically worn diagonally across the body, with a single strap that can be adjusted for comfort.

Waterfield Designs, the company behind these bags, is based in San Francisco, California, USA.
The company prides itself on producing high-quality bags and accessories using premium materials and thoughtful craftsmanship.
Waterfield sling bags are handmade in their workshop in San Francisco, ensuring attention to detail and a focus on durability and functionality.
Aside from manufacturing sling bags, the Waterfield brand also manufactures Backpack, crossbody bags, messenger bags, Briefcases, Hip bags, Duffel, totes, and EDC pouches.
In addition, they also manufacture other handmade goods like wallets, which include; Finn wallets, travel wallets, minimalist style wallets, and zippered and cycling wallets.
WATERFIELD SUTTER TECH SLING REVIEW
Experience the epitome of style, functionality, and organization with the Waterfield Sutter Tech Sling Bag.
It is crafted with meticulous attention to detail, this sleek bag boasts a modern aesthetic and durable construction.
The material used in this design of this USA sling bag is the 1050 Denier Black ballistic or brown waxed canvas and Full-grain leather accent.
Designed for tech enthusiasts, it offers dedicated compartments and pockets for all your gadgets and accessories.
The padded and quilted interior safeguards your laptop or tablet, while the adjustable sleeve accommodates devices up to 13 inches.
The Waterfield Sutter tech sling bag can also be called the Minimalist Everyday Carry.
You can take your iPad Pro, MacBook, or Surface Pro, plus a folio and stylus in the Sutter Tech Sling on creative explorations.
The Sling stays balanced on your back and swings around one shoulder for easy access in crowded spaces.
The bag's comfort features include a padded and adjustable shoulder strap and an ambidextrous design.
Transition seamlessly from work to play with the Sutter Tech Sling Bag's adaptable style.
Waterfield's commitment to craftsmanship and innovation shines through in this exceptional tech accessory sling bag.
WATERFIELD BOLT SLING
The Waterfield Bolt Sling Bag is the ultimate companion for urban adventurers who crave both fashion and practicality.
Step into a world where style meets functionality, where rugged durability meets sleek design.
Let me take you on a journey through its remarkable features, exceptional benefits, and the high-quality materials that make this bag a true game-changer;

Intuitive Quick-Access Pocket, Ergonomic Sling Strap, Versatile Organization, and Water-Resistant Design are some of the features.
Aside bolt sling bag, WaterField also has the Bolt Briefcase and the Bolt Duffel Bag.
The Waterfield bolt sling bag can be made with a Luxurious full-grain leather accent or with rugged ballistic nylon
The Rugged ballistic nylon material is known to withstand abrasions, tears, and harsh weather conditions, protecting your belongings with unwavering resilience.
Whether you're dashing through crowded streets or embarking on an outdoor adventure, the Bolt Sling Bag stays securely in place.
Elevate your everyday carry experience today!
WATERFIELD HIP SLING BAG
The Waterfield Hip Sling Bag is a sleek and stylish companion that combines fashion with function.
It offers a compact yet surprisingly spacious design, perfect for carrying everyday essentials.
The bag is made with durable materials and features a weather-resistant exterior, ensuring longevity and protection. Its well-organized compartments provide easy access to your belongings, while the adjustable strap allows for versatile wearing options.
One outstanding feature of the Waterfield hip sling bag is that the contents stay in place whether worn horizontally or vertically, the double-zippers allow access from right or left, top or bottom and you stay comfortable on either right or left shoulder.
The material used is the 1050 Denier Ballistic Nylon or Waxed Canvas and Full grain leather accent.
This bag is a statement of style and confidence, making it an excellent gift option. Upgrade your everyday carry with the Waterfield Hip Sling Bag and experience convenience and sophistication like never before.
SLING BAG SAN FRANCISCO
There are a few sling bags that are made in San Francisco, USA, to begin, we have the;
WaterField Bag brand that is proudly made in San Francisco, USA, other are;
Mission Workshop Spar Sling Bag: The Spar Sling Bag from Mission Workshop is a versatile and functional bag designed for urban commuters. It has a weatherproof construction, a comfortable shoulder strap, and various compartments to keep your essentials organized.

Peak Design Everyday Sling: Although not exclusive to San Francisco, the Peak Design Everyday Sling is a popular choice among tech-savvy individuals in the Bay Area. It has a sleek design, customizable dividers, and innovative features like quick-adjusting straps and magnetic closures.

DSPTCH Sling Pouch: DSPTCH is a San Francisco-based brand known for its high-quality bags. The Sling Pouch is a compact and minimalistic option, featuring a durable nylon construction, multiple pockets, and an adjustable shoulder strap for easy carrying.