Sling bag vs crossbody bag? Is there an argument on which is most preferred? If yes, is this preference, gender-based? There are many questions that can come up concerning the comparison between crossbody bags and sling bags.
But both are still bags, others may argue. Yes, both are still bags but there are some features that differentiate them and these features most likely are the reasons why there is a preference between the two.
Sling bags can be shoulder bags that one can easily hang or sling on his/her shoulders. They are generally small and medium-sized and are used for day-to-day activities.
There are those who can comfortably use medium-sized sling bags as messenger bags that can be used for everyday use.
Crossbody bags are also bags that one can sling on his shoulder. But this time around, it is slung diagonally across the shoulders.
Table of Contents
SLING BAG VS CROSSBODY BAG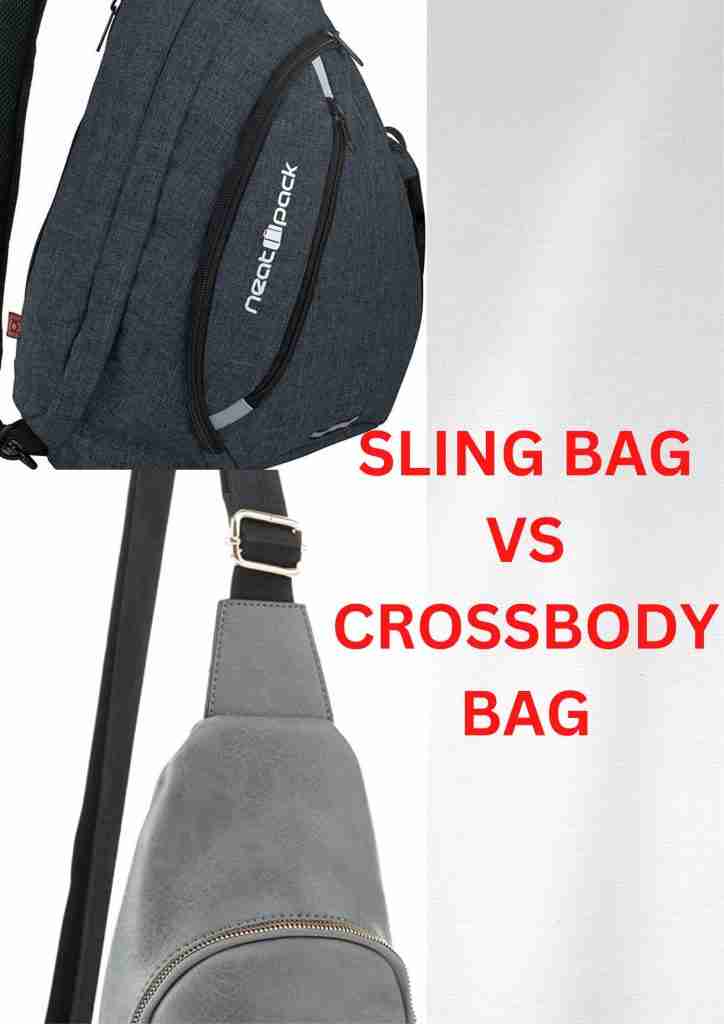 There's not much difference between sling bags and crossbody bags. In fact, people see both bags as bags that fall in the same category.
While sling bags are bags with straps that can be worn either as shoulder bags or even as crossbody bags, crossbody bags are bags with straps that can be worn diagonally across the body or that can be adjusted to be short enough to be worn as shoulder bags depending on how the straps were sewn to the bag.
DIFFERENCE BETWEEN SLING BAG AND CROSSBODY BAG
Below are the major differences between sling bags and crossbody bags;
A sling bag has a single strap that goes over the shoulder and across the chest or back while crossbody bags has a longer strap that goes over the shoulder and across the body.
Crossbody bags are often larger and more spacious than sling bags.
Crossbody bags can carry a variety of items such as wallets, phones, keys, and other daily essentials more than sling bags.
Sling bags are smaller and designed to be worn on one side of the body, while crossbody bags are larger and worn across the body.
Finally, one outstanding similarity between the sling bag and crossbody bag is that they are both designed with adjustable straps and are comfortable to wear and fit various styles of fashion wear.
SLING BAG VS BODY BAG
Find the difference between a sling bag vs a body bag below;
Sling bags are typically smaller, and lightweight while Body bags are generally larger than sling bags and have a more rectangular or square shape.
Sling bags are designed to be worn across the body, with the strap slung over one shoulder while body bags are designed to be worn across the body, with the strap resting on the opposite shoulder.
Sling bags are a popular choice for carrying essentials like a phone, wallet, keys, and sunglasses, and are often used for activities like hiking, biking, or traveling, as they leave your hands free while Body bags are often used for carrying heavier items, such as a laptop or books, and may have multiple compartments for added organization.
Finally, sling bags may have a single or double strap for added stability deeding on the design while body bags can be used for formal occasions and everyday wear.
BACKPACK VS CROSSBODY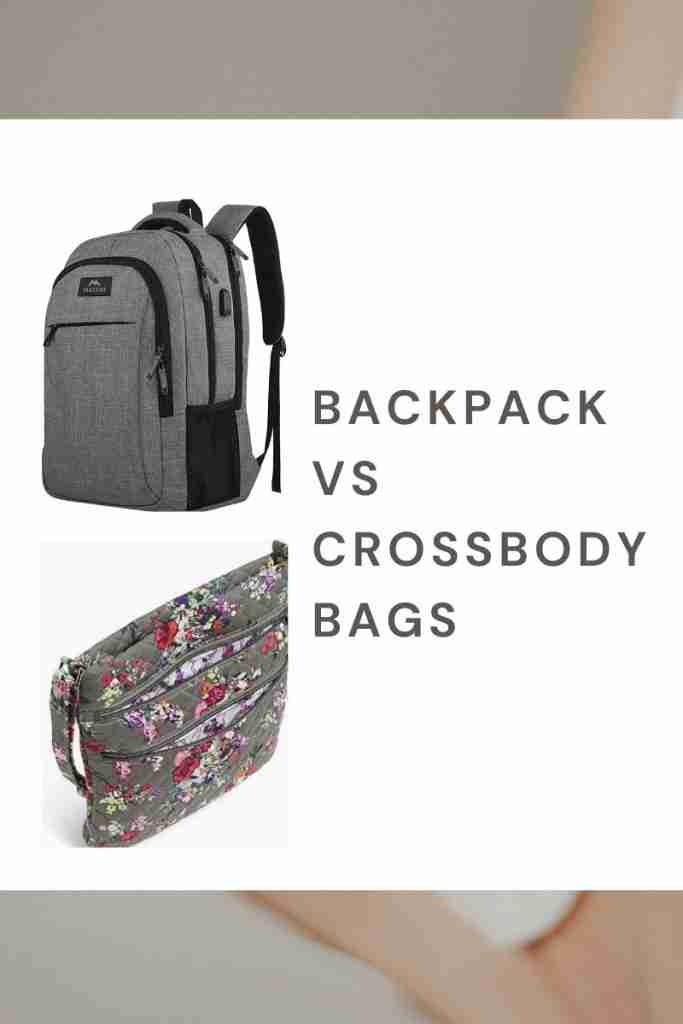 A backpack is a type of bag that is designed to be carried on the back, with two straps that go over the shoulders while a crossbody bag is a type of bag that is worn across the body, with a single strap that goes over one shoulder and across the chest.
Backpacks are typically larger and heavier while crossbody bags are smaller and lighter.
Backpacks are ideal for carrying heavier items for longer periods of time while crossbody bags are ideal for carrying lighter and fewer items.
Backpacks are held securely on the back and do not swing around unlike crossbody bags.
Crossbody bags are more easily accessible than backpacks as they can be easily swung around from the side to the front in order to access the contents.
WHAT IS THE POINT OF A SLING BAG?
Body movement is easier with sling bags because one can decide to cross the bag across his chest and still do whatsoever he wants to do without any form of obstruction.
Muscle aches and neck aches are reduced when sling bags are used as crossbody bags because the pressure is spread across the body and not concentrated on one shoulder which can lead to strains when the bag is heavy, making sling bags comfortable.
Access to the bag is faster, there's no need to unstrap and drop the bag on the floor or on a table to search for what you want. Simply open the flap if you crossed it to your side and get want you want.
If it's slung on your shoulders, just put your hand inside the bag and grab your keys or your push it from the back to your right or left side, take what you want, and return the bag to your back.
CROSSBODY SLING BAG
The name crossbody sling bag was derived from the fact that the bag is usually a crossbody bag that is generally worn as a sling bag. The bag gives the wearer a sporty and casual look.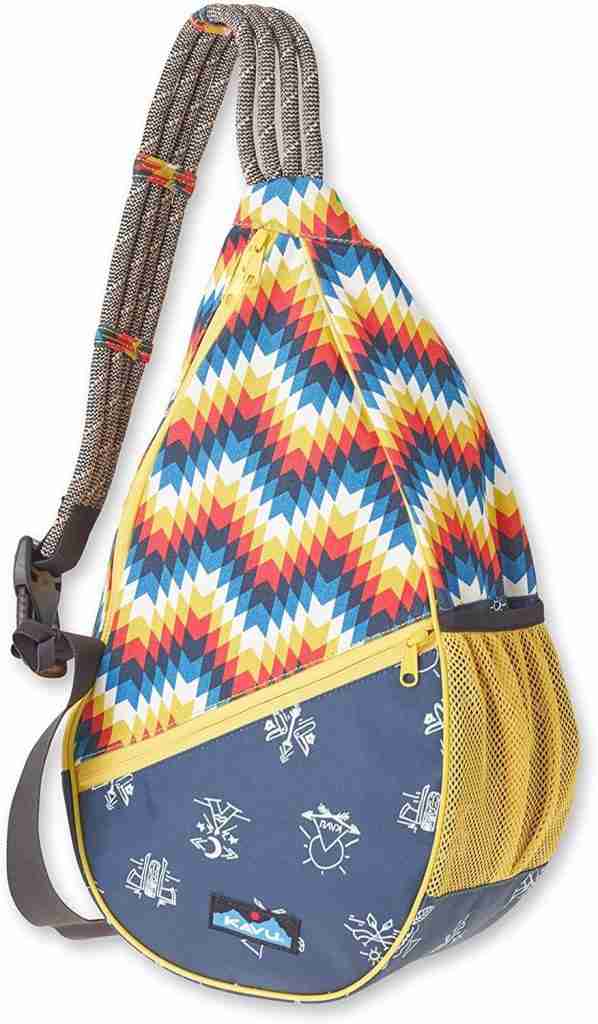 Crossbody sling bags can be designed for both men and women, but I'll say that men love crossbody sling bags more than women because of their design.
This bag is generally preferred by men because of the following reasons, Design, size, and function.
The bag has an outlook that is naturally appealing to men.
It could be because of its sporty look or from the mere fact that one can easily sling it on his shoulder without having to do any extra buckling or strap adjustments.
SLING BAG WOMEN
Women love sling bags. The reasons are unexplainable but the fact that there is something that we can easily sling on our shoulders to accentuate our outfit is always a fabulous idea.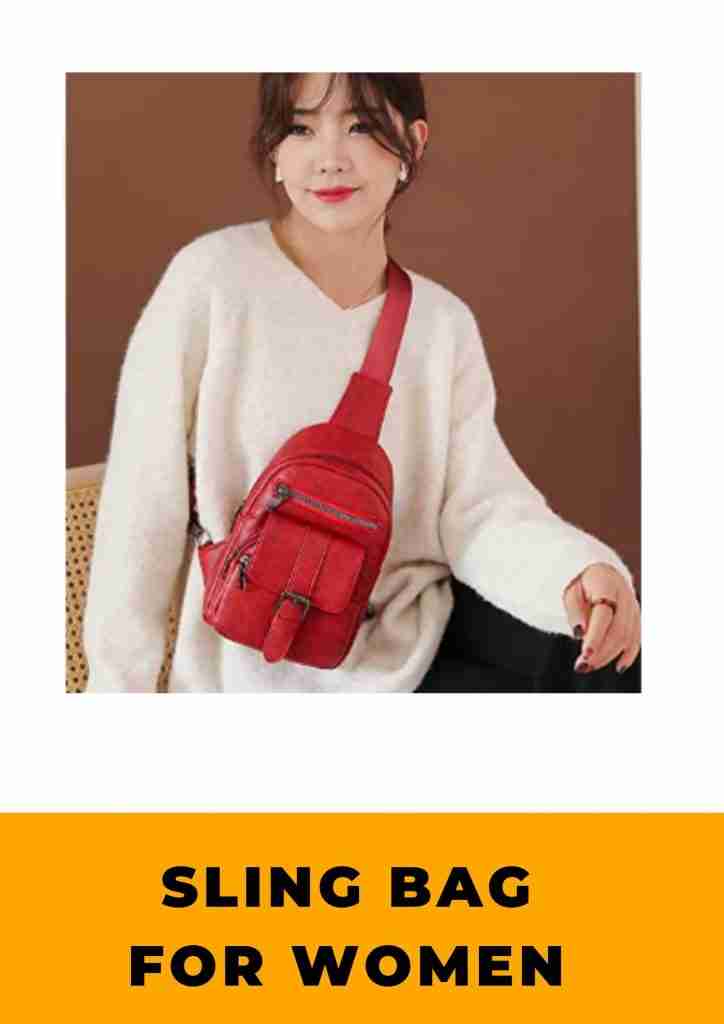 I've seen a lady who once said that going out without a sling bag, no matter how tiny the bag is, makes her feel naked. It's always easy to unzip the bag while still moving to grab things like chewing gum or lollipops.
Those momentary rushes to the restroom to apply lipstick because we suddenly sighted our crush across the hallway are better done carrying a sling bag.
Sling bags for women are in various sizes and shapes. A fabulous thing about this bag is that it can be carried as a crossbody.
CROSSBODY SLING BAG MEN
Crossbody sling bags are generally defined by bold straps that are sewn diagonally to the bag. Generally used by men, these bags are designed to look like backpacks with single-slanted straps.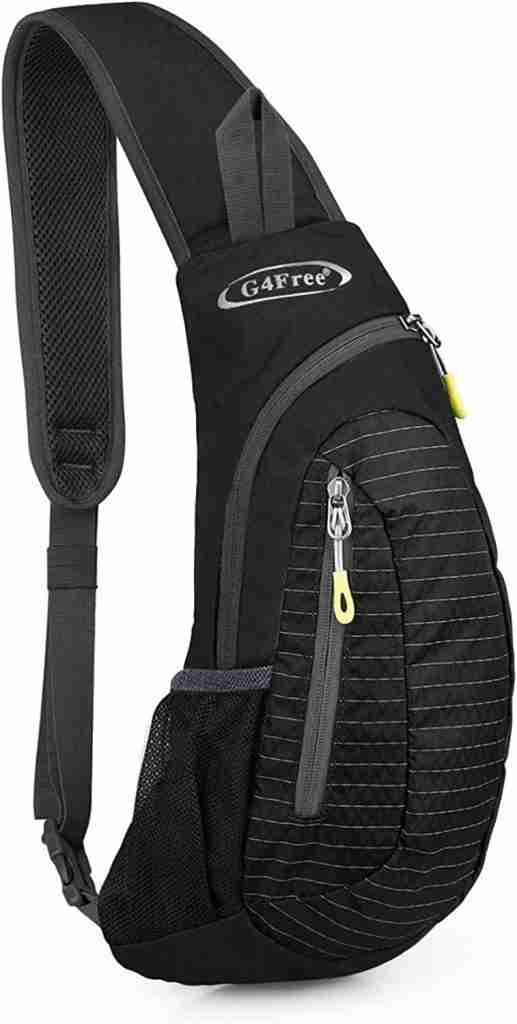 It's easier to wear them as regular sling bags but one can still decide to cross them over the chest as crossbody bags.
Whenever I hear the name crossbody sling bag, I would normally visualize someone whose name is probably Harry, dressed in a white polo with tight jean pants, he will be holding a bottle of water with his left hand, while the crossbody sling bag hangs gracefully on his left broad shoulders, directly on top a face towel.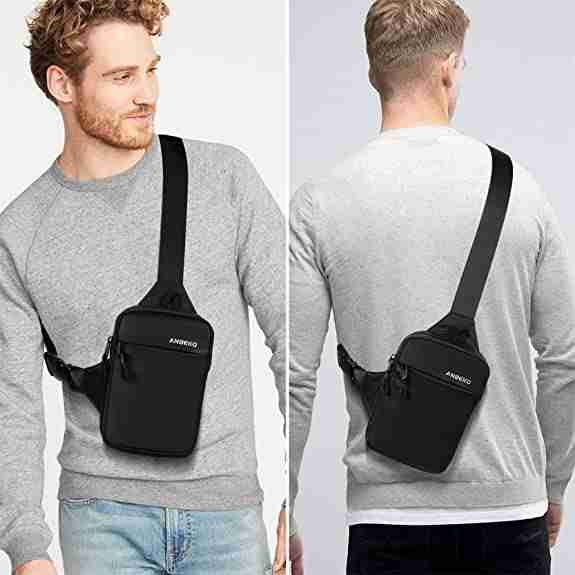 He will be dressed in sneakers and he's probably coming back from the gym or going to watch other men play polo.
NIKE SLING BAG
Nike bags are masculine by design. The Nike sling bag comes in unique colors and patterns that are appealing to most men.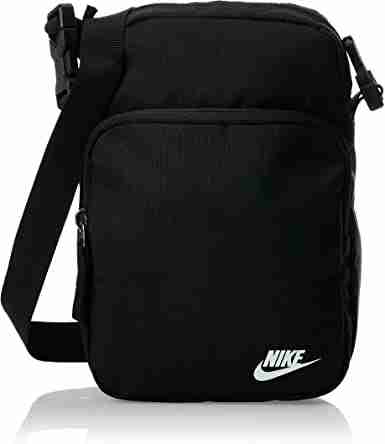 These bags are designed to look like backpacks with single straps that can be slung on the shoulder.
In as much as these bags are sporty looking, there are men who can use them for purposes like travel bags, school bags, or even office bags.
The bag is normally designed to have interior spaciousness, with extra pockets at the exterior for easy-to-reach items.
DESIGNERS SLING BAG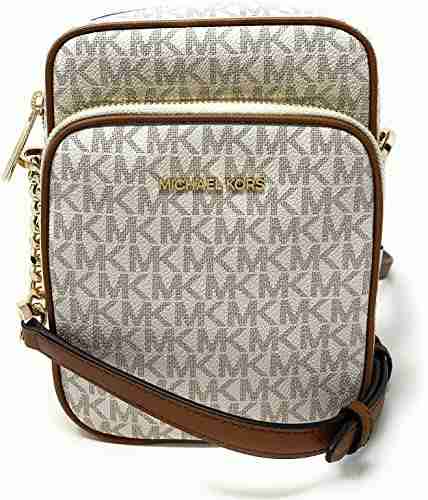 Let's talk about allure and trends. Designer sling bags come in varying shapes, especially for women.
There are pouches with long chain strands that can be worn as sling bags or even adjusted to be worn as shoulder bags.
There are still others with shapes like bucket shapes, and rectangular and square shapes designed to suit your outfit.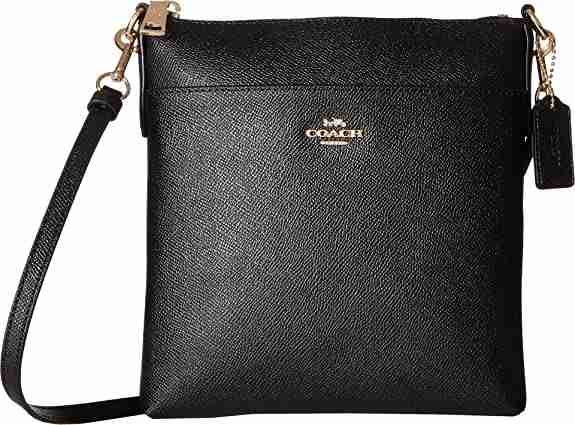 Designer sling bags are more fancy than useful and can even be designed to look as tiny as eye lens cases. The wearer just slings them on her shoulder to bring out the beauty of her outfit.
There are some who would carry sling bags alongside bigger tote bags for their shoes, jackets, or extra items that are definitely too large to fit into the sling bag.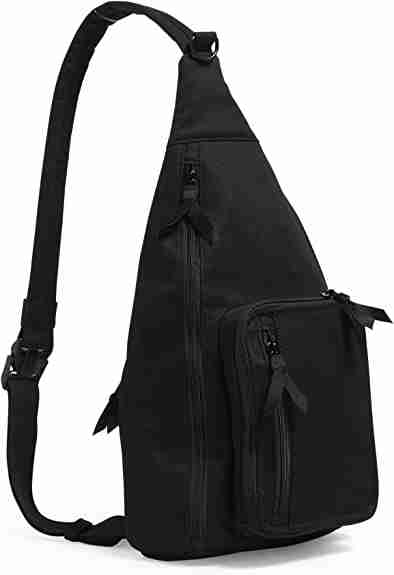 Let's look at these designer sling bags and their unique features:
Burberry: Beautifully designed to be carried as sling bags by women. The bag comes in different patterns and sizes. It's easy to wear with straps long enough to be used as a crossbody bag. The most popular design is the design that comes with a bold flap with a magnetic button that can open and close at will.
The bag can be used for both casual and official purposes. It's easy to convert this bag to a messenger bag because how it's designed to match practically any type of outfit you wear. Mostly made of leather, the bag is durable and can withstand harsh weather conditions.
Other brands that have produced a variety of sling bags for both men and women include, Givenchy, Borsa, Nordstrom, Neiman Marcus, and Rag & bone amongst many others.
CROSSBODY SLING BAG FOR LADIES
Crossbody sling bags for women are very vast, there are some that are sporty looking like that of men and there are many others that have a strong feminine appeal by design.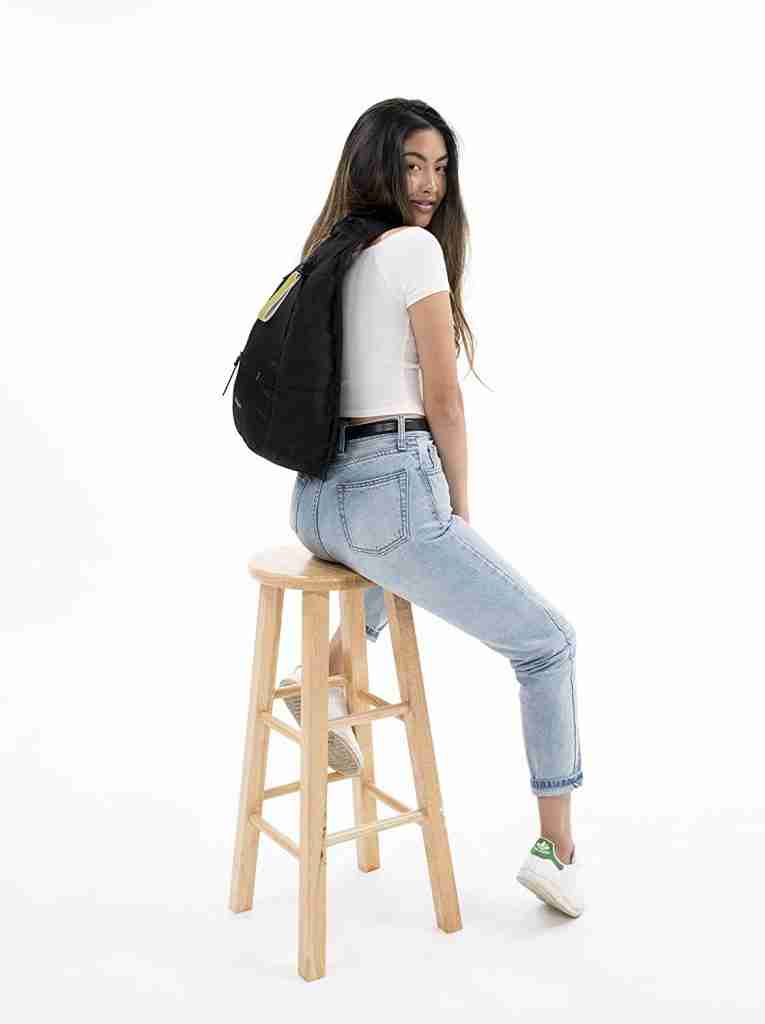 The most popular design is the chain strap crossbody bag. These bags are designed in various sizes, most of which are small-sized probably because they are fancier than they are useful.
These bags have long chain straps that are usually long and not adjustable. Hence, it's usually difficult to wear it as anything else other than a crossbody bag.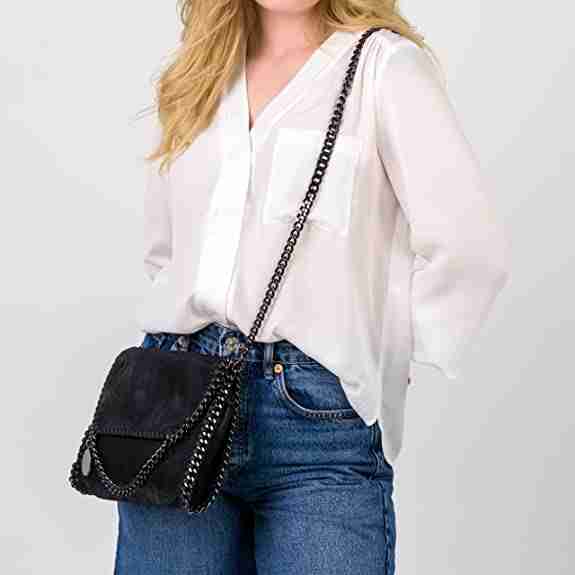 Casual outings are graced with a wide variety of crossbody bags. Their hands-free nature is something I can refer to as pure bliss and it's soothing to women because of the undue stress they are exposed to by having to carry all manner of bags, ranging from heavy tote bags to heavier messenger bags on a daily basis.
SHOULDER BAG VS CROSSBODY BAG
Below, you will find the difference between shoulder bag vs crossbody bags:
| | |
| --- | --- |
| SHOULDER BAGS | CROSSBODY BAGS |
| Can have two straps. | Usually comes with single straps. |
| Are handheld or worn vertically on the shoulder. | Are worn diagonally across the body by design. |
| Straps can be short, medium-sized, or longer depending on the design. | Straps are usually long except for the shorter ones designed to hang on the upper chest or upper back. |
| Straps are generally tiny. | Straps can be tiny and bold depending on the design. |
| Are generally preferred by women although there are designs for men. | Are generally preferred by men although women have their unique designs as well. |
Let's see some frequently asked questions relating to sling bag vs crossbody bag below:
IS A SLING BAG A CROSSBODY BAG?
Most sling bags can pass as crossbody bags because of their design and strap length but not all sling bags can be used as crossbody bags.
Sling bags with very short strap lengths cannot be crossed over the shoulders as crossbody bags and trying to do so regardless of the length of the straps will either result in the straps splitting up or you the wearer, choking due to its tightness around your chest.
IS A SHOULDER BAG OR CROSSBODY BAG BETTER?
Shoulder bags and crossbody bags serve different purposes and appeal to different people.
There are some who would prefer shoulder bags to crossbody bags and vice versa.
However, a majority of people will prefer crossbody bags to shoulder bags because of this reason, crossbody bags are more hands-free than shoulder bags.
When wearing shoulder bags, there is always a nagging feeling that the bag might slip off your shoulders which will make you very cautious in whatever you are doing while constantly pushing up the straps on your shoulder so that this feeling you have won't become a reality.
ARE SLING BAGS STILL IN STYLE?
Sling bags will never be out of style. A major reason for this is that there is no age limit attached to this bag.
While elderly women might feel skeptical about crossbody bags, they will quickly embrace the sling bags because of their handbag-like look.
In a bid to keep up with trends, elderly men may get attached to sling bags, especially the Nike sling bags because of their sporty look and how it invigorates them.
CONCLUSION
Be it sling or crossbody, bags are bags and can be worn whichever way the wearer deems fit.
Sling bags can be worn as crossbody bags and vice versa.
However, the length of the straps plays a major role in either making this possible or impossible.
If a sling bag for women is designed to look like a handbag with a drop length around the stomach, crossing that bag across your body might look ridiculous.