In our previous article, we discussed extensively the 10 best school backpacks that are made in the USA, today, we will be discussing EDC bags made in USA.
EDC (Everyday Carry) bags have become increasingly popular in recent years, as more people are recognizing the importance of being prepared for unexpected situations.
EDC bags are designed to contain the items one might need on a daily basis, such as a wallet, phone, keys, water bottle, and snacks, as well as more specialized gear like flashlights, multitools, and first aid supplies.
These bags are commonly used by a variety of people, including outdoor enthusiasts, commuters, students, and professionals.
One aspect that is important to many EDC bag users is the origin of the bag itself.
Some individuals prefer to purchase bags that are made in the USA, as they believe that domestically produced products are generally of higher quality and contribute to supporting American jobs and the economy.
In this article, we will explore the benefits of using an American EDC bag, as well as some of the top options available for those in the market for such a bag.
Table of Contents
WHAT IS THE FULL FORM OF EDC IN BAGS?
The Fill form of EDC in bags stands for "Everyday Carry".
WHY CARRY AN EDC BAG?
There are 4 main reasons people carry an EDC bag, see them below;
To begin, people carry EDC bags to help them organize their everyday essential items, EDC bags make them prepared for any given situation.
EDC bags provide a convenient and practical way to carry all the necessary items you need for daily use.
Furthermore, individuals that travel frequently carry EDC bags because their essential items are easily accessible such as emergency kits, with items such as first aid supplies, flashlights, and other survival tools.
Finally, EDC bags can also be a fashion statement, with many different styles and designs available to suit different tastes and preferences. Some people choose to carry EDC bags as a way to express their personality and sense of style.
EDC BAGS MADE IN USA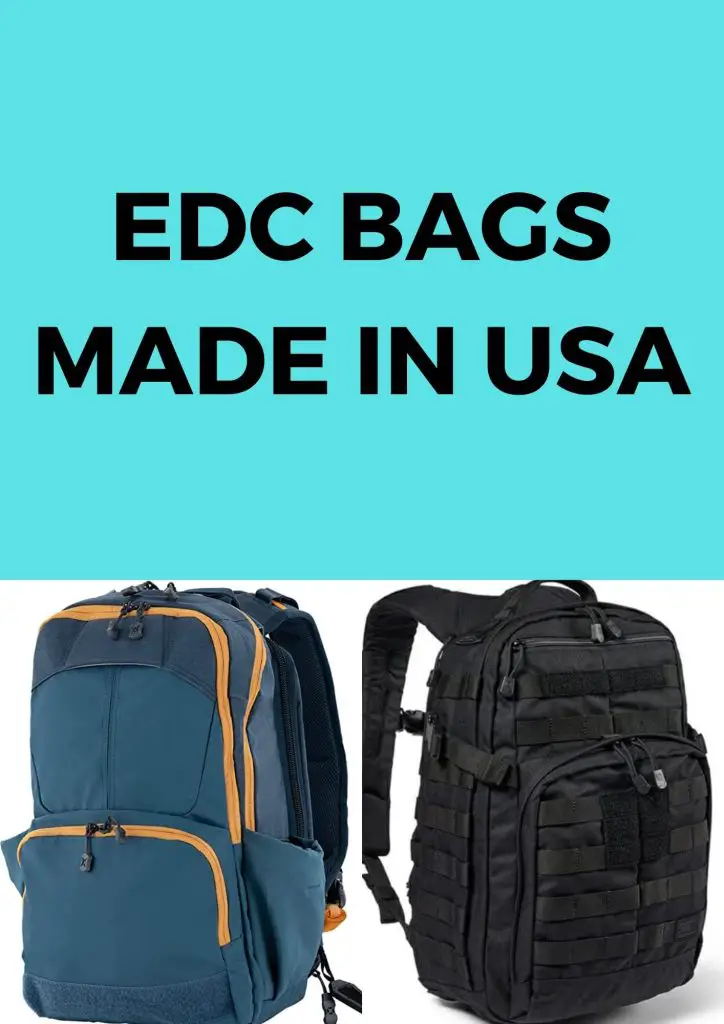 The top 15 best EDC bags made in USA are;
Mystery Ranch District 24 EDC Backpack
5.11 Tactical Rush 12 2.0 | 24 Backpack
Vertx Gamut
Eberlestock Halftrack Pack
Topo Designs Rover Pack Classic
Vanquest Trident EDC Gen 3|32 Backpack
Mission Workshop Sanction 20L Backpack
Hazard 4 Rotatable EDC Backpack
Maxpedition Falcon II Backpack
Triple Aught Design Fastrack EDC Lite Speed Bag
Tom Bihn Synapse 25 Everyday Carry Backpack
Black Ember Citadel Minimal EDC Bag
Brown Buffalo Conceal EDC 26L Backpack
VERTX GAMUT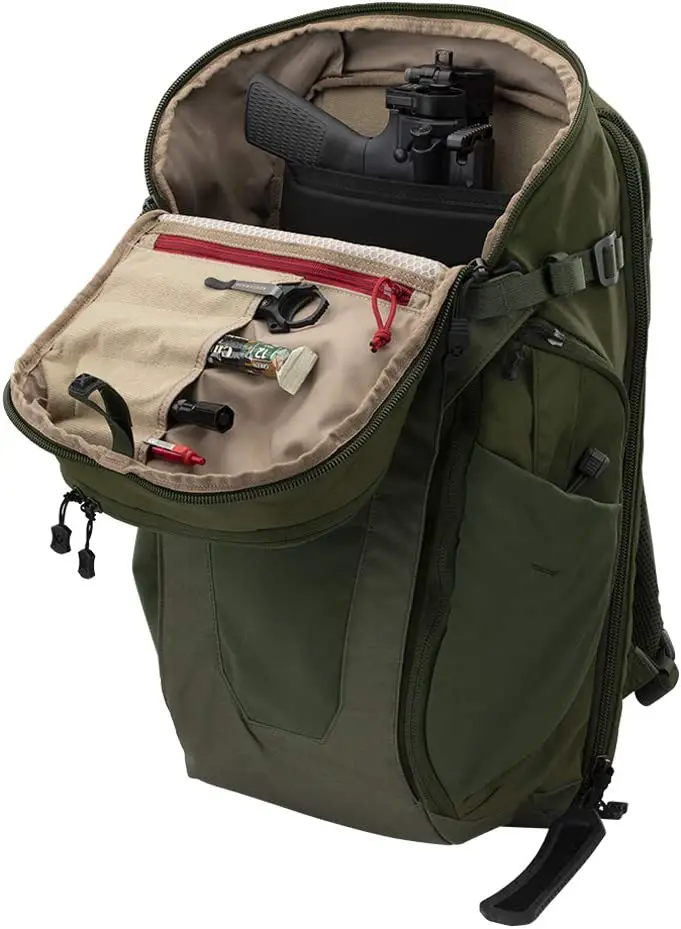 The Vertx Gamut EDC Backpack is made in Cincinnati, Ohio, USA, the Vertx Gamut is a tactical backpack that is designed for law enforcement and military personnel, but can also be used for everyday carry.
The Vertx Gamut models suitable for Everyday carry bags are;
The Vertx Gamut Overland Backpack is a mission-ready EDC bag that is designed with a rapid access pull and it also has a hot pull tab that can be set up for quick access to the main compartment.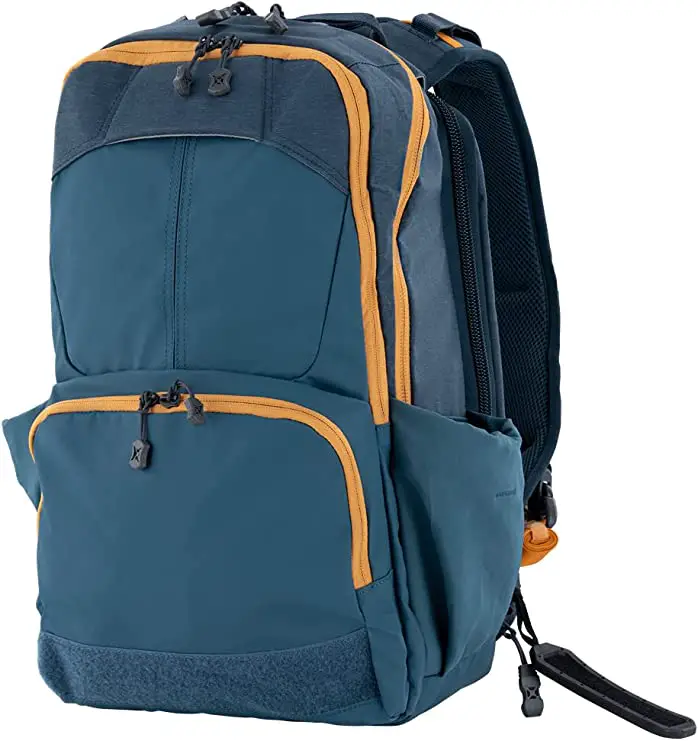 It can accommodate your 15" inches Laptop with the padded laptop sleeve, it has a 3-gear slot and an abrasion-resistant zippered mesh pocket.
The weapon-compatible concealed carry platform comes with a loop lining. This EDC bag is very comfortable and perfect for work and travel.
Vertx bags are extremely reliable and allow you to customize and organize your essential items easily.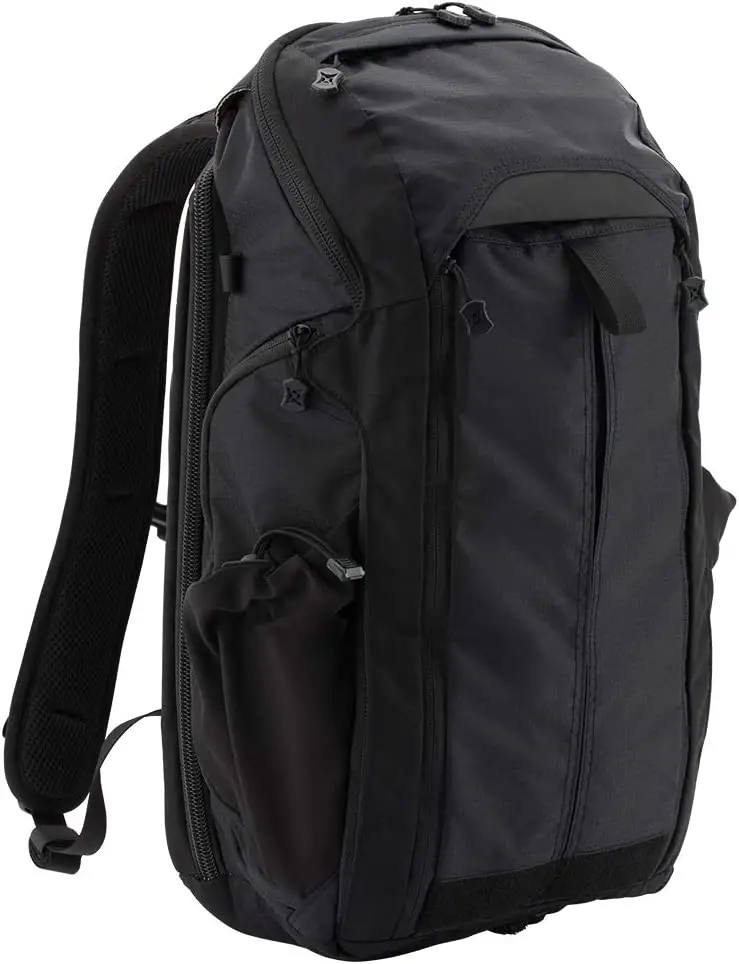 You will be impressed with the quality and craftsmanship of this everyday carry Vertx bag, it is not too cumbersome and doesn't look like a military or tactical bag because of the design.
Finally, the Vertx EDC bag is the perfect outdoor pack for fishing, hunting, climbing, mountaineering and even packing up camera gear.
5.11 TACTICAL RUSH BACKPACK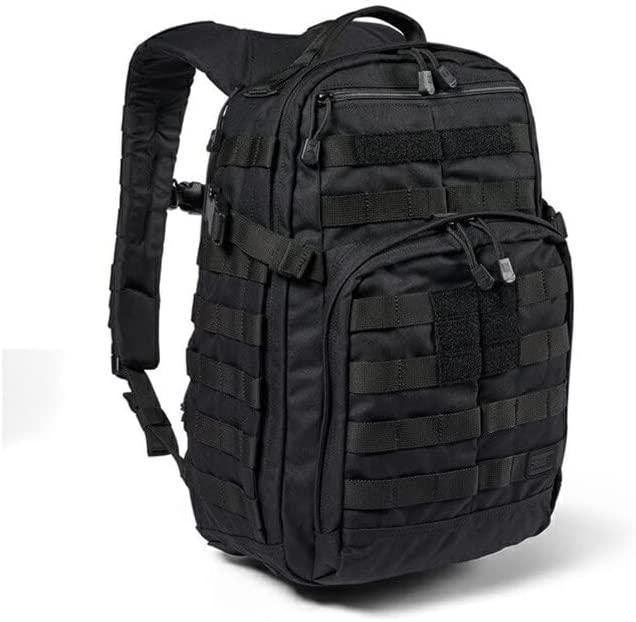 The 5.11 Tactical Rush Backpack is made in California, USA, the 5.11 Tactical Rush Backpack is a versatile EDC backpack that is designed for outdoor activities and everyday use.
The first model is the 5.11 Tactical backpack Rush 12 2.0 which comes in small, medium, and Large designs based on your need.
The 5. 11 tactical EDC backpacks are designed with inner and outer compartments, roomy main storage, a padded Laptop compartment, CCW conceals carry weapon compartment, and a hydration pocket.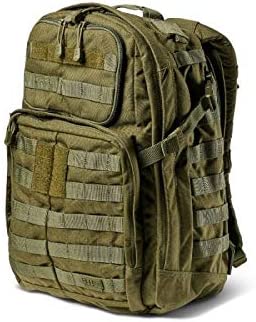 What makes the 5.11 Tactical Rush EDC Backpack outstanding is that it is made up of durable 1050D nylon which is water-resistant, which is why it is also a go-to backpack for the Military.
Perfect for use as a range bag, hunting backpack, survival backpack, hiking backpack, or an everyday outdoor backpack.
Are you ready to have a memorable adventure? Then you need this Assault pack especially to organize your essential items, gear, and other equipment.
MISSION WORKSHOP SANCTION 20L EDC RUCKSACK BACKPACK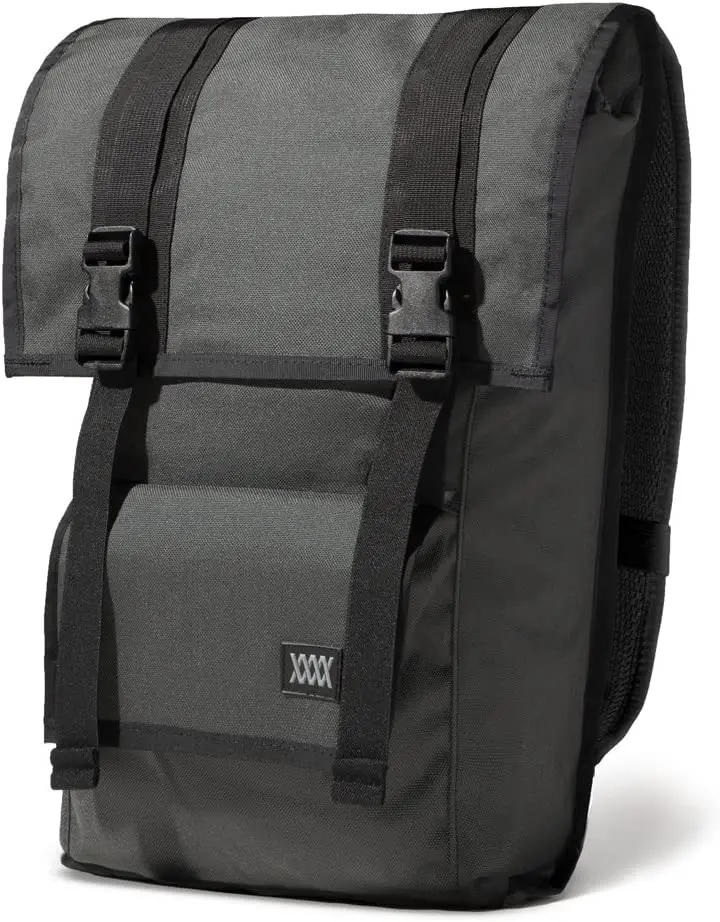 The Mission Workshop Sanction EDC Backpack is our recommended best EDC Backpack because it is made up of multiple weatherproof compartments, urethane-coated zippers, and waterproof material keeping your important items safe from damage.
The Mission Workshop EDC bag is made in the USA, the 20L can fit a 15-inch Laptop and it also comes with a durable internal frame sheet that gives it a sturdy look.
With a military spec construction, this USA made EDC bag is perfect for bike commuting and first response.
You will love this stylish and comfortable EDC Backpack.
HAZARD 4 ROTATABLE BACKPACK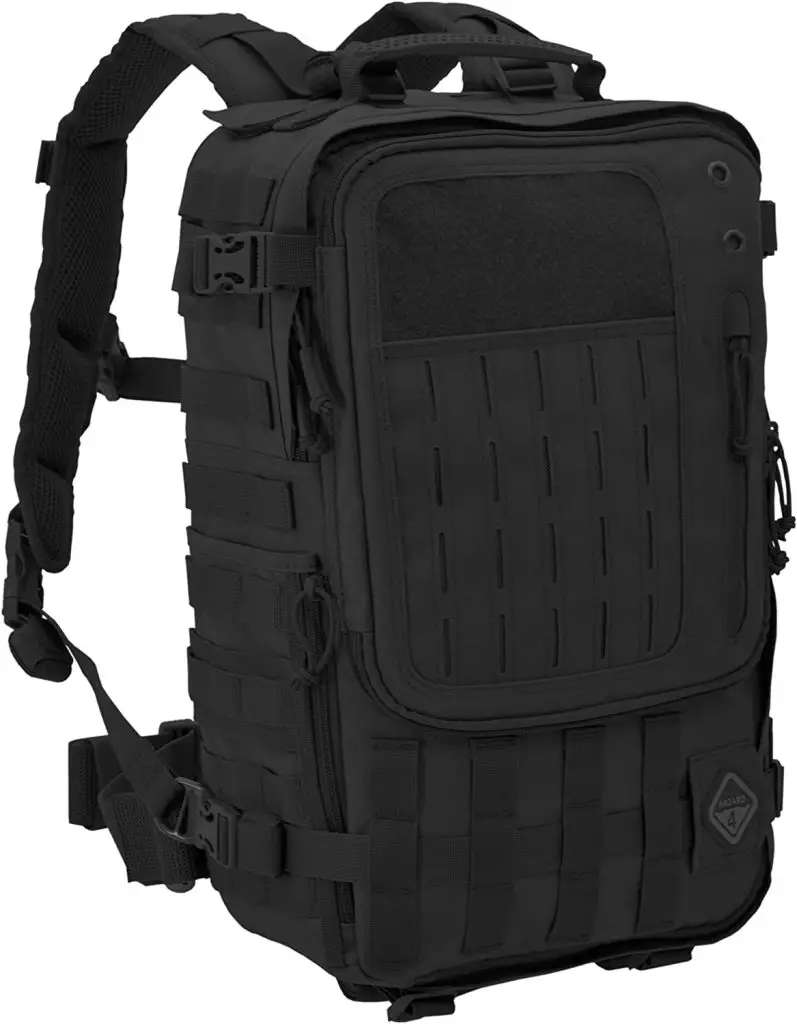 The Hazard 4 backpack is made in the USA, their EDC backpacks are versatile, and they come in as our second top or best EDC bag because they are designed to easily rotate from the tour back to the chest.
You can carry heavy loads with ease, the material used in manufacturing the Hazard 4 Backpack is the 1000D Cordura, 500D Camo, and water-repellent coated body for harsh weather conditions.
You also have multiple modular MOLLE expansion options and you have access to a padded 15-inch Laptop compartment.
VANQUEST TRIDENT 21 GEN 3 BACKPACK
The Vanquest brand builds the best toughest bags and packs for Everyday Carry (EDC) helping you stay organized and prepared.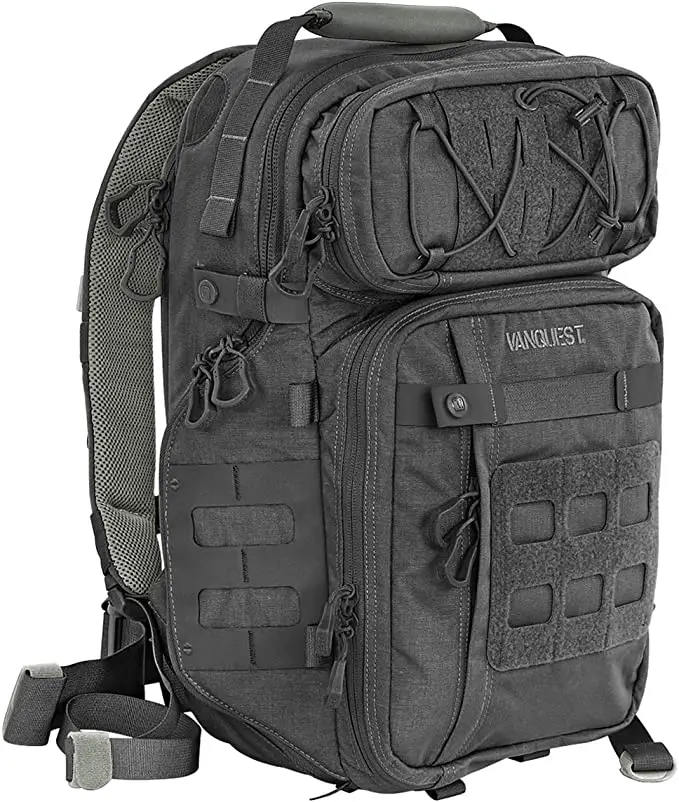 All Vanquest products are made in the USA including the Vanquest Trident 21 GEN EDC Backpack.
They are made with Cordura nylon, 3 removable padded dividers, a 15-inch laptop compartment, a tablet, CCWs, and a camera hold.
The Vanquest Trident EDC Backpack is a 21Litres capacity bag with over 30 organizing compartments, slots, and holders.
You can't go wrong with this Vanquest Trident 21 Gen 3 EDC Backpack that is made from 1000-D (bottom area) & 500-D (body) CORDURA fabric coated with DWR (Durable Water Repellent).
MYSTERY RANCH DISTRICT 24 EVERYDAY OUTDOOR BACKPACK
In my previous article on mystery ranch made in the USA, I made mentioned the fact that it is not all Mystery Ranch products that are made in the USA, some are made in Vietnam, however, the Vietnam products are of the same standard and quality as the US Products.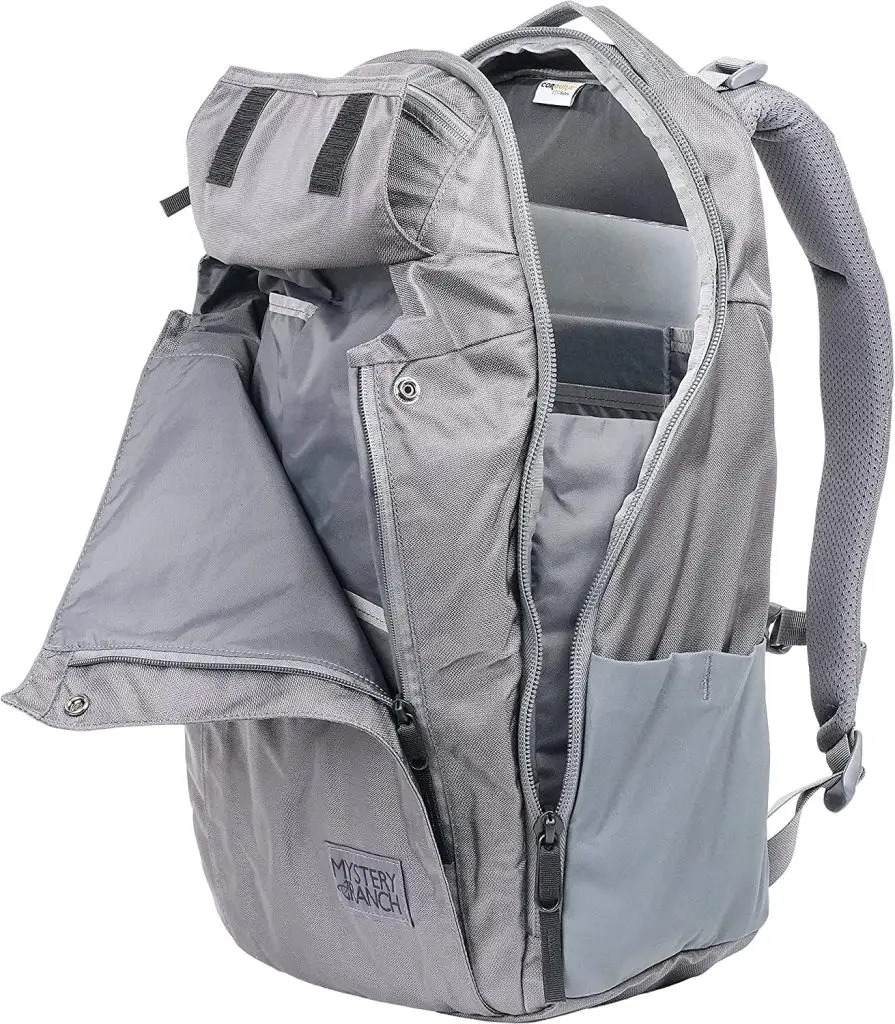 The Mystery Ranch District backpack is the perfect everyday carry Backpack (EDC) that is perfect for travel and crafting with Cordura recycled nylon fabric that makes them durable.
The Mystery Ranch EDC Bag is designed with a Velcro top for quick access, and a padded floating interior for 18 inches electronics guide inner pocket.
It has dual woven size pockets for your water bottles and a divided main compartment that can contain your everyday need easily.
EBERLESTOCK HALFTRACK PACK
Although the Eberlestock Halftrack pack is recommended for Law Enforcement Generals and the Military, it can also be used as an Everyday Backpack because of its features and functions.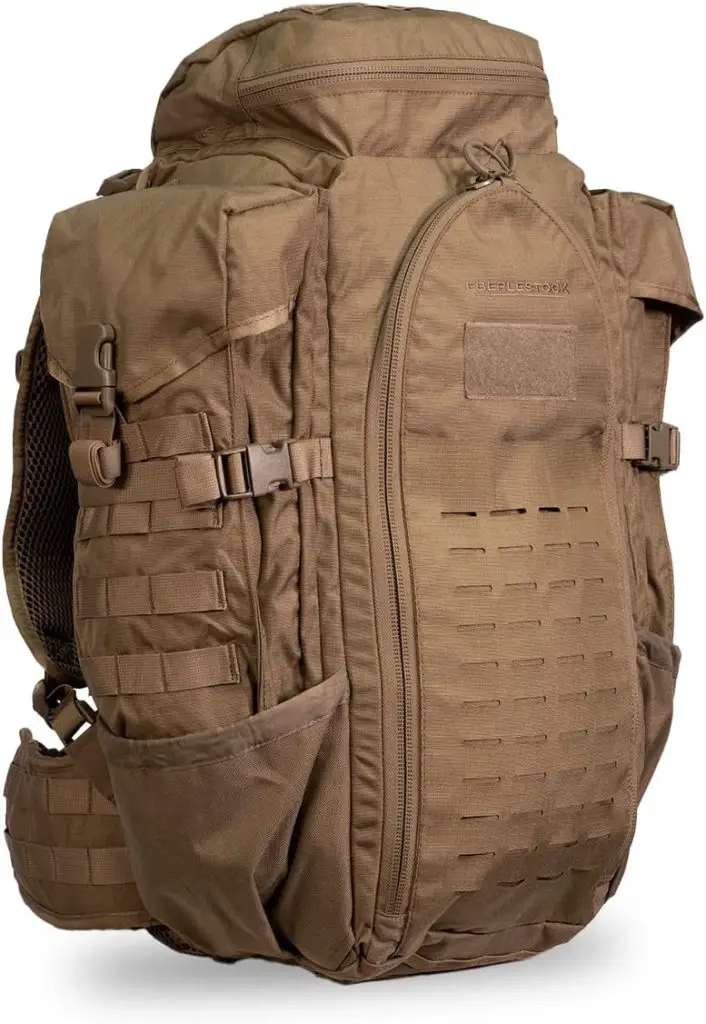 The Eberlestock Halftrack Pack is made in Idaho, USA, it is a versatile and popular 3-day pack with MOLLE padlock webbing racks inside and out
The Eberlestock Backpack makes a perfect USA hunting backpack, it has a removable rain cover for harsh weather.
Finally, the Eberlestock Halftrack backpack can carry two 3-liter hydration kits, mounted in side pockets, or two 2-liter bladders in side sleeves if you want to keep the main side pockets free for other gear.
MAXPEDITION FALCON-II BACKPACK
The Maxpedition Falcon II Backpack is made in America, it has a beautiful intelligent design that makes it perfect for hunting, outdoor adventures, and military practices.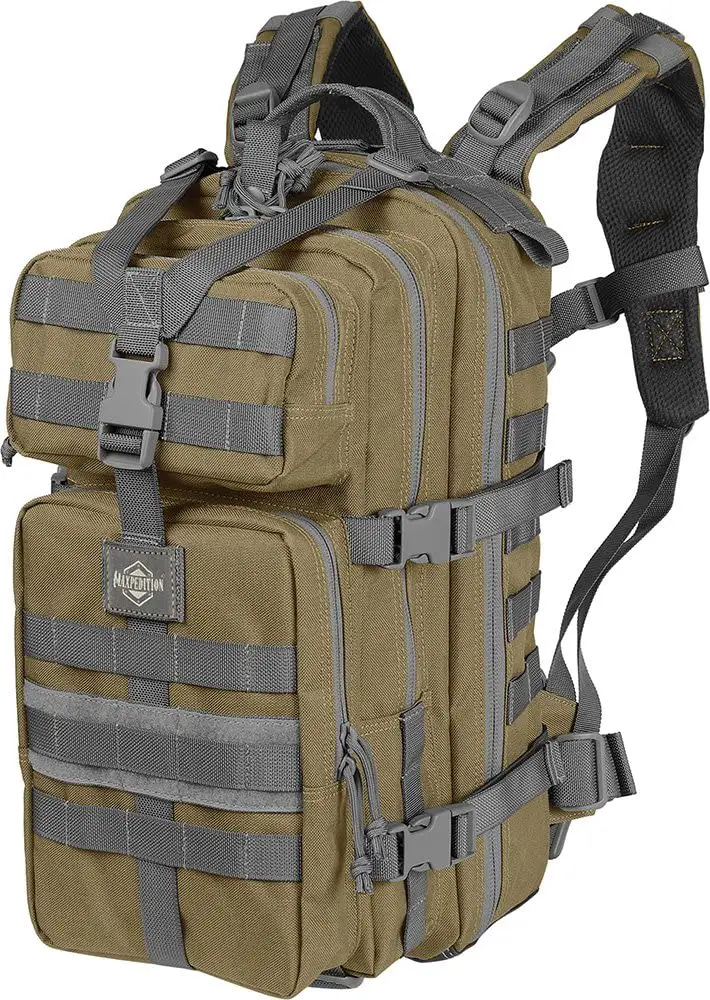 The Maxpedition Backpacks are built for hauling gear and ergonomically designed to never drag you down.
They are made with durable 1050 Denier water, durable water-resistant exterior, abrasion resistant nylon, the ergonomic design shape comes with a padded shoulder strap and sturdy sternum and waist support that makes it comfortable to wear and haul heavy gear.
The Maxpedition Falcon II Backpack can serve as an EDC bag without stress, the material is thick and double-stitched to withstand long and rugged use.
The Maxpedition EDC Backpacks have multiple compartments and pockets and offer plenty of space for mission essentials, camping gear, hydration reservoirs, laptops, textbooks, and CCW.
Finally, this is one perfect EDC Bags made in USA that has the ability to distribute weight evenly throughout your upper body so you carry a load without falling behind.
EDC BACKPACK LIST
Are you ready to experience a memorable adventure? Am sure you don't want to miss any important item.
An EDC (Everyday Carry) Backpack list simply has to do with a collection of various essential items carried in a backpack for everyday use.
It is your personal preference that determines the list of items you carry. However, there are some basic important items that are often included in an EDC Backpack.
Here are some common items that are included in an EDC backpack list:

Water Bottle – A reusable water bottle is an essential item to have in an EDC backpack. Staying hydrated is important for maintaining good health and performance.

First Aid Kit – A small first aid kit containing basic medical supplies like bandages, antiseptic wipes, and pain relievers is important to have in case of minor injuries.

Multi-Tool – A multi-tool, such as a Swiss Army knife or Leatherman, is a versatile tool that can be used for a variety of tasks, such as opening bottles, cutting, and screwing.

Flashlight – A small flashlight can come in handy when there is limited lighting or in emergency situations.

Portable Charger – A portable charger is essential for keeping your electronic devices charged on the go, especially if you are away from a power source for an extended period of time.

Notepad and Pen – Having a notepad and pen is useful for taking notes or writing down important information.

Hand Sanitizer – Hand sanitizer is important for maintaining good hygiene, especially during flu season or when traveling.

Sunglasses – Sunglasses can help protect your eyes from harmful UV rays and also make it easier to see in bright sunlight.

Snacks – Having some snacks, such as energy bars or trail mix, in your backpack can provide a quick source of energy when you need it.

Rain Jacket – A lightweight rain jacket can help protect you from rain or other inclement weather conditions.
20L EDC BACKPACK
Two recommended examples of the 20L EDC Backpacks are;
Direct Action Dust Tactical Backpack 20 Liter Capacity
Cargo Works RECON 20L EDC Tactical Backpack for men
The Direct Auction 20L EDC Backpack is made with 100% water-resistant Cordura 500D material and durable zipper closure.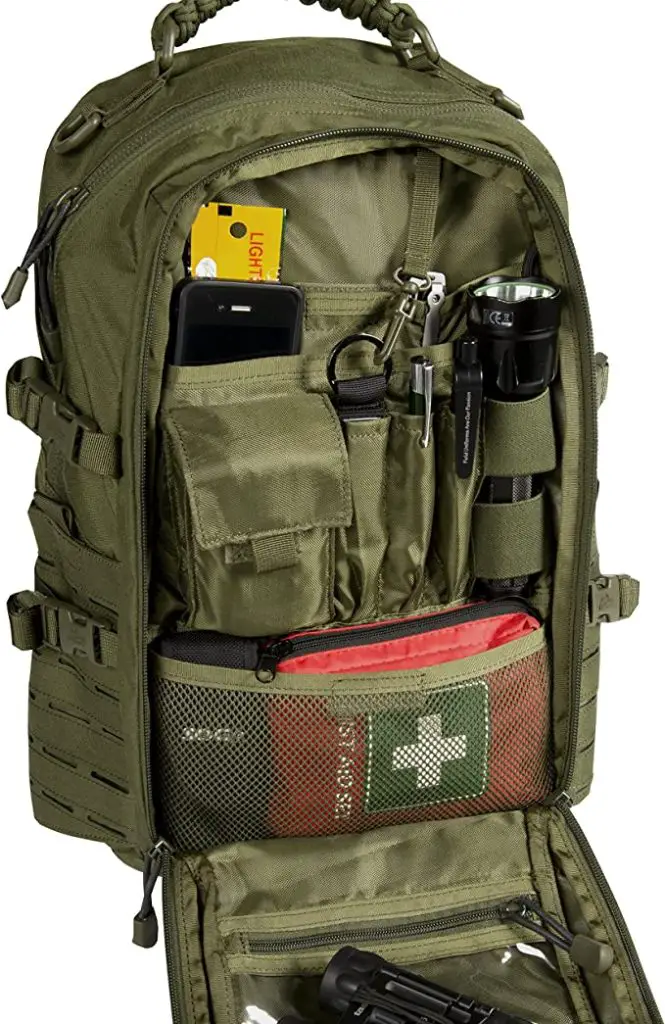 It has a Patented Combat Vent System that provides increased comfort for its users during prolonged use.
The 20L Direct Auction EDC Backpack also has a unique laser cut MOLLE/PALS system which is low profile, lightweight, snag-free, and non-water absorbing.
The Direct 20L EDC bag is a Lightweight and versatile backpack designed for advanced Military & Law Enforcement operators, also great for hiking and traveling.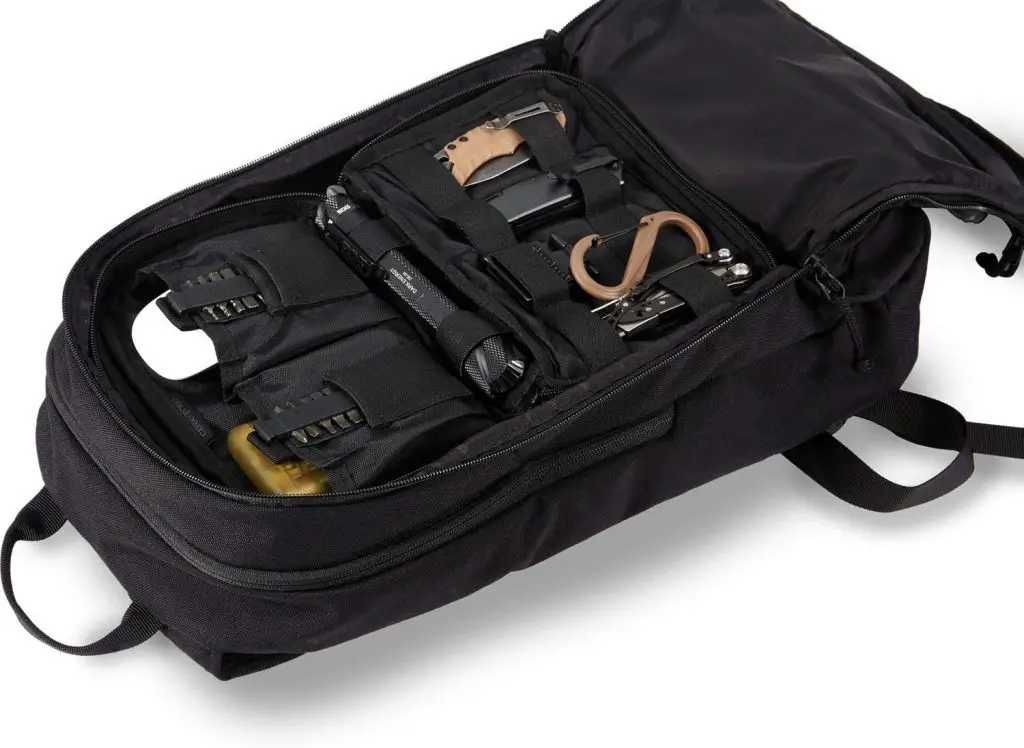 The Cargo Works RECON 20L EDC Tactical Backpack for men is perfect for Travel, School, Business, and Military.
It is designed with a Molle Pack, CCW, and Laptop Compartment (padded) that can fit a 15 inches Laptop with ease.
You have 2 free front pockets with 2 internal mesh pockets, a front organizer with 5 internal pockets, and a mesh zippered pocket to keep your items organized.
The Cargo 20L EDC Backpack is made with 1000D Nylon, YKK Zippers, and a middle compartment with elastic Molle webbing.
RIFLE DRAG BAG MADE IN USA
A rifle drag bag is a type of soft-sided gun case that is designed to transport long firearms, typically rifles, from one place to another.
These bags are made of durable materials and often feature padding to protect the firearm during transport. The bags are also designed with straps and handles to make them easy to carry.

Here are five examples of rifle drag bags made in the USA:

Blackhawk Long Gun Drag Bag: This bag is made by Blackhawk and is designed to accommodate rifles up to 50 inches in length.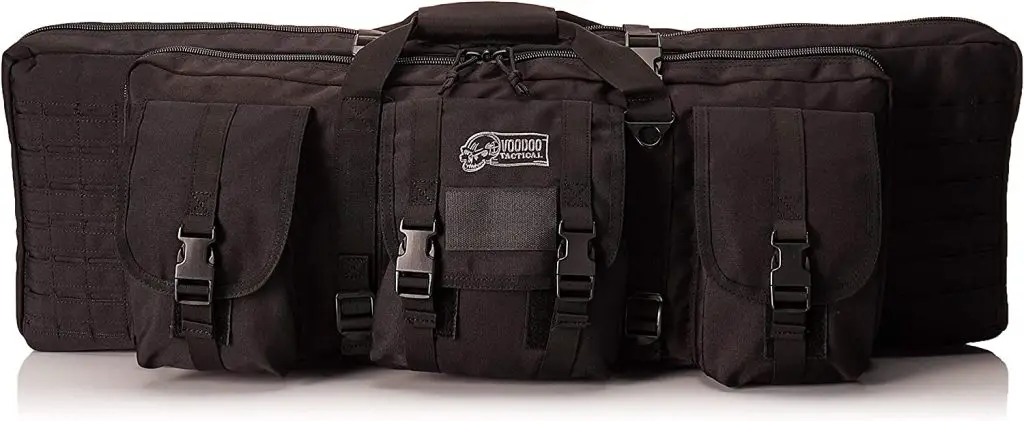 Voodoo Tactical Men's 36-Inch Padded Weapons Case: This rifle drag bag is made by Voodoo Tactical and can accommodate rifles up to 36 inches in length.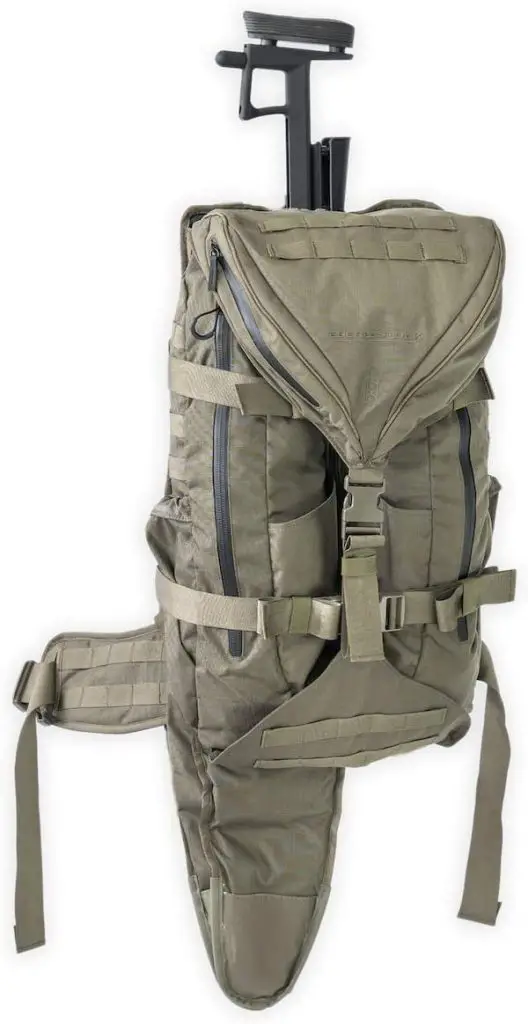 Eberlestock Scoped Rifle Drag Bag: This bag is made by Eberlestock and is designed to accommodate scoped rifles up to 60 inches in length.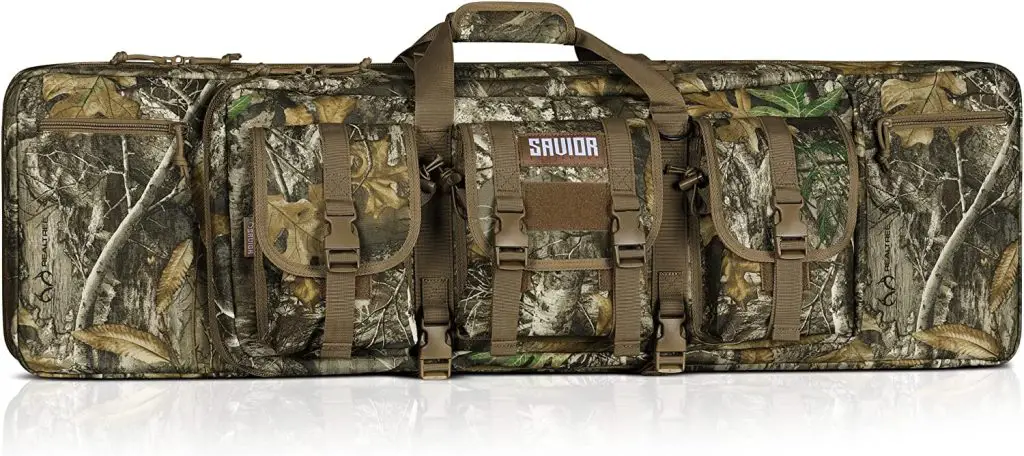 Savior Equipment American Classic Tactical Double Long Rifle Pistol Gun Bag: This rifle drag bag is made by Savior Equipment and can accommodate two rifles up to 46 inches in length.

5.11 Tactical Single Rifle Case: This rifle drag bag is made by 5.11 Tactical and is designed to accommodate rifles up to 50 inches in length.
PDW BAG
What is PDW Bag? PDW Bag simply refers to a type of bag or backpack designed and manufactured by Prometheus Design Werx (PDW).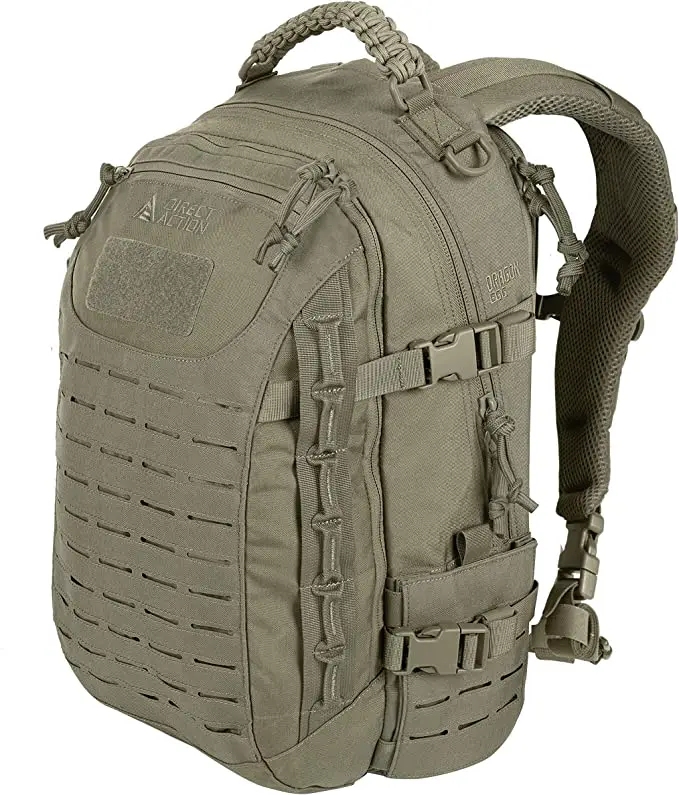 PDW bags can also be said to be a brand that takes pride in manufacturing high-quality adventure & outdoor gear, PDW bags are carefully designed to meet high standard and offers versatility, functionality, and durability.
In addition, outdoor enthusiasts are satisfied when they use PDW bags as it meets their hiking, camping, travel, and even everyday carry needs.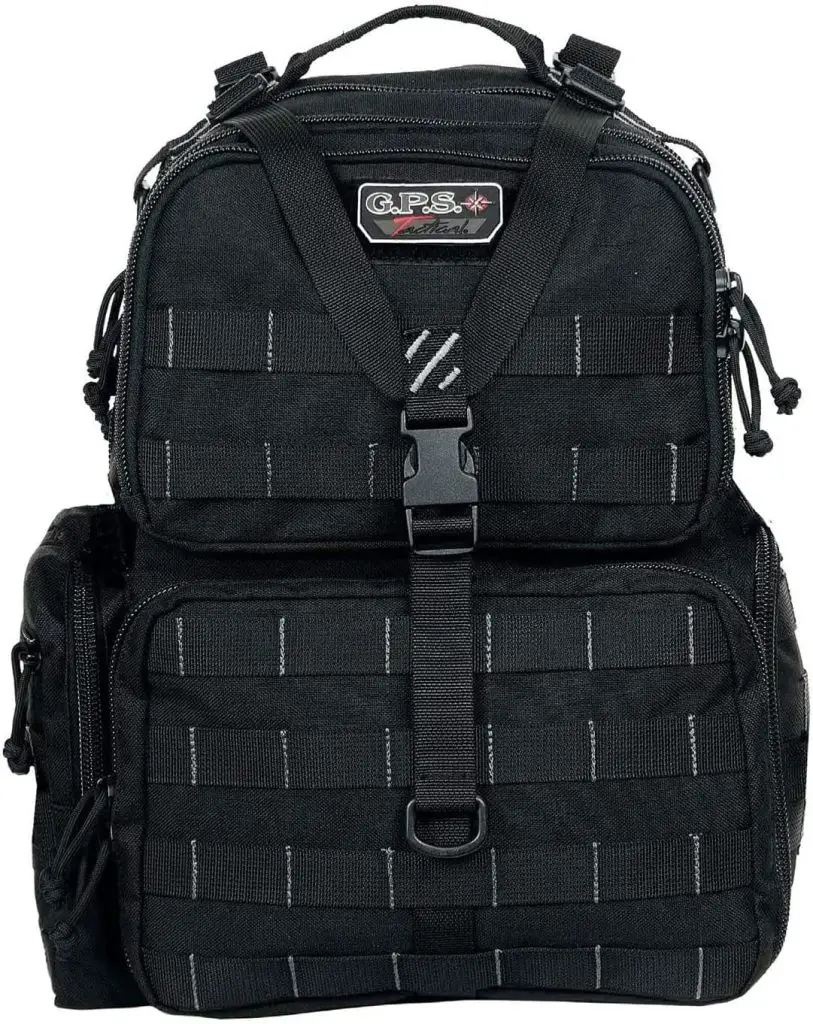 Aside from outdoor needs, the PDW is also designed to be used in urban settings, they are designed with high-quality materials like the Cordura Nylon, YKK Zippers, and Duraflex buckles.
It is this high-quality material that gives the PDW bags the edge to withstand the hard condition of outdoor adventures and heavy frequent use.
Furthermore, PDW bags are designed with inner compartments, pockets for smooth organization, MOLLE webbing for attaching additional accessories, padded shoulder straps and back panels for comfort, and hydration bladder compatibility.
Some popular PDW bag models include the;
Direct Action Dragon Egg Tactical Backpack
 G.P.S. Tactical Range Backpack
Reebow Gear Military Tactical Assault Pack Backpack for Outdoor, Hiking, Camping, Trekking, and Hunting.
 SHADO Pack, the S.H.A.D.O. 28L Back Pack, the EDCO Panel Loader Pack, and the S.H.A.D.O. 24L Pack.
These bags come in a range of sizes and colors to suit different needs and preferences, and are designed to be versatile enough to be used in a wide variety of situations."
BAGS MADE FROM FIREMAN GEAR
Examples of bags made from Fireman gear are:
Ergodyne Arsenal 5008 Firefighter Turnout Gear and Safety Duffel Bag for Fire, Fall Protection, and Sports Gear Bag Use.
Lightning X Fireman Premium 3XL Firefighter Rescue Step-in Turnout Fire Gear Bag w/Shoulder Strap & Helmet Pocket.
These fireman gear bags are made with polyester or Nylon materials because they are used to fight the fire, they are carefully designed to be extremely durable having 1000D Polyester material with tarpaulin reinforced.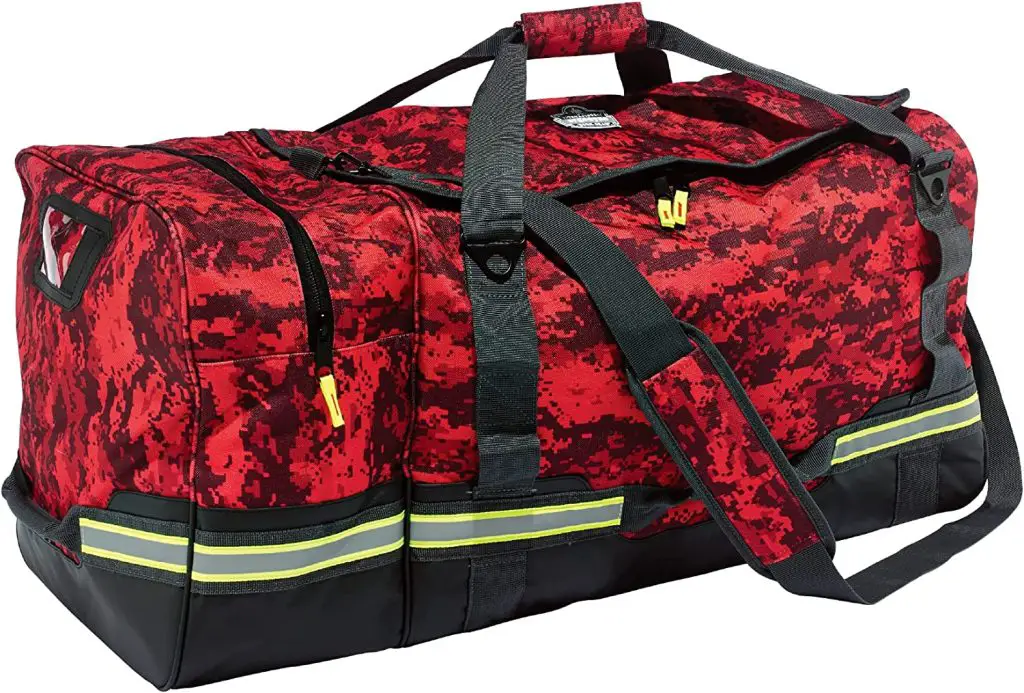 They are also designed with plenty of storage so firefighters can store fire helmets and other items, they are also designed with 360-degree grab handles for easy dragging or hauling.
The popular safety reflective strip is used all over the bag for visibility, especially at night.
Bags made from fireman gear are often repurposed from retired PPE and can take various forms.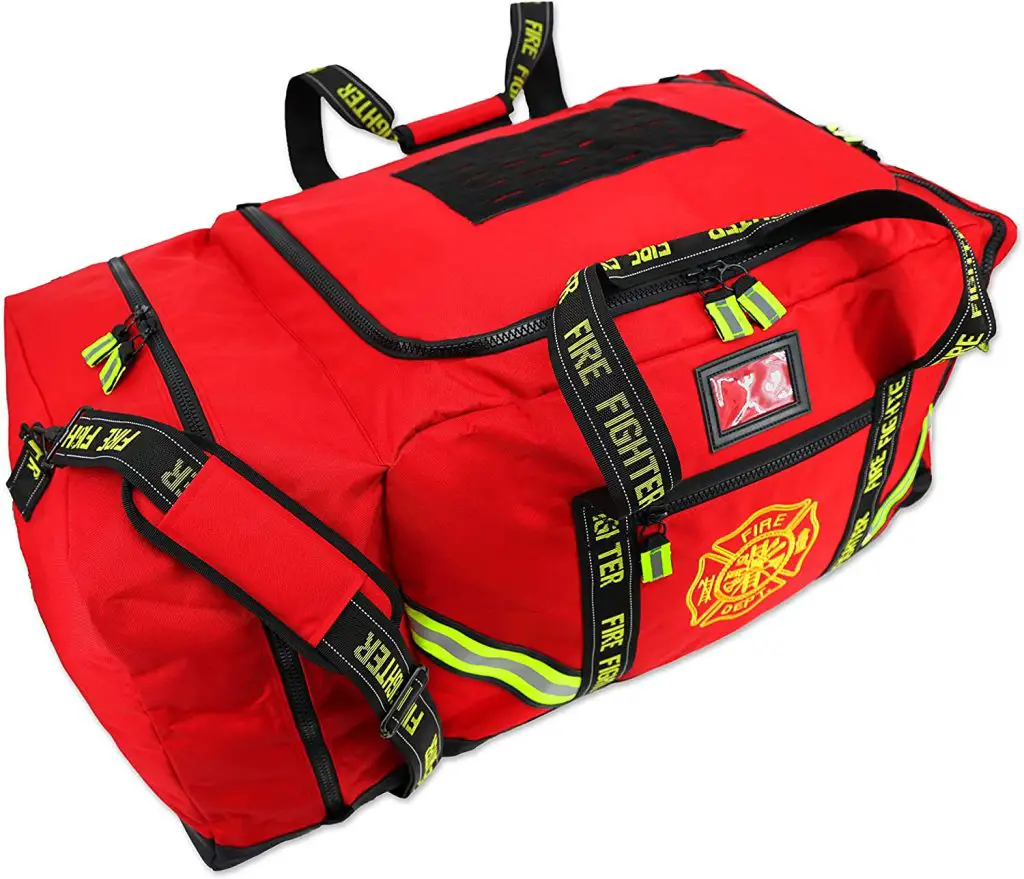 For example, some companies make backpacks and duffel bags from the durable, heat-resistant material of firefighting suits.
In addition, Fireman gear is also called PPE (Personal Protective Equipment), worn specially by Fire Fighters when responding to fire emergencies, it could be in the form of clothing or firefighters equipment.
With Fireman Gear, Firefighters can comfortably protect themselves from flames, smoke, heat, falling debris, and other hazards.
Finally, we can boldly say that Fireman gear typically includes a helmet, protective coat and pants, gloves, boots, and a self-contained breathing apparatus (SCBA) that provides fresh air to the firefighter while working in smoke-filled environments.
LYNX DEFENSE BACKPACK
The Lynx Defense Backpack is 100% handcrafted in Sanford, North Carolina, USA, they're made with the highest quality of material.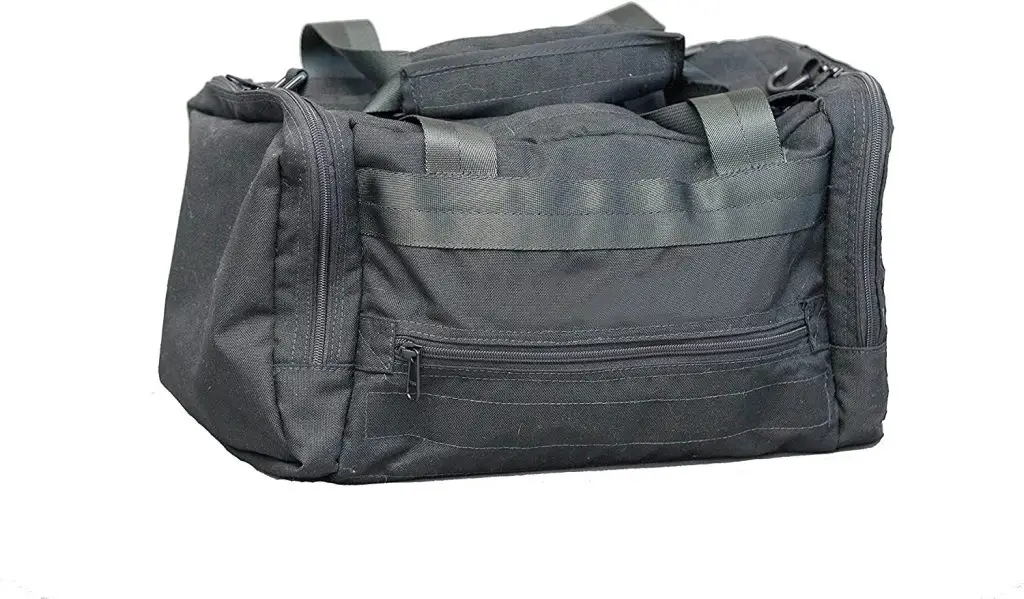 The Lynx Defense Backpack is a type of tactical backpack designed for military, law enforcement, and civilian use. It is designed to provide rugged durability and ample storage for a variety of gear and equipment.
Aside from Everyday carry bags, they also manufacture tactical cases, pistol range bags, and discreet cases.
The Lynx Defense Backpack is made with 90% 500 Denier Cordura and 10% Packcloth Nylon giving it the needed durability for every outdoor task.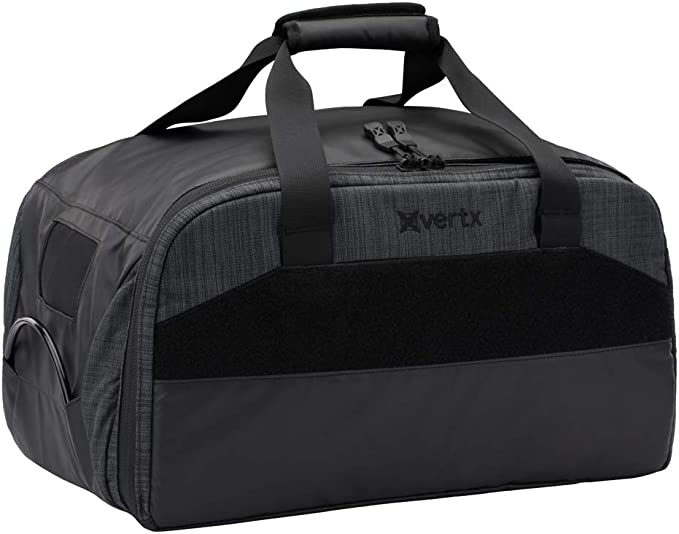 It has a built-in detachable rollout gun mat and features a MOLLE (Modular Lightweight Load-carrying Equipment) webbing system that allows users to customize the backpack with additional pouches and accessories.
Finally, the Lynx Defense Backpack is designed with a main compartment, a smaller compartment for organizing gear, and multiple exterior pockets for quick access to frequently used items.
BEST BACKPACK FOR CZ SCORPION
CZ Scorpion is a popular firearm platform produced by the Czech company Česká zbrojovka (CZ).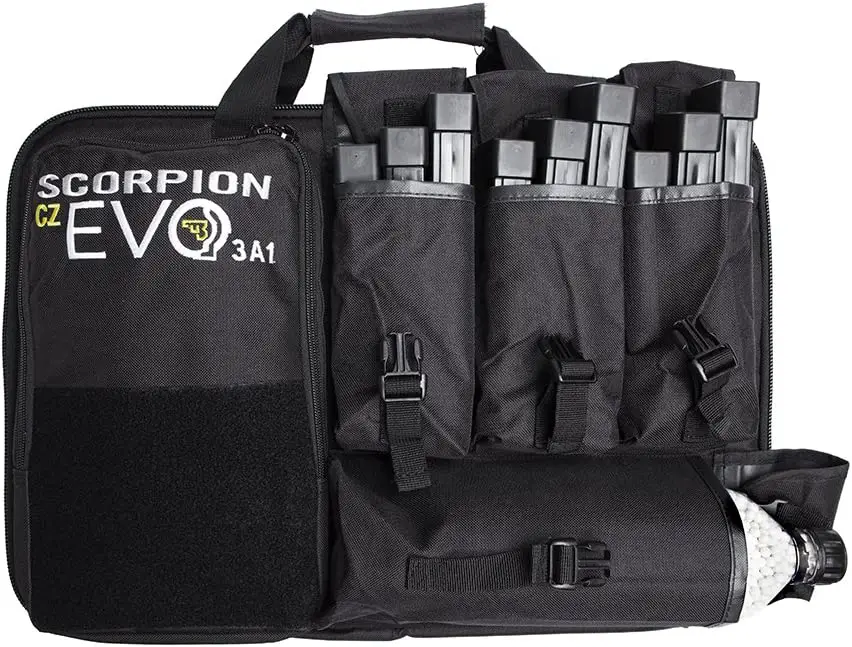 It is a compact and lightweight semi-automatic pistol or carbine that fires 9mm ammunition. The CZ Scorpion is designed for a variety of uses, including self-defense, target shooting, and even competition shooting.

As for the best backpack for a CZ Scorpion, this depends on individual preferences and needs.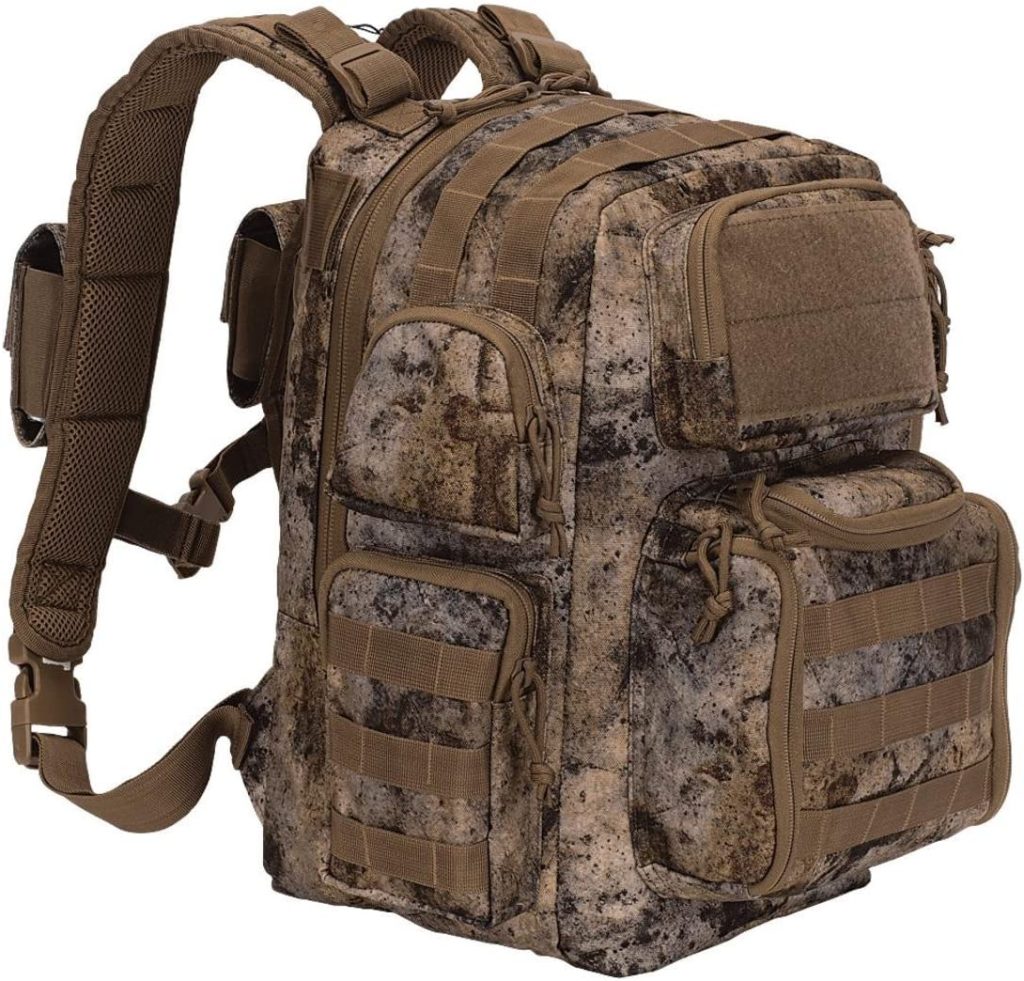 A few things to consider when choosing a backpack for your CZ Scorpion include the size of the firearm, the amount of storage you need, and the level of protection you want for your firearm.
Some popular backpack options for CZ Scorpion owners include the;
Scorpion Evo 3 – A1 Bag w. custom foam inlay
The 5.11 Rush 72
Case Club Case fits CZ Scorpion EVO 3 S1 Pistol or S2 Pistol Micro in Pre-Cut Waterproof Pistol Case
Ultimately, it's important to choose a backpack that fits your CZ Scorpion securely, while also providing ample space for any additional accessories or gear you may need."
WHAT DOES EDC STAND FOR?
EDC can have different meanings depending on the context. However, based on the context we are writing which is bag;
EDC Stands for; Everyday Carry – refers to the items that people carry with them on a daily basis for personal use, such as wallets, keys, phones, pens, notebooks, and other small accessories.
Apart from the above, EDC can also stand for;
Engineering Design Center – refers to a research and development center that specializes in engineering design and innovation.
Economic Development Corporation – refers to a non-profit organization that promotes economic growth and development in a specific region or industry.
Event Driven Computing – refers to a programming paradigm that involves the execution of software code in response to specific events or triggers.
HOW BIG SHOULD AN EDC BAG BE?
To begin, there are various types, sizes, and designs of EDC bags, the size of an EDC bag depends on the number of items you want to carry and how you plan to use the bag.
However, we recommend 30L to 45L Sze capacity of the EDC bag because it can accommodate most of your essential items and you can meet most of your needs for traveling, hiking, and other outdoor adventures.
VERTX TACTICAL GEAR CARRY BAGS & PACKS