Canvas vs Leather bag which would you choose? Let's remember that what we regard as best is highly dependent on our individual choices or preferences.
However, we can't still neglect the fact that quality plays a greater role when it comes to preference.
Would you prefer something inferior over something else of better quality?
While your first answer will be a YES in capital letters, the cost can also lead you into making choices that are beneath your standard.
Table of Contents
IS LEATHER OR CANVAS BETTER?
Leather and Canvas which is better? Both bag materials are ideal and unique in their own ways.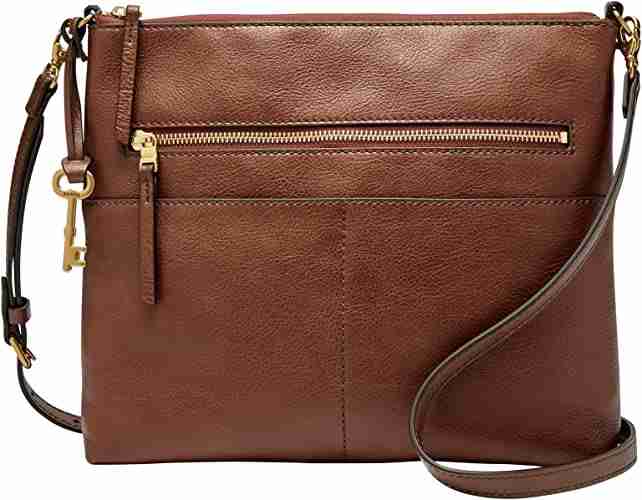 When it comes to durability, both materials top the chart. They are regarded as tough materials with high quality and can stand the test of time and harsh weather.
However, there are a few things about leather bags. Leather bags can expire and when they do, they tend to peel.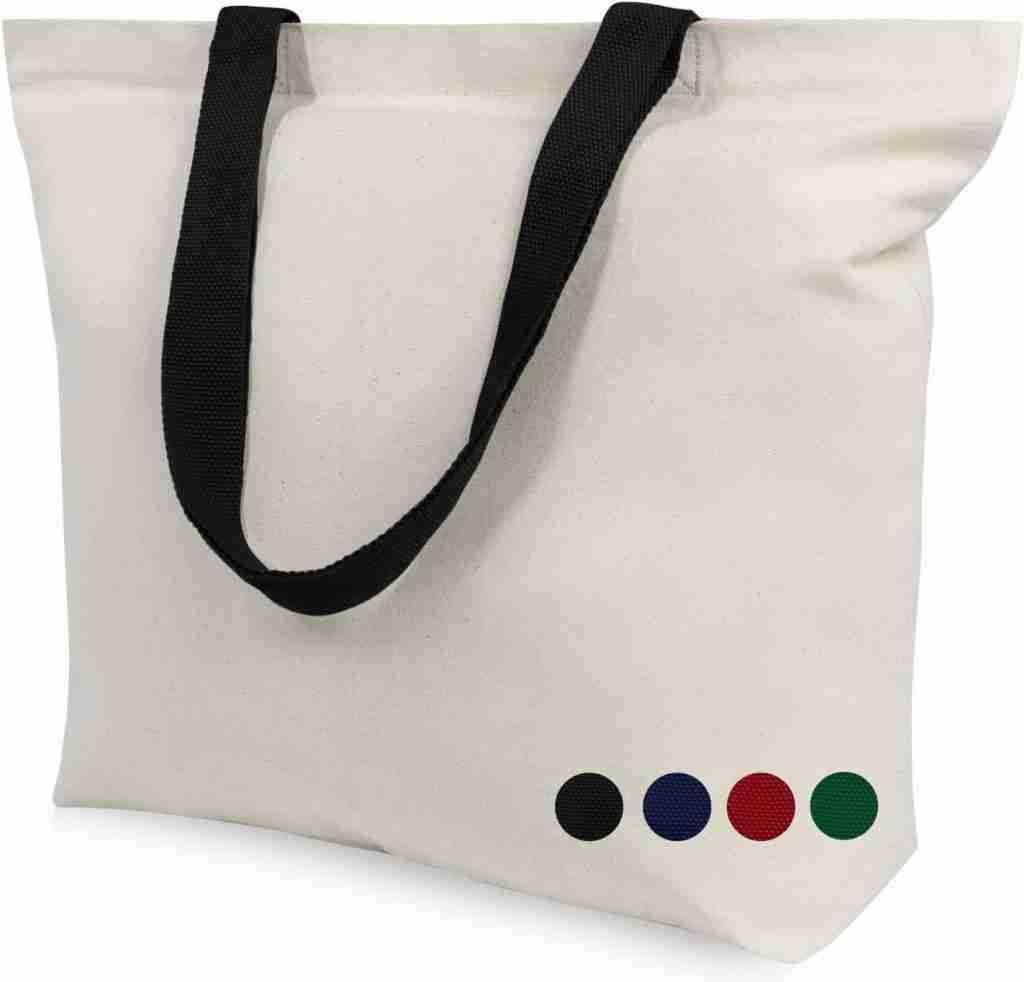 Leather bags are also not waterproof although there are several ways to prevent them from moisture. One such way is by lamination.
RELATED: WHAT MATERIAL IS A CANVAS TOTE BAG
RELATED: BENEFITS OF CANVAS TOTE BAGS
CANVAS VS LEATHER BAG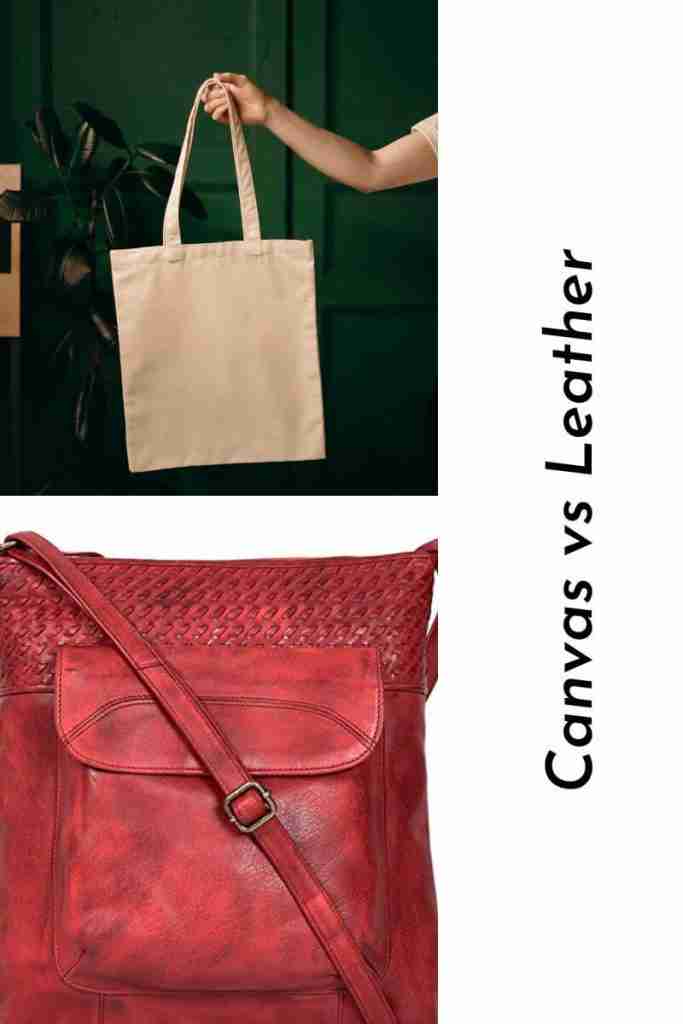 Below is the difference between a canvas vs leather bag;
| | |
| --- | --- |
| CANVAS BAGS | LEATHER BAGS |
| Fiber | Animal skin |
| Rough surface | Smooth and sometimes silky surface |
| Waterproof | Poor resistance to moisture |
| Has the tendency to stretch, though this is very minimal | Has the tendency to stretch |
| Hardly peels | Peels when it expires |
| Can warp when misused | Can warp when misused |
WHAT LAST LONGER CANVAS OR LEATHER?
Durability is not just a function of quality. A percentage of the responsibility to make your bags durable rests on you, the user. In other words, how a bag is maintained will go a long way to determine how long that bag will last regardless of the material in question.
I've seen some people who will use paper bags for close to or even more than a month and these paper bags will be as good as new.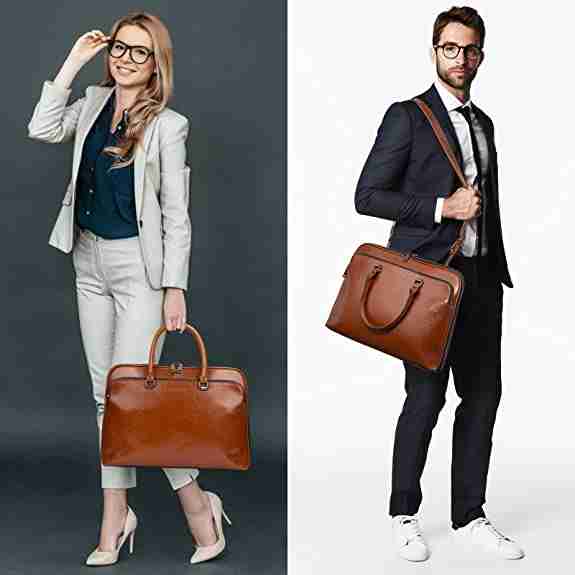 Let's see a few tips that can help your leather and canvas bags last longer;
Do not artificially dry your canvas bags after washing. It's true that they are tough and resilient but let's remember that they are cotton and can shrink when exposed to too much hotness. It's best to air dry them after washing.
Abstain from the use of hot water when trying to clean your leather bags. This process will cause more harm than good.
If you must use something above the regular temperature, then settle for warm water. If you've been washing your leather bags with hot water and nothing happened to those bags, you were probably saved by the grace that comes with ignorance, if there be anything like that.
Do not overstock your leather bags with too many things especially pointy objects like pins or needles. Tiny little holes all over your bags ain't ideal if you are interested in maintaining poise.
Have you ever heard of plastic boxes or bags used in storing bags?
Well, you are lucky if you've not heard. Plastic bags or boxes are not ideal for storing your canvas bags.
They can cause things like mold on your bags.
Lastly, handle your bags be they leather or canvas material with care. It's not safe to take a bag's tough demeanor for granted. Even the toughest bags can tear when roughly handled.
WHAT IS CANVAS LEATHER MADE OF?
Canvas bags are made of a special type of fabric often gotten from fine linen and cotton. These fabrics are usually durable and woven together to look tough and resilient.
A canvas bag material just like every other material used in making bags is a fabric woven out of cotton and linen used in the making of bags.
Unlike some other bag materials, canvas material is regarded as one of the best materials used in bag making.
This is because, the material is known for its toughness, resilience, and ability to stand the test of time and weather.
IS CANVAS STRONGER THAN LEATHER?
One can't say that canvas is stronger than leather. The leather by design is naturally stronger and weightier than canvas.
The canvas material is usually sturdy but lighter than leather. Most people like canvas bags because of their light weight and durability in comparison to other bag materials.
IS LOUIS VUITTON CANVAS OR LEATHER?
Most Louis Vuitton bags are coated canvas but there are other designs made from leather. Let's say the brand is a go-getter of quality and this greatly affects its choice of materials.
But the most important thing to note is that the Louis Vuitton brand is known for utilizing materials such as coated canvas, leather, and exotic skins.
It's not compulsory to use just one material in the manufacturing of bags. The Louis Vuitton brand can utilize up to two or even three different materials in one bag design.
There are bag designs that are a combination of both leather and coated canvas. Cases like this can cause users to argue about which material was used.
WAXED CANVAS VS LEATHER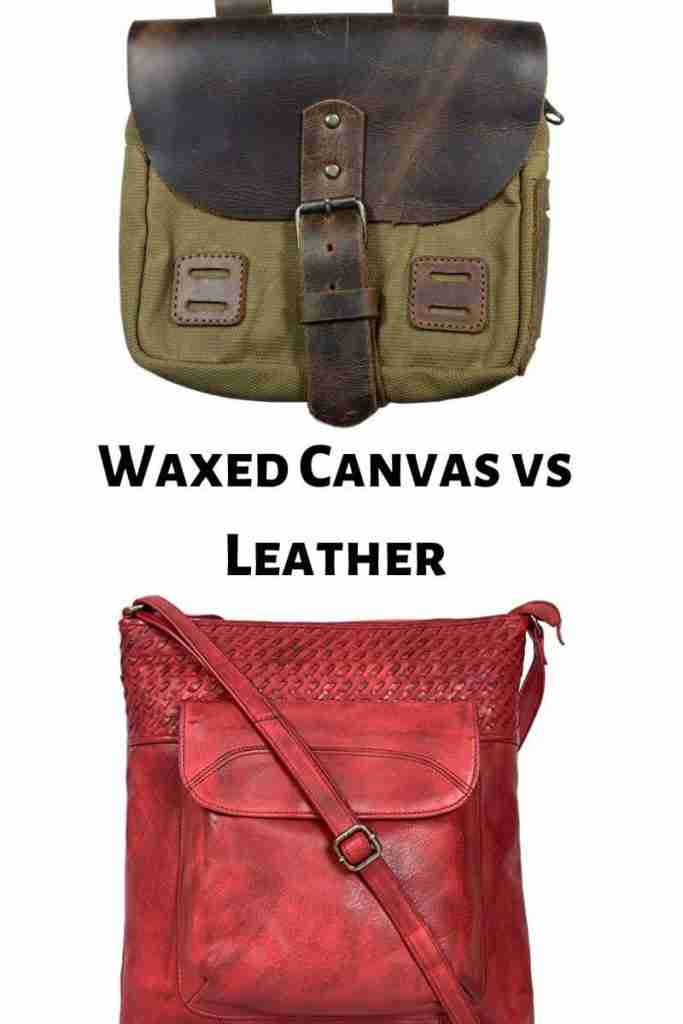 Below are the differences between waxed canvas and leather;
WAXED CANVAS
LEATHER
Great resistance to water
Poor resistance to water
Great resistance to stains
Can get stained easily
Re-wax for maintenance
Thorough cleaning for maintenance.
Use leather cleaning equipment to be safe
Durable
Durable
Light
Weighty
CANVAS VS LEATHER DURABILITY
Both bag materials are durable however leather materials have poor water resistance which can make them less durable than canvas.
There are good quality leather materials that are even more durable than canvas, the important thing is the ability to deduce when a material is counterfeit or original as this will help us make the right choices.
CANVAS VS LEATHER LOUIS VUITTON
Louis Vuitton bags are generally coated with canvas or leather. Both materials are good with great quality and are designed with beautiful patterns that are alluring and eye catchy.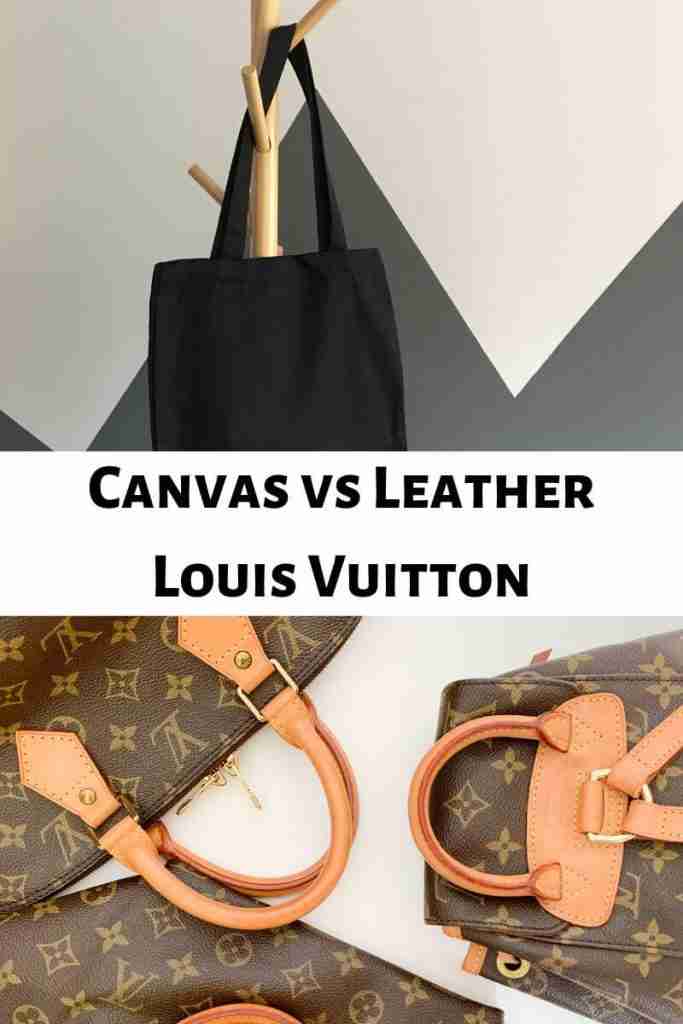 However, choosing between both bag materials to know which one best suits your taste can hinge on a lot of internal and external factors.
Some of the internal factors could be a personal choice, cost, beauty, color, pattern, and other factors. Whereas the external factors can be the seller's ability to convince, peer pressure, and fashion trends amongst other factors.
CANVAS VS LEATHER WALLET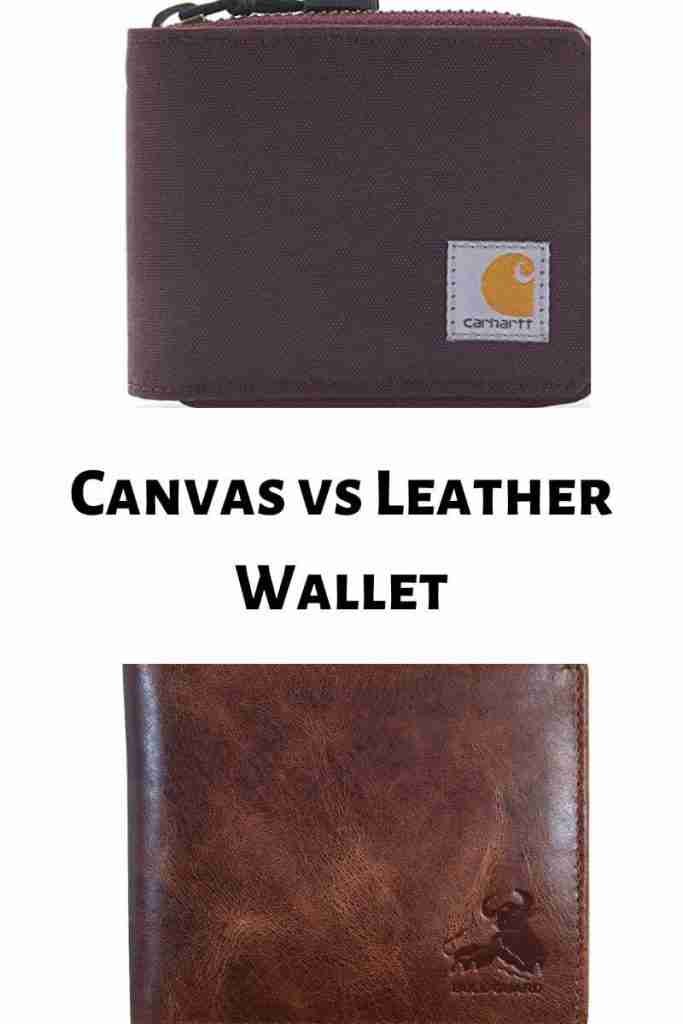 See below the difference between canvas wallets and leather wallets;
| | |
| --- | --- |
| CANVAS | LEATHER WALLET |
| Great resistance to water | Poor resistance to water |
| Portable | Portable |
| Flexible | Flexible |
| Sporty looking | Casual looking |
| Durable | Can peel due to overuse |
CANVAS VS PU LEATHER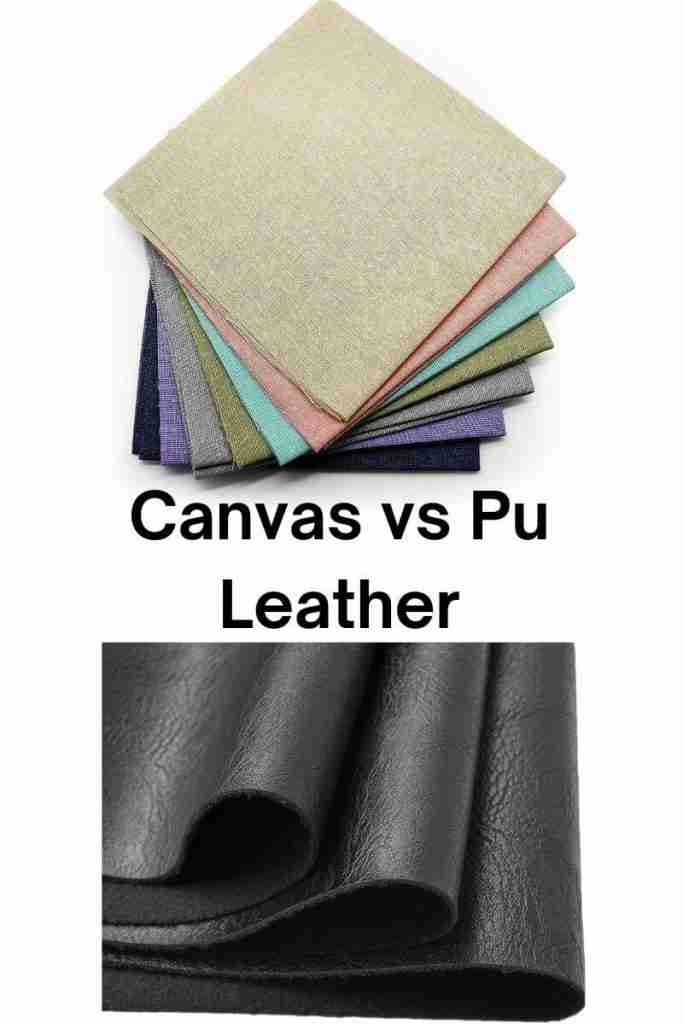 See the difference between canvas and PU leather;
| | |
| --- | --- |
| CANVAS | PU LEATHER |
| Fiber | Synthetic |
| Rough surface | Almost as smooth as rubber |
| Natural | Artificial |
| More durable | Durable but crack over time |
| Lesser chance of skin irritations | Lesser chance of skin irritations |
| Fashionable | Fashionable |
| Washable | Washable |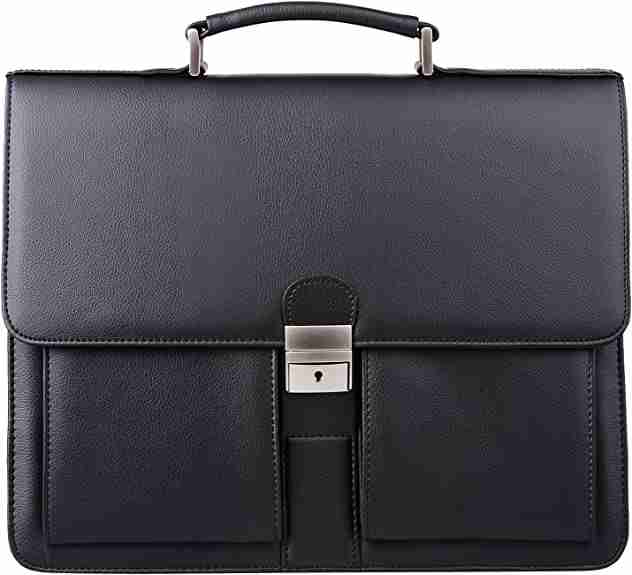 IS COATED CANVAS BETTER THAN LEATHER
The coated canvas is better than leather when it comes to durability and maintenance.
Coated canvas for instance can withstand rain and all manner of weather but the same cannot be said for leather.
Stain removal is also easier with coated canvas than with leather.
However, the leather material is known for its charm, elegance, and quality as well.
CHOOSING THE RIGHT BAG FOR YOU – LEATHER BAGS VS CANVAS BAGS