I understand how it feels when you know that the ultimate style statement that women make wherever they go is carrying a purse and here you are dressed in your unique style and trying to figure out how to carry one with a short handle; how awkward this can make your outfit & accessories look out of place!
Well, you don't have to worry anymore because, in this article, I will show you how to carry a purse with short handles and multiple ways to do so! As well as how you can add to the strap length of your purse to look even more dazzling if you want to!
Table of Contents
WHAT DO YOU CALL A HANDBAG WITH SHORT HANDLES?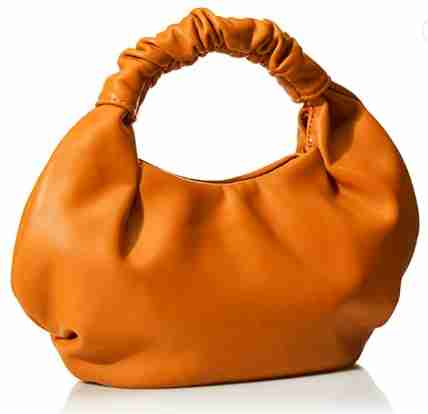 A handbag with short handles which is also known as a mini bag or 'micro bag'(this may appear smaller in size) are a small version of the handbag. Sometimes they are slightly larger or palm-sized. A handbag like a mini bag has a proper handle/strap.
HOW TO CARRY A HANDBAG WITH SHORT HANDLES
A handbag with short handles should be held in your hands or carried in the crook of your arm.
HOW TO CARRY A PURSE WITH SHORT HANDLES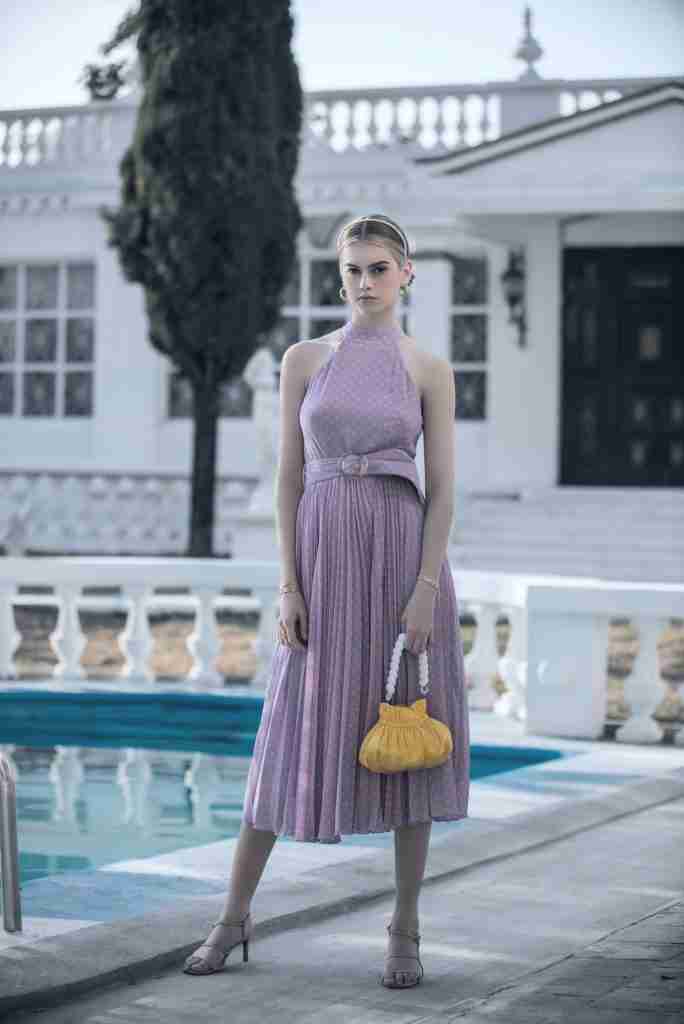 There are 4 ways to carry a purse with short handles. They are:
The step-to-step instructions are below:
The first way will be The Dangle.
Step:
1. Hold the purse by its small handle and let it dangle by your side.
The second way is The Modesty Hold:
Step:
Hold your purse simply by one handle and bring it to your stomach.
The third way is called The Majesty Clutch. Royals love to hold purses this way to avoid shaking hands with people.
Step:
This is where you hold your purse by clutching the handles with both your hands.
You hold the purse in front of your stomach.
The fourth way is called The Classic Hold.
Step:
Rest your purse in the sweet fold of your elbow, which gives it enough support that frees your hands. The purse will just dangle by your arm.
HANDBAG ETIQUETTE
a. The first etiquette we will look at is the Dignified Department:
Let's look at carrying shoulder bags here, when it comes to it, there are formal rules to it which are:
 – You need to grasp the center of the front strap while you are in motion; this keeps your purse firmly in place.
b. The second will be Watching Your Back.
– When it has to do with life in general, infringing upon another person's personal space is not right so also it is for your bag
– Watching your back requires carrying a handbag close to your body, e.g. large totes, so that you don't hit or brush someone. This can also save you from people who pickpockets!
c. Pleasantries are great so prepare for them!
– Hold your handbags in your left hand or arm.
– Free your dominant hand for handshakes, waves, and signature signing.
d. This fourth one sounds funny but true! Clean Up Your Act.
It's unhygienic to place your clutch purse on your underarm; never do it! I know when you are holding a glass of wine and you are approached for a handshake, it can be tempting to put your clutch in your underarm. A warm day makes this act even worse so you don't end up transferring germs.
The truth is it's called a clutch purse because it is designed to be in your hands.
Good etiquette for a clutch suggest you hold it in front of you with both hands and with your fingers facing downwards or It can be in one hand by your side.
e. Are you all dressed up with nowhere to go? Well, I've got something right here for you.
Ideally, your handbag is designed to match the dress code of an event.
E.g.  Bags made of raffia and Satchels are not ideal formal wear.
If you are a professional, an overly embellished bag would not be your go-to- choice in your work environment.
f. Evening dinner engagement
– You should place your bag on an empty chair; don't place it on the floor, tabletop, or the back of a chair – this can obstruct a walking path. Having a snazzy purse hook to hang your bag off the edge of the table is a bad idea too.
g. This is about no peeking.
Good purse usage is a huge way of protecting your modesty as a lady in terms of preventing wardrobe malfunctions. E.g. If your skirt is short, you can place your purse in front of your exposed thigh.
HOW TO CARRY A SHOULDER BAG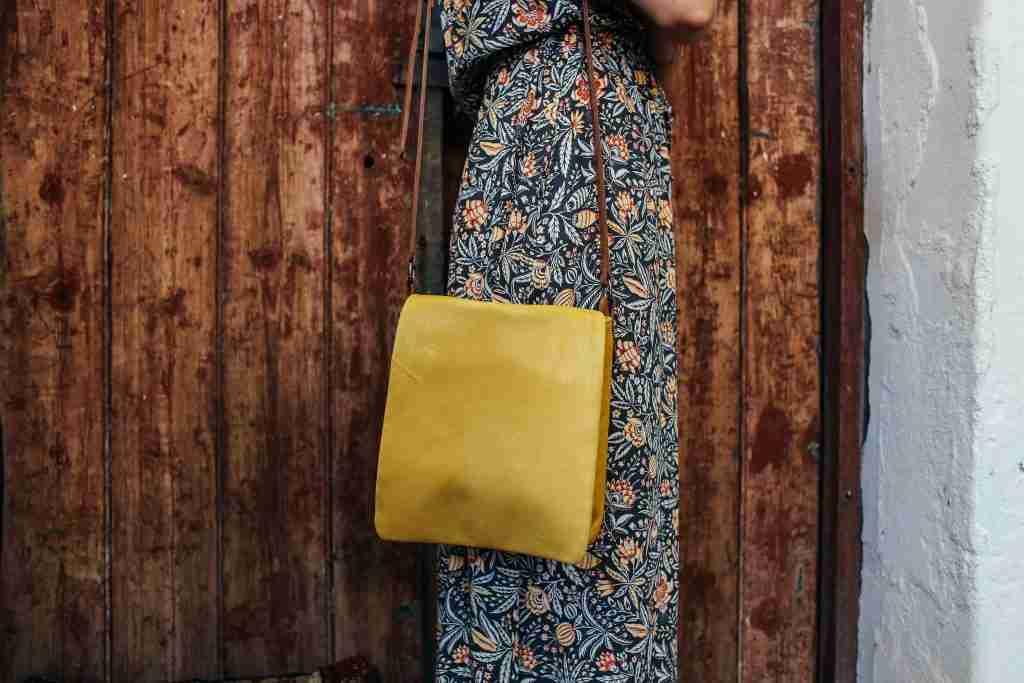 Shoulder bags are cool and more regular for women these days because of their capacity.
Another way to know a shoulder bag is that it has different sections and one main and other multiple zippers.
Step 1
You should hang the main pouch near your hip area it makes you reach the bottom of the bag easily.
 Step 2
You will need to pick a classic style for either casual occasions or a briefcase style for formal affairs.
You can select a professional leather shoulder bag or an informal canvas bag.
Leather can be expensive and formal whereas Canvas bags are much cheaper and more casual. You may consider Faux Leather which can be cheaper than leather bags.
If you don't have Canvas, Nylon bags might just be fine.
Step 3
You would have to consider your body type before choosing a shoulder bag you want to carry; so choose a bag size that matches your body type.
Check the capacity of the bag and check what you want to be loading in the bag (e.g. laptop) before flinging it over your shoulders.   You must note that larger bags fit larger frames while smaller bags fit smaller frames. Always remember to alternate it on your shoulders to ease off weight pressure.
Step 4
You can consider picking features such as Velcro for quick access to items or clasps for secure closure.
Bikers can consider getting a waterproof bag in case of bad weather, bikers can also get a bag with reflective patches to make them more visible in traffic.
For students, carrying a shoulder bag with laptop protection or one that has multiple pockets for more storage will work just fine.
The method for Casual Wear is as follows:
Step 1
You should use a canvas shoulder bag when you're wearing t-shirts, jeans, or cargo pants for a perfect casual outing. You can errand carrying them.
For vacations, you can easily put your passports, tickets, and other essentials. This bag can pass for a gym bag too. So you may consider a smaller canvas shoulder bag for vacations to avoid bulky stuff.
If you are wearing a button-down shirt or some knitwear this bag can work.
Step 2
To mimic the casualness of the outing, you will need to wear the strap over one shoulder and across your body.
Step 3
You will need to rotate your back while riding a bike or motorcycle by wearing it as a backpack. It makes your ride easier without clutters.
Also, ensure that the strap is tight so it doesn't clap around when you riding. Keep it light too.
The method for Leather Shoulder bags is as follows:
Step 1
This type is better for professional spheres and schools. It shows you are ready for business as it gives off the same formal look as an actual briefcase. Classic ones too!
Step 2
You will need to choose a neutral-colored bag that matches as many outfits as possible.
A neutral color is versatile! Black, Brown, and Grey works always for many outfits especially if you are just starting with a bag purchase.
Just the same way you do with jewelry, do so with your shoulder bag and see how stylish you'll look!
Step 3
If you want to appear chicer, you would have to select a bag with fewer pockets on the outside of the bag.
You can make it light to appear stylish as the bag will appear sleeker.
Step 4
If you want to appear more professional, you would have to wear the bag to the side or carry it by its handles. Look businesslike!
If you want to wear it over one shoulder and you don't want the bag to flail around, you will need to make sure the strap is pulled tight to your body.
If you also want to carry the bag by the handles, it will be great to take the shoulder strap off to avoid clutter.
HOW TO CARRY A TOTE HANDBAG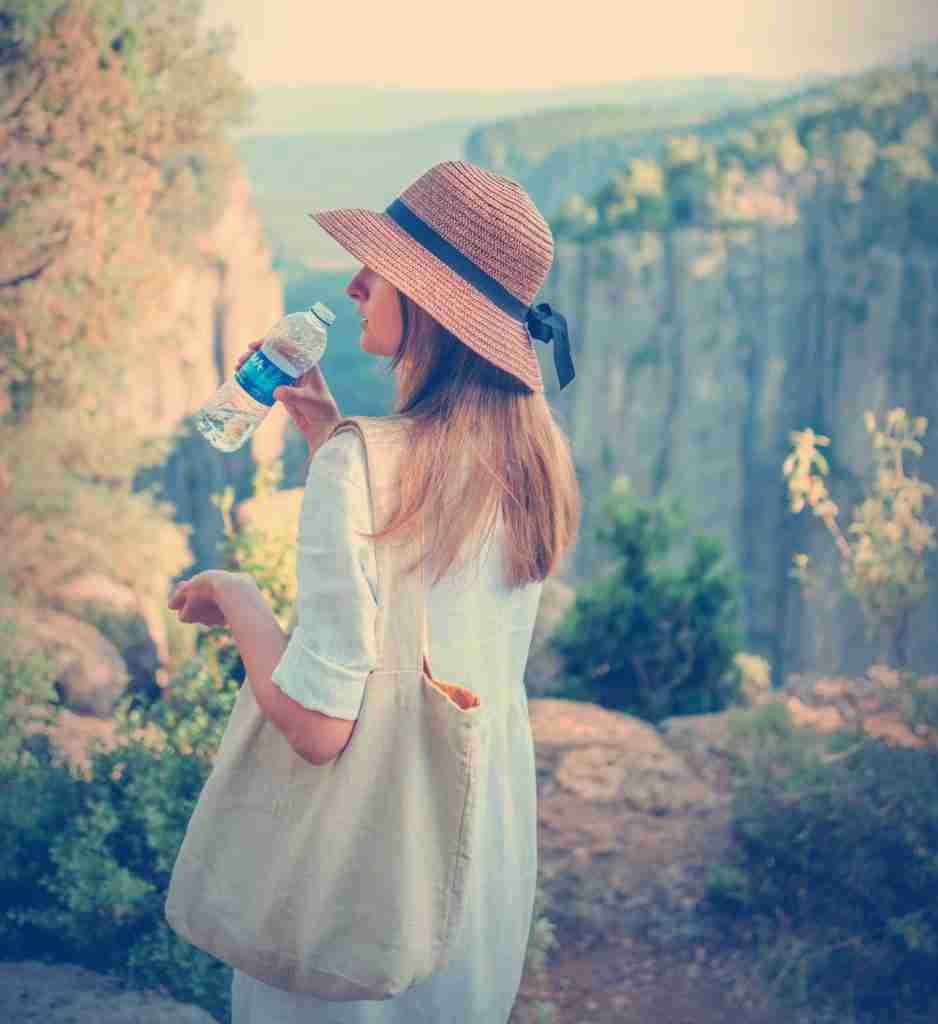 Below, you will find steps on how to carry a tote handbag:
Sling it over your shoulder
Alternate every 10-15minutes on your shoulders
Choose the one with a wider strap.
Consider carrying smaller ones sometimes with smaller capacities to eliminate pressure.
More details:
Tote bags are commonly used because you can easily load them and sling them over your shoulder.
The thing about loading your shoulder bag is that you have to consider how much pressure and the weight you are carrying on your shoulder.
So you should get a smaller shoulder bag that can contain a smaller capacity for your health's sake.
However, if you like the big ones, it's advisable to alternate them between the shoulders every 10 to 15 minutes so that the pressure is not much on any of your shoulders.
Another thing to consider is the width of the shoulder bag's straps before you make a purchase. Truth is, the wider straps disperse the weight better, which makes carrying the handbag a lot more easily and more comfortable.
Check out the fitting of the shoulder bag on you before you buy it so that you'll keep looking great in your unique style.
HANDBAG ETIQUETTE FORMAL DINNER
It's important to know your handbag etiquette for a formal dinner. Let's talk about where to place our evening bags!
Whether it's a formal or a semi-formal dinner, the rules below apply.
There's a rule of thumb for almost everything and exceptions too, so handbags are not excluded; the rule of thumb is for you not to hang your bag from the chair but rather place it on your lap, with the napkin placed over it, or behind the small of your back against the chair.
An exception to the above rule.
In the case of a fundraiser, museum, or restaurant public outing, and maybe you have a special sparkly evening bag, then it's fine to place it on the table above the place setting to avoid service clutter.
You know what? To make it easier, another thing you can do is take a cue from the hostess of the event before placing yours.
But for private dinner parties, you should not place your evening handbag on the dining table.
HOW TO CARRY A SMALL HANDBAG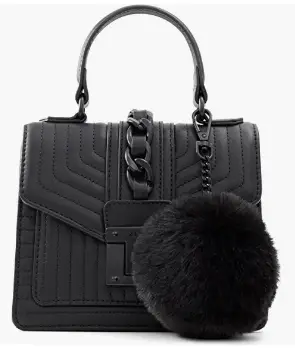 Below are steps showing you how to carry a small handbag:
When carrying your small handbag, make it a habit to maintain a straight elegant posture always.
Walk tall and always tighten your muscles around your torso and hold the handle of your handbag in your left hand, this keeps your arm relaxed and poised by your side.
Walk light. Try not to overstuff the small handbag.
To maintain a straight posture while seated in public places, place a smaller bag on your lap or place your bag behind you so you can feel it as you sit.
Carry your small handbag in your hand and let it fall from your side.
In a crowded place, to show mindfulness to others, always hold your bag in your hand and even bring it to the front.
If you want to have a majestic look and walk majestically, you have to modestly hold your beautiful handbag in the front using one hand, preferably the left hand.
To have a celebrity look, you have to hold the handles of your handbags with both hands while standing.
To look gorgeous & prestigious, you can hang it from the crook of your elbow.
For a small handbag that has a crossbody style, dangling your handbag around your neck will work just fine; this will make it pass across the body and under one arm for it to fall to your front body, back or side.
To make a quick statement with a small handbag that is a shoulder style, the strap should easily dangle over your shoulders.
HOW TO HOLD A HANDBAG CORRECTLY
Below are steps on how to hold a handbag correctly:
Step 1
Avoid choosing handbags with thin straps
Step 2
Avoid placing your handbags on the floor
Step 3
Alternate bags
Step 4
Alternate your top-handle bag handbag between your left & right hands
Step 5
Always consider your body frame before you choose a handbag.
Step 6
If it's a crossbody bag, hang the strap across your body.
Step 7
Try not to carry your backpack on one shoulder.
HOW TO HOLD A CLUTCH BAG PROPERLY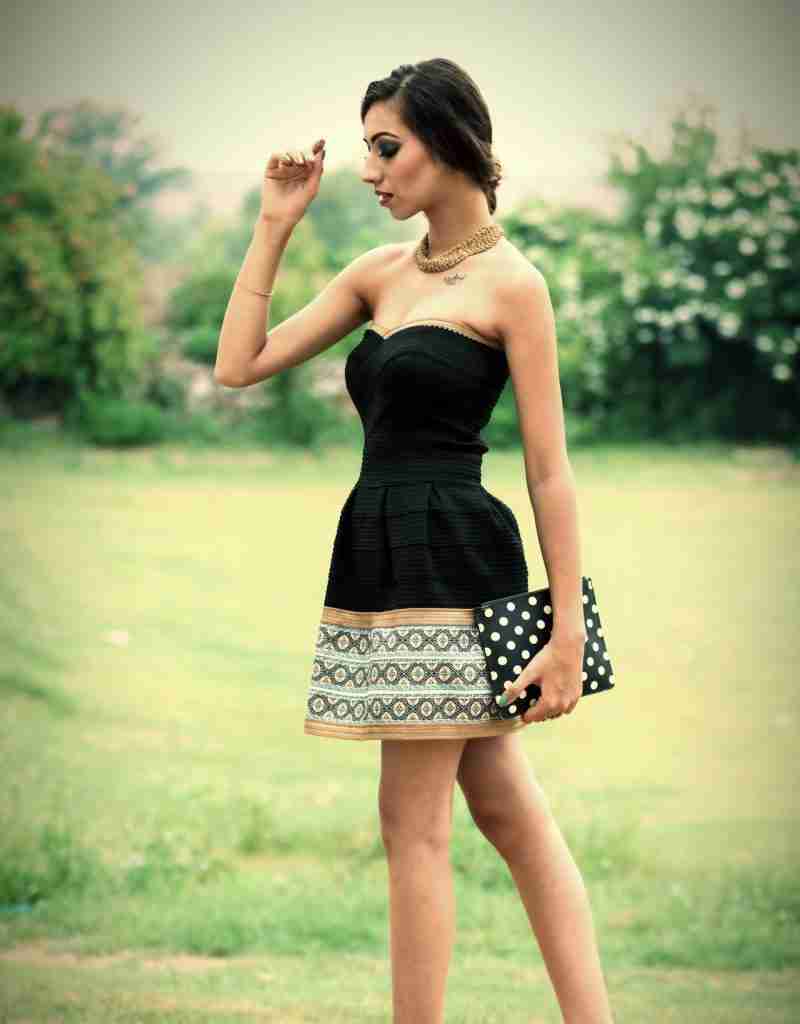 Clutches are small bags that come in different forms from minaudières, envelopes, handbags, and purses; clutches have been around for decades.
The styles are both for formal evening wear and outfits on casual days.
Let's quickly look at the proper way to carry a clutch bag:
Step 1
Strapping on your clutch purse makes it easy to wear. You can use detachable straps that are in leather or chain forms. Just sling it on your shoulder and be on the go.
You could see decorative clutches with finger or knuckle adornments – special handles.
Step 2
It's called clutch for a reason, for you to get a grip of it.
It can be held from the bottom you can place your hand over the top while your arm should be by your side. You can also hold it with both hands in front of your body. You can carry them in your hands if it's oversized.
Step 3
Let your clutch complement your outfit as a great accessory. Sleek and streamlined clutches can complement a dress that has an intricate design or a bold pattern.
HOW TO WEAR A PURSE WITH A LONG STRAP
Below are steps on how to wear a purse with a long strap:
You can wear it over the back; this is like the traditional way of carrying the bag to walk freely.
You can wear it around your waist as the whole idea is for putting only essentials to meet urgent needs.
CONCLUSION
It's been quite a long walk through and I am certain that your needs are met as this is a detailed answer to how to carry a purse with short handles and more!