Have you ever worn your "crossing bag" and just thought to yourself, "Why do I get some kind of cool feeling whenever I wear this bag and not my regular backpack"?
Or have you ever asked why crossbody bags are easily preferred for party outfits and not backpacks? Also, how should a crossbody bag sit best on a person's body?
Well, ask no more for the answers to your questions that have been found in this article. Some persons or regions fondly call "crossbody bag "crossing bag". Don't be alarmed, it is one and the same thing.
So, if you're a lover of crossbody bags do make sure to glue your eyes to this article to the end so you understand the best position for your crossbody bag to sit when you wear it.
Table of Contents
WHY THE CROSSBODY BAG IS POPULAR?
Crossbody bags have remained a popular style for Lots of men and women for several years now, and for good reason.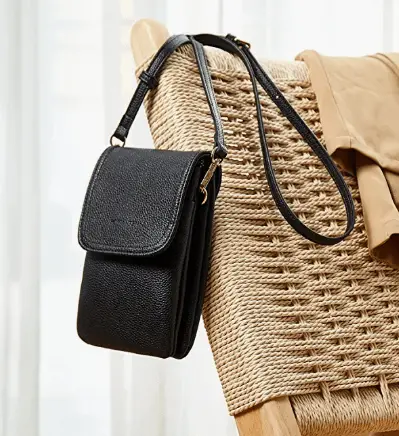 The classic crossbody bag is a wardrobe-old staple that should be second to none when it comes to functionality and style than the standard top-handle bag but with much more versatility and ease of wear.
They are hands-free, low-profile, and don't have to be taken off the body, making them ideal for those who are prone to misplacing things. What's not to love about them?
HOW SHOULD A CROSSBODY BAG SIT?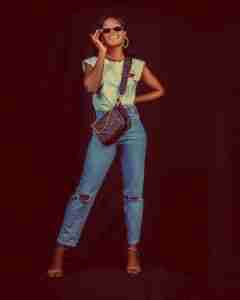 The best position a crossbody bag should sit is preferable just above the hip so as to be easily accessible so you don't jostle the bag and its content so much.
Furthermore, before you consider wearing a crossbody bag, you should think about the length of the strap.
If the strap length is too long or short, it could be uncomfortable and have an inconveniencing effect on the body so basically, a crossbody bag should sit just above the hip so as to be easily accessible.
HOW TO WEAR A CROSSBODY BAG FOR GUYS
To begin with, as a man you should always consider how long the crossbody bag is, the shape and size of your bag, and how it applies to your lifestyle because this affects how a man chooses to wear his crossbody bag.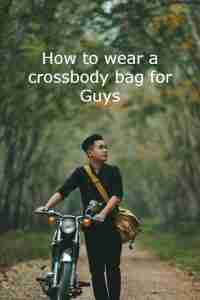 For men, who are lovers of crossbody bags, they should make sure to adjust the straps of the bag to draw it closer to the body as possible.
The bag shouldn't be placed higher than the lower back or worn at the hip level if it would get in the way of your walk: this is the best way to wear a crossbody bag as a guy.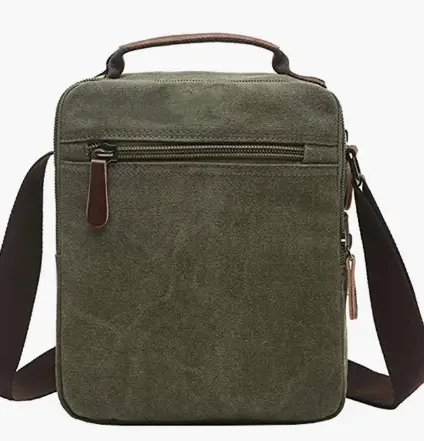 As a man, do you like to carry all of your essentials with you in case of emergencies? Or do you think less is more when it comes to your bag contents? Make sure you pick a crossbody bag that meets these needs.
You may also want to think about the material of your bag before purchasing, as some materials can withstand the elements better than others.
The most important factor to think about is the length of the strap.
A strap length that's too short or long can be inconvenient, uncomfortable, and even have an unflattering effect on the body.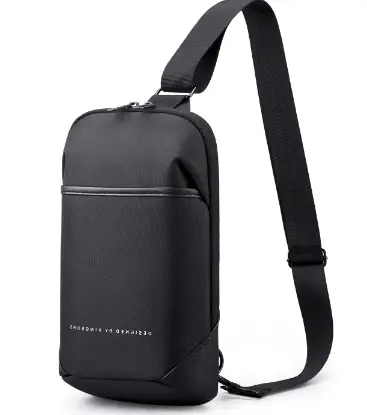 Ideally, your crossbody bag should hit just above the hip. This allows it to be easily accessible and prevents your hip from jostling around the contents too much.
Crossbody bags differ in size, shape, and models and it is actually worn according to each person's taste but there are still some speculations about how a crossbody bag should be worn.
Since crossbody bags are usually worn with the strap placed around your body, it's important to consider the fit of your bag.
HOW TO WEAR A CROSSBODY BAG AS A BACKPACK?
The fashion wizards of TikTok showed us that your classic mono-strap bags can be turned into a backpack. Any bag you own with one strap can be turned into a backpack which is also very cost-effective too.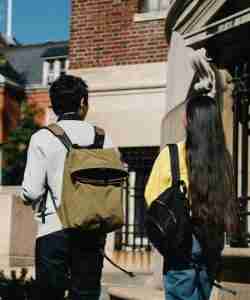 If you want to wear your crossbody bag as a backpack, it's relatively easy, you just have to bring your crossbody bag to the front of your body.
Place the strap of your bag over your head. Then you take it over your head to your back and then viola! Your crossbody bag has been converted into a backpack.
The backpack bag hack is pretty useful when you don't what to lose track of your thing or misplace your things while taking a toll in a park, travel vacation, tour, or any outdoor event and vice visa this bag pack can be worn the front for further security reasons, to guard the content of your bag.
HOW TO TURN A CROSSBODY INTO A SHOULDER BAG?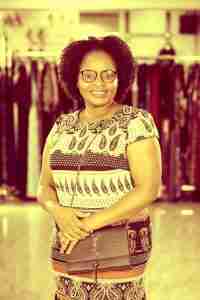 For those who would want to convert their crossbody bag into a shoulder bag, you just simply shift the shoulder strap to a considerable length and wear it by the side of your body as a shoulder bag.
ARE CROSSBODY BAGS IN STYLE 2O22?
It doesn't take much convincing to get us to want a new bag. The excuse of a new season is pretty much all we need; for example, you might be looking to find cute summer bags we can wear well into fall.
A crossbody bag is massively in vogue in 2022, not only because we have a lot of modernized variety but also because they are absolutely functional and protective from theft and misplacing your essentials items while helping you have them handy and compact in one sling bag; the current silhouette on our wish list is the classic crossbody bag.
Not only are they versatile and stylish, but they're also so convenient to carry. Plus, these days, so many crossbody bags also come with top handles or shoulder straps, so it's kind of like buying multiple bags in one.
While some do come almost like a backpack, making it easier for men and women to wear them as sling bags on casual and other loose outfits in a stylish way when going for a walk, Traveling, Vacation, Party, hangout, Events, and various outdoor activities.
Yet putting a  confident trendy look and yeah still in vogue they gain the advantage of the functionality and protective nature of Cross bags by having all your essentials compact rather than being constantly worried sick of misplacing their essentials and still not overpacking but taking along only necessities.
So, Crossbody bags are a timeless accessory that compliments an array of outfits. Pair your crossbody bag with different coats, shirts, and dresses to form different outfits. Experiment with different bag positions and strap lengths to create different looks.
Be creative and express your own personal style!
WHAT TO PUT IN A CROSSBODY BAG?
There are several items or collections that can fit perfectly in a crossbody bag.
If you're going for a casual walk, you could put your smartphone, reusable face mask, a bunch of keys, hand sanitizer, a cardholder, and maybe a bit of cash in case of an emergency.
If it's a little more informal or for a party, some sunshades, lipstick, pressed powder would be fine, and other personal kinds of stuff you own.
SHOULD MEN USE CROSSBODY BAGS?
Of course, men's use of crossbody bags is stylishly competitive to those of ladies if I was, to be honest.
HOW TO WEAR SHOULDER BAG STREETWEAR?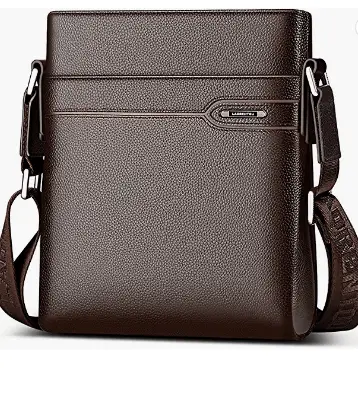 If you want to wear your shoulder bag streetwear, wear the bag to the side or by its handles. If wearing over one shoulder, make sure the straps are tight enough but if carrying the bag by handles, do take off the shoulder strap so it doesn't flap around.
HOW TO WEAR A SMALL CROSSBODY BAG?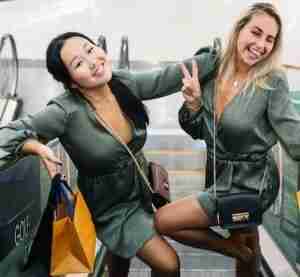 If it's a small crossbody bag, it should be located just above the hip for easy accessibility and most ideally a crossbody bag should be worn around the hips.
HOW SHOULD YOU WEAR A CROSSBODY BAG?
Let's take a look at some trendy examples of wearing a crossbody bag. As we've noted, these looks are based on the bag's body position, strap detail, and your outfit –so you can coordinate for any event or activity wearing a crossbody bag.
You can match up your cross-body bag with different coats, shirts, and dresses to form different outfits. Try it with different bag fittings and strap lengths to create different looks. Be creative and express your own personal style!
Below are 9 steps to wearing a crossbody bag:
With thin or thick straps
CONCLUSION
So, it's important to note that crossbody bags are a very essential part of today's trending fashion outfit.
For Crossbody bags to sit comfortably, they should be worn in the right place for easy accessibility of the items inside and the strap length should be taken into consideration for convenience.
Crossbody bags can be worn by all including ladies and guys and they could be converted into a little backpack or a shoulder bag depending on your taste.