What is a laundry bag used for? As simple as this question sounds, a lot can come to mind when you hear about laundry bags and what you can use them for.
Some might link laundry bags to wash bags while others will say they are different.
I used to have a family friend who used old laundry bags for a thousand and one purposes. She could store practically anything and everything in them and no one had anything to do about it.
Now, using those laundry bags for several other unrelated purposes does not change the fact that they are still laundry bags!
Table of Contents
IS LAUNDRY BAG EFFECTIVE?
There are some who believe that laundry bags are not very effective in making clothes clean.
This is because they feel that using an electronic wash method will have little effect on the clothes because the machine will not be human enough to know areas to focus attention on.
They believe that since the washing machine on its own cannot do thorough justice to the clothes in question, putting them into an additional bag before going ahead to throw them into the washing machine will be twice the harm caused.
How true is this ideology?
Well, testaments of people who are ardent washing machine users and of course laundry bag users, say that laundry bags are effective and are a lot of things that people who do not use them, can't experience with manual washing.
Examples are, the protection of clothes from getting stained, the reduced risk of losing tiny fabrics, the fact that the bags help retain the original shape of clothes, which can be lost by constant, squishing and squashing with hand and of course the fact that washing with laundry bags is less strenuous.
RELATED: WHAT CAN I USE INSTEAD OF A MESH LAUNDRY BAG
RELATED: USA MADE LAUNDRY BAGS
WHAT IS THE MEANING OF A LAUNDRY BAG?
A laundry bag can mean two things. First, a laundry bag can mean a tall cylinder-shaped bag with drawstrings or zippers, used to store clothes that are due for laundry.
On the other hand, a laundry bag can also be said to be a bag, usually in sizes, either made of mesh or woven (net) fabric, used to wash clothes in the washing machine.
Now, both definitions are both correct but contextually different. This invariably means that when trying to explain what one understands a laundry bag to be.
It's important to first clarify the context in which one speaks so that both parties are in the same reference zone.
WHAT IS A LAUNDRY BAG USED FOR?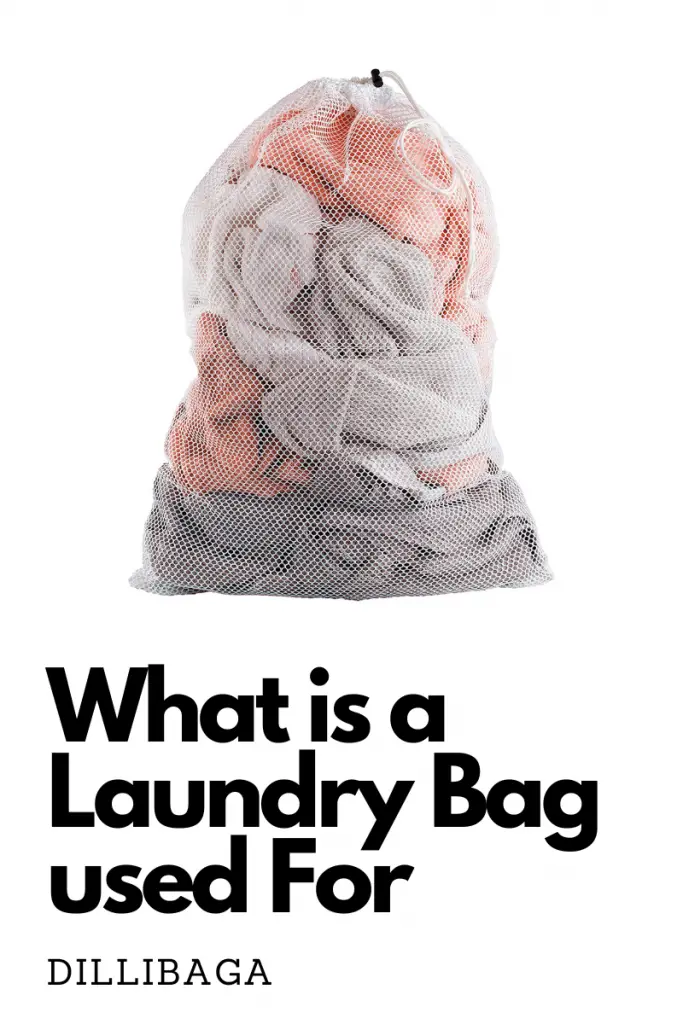 In a nutshell, laundry bags are dirty clothes bags. They are used for a variety of purposes. Some laundry bases can be converted to suitcases, but their major use can be traced back to their name. A typical laundry bag is any bag that can successfully be used to store dirty clothes that are due for laundry.
DO YOU USE A LAUNDRY BAG IN THE DRYER?
Well, there are many who use these two words interchangeably, wash bag and laundry bag.
For such people, a laundry bag is the same as a wash bag and can survive in a dryer after it's gone through the wash cycle in the washing machine.
For others who see laundry bags as different from wash bags, there's no business between laundry bags and the washing machine and dryer, unless, of course, the bags are dirty and need to be washed.
WHAT IS MACHINE WASH WITH LAUNDRY BAG
Machine wash with a laundry bag is a term used to define the use of wash bags for your laundry purposes. Wash bags are usually used with the availability of washing machines.
There's no use employing the services of a wash bag if you are going to be washing manually in a sink or with a bucket full of water. Using a wash bag or a laundry bag will cause more harm than good.
So let's say you are using a washing machine and a laundry (wash) bag, the ordeal is pretty simple;
 Fill the bag with the clothes you intend to wash
Make sure to leave some room for easy circulation and breathability of the clothes in the laundry bag.
Fill your washing machine with water, and add some soap, it could be powdered or liquid soap.
Drop your filled laundry bag inside the washing machine, then press the turn-on button and allow the cycle to take its toll on the clothes.
Viola! The clothes are neat and still intact.
MESH LAUNDRY BAG
Mesh laundry bags are usually identifiable by their net-like fabrics ad their drawstring handles or sometimes zippers.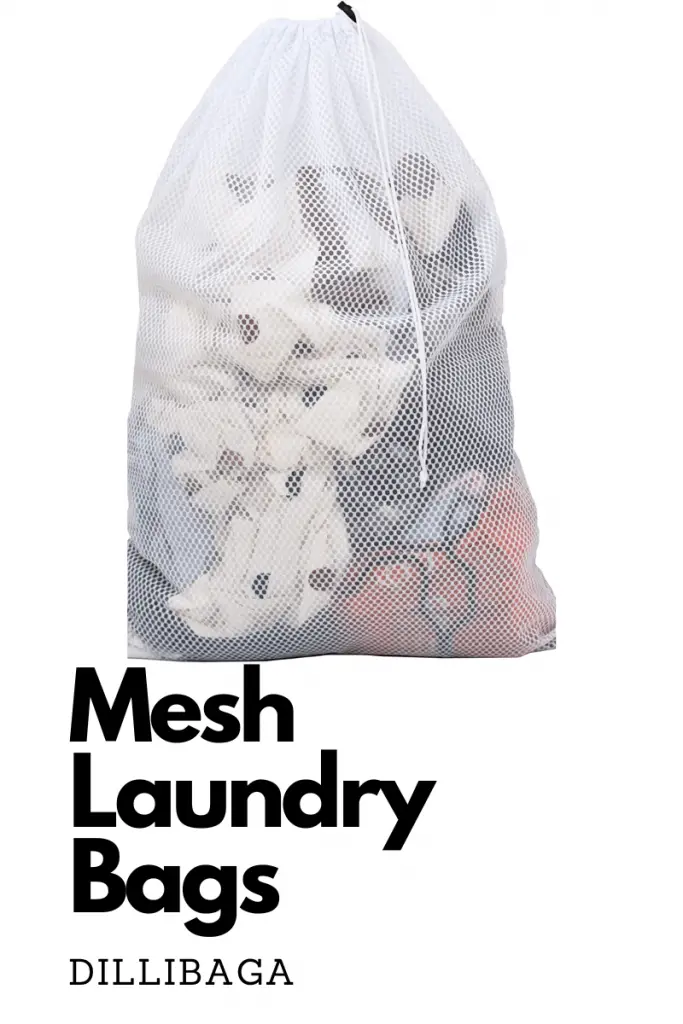 Mesh laundry bags are usually lightweight and are mostly designed to allow water and soap to seep in during laundry. Here are some of their unique features;
They have a singular color pattern, they are usually designed in neutral colors like white to allow you to see clearly what's in them and to avoid incidences where there is a color stain transferred from the bag which was to serve as protection to the clothes in it which were being protected from such occurrences.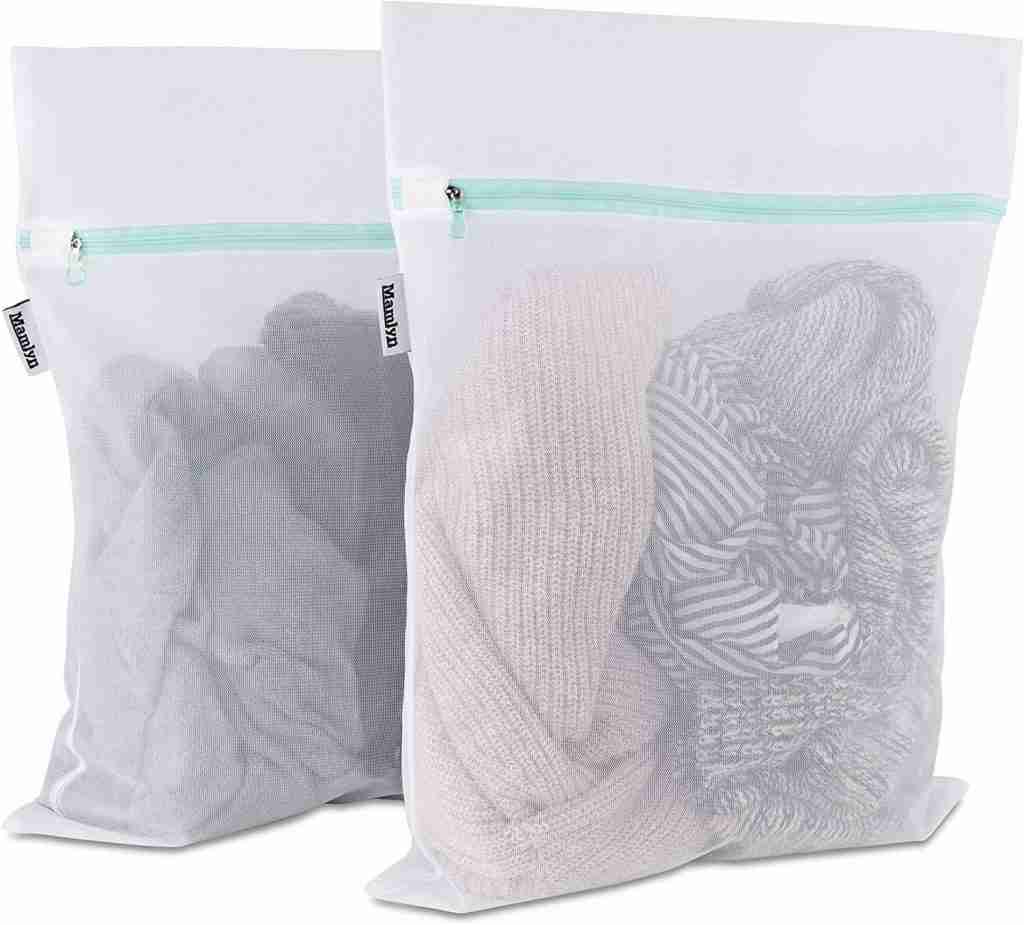 They usually have drawstrings that can be opened and closed at will.
Their materials are usually lightweight and made to look like nets for easy water passage.
They usually come with no extra pockets or compartments.
DO LAUNDRY MESH BAGS PROTECT YOUR CLOTHING?
Laundry mesh bags protect your clothing from a variety of seen and unseen endangerments. A bunch of these dangers are already well known to us but there's one danger that I felt I should focus on.
Easy wear and tear is one underrated danger that laundry mesh bags protect our clothing from.
Let's say you have a very light material, you wear this more often than the rest of your clothing, probably because it's your work uniform or just your favorite.
There's a high tendency that this particular dress will look worn faster when washed with bare hands or when thrown directly alongside other thicker materials in the washing machine.
MESH LAUNDRY BAGS FOR DELICATES
There are delicate materials that require extra caution especially when it comes to the type of wash bag that should be used specifically for such materials.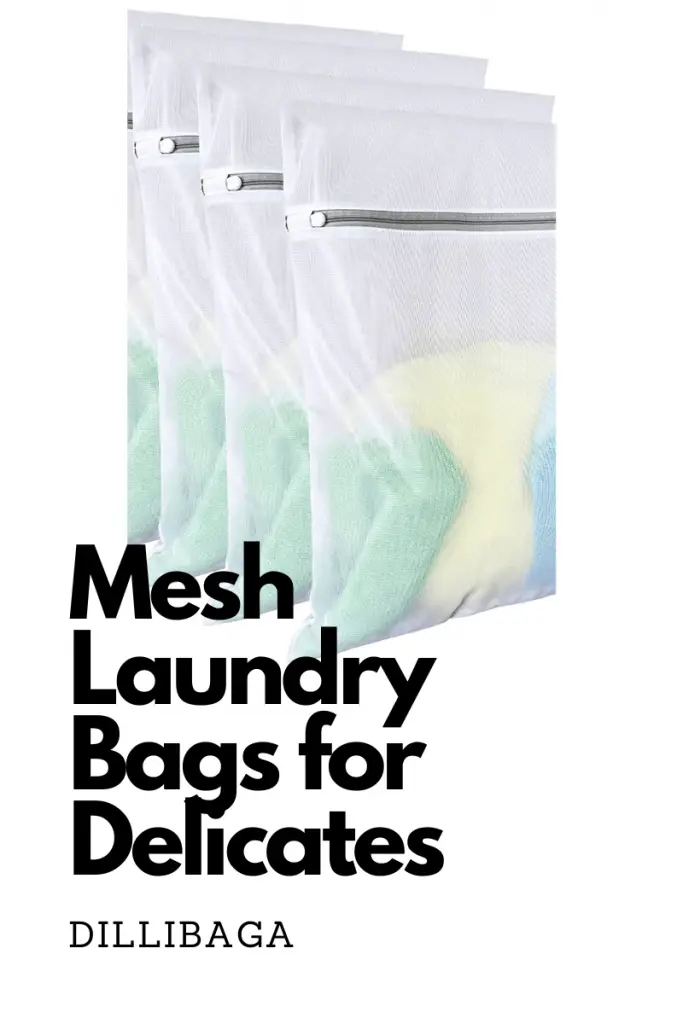 An example of such delicate materials is the female bra which comes with iron string and thick cups that do not require aggressive scrubbing.
Hence, there are mesh laundry bags designed for such materials.
The bra mesh laundry bag comes in various shapes and sizes, there are those like casings, designed to keep the bra and all its parts safe while washing and there are still others that are designed to look like either baskets or soft buckets designed to keep the bra safe while the washing is going on.
LAUNDRY PROTECTOR BAG
A laundry protector bag is any bag that can serve as an effective protection for your clothes when using the washing machine. It could be a wash bag, an improvisation for a wash bag such as a pillow, etc.
Laundry protector bags can be made of mesh, nylon, or polyester.
LAUNDRY BAGS FOR WASHING MACHINE
Laundry bags can be washed in a washing machine. However, before going ahead to wash your laundry bags it's important to find out what type of laundry bag materials they are made of and what water temperature best suits them to avoid ruining them in the process.
COMMONLY ASKED LAUNDRY QUESTIONS
CAN YOU PUT LAUNDRY BAGS IN THE WASHING MACHINE
Laundry bags are usually designed in water-receptive materials like canvas, mesh, nylon, or polyester which are very water friendly. This means that they can very well survive in washing machines.
SHOULD YOU WASH SOCKS IN A MESH BAG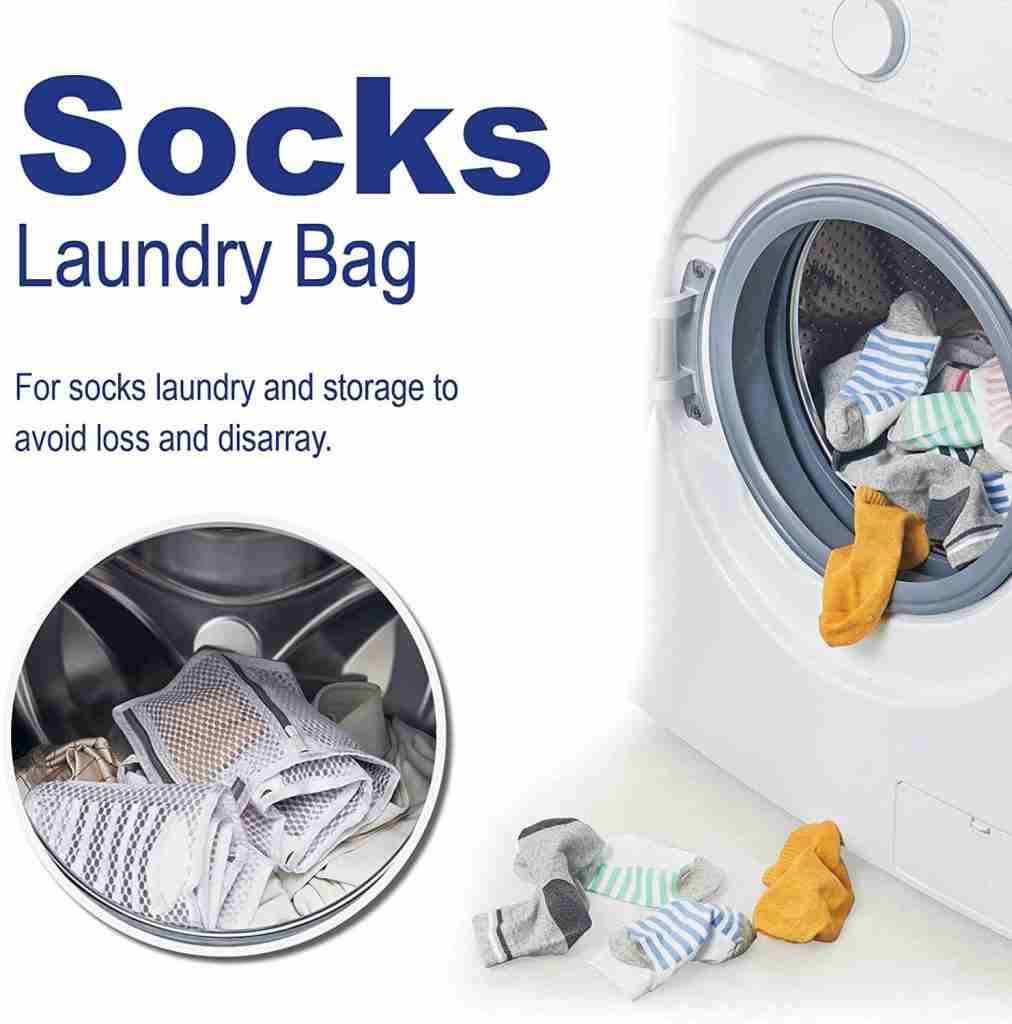 Yes, you should wash your socks in a mesh bag as Socks can be very tricky, they are not just delicate but also can they be small and difficult to find when mixed with bigger clothing.
Hence, it's better to wash your socks, hosiers, and shoelaces in a mesh bag so that they don't get lost in the washing process.
CAN YOU PUT LAUNDRY BAGS IN THE DRYER
Laundry bags can do well in the dryer. Just as they can do well inside the washing machines. The tumble dryer is suitable for 80% of laundry bags because of its design and how it is suitable for the fabrics that most laundry bags are designed with.