Interesting Question you got right here 'what size garment bag do I need? First, the size of the garment bag depends on the duration of your trip, the storage of your items, and what you be doing there.
I understand that some people put up this 'I don't care about details or 'I am not concerned about my appearance', well, most times you don't get a second chance to make a first impression.
I believe this is one of the major reasons why business professionals will go for a good-sized garment bag with high quality of course.
This is to help keep their suits in proper shape without wrinkles.
In this article, I will be showing you the garment bag size you should go for and other recommendations. Stick around.
Table of Contents
DO YOU NEED A GARMENT BAG?
Yes you do because firstly, the main purpose for using a garment bag is for transporting and storing higher value clothing, this makes your suit not too wrinkled and creased.
Secondly: You can maximize your carry space while traveling to and from.
WHAT IS THE STANDARD SIZE OF A GARMENT BAG?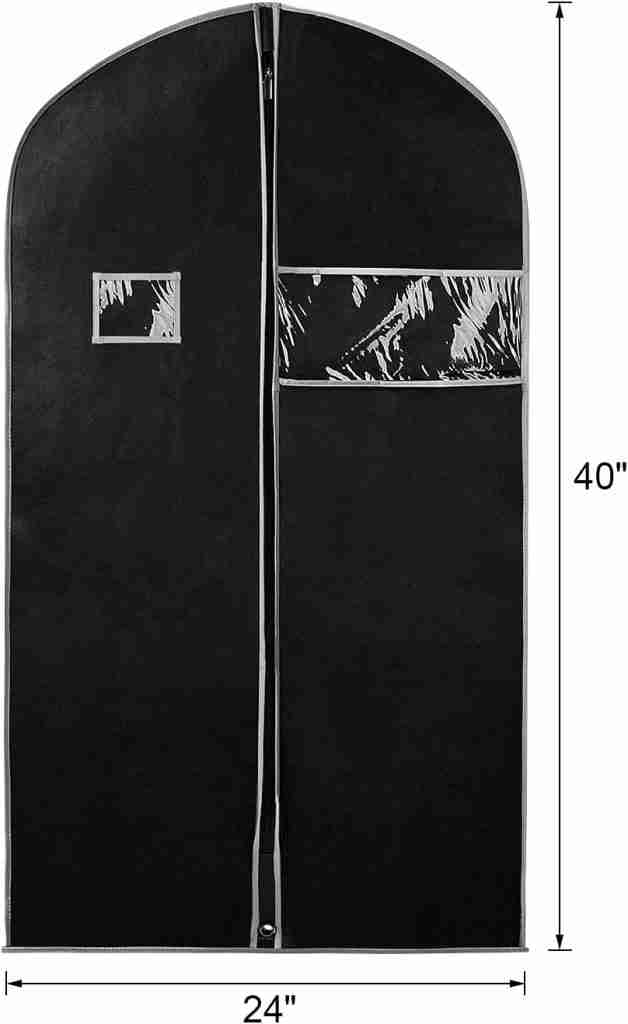 Below, you will find the various standard size of a garment bag;
54 inches (137.16 cm) 60 inches (152.4 cm)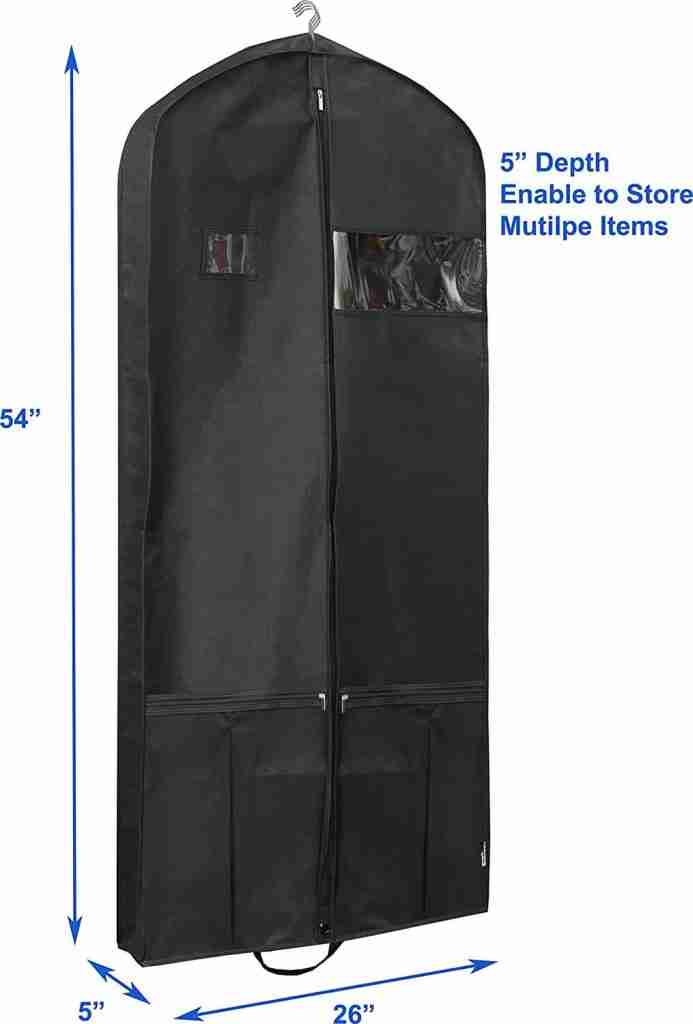 To store more garments in a single bag, gusseting allows that.
WHAT SIZE GARMENT BAG DO I NEED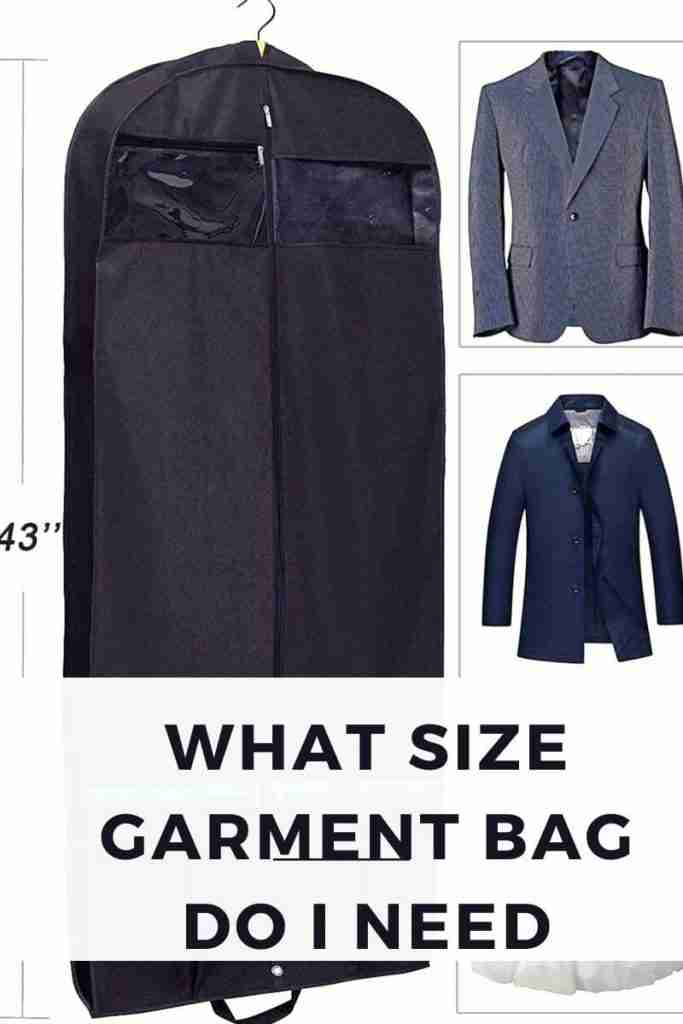 The right size of garment bag that you need will depend on whether it's for storage or traveling; both come in a wide range of sizes;
For storage garment bags, see the following sizes:
72 inches (182.8 cm) are the most common lengths of garment bags.
For the travel garment bags, see the following sizes:
40 inches (101.6 cm) or longer.
21 inches (53 cm) wide or less.
Bag dimensions should not exceed 22×14×9 inches (55.8×35.5×22.8 cm).
If you want more garments to be stored in a single bag gusset allows for that.
For instance, for two or three suit jackets, you can often find 4-inch (10 cm) gusseted garment bags that have enough room
Then for more voluminous garments, like wedding or ball gowns, many wedding gown garment bags come with 10- to 20-inch gussets.
HOW DO I CHOOSE A GARMENT BAG
It is not advisable to choose any type of clothing bag; pay attention to the material as this impacts durability; another characteristic to consider is flexibility, size, and use.
In terms of use, it is best to get a garment bag that can easily fit inside a plane and is light and not bulky. Other key factors to consider when selecting a clothes bag are as follows:
1. Go for comfort: a comfortable garment bag to carry.
2. Go for garment bags that allow you to store your shoes in your pockets.
3. Go for the one that matches your luggage.
4. Go for garment bags that make packing and hanging easy.
5. Go for garment bags that you can travel easily with external pockets.
6. Go for garment bags with quality materials.
HOW MANY SUITS FIT IN A GARMENT BAG?
Two suits or three full-length garments can comfortably fit in a garment bag.
GARMENT STORAGE BAG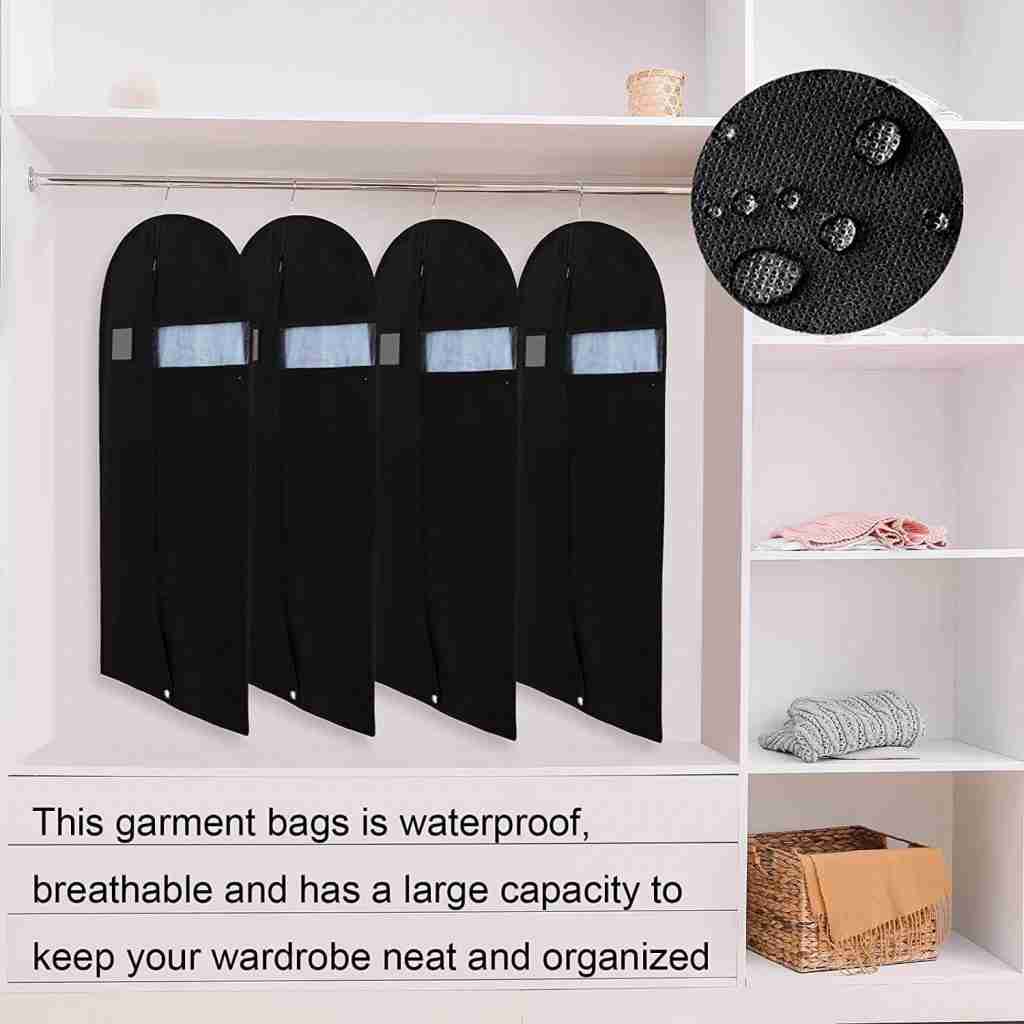 A Garment storage bag is designed to store valuable items like designer suits, wedding dresses, and couture pieces, and I have a few recommendations for you:
– Compakt Large Garment bag
– The Garment Bag (stores up to 5shirts, 2 sports, and shoes)
– Amsterdam Business Rolling Garment Bag
– Dust & Waterproof Carrier Garment bag
– Translucent Hanging Garment rack cover with zipper garment bags
– Cotton / PEVA single suit bag
– Convertible garment bag with shoulder strap
– 72″ Gown Garment bag
SHORT GARMENT BAG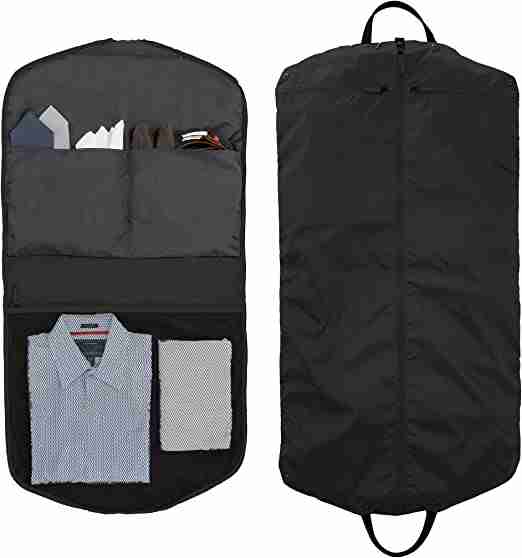 A short garment bag is a plastic, polyester or cloth bag that has a zipper closure in which clothes can be hung in a closet, especially for storage.
Dimensions:
12.00 x 42.00 x 20.00
LxWxH: 12 x 42 x 20 inches
40″ x 19″
22 x 14 x 8″ – 24 x 14 x 8″
WHAT IS A GARMENT BAG FOR WASHING
A garment bag for washing is a small zippered or drawstring bag that is made from mesh or netting which allows water and soap to still get in and out; you can put your delicate in them when you do laundry.
So you put them in the wash just like you would a sweatshirt or a pair of pants, and they're more protected from the throws of the spin cycle.
FABRIC SUIT BAG
Fabric suit bags are also known as garment bags; they are containers of flexible material, usually used to ease transporting suits, jackets, or clothing in general, and they also protect clothes from dust by hanging them inside with their hangers and in the closet bar.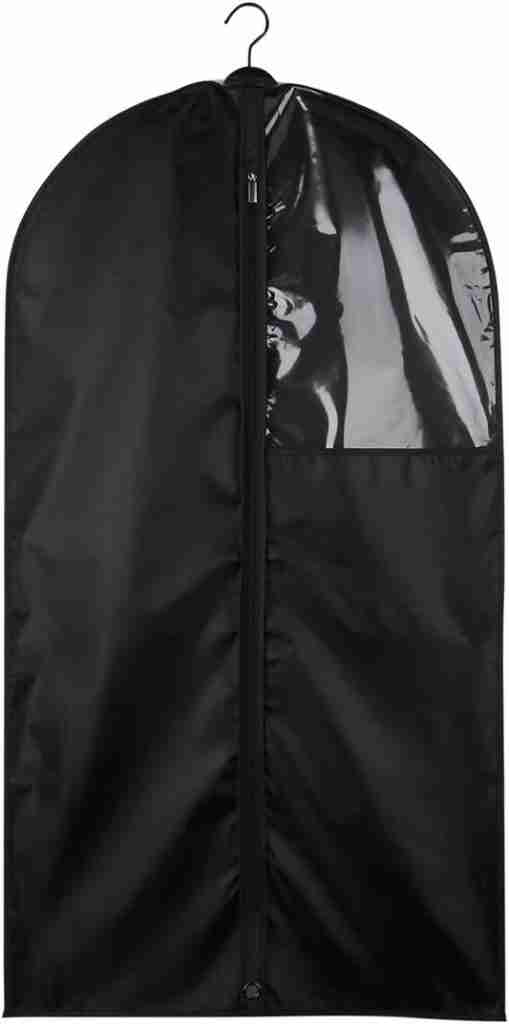 Please see how to Keep Suits in Garment Bags for a more in-depth explanation of how to store suits in garment bags.
One of the best materials for fabric suit bags is Muslin. Muslin is 100% cotton fiber which provides the best protection.
The traditional material used in garment storage bags is Muslin. It is unbleached.
We can look at good fabric suit bags to look out for:
– Extra wide unbleached 100% cotton canvas suit bag.
– 100% unbleached cotton canvas long suit or coat bag.
– 100% unbleached cotton canvas gusseted garment bags for ball gowns.
– 100% cotton canvas gusseted garment bag, medium length for 4-5 coats or dresses.
– 100% cotton canvas suit bag, natural or black.
IS A GARMENT BAG A CARRY-ON?
If garment bags follow the dimensions specified by airlines, it counts as carry-on.