How to wear a crossbody bag guys is easy but not too so easy. This is because there are so many things to consider apart from the nitty gritty of raising the bag strap and looking for how to hang it across the neck.
Let's just say that wearing a crossbody bag as a guy is one of the dopest ways to spice up your outfit but is one that comes with lots of challenges especially when it comes to making the right choice of crossbody bag that will match perfectly with your outfit.
Table of Contents
CAN A MAN WEAR A CROSSBODY BAG?
Can a woman wear pants? While there are some cultures that frown at women who wear pants, pants are still very acceptable in a number of other cultures.
In fact, there are pants designed to be worn specifically by women and if a man is seen wearing such it's either assumed that he's a cross-dresser or simply seen as absurd by others.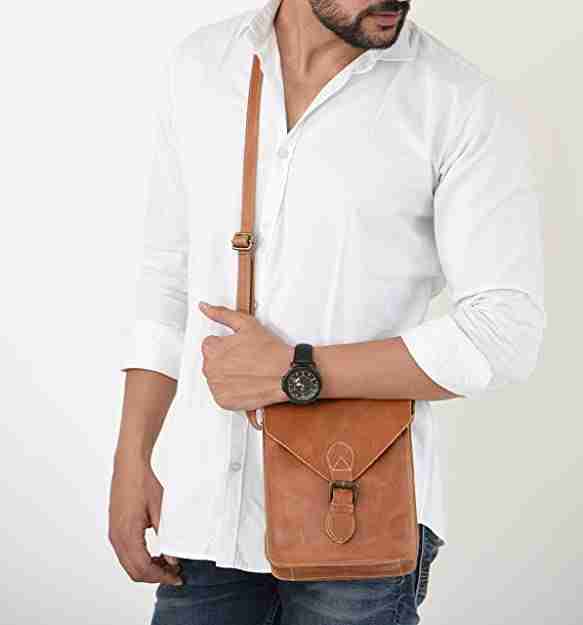 So back to the question, can a man wear a crossbody bag? What do you think is the answer to this question? Crossbody bags were not designed for any particular gender. Men and women alike love crossbody bags.
In fact, men appreciate crossbody bags more than most other types of bags because of how it is worn. It gives men a hands-free feeling.
It's cool and very fashionable to tuck your two hands inside the pockets of your jeans while carrying a crossbody bag. You should probably check it out when next you wear your crossbody bag.
WHAT DOES STRAP DROP LENGTH MEAN
HOW TO WEAR A CROSSBODY BAG GUYS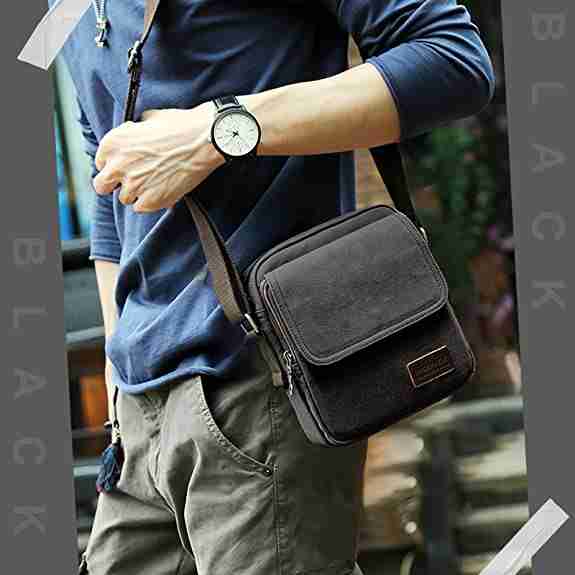 Follow the steps below that shows how a guy can easily and quickly wear a crossbody bag;
Step 1: Adjust your straps to be long enough
Step 2: Hold the straps at the top center with your left hand and raise it high above your head
Step 3: Slide in your right hand first
Step 4: Drag the raised strap over your neck
Step 5: Let the top center of the strap rest on the nape of your neck while you adjust your arms and shoulders so that the crossbody bag rests comfortably across your body.
The bag should either drop by your right hips or somewhere beneath your chest, directly atop your right ribs.
WHAT DO MEN KEEP IN CROSSBODY BAGS?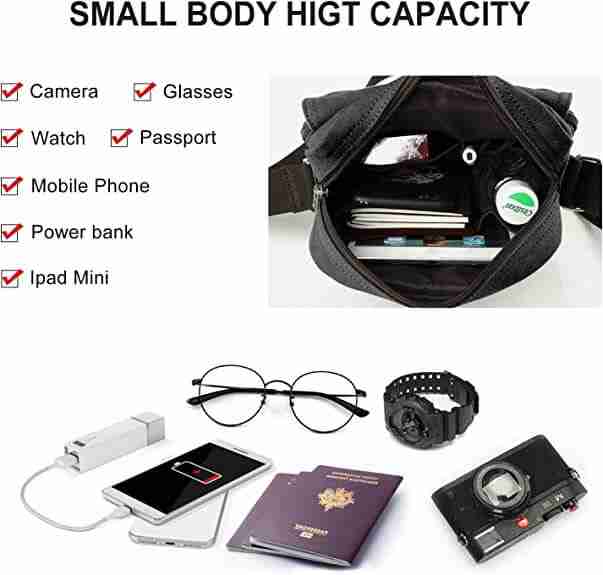 Let's take a peek inside a regular man's crossbody bag. The things you will find inside might just fascinate you
There are a lot of things that can be found in a man's crossbody bag. I used to have a friend who would always have an extra wristwatch in his bag for heaven knows why.
A packet of cigarettes and a lighter
Some tools like screwdrivers and other easily needed tools
A flash drive and a hard disc
ATM cards, ID cards, Passports, etc.
A tiny bottle of body spray that he may never use for weeks
Men are a fascinating gender and I can assure you that most men will have other crazy stuff in their crossbody bags that I have not mentioned here. But then that's why they are a special gender.
HOW DO YOU WEAR A MAN'S SLING BAG?
There are two major ways you can decide to wear your sling bag as a man and still be fashionable. You can decide to wear them as actual sling bags or you can do the crossbody style.
Wearing them as an actual sling bag will mean hanging them loosely on your shoulder. Most definitely on one shoulder. This style is best for casual outfits like shirts and jeans.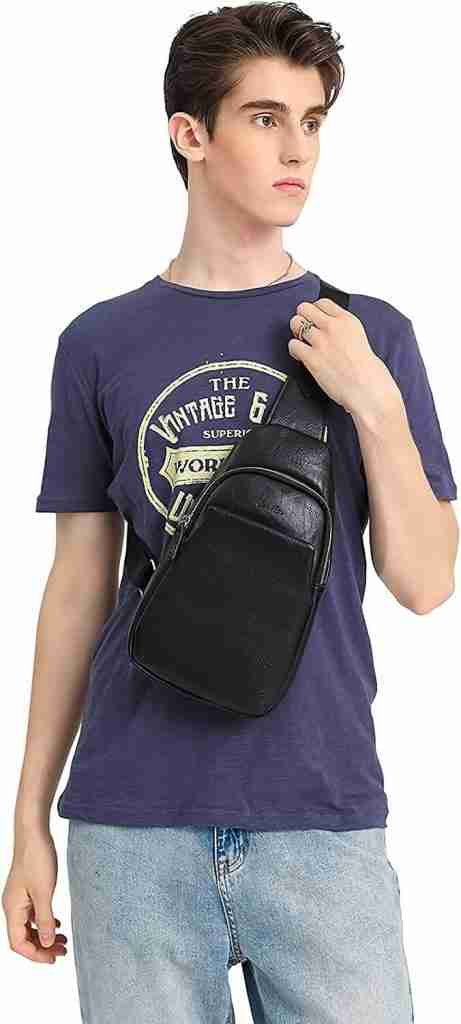 Wearing them as crossbody bags is a bit more sophisticated than wearing them as sling bags.
This is because a crossbody bag can either give you a busy look or an attractive look.
The backpack sling bags when worn as crossbody bags give men a sporty and attractive look.
There are still sling bags designed to look like satchel bags for men that can be worn on corporate outfits like suits, or shirts and pants, which when worn that way to the office as a marketer can either attract more clients or get you a promotion.
Just kidding, but let's not deviate from the fact that you can either wear a sling bag as an actual sling bag or a crossbody sling bag if the straps permit you to do so.
MEN'S CROSSBODY BAG
Men's crossbody bags, unlike women's crossbody bags that are basically handbags with very long and sometimes chain straps are of different types and designs.
It's also a known fact that most if not all of them can actually be worn by a handful of women. But for the purpose of this post, let's see them as crossbody bags for men.
Chest bags:
Small bags with short straps as seen in fanny packs and the like. However, the bag itself is bigger than the fanny pack with straps bolder than the fanny pack as well.
The manner in which it is worn is such that makes the bag hangs directly on the chest or on the back, depending on the wearer's choice.
Sling bags:
Sling bags for men are of all types. There are the ones designed to look like backpacks with single straps that can be worn as crossbody bags.
We have others that are like regular handbags for men that can still be worn as crossbody bags.
Messenger bags for men:
Men's messenger bags are of all sizes. But the ones we are most familiar with are the heavy-looking bags designed to look like briefcases or laptop bags that can be worn as crossbody bags.
Satchel bags for men: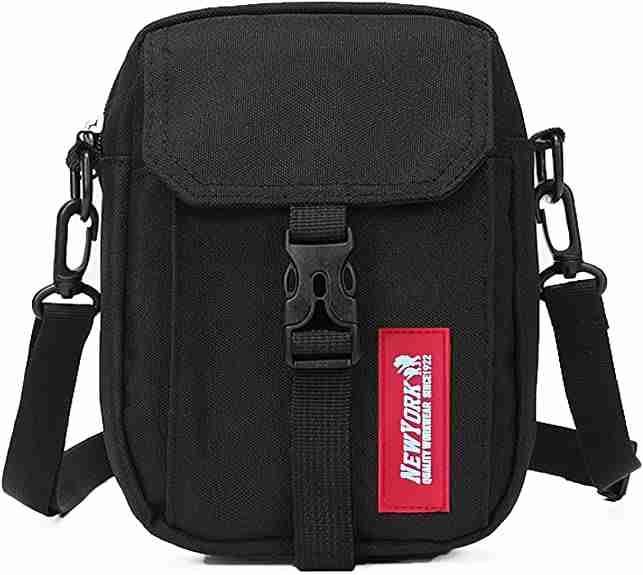 These are school bag-like bags that men can use to carry things like books, files, or other items. They usually have long straps and are comfortable if worn as crossbody bags.
Waist bags:
Waist bags are also bags that men love to wear because it gives them the freedom to exercise their two hands at will.
However, there are men who would rather wear these bags as crossbody bags than strap them around their waist.
HOW TO WEAR A SMALL CROSSBODY BAG?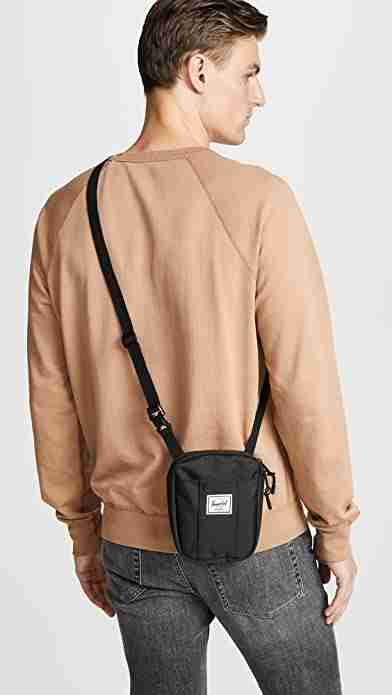 You can decide to wear a small crossbody bag in different ways.
You can choose to fold the straps around your wrist as a guy, you can decide to hang it loosely on one shoulder, you can choose to strap it around your waist or you can go with the usual, hang it across your chest.
Whichever way you choose to wear the bag is unique but one thing to always look out for in all these is alignment.
Before you choose how to wear your small crossbody bag, it's always important to see or check to know if the style aligns with your outfit.
HOW TO WEAR A CROSSBODY SLING BAG
A crossbody sling bag can be worn as a crossbody sling bag, a shoulder bag or it can be handheld.
Wearing a crossbody bag as a crossbody sling bag is usually the go-to option of most men probably because this wearing style gives them the chance to do whatever they like with their hands.
Deciding to wear it as a sling bag can be achieved easily if the strap was not stitched diagonally to the bag. Although there are some who would still wear it as a shoulder bag regardless of how the strap was attached to the bag.
Lastly, holding crossbody sling bags by their top handle was a trending style at some point. There are still men who would rather hold their bags by the handles than wear them on any part of their body.
WHERE SHOULD A SHOULDER BAG SIT?
The ideal spot your shoulder bag should sit should be just above your hips as this will give you ample freedom to walk, get stuff from your bag, run, and perform other activities while carrying your bag with ease.
Apart from freedom,  a shoulder bag when it begins to touch your knees or legs can be mistaken to be oversize.
WHERE SHOULD A MESSENGER BAG SIT?
A messenger bag should sit below your stomach and preferably around your hips or upper thighs because by design the messenger bag is a heavy bag and if you don't want a situation where the weight of the bag seems to be dragging your feet and the bulk of the bag occasionally hits your feet and makes you generally uncomfortable and slow, then adjust the straps so that they are short enough to be way above your knees.
CONCLUSION
There are many ways by which men's bags can be worn. However, looking out for alignment is key to looking trendy and attractive at all times as a man.
While freestyling is a beautiful way to express oneself, it's important to know when not to go overboard.