In my previous article, we highlighted high-quality brands of travel bags that are made in America, today, we will be looking at the various Duffel bags made in USA.
It is no news that Duffel bags have become an essential tool for travelers worldwide because of their durability, functionality, style, and versatility.
I still remember my first Duffel bag that was given to me by my Late Grandmother, it has several inner pockets, a large compartment, and sturdy material that offered me the leisure to carry all important belongings with ease.
But I didn't know the country it was manufactured and what brand made it but the quality and functionality have never left my memory.
That's one unique feature you can't take out from American Duffel bags, the craftsmanship, and material used in top notched.
So, join us as we dive into the realm of duffel bags, uncovering their vital role in travel and discovering the unique allure of those crafted in the land where dreams come true.
Table of Contents
ARE DUFFEL BAGS WORTH IT?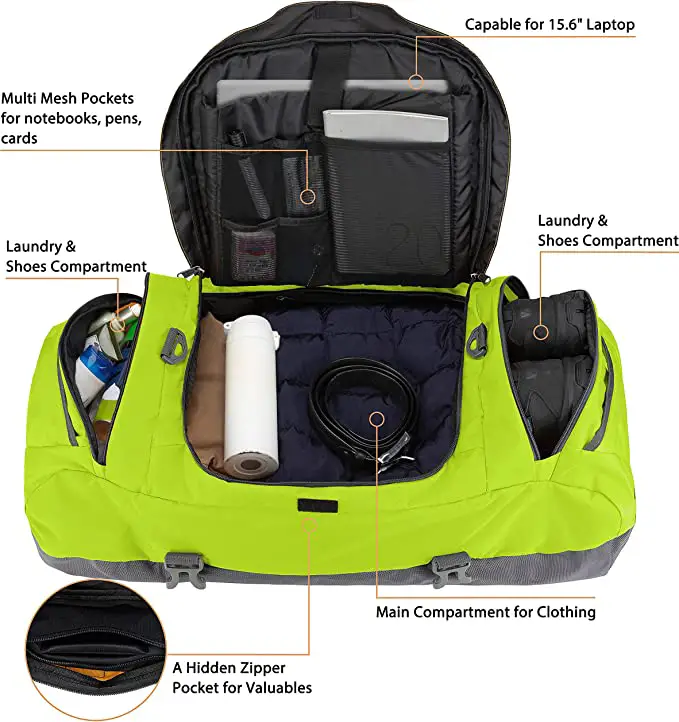 Yes, duffel bags are worth it because they are versatile and practical bags that can be used for several purposes such as sports, gym sessions, and travel or weekend getaways.
In addition, Duffel bags offer ample storage space and often have multiple compartments to help keep your belongings organized.
To purchase the right Duffel bags, we recommend you consider the following; size, material quality, durability, and need. Etc.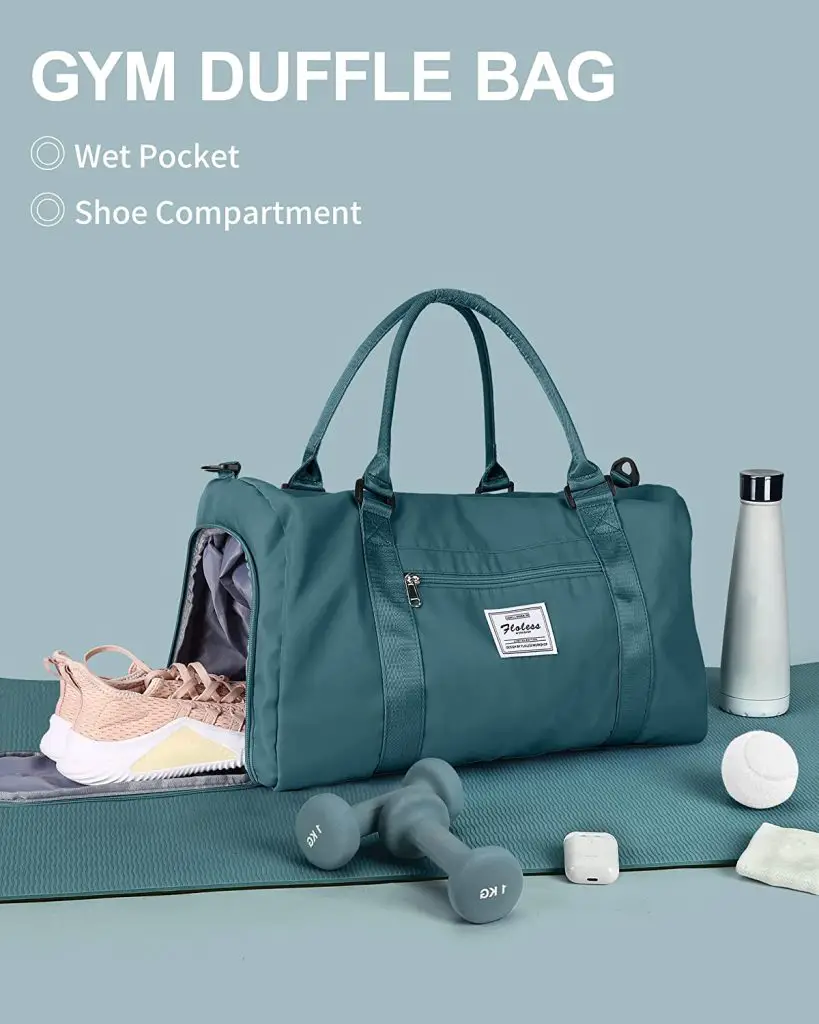 Finally, Duffel bags are generally lightweight, and easy to carry, with options for different carrying styles like shoulder straps or handles.
DUFFEL BAGS MADE IN USA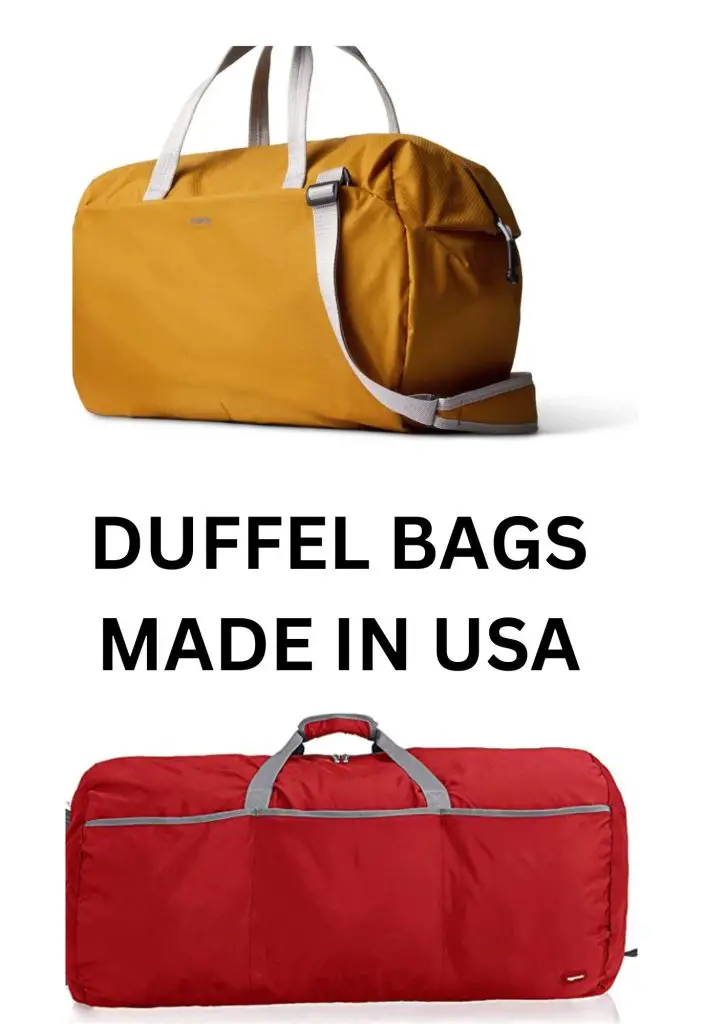 Here are the15 best Duffel bags that are made in the USA;
Bags USA
J W Hulme Duffel bag(Made in Minnesota, USA)
Kelty
Tough Traveler Duffel bag
Defy Duffel Bag
Duluth Pack
Frost River
Filson medium Duffle bag
Topo Designs Classic Duffel
Mission Workshop
Mountain Ridge Gear
Tom Bihn Duffel
Nutsac
Flowfold Nomad Duffel
Killspencer Duffel
BAGS USA
Here are the 4 recommended Duffel bags by Bags USA;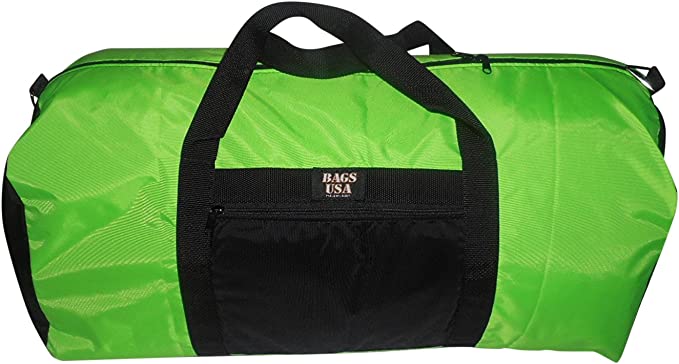 Large Duffle Travel Bag – (Water-resistant 420 Denier Nylon made in USA Duffel bag; Perfect for traveling( 5 to 7 days trip), football, basketball, camping, water sport, Snow Ski Gear, Snow Boarding Gear, Scuba Gear, and Empire Gear.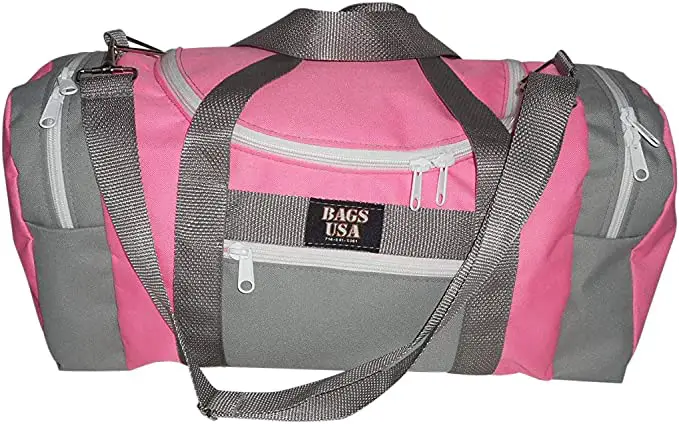 Large Triple Duffle with U Opening; has 2 side compartments, water-resistant and suitable as a Cabin bag.
BAGS USA Extra Large Eagle Duffle Bag; Made with tough 1000 Denier Cordura, water-resistant heavy-duty #10 coil zipper, and adjustable detachable shoulder strap.
Lightweight Extra Large Duffle Bag, Dome Shape; Nylon Gear BAG, recommended for 5 to 7 days trips, perfect for camping, and traveling, and allows you to pack in your suitcase.
Bags USA manufactures premium bags that are handcrafted in California, USA. They specialize in producing the highest quality of duffel, sports, and travel bags.
Aside from Duffel bags, Bags USA also manufactures; Camera bags, School backpacks, Garment bags, Sling bags, Messenger bags, Fanny packs, Carry-on, Briefcases, Laptop bags, Lunch bags, Envelope bags, Launch bags, drawstring bags, etc.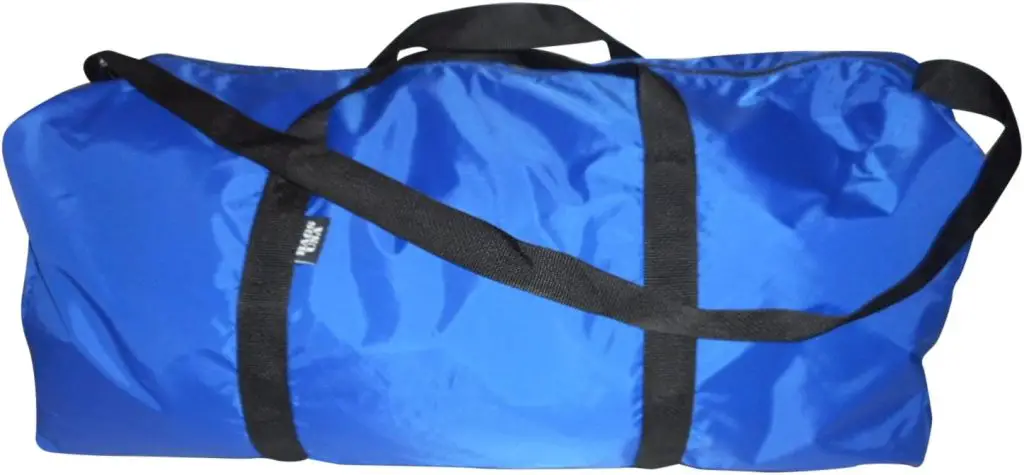 Bags USA Duffel bags are constructed of high-quality industrial fabrics such as 600 Denier poly, 400 Denier nylon, and heavy-duty Du Pont Cordura nylon.
Furthermore, what distinguishes Bags USA is that you can specify whether you want polyester, vinyl mesh, or canvas on your Duffel travel or gym bag.
Bags USA never employ inferior zippers in their designs, they use self-repairing coil zippers that hold still even when your bag is tight and full to the brim.
TOUGH TRAVELER ROUND DUFFEL BAG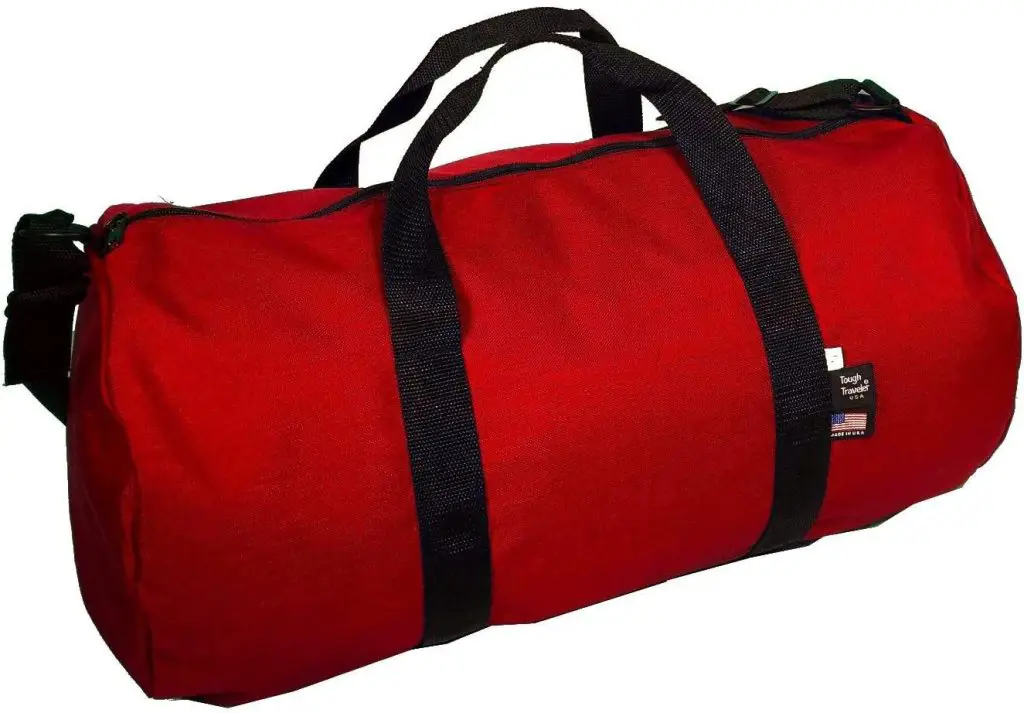 Tough Traveler is another brand of Duffel bag made in the USA, Precisely New York.
They come in various sizes; medium, large, and extra-large to fit your various travel, gym, and camping needs.
The handle is made to be adjustable with a removable shoulder strap and plus carry handles to assist with the weight inside the Duffel bag.
One unique feature of this Tough Traveler Duffel bag is that it is machine washable and water-resistant.
Finally, it is made up of premium 1000D CORDURA material and YKK Zipper for extra durability.
KELTY DODGER 40L DUFFEL BAG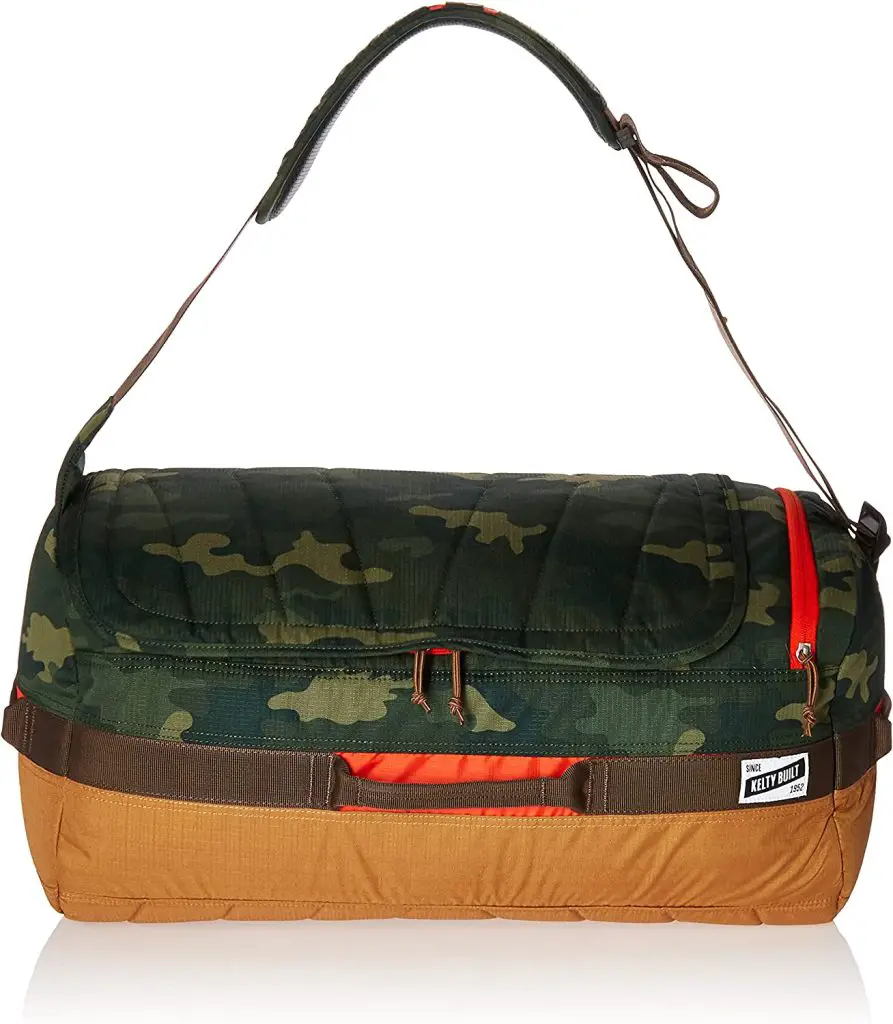 The Kelty brand specializes in Gears, Tactical backpacks, sleeping bags/pads, Shelters/ Tents, Packs for beginners and experts, and Camping bags
The Kelty brand has a slogan that is; "Built for play". In addition, the Kelty brand is owned by Exxel Outdoors LLC which is based in Boulder, Colorado.
This Duffel bag is fully padded (interior & exterior) with a roll-top closure and a seam-taped interior.
Built specifically for the outdoors! Enjoy your adventure with family and friends with this camping rugged Duffel bag.
DEFY DUFFEL BAG
All Defy products are engineered and hand-crafted 100% from start to finish in Chicago, USA.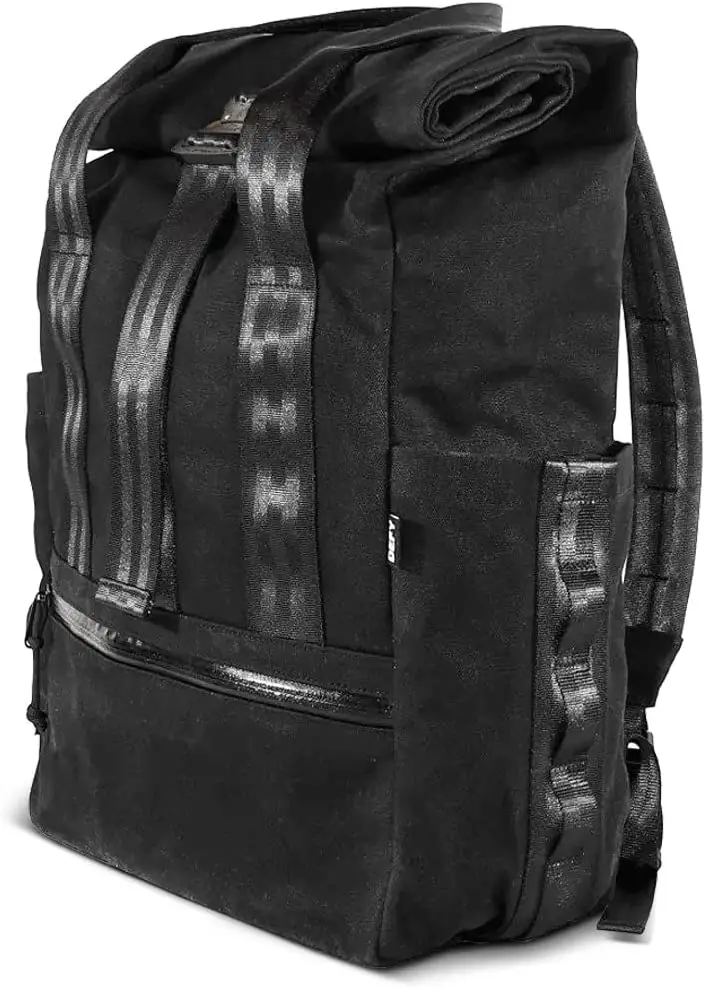 One of the popular Duffel bags by the Defy brand is the Ultimate Overnighter bag that is made with Ballistic Nylon material and Grey 1000 Denier CORDURA material.
 It is also designed with 1020 Denier MIL Spec and YKK water-repellent aqua guards' zippers.
Defy Duffel bag is spacious enough to handle the weight of your belongings with ease without stressing your shoulders.
Other brands of Bags from Defy brand include;
Menace Backpack Waxed Canvas
VerBockel Rolltop Backpack
DULUTH PACK
The Duluth Pack brand is one of America's foremost Premium Leather and waxed canvas manufacturers in Minnesota, USA SINCE 1882.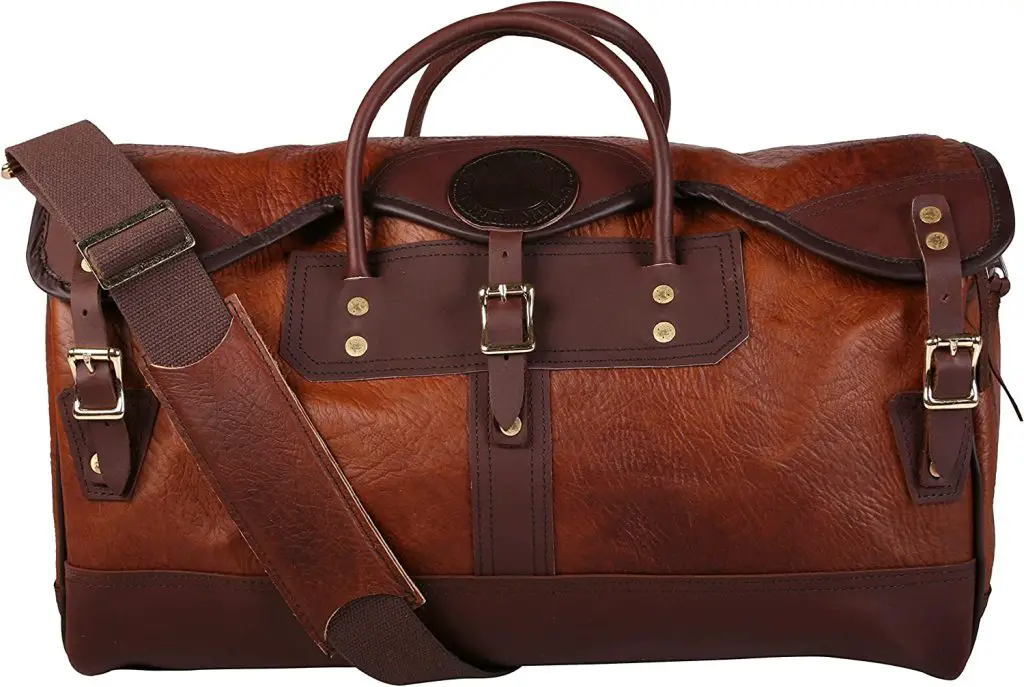 One of Duluth Pack's products is the Unisex Duluth Pack Sportsman's medium Bison Duffel bag which is made with premium leather with no substitutes.
It is carefully handcrafted to last and can stand the test of time. Two handles are attached at the top of this bag for extra strength making it easy to lift up heavy clothes and items when loaded.
The Premium leather is easy to clean and the roomy compartment can accommodate your items when organized carefully.
This particular Unisex Duffel bag can withstand outdoor use like hunting. Finally, if you're looking for a stylish duffel that delivers exceptional quality, you need not look any further.
FROST RIVER HEAVY DUTY DUFFEL BAG
The Frost River heavy duty Duffel bag is made in Duluth, Minnesota, USA.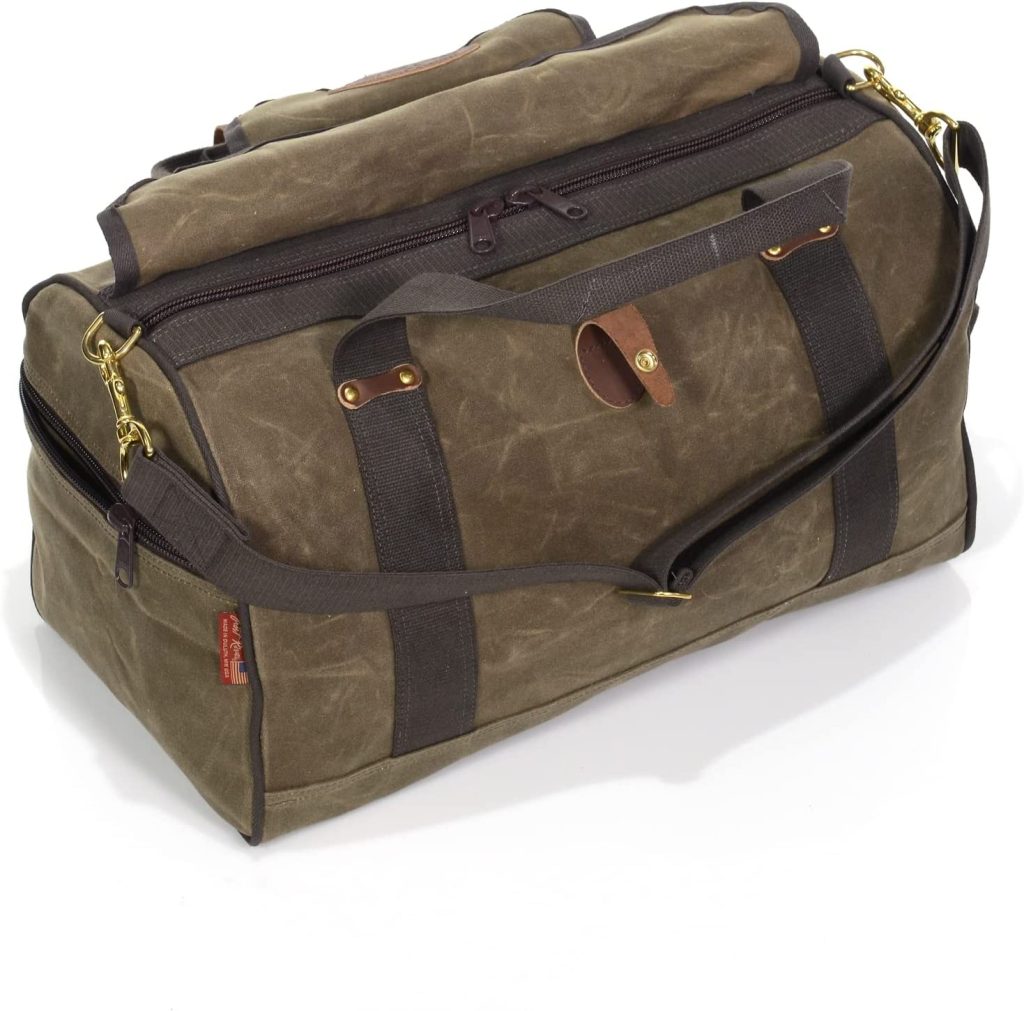 Frost River Duffel bag brand is one of the foremost waxed canvas duffel bags that is made in the USA.
This canvas Frost Duffel bag can also be used as a carry-on and weekender bag.
The waxed canvas Duffel Frost River Duffel bag is durable and made with premium leather giving them an edge to handle heavy loads.
The Canvas Duffel Frost bag has a cool and convenient design that will get your peers attracted, the roomy internal compartment and roomy front pocket can contain your belongings.
The handle is tightly sewn to the canvas duffel bag giving it an edge to withstand weight and pressure, perfect for a handy outdoor gear bag, and long adventures and is ideally suited for commercial airlines.
CANVAS DUFFEL BAG MADE IN USA
Another Canvas Duffel bag that is made in America is the Frost River Flight bag, the size is 70 Liters and is made with waxed canvas and leather material just like the Frost River heavy duty Duffel bag above.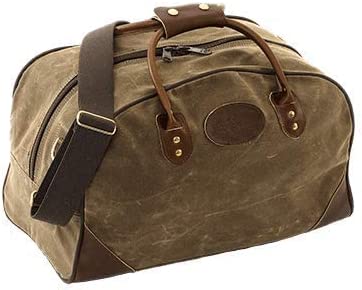 This Canvas Frost River Duffel Flight bag has the shape of a Carry-on Luggage and Weekender bag that is carried by hand or on the Shoulders.
This Canvas Frost River Duffel Fight bag is designed with a large zippered opening that makes it the perfect travel bag for large storage, the material is a heavyweight 18 oz. waxed canvas and premium leather combined with abrasion resistant double-layer canvas base.
Finally, the waxed canvas Frost River Flight bag is perfect for long getaways, stowing gear, and carry-on, and it's airline compliant.
FILSON MEDIUM DUFFLE BAG
To begin, the Filson brand is made in Seattle, USA.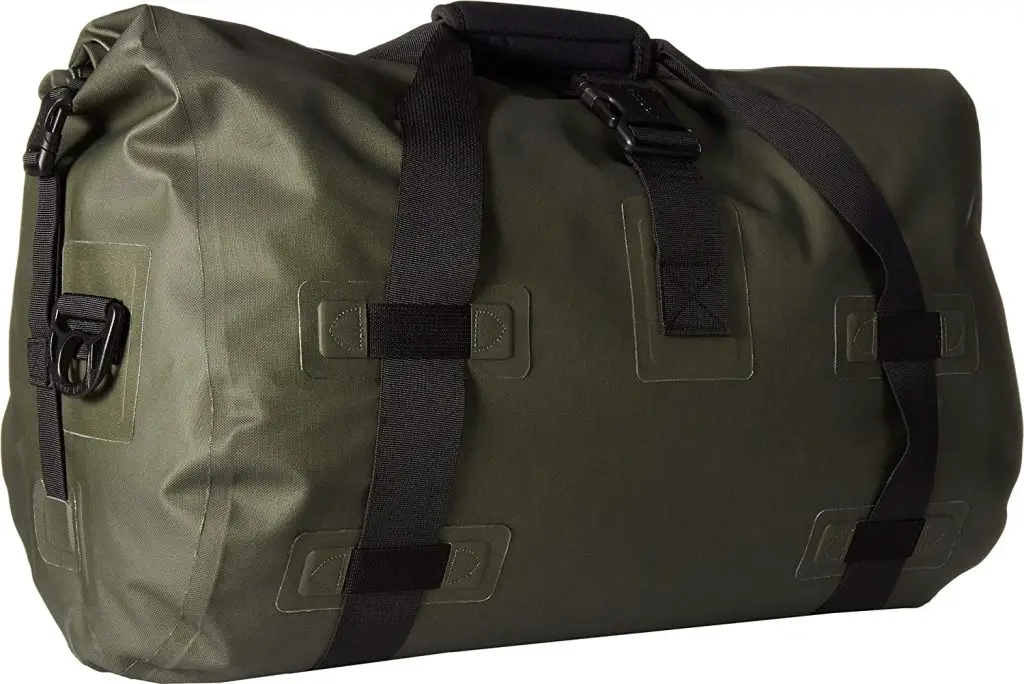 There are various Filson medium Duffle bags, each made with various colors, see them below;
Filson Men's Dry Medium Duffle Bag, Green Color
Filson Medium 25″ Duffle Bag, Tan Color
Filson Rugged Twill Duffle Bag, Medium, Color- Otter Green
The Filson Men's Dry Medium Duffle bag is made with coated Ballistic weave material.
Filson Medium Duffel Bag is an excellent travel companion to have on hand, particularly when packing for a weekend break or an important work trip.
The water-resistant tough twill and long-lasting bridle leather combine to give any modern metro traveler the perfect look.
This extraordinary bag is adaptable and may be carried using the carry handles or the removable, adjustable shoulder strap.
MOUNTAIN RIDGE GEAR DUFFEL BAGS
The Mountain Ridge Gear Duffel bags are made in the USA, they came in various colors; ranger green, multicam, woodland camo, coyote brown, Black, and Covert Transitional Arid.
The Mountain Duffel bag also comes in various sizes; extra small, small, medium, Large, and Extra Large.
The USA Mountain Ridge gear Duffel bag is made with 1000d Nylon Cordura material and YKK zippers.
One unique feature about the Mountain Ridge Gear is that it is versatile, and works great as a shaving bag, shooter's bag, tool bag, gym bag, travel bag, shell bag, kit bag, and for emergency supplies.
This Mountain Duffel bag is built tough, the design is simple, and you can pack your item fully without worry, can also serve as a military duffel bag.
TACTICAL DUFFLE BAG MADE IN USA
At the time of writing this article, we cannot categorically state the various tactical duffle bags that are made in the USA.
However, permit me to recommend 3 other tactical duffle bags that are durable, will meet your needs, and stand the test of time.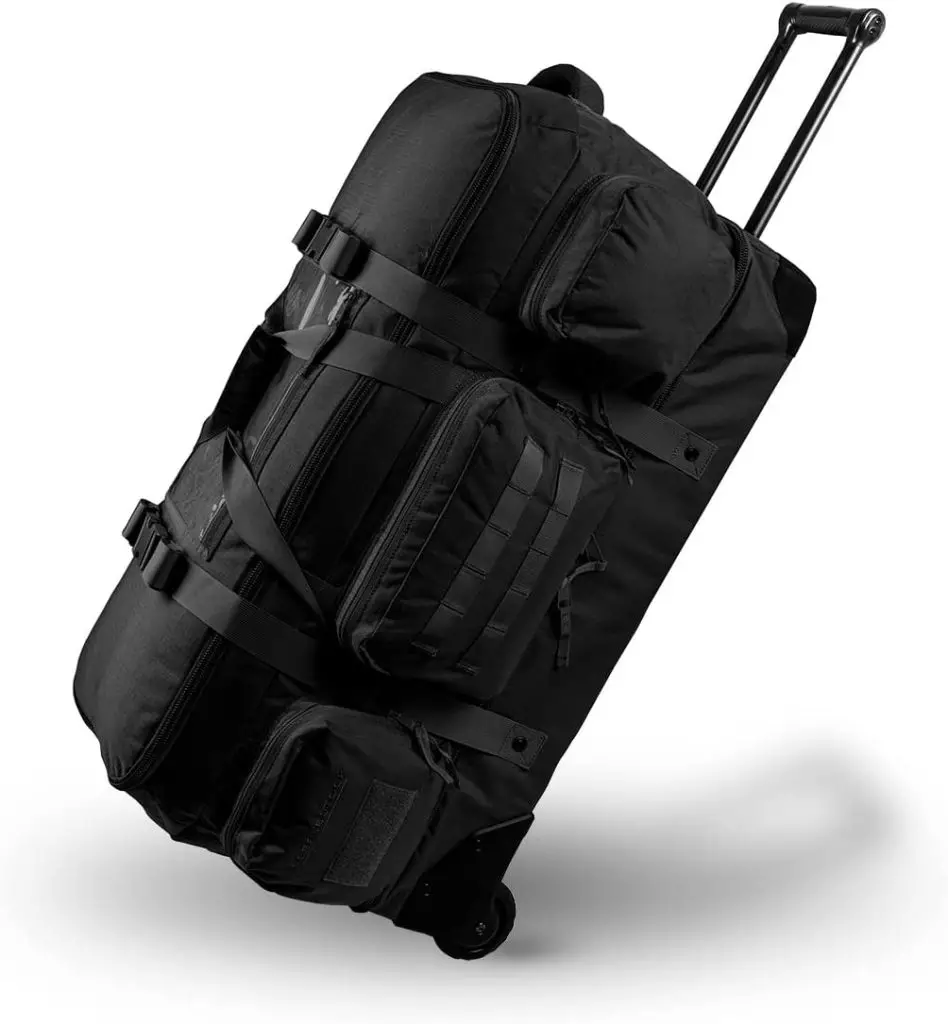 These tactical duffle bags are;
Eberlestock Duffel Tactical pack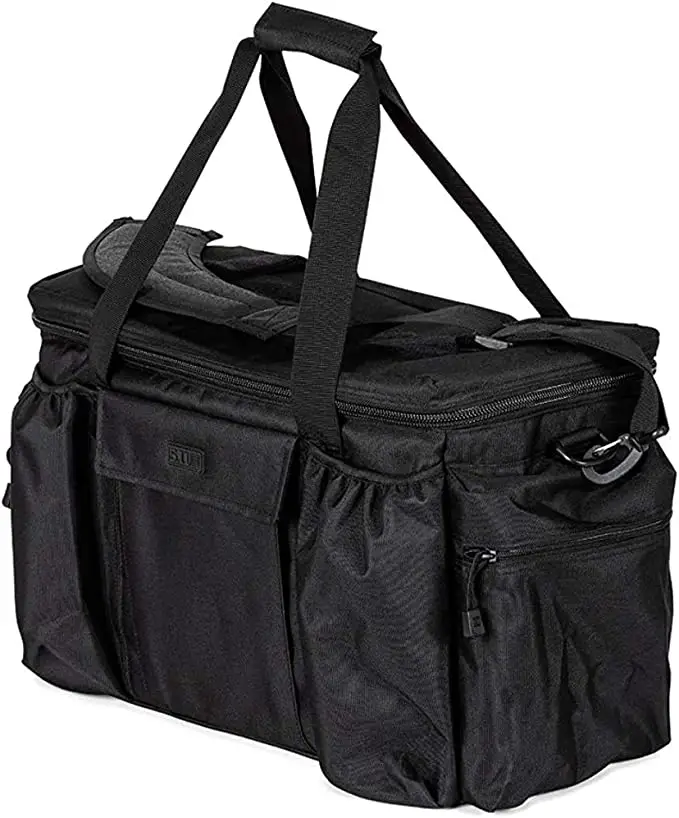 5.11 Tactical Duffel Patrol Bag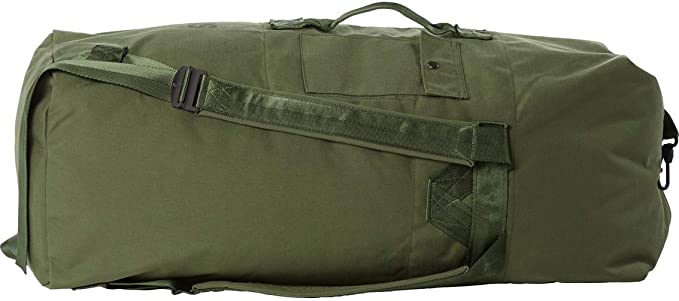 NEW USA-Made Army Military Duffle Bag
The Eberlestock Duffel Tactical pack is made using USA-made components but most of their products are made in Vietnam.
Presently, there is a lot of debate about where is made. We always recommend to customers to place a premium on quality and I bet you that this Duffel Tactical pack meets every standard.
Other features of the Eberlestock Duffel bag include;
Perfect for camping, hunting, and other outdoor adventures
Can withstand harsh weather conditions.
WEEKENDER BAG MADE IN USA
To begin with, the two Weekender bags that are made in the USA are;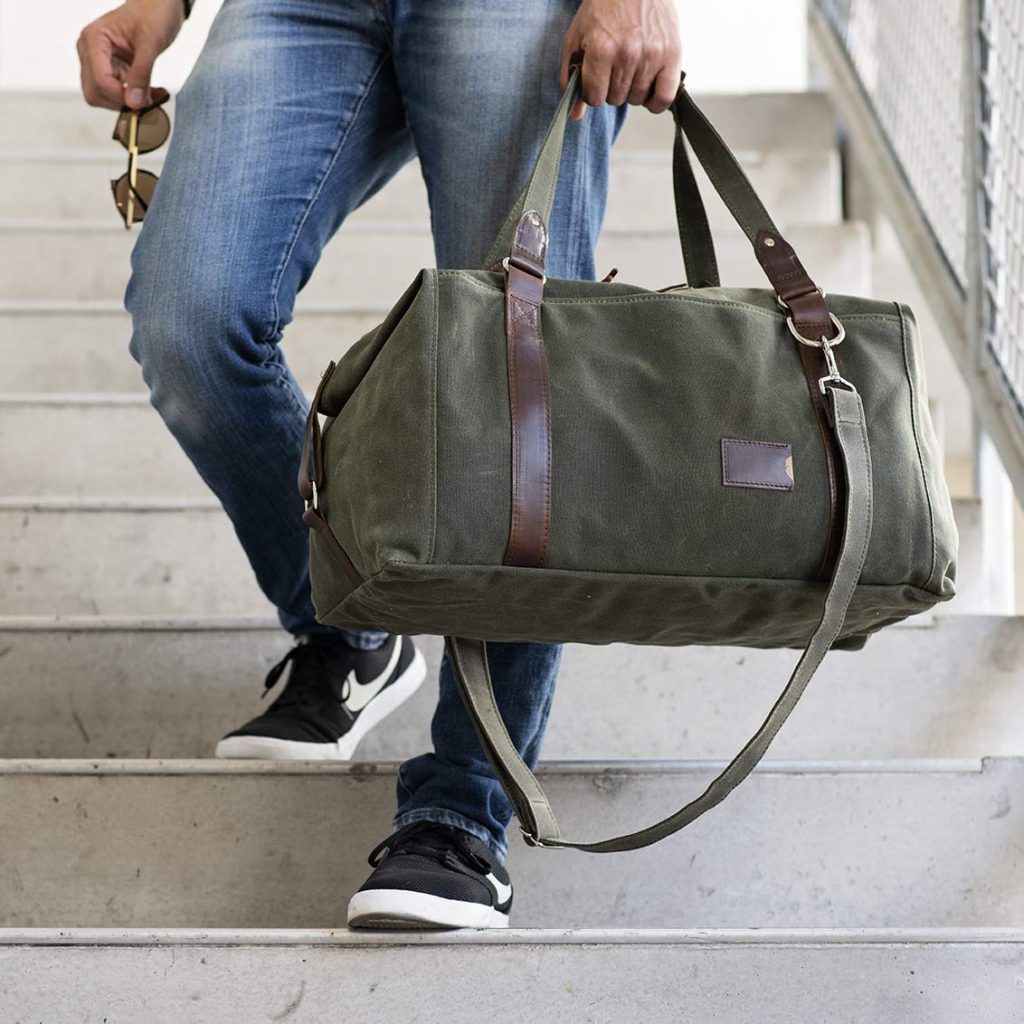 Personalized Waxed Canvas Weekender Travel Duffle Bag
Cinda .B. Verde Bonita Weekender Bag
Weekender bags made in the USA are typically called travel or duffel bags because they are perfectly designed to adequately carry your belongings, especially for a short trip or weekend getaway.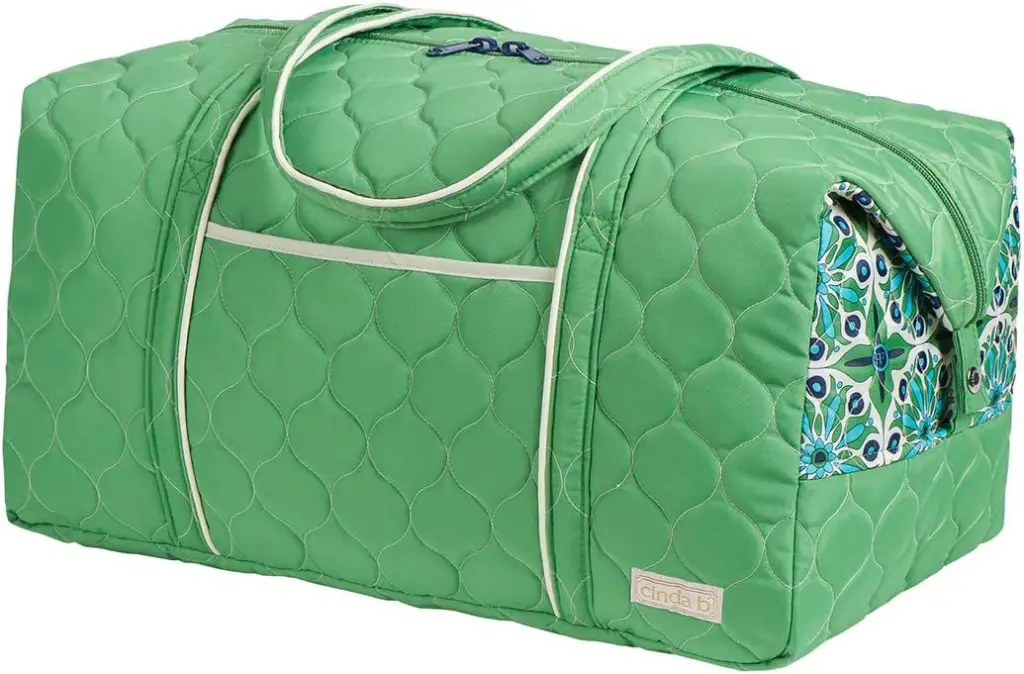 A Weekender bag is actually larger than a standard tote bag but smaller than a suitcase which makes it convenient for carrying essentials for a few days.
USA Weekender bags often feature sturdy handles, and shoulder straps for easy transportation, made with poly/nylon fabric or waxed canvas mixed with genuine leather.
Some designs of Weekender bags have water-resistant exteriors and durable interiors, small interior pockets that allow for small essentials, and spacious main compartments and heavily sized essentials.
WHERE DOES THE DUFFEL BAG COME FROM?
The term "duffel bag" isn't English, it actually originates from the town named "Duffel" in Belgium.
Duffel is a thick and durable cloth that was used to make these bags which was originally manufactured in this town during the early 17th century.
Over time, the bags made from this fabric became popular due to their strength and versatility, leading to the adoption of the name "duffel bag" for this type of travel bag.
WHAT IS A DUFFEL BAG KNOWN AS?
A duffel bag is also known as a gym bag, others prefer to call it a travel bag or a holdall.
KELTY PACKS, GEAR, AND OUTDOOR BACKPACKS