Confused about what color handbag goes with everything? Are you spending more time than necessary in front of the mirror every morning before heading out?
Have you ever felt this tingling itch in your armpits each time people stare at you because you are not confident in the way you look?
Does this bitter regret of knowing that you could have put a little more effort into your looks, especially when you are already halfway away from home and can't go back ring a bell?
Relax, this article is for you. This article has been designed to guide you on the fundamentals of simple dressing and how to combine colors that match.
Table of Contents
WHAT IS A COLOR THAT MATCHES WITH EVERYTHING?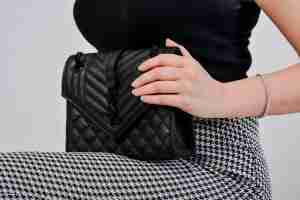 White and Black can be classified as colors that can match with everything. Interesting right?
Any color that blends easily with other colors can be said to be a color that matches everything.
Have you ever wondered why there are just 6 colors on the color wheel? This is because black and white are not considered actual colors.
Research has proven that all colors when mixed tend to become black or white depending on the hues that were blended together.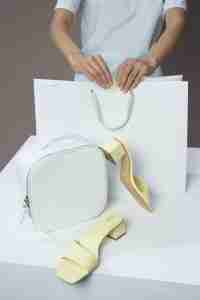 Let's see this illustration; the 3 primary colors are red, yellow, and blue. Now, if these three colors are mixed together in lighter shades, the resultant color becomes grayish-white.
On the other hand, these 3 colors can still be mixed equally in darker shades to get black. It all depends on how the colors are tinted and the intent of the mixer.
What does this tell us? White and black can be factored in as the 3 primary colors.
Let's remember that every other color is formed from these 3 primary colors and if all 3 can be mixed to either get a lighter shade (white) or a darker shade (black), it means that every other color including the seemingly odd colors can be adapted to either black or white.
WHAT COLOR HANDBAG GOES WITH EVERYTHING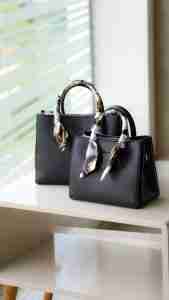 Black is the color of a handbag that goes with everything because black falls in the class of neutral (natural) colors. Color rioting is removed with black and freestyling becomes easier with that touch of black.
BLACK OR TAN HANDBAG?
For someone who believes in mature appearances and who is not interested in always making a statement whenever she dresses, tan-colored bags is your next best option after black.
Have you ever heard the slogan "black is boring"? While black is considered a color that goes with everything, black, if overused, can become way too boring. It's always better to blend your outfit with a variety of colored handbags.
Examples of tan-colored handbags include: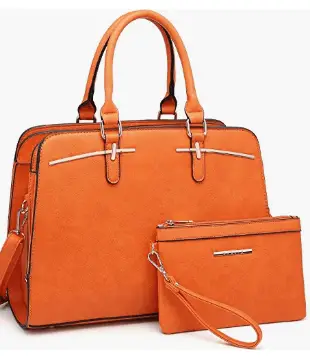 Burnt Orange: This color can blend seamlessly with emerald green, silver, black, gold, or even white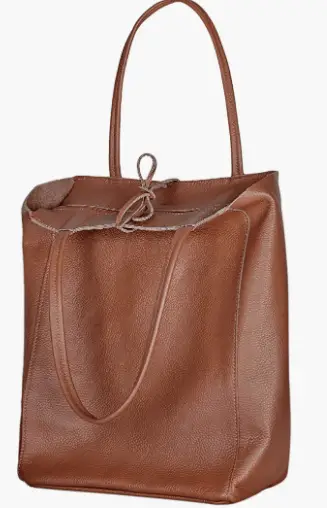 Wood Brown: Wood brown can go with orange, blue, green, red, cream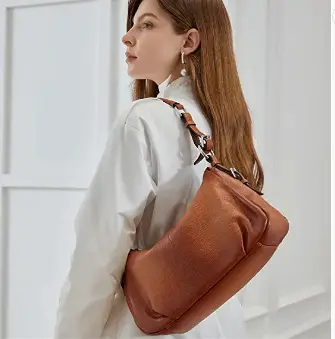 Chocolate Brown: This color is almost like black and would blend better with brighter colors.
Beige: The color is a creative type of color and can be used effectively for purposeful color rioting, a purple shoe and a beige handbag with a smart cream-colored gown and jacket will give you a classy look.
Taupe: This color will go very well in red.  Wine-red pants and a cream jacket with matching red pump heels are all you need for your smart entrance.
NEUTRAL COLOR PURSE
Dull or neutral colors are best used as necessity purses and can be thrown into larger handbags or held in the hands.
Since purses are mainly for fashion purposes, bright-colored purses should be used as fashion purses.
TRAVELON NUTMEG BAG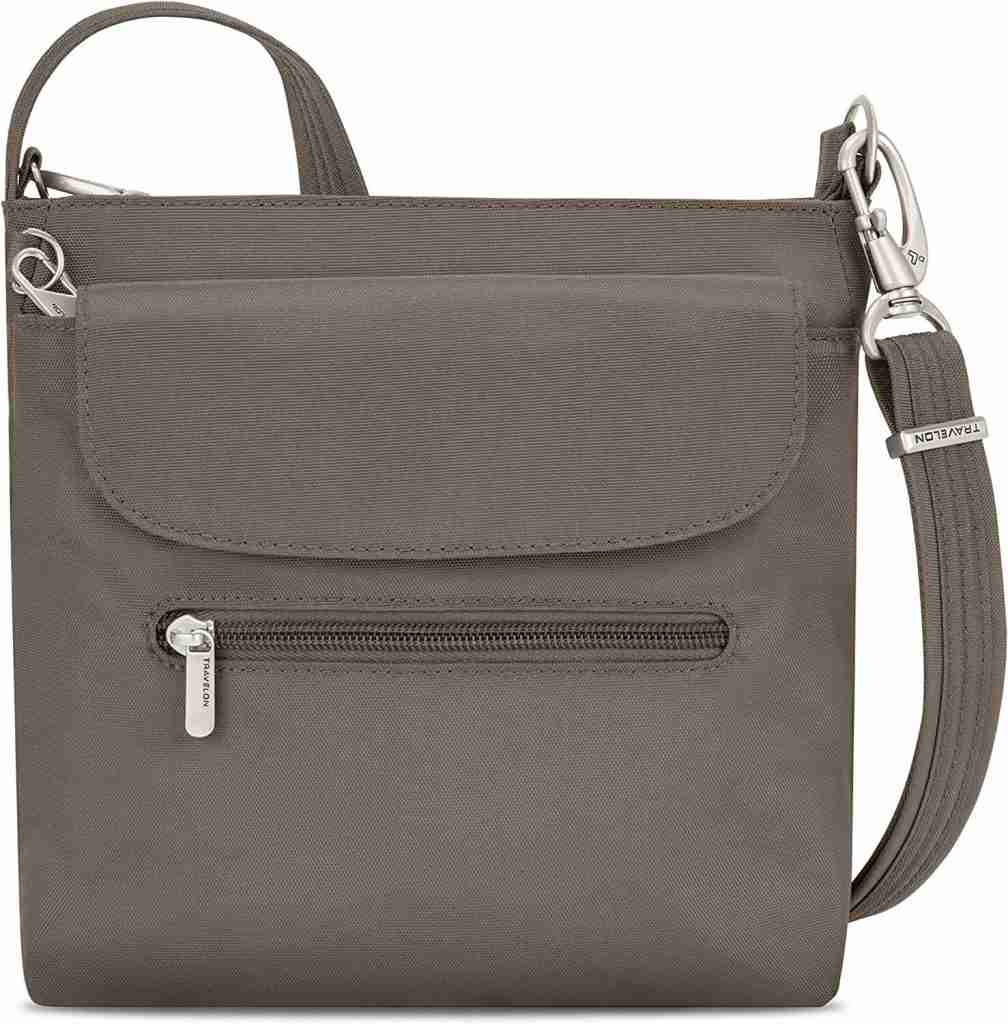 More items are stored and kept arranged in the Classic Anti-Theft Mini Shoulder Bag than in regular bags. From several inside and exterior storage pockets to an interior wall wallet, you may avoid carrying a wallet's additional weight.
This bag is designed with the five-point anti-theft protection solution which works to prevent both domestically and globally the five most typical forms of pedestrian theft. It makes sense that Travelon is one of the most popular bags.
It's lightweight to travel with and its strap can be adjusted to fit shoulders.
SHERPANI GEO, ANTI-THEFT CROSSBODY TRAVEL BAG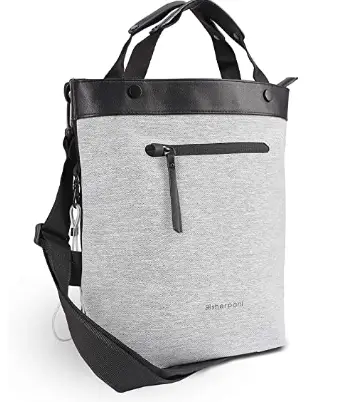 This bag is designed and perfect for travel as it fits many travel items all at once. It is the go-to travel bag for moms and singles.
The bag is designed to look small on the outside but has lots of compartments inside; it can easily fit under the seat when traveling.
There is a unique feature that the sherpani geo bag comes with which is; that since the bag's interior is lined with lime green fabric, finding objects will be simpler.
The bag has a chair loop lock system, exterior zipper lock tunnels, a clip lock for the opening of the main compartment, and RFID protection. Anti-slash fabric lines the bottom of the bag, and the main strap is similarly slash-proof.
HANDBAG COLOR TRENDS 2022
Here is a list of handbag colors that you should get in 2022;
The colors were not arranged in any manner of ranking. It's also necessary to stress that these colors listed above are not the only colors that have trended in 2022.
DOES A BROWN HANDBAG GO WITH EVERYTHING?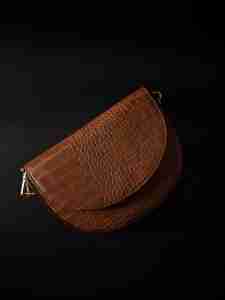 As much as brown is also considered a neutral color, there are some colors that would look weird if combined with the color brown. However, brown is a good color to consider as it can go with everything.
Except for some cases where the dresser definitely wants to make a statement.
There are factors to always consider when trying to combine colors. One such factor is your skin hue. Always go for colors that complement your skin hue.
A Lemon green skirt, a white starched shirt, and a brown bag will look better on a dark-skinned lady. However, a black gown, black sunglasses, black shoes, and a brown handbag will go perfectly with a lighter skin hue.
Let's remember that there are no stipulations on the required color combinations that must be made when dressing.
The most important thing to consider however is how confident you feel in whatever outfit you choose to wear for the day.
WHAT COLOR OF PURSE GOES WITH BLACK?
All colors of purses can definitely go with black. But let's be a bit more creative. Combining a white purse with a black outfit as much as there's nothing wrong with this can be awkward sometimes.
Let's check out these 5 top colors that can be freestyled with black;
DOES WHITE GO WITH EVERYTHING?
Yes. White goes with everything apart from white. But, as I've always been saying, someone who wants to make a statement with her outfit can wear a white dress with a white purse. Celebrities have to a good extent, showing how beautiful this can be.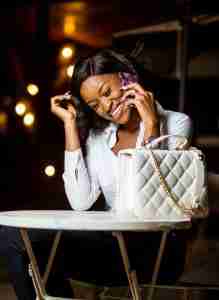 However, if you are a casual dresser, it's better to blend white with other colors.
If you are still a flashy dresser and in need of some colors that can go with white, apart from the usual black, then here are a list of beautiful colors you can combine with your white purse.
Orange, all shades of orange can go well with a white purse. Other colors include, pink, purple, peach, green, blue, yellow, and red.
Let's dress up this muse together, Alisa is a nineteen-year-old blonde, she's 5ft tall with straight slim legs. She doesn't like to wear long pants and all her dresses must be above her knees.
Her friends are inviting her to a beach party and she must go dressed with some touches of white since white is the color of the day.
She has 3 choices to select from. It's either she wears her black jumpsuit with white sandals and a white purse, she wears her white shorts with a pink loose shirt, white sandals, and a white purse or she decides to wear her beige mini skirt, white starched shirt, burnt orange sandals, and a white purse.
Before we select her outfit, there's a factor we also need to consider, she's an extrovert, and color rioting is her hobby!
Now, from this little secret about her, what outfit do you think she should wear? The beige mini-skirt of course!
This leads us to another factor to consider while dressing up. Our personality traits tend to reflect in our choice of colors. Our mood on the other hand can either be dampened or enhanced by our outfits for the day.
WHAT COLOR OF SHOES GOES WITH EVERYTHING?
Black is that color that can go with everything. Black is not selective and can be worn with any other color and in all seasons.
Avoid shoes that come with too many color patterns. In as much as this class of shoes can go with almost anything because of the many colors reflecting on them, these shoes can be tricky, especially when worn with clothes that have too many color patterns as well.
WHAT COLOR MATCHES WITH MOST COLORS?
The color that matches most colors is green. Green has a calm ambiance that enables it to blend with other colors.
It's important to understand that the varying shades of this color can also affect your choice of outfit. However, teal green is the best shade of green that can go with almost every outfit. Teal green has a soothing aura it gives when combined with other colors.
Imagine going for your first date and you don't want to overdress, you could always tame your shouty look with teal green.
WHICH COLORS DO NOT MATCH AT ALL?
Which colors do not match at all? Ask me this question in 1911 and I probably would have told you Red and Orange.
But, according to recent trends which have spiked up our sense of creativity, there are no colors that can't go together.
Even multi-colored dresses can be combined with multi-colored bags and shoes and there will be nothing wrong with it.
However, I will advise that if your personality is introverted, it is always better to go for the usual doing the flashy might make you extremely uncomfortable in public.
WHAT COLOR OF PURSE GOES WITH ALL SEASONS?
Brown has been proven to have a magnetic pull on buyers.
Regardless of the fact that the color looks dull, it is considered a safe haven and can be worn to all occasions and events.
With brown, it becomes difficult to be indecisive during dress-up.
The brown bag is that one bag you can quickly grab on all occasions and no one will look at you in any weird way.
WHAT COLOR SHOULD YOUR PURSE BE?
Every woman should have at least a black purse or bag, 2 tan-colored bags, and 2 bright colors.
It is always good to have a mixture of a variety of colors for all occasions.
A closet that has a blend of many colors is what I consider a rich closet!
CONCLUSION
Our outfits generally fall into these two main categories; tan colors and bright colors. Use tan-colored purses if you are an introvert and do not like to overdress. However, if you love colors and you love to be adventurous with your choice of colors you can go for the bright colors.