In our last article, we discussed the 7 best hunting backpacks made in the USA, today, we will be looking at Mystery Ranch made in USA.
The Mystery Ranch Backpack brand remains a go-to choice for many outdoor enthusiasts, particularly for hunting, hiking, and other camping activities.
It is no news that Mystery Ranch makes the best load-bearing gear for the most demanding users in the world based on its quality and innovation.
Mystery Ranch is known for its sturdy and functional backpacks, they have built a reputation for designing high-quality gear that can withstand the rigors of the great outdoors.
Whether you're planning a multi-day hunting trip in the mountains or embarking on a challenging backpacking expedition, the Mystery Ranch outdoor backpacks got your back!
In this article, we will explore the features and benefits of Mystery Ranch backpacks and why they have become a popular choice for those who love to explore the outdoors and experience endless adventures."
Table of Contents
MYSTERY RANCH BACKPACK
Mystery Ranch Backpacks are carefully designed to meet the needs of the military, urban use, and various outdoor activities.
The Mystery Ranch Hunt backpack brand was founded by Dana Gleason, a legendary backpack designer, and Renee Sippel-Baker, a veteran outdoor guide.
The brand's mission is to create backpacks that are durable, comfortable, and functional, capable of handling any adventure.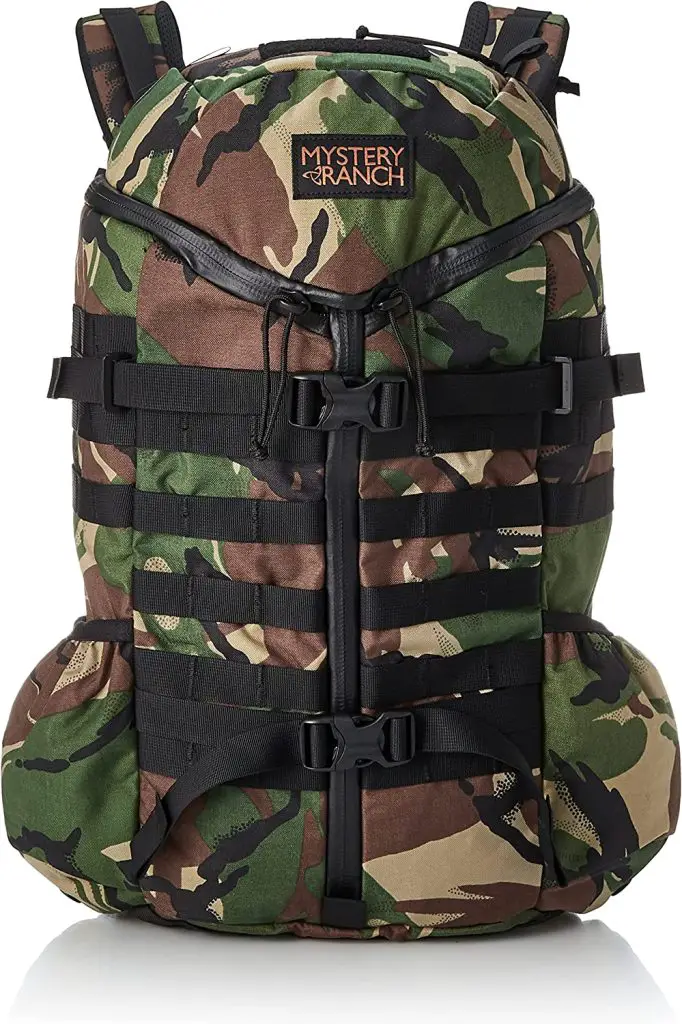 Mystery Ranch backpacks come in a variety of models, each designed for specific purposes. Some of the most popular models include the Urban Assault, 2 Day Assault, Coulee 40, TerraFrame 50, etc.
They are designed with multiple compartments, a large main compartment for quick and easy organization, some are perfect for short trips, and have side pockets, and compression straps to keep your gear secure.
We don't lose sight of heavy-duty backpacks also manufactured by Mystery Ranch and they come in handy for extended trips in the Backcountry.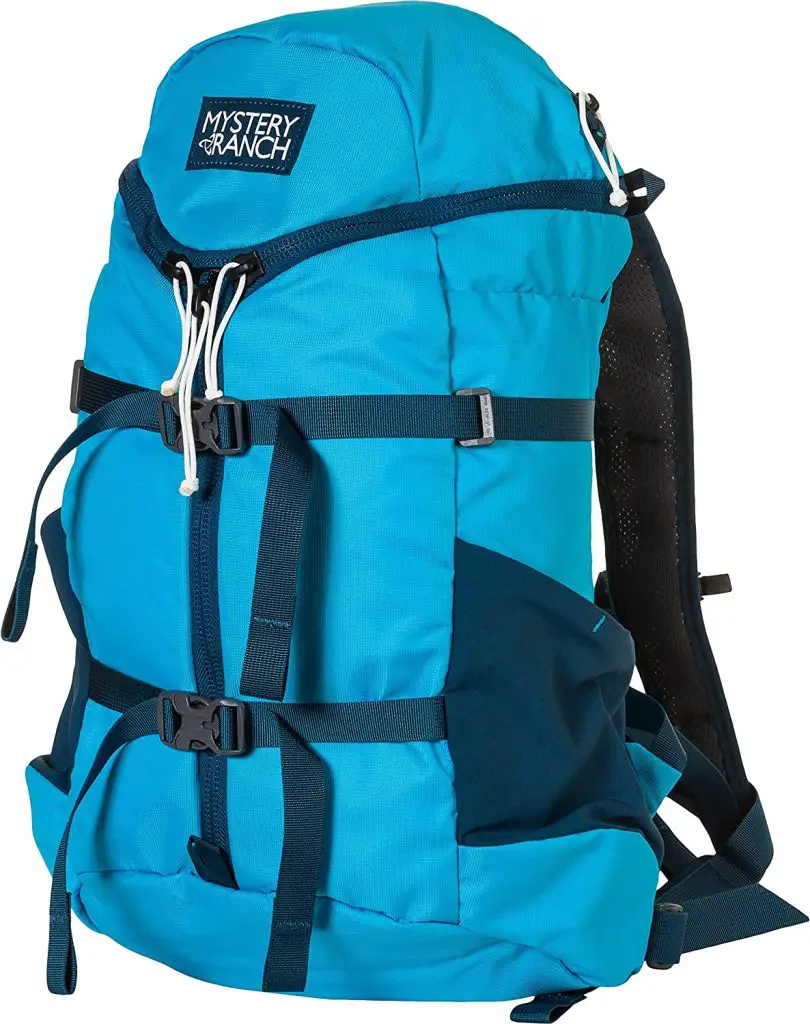 All Mystery Ranch backpacks are built to last, using high-quality materials such as 500D Cordura fabric, YKK zippers, and the Futura Yoke, which provides a comfortable and adjustable fit.
Finally, the Mystery Ranch Hunting and Camping Backpacks are a top choice for anyone looking for a reliable, functional, and versatile backpack.
WHERE IS MYSTERY RANCH MADE?
The Mystery Ranch Backpacks are headquartered in Bozeman, Montana, USA. Please, also note that they have other manufacturing facilities in and outside America.
MYSTERY RANCH MADE IN USA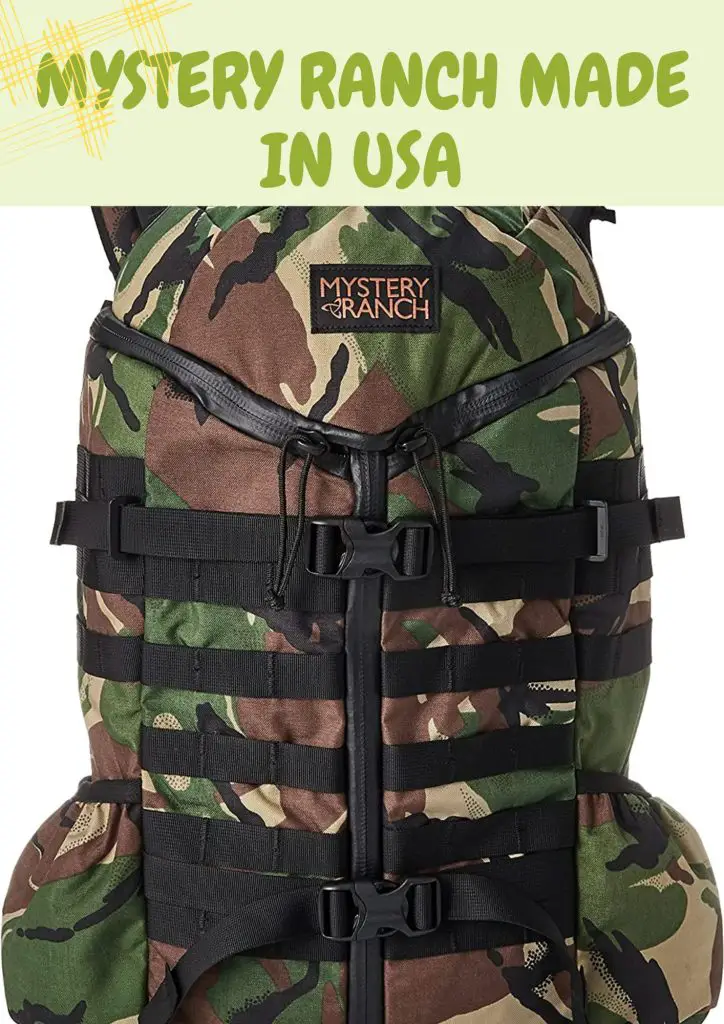 The Mystery Ranch Models that are made in the USA are military Backpack Rucksack like the Mystery Ranch 3 day Assault and the Mystery Ranch Ruck while others like the Mystery Ranch Marshall, Mystery Ranch Metcalf, Pop up 28, Bridger 65, and Mystery Ranch 24 are made in Vietnam.
Let's learn more about the Mystery Ranch made in USA and Vietnam below;
MYSTERY RANCH 3 DAY ASSAULT
First, owing to the fact that the Mystery Ranch 3 Day Assault Backpacks ate very expensive, below are other recommendations that would meet your hunting, military, and outdoor adventure needs;
MT Military Molle Medium Rucksack 3 Day Assault Pack Multicam
Reebow Gear Military Tactical Backpacks – 3 Day Assault Molle Backpack 35L
The Mystery Ranch 3 Day Assault comes in two design models, they are Mystery Ranch 3 Day Assault CL and the Mystery Ranch 3 Day Assault BVS.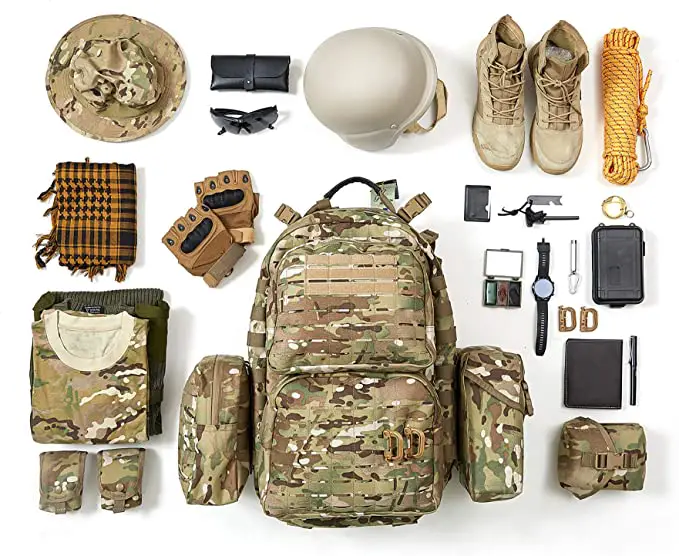 The Mystery Ranch 3 Day Assault CL and Mystery Ranch 3 Day Assault are both classic mountain hunting, camping daypacks/tactical backpack built in the USA, they are versatile backpacks that are ideal for multiple use.
The Mystery Ranch 3 Day Assault BVS is designed with a large room for sustainment gear, ammo, IFAKs, and tactical radios with a 3-zip design.
The 3 Day Assault CL uses the same Futura adjustment system as the 3 Day Assault BVS.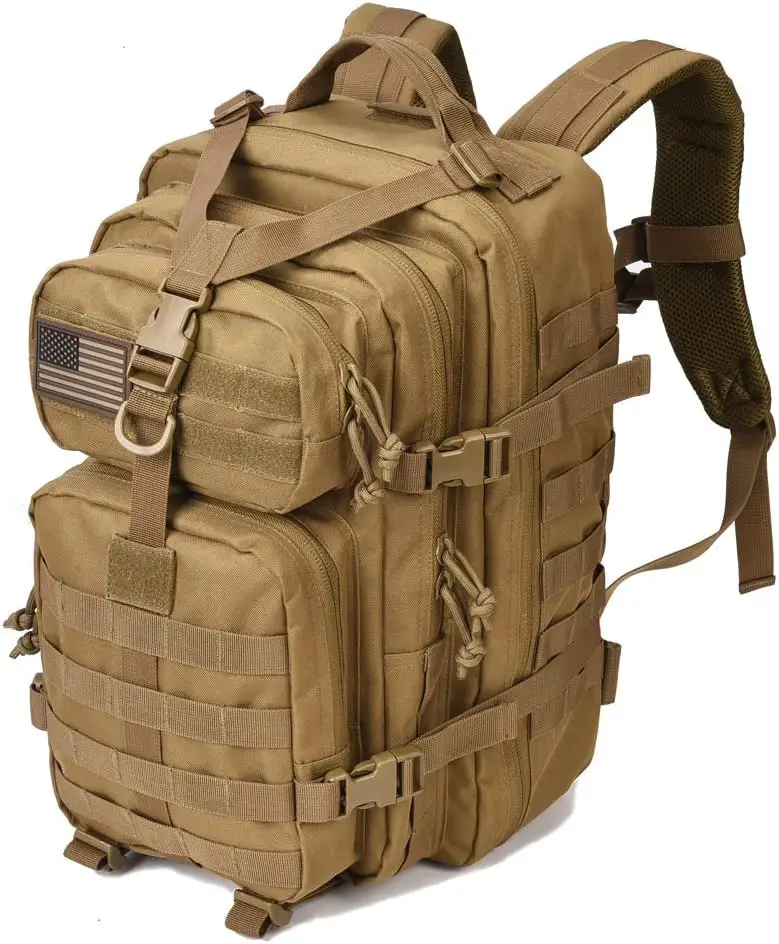 The Mystery Assault CL is made up of 500D Cordura fabric and YKK Zippers while the Mystery Assault 3 Day Assault BVS is made up of custom spec 500D CORDURA with Teflon and PU coatings for maximum durability, UV, and weather protection.
In addition, the BVS Mystery Ranch 3 Day Assault is Water-repellent, IR Compliant, and has YKK zippers for maximum security.
The Mystery Ranch 3 Day Assault BVS is more expensive than the Mystery Ranch 3 Day Assault CL.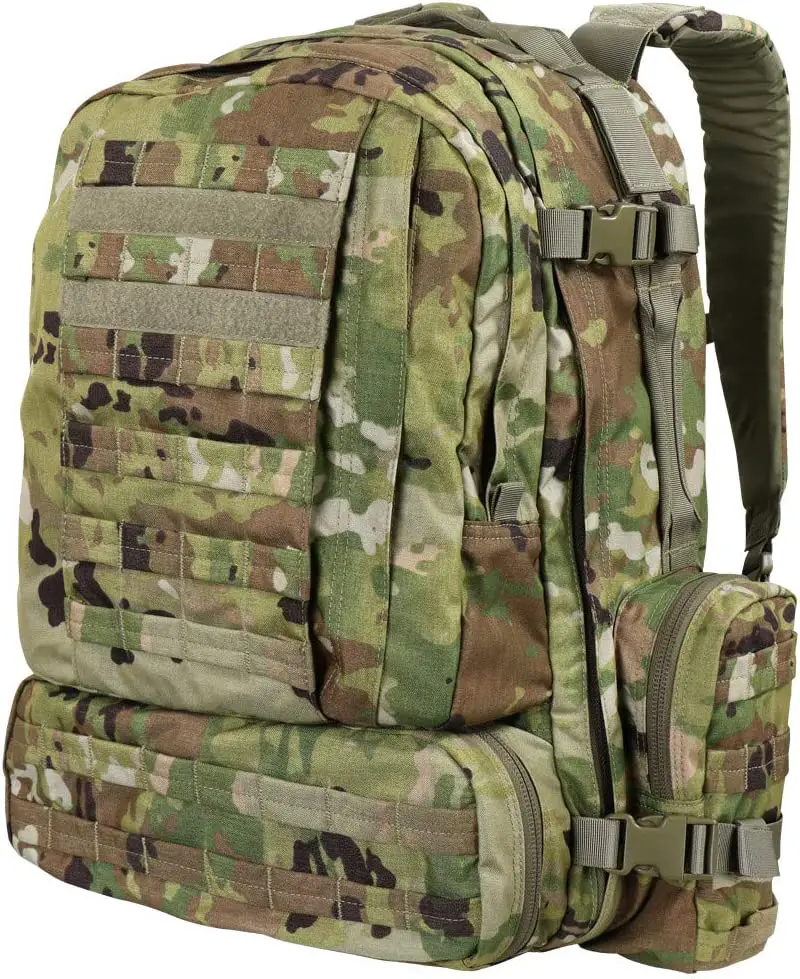 Furthermore, the 3 Day Assault CL is carefully designed for domestic use, and has side compression straps that when cinched down, can minimize bulk load when the backpack is fully loaded, you can also secure your Laptop and the 2-zippered function gives you quick access to your small essentials.
Finally, the Mystery Ranch 3 Day Assault BVS has 3 rows of external MOLLE webbing which gives you the option to expand, the side compression design helps with minimizing bulk load.
MYSTERY RANCH 2 DAY ASSAULT
The Mystery Ranch 2 Day Assault backpack is made in Vietnam but designed with the same materials and sewing standards as other USA made Mystery Ranch packs.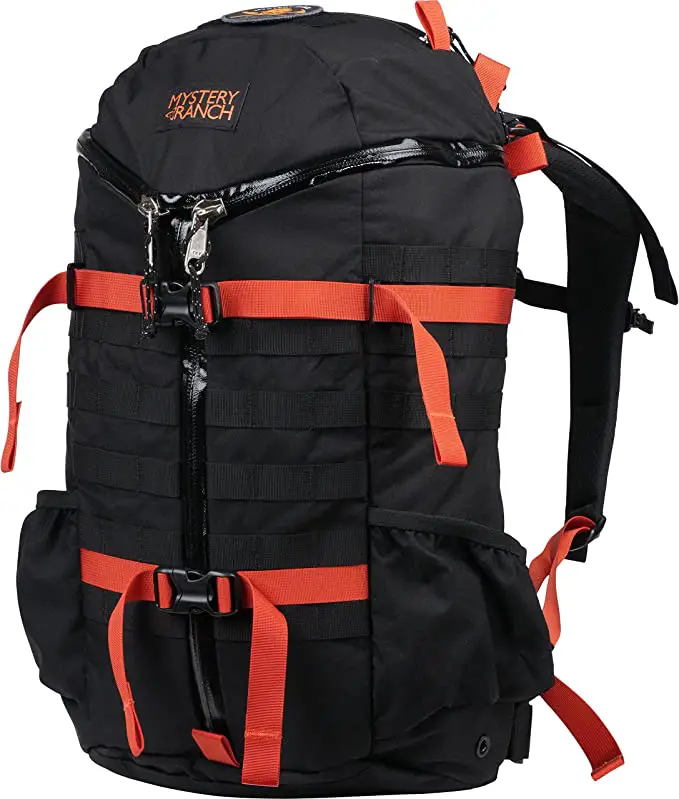 The Mystery Ranch 2 Day assault is specially designed for urban necessities, the capacity is 27L, and perfect for everyday travel, it has water bottle pockets, front compression straps, MOLLE webbing, and an adjustable harness to fit your body size and height.
You can access the main compartment because of the signature 3 zip opening, this everyday urban backpack has an internal padded section to protect your computer and other devices.
Finally, this 2 Day Assault backpack is a smaller everyday carry bag version of the standard 3 Day Backpack.
MYSTERY RANCH RUCK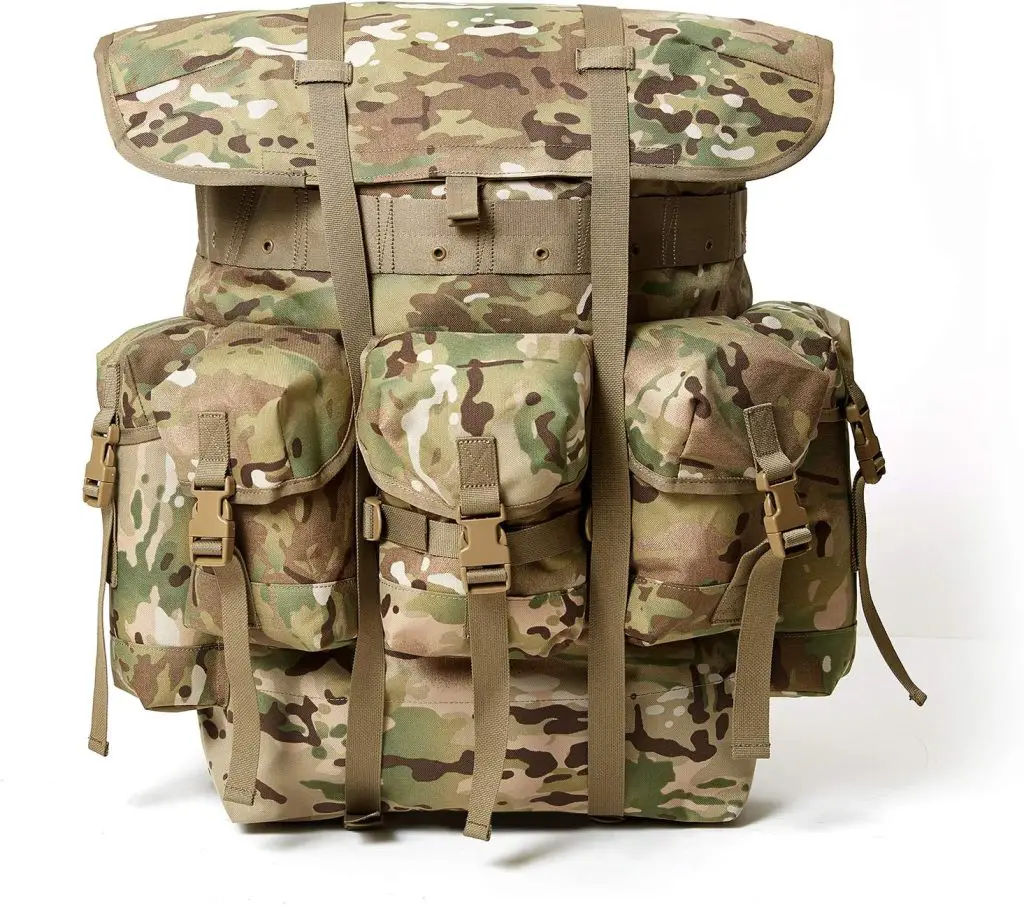 To begin, the 4 alternative Rucksack Backpack we recommend for the Mystery Ranch Ruck are below;
MT Military Alice Pack Army Survival Combat Rucksack Backpack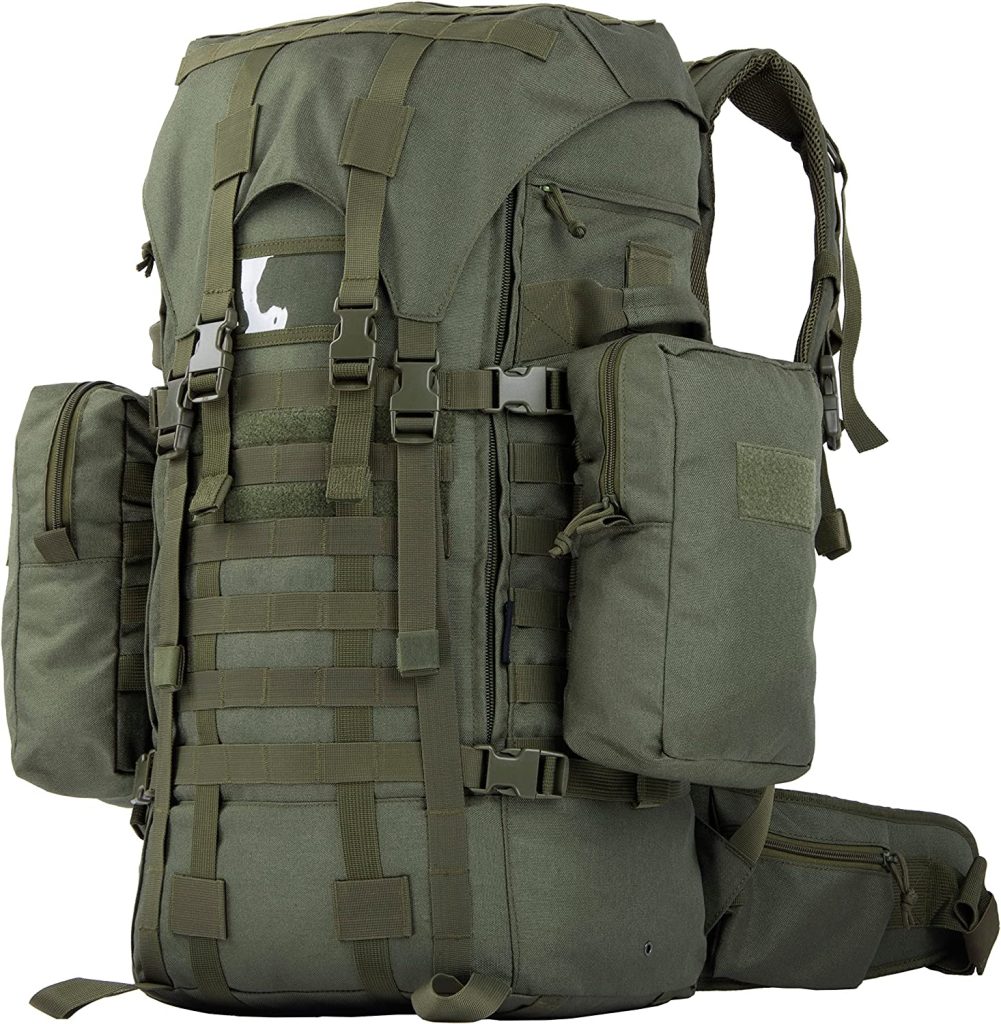 BACKFERRY Large Military Backpack for Men Army Rucksack with Internal Frame Hydration and MOLLE Compatible.
5.11 Tactical RUSH24 Military Backpack, Molle Bag Rucksack Pack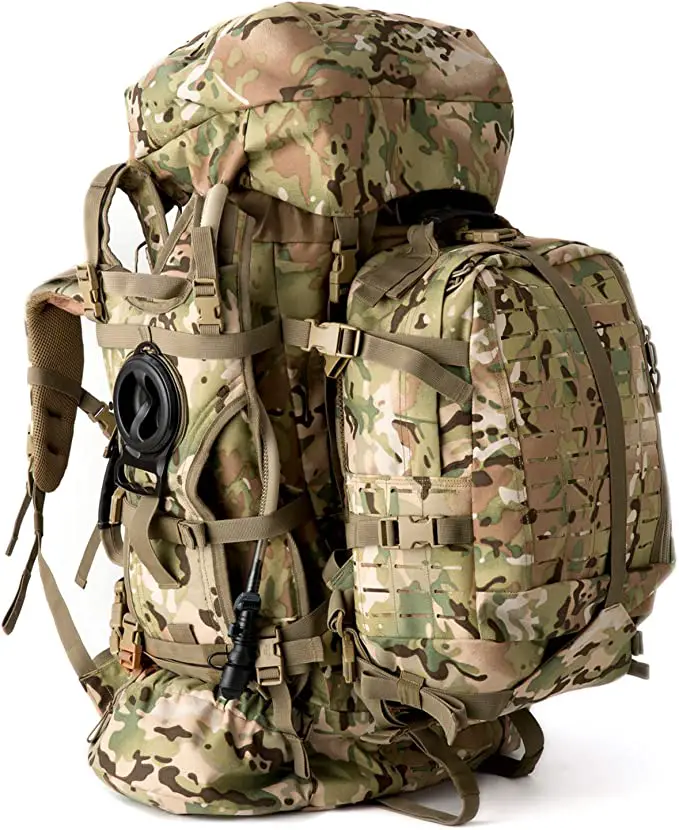 MT Military Army Large Rucksack with Tactical Assault Backpack and Hydration Pack.
Now, when it comes to the Mystery Ranch Ruck Backpacks, we have the following series;
Mystery Ranch Jump Mountain Ruck
Mystery Ranch Mountain Ruck
SATL Assault Ruck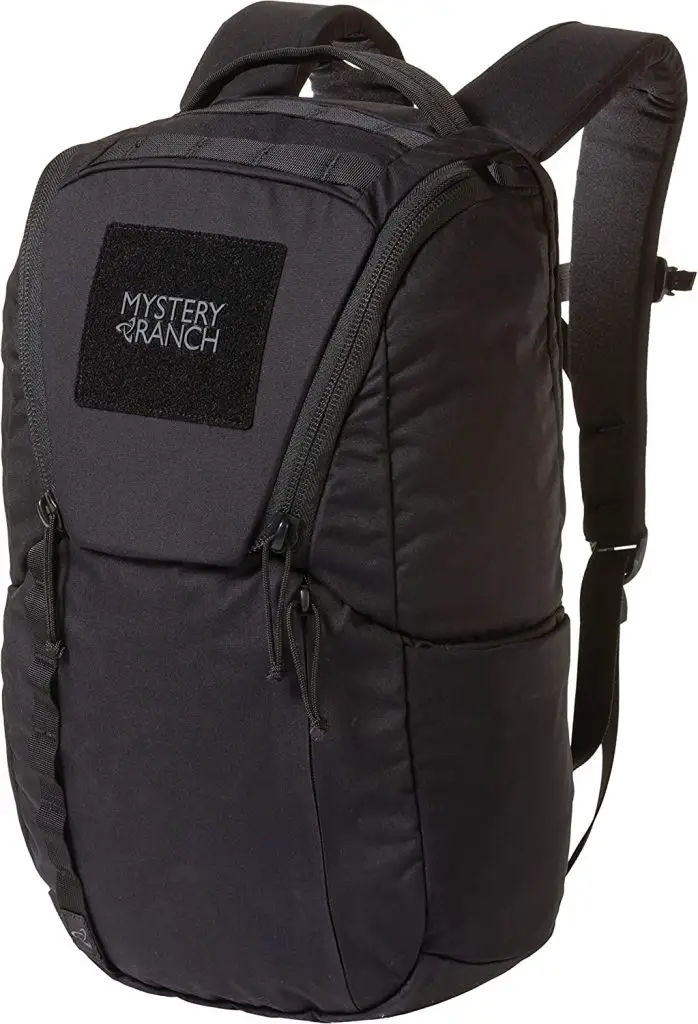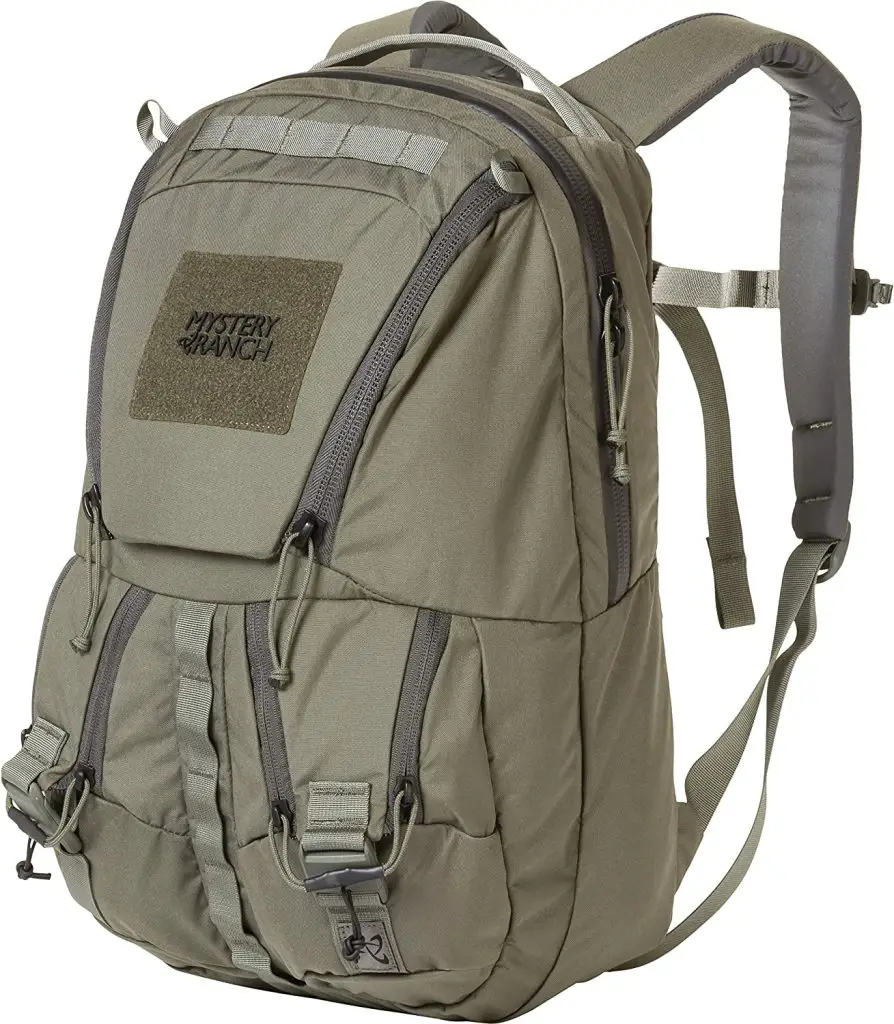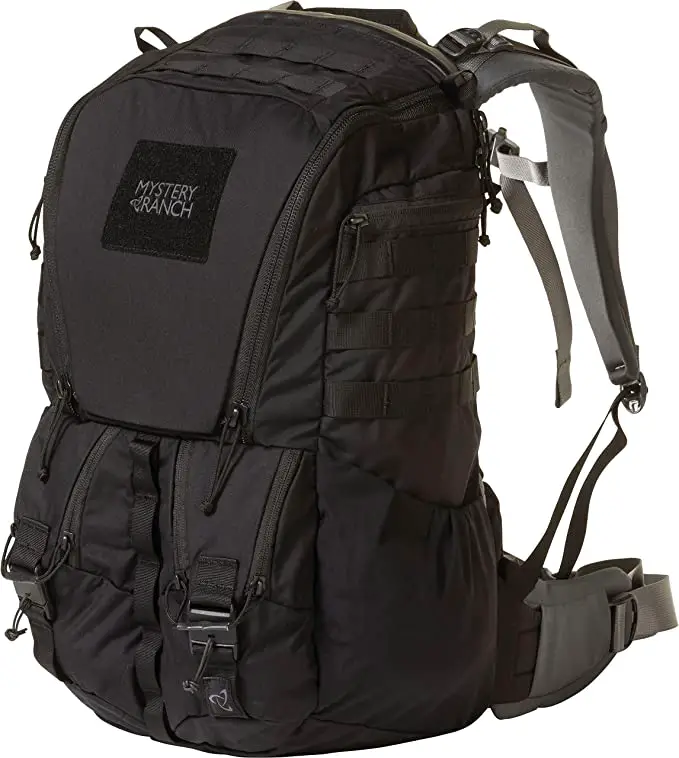 Rip Ruck 24cc
The Mystery Ranch Jump Mountain Ruck, the SATL Assault Ruck, and the Mountain Ruck Backpack are proudly made in the United States of America.
The Mystery Ranch Jump Mountain Ruck Backpack is built with custom spec 500D CORDURA with Teflon and PU coatings for maximum durability, UV, and weather protection, and reinforced 1000D CORDURA fabric in critical areas.
It is also Water-repellent, IR Compliant, and YKK zippers. It is also designed with 2 internal hydration sleeves, the PALS webbing accommodates MOLLE accessories, and the Auto-lock sturdy buckles help prevent slippage.
The MOLLE is on the waist belt and exterior perfect for attaching accessories, also has a contour waist belt and the bolsters can easily be removed.
MYSTERY RANCH DISTRICT 24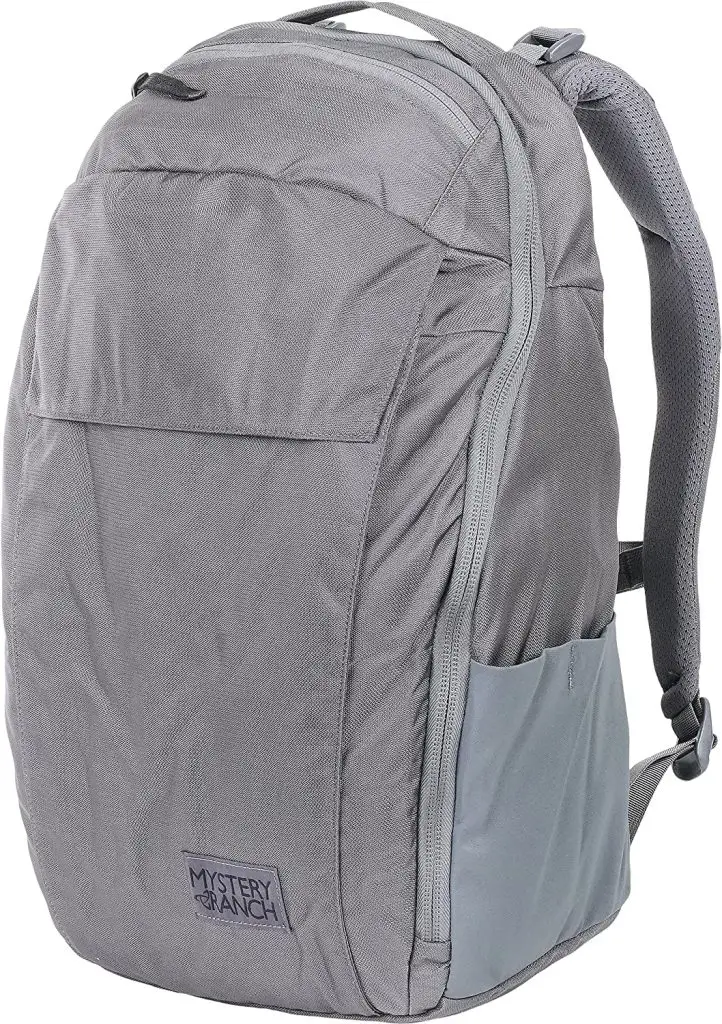 Just like the Mystery Ranch 2 Day Assault, the Mystery Ranch District 24 Backpack is also made in Vietnam but with the same Standards as the US Mystery Ranch Military backpacks.
The Mystery ranch district 24 backpack is an everyday outdoor travel bag that is 24L in capacity, made with CORDURA and recycled nylon fabric.
The Mystery Ranch District 24 is designed with a padded floating 18″ electronics sleeve, back pocket with accordion expansion, snap locking size zipper, and Velcro top for quick access.
Finally, the Mystery Ranch District 24 has double-size pockets for your water bottles, a zipper top pocket to organize smaller items, and a divided main compartment to fit all your everyday needs.
MYSTERY RANCH URBAN ASSAULT 24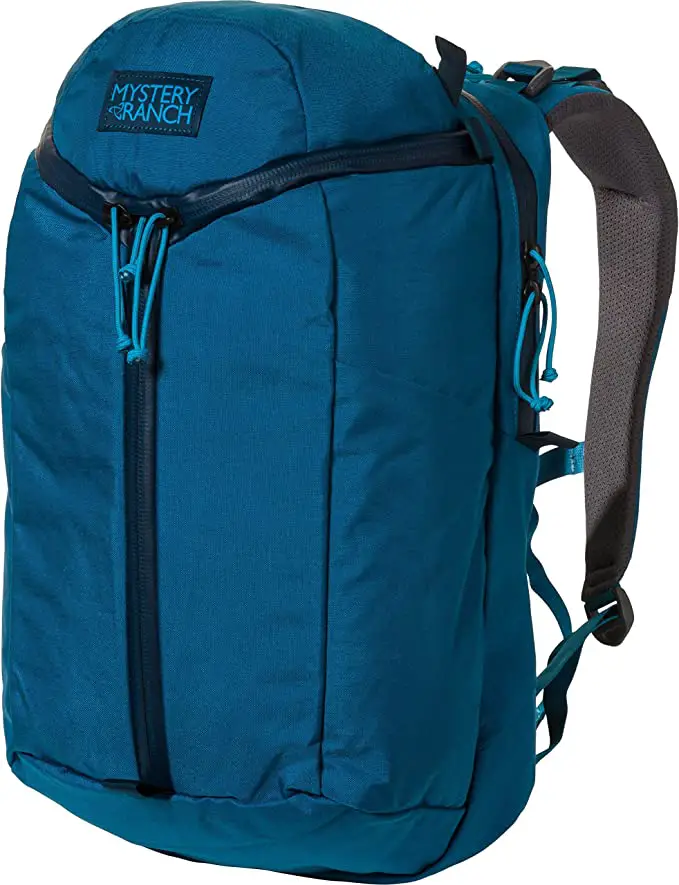 The Mystery Ranch Urban Assault 24 comes in various colors like; Black, Hummus, Indigo, Ivy, Shadow, and Splash. In this series, we also have the Mystery Ranch Urban Assault 21 Backpack – inspired by Military Assault Rucksack.
The Mystery Ranch Urban Assault 24 is designed with a "15 inches shoulder drop" with zipper closure and nylon lining.
The Mystery Ranch Urban Assault 24 is also called the Everyday Urban Mission bag, specially built in Laptop and tablet sleeve, if you need a backpack that hugs you closely to the back, then this is the Backpack you need.
The Mystery Ranch Urban Assault 24 is designed for comfort and protection, the 3-zip design is for quick access to your items.
In addition, the Urban Assault 24 is a perfect go-to backpack for work, school, and life-in-general daypack.
MYSTERY RANCH POP UP 28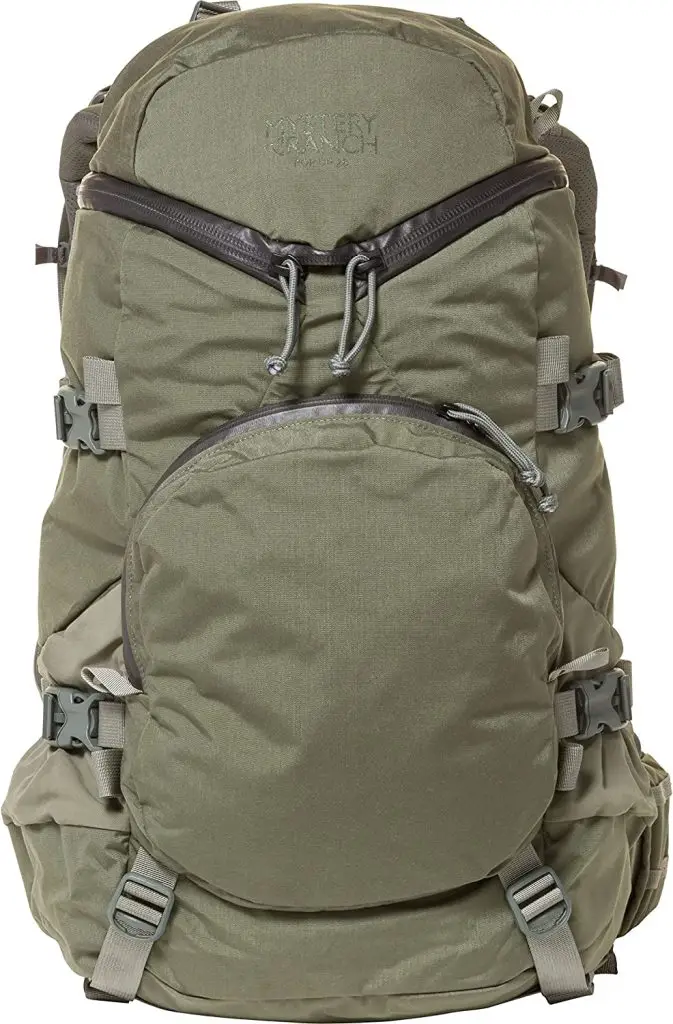 The Mystery Ranch Pop Up 28 backpack is designed specifically for hunting and trekking adventures. The colors include; Foliage, Optifade Subalpine, and Coyote.
The telescoping frame is designed to utilize trekking pole technology, the compression back pockets allow for quick access to optics or layers.
Designed with 500D LP CORDURA AND 500D CORDURA subalpine, the YKK-coated zipper is for durability and water protection.
Fitted with a hydration reservoir compatibility feature and Auto-lock SJ on compression straps.
You can convert this daypack into a load-hauling system because of the Pop –up – Frame feature
Finally, the Mystery Ranch Pop up 28 Backpack has an overload feature that provides expandability allowing you to put the bulk of the weight closest to your back for optimal comfort.
MYSTERY RANCH PRIZEFIGHTER
The Mystery Ranch Prizefighter is perfectly suited for travel and hiking, having a capacity of 21 Liters, colors available are splash and cherry.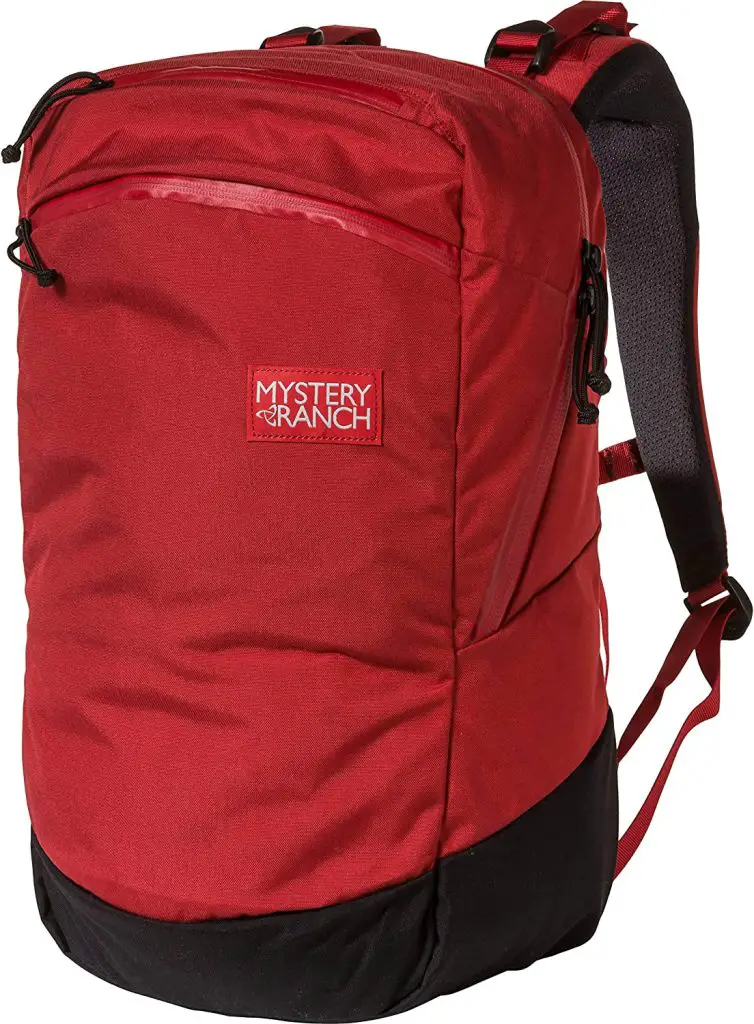 The Mystery Ranch Prizefighter Backpack has padded internal compartments and pockets that can fit your 15-inch Laptop, tablet, pen, and other essential tech devices.
Built for urban missions, this backpack has an outer large top zipper that allows you to load mid-sized items with ease.
Finally, this travel backpack is built with a full-length plastic frame sheet and fixed harness, keeping your necessities organized and comfortable to carry.
MYSTERY RANCH COULEE 25
The Mystery Ranch Coulee series include the 25L, 40L, 30L, and 24L, they also come in various sizes like XS, S, L, and XL.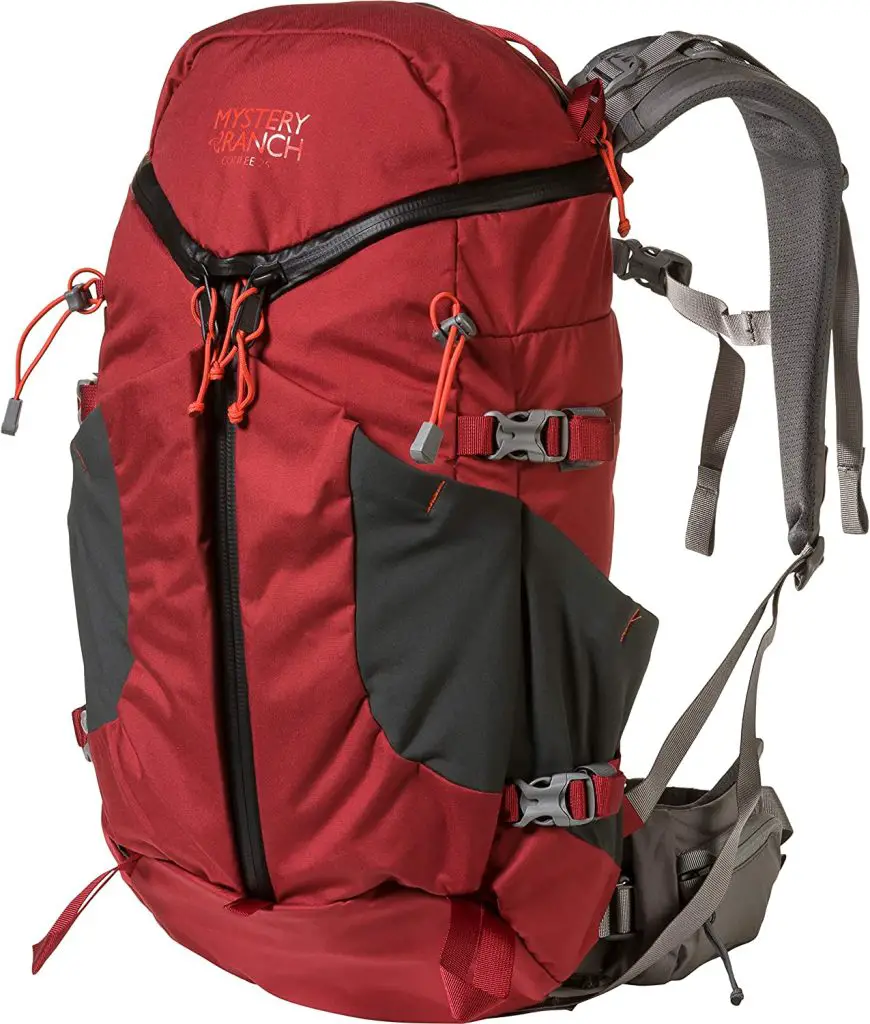 For example, the Mystery Ranch Coulee 40 has a built-in hydration sleeve and comes in small/medium and Large/extra-large capacities.
The Mystery Ranch Coulee 25 is designed specifically for fast and light day outings into the mountains, so the 3-zip design is for instant access to your gear. They come in black, Del Mar, and Garnet colors.
Planning for outdoor adventure, then this Mystery Ranch Coulee 25 got you covered, the backpack has 2 side water bottle pockets, 2 exterior front stretch pockets, and a top lid zippered compartment.
An outstanding feature of the Mystery Ranch Coulee 25 is the patented Futura yoke that allows you to adjust the bag to the torso length allowing for a proper amount of stand-off between the back and frame.
MYSTERY RANCH BLITZ 30
The Mystery Ranch Blitz 30 comes in various colors; Coyote, Black, and Forest, they also come in small/medium, Large/X-Large, and Large/X-Large sizes.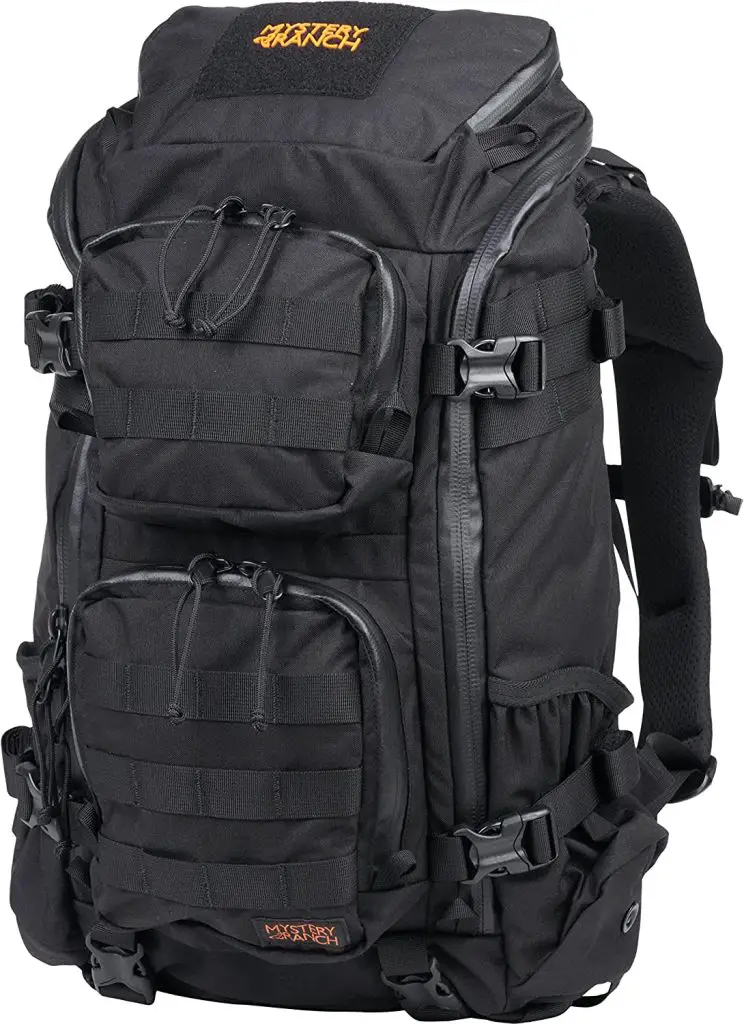 The Mystery Ranch Blitz 30 is made in Vietnam but with the same material and sewing standard as the USA-built packs.
This is a fully functional bag for everyday use and for travel. Designed with a padded Laptop fit sleeve, internal bottle pockets, and a hydro-ported body panel is ready for off-road adventures.
The side and lower compression straps offer flexibility, and the removable webbing waist belt allows you to have access whenever you want it.
Finally, the full horseshoe-style zip access allows you to get to every item in your pack and the external PALS webbing is ready for attached accessories.
MYSTERY RANCH HIP MONKEY MADE IN USA
There are two types of Mystery Ranch Hip Monkey fanny pack, one is made in the USA while the other one is made in Vietnam.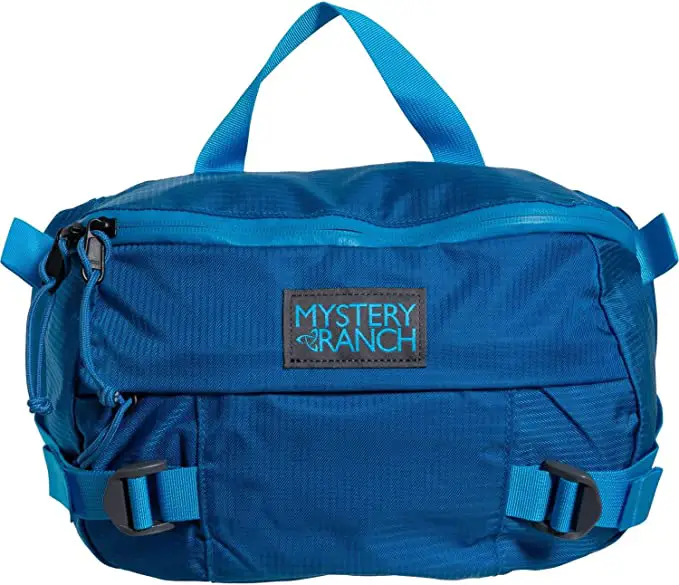 However, it seems it is the Mystery Ranch Hip monkey that is made in Vietnam that is popular, the same standard used in manufacturing the USA Mystery Ranch products is used in producing all other Mystery Ranch products crafted in Vietnam.
The Hip Monkey Mystery Ranch has a sleek design, and roomy space that can contain your phone, keys, wallet, and mid-sized items.
It has an adjustable belt designed to give you comfort whether you wear it on your hips or diagonally over the shoulder.
It is also designed with compression straps, the material used is the 500D CORDURA fabric and YKK Zippers.
You can't go wrong with this spacious fanny pack.
IS MYSTERY RANCH A GOOD BRAND?
Yes, Mystery Ranch is a good brand because they manufacture high-quality hunting and camping backpacks that provide comfort, ample storage space, and other important features required for outdoor enthusiasts to perform excellently in the field.
WHY IS MYSTERY RANCH SO EXPENSIVE?
Mystery Ranch products are expensive because they are handmade with a high level of craftsmanship using high-quality material with innovative designs that are sometimes produced in a Limited number each year, allowing the Mystery Ranch brand to maintain a high level of quality control and ensure that each product meets its standards.
WHAT IS MYSTERY RANCH KNOWN FOR?
Mystery Ranch products are known for manufacturing durable, functional, and innovative designs of Hunting and camping Backpacks that can carry heavy loads with ease during outdoor recreation activities, military, tactical, hunting, and wildland firefighting.