There are many hacks on how to pack a sleeping bag without a stuff sack. Some of these hacks could be to fold into a portable square and tie it together with a string.
You can decide to roll it into a mat-like shape, tie two strings at the head and the tail, join these two strings together and hang it on your shoulder like a shoulder bag.
There are still those who can convert their old duffel bags to sleeping bag packs and those who still believe that there's no use for a sleeping bag if you can't get a stuff sack.
Meanwhile, in case you are still uncertain about what a stuff sack is, a stuff sack is a flexible bag with adjustable strings or ropes at the top.
The sleeping bag is normally packed inside this bag using a method, we can refer to as the stuffing method, where the bag is practically stuffed into the bag and the ropes, are strapped closed afterward.
Table of Contents
HOW TO PACK A SLEEPING BAG WITHOUT A STUFF SACK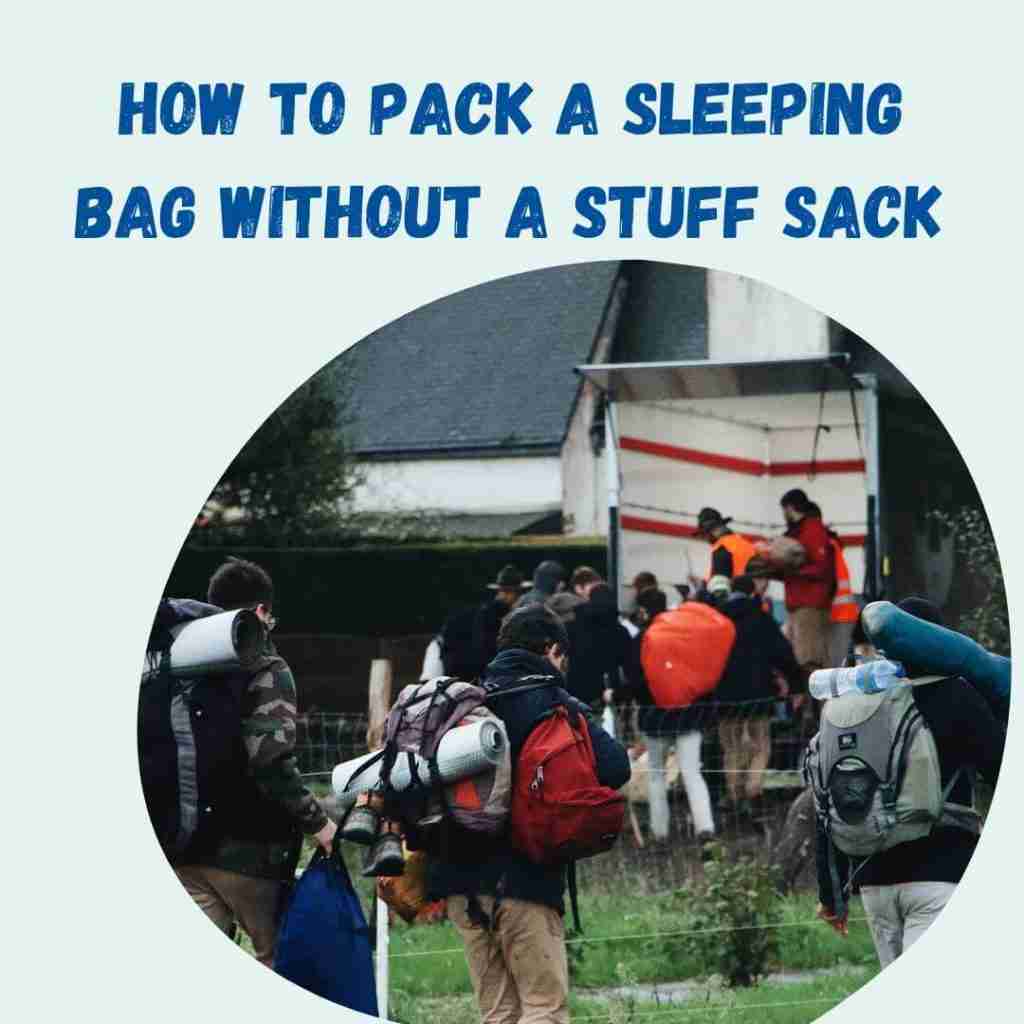 There are 3 ways you can decide to pack together your sleeping bag without having to use the stuff sack.
Method 1:
Lay out your sleeping bag on the floor
Fold again from top to bottom. This can be achieved by taking the edges of the top and joining them together with the edges at the bottom. You could use the help of someone to make a clean fold.
Here, your partner holds the bottom area, while you hold the top area. Then you both can swiftly move towards each other, till you meet each other halfway.
Repeat the method again till the bag is folded into a small portable square.
Get a string or a rope and tie them together, you can decide to make a beautiful bow or a knot at the top like a gift box.
Method 2:
Spread out your sleeping bag on the floor.
Roll the bag from one side to the other as if you are trying to roll up a rug or a mat.
Tie together with a string. The string should be tied in many slanting lines to give the bag a carriable shape.
You can hold the sleeping bag under your armpit, like a nomad or you can simply throw it inside your car trunk.
Method 3:
Spread your sleeping bag on the floor.
Roll the bag from one end to another.
Make a tight knot at the top region of the rolled-up sleeping bag. Ensure that the rope has a long extension.
Make another tight knot at the bottom region of the rolled-up bag.
You can clip the center of the rolled-up sleeping bag with a big safety pin to prevent it from occasionally opening up.
Join horizontally these two ropes and make a loose knot with the ropes.
Then swing the bag on your shoulder.
You have yourself a rolled-up sleeping bag with a strap that can be hung on your shoulder as a shoulder bag or as a crossbody if the straps are long enough to cross over your chest.
READ ALSO: SHOULD YOU WEAR CLOTHES IN A SLEEPING BAG?
READ ALSO: DO SLEEPING BAG LINERS WORK?
READ ALSO: HOW TO MAKE A SLEEPING BAG OUT OF BLANKETS?
HOW TO FOLD THE SLEEPING BAG INTO A STUFF SACK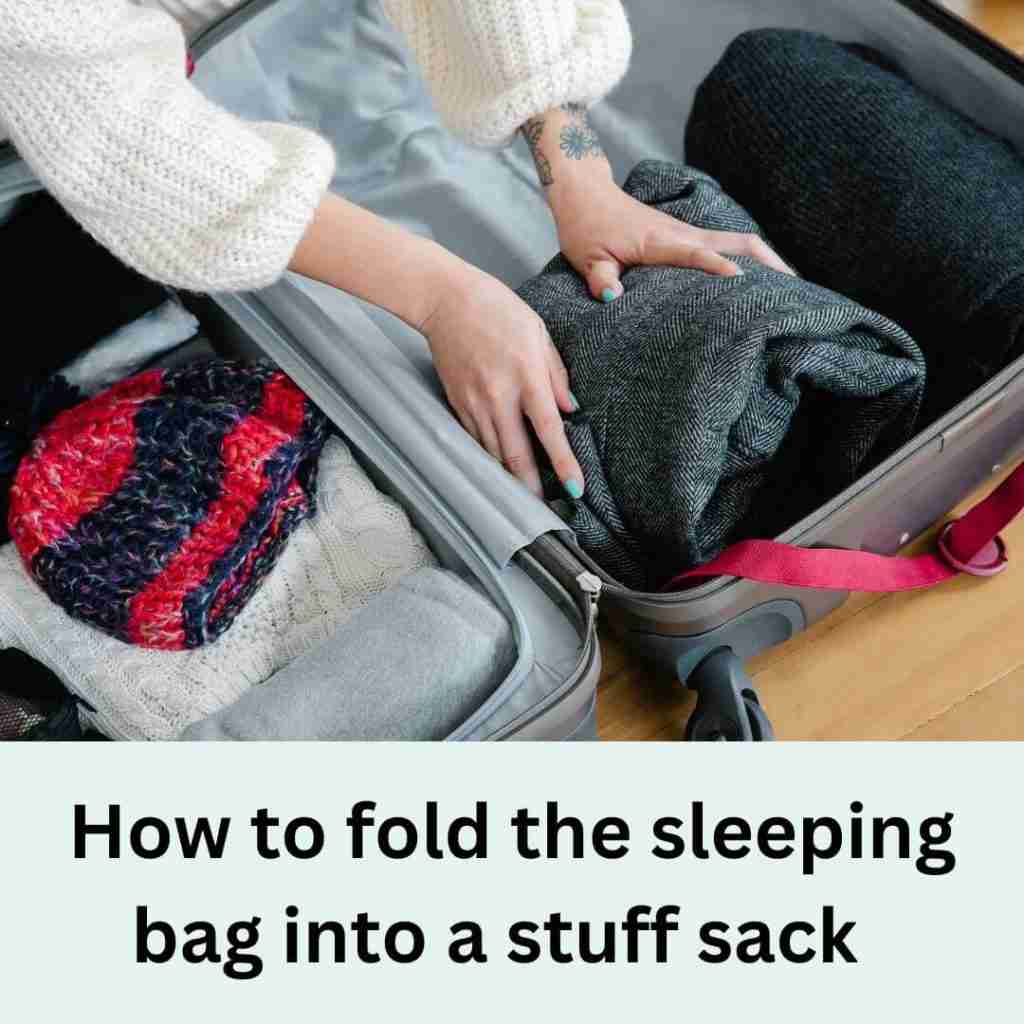 Kindly follow the instructions below to fold your sleeping bag into a stuff sack:
Step 1: Open up your stuff sack by adjusting the ropes till the mouth of the bag is wide open.
Step 2: Get your sleeping bag and fold it into two or three, depending on the size of the bag
Step 3: Grab the top area of your folded bag and squeeze it together. Make sure that you have a firm grip on the bag with your right hand or with your left hand.
Step 4: Adjust the stuff sack with your free hand. You can adjust it till it's in a comfortable position to swallow the bag.
Step 5: Stuff the squeezed part first inside the stuff sack with an open mouth.
Step 6: Push the sleeping bag inside the stuff sack. The process is what I can refer to as the stuff and adjust the process. Ensure that the sleeping bag gets to the very bottom of the stuff sack.
This is because, many times, we might feel that we have done a great job stuffing our sleeping bags inside their stuff sacks but it will shock you to see that the sleeping bag will appear too big for the sack because we have left lots of empty space at the bottom part of the sack filled with nothing but simply air.
READ ALSO: HOW TO MAKE SLEEPING BAG WARMER?
READ ALSO: HAND WARMERS IN SLEEPING BAG
READ ALSO: HOW DOES A SLEEPING BAG KEEP YOU WARM?
HOW TO PACK SLEEPING BAG IN BACKPACK
There are two major ways you can decide to pack your sleeping bag in a backpack. You can attach the sleeping bag to the loops of your backpack or you can put your sleeping bag inside your backpack.
Attaching your sleeping bag to your backpack loops:
Step 1: Roll up your sleeping bag like a mat.
Step 2: Adjust the loops of your backpack till they are wide and open.
Step 3: carefully fix your sleeping bag in between these loops. The loops are generally found at the bottom of the backpack, the top of the backpack, or in the middle. Sometimes, they can come in all 3 places. If there are 3 loops on your backpack and you are thinking of the best place to attach the sleeping bag, the middle loop can be your first option because of balance.
Step 4: After you've fixed your sleeping bag into the loops outside your backpack, you can adjust the loops till they are tight and securely holding your sleeping bag.
Note: You can either decide to roll up your sleeping bag and tie it before fixing them on the loops of your backpack or you can stuff them inside your stuff sack first, before fixing them on the loops of your sleeping bag. Stuffing them inside a stuff sack first occurs especially when the stuff sack has no strings or handles.
Packing your sleeping bag inside the backpack:
Not all backpacks have loops. The first things to consider if you are selecting a backpack to use for camping are the size and shape of the backpack.
There are backpacks that are big enough and designed by shape, to contain most of the requirements you will need for camping including your sleeping bag.
Step 1: Fold your sleeping bag carefully into small squares.
Step 2: Tie it up securely with a rope so that it becomes more compact.
Step 3: Lay it at the base of your backpack.
Step 4: Pack heavier items on top of the sleeping bag.
Step 5: Make sure, the spaces at the bottom of your backpack are filled with things. This way, every space in your backpack is utilized.
Step 6: Essential items and ready-to-use items like your water bottle, should be at the top layer of your backpack. This is so that you don't have to unpack down to where you've packed up your sleeping bag each time you want to take a sip of water.
HOW TO ROLL UP A SLEEPING BAG WITH STRAPS
Step 1: Fold your bag carefully into two:
Step 2: Get a dowel rod and place it horizontally at the foot area of the folded sleeping bag.
Step 3: Ensure that the strings are exposed and away from the bags. There are usually two straps, one at the bottom and one at the top.
Step 4: Roll up your sleeping bag around the dowel rod. You can do this neatly by rolling from the foot of the bag where you initially placed the rod, to the top of the bag.
Step 5: When you've carefully rolled up your bag, hold it firmly with one hand, while you grab the straps with the other.
Step: Tie up the rolled-up bag carefully the same way you tie your shoe laces. You can get the second strap and repeat the action so that the sleeping bag is securely rolled and tied up.
DO YOU STUFF OR ROLL A SLEEPING BAG?
The most common way or rather the easiest way to pack your sleeping bag is by stuffing.
This is generally due to its unique fabric which is thick and somewhat heavy, especially for the down sleeping bags padded up with extra layers of down.
But, you can either roll or stuff your sleeping bag depending on how you are trying to pack up your sleeping bag.
Here, folding becomes like child's play because of the constant puffs that will keep happening here and there.
You may find it hard to level down the surface and this might make the bag appear too big to fit into any sack.
This will leave you with no other option than to stuff the sleeping bag as hard as you can inside its sack or simply roll it up and tie down the stubborn puffs with a rope, a string, or even twine.
HOW TO USE A SLEEPING BAG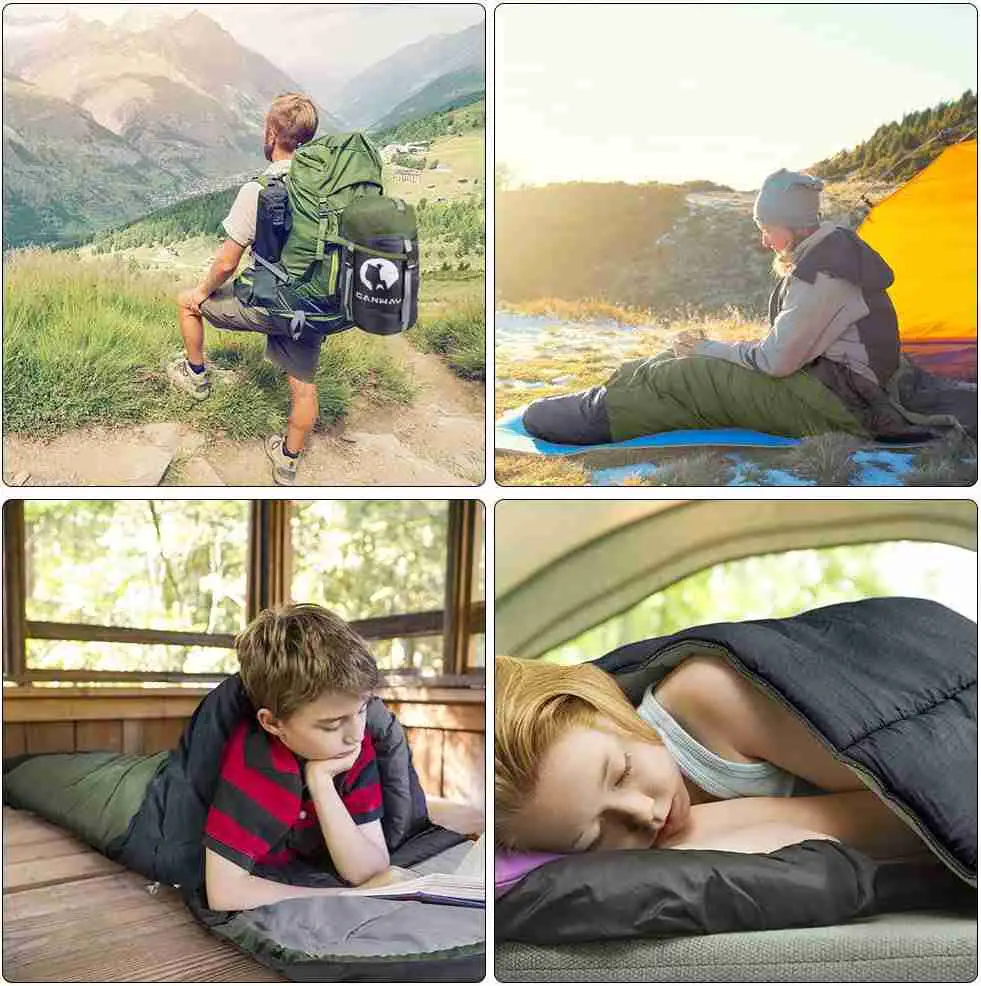 Step1: Here is how to use a sleeping bag; the first thing to do if you have the sleeping bag attached to the loop of your backpack is to unlatch the loop and remove the sleeping bag.
Step 2: Unroll the roll. This is usually time-consuming as you will need to gently untie the strings you must have used to hold up the rolled sleeping bag.
Step 3: Remove the dowel rod if you used it to give your sleeping bag a nice sausage roll-like shape.
Step 4: Spread out the bag and place it on top of the mat or smooth grass if you are out camping.
Step 5: Pitch your tent carefully on top of your spread-out sleeping bag. If you have a tent.
Step 6: unzip one side of your sleeping bag and crawl in, one foot first then another foot.
Step 7: Adjust your legs till they touch the pockets or the fluffy down at the foot of your sleeping bag.
Step 8: Snuggle in as comfortably as you can, then zip up your bag.
Stepping out is as easy as stepping into the sleeping bag. Here, you crawl out of the bag first before going ahead to remove the tent you've pitched.
Then, you fold your bag from inside out and roll up or stuff in your stuff sack.
ROLL UP SLEEPING BAG WITH PILLOW
Kids' sleeping bags normally have pillows that the kids can play with even after they've rolled up their sleeping bags. Let's see how to roll the Nappy sack into a play pillow below;
Fold the sleeping bag backward from bottom to top.
Pin closed the snaps found between the two folded halves.
Turn the pinned sleeping bag, you will see an extension of the sleeping bag still revealed.
Fold in this extension and still pin closed. Normally there are pins all over the sleeping bag that makes this process easier.
Observe the bag properly, and fold in any extras that may hinder the bag from turning into a play pillow.
Note: It's normally easier to follow the precepts when trying to do this. The Nappy sack has a unique shape that makes it very easy to fold into a play pillow.
HOW TO FOLD A MUMMY SLEEPING BAG
Lay out the sleeping bag on the floor.
Fold into a vertical half.
Roll up tightly from top to bottom. Ensure that all air that might come in between your rolls is squished out.
Hold down the rolled-up bag with one knee.
Open up your stuff sack.
Put your rolled-up sleeping bag inside the stuff sack and do the straps till they are properly closed.
HOW TO ROLL A SLEEPING BAG COLEMAN
The Coleman sleeping bag is a brand mostly enjoyed by teenagers. This might be probably because of its secret interior pocket where kids can store items without anyone seeming to know.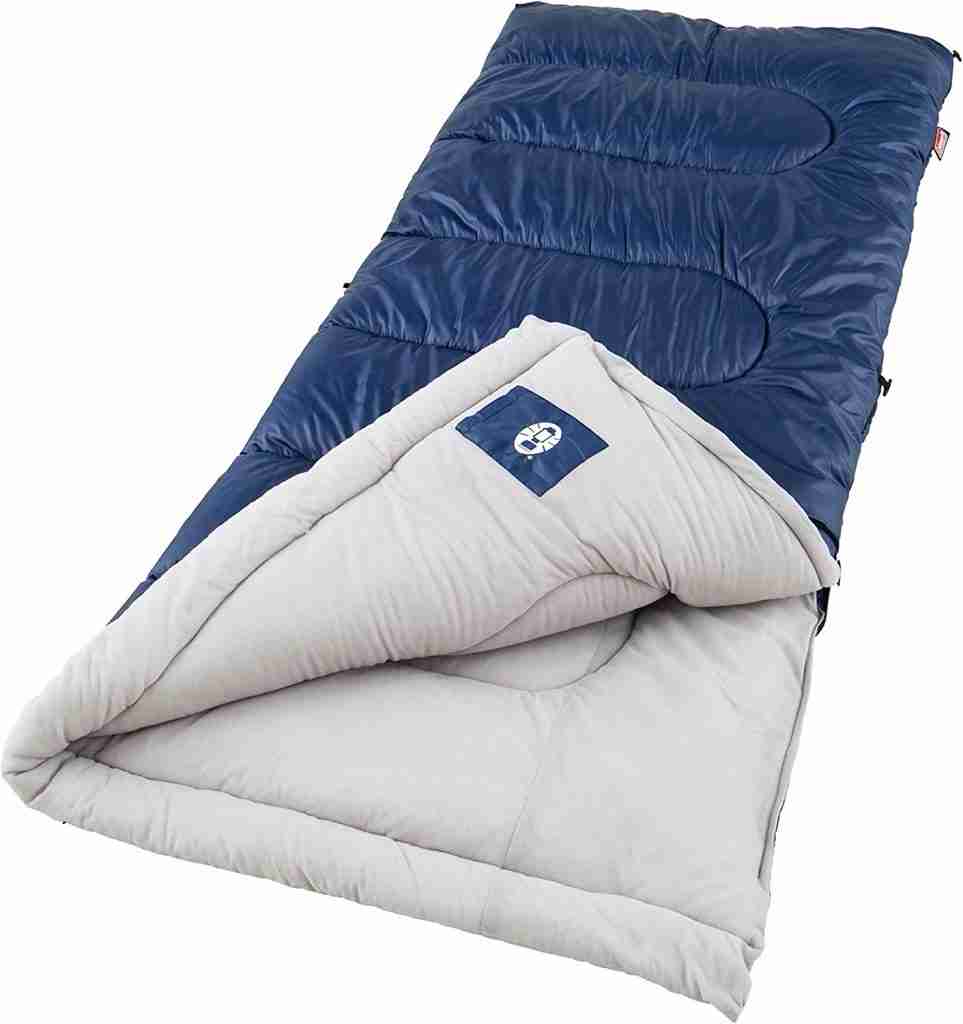 Peanuts can be conveniently stored in these secret pockets and it's easier to occasionally take a handful and scoop it into your mouth while snuggled up in your sleeping bag, fun right?
Step 1: Fold the bag in half
Step 2: Fold into another half
Step 3: Roll it up, from top to bottom or from bottom to top
Step 4: Ensure that the rolls are tight and firm, loose rolling will defeat the aim of putting it into a sack afterward.
Step 5: Hold the rolled-up sleeping bag firmly between your knees or in any other convenient way that will make it difficult to unroll.
Step 6: Open up your sack and push in the rolled-up sleeping bag, adjust till everything is inside the sack.
Step 7: Tie closed the strings of your sack and you are good to go.
BACKPACKING SLEEPING BAG
Backpacking sleeping bags unlike the other sleeping bags used at home or by children for fun activities are designed with special features that adapt easily to outdoor phenomena.
Examples of these features are extra heated pads that regulate the temperature of the sleeping bags, waterproof features, lightweight, and very easy to carry.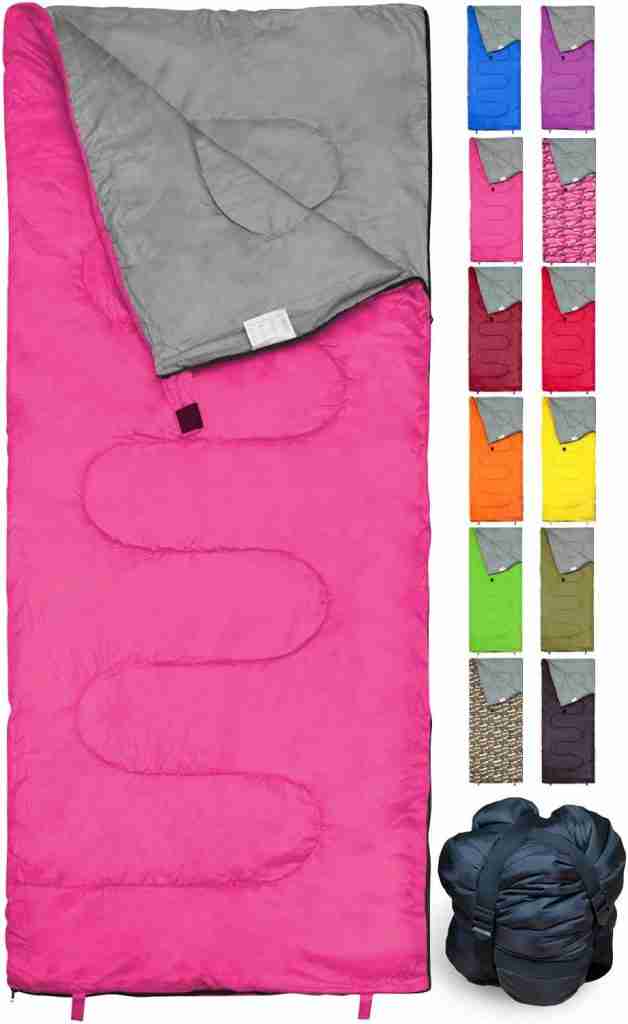 Stuff sacks that do not require much effort when folding the bags into them, secret pockets where things can be securely kept in cases of group camping.
Double pillows and cushions where more than one person can share a sleeping bag comfortably and so many other features.
Examples of backpacking sleeping bags are;
SHOULD SLEEPING BAGS BE STORED IN STUFF SACKS?
Sleeping bags should be stored in stuff sacks because the stuff sacks were uniquely designed by manufacturers for sleeping bags.
Yes, there are so many ways by which one can store his sleeping bag without a stuff sack but the stuff sack still remains the easiest option when it comes to storage.
Stuff sacks are designed for sleeping bags. There are different types of sacks for different types of bags.
Just as there is no river without the waters that adorn it, there is no use for stuff sacks if there are no sleeping bags.
WHAT IS THE EASIEST WAY TO PACK A SLEEPING BAG?
The easiest way to pack a sleeping bag is to roll up the sleeping bag with a dowel rod and attach it to the loops of your backpack.
This is because, unlike the stuffing procedure which requires some level of pressure and a bit more strength, the rolling method, is a method everyone can identify easily with including children.
We roll stuff all the time. We roll dough when trying to bake, we roll fondant when designing cakes, we roll clay when molding, we roll paper when playing as kids, we roll mats when we go for yoga and so many more activities.
Apart from being what everyone can easily identify with, rolling sleeping bags can be less demanding than when we are either folding them up or trying to stuff them into a stuff sack.
As much as we may try to disbelieve, stuffing sleeping bags into their stuff sacks requires some level of technical know-how.
If you are city personnel who knows little or nothing about camping life, the stuffing method could be very demanding for you, especially after you've tried severally to do a neat job and the result was futile.
Cases like the top straps not closing up because the bag was not properly squeezed could occur. You might see things like a huge bump at the top and empty space filled with air at the bottom.
This might be laughable but it really occurs when people who are not familiar with stuffing try to pack up using the stuffing method.
Lastly, there are no specific rules or patterns one must follow when trying to roll up a sleeping bag. Which may not be the same for other methods.
The stuffing method for instance requires that you fold the top first and squeeze into the bag before adjusting and stuffing till there's content everywhere in the stuff sack and especially at the bottom part.
IS IT BETTER TO ROLL OR STUFF A SLEEPING BAG?
It is better to roll up a sleeping bag. Why did I say this? Shape matters a lot in the longevity of bags.
There might be opinions like this, but I've used stuff sacks for almost 5 years and my bag is still in good shape. Hallelujah, this is applaudable but I don't think it's the same for a few others.
There are some who are not as tidy as you are and who are in the habit of doing jobs that are not too clean, especially when trying to stuff their sleeping bags in their stuff sacks.
What can you say about those people? Tearing can most definitely occur.
When this happens, much down which helps to keep the bag warm might be lost, which will have an adverse effect on the warmth of your sleeping bag.
There are strong quality sleeping bags that can withstand all forms of stuffing and rough handling, no doubt but it's better safe than sorry if you are not very good at stuffing things.
HOW DO YOU STUFF A SLEEPING BAG IN A BACKPACK?
Stuffing the sleeping bag haphazardly into a backpack may not be the option you should go for when trying to stuff your sleeping bag into your backpack especially if other items already have plans to be accommodated in the same backpack.
Let me share what you will do in these steps;
Step 1: Empty the backpack.
Step 2: Carefully fold your sleeping bag.
Step 3: Stuff the bag horizontally at the bottom of your backpack.
Step 4: Put your shoes and other solid items as wedges round the sleeping bag.
Step 5: Place other items one after the other in order of priority. The most important items that require easier access should be placed at the topmost part of the bag.
Step 6: Zip up your backpack, strap the bag to your back and go your way.
CONCLUSION
So many ways on how one can decide to pack up his sleeping bag without having to use a stuff sack abound.
New hacks on what you can do to make packing up much easier and faster for you can still be devised.
However, in cases where you are not very certain of what works best, I'll suggest you go with the usual methods you've already been exposed to.