What makes American-made messenger bags distinctive is a common question. Have you ever spent money on something that wasn't worth it? You experience unparalleled levels of rage and frustration.
Today's topic is waxed canvas messenger bag made in USA. Do we even have any? Do American messenger bags live up to their reputation?
In case you are still confused, let me give you a little hint; American made messenger bags are carefully designed by Professional artisans, though they might be slow in production and somewhat expensive when they are done, you get a masterpiece
In addition, have you ever been in a situation where you get soaked under the rain or sprinkles of water affected your essential items, worry no more because that's where the waxed canvas messenger bag comes into play.
Finally, if you need a messenger bag that is rugged and promised to stand the rigors of daily use while maintaining your fashion style, then it's time you opt for the timeless waxed canvas messenger bag.
Table of Contents
WAXED CANVAS BAG
A bag remains an essential tool for everyone and cuts across all ages and races. When it comes to bags, we have various types like leather, nylon, and canvas, made up of different materials which determine their uniqueness.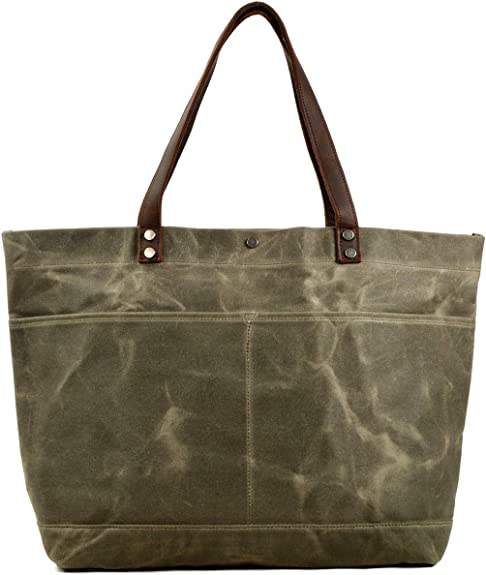 One such is the waxed canvas bag made up of wax coating, which makes the fabric resistant to stains, water, and wear, that's why they are super useful for everyday and outdoor activities.
The name waxed canvas means that wax is used to treat the canvas which is made from a variety of materials like paraffin wax, beeswax, or a combination of the two.
To further strengthen the canvas fabric, the wax is melted and applied to the canvas material using a soft brush.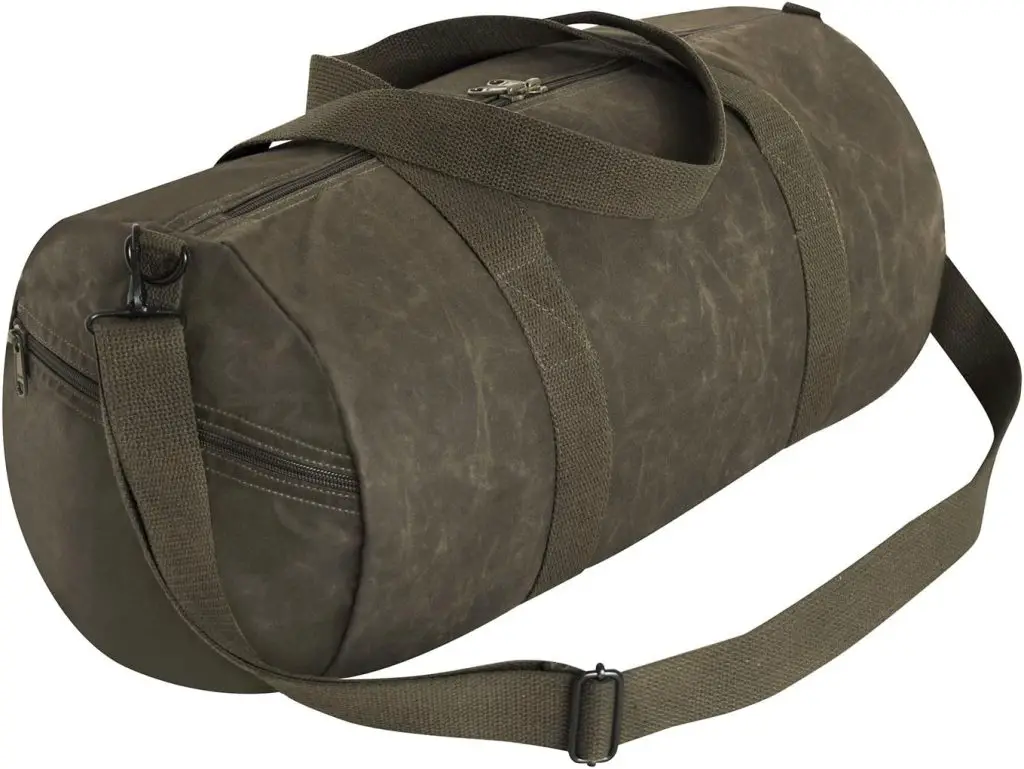 Then the fabric canvas is heated to allow the wax to soak in and bond with the fibers. This process creates a tight weave that helps to repel water, making the bag ideal for use in wet conditions.
Waxed canvas bags can withstand rough use and last longer than bags made from other materials.
Waxed canvas bags are often used as backpacks, messenger bags, or tote bags.
Since waxed canvas bags are environmentally friendly, they are a more sustainable option compared to synthetic materials and can be re-waxed and used for many years, reducing the need to replace the bag.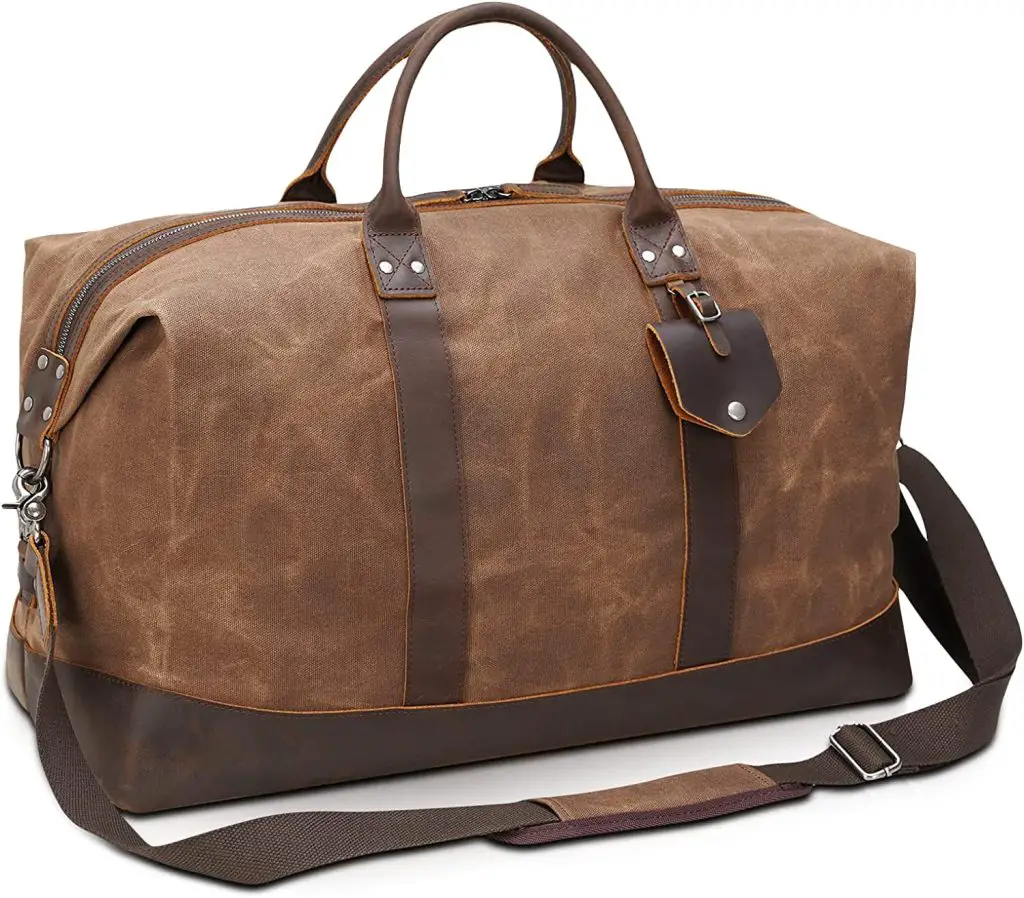 One unique feature of waxed canvas bags is that they have a timeless, stylish, vintage, and aesthetic design, the canvas fabric develops a beautiful patina over time that gives the bag a distinctive look.
Overall, the combination of durability, style, and sustainability makes waxed canvas bags a popular choice among those who value quality and craftsmanship like the England-made waxed canvas backpacks."
RELATED: WAXED CANVAS BACKPACK MADE IN USA
RELATED: HUNTING BACKPACKS MADE IN USA
WAXED CANVAS MESSENGER BAG MADE IN USA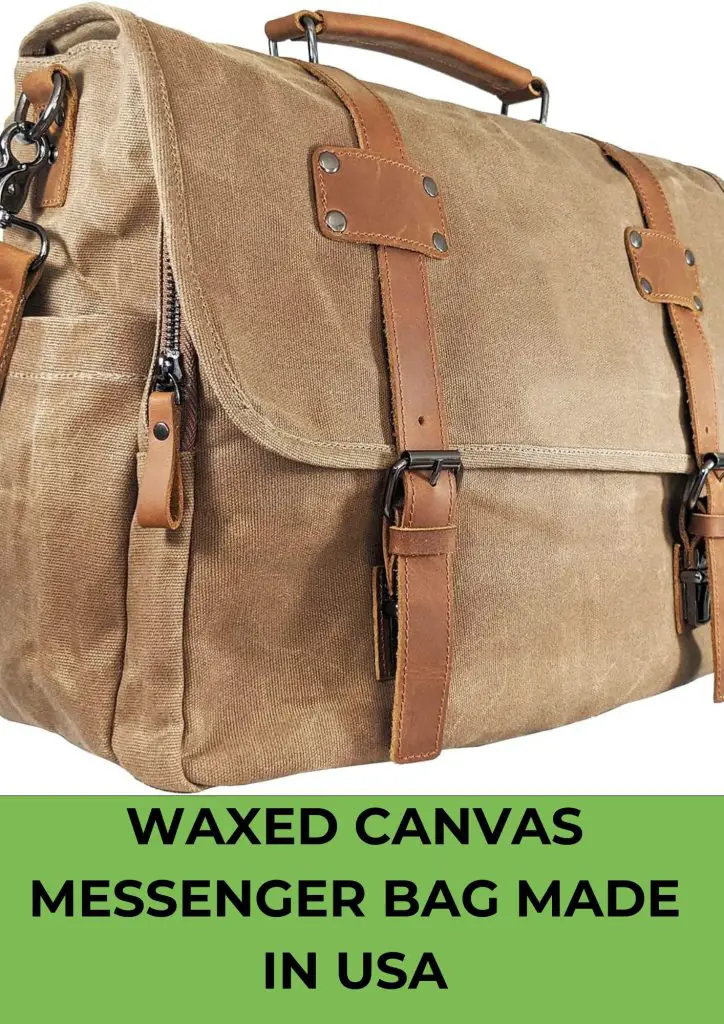 Below are the 5 recommended waxed canvas messenger bags that are made in the USA;
Manhattan Portage Waxed Canvas Messenger Bag
Lands' End Waxed Canvas Messenger Bag
Frost River Waxed Canvas Leather Messenger Bag
Waxed Canvas Camera Bag | Dakota by Buffalo Jackson
MANHATTAN PORTAGE WAXED CANVAS MESSENGER BAG
The Manhattan Portage waxed canvas messenger bag is made in New York, USA. They come in various colors like tan or dark brown.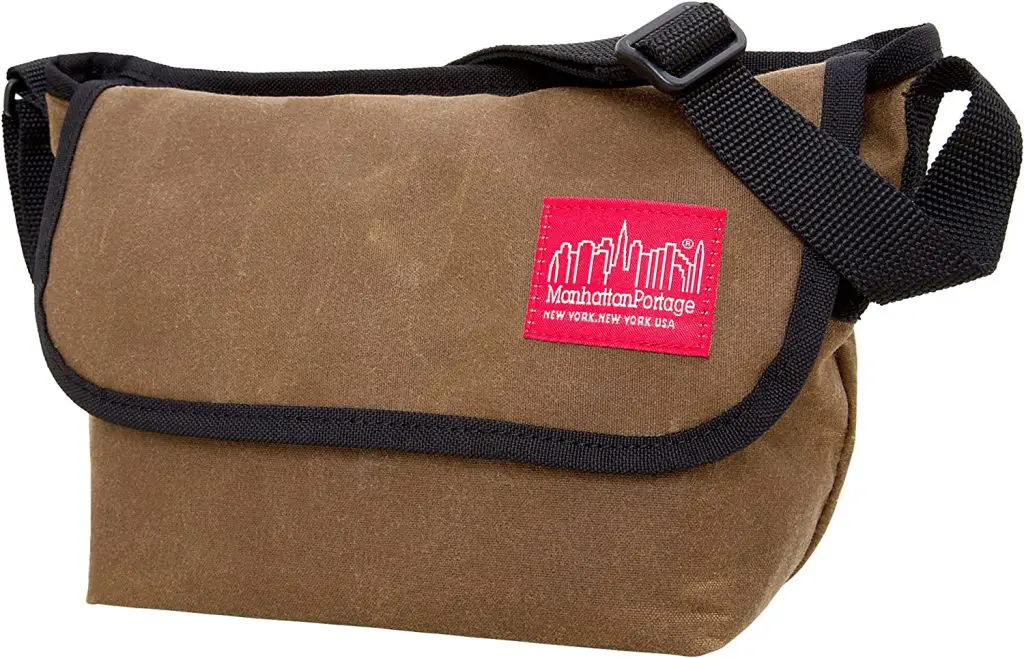 Manhattan Portage waxed canvas messenger bags do have their Logo on the front side with a red color.
They are designed with a long black strap that is strong enough to carry some amount of load, like personal belongings and essential items.
This American made durable waxed canvas messenger bag has a very large compartment that makes it perfect for short travel, school, and other outdoor activities.
Finally, unlike other waxed canvas products, this Manhattan Portage waxed canvas messenger bag stands out with the 1000D Cordura classic fabric that makes it rugged.
LANDS' END WAXED CANVAS MESSENGER BAG
Lands' End waxed canvas messenger bags are designed and manufactured in Chicago, USA, they have been manufacturing timeless quality products like women, kids, men, outerwear, swim, and school products aside from messenger bags.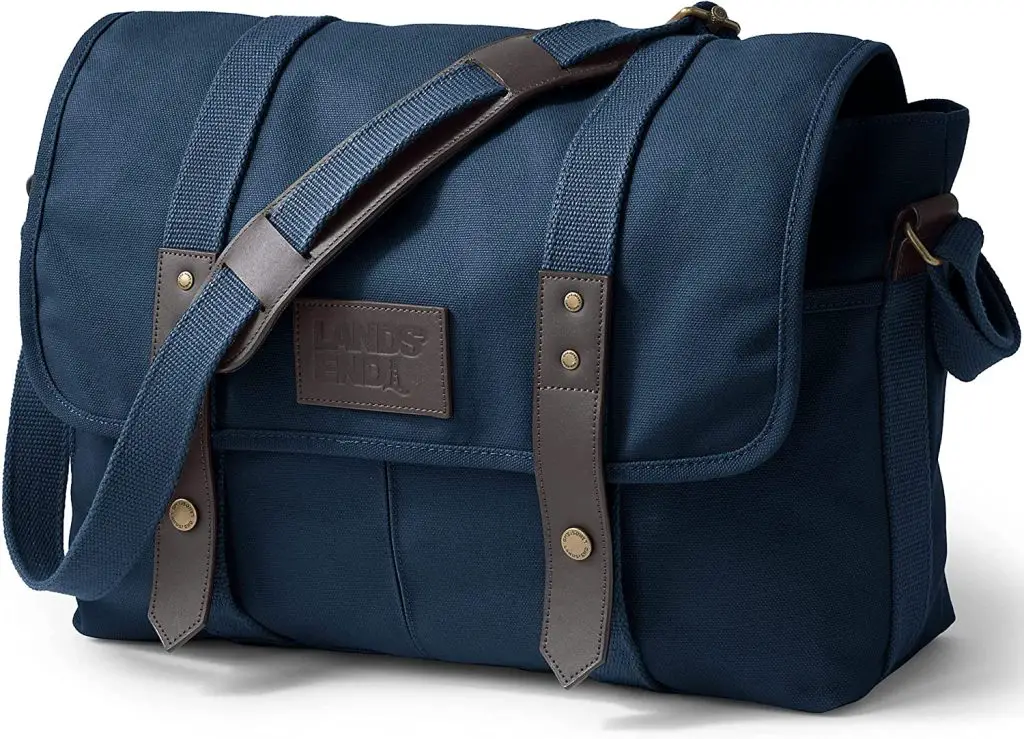 Lands' End waxed canvas messenger bag comes in either classic navy or brown color so as to easily complement your fashion style.
The long strap is padded for strength and comfort to the wearer, with two flap strap in front that acts as a closure for the messenger bag.
It has a compartment inside that is specifically padded to protect our Laptop (14" wide laptop) while other parts can help you organize other items.
Just like other waxed canvas messenger bags, the Lands' End waxed canvas messenger bag is also made up of water-repellent cotton lining that can resist wear and water.
Finally, this beautiful and spacious waxed canvas messenger bag is perfect for traveling and school.
FROST RIVER WAXED CANVAS LEATHER MESSENGER BAG
First, the Frost River waxed canvas leather messenger bag is made in Duluth, Minnesota, USA, it is one of the few handcrafted leather goods that is made in America, and they come in two types; carrier brief messenger bag and premium carrier brief messenger bag.
The waxed canvas is carefully treated to beat your imagination in terms of durability and versatility.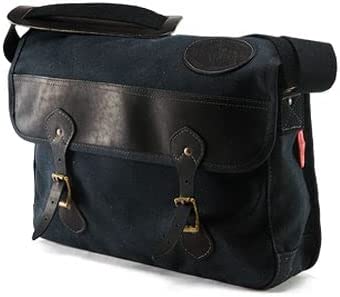 Both the Carrier and Premium brief waxed canvas messenger bag of Frost River has a large compartment and 2 slip pockets for organizing your important items.
In addition, it is made with heavyweight waxed canvas, premium brass, and an abrasion-resistant double-layer canvas base.
Finally, this premium and carrier American waxed canvas messenger bag is perfect for working professionals, students, and travel, and comfortable for a bicycle ride because of the design of a waist belt.
BEST WAXED CANVAS MESSENGER BAG
The Best Waxed canvas messenger bag is the TSD Brand Messenger bag because it is made with 100% bee-waxed cotton canvas material and ECO-friendly recycling support material.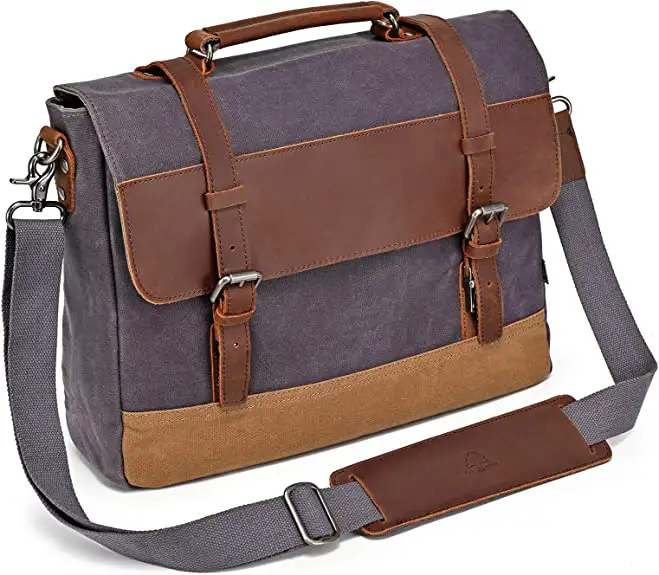 Why is the bee wax important? It is water-repellent, and you can use the TSD waxed canvas messenger bag with confidence even under rainy weather.
The Eco-friendly support material used for the long shoulder strap helps to relieve the stress from your shoulder especially when you carry heavy items for a long time, although, we discourage you to carry heavy items with this messenger briefcase bag.
One thing you will love about this best-waxed canvas messenger bag is that it is suitable for both males and females.
This TSD waxed canvas messenger bag is also called Laptop carrying bag.
Perfect as a birthday gift, Christmas gift, anniversary, and for everyday use. Suitable for outdoor use, thanksgiving, college, travel, college, and daily work bag.
Finally, this best waxed messenger bag can be carried as a shoulder bag, crossbody bag, and a tote bag and is suitable for persons of different heights.
WAXED CANVAS BRIEFCASE
A Briefcase is a Professional bag used often for office work, they are used when attending a business meeting, and Briefcase shows class, style, and intelligence.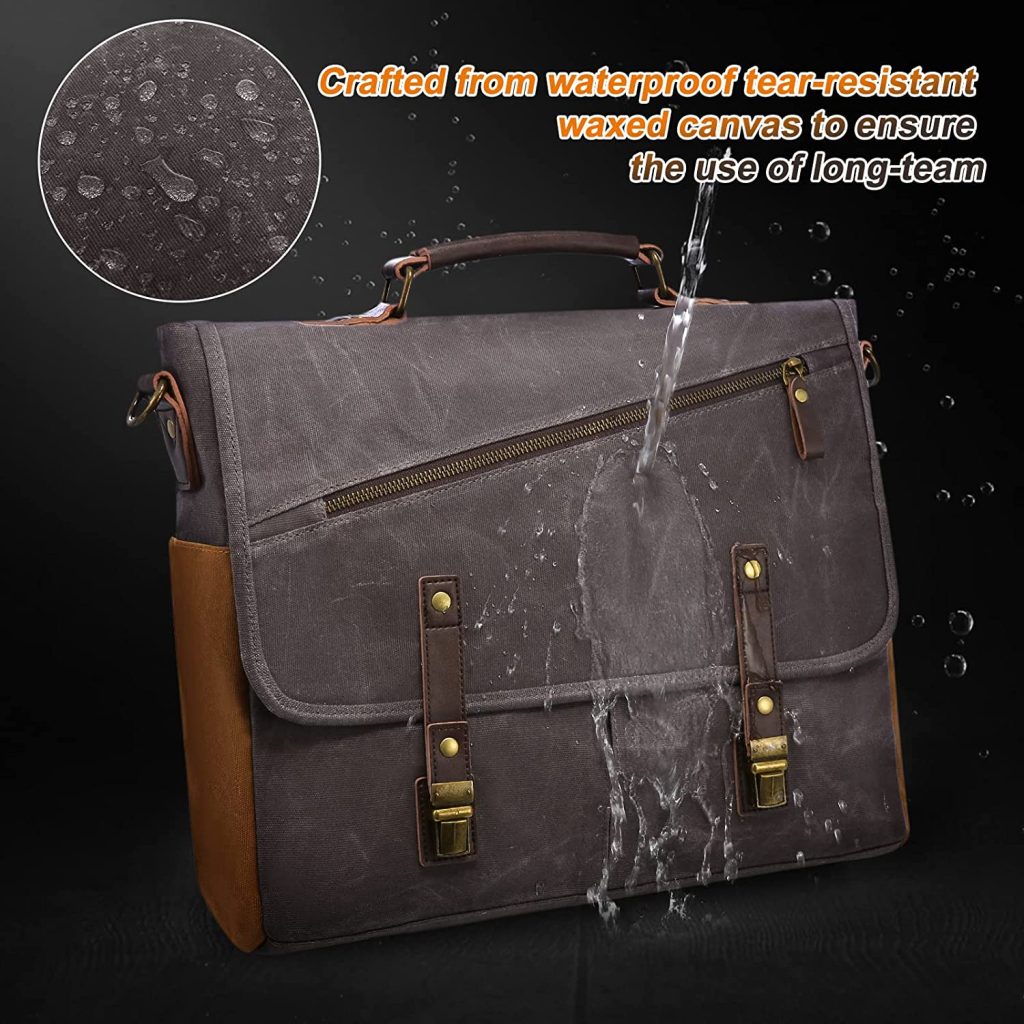 A Briefcase is almost designed like a messenger bag, they have similar pockets and a big compartment that can contain your Laptop and other official documents.
Just like a waxed canvas bag, a Waxed canvas Briefcase is simply designed with canvas fabric and combined with wax, this wax protects the Briefcase from water (moisture), thereby improving the Lifespan of the Briefcase.
In addition, the wax coating on the Briefcase makes the Briefcase fabric resistant to wear and tear, that's why we recommend Professionals get a Waxed canvas Briefcase, especially for outdoor rugged work environments.
Waxed canvas Briefcases are easy to wear, either on the shoulder, across the chest, or held by the hand. They come in various designs, fabrics, and colors for you to make a choice.
Finally, protect your essential office documents with a heavily padded interior built into the waxed canvas Briefcase!
See an example below;
WATERPROOF GENUINE LEATHER WAXED CANVAS BRIEFCASE FOR MEN
This waxed canvas briefcase is made up of high-quality wear-resistant waterproof material, the double magnetic snap closure helps to secure your items.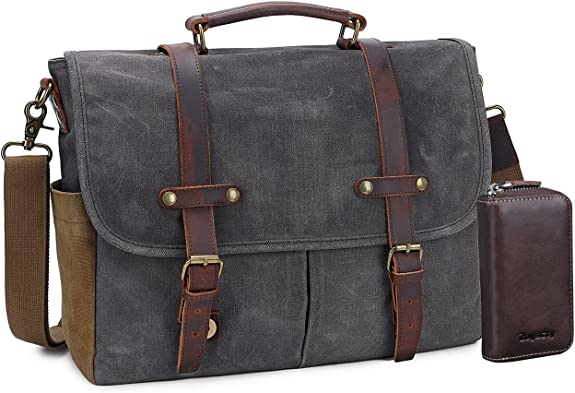 One unique feature of this waxed canvas briefcase is that it can be inserted into a trolley case, making it convenient to carry when you travel.
This waxed canvas briefcase bag is a fashionable multifunctional portable Single Shoulder Messenger Laptop bag that is suitable for work, school, business, daily, night, travel, etc.
This briefcase canvas messenger bag can comfortably size your 15.6 Inch Laptop.
Finally, organize your water bottle, umbrella, cards, wallets, and other items with an inner compartment that is thick and helps to prevent accidental damage.
WAXED CANVAS CROSSBODY BAG
A waxed canvas crossbody bag features a bag with a long strap worn across the body, with the bag resting on your hip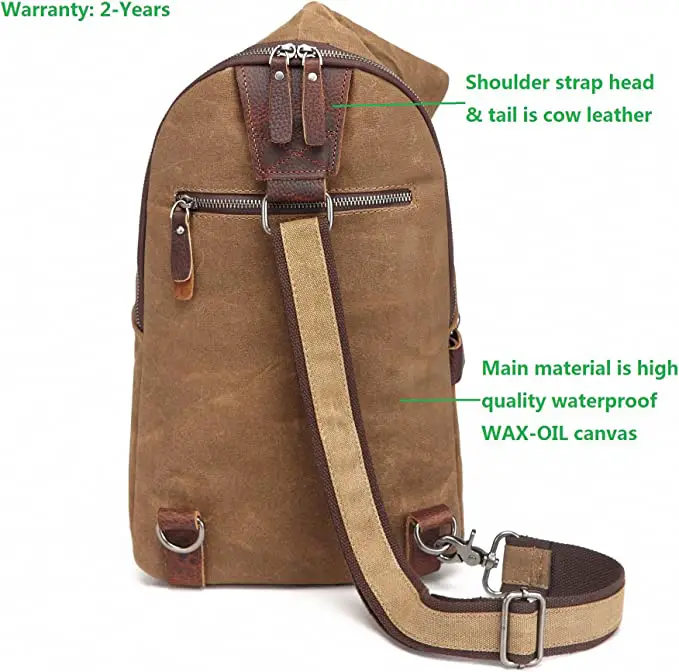 Why do people prefer crossbody bags in general? It is because it helps them walk hands-free especially when riding a bike or strolling with a loved one, no one wants a bag falling off their shoulders frequently.
Just as I said above, the waxed canvas crossbody bag is also made of water-resistant material called waxed canvas and heavy-duty cotton fabric.
Waxed canvas crossbody bags can be used as everyday bags, perfect for storing keys, wallets, phones, and other small essential items.
Additionally, the waxed canvas material gives the bag a rugged and stylish look that can easily fit into various fashion styles."
See more examples below;
WAXED CANVAS CROSSBODY MINIMALIST BAG FOR MEN AND WOMEN
This waxed canvas crossbody bag is made up of 100% waxed canvas and 100% organic fabric used in the lining pockets making it eco-friendly.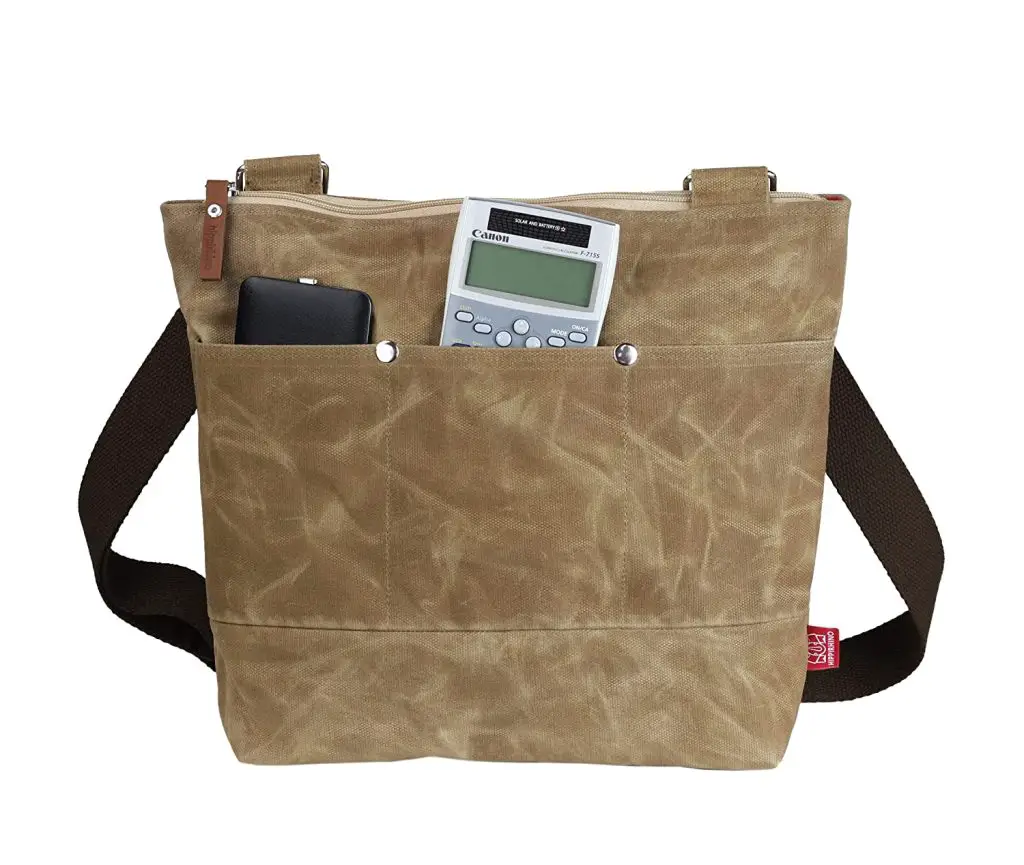 It comes with a long strap that can be adjusted to fit your height and fashion style. Free to carry small and medium essential items in this waxed crossbody canvas bag.
This crossbody canvas waxed bag will make a perfect gift for your family, mother, bridesmaid, Christmas, Thanksgiving, birthday, new year, graduation, or present to women, ladies, and friends.
This handmade crossbody bag can be used for everyday use. Perfect as a Messenger bag, travel bag, Cabin bag, Business bag, courier bag, college bag, office bag, for work, and other intended uses.
Finally, do not wash with the washing machine but simply wipe clean with a damp cloth.
WAXED CANVAS SLING BAG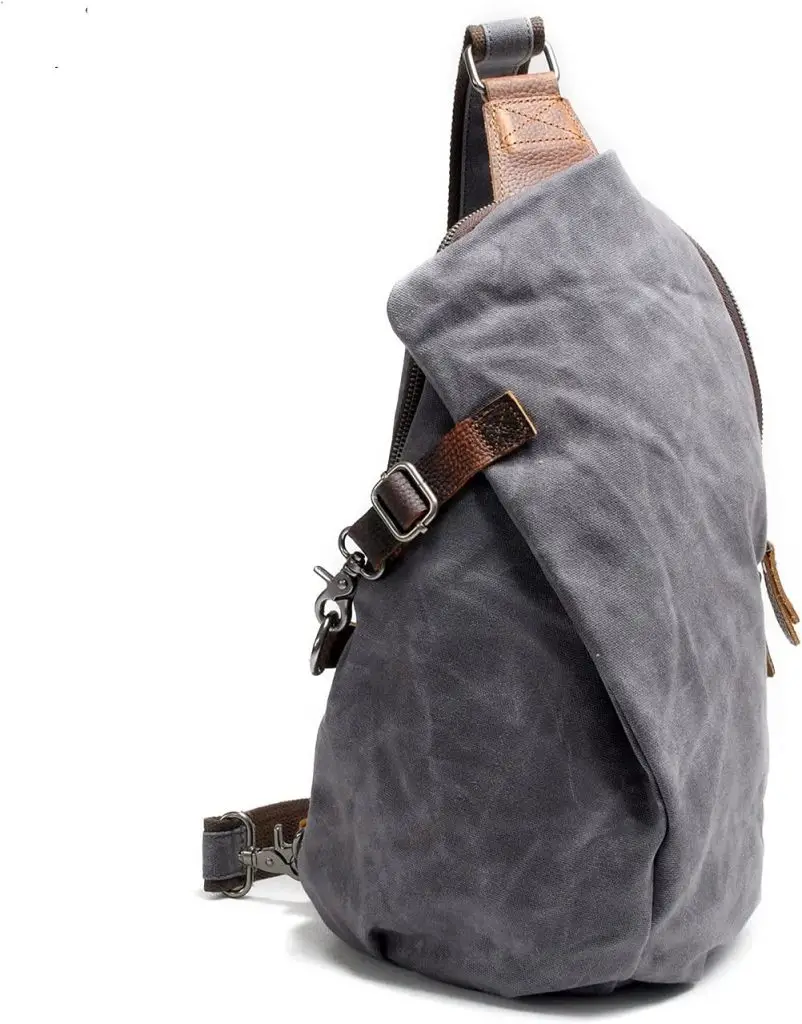 Waxed canvas sling bags do come with inner pockets and compartments, enabling you to organize your belongings, they also come in various sizes which makes them versatile and useful for various purposes.
The waxed canvas sling bag has the same qualities as the waxed canvas briefcase and waxed canvas crossbody bag which is that they are all treated with wax which makes them resistant to water and other absorbent elements.
Normally as you know sling bags can be worn over the shoulder or across the chest having one strap, sling bags are perfect for outdoor activities such as biking, and hiking.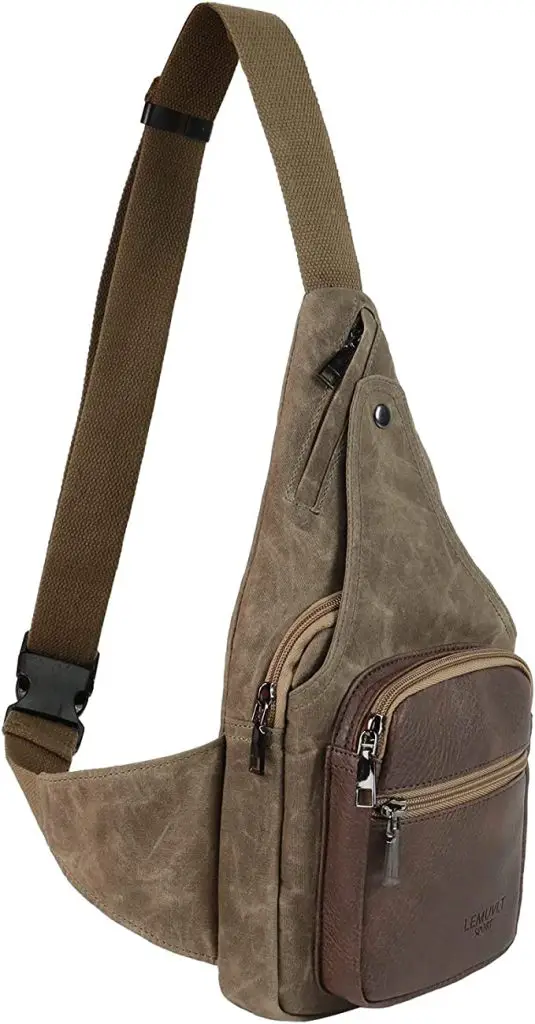 Finally, waxed canvas sling bags are comfortable to wear, giving you that vintage smart look you have always wanted.
Below is a very good example;
CASUAL SLING WAXED CANVAS CROSSBODY SHOULDER BAG
This casual sling bag is suitable for both men and women, looks like a messenger and shoulder bag, this sling waxed canvas bag is made up of high-quality copper plated zinc alloy and genuine leather accessories that make them water-resistant and wear-resistant.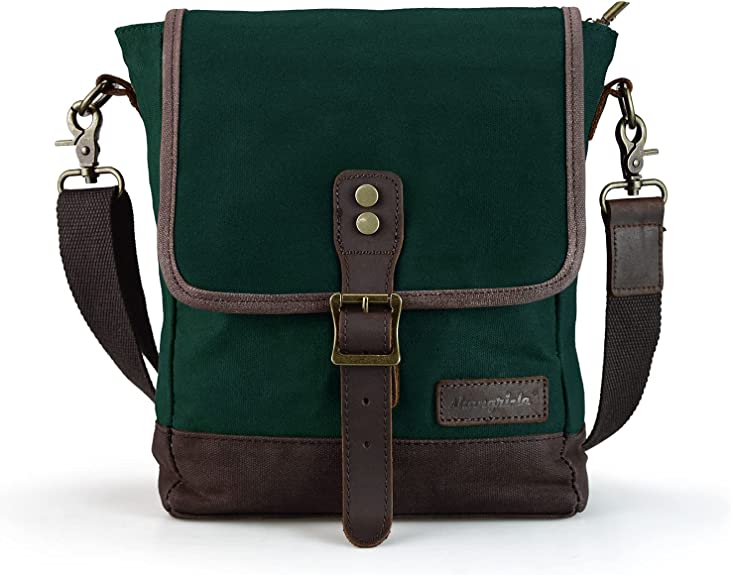 This sling waxed bag has a vintage look giving you a classy look and feel, and giving you the attention you desire.
The design is simple and beautiful with accessible inner pockets and magnetic snaps for quick locks.
It is also designed with a main spacious zippered compartment where you can store your phone and other personal items, and a small zipper pouch inside to keep valuables. Plenty of storage and pockets without being too bulky.
Finally, this classy waxed canvas sling bag is multipurpose, which makes it Perfect for daily use, trip, travel, and hiking as a daypack, shoulder bag, to fit a tablet, power bank, passport, notebook, wallet, snacks, drinks, small souvenirs, purse, keys, and all sorts of daily EDC (every day carry) essentials.
MEN WAXED CANVAS MESSENGER BAG
As the name implies, the men's waxed canvas messenger bag is a type of messenger bag made with waxed canvas material specifically used by men.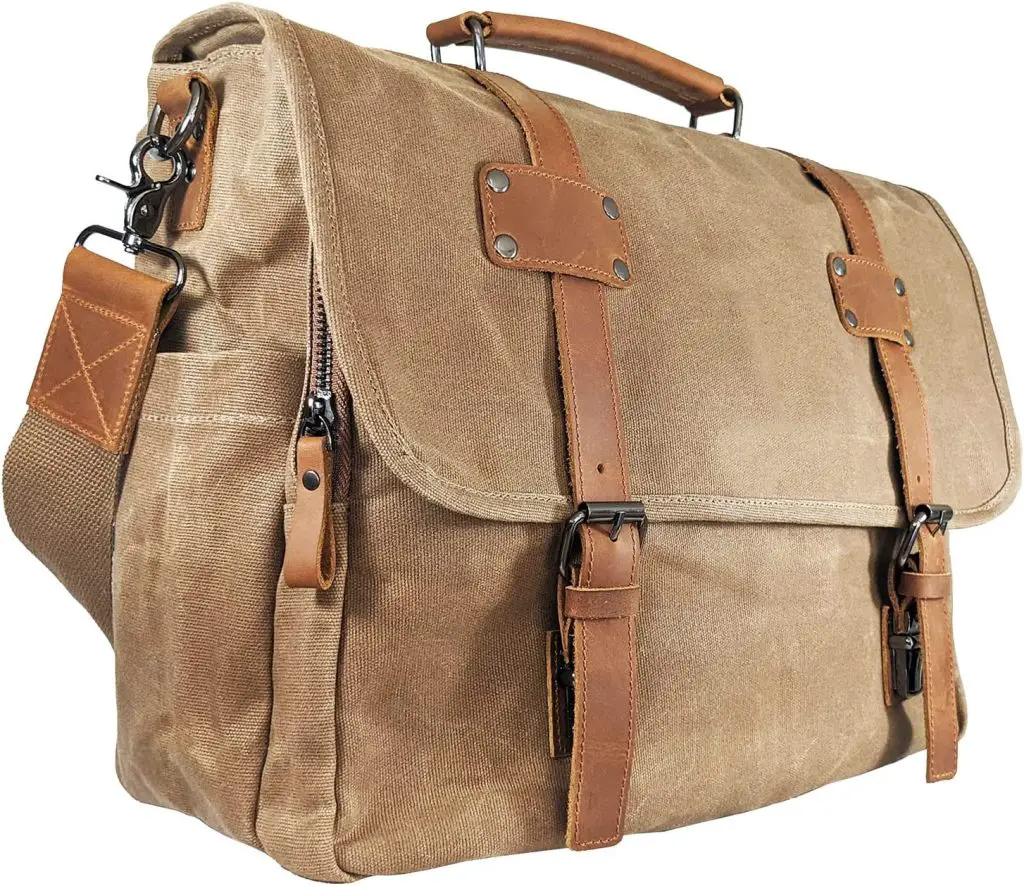 This messenger canvas waxed bag design is quite different from that used by a woman, although it has some similar design to the standard messenger bag like a single strap that sits securely on the hips and is worn across the chest and back.
Just like a Briefcase, men waxed canvas messenger bag has a flap closure that helps secures all essential items in them by simply snapping the buckle.
The men waxed canvas messenger bag is designed with inner pockets, and large compartments to keep your items organized like laptops and books.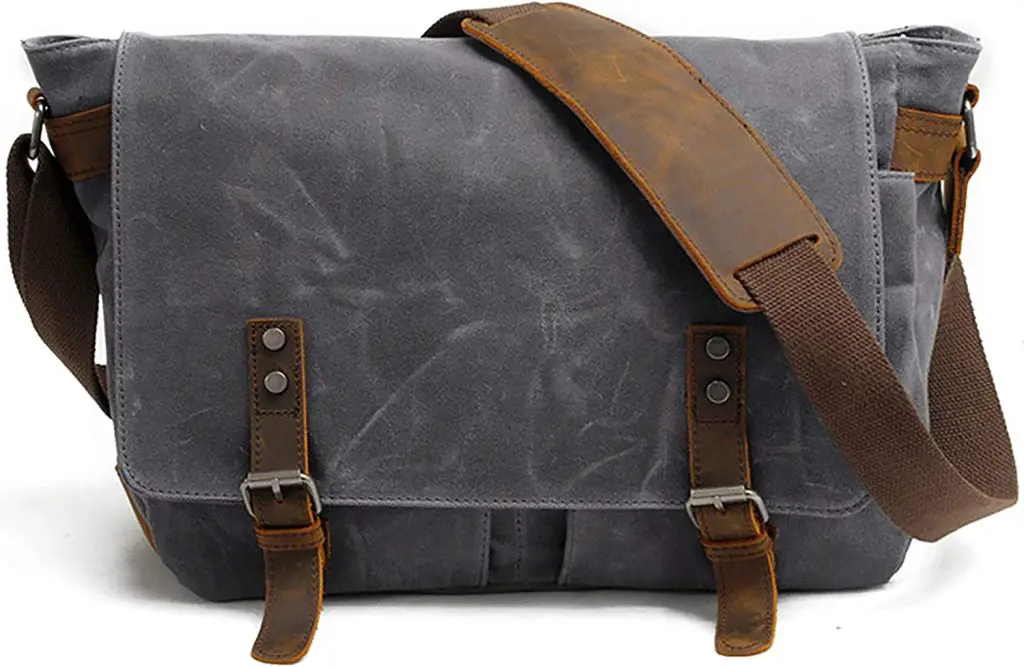 Now, because this men's canvas messenger bag is made with wax, it is water-resistant, protecting delicate documents, this messenger bag is also durable, versatile, stylish, and functional.
Finally, this men's waxed canvas messenger bag is rugged and suitable for everyday use, short travel, business meetings, school, work, and outdoor activities.