Do you want to organize your personal essentials? Then you need a durable and reliable Dopp kit or toiletry bag.
If you pay attention to quality and sustainability, then the phrase "USA made Dopp kit" can be a game changer.
As an American patriotic citizen, I know it's beautiful to support American manufacturing because products made in the USA are made with the finest materials and crafted with exceptional attention to detail.
If you are a traveler, makeup artist, or outdoorsman, an American-made Dopp kit is the perfect companion for those who want to keep their personal essentials within easy reach
Follow me closely and let's take a closer look at what makes these Dopp kits so special and why they should be on every American Adventurer's packing list.
Table of Contents
WHAT DOES DOPP KIT STAND FOR?
A Dopp kit stands for a Toiletry bag or a Dopp kit stands for a small bag or case used for storing toiletries and other personal essential items, such as shaving cream, razors, toothbrushes, and so on.
A Dopp kit is also the same as a Dopp bag.
In addition, the term "Dopp kit" is believed to have originated from the name of its creator, a leather craftsman named Charles Doppelt, who invented the bag in the early 20th century.
The bag became popular among American soldiers during World War II and has since become a common travel accessory for both men and women.
For further reading check: Dopp kit vs Toiletry bag
USA MADE DOPP KIT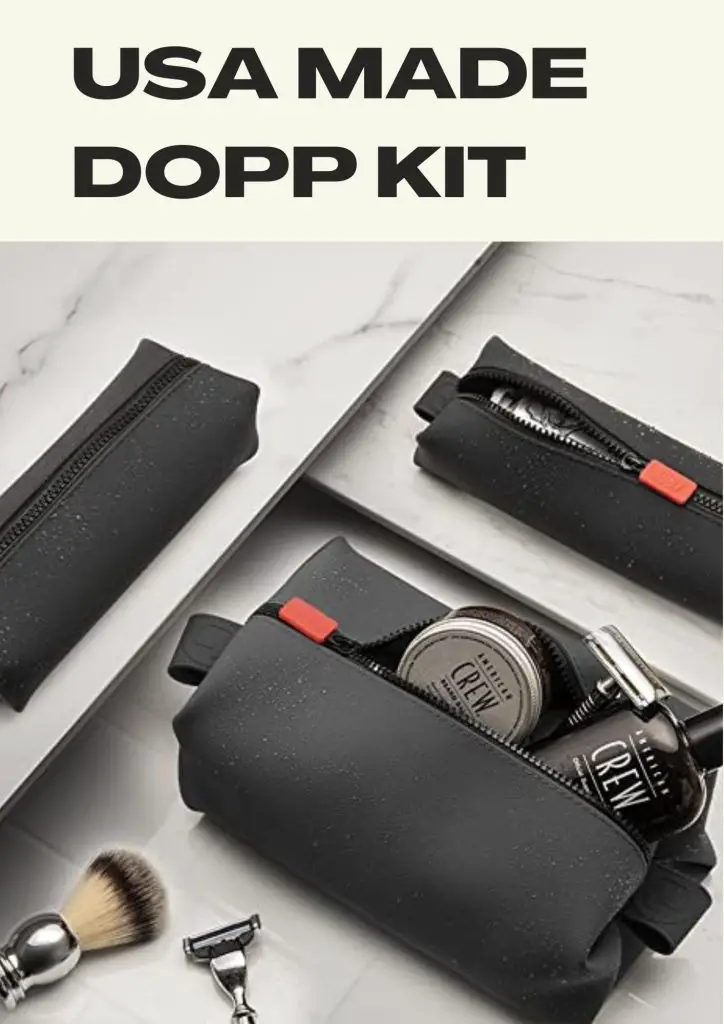 Below are the 5 best USA made Dopp kit;
Northwind Functional Travel American made Dopp kit
San Tan Handmade Leather Travel Toiletry Bag
USA Personalized Waxed Canvas Dopp kit
Main Street Forge America Dopp kit
Bags USA Toiletry Bag.
NORTHWIND FUNCTIONAL TRAVEL AMERICAN MADE DOPP KIT
The Northwind Dopp kit and Toiletry bag are made in NE Minneapolis, Minnesota, USA.
This Dopp kit or toiletry bag is a perfect travel companion for all your accessories like toiletries, toothbrushes, floss, deodorant, shaving equipment, cosmetics, and more!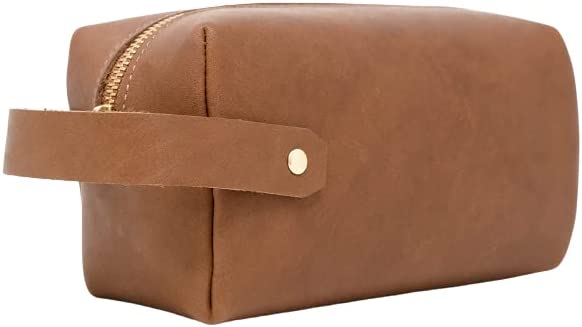 Great compact and lightweight design to stow away in carry-on luggage or weekend bags, the Northwind USA made Dopp kit can be made up of various materials like canvas and leather.
Another outstanding quality of this high-quality Toiletry bag is that it is proudly handmade with full-grain leather.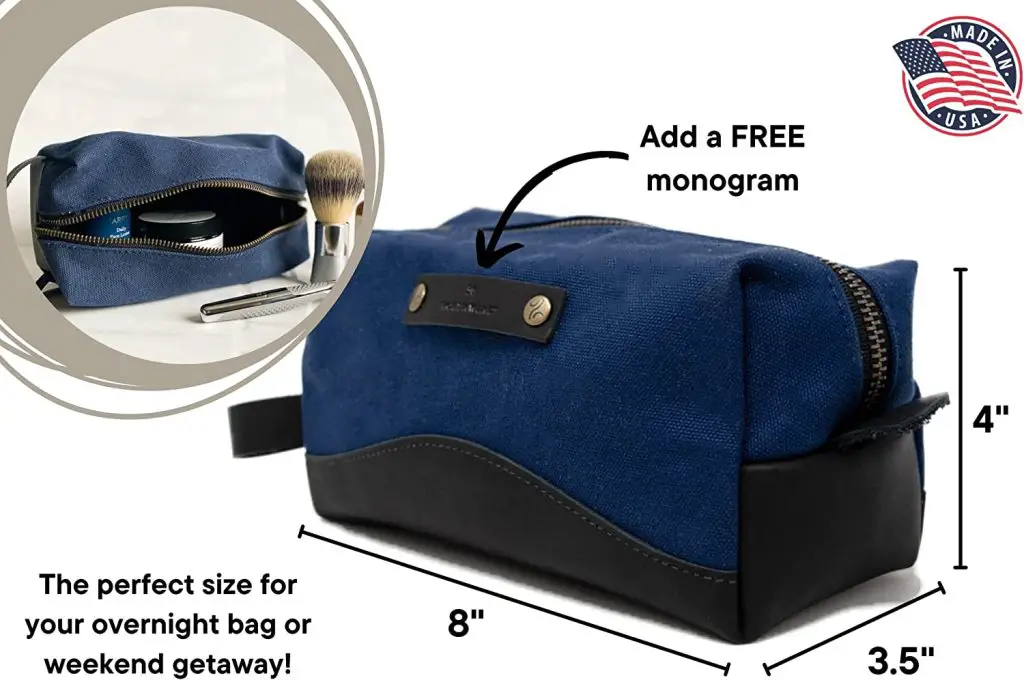 The Northwind Dopp kit with a handle for easy carrying and convenient storage and a thick large YKK zipper that will stand the test of time.
Finally, this Dopp kit or Toiletry bag will make a perfect gift for both men & women for any occasion, from chic fashion enthusiasts to frequent flyers, groomsmen, father's day, Valentine's Day, graduations, and every special occasion.
SAN TAN HANDMADE GENUINE LEATHER TOILETRY BAG TRAVEL DOPP KIT
The San Tan is a family-owned company in San Tan Valley, AZ, USA. The San Tan is a beautiful handmade leather Dopp kit toiletry bag crafted with high-quality authentic full-grain leather.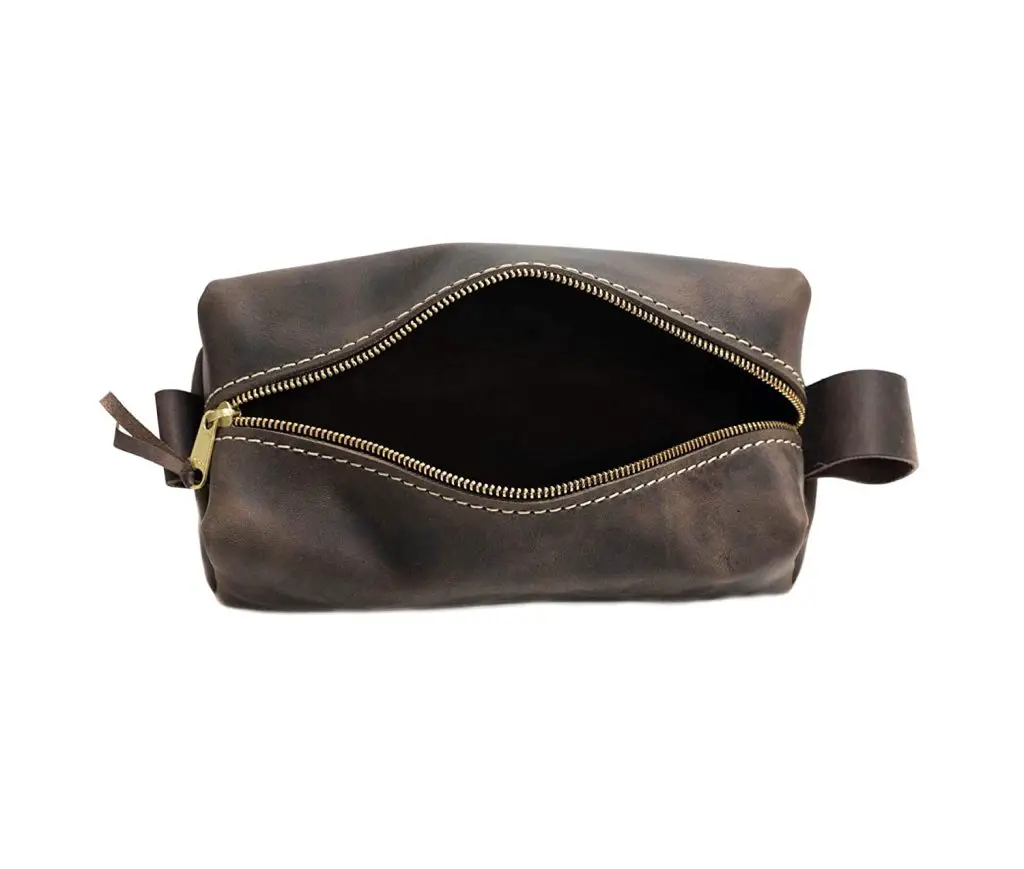 This is very well made and just the right size to go in the suitcase for a trip! The durable and heavy-duty YKK Zipper is for lifetime use.
In addition, when you purchase this USA toiletry bag, it can be personalized with your initials.
You will definitely love the quality, we highly recommend this Dopp kit bag for all your essential items.
USA PERSONALIZED WAXED CANVAS DOPP KIT
This Personalized Dopp kit toiletry bag is made up of waxed canvas material making it durable and perfect everywhere you travel.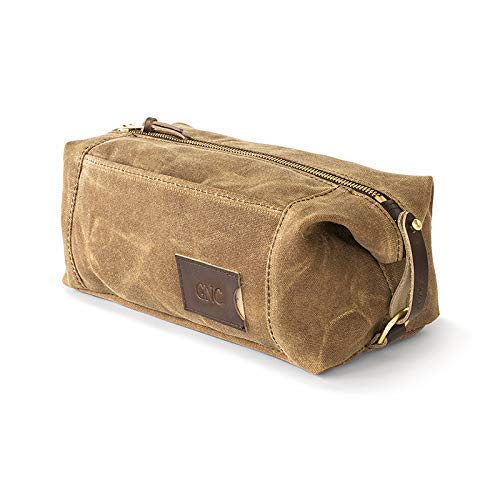 Hand-built in the USA, this American craftsmanship is made up of waterproof waxed canvas, premium Horween leather, and a water-resistant nylon liner to keep any accidental spills contained so it doesn't spread to your other luggage.
You can easily and neatly pack your essential items or toiletries with the interior pocket and room design of this Dopp kit bag.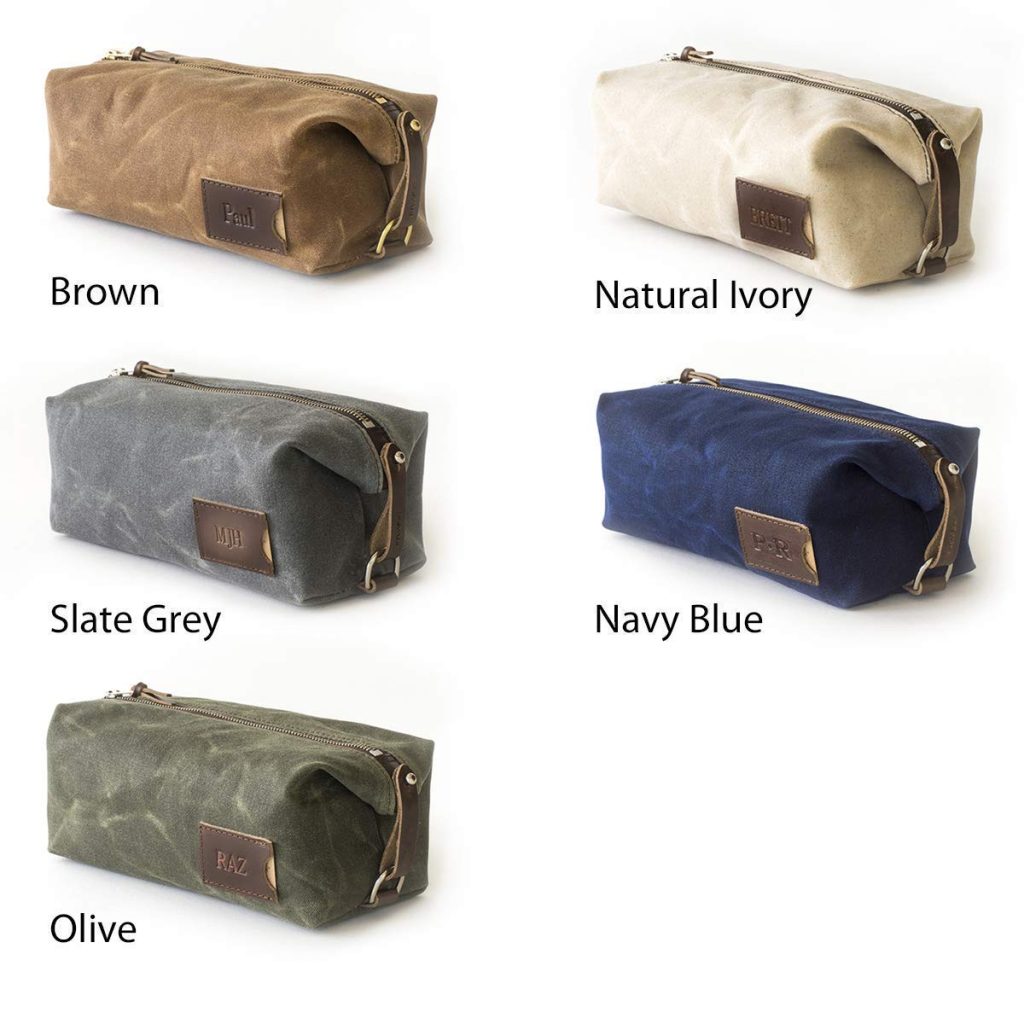 Just like other USA made Dopp kits, this Personalized Dopp kit is designed with a one-way heavy-duty YKK metal zipper with a leather pull with tear-resistant nylon pack cloth.
You definitely need the rugged beautiful Dopp kit toiletry bag full of class and functionality!
MAIN STREET FORGE AMERICA DOPP KIT
The Main Street Forge Dopp kit is a full-grain leather toiletry bag for men that are made in the USA.
Your go-to travel pack for men's shaving essentials and other personal accessories, it is compact and lightweight.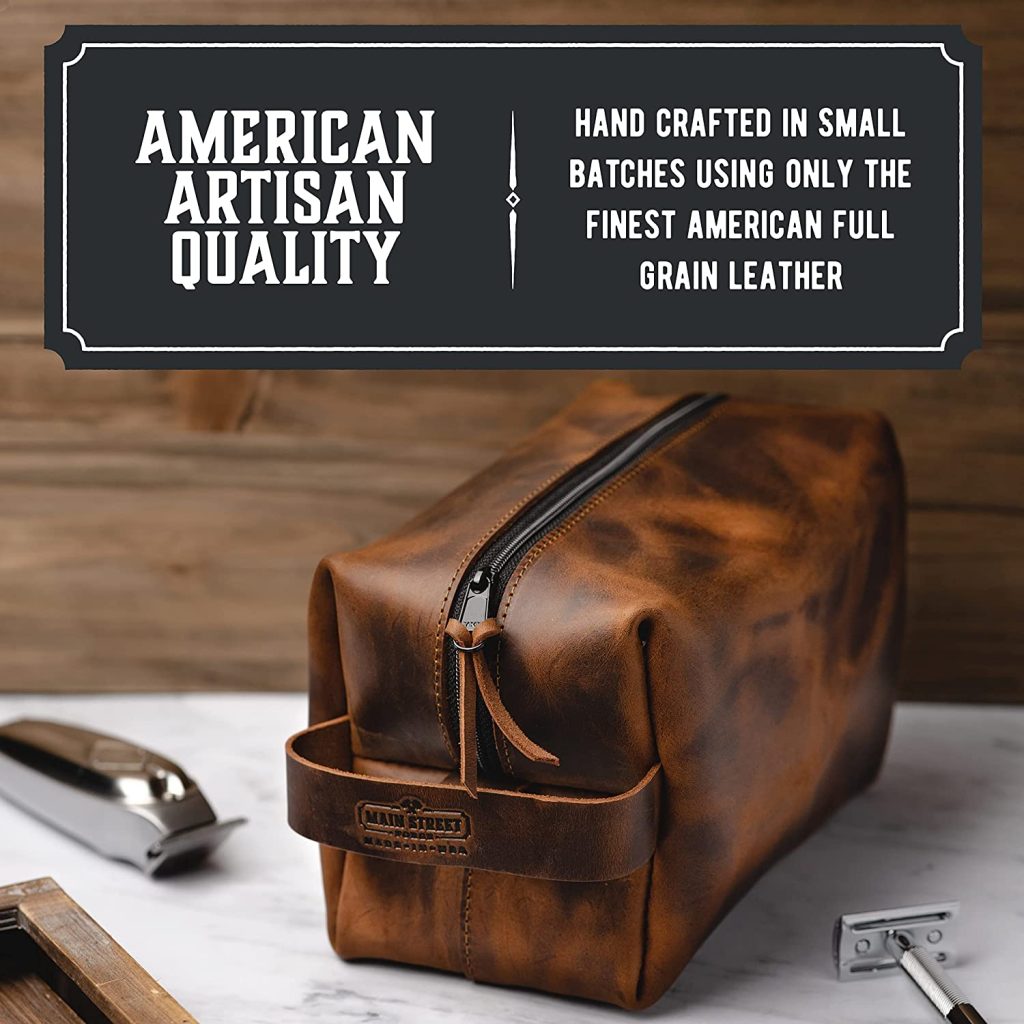 Designed with a reliable zipper to keep all your essentials safe and sound, they came in various colors.
This toiletry pouch fits easily into your backpack or suitcase without adding extra bulk.
You can keep it in your bathroom at home for an easy way to store your shaving tools, and bring it with you wherever your travels take you.
You can rest assured that the Main Street Forge Dopp kit toiletry bag will never tear, fray, or degrade with regular use.
BAGS USA DOPP KIT TOILETRY BAG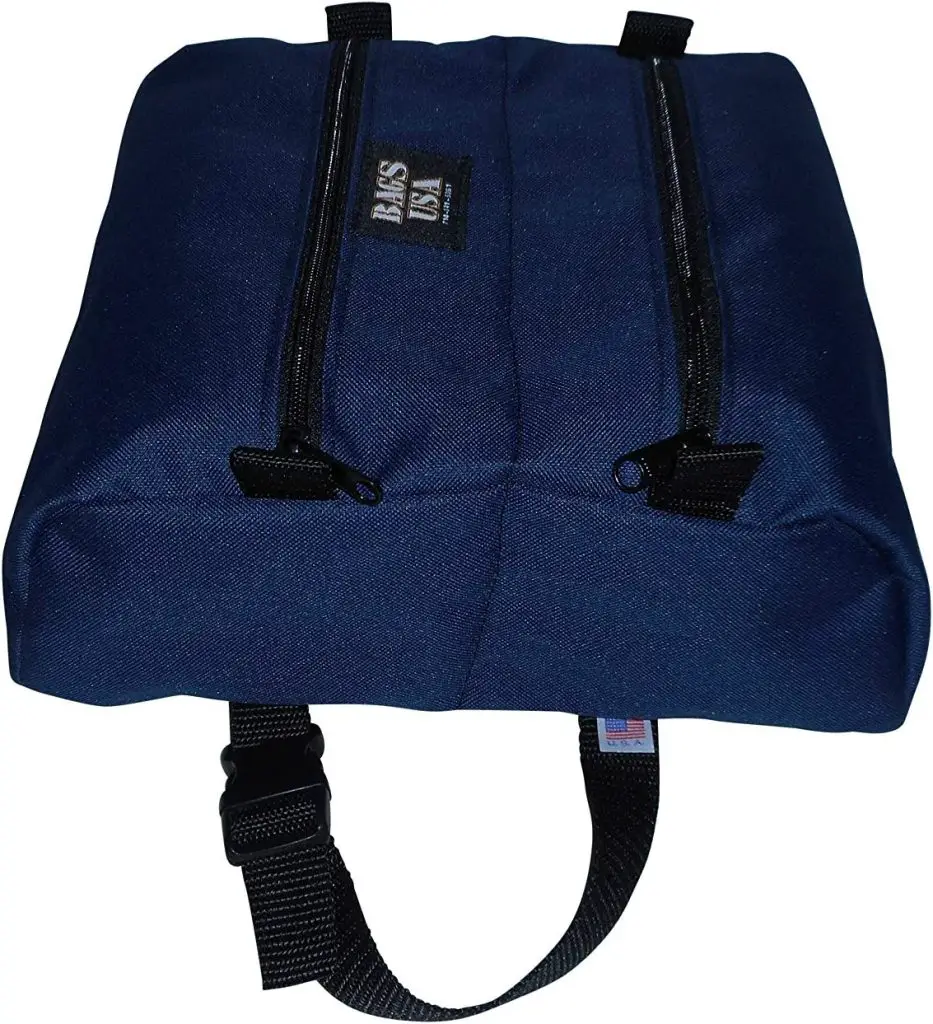 The unique feature of this Dopp kit Bag USA is that it is designed with two separate compartments for all your essentials.
It is also known as a firefighter toiletry bag, designed with water-resistant material and proudly made in the USA.
It is affordable, lightweight, and makes a good travel companion any day and time!
HANGING TOILETRY BAG MADE IN USA
A hanging toiletry bag is a type of toiletry bag that is designed to be hung up for easy access to your toiletries at home or in the bathroom.
The hanging toiletry bag typically has a hook or strap that can be attached to a towel rack, door knob, or any other suitable hook or hanger.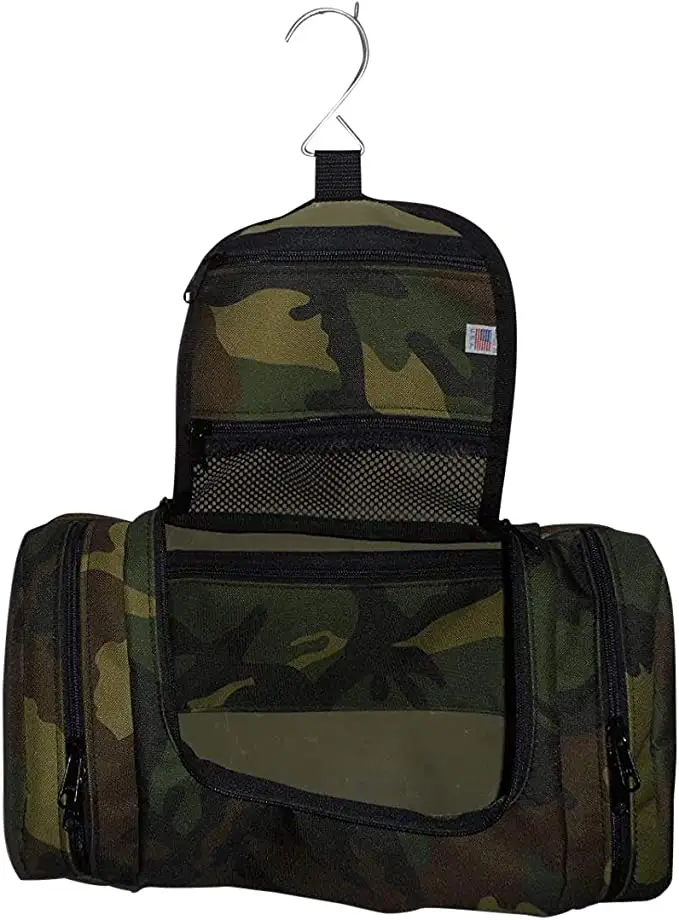 An example of a hanging toiletry bag made in the USA is the BAGS USA Large Hanging Toiletry or Shaving Bag for all Your Essentials.
This USA Hanging toiletry bag comes in various sizes, shapes, and designs, but they usually have several compartments and pockets to organize and store your toiletries.
The compartments may be zippered or mesh, and they may be designed to hold different items, such as bottles, tubes, brushes, and razors.
The main advantage of a hanging toiletry bag is that it allows you to keep your toiletries organized and easily accessible, even in small spaces such as hotel bathrooms.
By hanging the bag, you can save counter space and avoid cluttering the sink area.
Additionally, a hanging toiletry bag can be easily packed in a suitcase or backpack, and it can help protect your toiletries from spills and leaks.
Overall, a hanging toiletry bag is a convenient and practical accessory for anyone who travels frequently and wants to keep their toiletries organized and accessible.
LEATHER DOPP KIT
A Leather Dopp kit is a small bag or case used for storing and organizing personal grooming and hygiene items.
It is typically made of leather or other durable materials and has a zipper or other type of closure to keep the contents secure.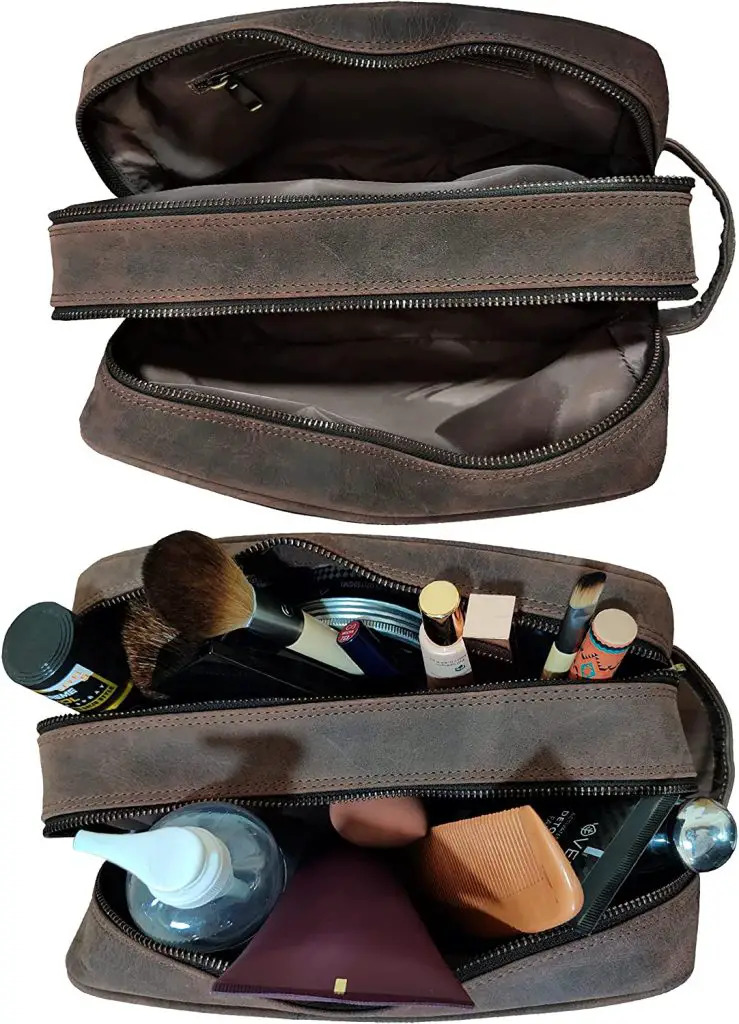 A Leather Dopp kit typically includes compartments and pockets for storing items such as a razor, shaving cream, toothbrush, toothpaste, deodorant, and other personal care items.
It is a convenient and stylish way to keep all of these essentials organized and easily accessible, whether at home or while traveling.
Leather Dopp kits are often considered a luxurious and high-quality option due to their durable construction and elegant appearance.
They make great gifts for men who value both style and functionality in their grooming routine.
LEATHER DOPP KIT TOILETRY BAG MADE IN USA
An example of a Leather Dopp kit Toiletry bag that is made in the USA is the Personalized Leather Toiletry bag Dopp kit for men and women.
A beautiful and uniquely crafted handmade travel bag organizer for cosmetics, shaving, toiletries, and a grooming kit.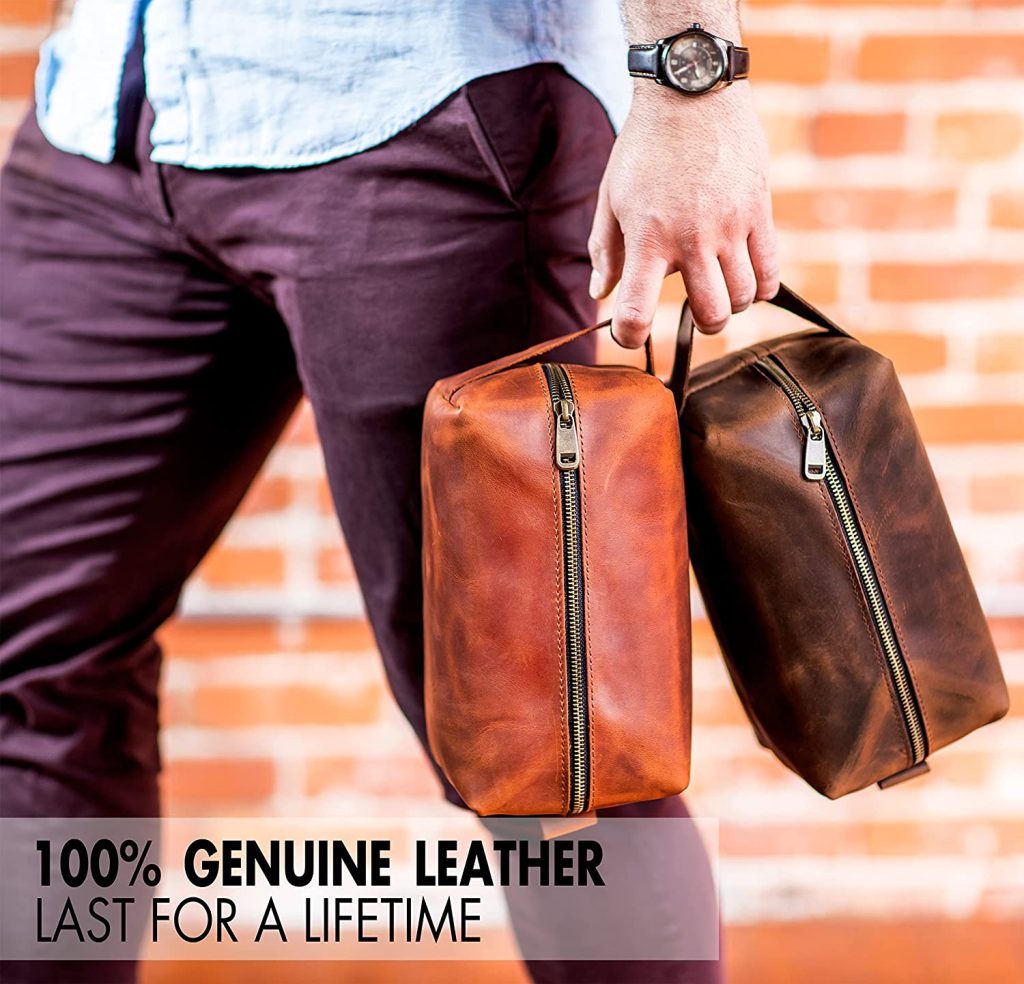 This is a really nice toiletry bag. Beautiful leather, nice and roomy. The outside zippered pocket is very helpful. You will love the personalization. Great bag!
Very affordable USA full grain genuine Leather Dopp kit bag with soft touch exterior with natural texture.
This Handmade traditional Dopp kit toiletry bag is designed to last a lifetime with waterproof lining protecting your belongings from spilling out.
Look stylish with USA handmade vintage leather toiletry bag anywhere you go as it suits any style you are in and share this brown leather toiletry bag with your loved one due to its unisex design and multi-functionality.
LEATHER DOPP KIT MONOGRAM
A Leather Dopp Kit Monogram refers to a toiletry bag made of leather, having a design consisting of one or more letters, typically the initials of a person's name, often embroidered or embossed onto the surface of an item.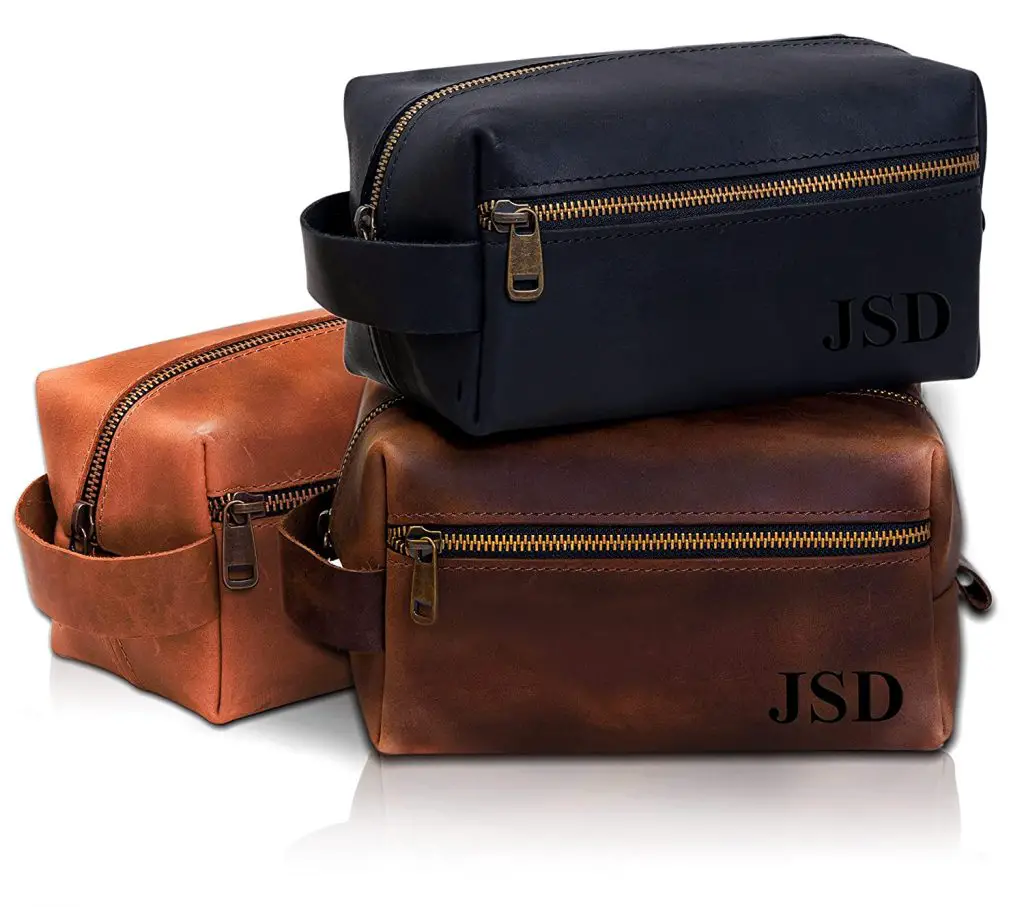 In addition, in a Leather Dopp Kit Monogram, the bag would be personalized with the initials or name of the owner, typically in a decorative and stylish manner.
This personalization adds a touch of luxury and uniqueness to the bag, making it a great gift for a loved one or a special treat for oneself.
This Genuine Monogram leather Dopp kit will always make a unique gift for men or women and for several occasions like men's or fathers' day/birthday, graduation ceremony, etc.
Finally, this Lightweight travel Dopp kit toiletry bag is the best gift organizer for men's shaving kits, gym shower accessories, hygiene kits, travel toiletries, grooming kits, medicine, travel accessories, makeup kit, and cosmetics.
LEATHER DOPP KIT PATTERN
A Leather Dopp kit pattern refers to a template or guide used to create a leather toiletry bag or travel kit.
A typical leather Dopp kit pattern will provide step-by-step instructions for cutting and sewing leather pieces together to create a functional and stylish bag.
The pattern may also include measurements, cutting templates, and guidance on selecting the appropriate type and thickness of leather.
Leather Dopp kit patterns are available in a variety of styles and designs, including classic and minimalist designs, vintage-inspired styles, and modern, streamlined designs.
They may also come with different closure options such as zippers, buttons, or snaps.
Overall, a Leather Dopp kit pattern provides a useful guide for crafting a personalized and durable travel kit that can be used for years to come.
MEN'S TOILETRY BAGS MADE IN THE USA
Men's toiletry bag, also known as a men's grooming kit, is a small bag or pouch that is designed to hold personal hygiene and grooming items that are typically used by men.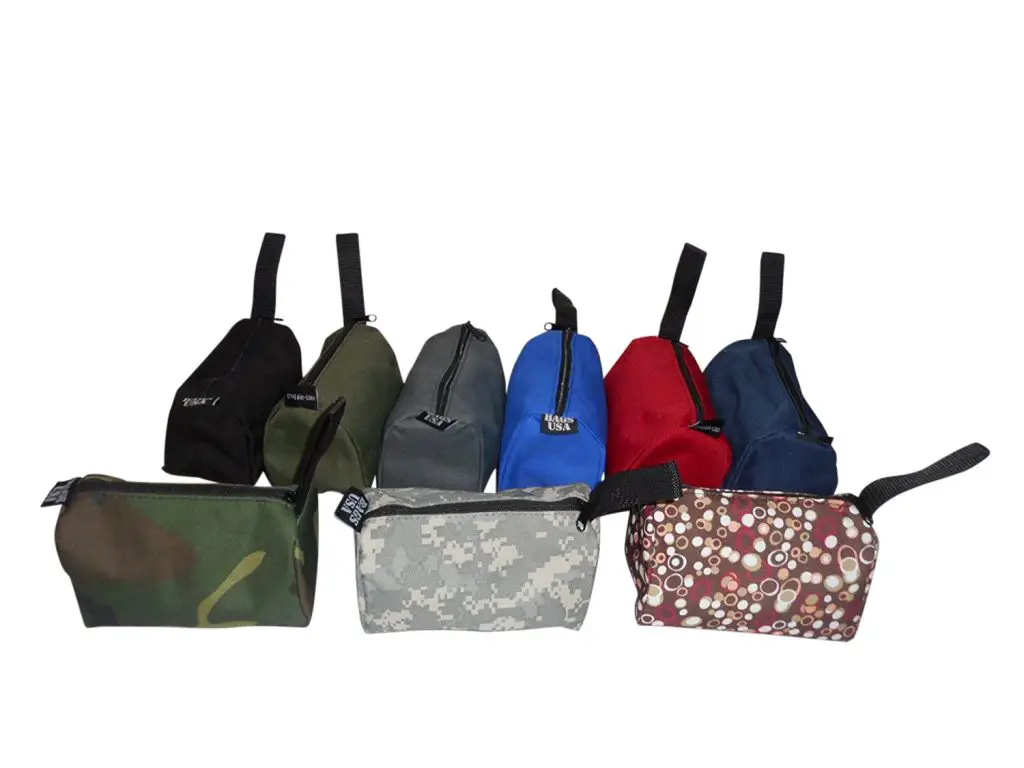 An example of a men's toiletry bag that is made in the USA is the BAGS USA Toiletry Kit, it can hold all your essentials, a perfect cosmetic bag that is water resistant with polyester material.
These toiletry men's bags can be made of various materials, such as leather, nylon, canvas, or polyester, and they come in a variety of sizes and styles to suit different needs and preferences.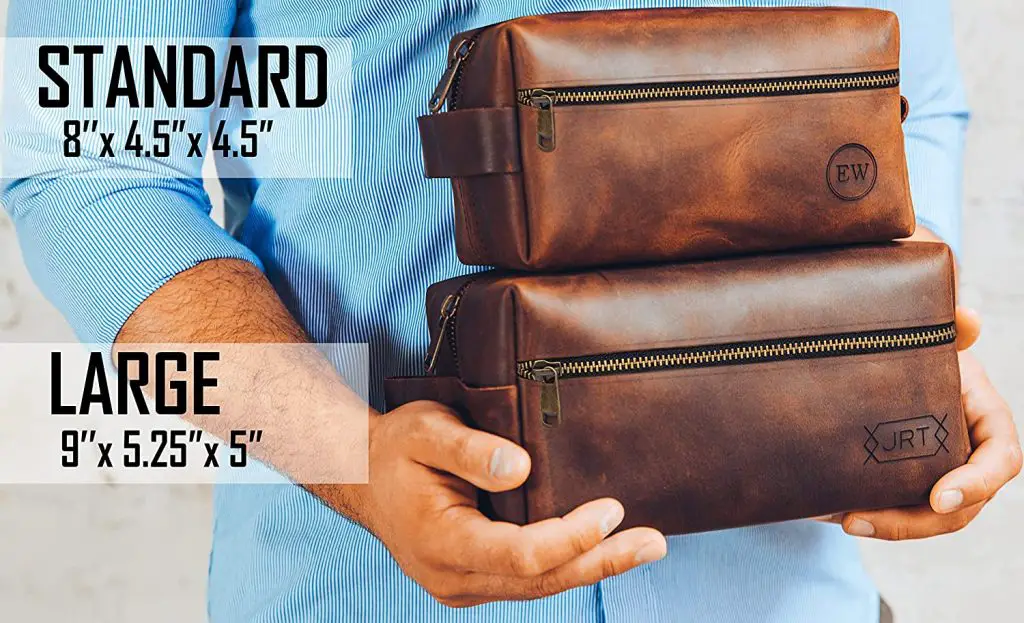 Typically, men's leather toiletry bags are designed to hold items such as razors, shaving cream, aftershave, toothbrush, toothpaste, deodorant, hair gel, shampoo, and other grooming essentials.
The men's leather toiletry bags usually have multiple compartments and pockets to help organize and separate different items, and some may even have built-in hooks or hangers to make it easier to use them in tight spaces like bathrooms.
Men's leather toiletry bags are a convenient and practical accessory for men who travel frequently or need to keep their grooming supplies organized at home.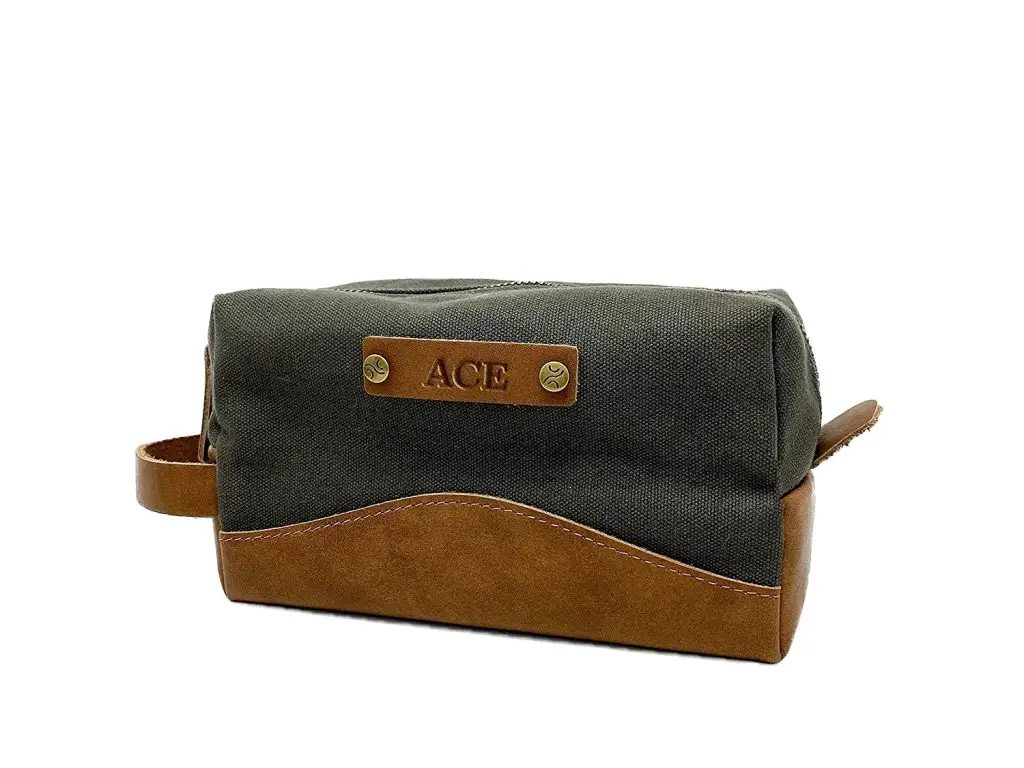 They help keep all the necessary items in one place, making it easier to find what you need and reducing the risk of leaving something important behind.
Finally, they can help protect items from damage during travel or storage.
MAKEUP BAG MADE IN USA
A makeup bag is a small pouch or case that women use to store and carry their makeup products. It is designed to hold various items such as lipstick, mascara, foundation, blush, eye shadow, eyeliner, brushes, and other tools.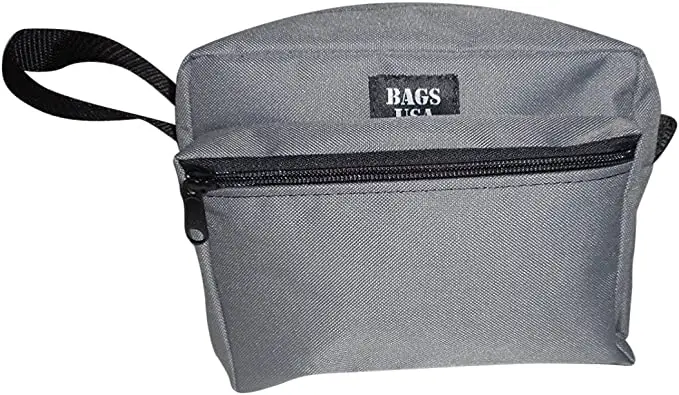 Examples of beautiful makeup bags made in the USA are the BAGS USA Cosmetic Travel kit and the BOACAY Extra Large Hanging Travel Cosmetics makeup Essentials Toiletry Bag for Women and Men.
Concerning the BOACAY Extra Large Hanging Travel Cosmetics makeup Essentials Toiletry Bag for Women and Men, the design, choice of material, and colors are made in the USA while the manufacturing is done in China.
Allow me to also introduce the man junk bags handmade in Texas, a perfect essential and cosmetic bag for men, while for women we have the popular makeup junkie bag.
Furthermore, Makeup bags come in different sizes, shapes, and designs to suit individual preferences and styles.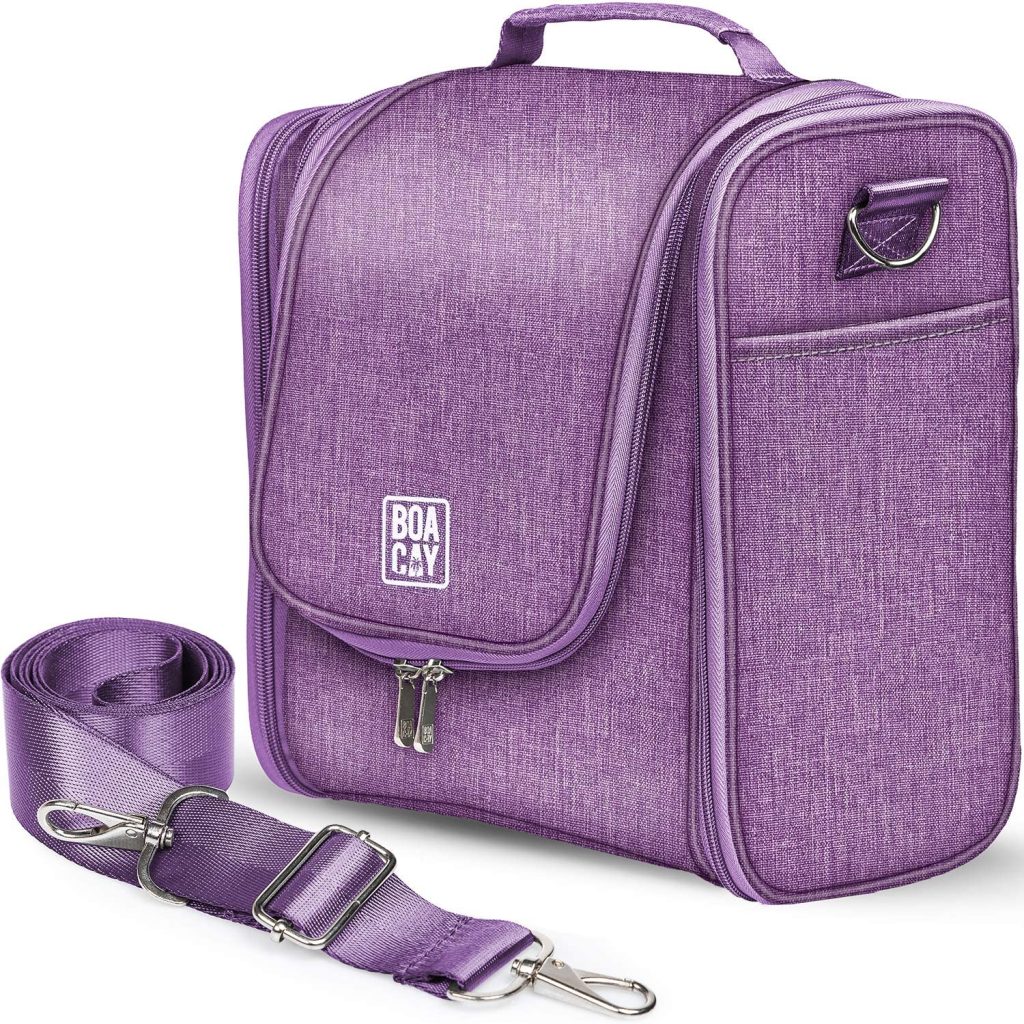 Some are small and compact, designed for on-the-go use, while others are larger and more spacious, meant for home storage or travel.
Most makeup bags are made from durable materials such as fabric, leather, or plastic, and have compartments or pockets to keep items organized and easily accessible.
Some may even have special features like built-in mirrors or brush holders.
Overall, a makeup bag is an essential accessory for women who wear makeup, as it helps to keep their products organized, protected, and easy to transport.
CANVAS DOPP KIT MADE IN USA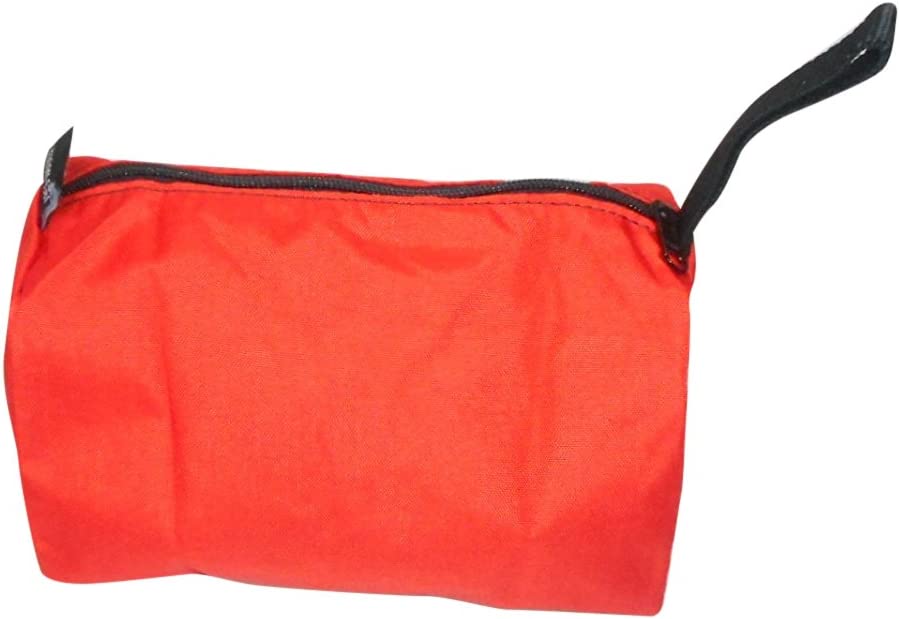 An example of a canvas Dopp kit made in the USA is the BAGS USA Medium sized Dopp kit toiletry bag made up of canvas material
It is very affordable, perfect for a journey of 2 to 3 days while holding all your personal essentials with ease
Aside from being a friendly choice for travel, it is also water-resistant and can serve as a medicine bag.
MILWAUKEE LEATHER DOPP KIT
The Milwaukee leather Dopp kit is a full-grain type of leather that is of very high quality and used in the manufacturing of Dopp kit toiletry bags.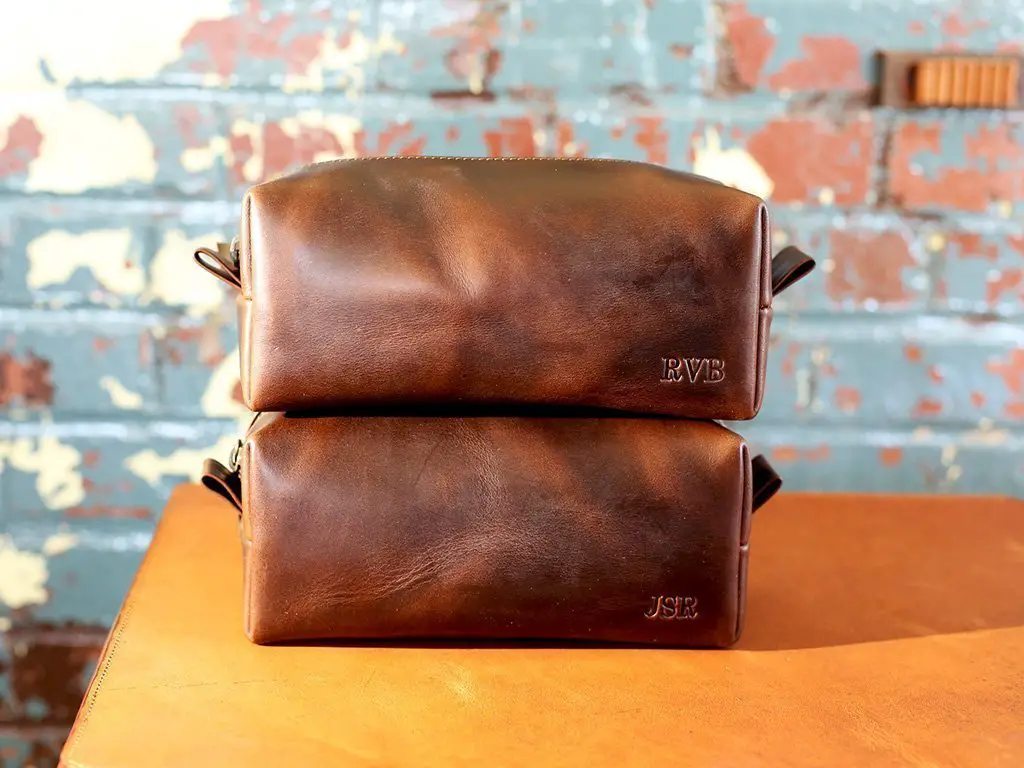 For example, the USA made Men's Chocolate Leather Monogrammed Toiletry bag is made up of Milwaukee Leather, handcrafted in NC, USA.
The Milwaukee Men's leather toiletry bag has a very nice pull-up effect, it is strong and durable, designed to hold all of your personal essentials and toiletries.
Finally, it offers optimal organization for smaller-sized travel toiletries but could also serve as a bag for grooming tools or tech accessories.
HANDMADE LEATHER GOODS USA
Handmade leather goods USA are products made from genuine leather but manufactured in America. They are created by skilled craftsmen or artisans using traditional techniques and tools, without the use of machines or automation.
These goods can include a wide variety of items such as wallets, belts, bags, shoes, jackets, and more.
The process of making handmade leather goods typically involves selecting the highest quality hides, cutting the leather to the desired shape, stitching and gluing the pieces together, and finishing the product with various treatments to enhance its durability and appearance.
Handmade leather goods are often prized for their high quality, durability, and unique character, as each item is crafted by hand and may have slight variations in texture and color that make it one-of-a-kind.
They can also be more expensive than mass-produced leather goods, but many people are willing to pay the premium for superior craftsmanship and materials.
IS DOPP KIT A BRAND?
No, Dopp kit is not a brand. "Dopp kit" is actually a term used to describe a small toiletry bag used for carrying personal grooming items such as a toothbrush, razor, and other personal care products.
Over time, the term "Dopp kit" has become a generic term used to describe any small toiletry bag, regardless of the brand.
WHAT IS ANOTHER NAME FOR DOPP KIT?
Another name for a Dopp kit is a toiletry bag.
WHERE IS DOPP FROM?
The Dopp kit toiletry bag is named after its inventor, Charles Doppelt, who was born in Germany in 1859 and immigrated to the United States in the late 1800s.
He settled in Chicago, Illinois, where he started a leather goods business with his uncle, Samsonite, in the early 1900s.
The Dopp kit, originally called the "Dopp kit bag," was invented by Doppelt in the early 1920s as a compact and convenient way for travelers to store and carry their toiletries.
So, the Dopp kit toiletry bag was invented in the United States by Charles Doppelt.
For further reading; check; what is a Dopp kit called a Dopp kit.