In our previous article, we discussed extensively the 8 best USA made tote bags, today, we will be looking at the various organic cotton tote bags made in USA.
We can't argue that in recent years there has been increasing in the demand for eco-friendly and sustainable products, this is important in the protection of the environment.
As consumers become more conscious of their impact on the environment, they are turning to products that are produced with minimal harm to the planet.
Here is where organic cotton bags come into play, these handbags are produced in such a way that ensures fair labor practices and a minimal carbon footprint.
Let's dive deeper into the world of organic cotton tote bags and see how you can look confident and fashionable when you make them one of the 5 must have bags to own.
Table of Contents
ARE COTTON TOTE BAGS ECO-FRIENDLY?
As you all know that conscious consumers pay attention to cotton, natural or eco-friendly products making them part of their everyday routine.
But are cotton tote bags eco-friendly? Yes, cotton tote bags are eco-friendly because the production methods and sustainable manufacturing processes used make them a more environmentally friendly choice than other types of bags, especially plastic bags.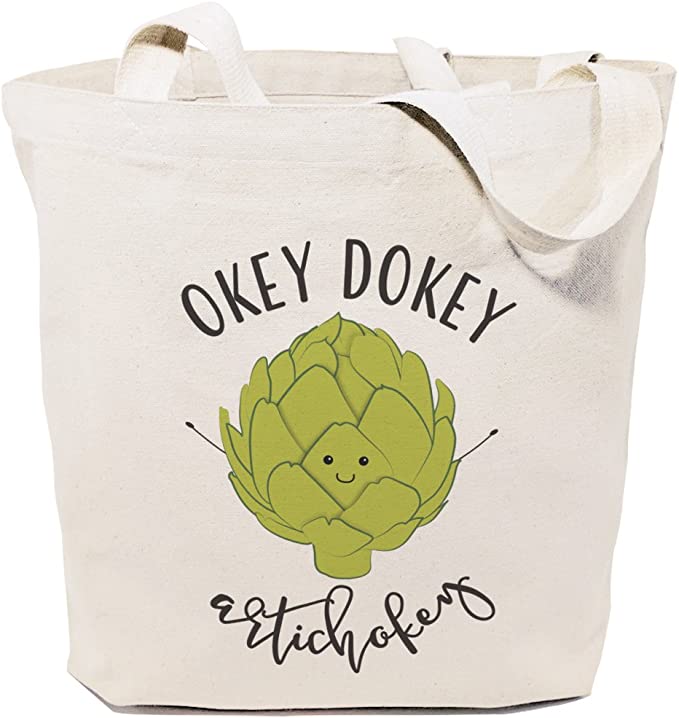 Secondly, organic cotton is grown without the use of harmful pesticides and chemicals, making it more sustainable and eco-friendly.
In addition, eco-friendly cotton production methods help to minimize the use of harmful chemicals.
Overall, another factor to consider is the entire lifecycle of the bag, from production to disposal and all of these are largely affected by the manufacturing technique used which in turn affects the level of eco-friendliness.
ORGANIC COTTON TOTE BAGS MADE IN USA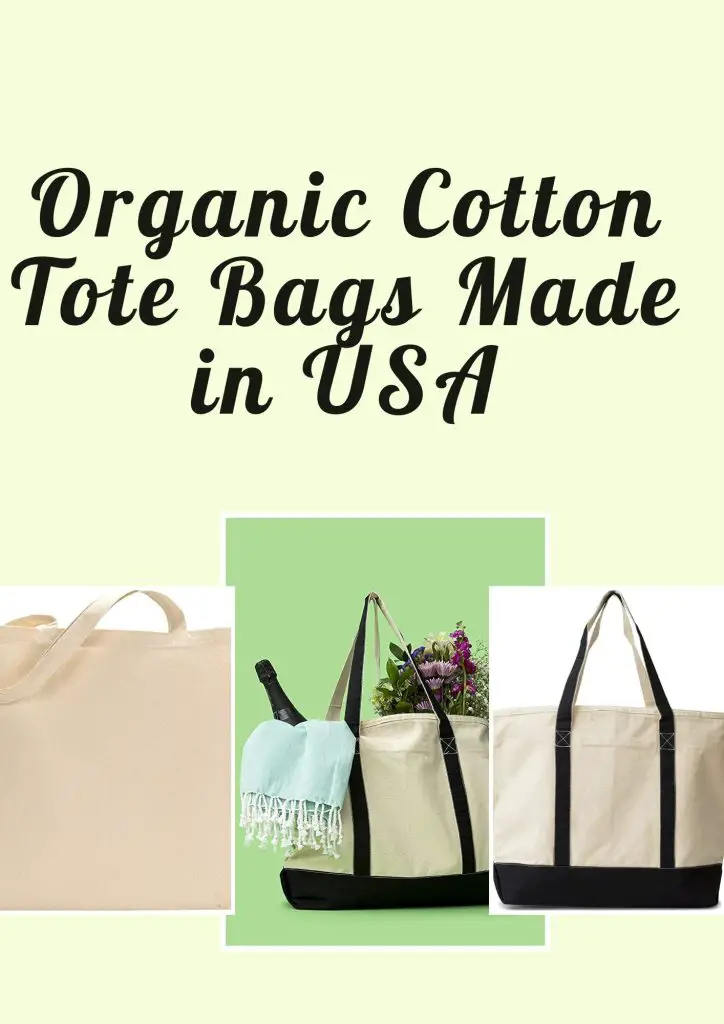 Below are the best 4 recommended organic cotton tote bags that are made in America;
Simple ecology Organic cotton grocery Bag
Condo Premium Organic Canvas Bag
ToteBag Natural Organic Bag
TBF Organic canvas Totebag
SIMPLE ECOLOGY ORGANIC COTTON GROCERY BAG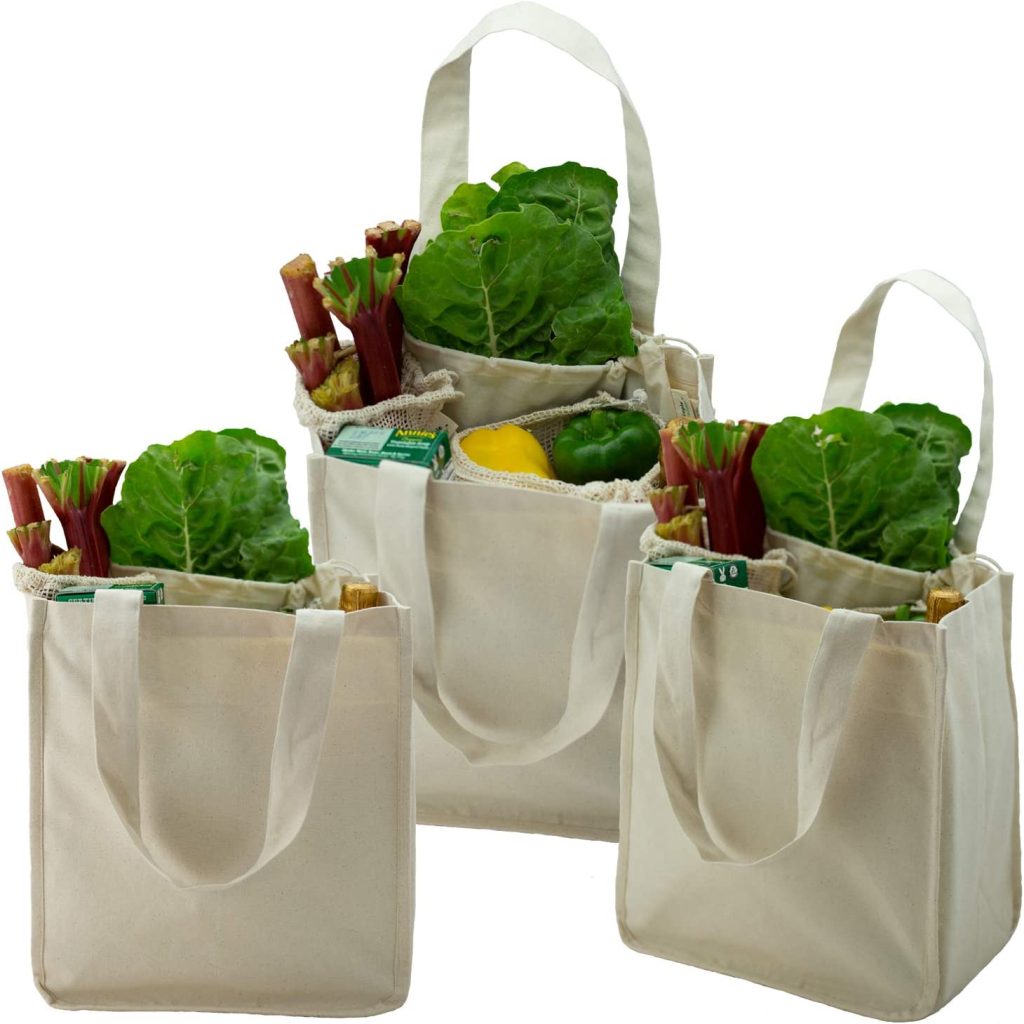 The Simple Ecology organic cotton tote bag is certified by the US Global Organic Textile standard as it is designed for ecological benefits and quality.
All Organic Cotton bags from Simple Ecology are produced while meeting the strictest environmental standards.
Carefully designed with heavy-duty construction double stitches, has several interior pockets that can house wine bottles, milk jugs, egg cartons, flowers, baguettes, and tall veggies.
Durable, versatile, easy to use, and sturdy organic cotton bag that is biodegradable, reusable, and recyclable.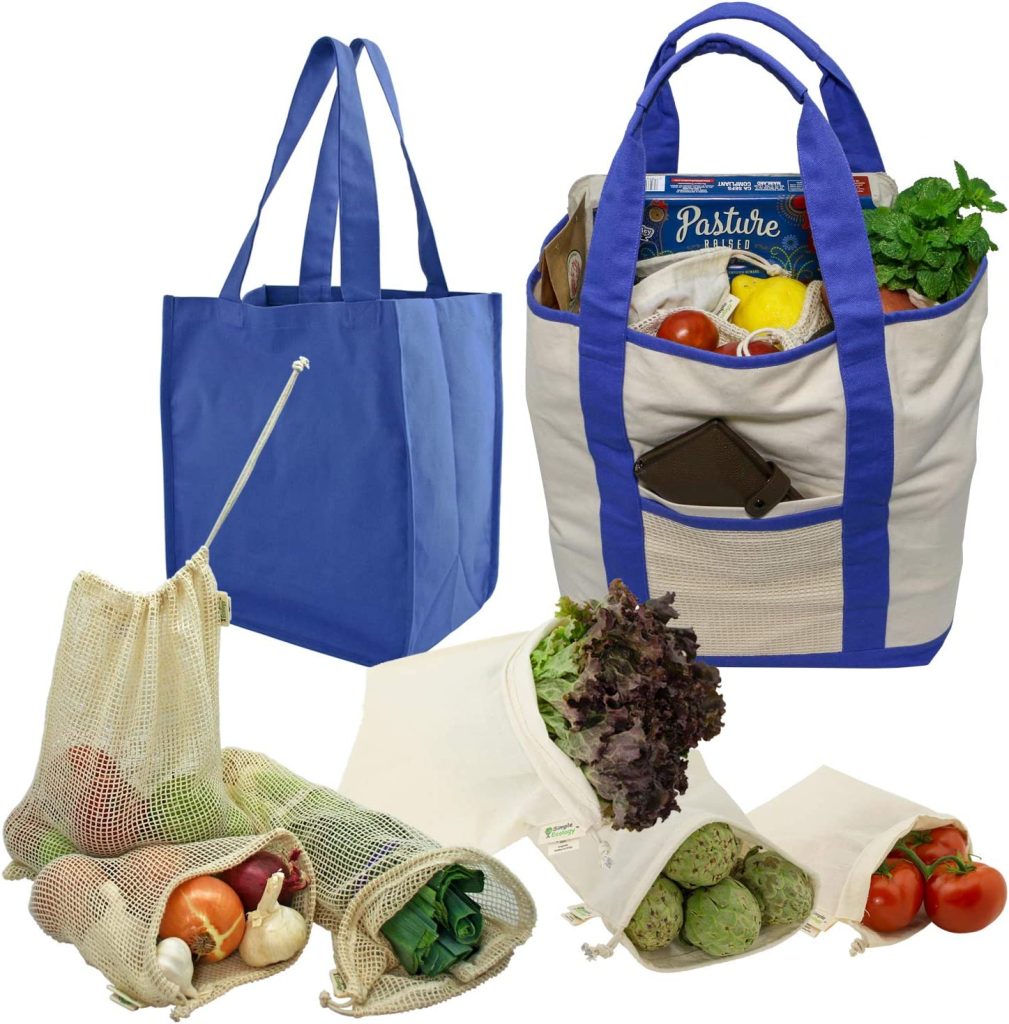 One striking feature of this Organic cotton grocery tote bag is that they are sturdier and can hold more items or groceries than plastic bags.
Finally, the straps are long enough to carry on your shoulders and easy to wash.
CONDO PREMIUM ORGANIC CANVAS BAG
The Condo Premium Organic cotton tote bag is proudly made in the USA with 100% Original cotton canvas material with cotton lining.
You will love this beautiful, durable, strong, and easy-to-carry grocery bag that can contain 5 grocery bags of food in this one big cotton bag.
Apart from groceries, you can also use this Premium organic bag for beach trips or playgrounds.
Worth the money! Perfect for gifts like weddings or Christmas. Highly recommend it for moms!
TOTEBAG NATURAL ORGANIC BAG
The Totebag natural organic bag is made by TotebagFactory which is situated in California, USA.
The reusable cotton canvas bag is made up of 100% certified organic cotton fabric, suitable for hand washing and machine washing.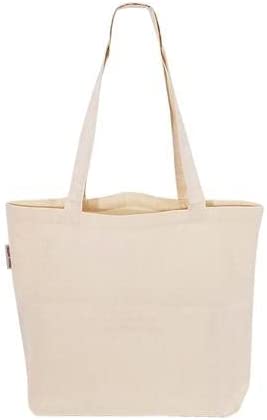 Easily load and unload your groceries with ease using the big compartment, lightweight but reusable and eco-friendly.
Durable to carry heavy loads/groceries or items because of the strongly reinforced cotton handles.
Eco-Friendly blank tote bags for grocery shopping, school, work, travel, gym, beach, church, custom DIY, art & crafts, decorations, and weddings.
Perfect for promotional needs, giveaways, advertising, and others as it allows you to imprint your design on it, in form of customized design or even embroidery.
Maintain a healthy environment by choosing this organic tote bag!
TBF ORGANIC CANVAS TOTE BAG
The TBF Organic canvas tote bag is made in Southern California under the name Faire.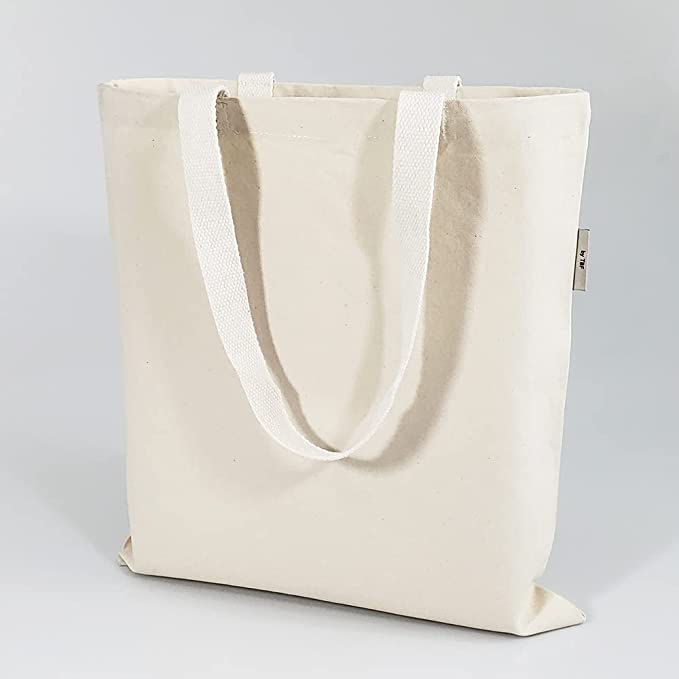 Made of natural color, this 100% Organic cotton canvas bag makes a good teacher bag, library bag, book bag, party bag, birthday bag, bride bag, wholesale bag, promotional bag, conference bag, nurse bag, giveaway bag, advertising bag, church bag and so much more!
Do you want to paint or decorate projects at home, school, or in camp? This blank canvas tote bag got you covered
Perfect for a personalized customized bag, shop with confidence when you buy TBF reusable cotton bag.

For proper care, we recommend hand Wash Only.
ORGANIC COTTON TOTE HANDBAGS WHOLESALE 
When you buy something wholesale, it means you are buying in bulk, here we are talking specifically about organic cotton tote bags.
Why do we need to buy these handbags in bulk? It could be to save cost, maybe to start a business, or use these tote bags as promotional materials for dedicated or new customers.
In addition one of the reasons individuals or businesses buy products wholesale could also be for personal use, you get them at discounted prices.
Some examples of companies that offer wholesale organic cotton tote handbags are below;
Finally, you also have a choice to customize these cotton tote handbags as they make a great marketing tool for businesses looking to promote their brand while they demonstrate a consciousness to promote a clean and healthy environment.
CUSTOM TOTE BAGS MADE IN THE USA
Custom totes are handbags that you can simply customize to suit your fashion style, it could be your name, initials, or a picture/animal that you love.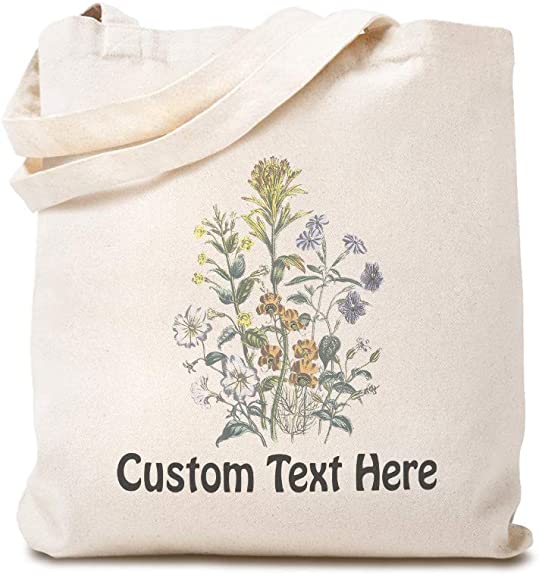 Any desired way of customization is agreed upon by you and the company/seller before production or delivery is scheduled.
You can plan to customize totes' handbags and give them as a gift to a loved one, as promotional materials for customers, or for personal use.
In addition, another word for "custom" is "personalization".
Examples of custom tote bags that are made in America are;
Reusable Canvas Bag – Large Tote Bag with Printed Beach Theme
Custom Canvas Tote Shopping Bag
These bags are made from 100 % Cotton and Canvas material. They are eco-friendly, perfect for the beach, and can be used everywhere.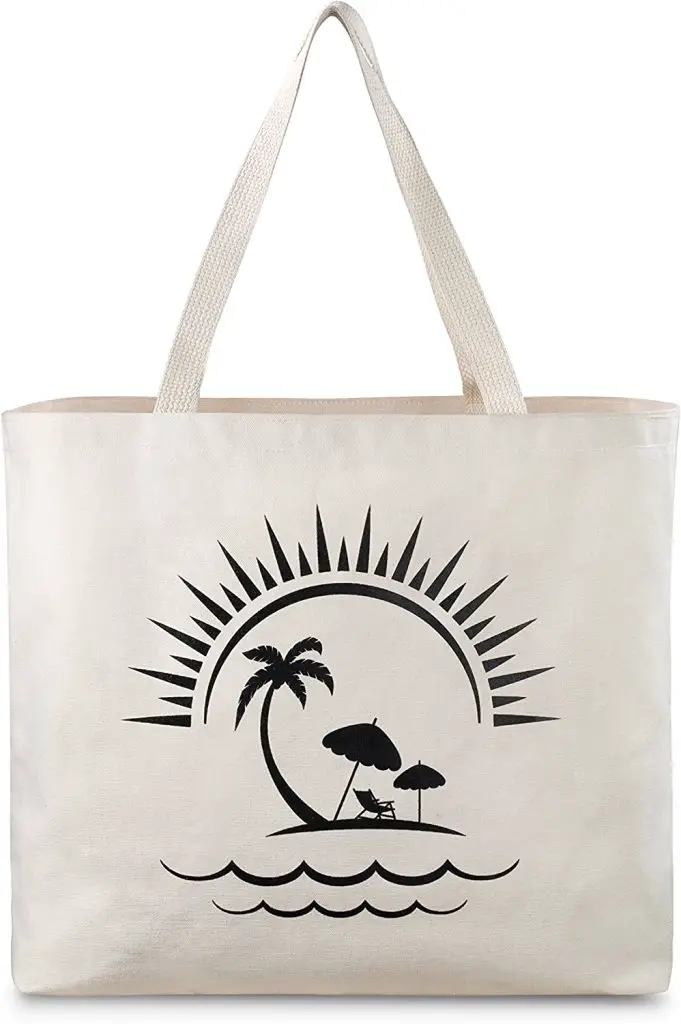 You can simply carry them over your shoulders or by hand.  
The perfect size to carry a lot of things. they can be used as beach bags, gym bags, laundry bags, reusable grocery bags, travel bags, swim bags,s or even book bags and school bags.
Easy to wash and reuse. Can be washed by hand or simply throw our gym bag for women into your washer and dryer and call it a day!
RECYCLED COTTON TOTE BAGS WHOLESALE
Most bags can be bought as single and also wholesale, this also applies to recycled cotton tote bags.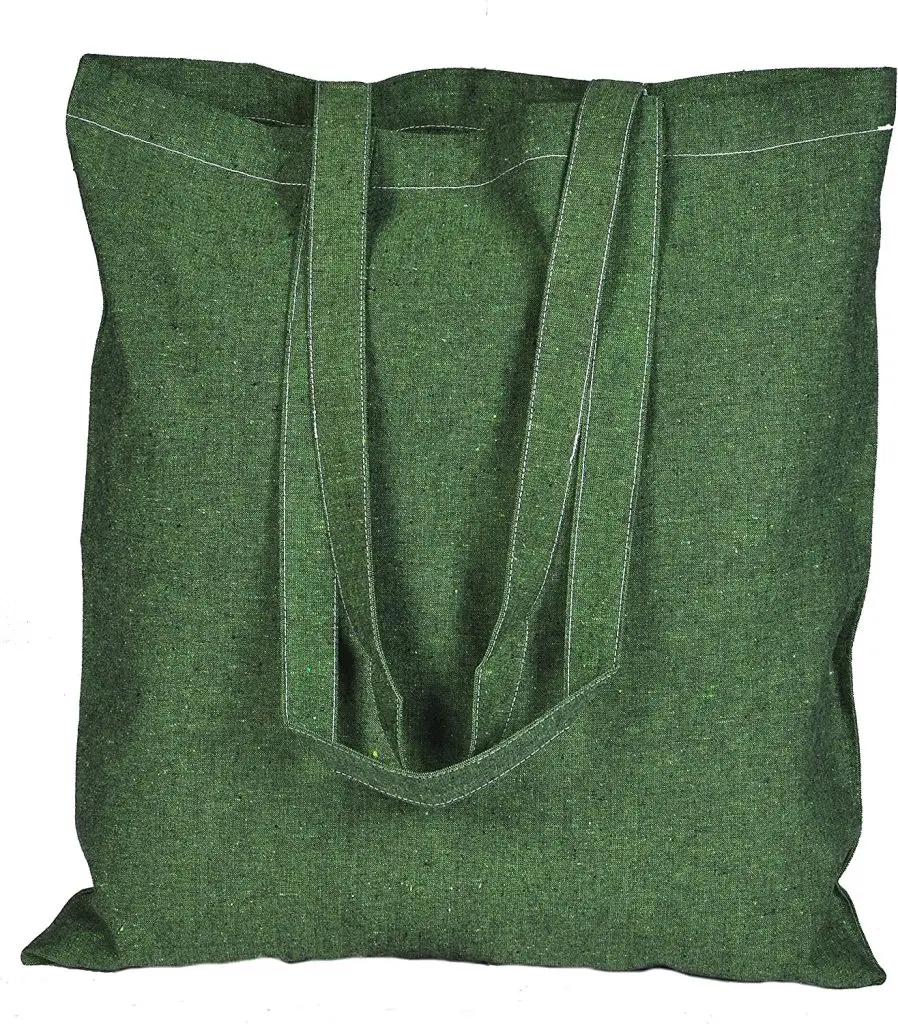 Wholesale recycled cotton tote bags are sold at discounted prices making them very affordable to purchase in large quantities.
Sometimes people buy products in large quantities for various reasons like; gift items, promotional materials, giveaways, etc.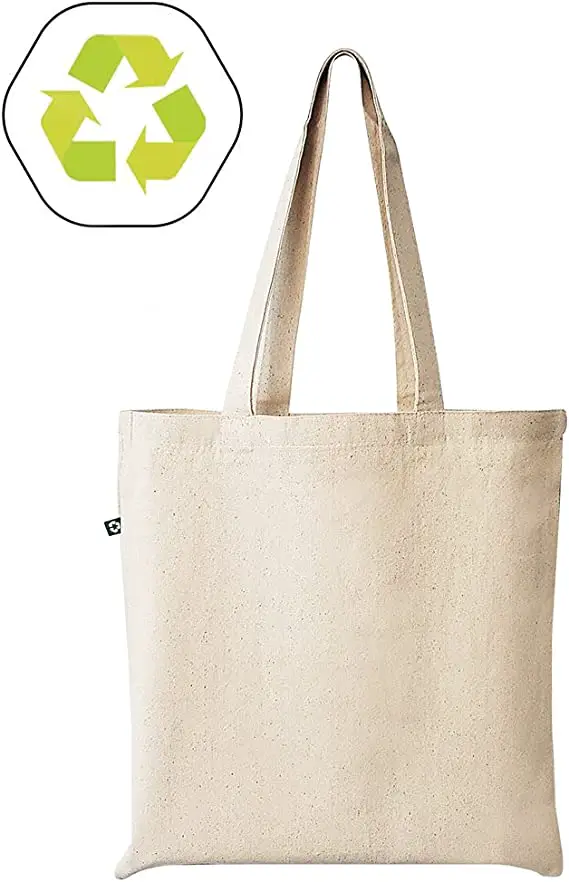 In addition, recent times have shown that consumers are becoming more environmentally conscious so they prefer buying recycled handbags so they play a part in protecting the earth.
Recycled cotton tote handbags are very easy to wash, durable, lightweight, affordable, and versatile handbags that can be used for various purposes.
Finally, some examples of companies that offer recycled cotton tote bags wholesale are;
CUSTOM TOTE HANDBAGS CHEAP
One feature I love about tote bags is that they come in various colors, materials, designs, and various prices, they are bags that everyone can afford no matter their income.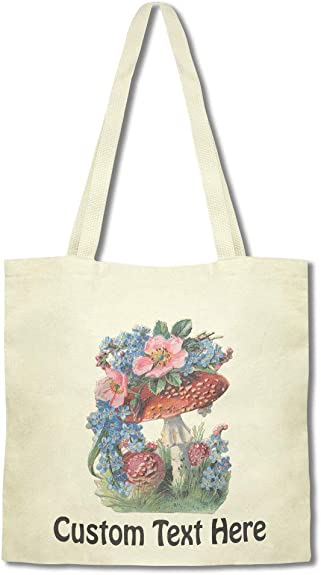 The reason we say "cheap custom tote bag" is because they are available at a lower cost compared to other types of bags.
Another word of caution here is this: "cheap" doesn't mean fake or poor product. It could mean the company is giving out such bags at discounted prices or clearance sales.
Overall, custom tote bags are a practical, versatile, and affordable option for individuals and businesses who want to personalize their bags and promote their brands without breaking the bank.
HOW DO YOU CLEAN ORGANIC COTTON TOTE BAGS
Cleaning organic cotton tote bags is relatively simple and can be done using mild detergents and a gentle washing cycle. Here are the steps you can follow:
Pre-treat any stains on the bag using a stain remover or a paste made from baking soda and water.
Fill a basin or sink with lukewarm water and add a mild detergent. Avoid using bleach or harsh chemicals that can damage the cotton fibers.
Place the bag in the water and swish it around gently to distribute the soap.
Let the bag soak for about 30 minutes, then rinse it thoroughly with clean water.
Gently squeeze out excess water from the bag, being careful not to wring or twist it, as this can damage the fabric.
Hang the bag to air dry in a well-ventilated area, away from direct sunlight. Avoid using a dryer, as the heat can shrink or distort the bag.
With these simple steps, you can effectively clean your organic cotton tote bag and keep it looking fresh and new for longer.
WHAT MATERIALS ARE TOTE BAGS ECO-FRIENDLY?
There are several eco-friendly materials that can be used to make tote bags. Some popular materials of tote bags that are eco-friendly are;
 
Organic cotton, hemp, jute, recycled plastic, and recycled materials.
 
Organic Cotton: Organic cotton is grown without the use of pesticides and other harmful chemicals. It is a renewable and biodegradable material that is also durable and can withstand wear and tear.
 
Recycled Plastic: Recycled plastic is made from post-consumer waste, such as plastic bottles. It is a durable and lightweight material that can be used to make reusable bags.
 
Hemp: Hemp is a sustainable crop that requires fewer resources to grow than cotton. It is a strong and durable material that is also naturally resistant to pests and diseases.
 
Jute: Jute is a plant fiber that is biodegradable and compostable. It is a durable material that can withstand heavy loads and is commonly used to make eco-friendly tote bags.
 
Recycled Materials: Tote bags can also be made from a variety of recycled materials, such as recycled paper, old clothing, and scrap fabrics. These materials are often repurposed to create unique and eco-friendly bags.
 
WHAT IS THE BEST CLOTH MATERIAL FOR TOTE BAGS?
The best cloth material for tote bags is cotton and canvas material because they are durable, can withstand tear and wear, can carry heavy items, soft, lightweight, breathable, can be dyed in a wide range of colors, and can be used for customization or personalization.