You may never truly understand the importance of having the best travel companion until you use high-quality travel bags made in USA.
Do you want to have a beautiful memory when you travel? Of course, I know you do.
When you are preparing to have a beautiful trip, aside from organizing and noting down all the travel items you need, one thing that holds everything together is the Travel bag.
Why are American travel bags recommended you ask? It is because they are meticulously crafted using high-quality materials and craftsmanship.
Match up your travel accessories, and redefine your travel experience with various timeless Travel bags with aesthetic and vintage designs that will last a long time
Are you ready to embark on this unforgettable voyage? Then, let's dive into the world of travel bags that encapsulate the American dream of ingenuity and unmatched quality.
Table of Contents
TRAVEL BAGS MADE IN USA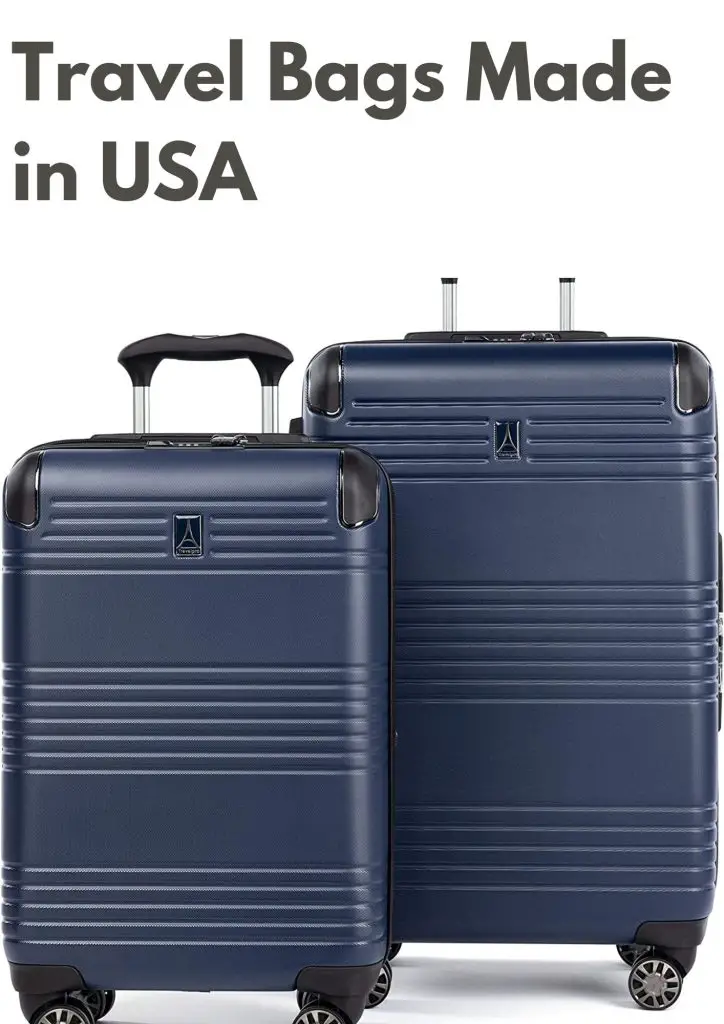 Here are the 12 recommended Travel bags that are proudly made in the USA;
Tough Traveler Duffle Travel bag
Roam Travel bag
Bags USA
Filson Bags
Duluth Pack Canvas Travel Bag
Frost River Travel Duffel Bag
J W Hulme Classic Leather Duffle Travel Bag
Korchmar Leather Travel Duffel Gym Bag
Alchemy Goods Brooklyn Travel Backpack
Green Guru Gear Bag
North St. Bags
BAGS USA
Bags USA are Premium bags that are handcrafted in California, USA, they specialize in manufacturing the highest quality of sports and Travel bags.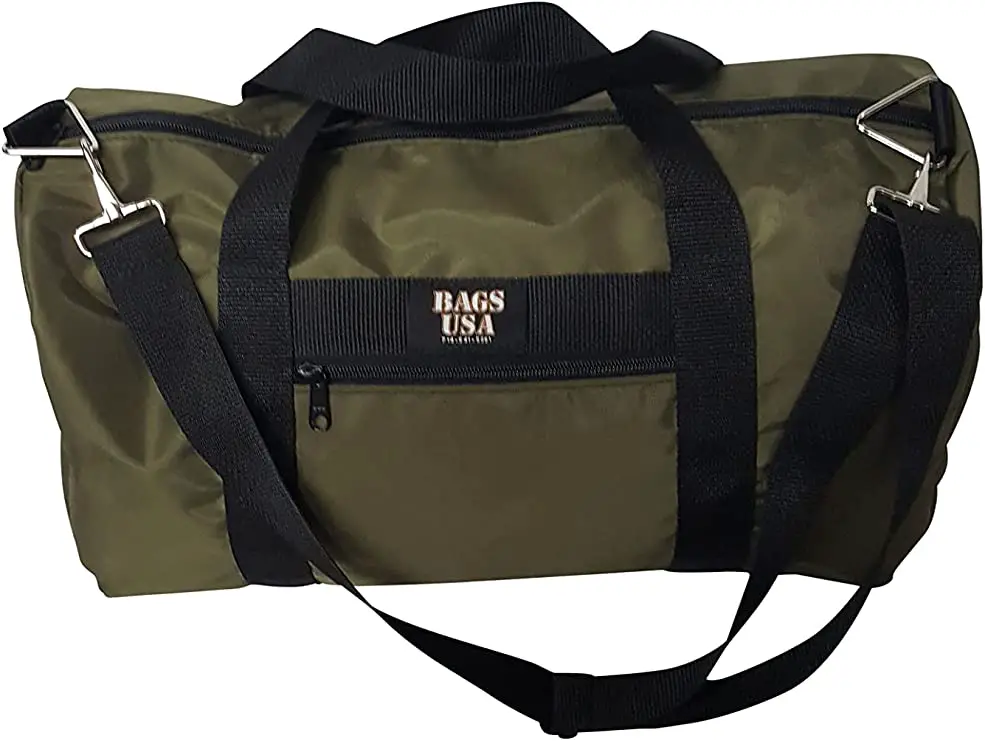 Bags USA Travel bags are made from quality industrial fabrics such as 600 Denier poly, 400 Denier nylon, and heavy-duty Du Pont Cordura nylon.
In addition, what makes Bags USA unique is that you can actually request they use polyester, vinyl mesh, and canvas on the travel bag you request
Another manufacturing advantage to note is that most of the bags manufactured are custom-made to suit your order preference.
Unlike other travel bags that make use of poor zippers especially when the travel bag is tight full, the Bags USA brand makes use of self-repairing coil zippers.
The Bags USA also have come in various colors to choose from that would suit your unique fashion style.
Examples of Bags USA Travel bags are;
Aside from travel bags, Bags USA also manufactures; Camera bags, School Backpacks, Garment bags, Sling bags, Messenger bags, Fanny packs, Carry-on, Briefcases, Laptop bags, Lunch bags, Envelope bags, Launch bags, drawstring bags, etc.
ROAM TRAVEL BAG
The Roam Travel bag brand is made in Vidalia, GA, USA.
It is no news that Roam USA makes the most affordable and quality foldable travel backpack on the market all for under 35 dollars!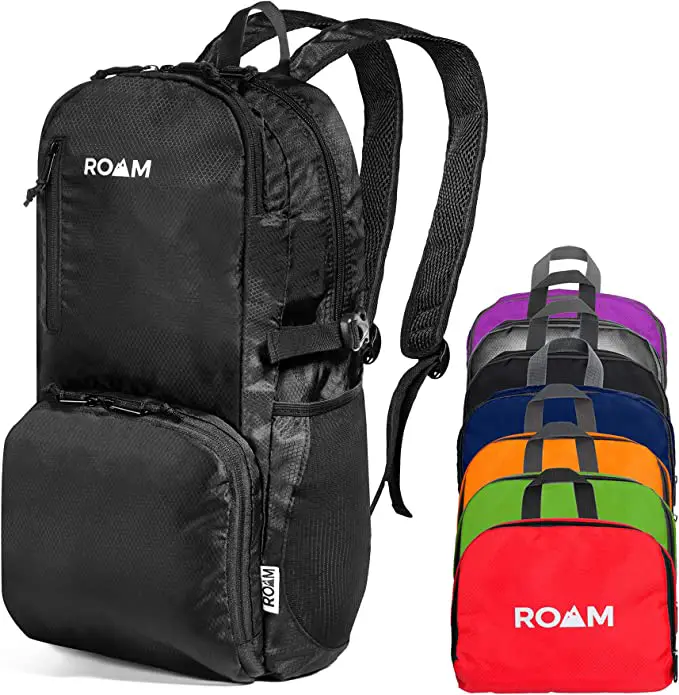 This bag is designed to fit mountain climbing, personal backpack for airlines, and work
Keep your essential items safe and organized with the Roam Travel, camping, and hiking lightweight backpack.
When the Roam USA travel backpack is not in use, you can collapse the bag saving space until you need it for the next trip or outdoor adventure. You can also easily unfold in no time!
It is designed with 2 mesh pockets on the side for water bottles, an inner pocket that can fit a 15.6-inch Laptop, and a large 25L storage capacity that can keep all other bulky items organized.
You don't want to miss this wonderful lightweight bag that is built for daily use and outdoor adventures.
The ROAM USA travel bag is built with bartack stitching, abrasion-resistant metal zippers, and water-resistant ripstop nylon material to tough out all terrain.
Finally, it is designed for comfort allowing the weight to distribute evenly, relieving stress from the shoulders.
FROST RIVER EXPLORER HEAVY DUTY WEEKENDER TRAVEL BAG
The Frost River remains one of American finest travel bags crafted using 100% solar Energy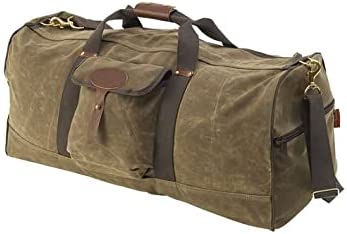 The Frost River Weekender Travel bag is made in Duluth, Minnesota, USA.
Are you in dire need of a Waxed canvas Duffel bag that is made in the USA, then look no further as the Frost River Duffel Waxed canvas bag will meet your expectations.
To know more about waxed canvas bags; kindly see USA Made waxed canvas messenger bags.
This Waxed Canvas Duffel bag is built with premium leather, waxed canvas, and solid brass hardware giving it its durability.
The design of this luggage duffel bag comes in a cool and convenient design and has a roomy interior, front pockets, and a low-profile zip pocket on one end.
In addition, this USA made Waxed canvas duffel travel bag has tough wide handles and a leather grip which makes it comfortable, that shows the importance of why bags worn on the shoulders are provided with broad straps.
Finally, this beautiful waxed canvas duffel travel bag can be used as a gym bag, carry-on bag, travel bag for commercial airlines, outdoor gear bag, and other outdoor adventures.
TOUGH TRAVELER DUFFEL TRAVEL BAG
The Tough Traveler Duffel Travel bag is proudly made in New York, USA. It comes in medium, large, and extra-large capacities.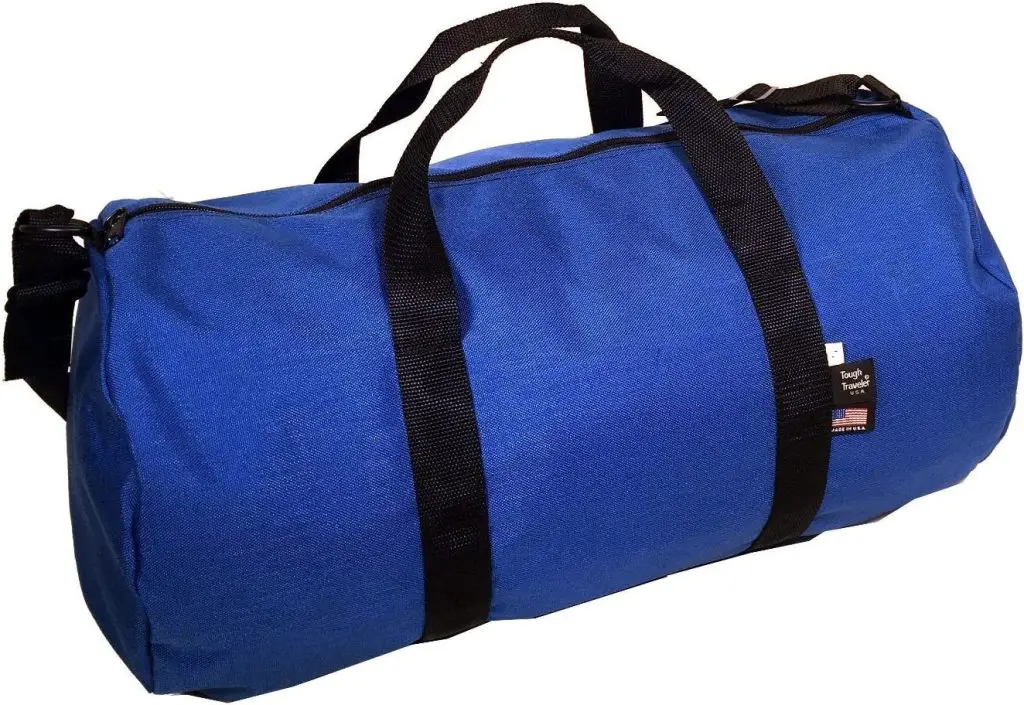 Colors of design include; black, khaki, red, and royal blue. It is made with 1000D Cordura material that makes it machine washable and water-resistant.
The straps are adjustable and removable, designed with a strong sturdy YKK Zipper for extra durability.
The handles are firmly sewn to the body of the duffel travel bag they are strong enough to carry the weight inside the bag
You will enjoy the comfort and roomy interior space for all your belongings provided by this USA travel bag.
ALCHEMY GOODS BROOKLYN TRAVEL BACKPACK
The Alchemy Goods Brooklyn Travel Backpack is made in Seattle, WA, USA.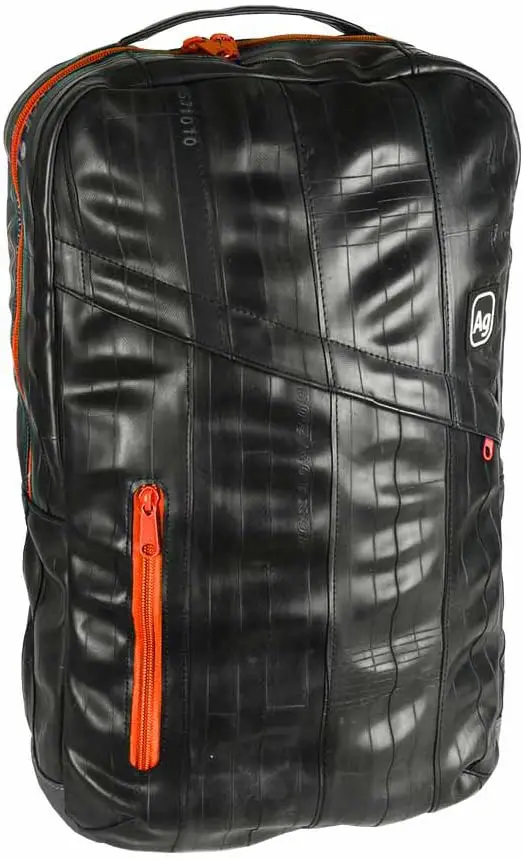 This beautiful and sturdy travel backpack is made from recycled bicycle tires, you can carry your belongings with this travel backpack if you travel frequently without feeling bulky.
The outer shell offers water resistance, durability, and unique aesthetics, a solid backpack you won't regret having.
Heads will turn when you carry this sleek spacious travel backpack that is designed with a padded sleeve compartment to safeguard your Laptop
The straps are wide enough on the shoulders giving you comfort even when you carry heavy loads.
Easy to clean with just a little spray and wipe. Enjoy this functional and stylish USA Travel backpack.
DULUTH PACK CANVAS TRAVEL BAG 
The Duluth pack brand is one of America's finest and oldest handcrafted leatherwork.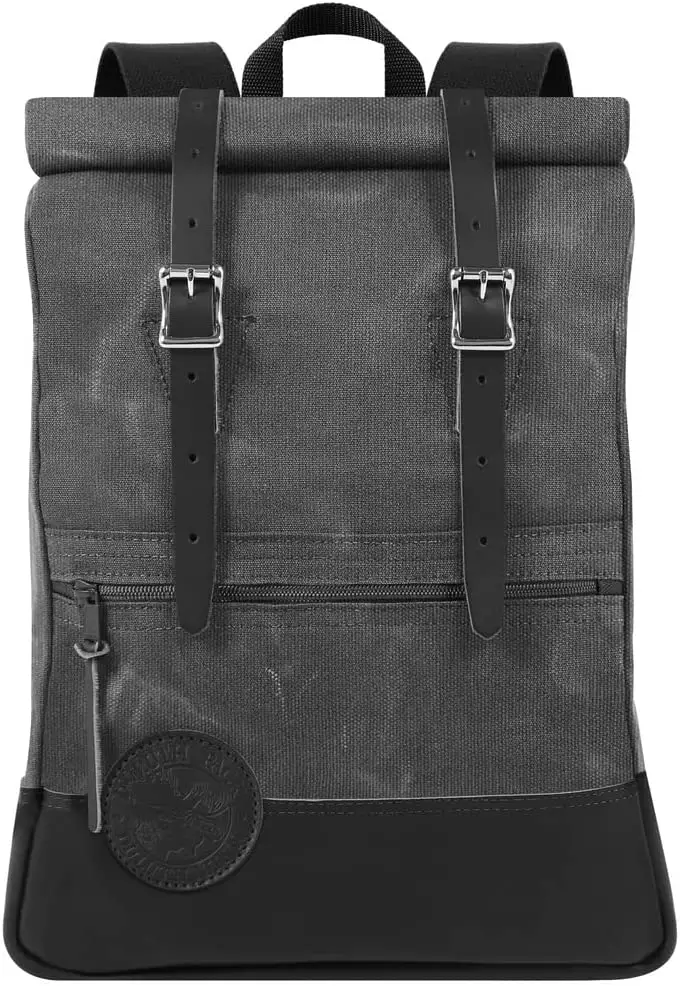 The Duluth pack canvas travel bag is manufactured in Minnesota, USA. We can boldly say the Duluth pack canvas travel bag is one of the best-waxed canvas backpacks made in the USA.
This Handcrafted Rugged American Leather travel bag is perfect for Outdoor, Hiking, and short travel for the Weekend.
It is unisex and perfect for daily use and worldwide travel, the Duluth pack canvas travel bag is a timeless design made with premium American Leather.
Aside from travel bags, the Duluth Pack USA BAG brand also manufactures outdoor gear, hunting equipment, and packs.
Enjoy your travel and memories with this high-quality American travel bag that has been in the market since 1882 and can withstand Midwest weather.
FILSON BAGS
The Filson bag brand has been crafting high-quality American goods since 1897, many of Filson's products are made in Seattle and other Factories in the USA.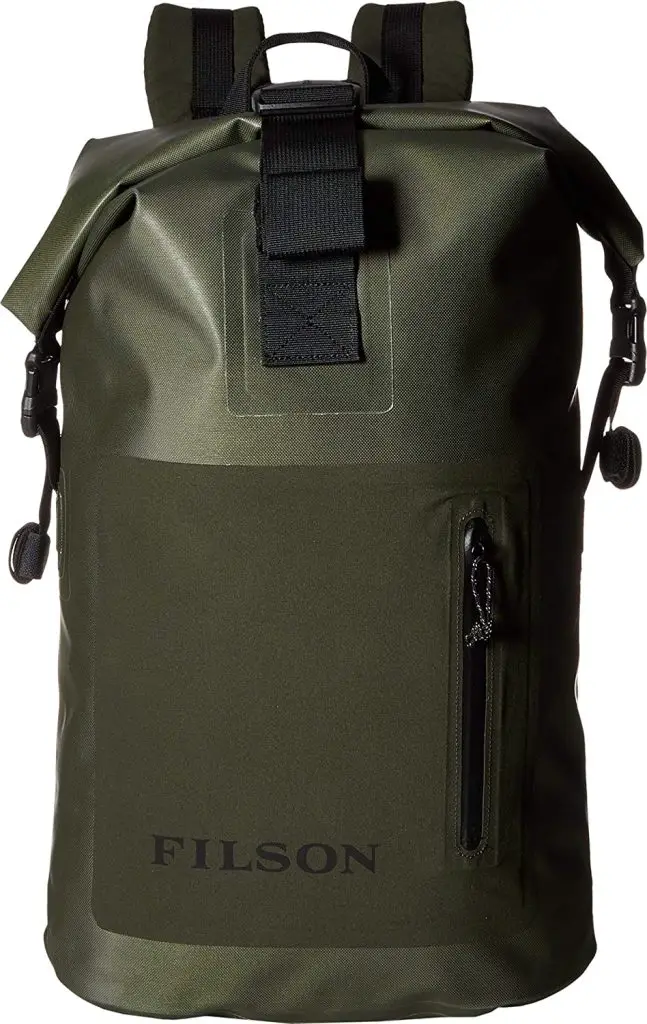 One such Filson model that we recommend for Travel is the Filson Men's Dry Travel Backpack.
Built with coated canvas material, this Filson travel bag has a hardcore Velcro seal at the top of the bag, it also has an interior and exterior pocket with zips.
This Filson Travel USA brand bag is built to last and protect our most valuable belongings because of its waterproof design
Perfect for outdoor adventures, this bag is with your investment!
BEST LUGGAGE MADE IN USA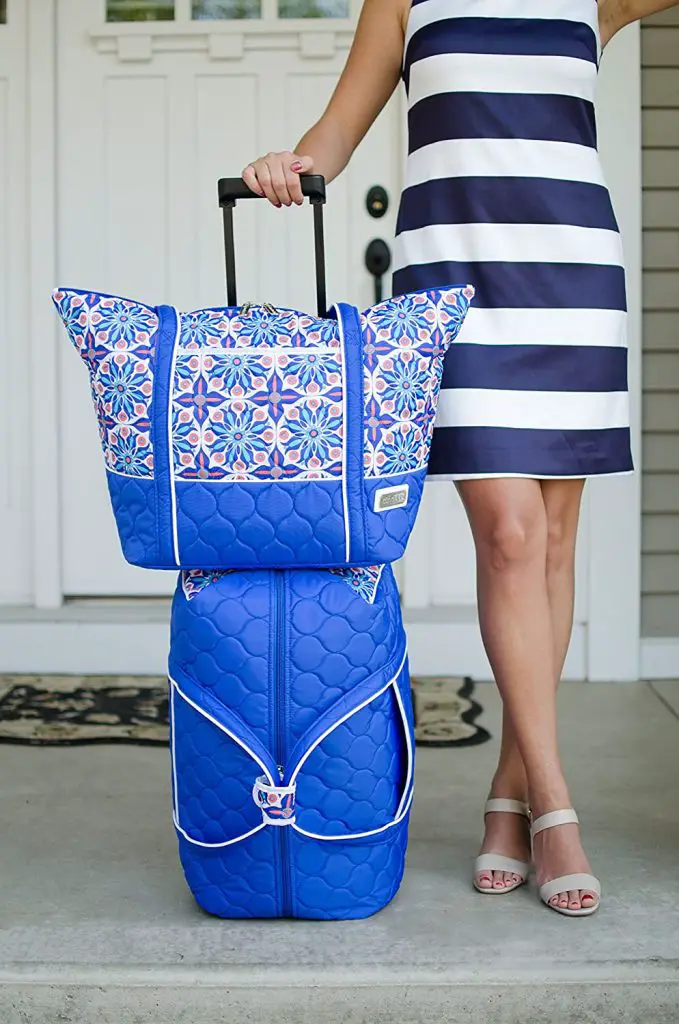 The Best Luggage that is made in the USA is the Cinda B. Carry-on Rolly Royal luggage Travel bag because you can enlarge or make the compartment smaller based on your trip.
The Cinda B. bag is 100% made in Fort Wayne, IN, USA.
In addition, the large compartment has the ability to contain lots of your belongings and is easy to organize.
It also has 3 large interior slip pockets that make it easy to pack and find smaller items.
This best Cinda B. luggage travel bag that is made in the USA has an extra-long telescoping handle that pulls out easily while the entire bag slides effortlessly.
An amazing travel suite is very easy to clean, perfect for international and domestic travel.
BEST MADE IN USA GYM BAG
The best gym bag made in the USA is the Tough Traveler Fitness Duffel gym bag because it is designed with an expanding sleeve pocket that can separate your damp items from dry items.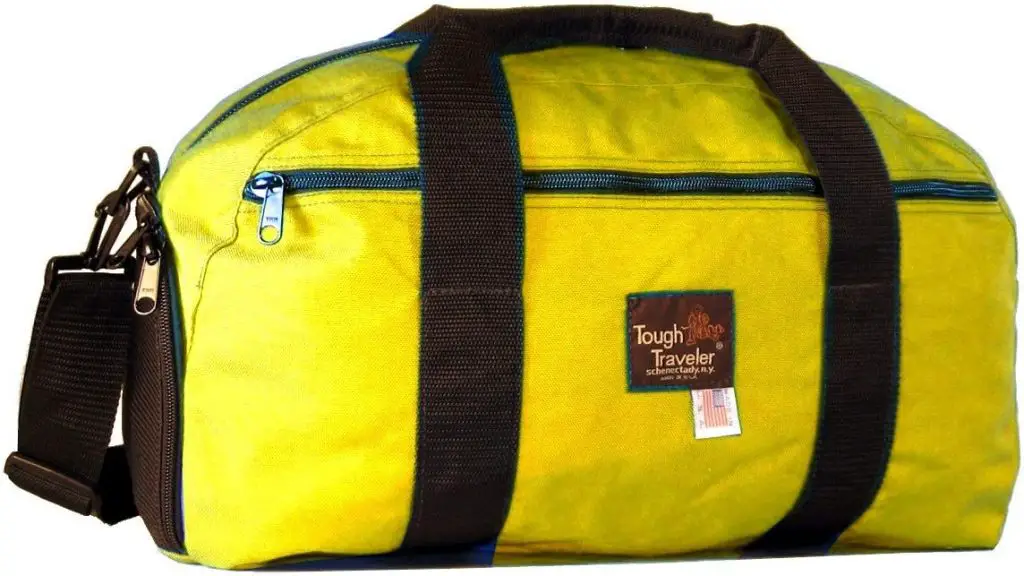 The Tough Traveler Fitness Duffel gym bag can also accommodate lots of stress because fits extra-large zippers.
In addition, it is also designed with mesh side pockets, especially for damp clothes, so your smelly sweaty clothes can get ventilated.
It is also designed with a detachable and adjustable shoulder strap for easy carry.
Furthermore, you can also expand the side pockets of this USA gym bag to fit your pair of sneakers, you can adequately pack shoes without squishing them.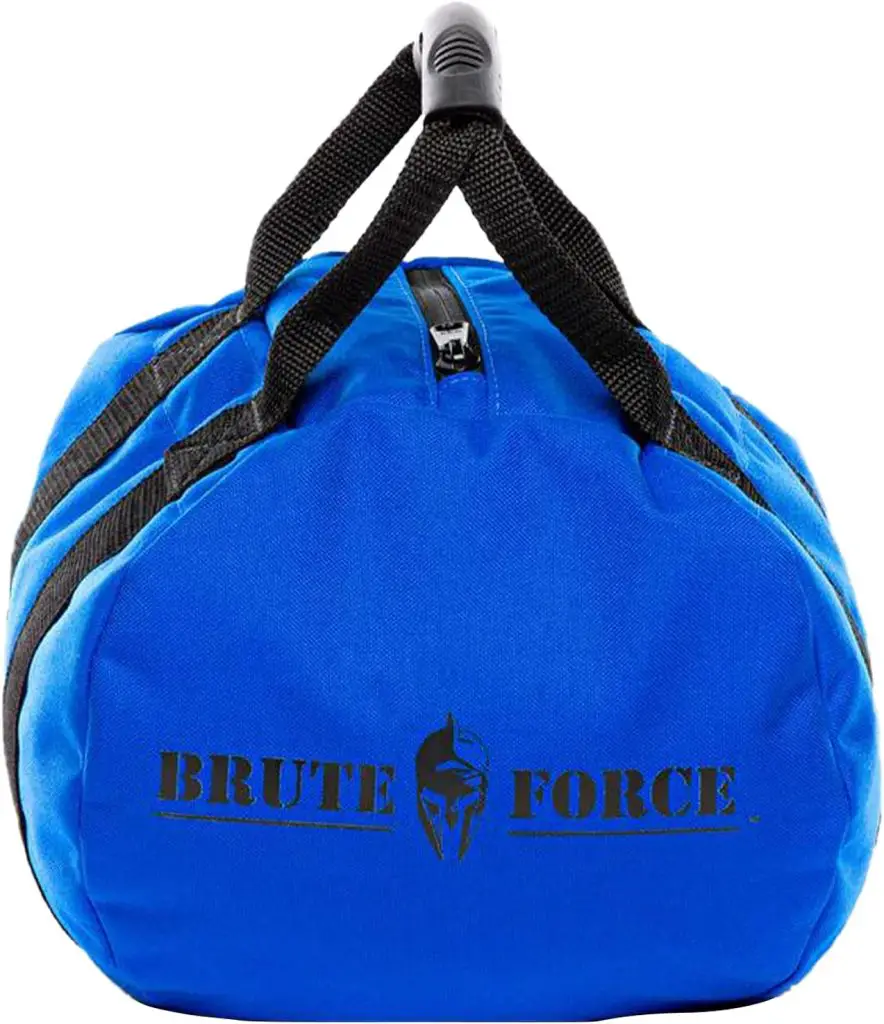 Sturdy gym bag made with Nylbond thread, superior quality, and workmanship
You won't regret purchasing this gym bag made with 1000D Cordura or packed cloth material
Finally, other recommended gym bags that are made in the USA includes;
Brute Force Kettlebell Sandbags for Home Gym – Made in the USA.
Gym Travel Bag that holds Personal Items by BAGS USA.
Gym Duffle/Beach Large Economy bag – Made in the USA.
CARRY-ON LUGGAGE MADE IN THE USA
Here are examples of carry-on luggage made in the USA;
Tough Traveler Flight Bag – Made in America Carry-on
Cinda B. Carry-on Rolly, Neptune
Carry-on travel bag by BAGS USA
IS AMERICAN TOURISTER LUGGAGE MADE IN THE USA?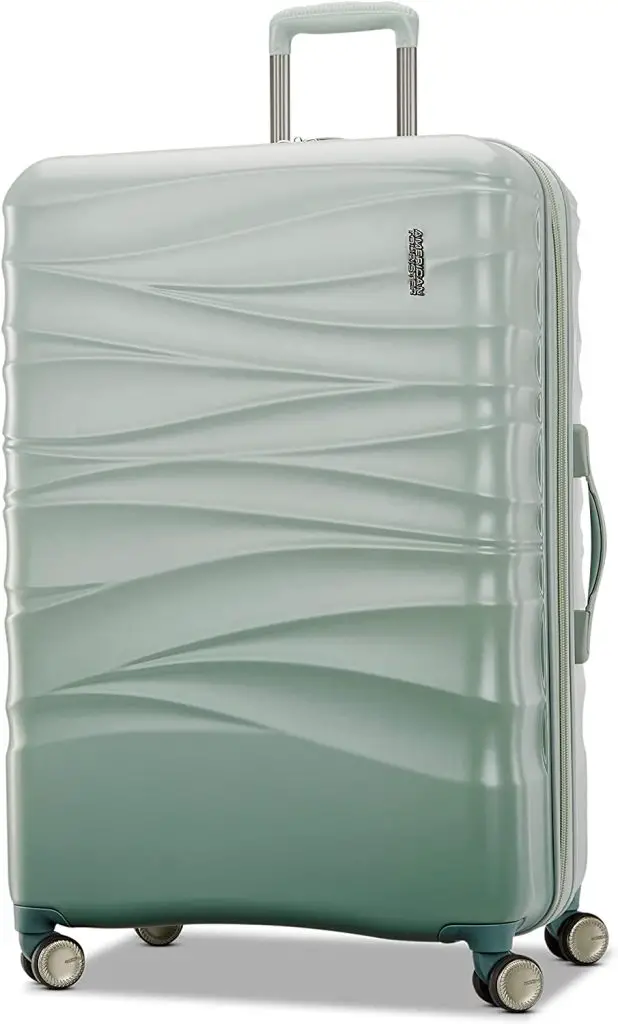 The American Tourister is one of the oldest and best-known luggage brands in the United States, started in 1930, and was later bought by the Samsonite Corp.
Presently, most of their manufacturing factories have been closed in the USA, however, presently most of the American Tourister Luggage's made outside the USA, like China, or probably in other countries as well.
Read here to know more about American Tourister history.
IS AWAY LUGGAGE MADE IN THE USA?
Away Luggage products are designed at their HQ (headquarters) in New York City and manufactured across Asia (in China, Taiwan, Vietnam, Indonesia, and Cambodia).
Away Luggage only partners with suppliers that take the environment and employees' needs into consideration as their topmost priority thereby upholding quality standards of production and welfare.
To know more, kindly read Away Luggage Frequently asked questions.
IS TRAVELPRO LUGGAGE MADE IN THE USA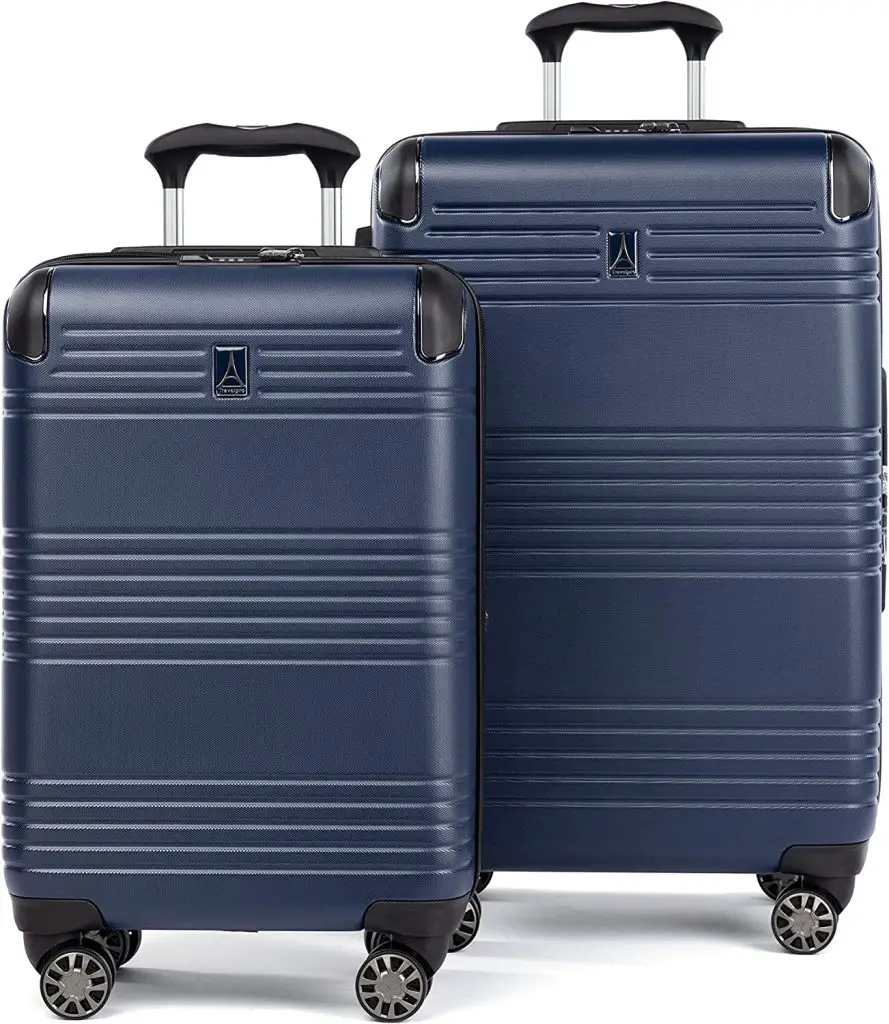 TravelPro Luggage's aren't made in the USA but TravelPro Products is headquartered in Boca Raton, FL, and has 7 office locations located throughout the US.
IS ROAM LUGGAGE MADE IN THE USA?
Yes, all Roam bags and luggage are made in Vidalia, GA, USA.
WHAT ARE ARMY DUFFEL BAGS MADE OF?
We have different designs and brands of the army duffel bag, however, army duffel bags are made up of either heavy duty military grade cotton canvas, polyester fabric, or Cordura nylon material.