Let's compare together. Messenger bag vs Briefcase, which would you prefer? Are messenger bags different from briefcases?
What if you've grown to love briefcases over time and someone so dear to you decides to gift you with a messenger bag? Would you rather fling it aside or would you like to try it out?
The truth is both bags serve similar functions. However, there are still many who would rather go for a briefcase worth $20,000 than get a messenger bag which might be less the price.
Personal choice is a major factor that contributes to what people buy at any given point in time. Even though the fashion market can be baffling at times.
It's still important to remember that bags, whichever brand they might be, serve similar functions. They aid in the carrying of items from one location to another.
Table of Contents
BRIEFCASE FOR MEN
Briefcases are generally masculine looking. They are office bags that are mostly used by men for official purposes. Carrying a briefcase to a pool party is as bad as wearing rubber slippers to a wedding.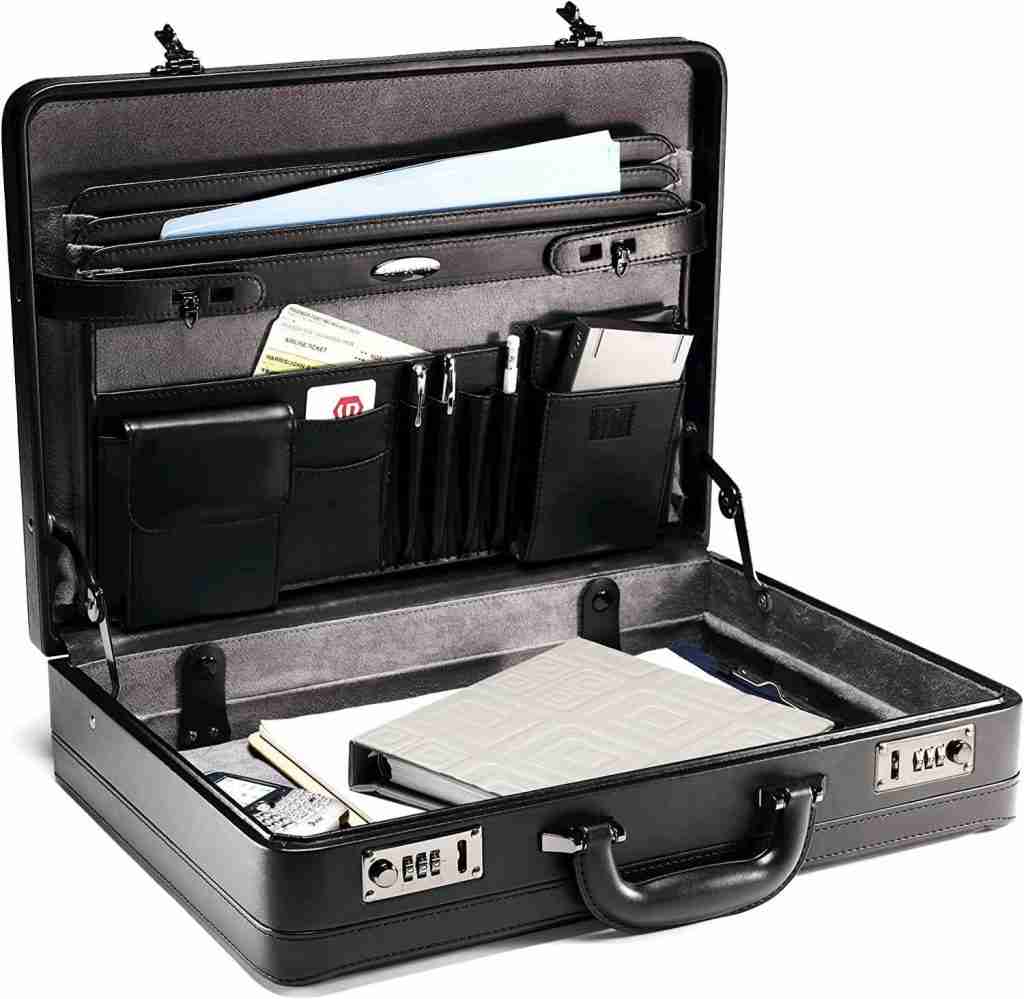 You can carry a briefcase to a pool party if you've stashed some cash that you would love to spray on dancers in it.
But my advice is, to keep the briefcase in your car till it's time to do the spraying. There's no point giving an unnecessary official spice to an extremely casual occasion.
There are still fashionable briefcases that have been designed to serve both official purposes and casual purposes.
MESSENGER BAG VS BRIEFCASE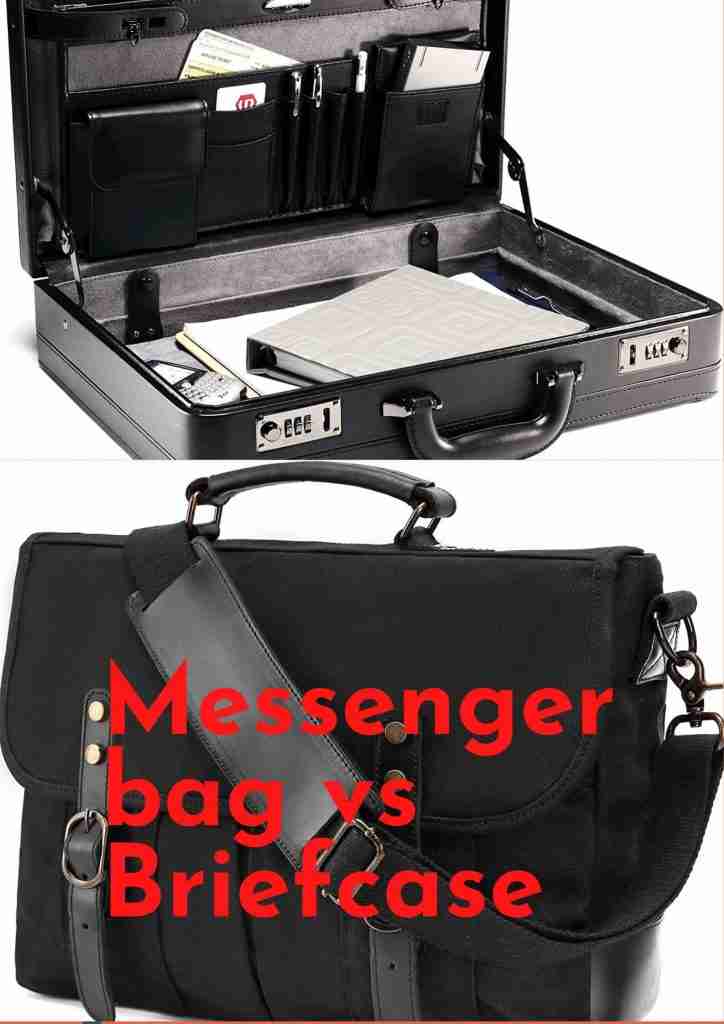 Find below the difference between a messenger bag and a briefcase:
| | |
| --- | --- |
| MESSENGER BAGS | BRIEFCASES |
| Designs are simple | Most designs are sophisticated |
| The closures can be zips, buttons, or magnetic flaps | Closures are mostly multiple zips and can come with automatic locks |
| There are fewer compartments | There are more compartments and inner zips |
| The shapes are diverse and can come in any form | They are mostly designed to look like laptop bags or mini boxes |
Messenger bags are not briefcases. It is true that so many designers have done a great job in trying to bridge the gap between briefcases and messenger bags.
However, the materials used in the production of both bags differentiate them from each other. To learn more about messengers bags, kindly check the following articles below:
What are messenger bags used for?
Messenger bag vs crossbody bag
LEATHER MESSENGER BAG
Leather messenger bags are casual bags that can be worn for casual purposes. Most men love to wear them as crossbody bags. These bags can come in various shapes and sizes.
There are some that are rectangular in shape with a single zip. Here, the wearer is not bothered about what too many pockets are used for.
He can just throw in his cell phone, his wallet, and other basic items and he's good to go.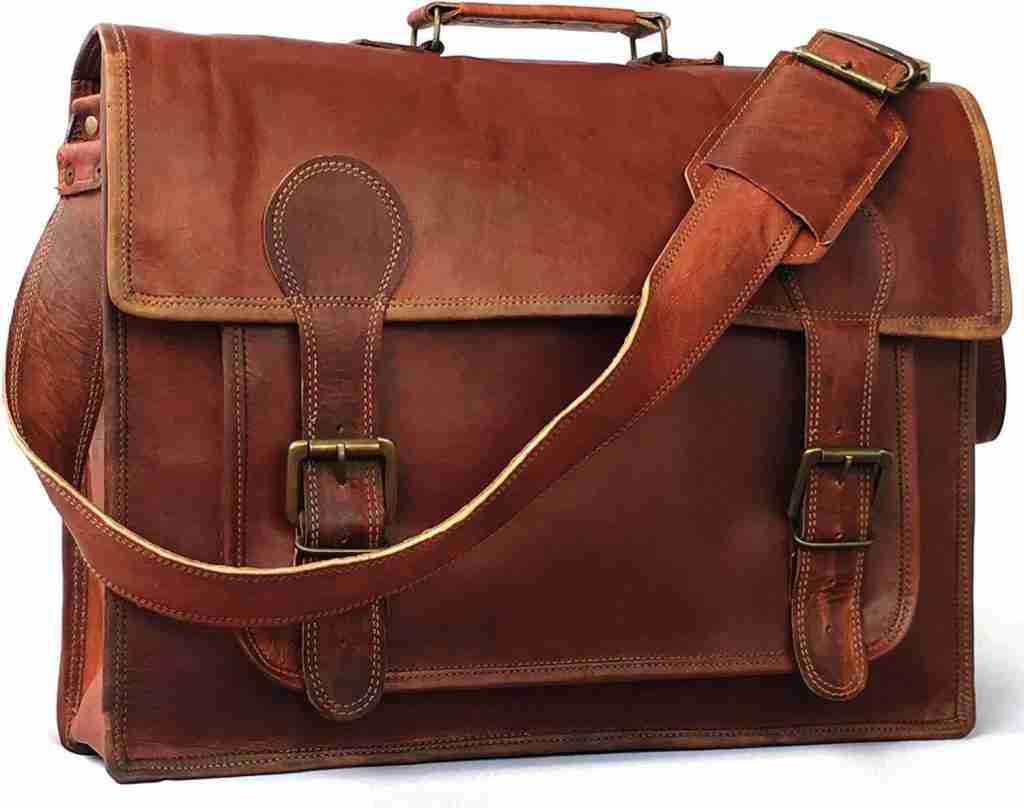 There are still some that are purses, these bags can be worn by both men and women. Leather is a generally accepted material and can go perfectly well on any outfit.
For men, a white vest, a jean jacket, tight pants, and sneakers can go very well with a leather crossbody bag.
Dressed like this, you could be going on a friend's hangout, a weekend trip to see your family, or even on evening walks to go grab some coffee.
For women, leather bags are everything. Many brands have seen the high demand for these brands of bags and thus, are in the business of making sure that leather messenger bags are available to all and sundry, regardless of financial status.
A Gucci leather messenger bag can be worn to the office, to the mall, to picnic, to family thanksgiving, to the therapist, to go see a doctor, to an appointment, to file your divorce papers.
A leather messenger bag is that one bag that has been designed in various shapes to suit various occasions.
Some leather messenger bags for women are formal looking and because of their looks, might seem a bit awkward wearing such bags to the beach.
However, there are leather messenger bags that are casually looking because of their size and design. Such bags can be worn to the beach and no fashion mouths would wag at the wearer.
Below is an example of a leather messenger bag.
LEATHER RUGGED MESSENGER BAG FOR MEN AND WOMEN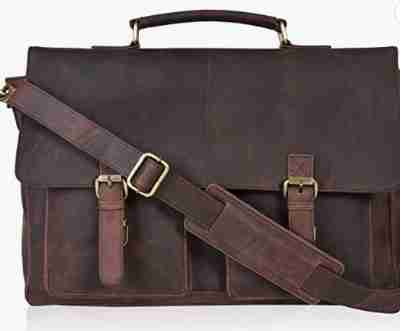 This gorgeous leather messenger bag is intended for professionals. It is for action-takers, goal-oriented individuals with strong personalities and strong opinions.
The messenger briefcase is made to complement your style and enable you to leave a lasting impression.
It serves as a full package.
Impressive & Sleek Appearance
The bag is made of leather of the highest caliber, and the accessories match the bag perfectly.
The top of the bag has a handle and an adjustable shoulder strap.
You can prioritize your belongings and keep them in accordance with easy-access pockets.
MESSENGER BAG FOR LAPTOP
An example of a Laptop messenger bag is the Estarer computer messenger bag which has room for everything you will need for work.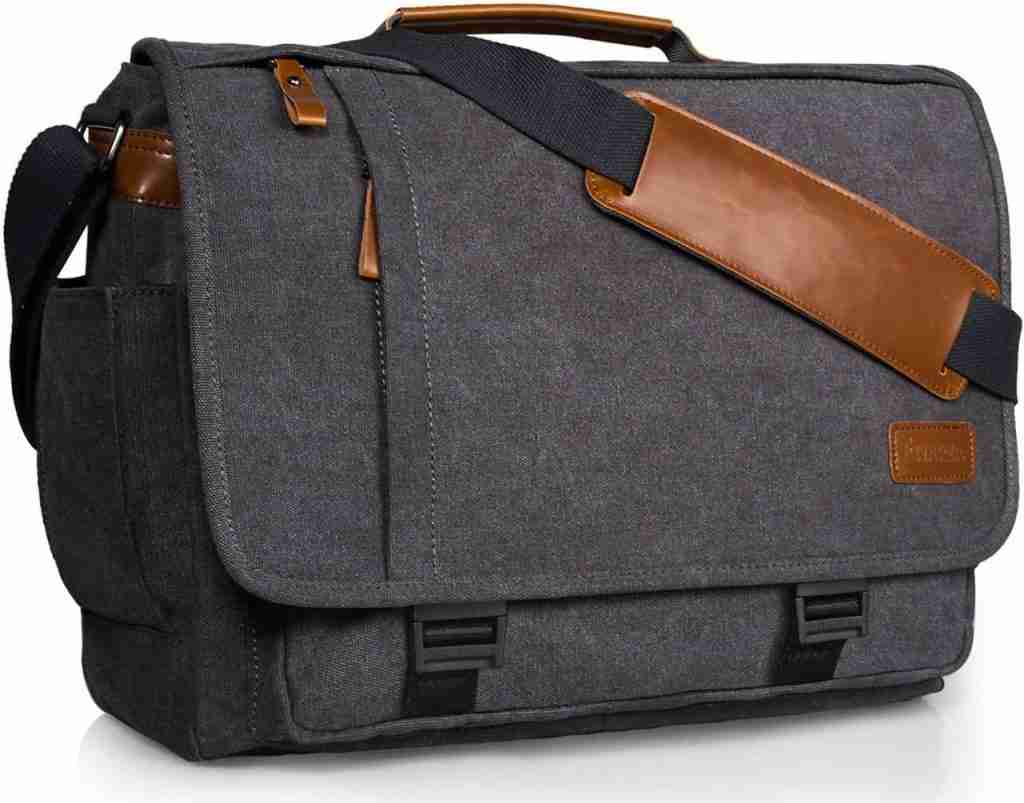 A useful bag for consistent use; large enough to accommodate laptops, books, drink bottles, and other miscellaneous items without giving a tightly packed feeling.
Exquisite zipper with a strap made entirely of leather. 
Very easy to zip and hardly ever gets stuck. Make sure your phone, wallet, laptop, and other items are secure.
Made from canvas that is strong and water-resistant. Completely shield your laptop and books.
Heavy-duty design rectangle buckle made of solid metal.
Rust-proof and not easily deformed.
LEATHER BRIEFCASE
Leather briefcases are in most cases mistaken for messenger bags. Both share similarities in size and texture. However, the difference between a leather briefcase and a messenger bag lies in the design.
Leather briefcases are more sophisticated than regular messenger bags. They are normally characterized by several zips, buttons, and compartments.
The innermost times contains several pockets for several purposes. There is a net-like purse where files can be carefully arranged followed by the actual spacious interior where the laptop and other gadgets can be placed.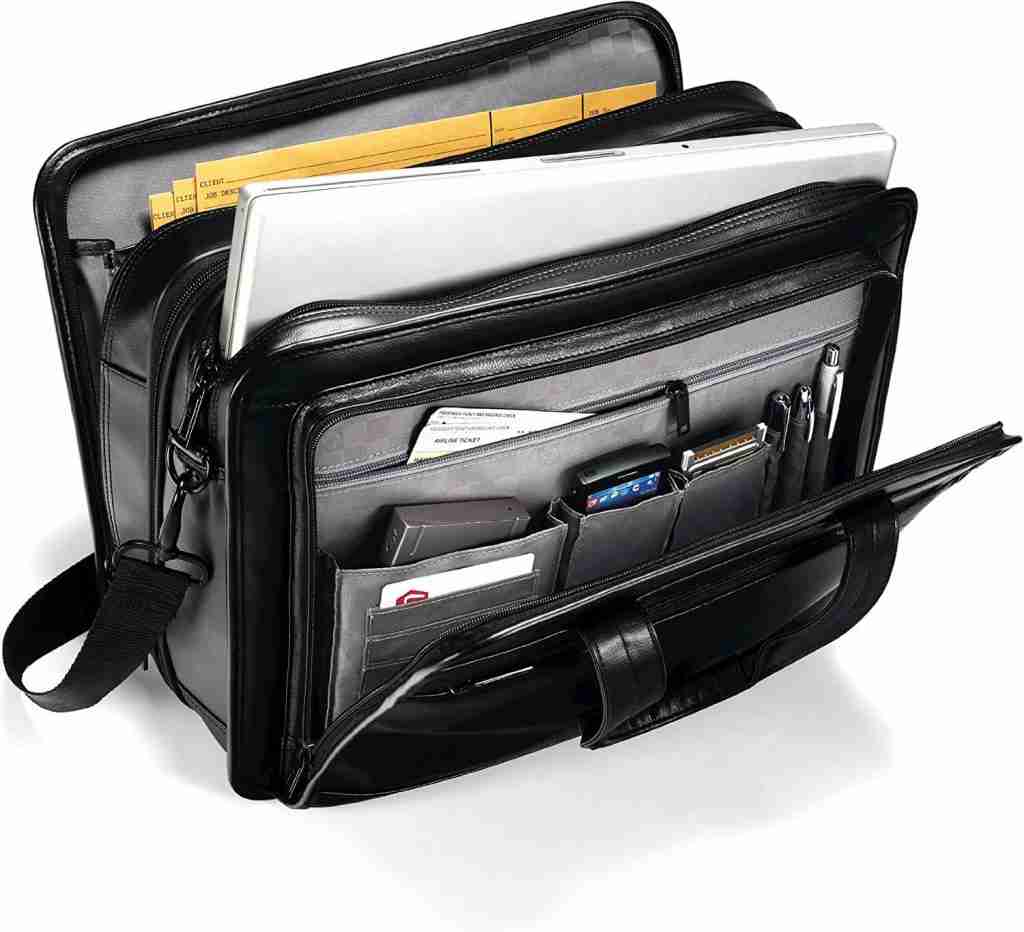 The outer bag contains at least 3 extra pockets of different sizes where things like cell phones, and cards, can be stashed.
Leather briefcases are normally heavier than regular messenger bags. But these brands of bags can still be used as messenger bags.
Even though fashion has evolved to the point where anything can be worn for fashion, leather briefcases serve a unique function and most men would not want to wear these bags for fashion purposes.
Mr. Harry got a new bride. Nancy is her name and she's the third wife he has married so far. He is a chronic divorcee and people are skeptical about how long this marriage would last.
Then he walks into his wedding reception carrying a leather briefcase! What comes to your mind? That the wedding was a mere business arrangement? Probably he is obligated to marry Nancy if he is to recover his heirloom.
BRIEFCASE VS SUITCASE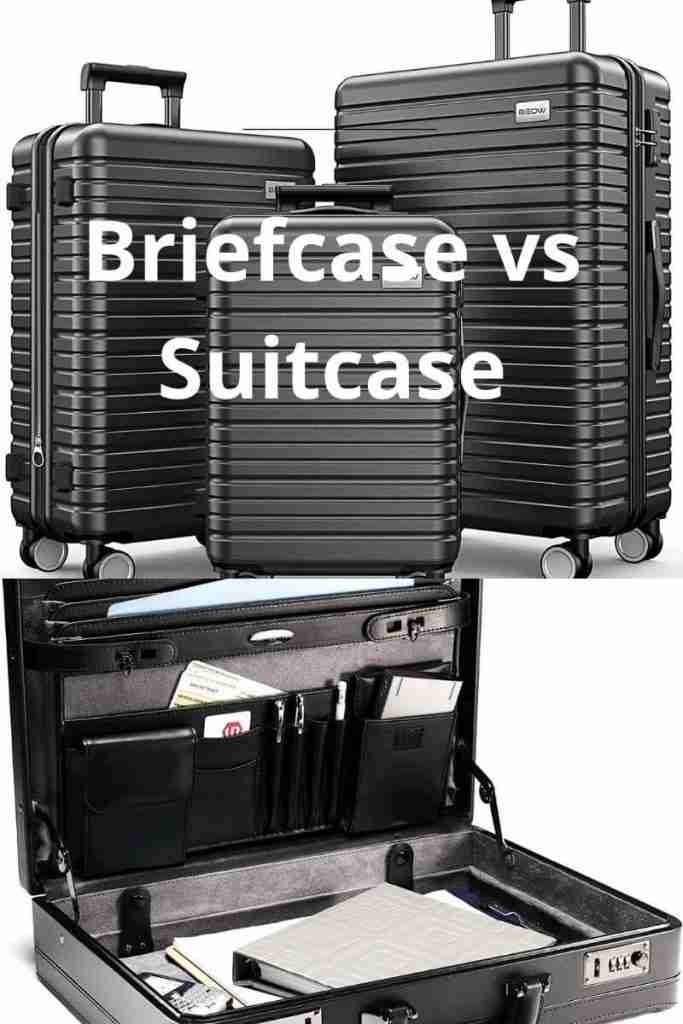 Funny enough their purposes can be guessed by their names. While briefcases are smaller in size and are used to carry office day-to-day items like files, laptops, etc.
Suitcases on the other hand are bigger in size and are used to carry suits and other travel items.
| | |
| --- | --- |
| BRIEFCASE | SUITCASE |
| They are smaller and more concise. | They are larger and can contain more items. |
| They are used to carry office briefs. | They are travel assistants and are used to carry suits and other clothing. |
| They are box-shaped with narrow but hard sides. | They are box-shaped with softer and wider sides. |
| They can be converted into everyday-use bags and can serve multiple functions. | Their functions are very limited due to their size. |
| They can come with automatic and passworded locks. | They can also come with automatic and passworded locks. |
| Materials can be wood, leather, vinyl, or thin metal. | Materials can be polyester, ballistic nylon, polycarbonate, or aluminum. |
| Briefcases are portable and can easily be carried around in a handheld fashion. | Suitcases have additional wheels at the base that makes them easier to pull while working. |
| Briefcases come with two handles, a long leather strap with a shorter and stiffer handle. | Suitcases have two handles as well. A shorter stiff handle by the side of the bag that enables the carrier to carry the bag in a handheld manner and an adjustable metallic handle that can be pushed down or pulled up at will. |
Below, you will find the best-recommended suitcases for your convenience and travel:
LONG VACATION SUITCASE LUGGAGE
Gone are the days when traveling meant dragging your suitcase luggage while also dealing with the stress of the journey.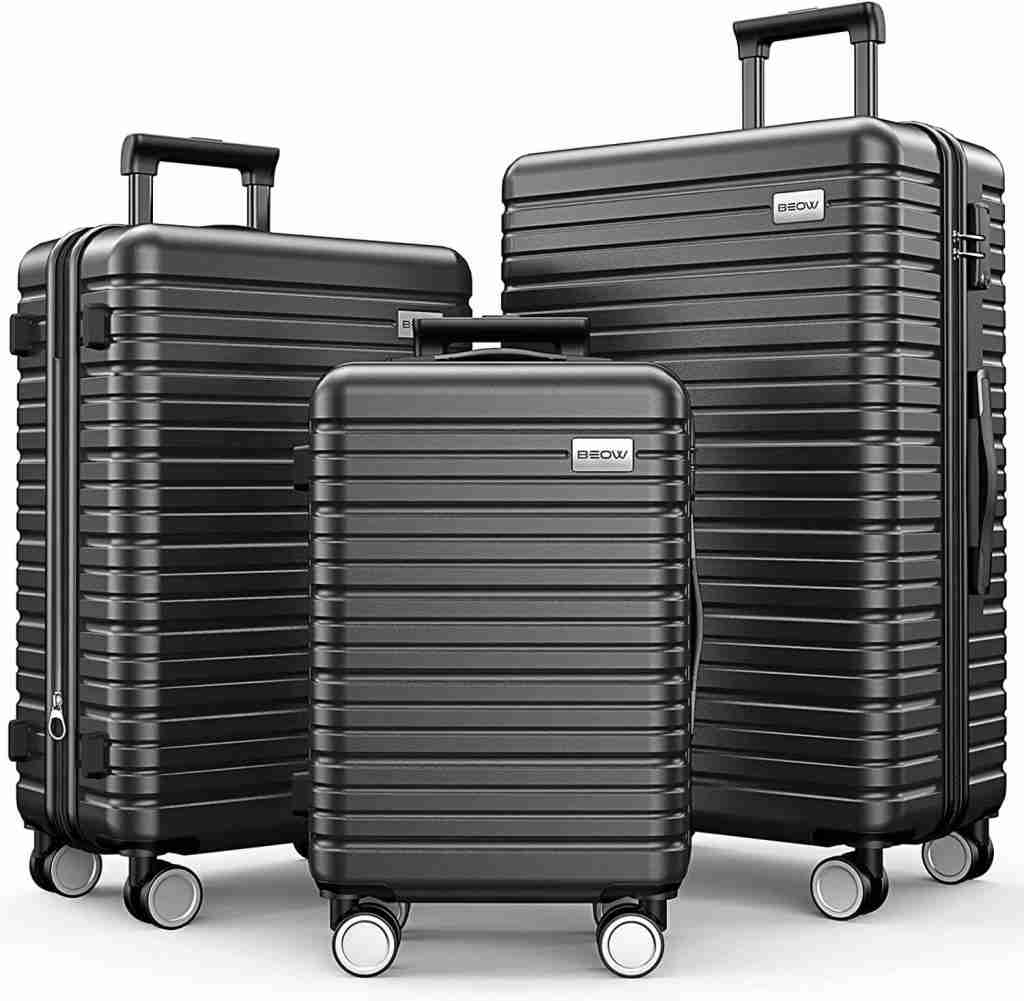 Thank heavens for the current materials utilized in the production of these suitcases and luggage.
The Long Vacation lightweight suitcase is a nice example. One unique feature of this long vacation lightweight suitcase is that it is unisex.
This suitcase luggage is built with a TSA lock and spinner wheels to keep your valuables safe from theft when traveling, while the spinner wheels allow for simple movement.
A 6-year-old can wheel this sturdy, large lightweight suitcase luggage about.
Furthermore, this lightweight luggage is built of a robust material that is unlikely to be damaged.
Get organized and enjoy your trip with family and friends with this 2-year warranty suitcase.
ROLLING SUITCASE LUGGAGE
The difficulty with most suitcase luggage is that they are difficult to open when overloaded. This is addressed by the Hanky suitcase luggage.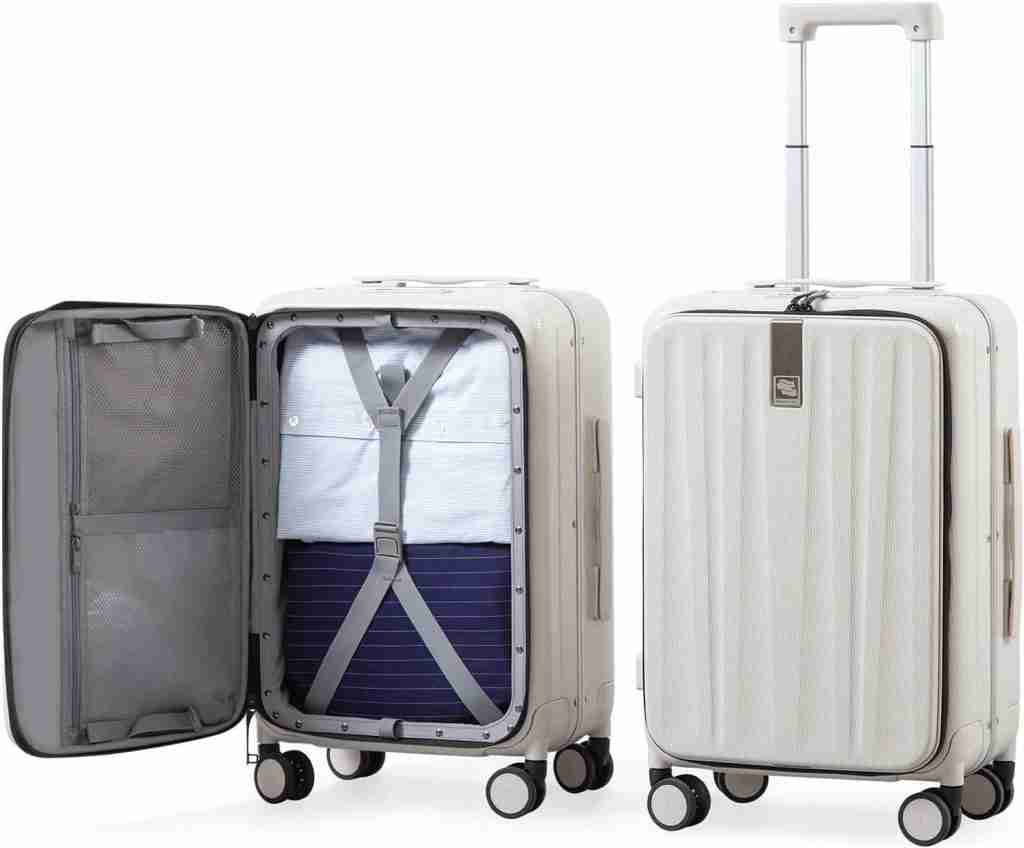 You may wonder how. It is built with two large compartments to accommodate your hefty load without making your stuff appear displaced.
Second, the two spacious compartments make it easy to open and close the suitcase bags. It is also equipped with an approved airline secure lock rather of an old-fashioned padlock.
Furthermore, the wheel incorporates an 8-directional spinner for easy steering and rolling, as well as an ergonomic grip lock.
Unlike other suitcases, this suitcase carry-on is made of quality polycarbonate PC material, which is more durable than ABS+PC and has a diamond-shaped texture on the surface to resist scratches, ensuring that the suitcases remain beautiful even after a long trip.
Finally, excellent suitcase luggage for any vacation, excursion, or business trip. This durable and lightweight suitcase comes highly recommended by us.
COOLIFE LUGGAGE 3-PIECE SET SUITCASE
Make a statement at the airport by making a spectacular debut with this gorgeous suitcase. Bystanders will want to photograph you because of the bright hue!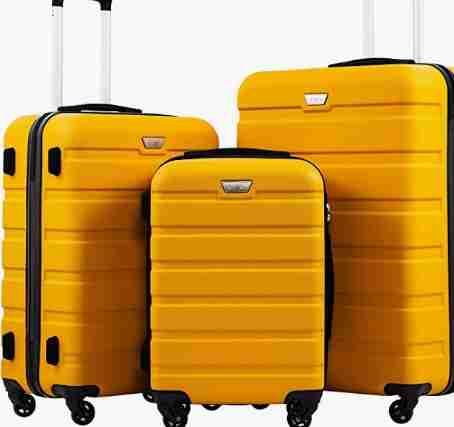 This three-piece suitcase baggage set measures 20 x 24 x 28 inches when erect. Made up of ABS material which makes it lightweight and long-lasting.
The 360-degree spinning wheels move this suitcase in multiple directions. It also features a mesh zip pocket on the inside and an elasticated squared full capacity.
You can effortlessly turn this bag luggage with one finger because the design allows for incredible movement.
The lock is simple to use. The inside compartment is standard size, making it ideal luggage for international travel.
You will require suitcase luggage that you can simply detect when you get off the plane, believe me. This is why we recommend this beautiful, sleek baggage in a variety of colors.
Perfect for your wife, newlywed couples, college-bound children, and much more. Check out this article on shoulder bag meaning as a gift to learn more about bags and gifts.
CONCLUSION
There is no denying the fact that all the bags aforementioned are unique in their functions and designs. Hence, before you buy a bag, pause and think of what you intend to use it for. Briefcases, for instance, are good for travel but suitcases are the best, especially for long-stay travels.